Just because the holiday is more than a month away doesn't mean we can't get started on our Decorative Easter. Take a look at my most popular crafts, recipes and decor ideas from the blog.
Easter will be a successful Sunday with some inspiration, whether you need a sweet treat, a gorgeous wreath, or more decoration ideas.
I am here to make this year's decorating much easier with a broad collection of ideas and inspiration.
So far, I have styled my home with Easter decorations and am decorating the front porch. Wish me luck! Believe it or not, I am ahead of the curve, which is quite surprising.
In the meantime, I have taken the time to round up my favorites from the blog full of all Easter things just for you.
Here you will learn how to decorate an Easter basket, bake Easter bark, craft a spring wreath, and tons more to create your very own decorative Easter.
Saturday Chitchat with Janine – Volume 57
Happy Saturday,
Who else is egg-cited for Easter? I sure am! Throughout odd weather full of rain and warm temperatures, I spend my time decorating and designing my home for Easter.
Now that that's done, I'm moving on to my next task, decorating the front porch.
What is your next project? If you love to bake, craft, design, or decorate, you're in the right place. Trust me, I love to do all of those and more, so let's have fun together.
Whether you're styling inside or outside, here you will find tons of Easter decorations! I'm so excited to share my decorative Easter inspiration with you so let's hurry and hop on to it.
A Personal Note from Janine
Happy Weekend!
What a crazy week it has been.
I must admit that I'm glued to the news and everything going on over in Ukraine. This part of the world is familiar to me since we traveled and adopted our children from Kazakhstan.
My husband and I plan to donate to a charity that provides aid to the Ukraine crisis.
It feels like there are so many issues that we have all endured lately, and we all could use a break and have some peace.
I hope all is well with all of you.
We are hanging in there over here at the Waite pad. Now that Covid is receding, we are getting out into society more. My husband has a terrible immune system, so we have been a bit more cautious than most people.
I must say that it's nice to shop again and view stores and things through fresh eyes. I feel like a kid in a candy store.
Well, let's get this Saturday Chitchat started.
Have a wonderful weekend, and enjoy this fun Easter decor post!
Cheers,

This Week's Inspiration – Decorative Easter
*This post contains affiliate links
Decorative Easter
Easy Pink Rose Wreath Tutorial
This Easy Pink Rose Wreath is natural, dainty, and pretty. It only takes a few minutes to create, and it's pretty inexpensive!
The results are a homemade romantic rose wreath that looks gorgeous on a windowpane, wall, door, or mantel.
How to Make a Homemade Chocolate Bunny
I've always wanted to learn How to Make a Homemade Chocolate Bunny. And now that I found the best melting chocolate, I'm having a blast creating lots of fun colored chocolate bunnies.
I'm even using these adorable bunnies in my Easter decorating this year!
People have asked me to make some Dried Flower Arrangements, so today, I'm sharing my latest design.
This floral bouquet includes gorgeous dried peonies, globe amaranth, bunny tails, eucalyptus, and olive branches!
The flower's bright colors are stunning in the vintage soup tureen turned into a vase. Learn how to create this timeless floral arrangement.
For years, I've always wanted to make Easter Chocolate Bark. You know, the adorable Bunny Bark that takes over your Pinterest feed!
My daughter has always wanted to make it, so I decided to make my version this year. And let me tell you, it turned out better than expected.
Cheers to the weekend. Let's start by taking a look at some Easy Wreath Making Ideas to start creating and crafting your very own wreath for springtime!
These are some of my favorite crafts from the blog, so I couldn't be more excited to show you. And to be honest, add a wreath or two to your decorative Easter and wallah. Let's begin!
This recipe is crazy delicious. Everyone I serve it to tells me that it's moist and probably is the world's best carrot cake recipe! I'm confident that it's among the Best Carrot Cake you'll ever eat.
If you need an easy cake recipe, then you'll love this one. It's perfect as a year-round dessert, and it's my family's all-time favorite dessert!
Trader Joe's Flower Arrangements
I create floral arrangements. I have always been a massive fan of them. Whether it's planting blooms, creating bouquets as decor, or picking them from a field, I admire their beauty!
If you love inexpensive, beautiful flowers, then you're in the right place. These arrangements are the perfect addition to your decorative Easter.
So come on and check out these Trader Joe's Flower Arrangements!
The first time I saw a Shag Cake, I knew that I would make this fabulous dessert. It's such an unusual cake and has such a fun attitude.
The piped buttercream frosting layered to look like a shag carpet is like a sculpture with its three-dimensional qualities!
You'll need a few pieces of cake decorating supplies for this project, but other than that, it's an easy cake to decorate.
Want to upcycle your cute French yogurt jars? Here's an Oui Yogurt Jar Crafts that turns a Yoplait French yogurt glass jar into a pretty candle votive.
Of course, this project utilizes the Cricut vinyl for the labels.
I'm pretty new to using my Cricut Maker machine, so this vinyl project is super simple to create when it comes to making a design for beginners! I'll walk you through how to make this fun glass candle votive step by step.
Today, I'm sharing the Best Lemon Sour Cream Pie recipe. This lemon pie has a rich, smooth lemon flavor similar to my favorite English Lemon Curd recipe.
Of course, this homemade pie has sour cream, which mellows the sweetness and creates a luscious taste.
Borax Crystals Easter Eggs is a fun project. I feel like maybe I'm working on my kiddo's middle-grade science project.
The chemical reaction that occurs with Borax is still fascinating! A fun activity to do with the kids!
I love cake and not to mention most desserts. But today, I'm sharing my easy cake recipe, and you will be surprised by how simple it is to bake this treat.
I enjoy creating desserts, and this spring, I decided to try an experiment. I combined a lemon pound cake with my buttercream frosting. The results were terrific!
One way to make it feel like spring has sprung instead of your home is by designing a table setting with one of these elegant Easter Tablecloths.
This plethora of runners varies in unique colors, designs, and patterns, perfect for springtime!
Now that Valentine's Day has passed let's get ready for spring with Easter Mantel Decor! Check out this collection full of garlands, candles, adorable signs, and tons more.
Whatever your spring tradition may be, let's start this season off right by taking a look at this collection of Easter mantel decor to begin decorating not only for a holiday but the upcoming season as well.
---
This Week's – Boutique of the Week (Easter Basket Filler Ideas)
Need some new Easter Basket Filler Ideas? Hop on down to see 40+ options to make buying, filling, and decorating a container this much more accessible.
Here you will find entertaining accessories to fill your child's basket with, including some of the greatest games, cutest toys, and sweetest candies.
---
My Favorite Things – More Decorative Easter Ideas
Colorful Ombre Easter Egg Wreath
Create this wonderful wreath for your front door, mantel, or room of your choice. This craft is created by my friend, Jen, one of the best crafters I know.
It's colorful, bright, cheerful, and overall a great piece of decor to top off your decorative Easter.
How to Make a Hydrangea Flower Cake
We all know I love baking cakes, so I present to you this Hydrangea flower cake baked by my friend, Leslie.
Isn't this gorgeous? When I first saw this, I stopped in my tracks. I then decided to bake my own, and I couldn't be happier about the results.
If you want a fun, beautiful cake to make, this recipe is your best chance for springtime!
---
What's Trending on the Blog
Table Decorations with Candles and Flowers
Spring cherry blossoms inspire my latest Table Decorations with Candles and Flowers.
This simple tablescape includes the lovely Yankee Candle Sakura Blossom Festival Collection and a bouquet of beautiful flowers.
The combination of flowers and candles is perfect for welcoming spring into a home.
Easter Ideas for Home (Crafts, Recipes, Decor)
Spring and Easter have arrived, and I love all the pretty colors and decorations. Easter Ideas for Home is today's topic. We'll include crafts, recipes, and home decor.
I recently made some lemon curd and thought it would go nicely with my Pavlova Recipe.
So, today, I baked some mini nests for Easter and topped them with my homemade English Lemon Curd and cute Cadbury chocolate eggs.
The results are adorable and super easy to make.
---
This Week's Tip – Edible Easter Grass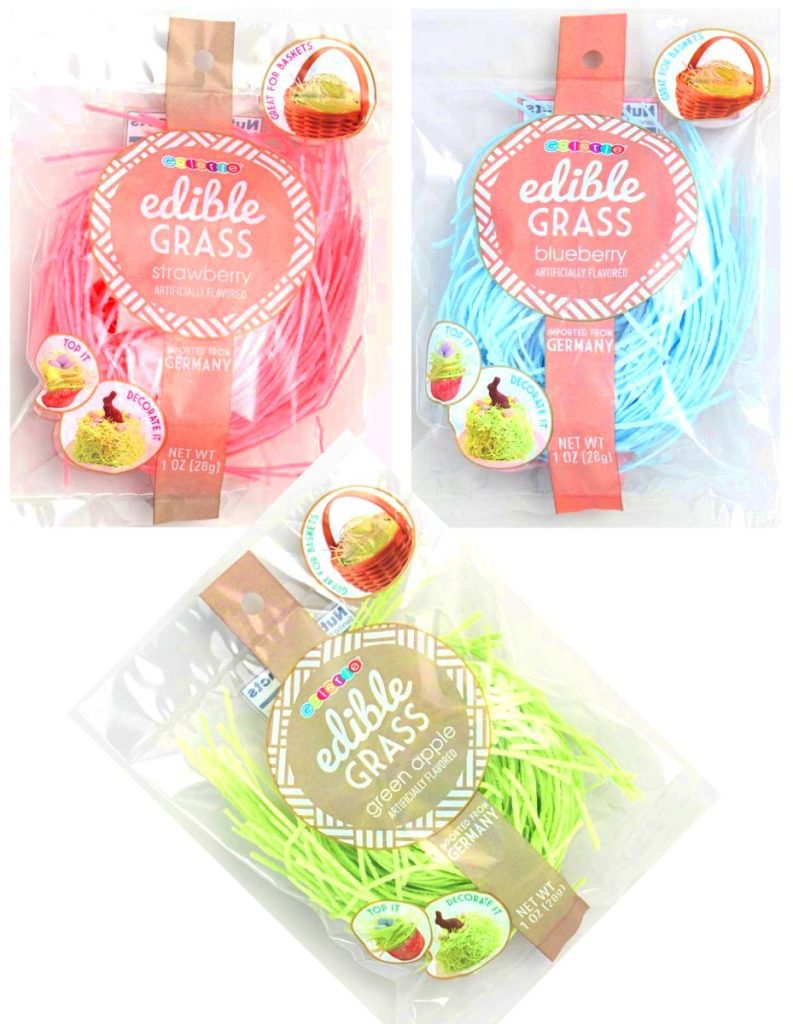 Hooray for Edible Easter Grass
If you're not fond of plastic Easter grass, then here is a fabulous alternative, Edible Easter grass. Not only is it edible, but it comes in different colors and different flavors, strawberry, blueberry, and green apple.
You can use them to fill an Easter basket or add them to spring cupcakes as well as cakes. I have a few bags of them, and I might use them for a future project.
My Latest Obsession – Pretty Paper Bunting
Paper Bunting
I found this paper garland on Etsy, and I ordered it right away for my mantel. I love the delicate floral images that each piece displays.
This lovely paper bunting was made from a well-worn copy of the beautiful book, The Country Diary of an Edwardian Lady by Edith Holden. In 1906, Edith Holden recorded the flora and fauna of the British countryside through the seasons in words and paintings.
I'm not too familiar with Edith Holden's book, but now I'm certainly going to research more on the subject.
I love this little boutique shop, and I'm so happy to share it with you today!
Btw, the shop The French Thistle is on a bit of break and will be back open on March 8th. So make sure to like her shop and check out Julie's store in a couple of days.
---
Cheers to the weekend,
Not only cheers to the weekend but cheers to springtime! Let's hope you found some recipe, craft, or piece of decor to create your decorative Easter.
I can't wait to share more Easter ideas on the blog. I'm talking desserts, wreaths, and tons more, so stay tuned.
Cheers,