I've always wanted to learn How to Make a Homemade Chocolate Bunny. And now that I found the best melting chocolate, I'm having a blast creating lots of fun colored chocolate bunnies. I'm using these adorable bunnies in my Easter decorating this year.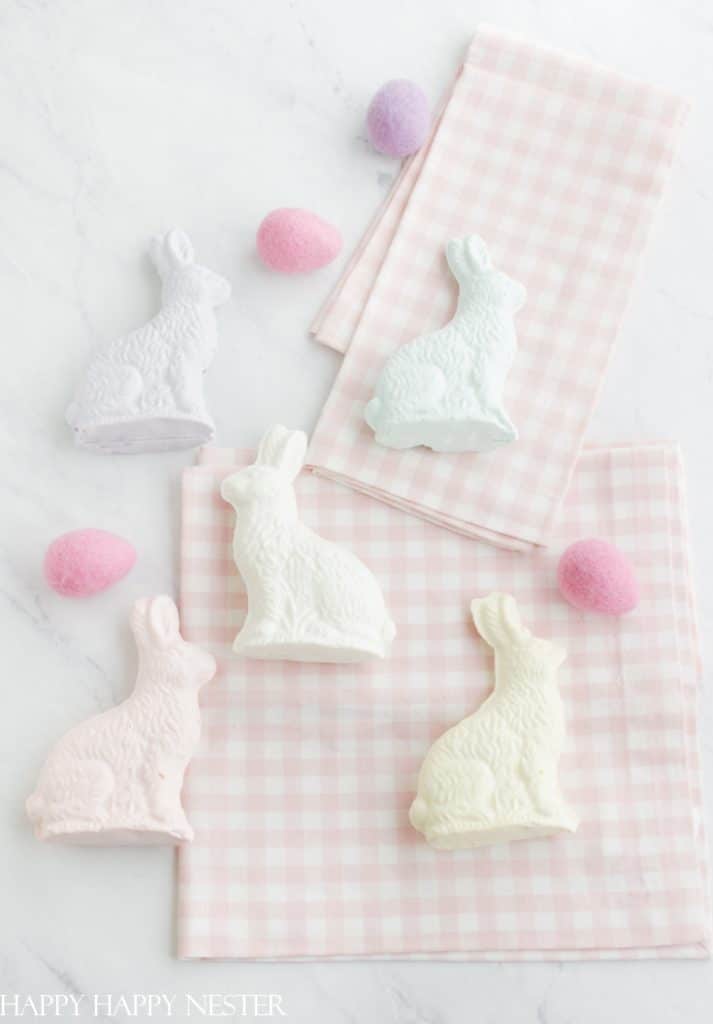 Over the last couple of months, I'm obsessed with making chocolate hearts, bunnies, and more. So when my daughter suggested that I make some Easter chocolate bunnies, I jumped on the idea. I love that I can make whatever color bunnies I want. I use super white melting chocolate for my base.
In this post, I'll share all that I learned in my journey into making endless amounts of chocolate Easter bunnies! 🙂
But before we dive into this tutorial, you might want to check out some of my other fun Easter projects:
Also, I would like to mention that this Easter bunny post is part of a beautiful blog hop. You can find the other projects down below!
Ok, let's take a look at my latest chocolate obsession!
Here's Why You'll Like Making A Homemade Bunny!
You can make lots of different colored chocolate bunnies
It's so inexpensive to make a bunny
You can make a lot of them
If you know how to make bunnies then you can make Easter eggs and more!
Supplies You'll Need for This Bunny Project
*The following contains affiliate links
Melting Chocolate (Super White)
The Best Melting Chocolate to Use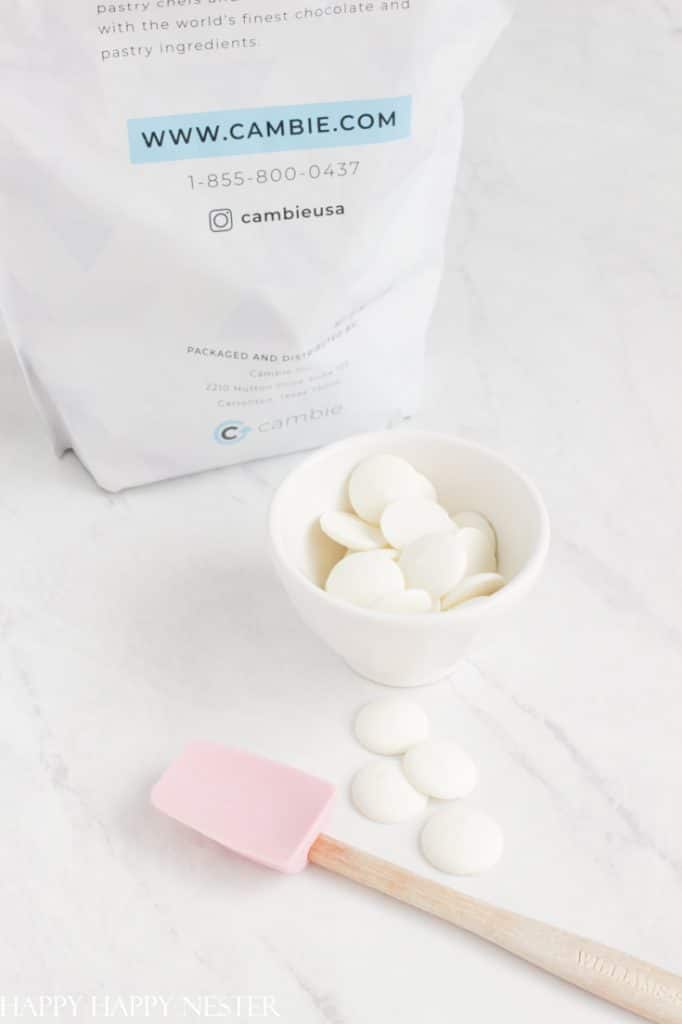 After many years of failing with Wilton Meltaway chocolates, I finally found Merckens.
I've used Merckens and Wilton and I LOVE Merckens melting chocolate. When I heated the chocolate over the double boiler, Merckens came out smooth and silky and Wiltons went from soft to semi-hard quickly. I had to spread it like thick butter rather than smooth like the Merckens.
The Wiltons Chocolate Meltaways got horrible reviews on Amazon and now I know why it got those awful critiques. So, I highly recommend you use Merckens Chocolate!
The Best Way to Melt Chocolate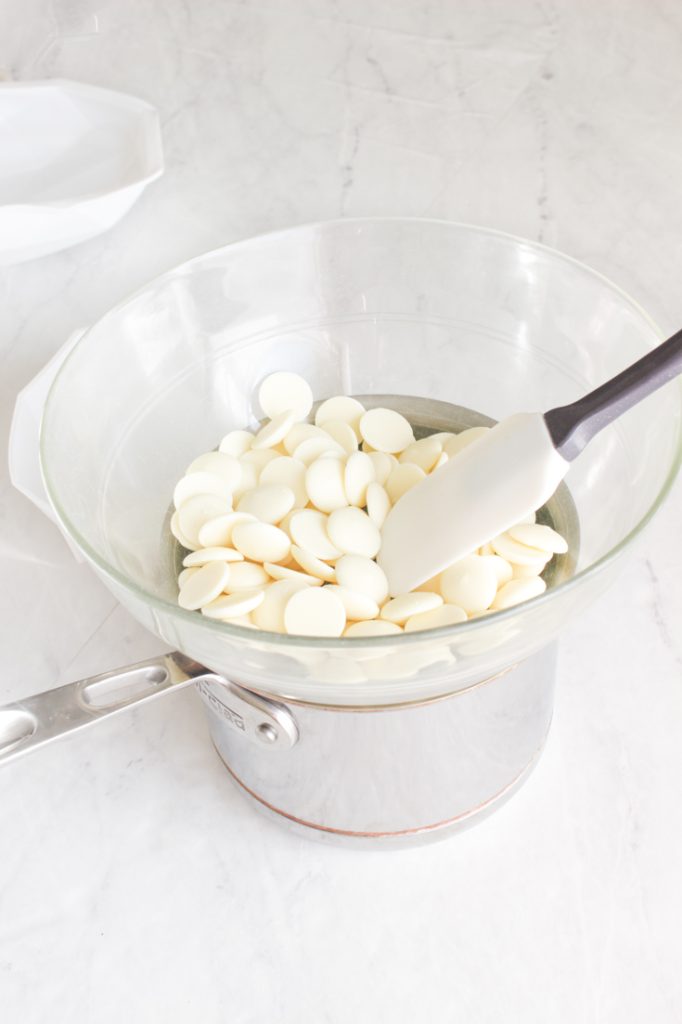 I shied away from melting chocolate since my past experiences with Wilton Chocolate Meltaways were horrible. Then I found Merckens chocolate online, and I'm in love with this fabulous chocolate.
It is easy to work with and melts so nicely.
I place it in a heat-proof bowl and put the bowl on top of a pan of water. Once the water begins to boil, I turn the flame down to medium to low heat and stir the chocolate thoroughly. The whole process only takes a couple of minutes.
I haven't tried microwaving it since I like the double boiler, which I leave on a low flame while working on my bunny.
Step-by-Step Chocolate Bunny Tutorial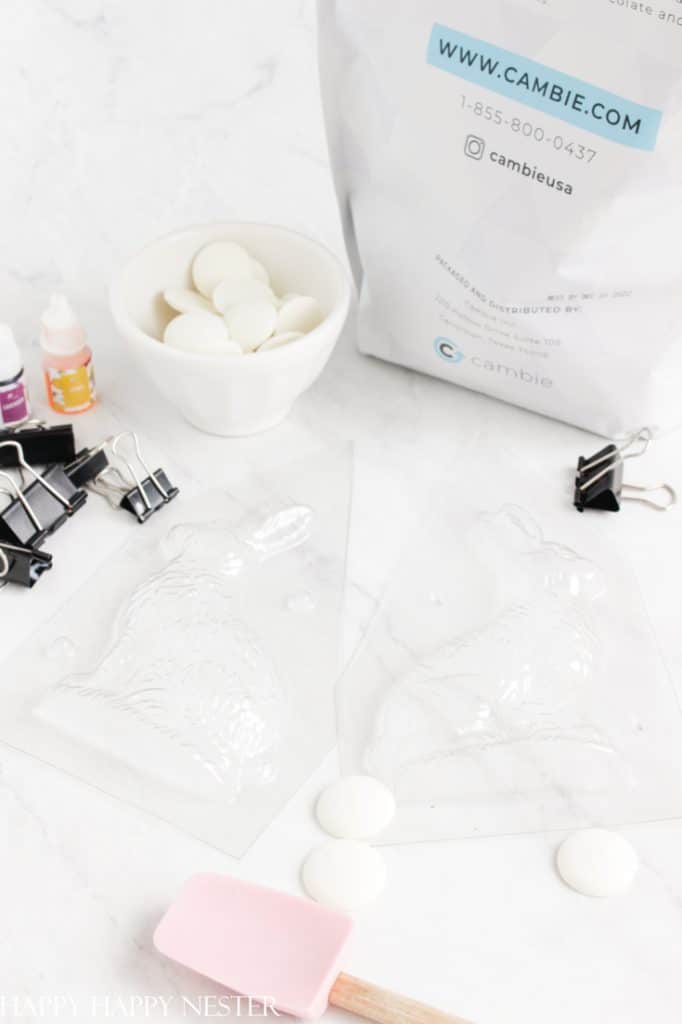 Step 1 – Trim the Mold
I don't think my mold came with instructions, but I figured it out quickly with a little bit of deduction. You want to trim the mold so that you'll be able to place clips close to the bunny. But don't trim too closely and accidentally cut the rabbit.
Step 2 – Melt Chocolate and Fill Molds
Now here's where the plastic molds come in handy. Once you melt your chocolate, use a small rubber spatula and place the chocolate in the molds. While you place the chocolate in the mold, look underneath and see how the chocolate is filling the mold. At this point, you'll see any air bubbles that have formed. So take your spatula or toothpick and push the chocolate to get rid of the air pockets.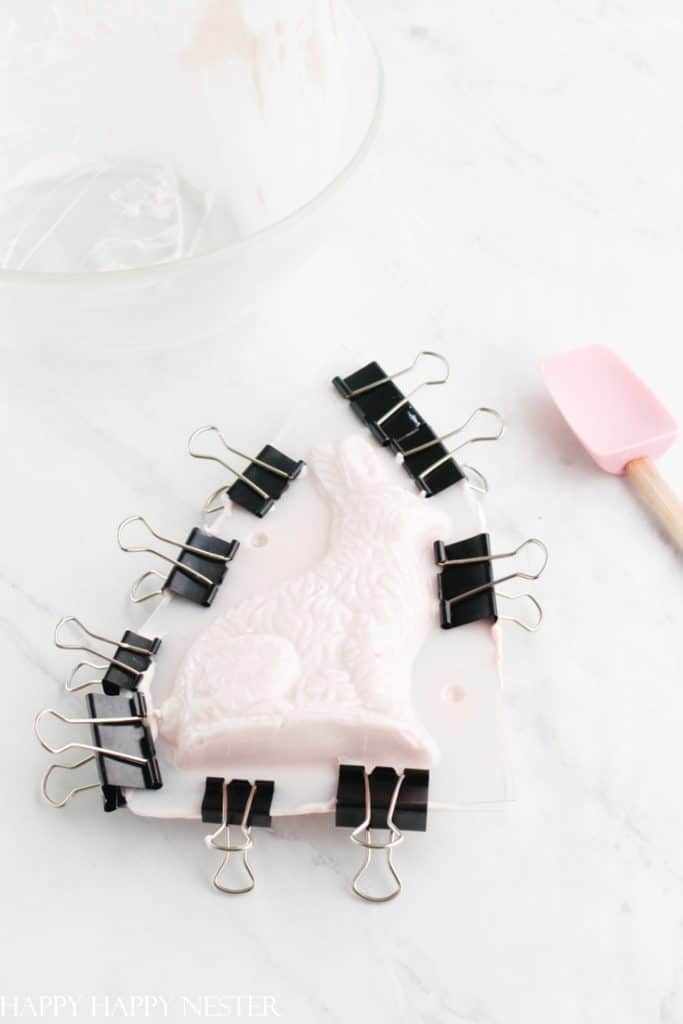 Step 3 – Clip Molds
Once you fill both molds with chocolate, line up the molds using the round points on the mold. These bumps help align the molds. Next, you'll want to attach the metal clips to the sides of the molds to keep them in place and close up any gaps in the molds. There is a bit of leeway, so check to ensure the molds are in place.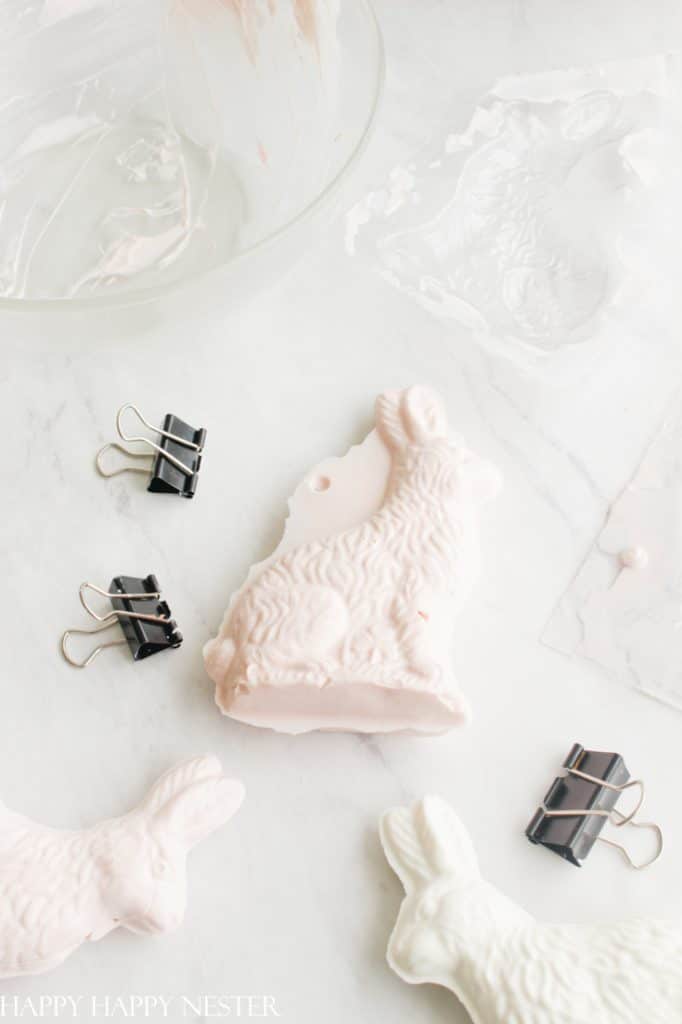 Step 4 – Room Temperature Chocolate
Ok, here's the thing about my experience with cooling chocolate. The first couple of bunnies, I placed them in the freezer. The results were that the chocolate cracked. The next time, I let it cool on my kitchen counter and opened the mold before it was thoroughly cooled and it broke. So, the final time, I let it sit out on my counter for three hours and placed it in the refrigerator for only 15 minutes, and it came out perfect.
So, my directions are to do the latter, let it cool on your counter for at least three hours for the best results.
Once the bunny is out of the mold, clean off the extra chocolate.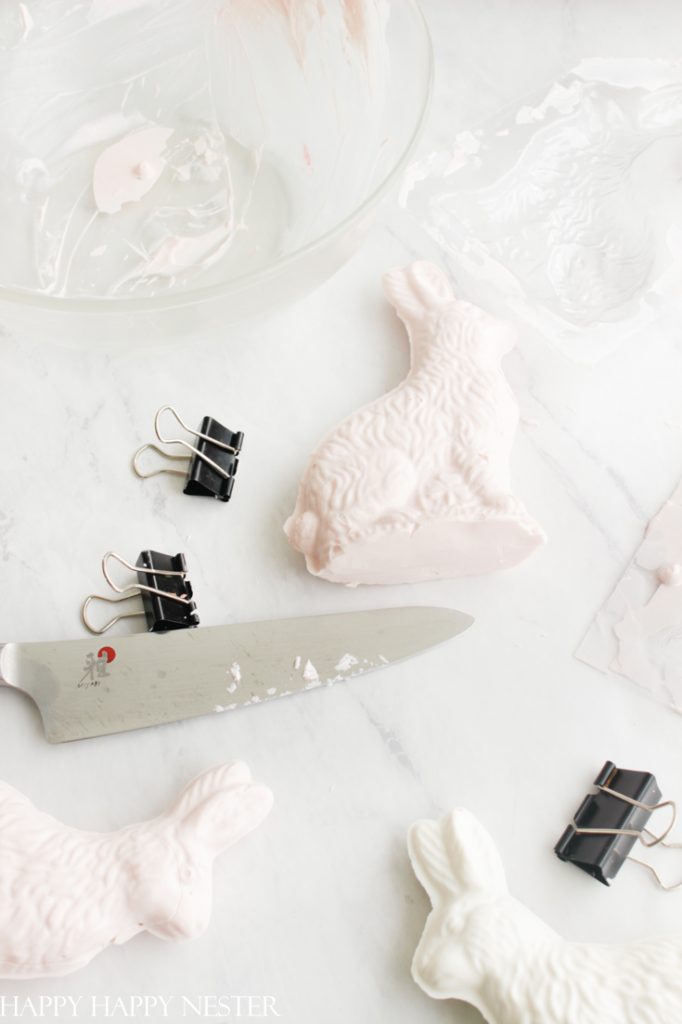 Step 5 – Scrape Off the Bottom of the Bunny
You'll get a bit of extra chocolate on the bottom of the bunny, so take a flat knife and trim off the excess. Once you have it smooth, the bunny will stand up straight.
Homemade Chocolate Bunny
This candy is inexpensive and straightforward to make using melting chocolate a bunny mold.
Ingredients
1¼

cup

chocolate

Merckens is the best melting chocolate

food coloring
Instructions
Place about three inches of water in a medium to a small pan.

Next, place a heat-proof bowl on top of the pan. Make sure to use one that is bigger than the pan.

Bring water to a boil and place the melting chocolate in the bowl.

Once the water is boiling, turn the heat down to medium to low. Mix chocolate thoroughly.

Add the food coloring before the chocolate is fully melted and mix well.

Fill both chocolate molds to the top and look underneath the mold to see air pockets. If there are, use a knife or toothpick to get rid of the bubbles.

Place the chocolate-filled molds together and clip the edges to all the sides.

Let the chocolate cool on your kitchen counter for two or more hours.

Place the mold in the refrigerator for only 15 minutes if you like.

Once the chocolate is no longer warm to the touch, take off clips and gently pull the mold off in sections. You'll see the chocolate lift from the mold. Work your way around the bunny until it lifts clean of the mold.

Lift the bunny out of the mold carefully and trim off excess chocolate.

Trim the bottom of the bunny so that the surface is flat. The bunny will stand if you trimmed it well.
Nutrition
Serving:
1
serving
|
Calories:
277
kcal
|
Carbohydrates:
33
g
|
Protein:
2
g
|
Fat:
19
g
|
Saturated Fat:
11
g
|
Polyunsaturated Fat:
1
g
|
Monounsaturated Fat:
6
g
|
Sodium:
9
mg
|
Potassium:
159
mg
|
Fiber:
3
g
|
Sugar:
28
g
|
Calcium:
13
mg
|
Iron:
2
mg
A Few Tips About Making a Chocolate Bunny
Should I Make a Hollow or Solid Bunny?
I tried making both a hollow and solid bunny. The hollow ones ended up cracking since I think they are more fragile. So I highly recommend making a solid chocolate bunny.
How Do You Make Sure The Chocolate Won't Crack?
First off, don't freeze the chocolate to cool it down. It needs to cool naturally at room temperature.
Also, when filling the molds with the melted chocolate, work quickly so that when you bring them together, the chocolate molds together. You see, my first bunnies, I took my time filling the molds, and the chocolate cooled down enough so that it didn't set together and it cracked later.
Is a Plastic Chocolate Mold Ok to Use?
I like the plastic molds since I can see the air pockets. This clear view wouldn't be possible if I used a silicone or metal mold.
I always wanted to buy one of the fabulous vintage chocolate molds, but I have to say that my little inexpensive plastic mold works great.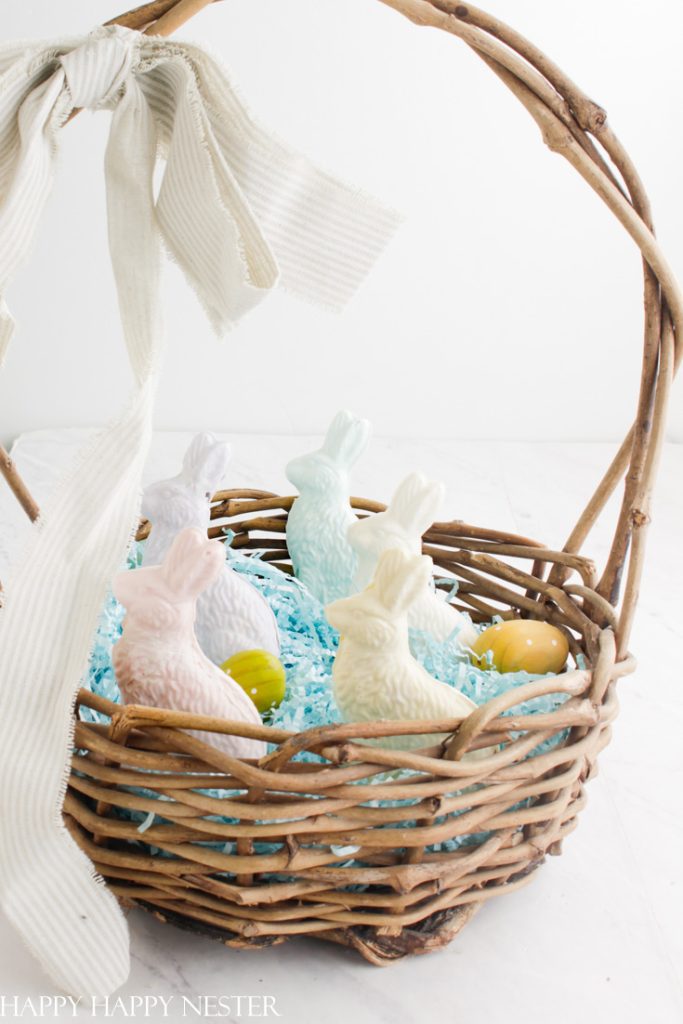 I hope you have a chance to make an adorable homemade chocolate bunny! After making about eight of them, I finally figured out the best method for using plastic chocolate molds.
It feels so awesome to overcome my fear of working with chocolate!
Make sure to check out my friend's Easter decor projects.
Cheers,

8 Easter Decor Ideas for Your Home!

A Pretty Table with Easter Decor | My 100 Year Old Home
Dried Floral Easter Egg Tree | The DIY Mommy
How to Make Fast & Easy Easter Decorations | The Design Twins
DIY Clay Rabbit | My Sweet Savannah

Handpainted Watercolor Easter Eggs | Craftberry Bush
Free Printable Easter Egg Art | The Happy Housie
How to Make a Homemade Chocolate Bunny | Happy Happy Nester
Ombre Easter Egg Wreath | Tatertots and Jello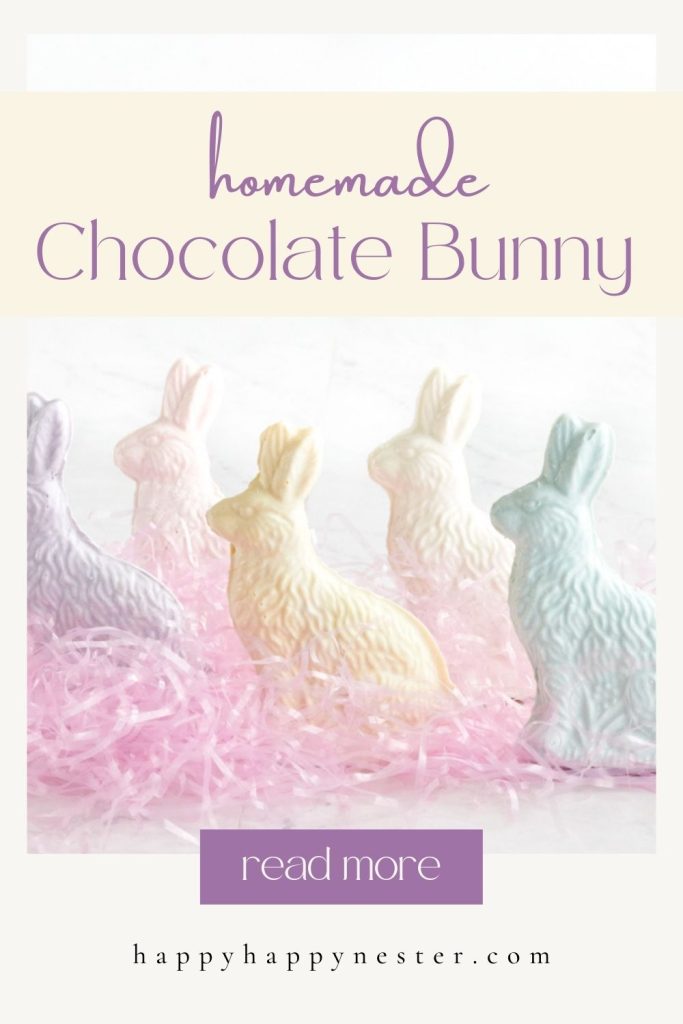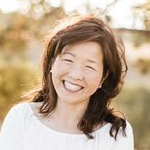 Latest posts by Janine Waite
(see all)