Learn how to Decorate a Mantel for Easter with a few pretty decorations. These spring decor elements include Easter eggs, Easter bunnies, fresh and faux flowers, candles, temporary wallpaper, paper garlands, and more. All these combinations create a beautiful spring mantel that welcomes a fresh start to the year!
These days I'm mostly in the kitchen baking and our home has taken a back seat to my culinary obsessions.
But this month, I had a blast tackling our living room mantel. So, come on along and learn all the little details of what I recently changed.
After the holidays, it takes a while to pack up all my Christmas decorations. Once everything is stored away, I love a clean and empty house.
So, yes, our home has mostly been white with spots of grey and blue. Our New Year decor is simple and clean and it's a response to the latest blast of holiday decor.
But, now I'm motivated to embark on fluffing up our home for spring and Easter. Here are a few of my past spring decor posts that might interest you!
I must mention that this blog post is part of a wonderful blog hop hosted by Krista from The Happy Housie. You're in for a treat since 10+ bloggers are sharing their spring mantels today. Scroll down to see their posts.
Ok, without further adieu let's explore my latest spring decor.
How to Decorate a Mantel for Easter
*The following post contains affiliate links
My journey to decorating this part of our living room began with a trip to Serena and Lily. There I bought a roll of pretty wallpaper planning to add it to our media center.
Once I was home, this idea morphed into adding it to the wall above our mantel.
And this morphed into figuring out how to temporarily install the paper without paste or glue.
Well, I'm happy to say that I now have a wallpaper that I can change out with my decorating whims.
I promise to share in the future how I tackled this cool DIY project.
But back to the mantel. Once I installed the wallpaper the rest fell into place quite nicely. So, let's peek at the things I added to our Easter Mantel.
Decorating Elements
Wallpaper
Like I said I bought a roll of Serena and Lily wallpaper. I am amazed at how quickly it transformed our living room.
It was just the thing that I needed to jumpstart my creative juices. I have a few more wallpapering ideas in mind and I can't wait to keep this decorating addiction running.
Candles
Candles are a lovely way to add light and color to a space. I have a nice stash of candles of every color, height, and size.
Plus the natural candlelight is such a comforting thing during these dark months of the year.
Fresh or Faux Flowers
I'm always on the lookout for wildflowers. I know we aren't supposed to cut them, but these wild lupines were calling my name on my last hike in the hills.
I love wildflowers since they add a bit of surprise to a table or mantel. I believe our brain and eye kind of do a double-take when they see them!
Needless to say, flowers add such a gorgeous element to any space.
Mirror
There is a funny story about this mirror.
Our Northern California Ranch Style home has somewhat low ceilings. So when I placed this mirror on the mantel I originally styled it horizontally. Well, over the holidays, while my brother and I were taking photos of my Christmas trees, I wasn't liking the reflections in the mirror so I impulsively turned it vertically.
What a game-changer.
It just shows that despite things looking the same for many years, don't be afraid to switch it up. You never know how much better things will turn out!
Mirrors are nice since they add depth to a room and sometimes reflect beautiful things!
Garlands
I'm smitten with paper garlands.
I especially love to layer them for added fun. With the help of my husband, I placed my paper leaf garland and my lovely paper bunting.
I found this lovely garland over on Etsy. The garland papers are from a well-worn copy of the beautiful book, The Country Diary of an Edwardian Lady by Edith Holden. In 1906, Edith Holden recorded in words and paintings the flora and fauna of the British countryside through the seasons.
The two garlands combine so beautifully and add such a lovely texture to my mantel.
Chocolate Easter Bunnies
I love chocolate bunnies and last Easter I bought a white one to use in my decorations. The bunny added a fun pop of charm that I love.
Well, this year, I wanted a few bunnies of various colors. Hmmm, I couldn't find any online. So, my daughter mentioned that I should make my own. Well, I took matters into my own hands and learned how to make chocolate bunnies.
After making several, I found the best methods of making chocolate bunnies. If you're at all interested you need to read my DIY Chocolate Bunny blog post.
Easter Eggs
I added a few of my decoupage Easter eggs as well as a few felt eggs that I bought. But any type of Easter eggs will do and they'll add a nice festive spring touch.
---
In decorating our mantel I tried to keep certain colors in mind. You can choose the colors that you prefer and gather all your Easter mantel decor in your theme.
This project did kickstart my spring decorating and I hope I inspired you to get busy decorating your mantel and home as well.
Cheers,

Today some of my friends are sharing their Spring and Easter mantel decor ideas too! Be sure to visit their posts by using the links below the images.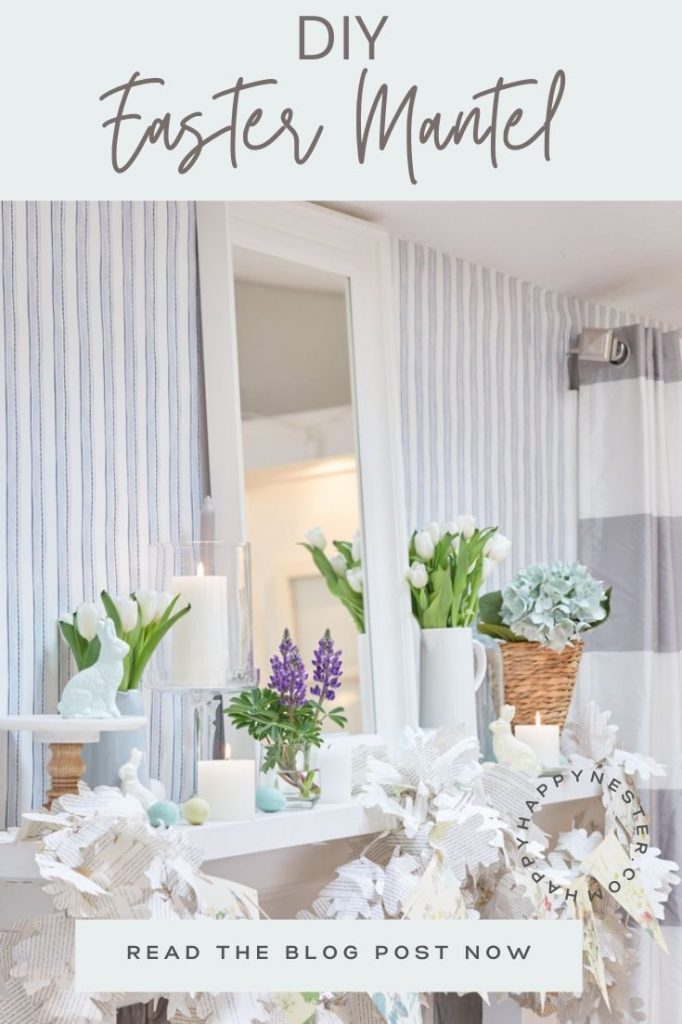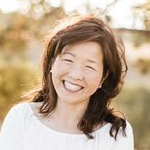 Latest posts by Janine Waite
(see all)