Today's Happy Craft is these adorable Gingerbread Easter Houses!
Back a couple months ago, I debuted my Valentine's Day Love Shacks. This month, I'm so elated to share my gingerbread bunny shacks with you! They are so cute that every time I look at them I can't help but smile! This post is part of a wonderful blog hop, so definitely make sure to check out my friend's creative crafts in the list below.
The following post contains affiliate links.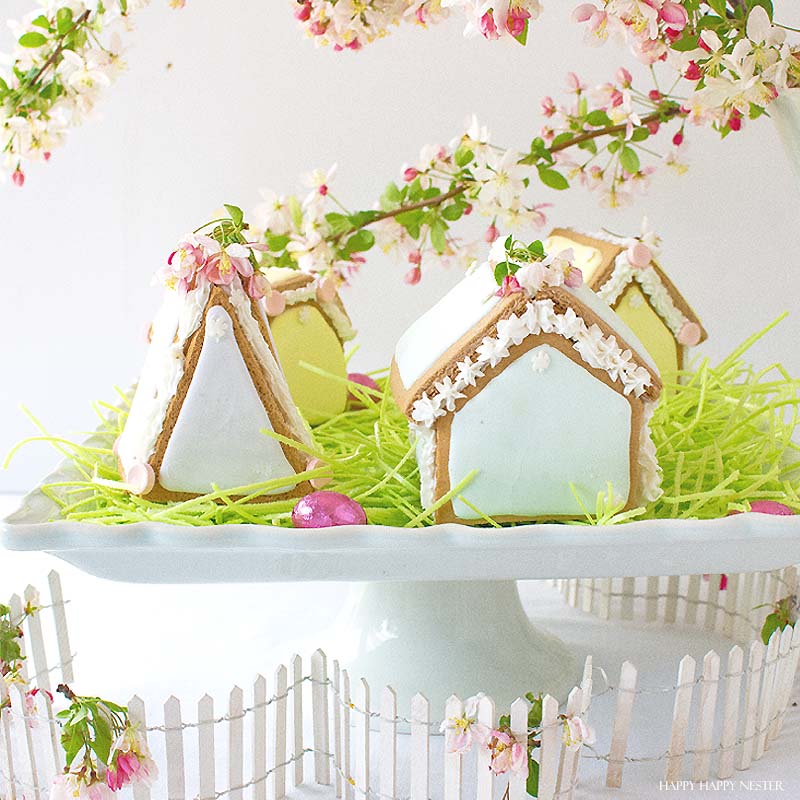 The Obsession Begins…
So, the other day, while I was picking up my husband at Bart (San Francisco's train system), and I spotted three beautiful flowering apple trees in the parking lot.
Immediately, I thought how much I needed these flowers for my Easter houses.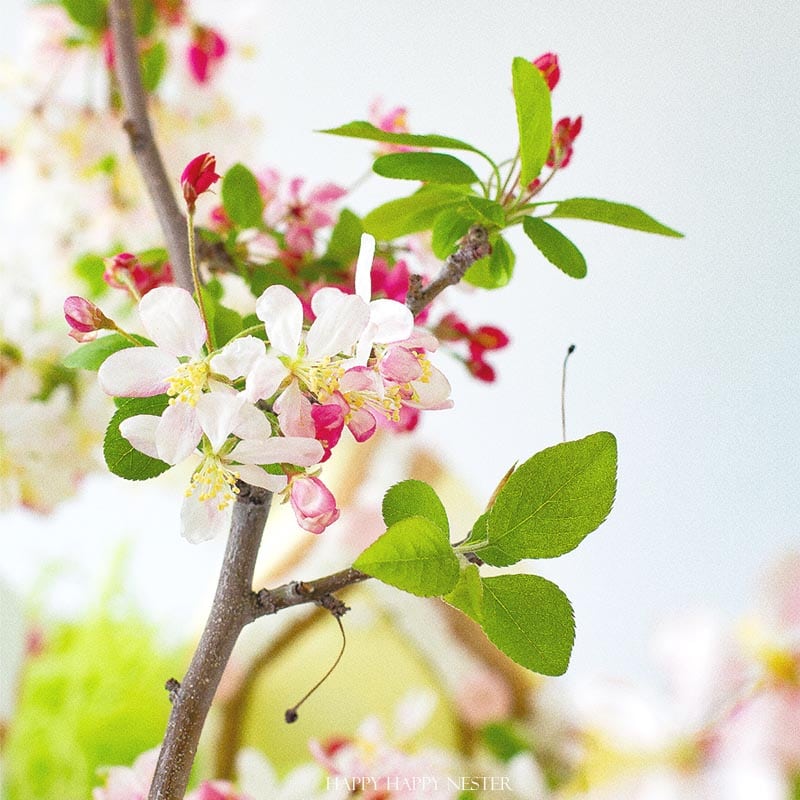 To say I was obsessed is to put in mildly.
Well, every time I drove by these trees, I just wanted to pluck them off the tree. One morning I went out of my way to drive by them, and I even came prepared and brought my snazzy garden pruners.
But did you know that my husband calls me a model citizen? Yup, I insist on stopping at yellow lights despite almost getting rear-ended by the car behind me. So, you can imagine I was way too chicken to cut the branches the other day.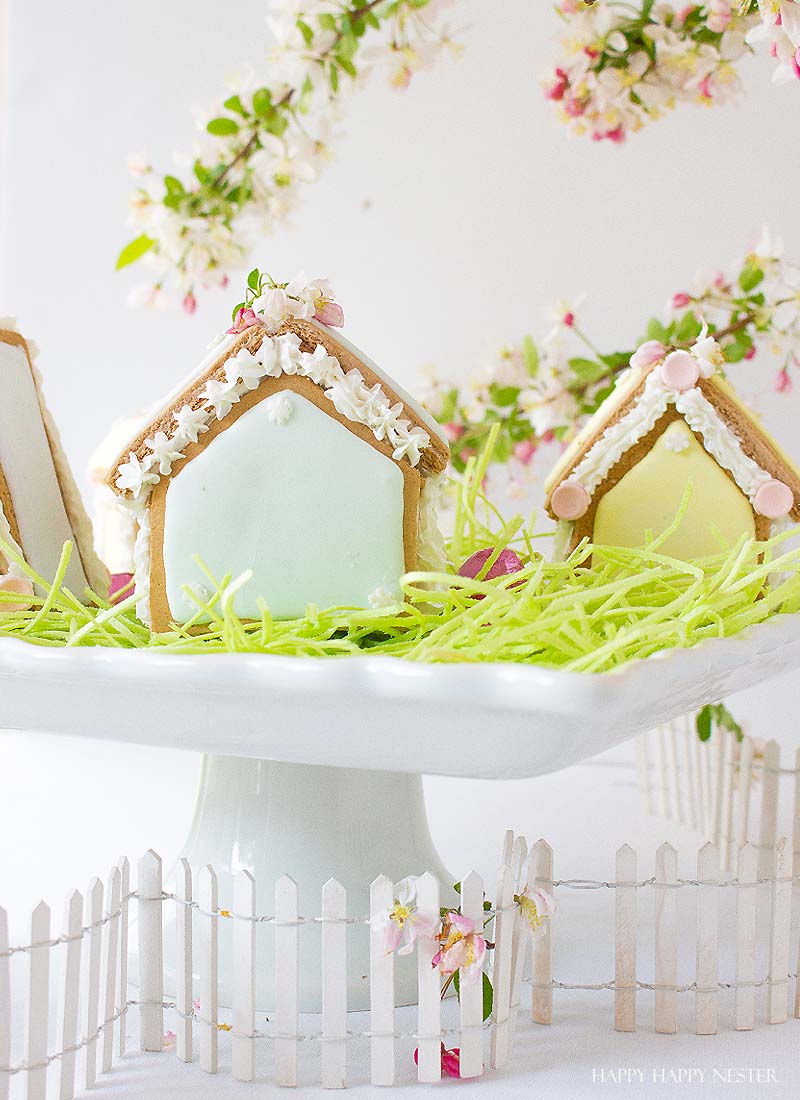 I shared my apple blossom obsession with my Instagram friends and followers and one person said she would bail me out of jail.
I had a good laughed and thanked her.
So, over this past weekend, our family decided to venture into San Francisco for a yummy dinner. And guess what? We decided to take the Bart as our means of transportation.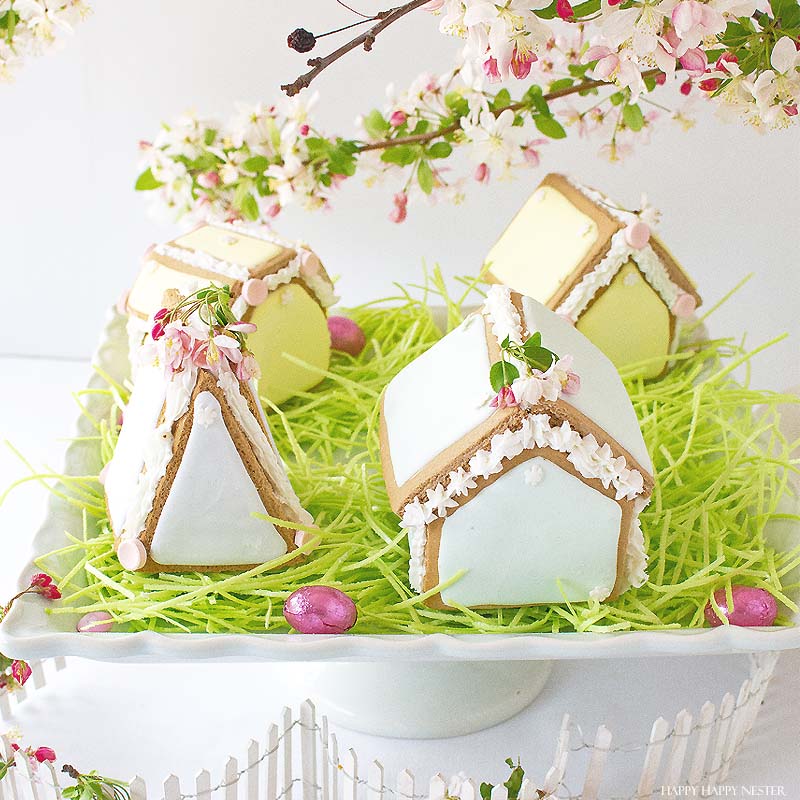 The Heist…
Hello!! I now have some accomplices who could help me pick my spring flowers. My eyes were bright and excited, and I couldn't wait to get back from the city so that I could get my hands on some them.
I shared my devious plan with my husband, and he was like, what do you want us all to do?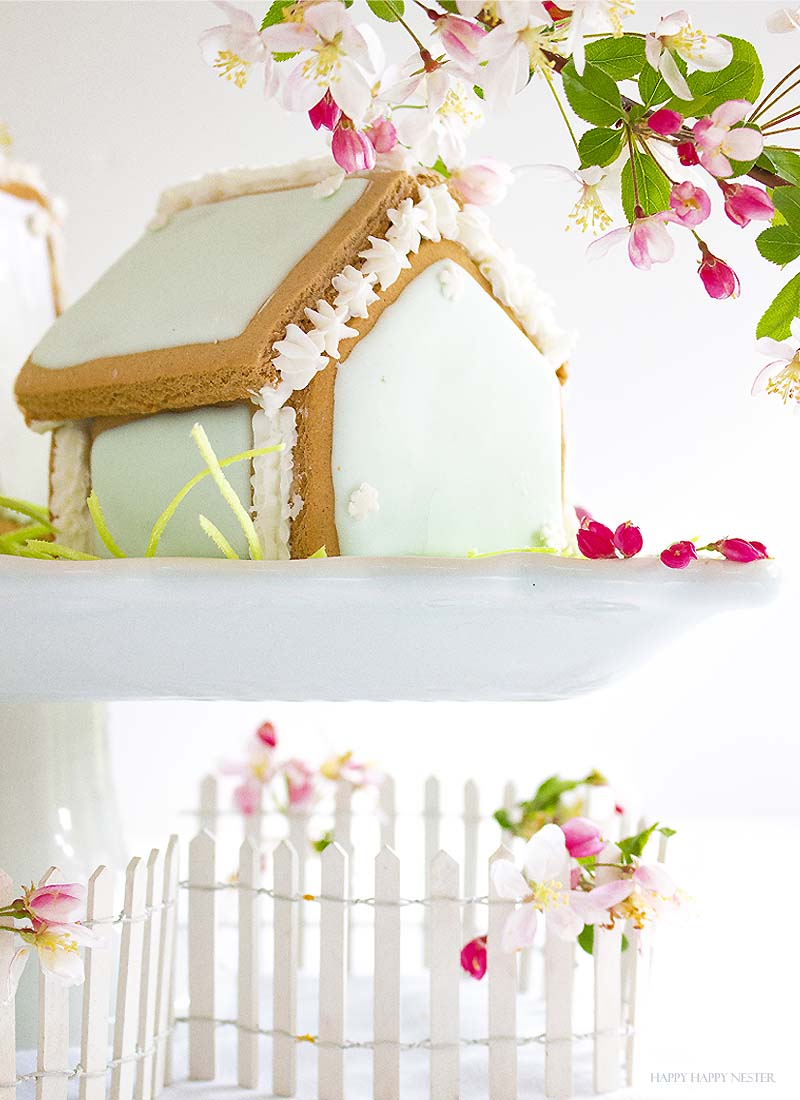 But, my daughter and my husband finally went along with my plan. To tell you the truth I didn't give them another option.
So, we stole these beautiful branches.
Now, I'm not condoning what we did and I don't want to encourage you to do this, but oh my goodness, aren't they just marvelous? They are the perfect flower for my Easter houses!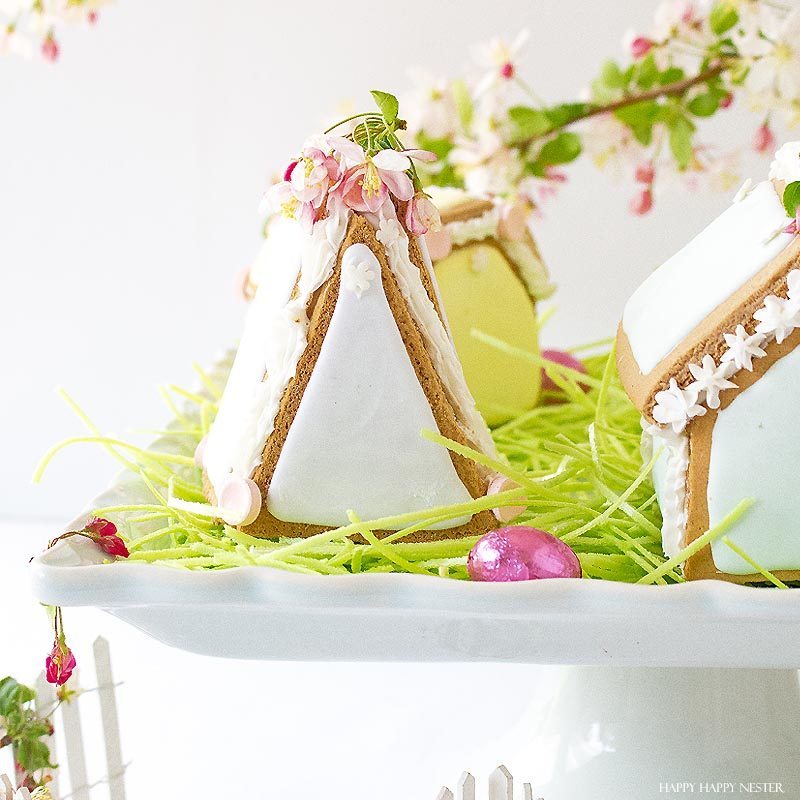 So, I made some Valentine's Day houses in my Valentine's Day tablescape, and at that time I iced these Easter houses too and stored them until now. This post tells how I made them.
But, this time around I bought some cupcake icing to clean up the corners of the houses.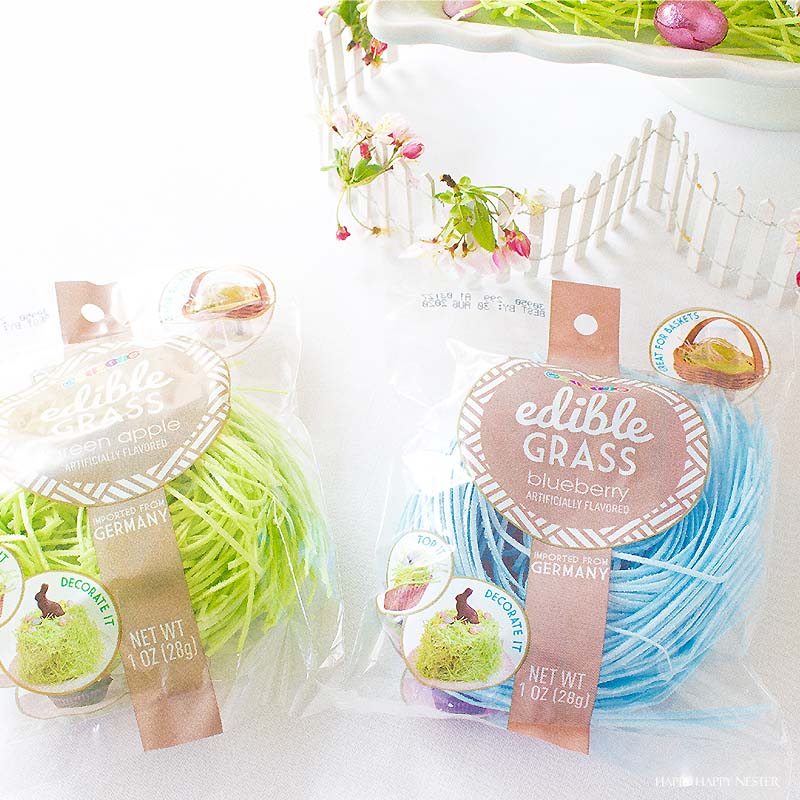 You have to make these Easter Houses!
Also, I bought the edible Easter grass which is made in Germany. So, it comes in long blades of grass, and you can cut the grass or not depending on your project.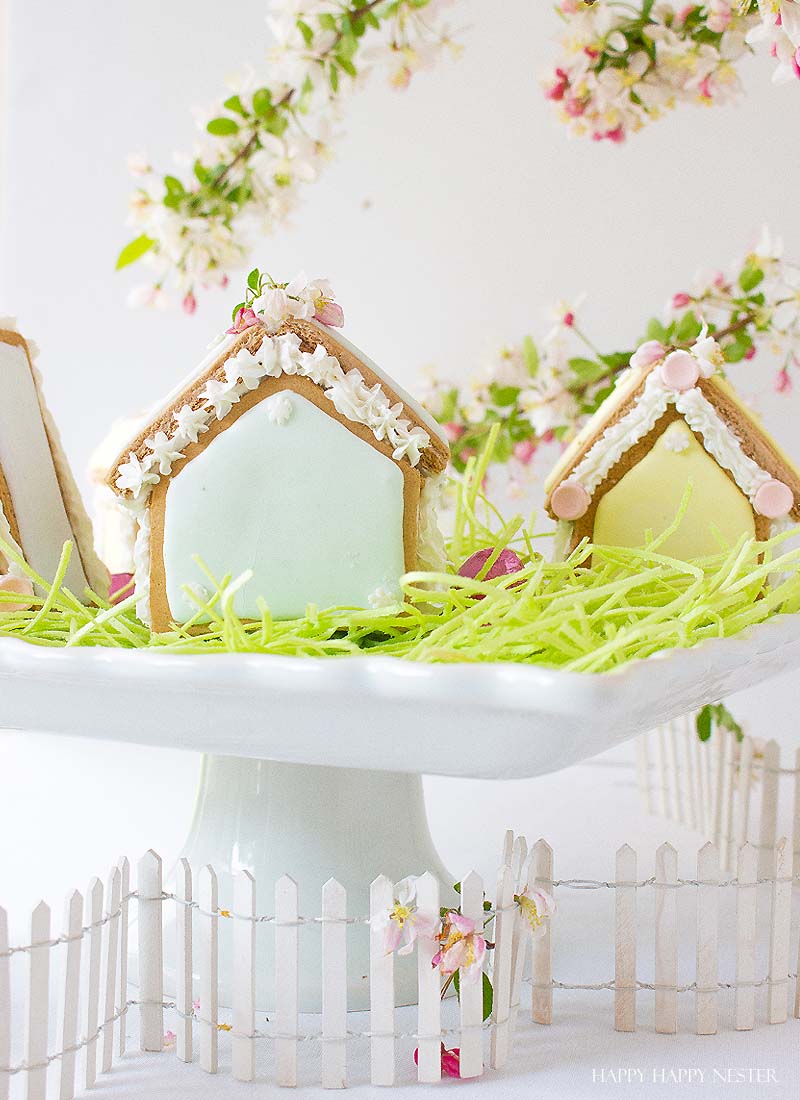 I bought my adorable mini fence a while back, and I found this one on Amazon: mini picket fence
Here is the link to the mini-gingerbread village that I used an also the frosting. And if you like to place them on all a white cake stand, I found one that you might like. But, you know where I found my apple blossoms, shh, don't tell anyone!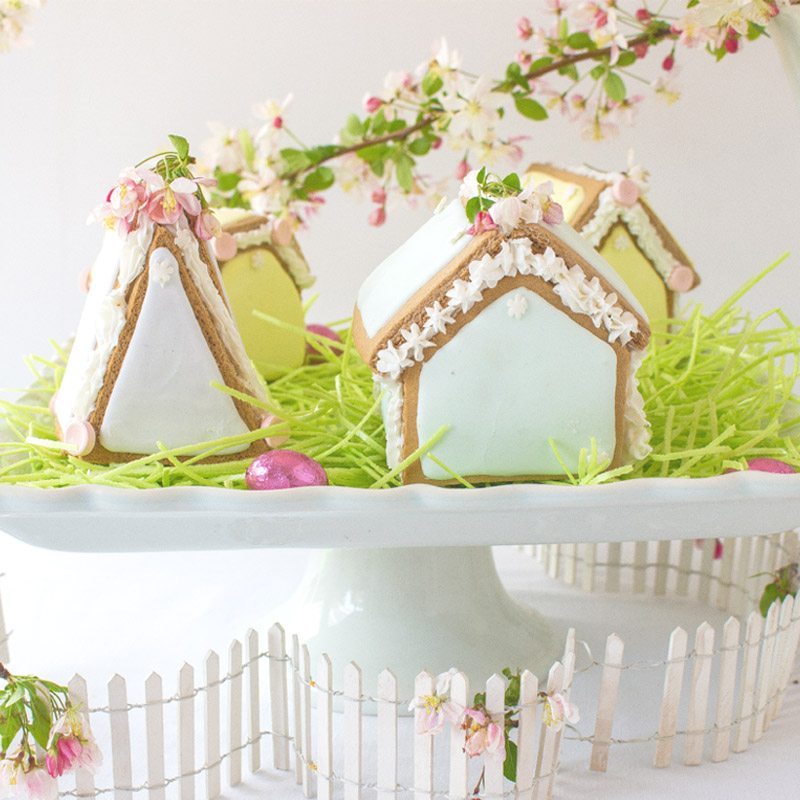 Well, off to take a photo of my bouquet of apple blossoms for Instagram. I hope you enjoyed this post and say, "hi" in the comments since I always love to hear from all of you. Also, join my newsletter to see my latest post. I will be offering a private subscription-based class in the fall so I hope you can join me.
Cheers,

Make sure to check out these lovely blog posts from
Creative Makers Blog Hop
Leanna | Faeries and Fauna
Katrin | Kreativ K
Janine | Happy Happy Nester
Michelle | Our Crafty Mom
Ashley | Modern Glam
Sarah | Creative Ramblings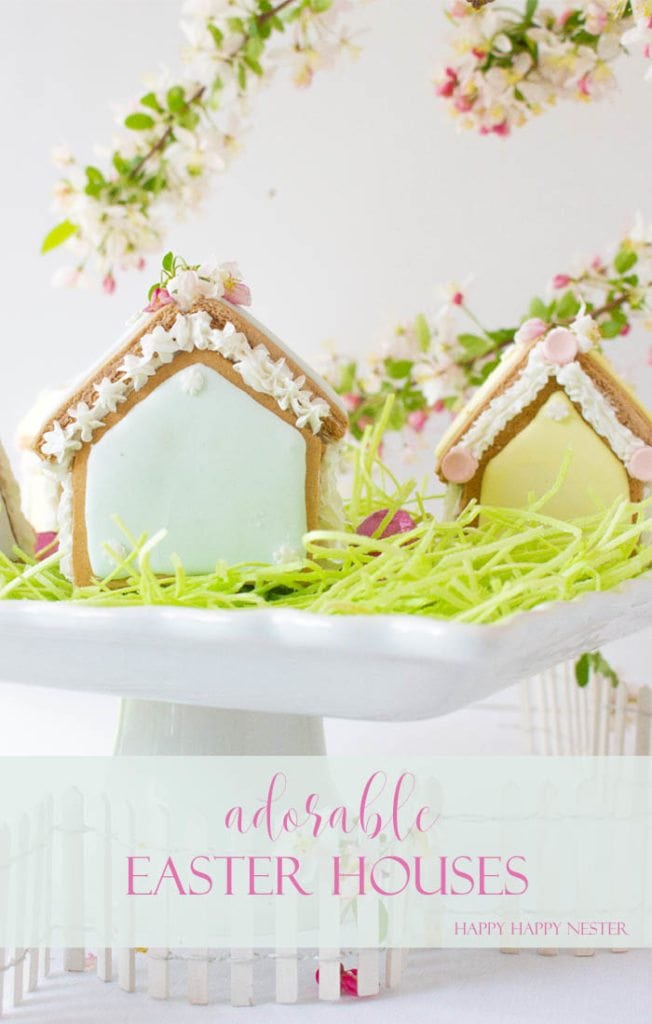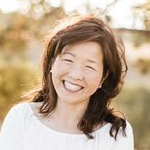 Latest posts by Janine Waite
(see all)