The first time I saw a Shag Cake, I knew that I would make this fabulous dessert. It's such an unusual cake and has such a fun attitude. The piped buttercream frosting layered to look like shag carpet is like a sculpture with its three-dimensional qualities.
You'll need a few pieces of cake decorating supplies for this project, but other than that, it's an easy cake to decorate. I made a yummy vanilla cake, but you can buy a plain cake and decorate it at home to save time.
Today, I'm launching my Cake of The Month Challenge. As you know, I love cakes, and I've shared a few over here on the blog.
But, starting today, I'm trying something new.
I'm sharing a cake each month, and I hope to inspire you to try and make the cake. And if you do make the cake, I would love it if you could take a photo and email it to me.
You see, I want to highlight your cake photos on the blog post.
Let's create our little baking community where we create, inspire, and get busy in the kitchen.
For this Shag Cake, I roped in my husband to pipe the frosting. It was funny since we researched all the cakes online and decided to make on hombre colored cake. Which meant we wanted the lower parts of the frosting to be light, and gradually the frosting color would turn a dark pink on the top of the cake.
Well, after a few attempts of pushing the buttercream out of the piping tip, we had to abort that complicated idea.
In retrospect, it was a good thing since we made an easier cake.
I'm Obsessed with this Shag Cake
When I set out to make this cake, all the tutorials made it look easy. Well, as always, I encountered a few obstacles right from the start.
So before you begin decorating your shag cake, make sure to read the following helpful tips below!
Important Tips About Frosting a Shag Cake
Buttercream Consistency is Key
As I said, we had a snafu with the buttercream frosting.
I bought the recommended frosting tip, a big flat tip with lots of small holes on the top. But, once we started piping, I was worried. It was the wrong tip. The buttercream came out in a big blob with a small definition of strings.
After a few flops, I quickly figured out that the frosting needed a lot more powdered sugar. So I added a LOT of it and kept placing some in a tip to see if the shag appeared.
Once the buttercream was stiff and the piping of strings appeared, I was so relieved.
Make a Small Cake
I made three 6-inch cakes since the smaller cake would take less frosting. And as it turned out, I made three batches of buttercream. So this cake is all about the shag piping.!
Pastry Bags
This is an obvious tip, have one pastry bag for each frosting color.
Start at The Bottom
Piping
Piping this cake is an aggressive technique what I mean is that it isn't a delicate procedure. You will make long strands of piping and build the frosting in a couple of layers. Make sure to read the steps below.
Also, as you pipe, fill in the empty spaces with more piping.
Choose a Simple Design
When I researched this cake, bloggers made it look so easy. But, once you start piping, the frosting takes on a mind of its own. So, that's why my husband allowed the piping to drape over the cakestand. The buttercream wanted to fall, and he went with this effect.
Our organic design reflects what the frosting naturally wanted to do, so we didn't fight it. If you get squiggles in the piping, that's ok. It adds a fun texture and element.
It Takes a Lot of Hand Strength to Pipe This Cake
I must admit that the buttercream needs to be stiff to get the shag definition. This means it takes a bit of hand strength to push the frosting out of the pastry bag.
How to Make a Shag Cake
Cake Supplies:
Chantilly cake and frosting recipe
buttercream
red food coloring
frosting tips / large couplers
Buttercream
Make this delicious buttercream recipe for piping cakes.
Ingredients
2

cups

butter

unsalted and room temperature

8

cups

powdered sugar

½

tsp

salt

2

tbsp

vanilla extract

½

cup

cream
Instructions
Beat soften butter with paddle in a kitchen aid mixer.

Pause mixing and add the powdered sugar. On slow speed mix the frosting slowly.

Once the ingredients are incorporated, increase speed and mix thoroughly. Add vanilla extract, salt, and add half the milk.

If the frosting is runny, add more powdered sugar and if it's too stiff slowly add cream.

Place a dollop of buttercream in a tip and push the frosting through. If there is no definition then add more powdered sugar to the frosting and mix well. Test again and keep adding sugar until you get the right consistency.

Add red food coloring if desired.
Nutrition
Serving:
1
serving
|
Calories:
221
kcal
|
Carbohydrates:
30
g
|
Protein:
1
g
|
Fat:
12
g
|
Saturated Fat:
7
g
|
Polyunsaturated Fat:
1
g
|
Monounsaturated Fat:
3
g
|
Trans Fat:
1
g
|
Cholesterol:
31
mg
|
Sodium:
138
mg
|
Potassium:
5
mg
|
Sugar:
29
g
|
Vitamin A:
355
IU
|
Calcium:
4
mg
|
Iron:
1
mg
Directions: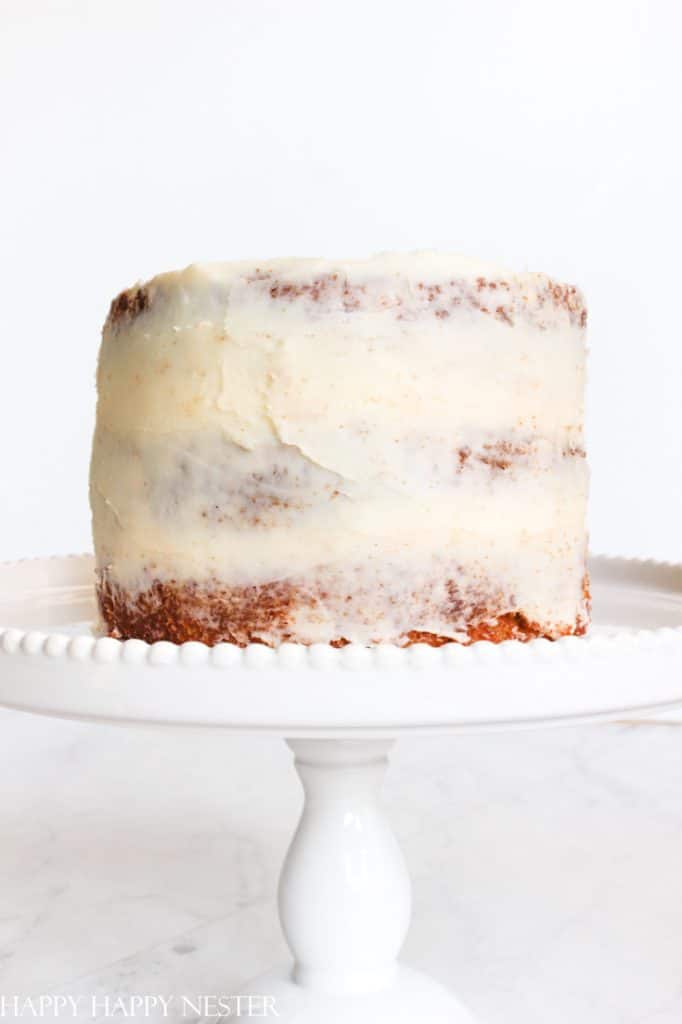 Step 1 – Make Cakes
I made three 6-inch round cakes. I used my Chantilly Cake Recipe and used my 6-inch cake pans. If you make the recipe as is, you'll have some extra batter to make two muffins. Sorry, I couldn't figure out the exact measurements for three mini-cake pans.
Frost the cakes with the Chantilly frosting in between the cakes. You can even place some raspberries in between the cakes.
Lightly cover the outside of the cake (like a rustic cake) with some buttercream frosting.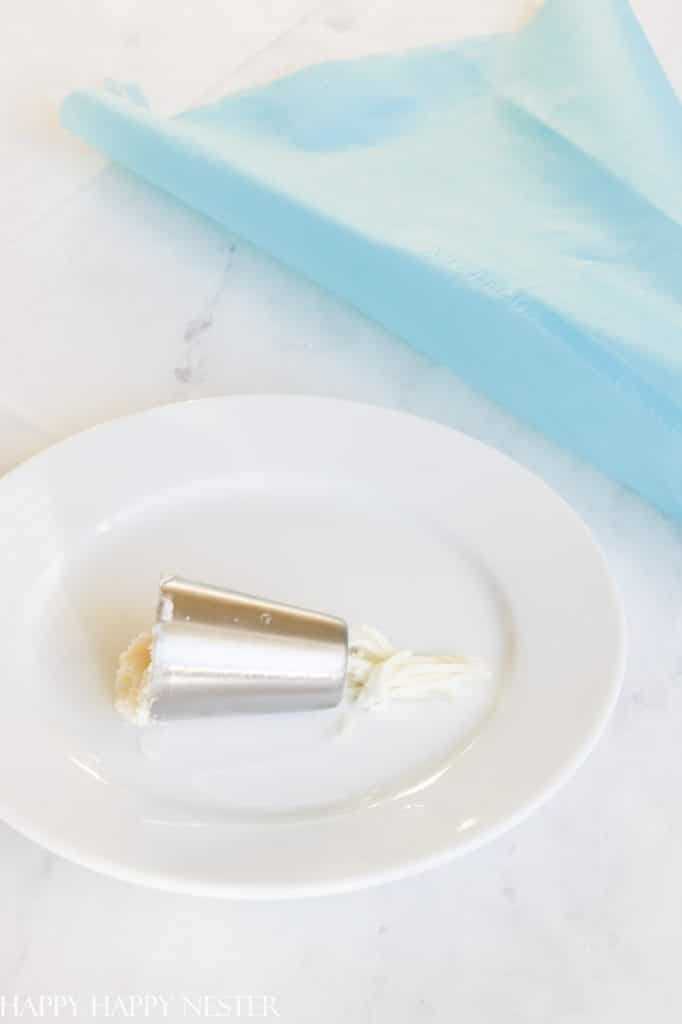 Step 2 – Make Buttercream
Make a large batch of buttercream. Since you need a lot of frosting for this shag cake, you may have to make a couple of batches instead of one big batch. Unfortunately, I'm not sure there is a bowl big enough for mixing the frosting that you'll need.
Once you have the buttercream, make sure to test if it's stiff enough for your piping. I used just the piping tip, placed a frosting dollop in the tip, and pushed it out with my finger. If you get distinct strings of frosting, then you have the correct amount of powdered sugar. If it's soft, keep adding a small amount of sugar and test again.
Color the frosting with the generic red food coloring. Create a dark pink and light pink by adding drops of red food coloring to the frosting. Add a few drops at a time and mix thoroughly before adding more to achieve the right shade of pink.
Step 3 – Begin Piping
Start piping at the bottom of the cake. First, place small dark pink dollops of piping (you don't need to be perfect for this part) at the base of the cake. Next, pipe a row over them with more finished piping and pipe over the edge of the cakestand.
Once you establish the first layer of shag, begin your next layer of piping halfway up the cake. Stagger where you start your piping, so you don't get this hard edge. Allow the piping to touch the bottom layer and spill over. Filling in the bottom half of the cake and fill in the empty spaces as you go.
Use the lighter pink buttercream for the top of the cake. Start in the center of the cake and begin piping the top dragging the frosting just below the rim of the cake. Continue piping around the top of the cake. Place a fresh strawberry on the top if you want.
Note that the piping in the above photo shows a slightly soft buttercream. This is because you want the frosting to be a bit stiffer.
---
Monthly Cake Challenge!
Let me see your version of this shag cake! Send me a photo of your cake. I would love to see your cakes! Let's inspire each other over here.
Cheers,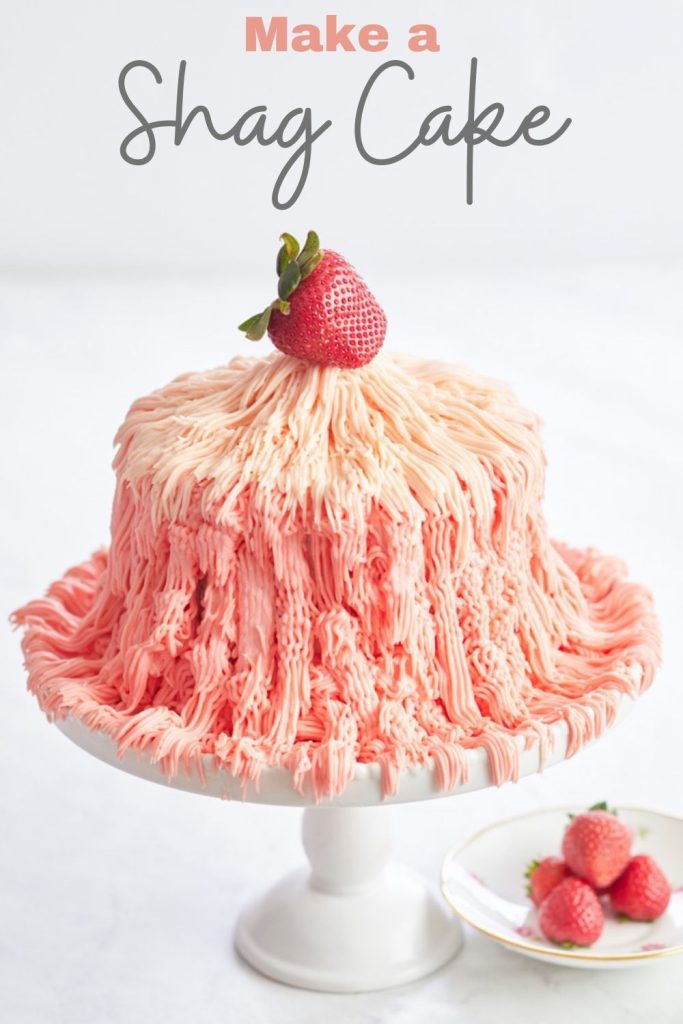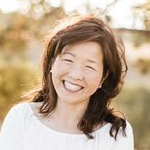 Latest posts by Janine Waite
(see all)