You might say that I'm a bit obsessed with this delicious Yeast Cake Recipe! Well, you might say I'm addicted to The Great British Baking Show. This unusual French cake is not super sweet but it is soaked in a lovely orange syrup of Grand Marnier. I can't wait to share with you all that I learned about this wonderful cake.
What is a Yeast Cake?
I wondered this exact question when I watched The Great British Baking Show. Today, I'm so excited to share with you the things I learned. I love to research new things and just a few days ago, I had no idea this kind of cakes even existed.
Why Make a Cake with Yeast?
So before there were baking soda and baking powder cakes were made with yeast. This was the rising agent for cakes as well as loaves of bread. Since yeast reacts with sugar this yeast cake recipe actually has very little sugar in it.
Does it Taste The Same as a Baking Powder/Baking Soda Cake?
This Savarin yeast recipe is a sponge cake and has a nice density. So, in my opinion, it is less flakey and leans more towards a fine bready texture.
What is The Difference Between Baking Soda and Yeast?
Yeast goes back like 5,000 years ago and was used to leaven bread. Yeast is a natural substance that is a microscopic fungus. Baking Soda according to Wikipedia:
"Sodium bicarbonate, commonly known as baking soda, is a chemical compound with the formula NaHCO₃. It is a salt composed of a sodium cation and a bicarbonate anion. Sodium bicarbonate is a white solid that is crystalline, but often appears as a fine powder."
Cakes with baking powder have a flakey and lightness whereas this yeast cake recipe is more dense and rustic and less sweet.
What is the History of the French Savarin Cake?
The Savarin Cake as invented by Parisian pâtissier Auguste Julien in 1845. It is like a rum baba but baked in a circular or bundt pan. The cake is named in honor of Jean-Anthelme Brillat-Savarin (1755-1826), a French politician, lawyer, and gastronome.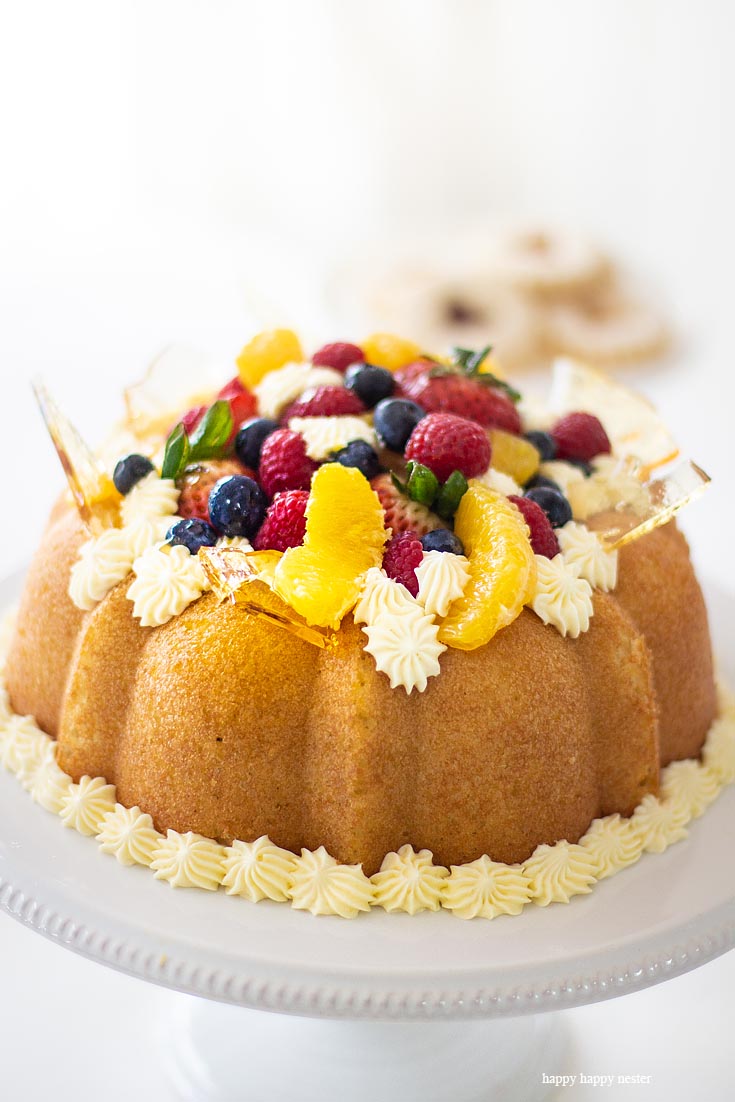 Every evening after I finish up my blogging work, I cozy on up on the couch with my husband and he turns to me and says, "You want to watch The Great British Baking Show?" I have the biggest smile on my face and nod vigorously yes! It is my favorite tv show and all my latest baking projects are inspired by it. I hope you are ready to see a lot of interesting and unique pastries. You can see my latest heart shaped pancakes.
Savarin Yeast Cake
This cake is unique and memorable. The liquor syrup soaks throughout the cake and the French Sabayon frosting is the perfect combination. Fresh fruit makes this the perfect cake to impress family and friends.
Ingredients
For the Savarin
350

g/12oz plain flour

50

g/1¾oz caster sugar

10

g/¼oz instant yeast

½

tsp

salt

3

tbsp

milk

6

free-range eggs

180

g/6oz unsalted butter

at room temperature, cubed, plus extra for greasing

1

large orange

finely grated zest and segmented fruit

1

large unwaxed lemon

finely grated zest only
For the syrup
300

g/10½oz caster sugar

1

large lemon

juice only

100

ml/3½fl oz orange liqueur

preferably Grand Marnier
For the caramel chards
1

cup

granulated sugar

1/4

tsp

fresh lemon juice
Sabayon (here is the creamy Sabayon filling)
Instructions
The Cake
Stir together the flour, sugar and yeast in a large bowl. Mix the salt, milk and eggs together in a jug then pour into the flour mixture and beat well using a wooden spoon for about 5 minutes to make a thick, sticky batter.

Gradually add the butter, beating until the mixture is smooth, elastic and shiny. Finally fold in the orange and lemon zest. Cover the bowl with cling film and leave to rise for 1 hour.

Grease a 23cm/9in bundt tin or savarin mould with butter. When the batter has risen, spoon it into the tin. Cover with oiled clingfilm and leave to rise for 45 minutes to 1 hour, until it reaches three-quarters of the way up the tin.

Preheat the oven to 180C/160C Fan/Gas 4.

Remove the cling film and bake for 20–25 minutes or until the savarin rises and golden-brown. Remove from the oven and place the tin on a wire rack to cool for 5–10 minutes.

When cool enough to handle, remove the savarin from the tin and pour half of the syrup into the tin. Gently place the savarin back into the tin to soak up the syrup and cool completely. Pour the remaining syrup into a roasting tin, then place the savarin into the syrup and leave to soak for 5 minutes. Carefully transfer to a serving plate.
For the syrup, tip the sugar into a pan, add the lemon juice and 5 fluid ounces of water and bring to a simmer, stirring until the sugar dissolves. Remove from the heat, stir in the orange liqueur and leave to cool.
For the caramel shards, line a baking tray with silicone or baking parchment. Add the sugar to a pan with 4 tablespoons water and bring to a simmer, stirring until the sugar dissolves. When all the sugar is dissolved, bring the syrup to a boil without stirring until it reaches 170C on a sugar thermometer (CAUTION: boiling sugar is extremely hot. Handle very carefully). Immediately pour out onto the lined tray and leave to harden. Crack with a spoon or cut into shards using a knife.
Using a sharp knife, segment the zested orange. Carefully slice off the top and bottom of the orange. Using even downward strokes, slice the skin away from the flesh and discard. Remove any remaining white pith.
For the Caramel
Line a cookie sheet with parchment paper.

Place cold water and ice in a pan. This will be used for later and will stop the syrup from burning.

Place sugar and lemon juice in a double boiler. Put water in the bottom pan but make sure the top pan doesn't touch the water. Also, have a little glass of water and a brush to clean off the sides of the pans of sugar crystals throughout this process.

Bring water to a boil over medium-high heat. Stir syrup until mixture turns color around 5-8 minutes.

Once it turns color stir and cook for another 30 seconds.

Quickly take off stove and place in a pot of cold water and ice. This stops the cooking of the syrup.

Place the hot mixture on the parchment paper and spread like a sheet. Cool and break in pieces.
Place cake on stand. Fill middle of the bundt with sabayon filling.
Place fruit in the top along with caramel shards.

Pipe sabayon around the cake.
Nutrition
Serving:
1
serving
|
Calories:
2000
kcal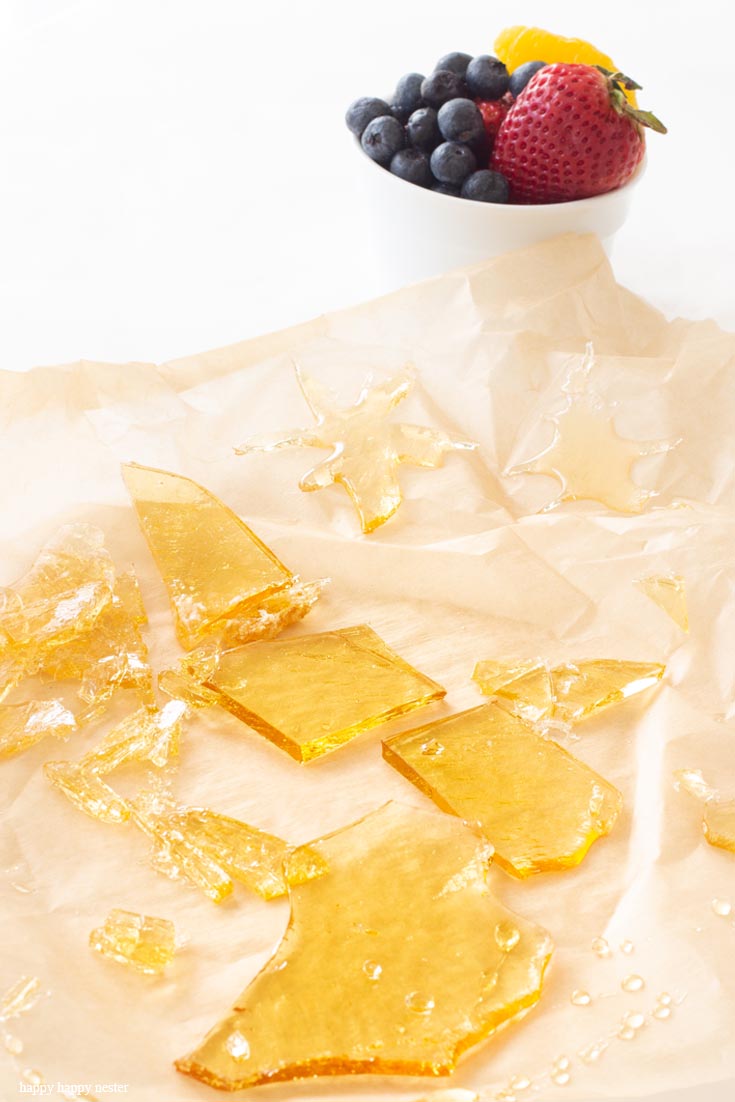 A few things to note.
1. I used a French sabayon frosting instead of whip cream.
I did this since Mr. Waite is allergic to raw milk and my sabayon recipe cooks the milk which is better for my husband. This sabayon recipe is life changing and I actually love it more than whip cream.
2. I would place the frosting in the middle of the cake.
I'm not sure what is suppose to go in the middle of the cake and so I placed fresh fruit. I would in the future place the sabayon since the cake has very little sugar and it pairs well with sabayon.
3. The size of your bundt pan is important. 
Our bundt pan is a bit on the smaller side so the yeast did its job and the dough seeped over the top of the pan. I believe that if we used a normal size pan, 9-inch pan this probably would've been prevented the dough spillage.
4. Sheets of caramel aren't terribly difficult to make.
The key to a great caramel is a good recipe. I tried the BBC recipe twice and it flopped. I finally found another recipe and it worked like a charm.
Well, I love this cake and I was recently asked, would I make this cake again and I totally plan on making this again in the future. It is a stunning cake and has such a great presentation. I'm new to baking all these unusual cakes and this yeast cake is so unique and yummy. If you want to make an easy but delicious French recipe than try my French Apple Custard Tart recipe.
Happy Baking,
Cheers,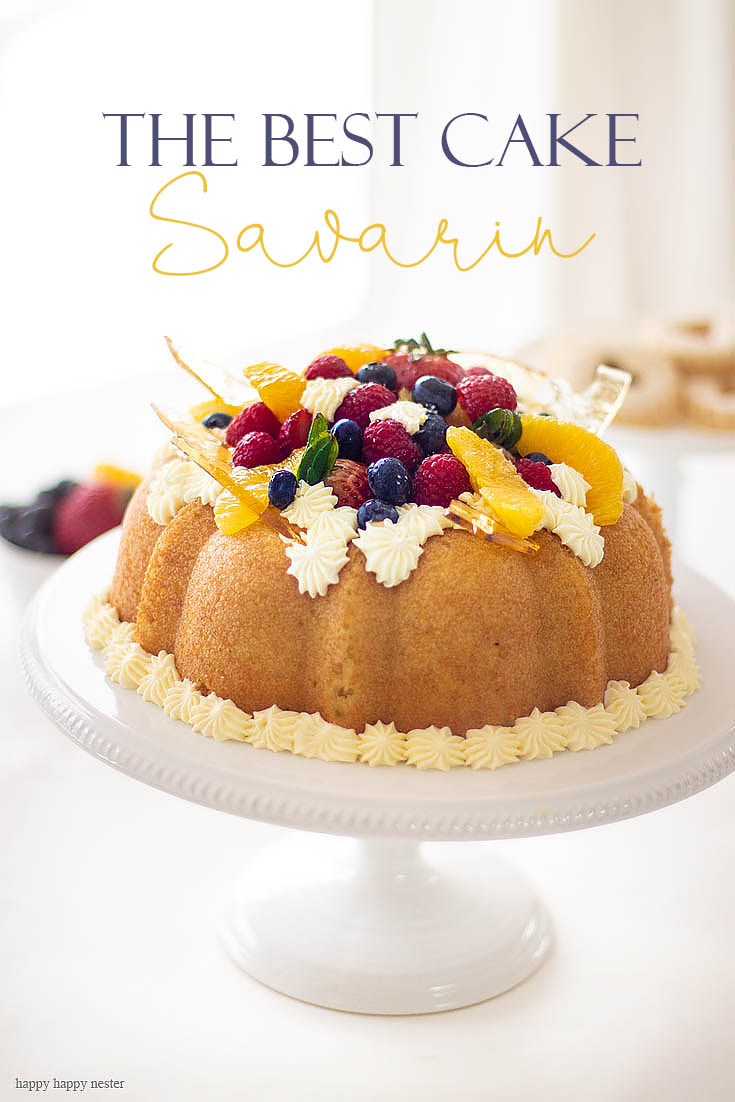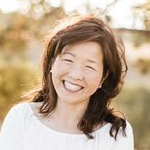 Latest posts by Janine Waite
(see all)