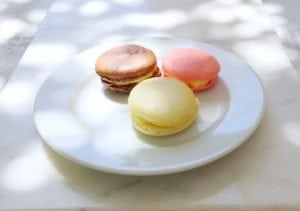 An Incredible Macaron Recipe
This Macaron recipe is like no other you'll find. These days, Macarons are the trendy cookie, and they come in so many beautiful colors. I had the privilege of attending a personal baking demonstration by Jean-Yves Duperret. He is a French pastry chef and owner of a long time San Francisco bakery, La Nouvelle Patisserie. He closed his pastry shop a few years ago, and I wish I had the chance to taste and nibble on all his delicious pastries. My friends and I recently learned some of his tricks to baking a perfect macaron. Here is that fun post:  If Only post.
If Only is a great company that also offers many other experiences here is the link: If Only classes
A Note About the Nester
Today, when I went to photograph our recently baked Macarons, there were only three cookies left. My little mouse of a daughter ate some cookies for breakfast!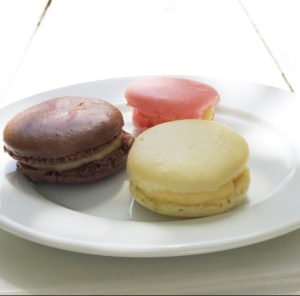 If you are like me, you probably have heard that Macarons are pretty difficult to make. Before taking the If Only class, I had never made them or viewed a macaron recipe. I was starting from scratch in regards to my knowledge of these terrific cookies. The first tip that Jean-Yves shared with us is that the key to the successful macarons lies in the meringue. No pressure there, right? Also, another interesting tip about these cookies is that you should place the whole cookie in your mouth, and it should dissolve and melt away in sweetness. You should not have to chew the cookie too much.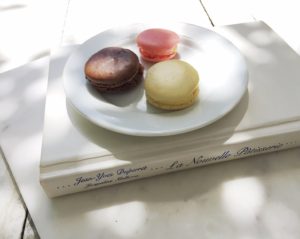 French Macarons
French Pastry Chef, Jean-Yves Duperret
Book: La Nouvelle Patisserie
Makes 35 macarons
Ingredients:
1 1/3 cup Powdered sugar (7 oz)
1 cup Almond Meal (3 oz)
3 egg whites (4 oz)  Research has proven that eggs at room temp and out of the fridge work the same.
1/4 cup Baker's fine sugar (2 oz)
Pastry bag, Pastry tip size 6 and Coupler for tip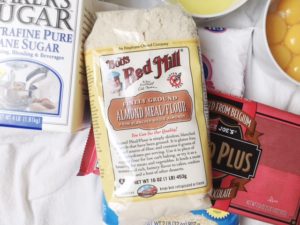 Directions:
1 Set your oven at 280 degrees. Leave the door 1-2 inches open to remove steam when baking so that there is no moisture in the oven. Dampness will cause the macarons to collapse after baking.
2. Line baking sheet with Silpat mat or Parchment paper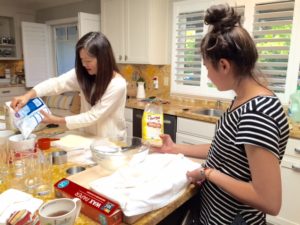 3. Combine almond meal and powder sugar together then sift them all together. Before sifting, you may put them into a blender to make the texture super fine.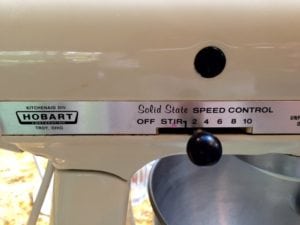 4. Whisk your egg whites (with a pinch of salt) till they form early soft peak. We noticed that the soft peaks were rather foamy. Unlike other recipes, Jean-Yves noted that the mixer should be set to a 3-4 speed, and not the higher speeds. The higher speeds place too much air in the whites and might cause them to collapse. Btw, I love my Kitchen Aid Mixer I will have to write another post about this appliance.
5. Add the 1/4 cup of baker's fine sugar and keep beating at a higher speed of five. Beat until a glossy soft peak consistency forms. Jean-Yves showed us that when you lift the whisk out of the mixture, the whites will create a swirl and be somewhat runny in texture.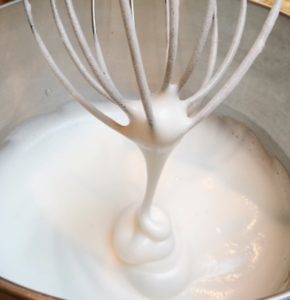 6. Gently fold in your mixture of almond and powdered sugar; do not over stir this batter since this will cause the eggs whites to collapse. He was very adamant that you stir from the bottom to the top of the bowl.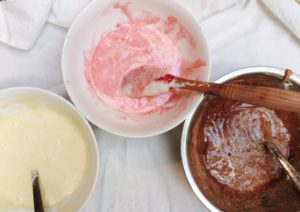 7. If you want to make a few different colors and flavors, split your batch into three separate bowls.
We made the following flavors:
Chocolate
add 1/3 cup (1 oz) Dutch cocoa powder to Macaron batter
Almond
Add 1/2 teaspoon Almond Extract
Raspberry
Fold in raspberry extract and a couple of drops of red food coloring
8. Use a #6 tip and a pastry bag. If you only have one bag and are washing it in between batches make sure to dry the bag. If water mixes with the dough, the cookies will fall after baking. Jean-Yves did not get his pastry bag dry, and you can see that in photo below, the top left cookies are flat and cracked.  Once the moisture was gone the cookies on the far right bottom corner were perfect. This illustrates the need to make sure all moisture is absent in baking these cookies.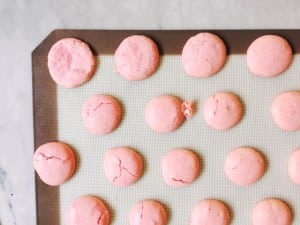 9. Pipe 1/2 – 1-inch disks of meringue onto the prepared baking sheets, leaving space between them.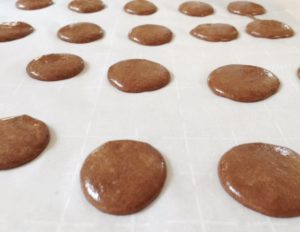 10. Let them sit out on your counter for about 15 minutes. Pop air bubbles. This process is what created the foot of the macaron.
11. Bake for about 14 minutes. Top of the cookie should be crusty but not too dry. Touch the top and the surface shouldn't be sticky.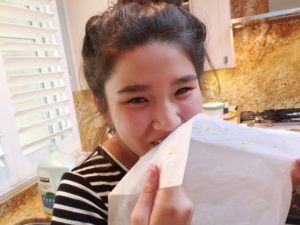 My daughter loved eating the small amount of crumbs left by the macarons!
Macaron Filling
2/3 cup milk
3 yolks
1 cup of sugar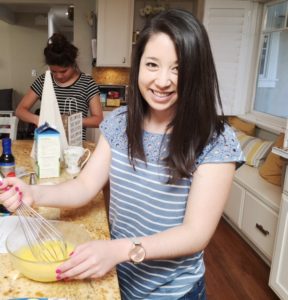 Whisk all the above ingredients thoroughly. Place in medium size sauce pan and heat on medium to low flame on stove top. Mix consistently with a rubber spatula. To test if the filling is done cooking Jean-Yves taught a fun little trick. When we wiped the spatula with our finger the mixture should not run into the line we created with our finger. Note the photo below illustrates this phenomenon. Let filling sit and cool a bit. The filling will settle into two layers.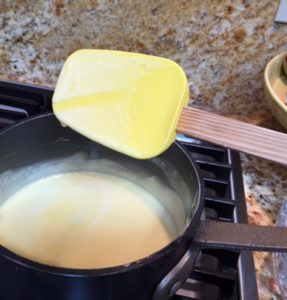 Transfer filling to mixer and while it is cooling mix the two layers together. Then add (in chunks) 1 cup of unsalted room temperature butter. Mix thoroughly. Jean-Yves added flavors, raspberry, coffee to his filling; I'll post his cream filling macaron recipe at a later date.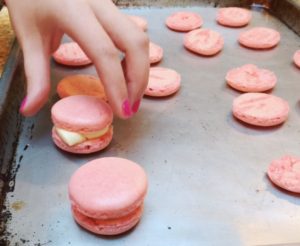 Place buttercream in a pastry bag and fill the inside of the macaron. Place the second macaron on top over the filling. Refrigerate after serving. This macaron recipe is best fresh!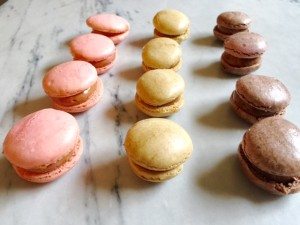 I had a few macarons but nothing like this recipe. These amazing cookies melt in your mouth, and the cream filling has a delectable taste. These cookies are best the day you bake them, so have some friends over and win their hearts over with these delicious cookies. You must try this macaron recipe and let me know what you think. I promise that your taste buds will be forever happy!
Cheers,

The following post contains affiliate links. All opinions are all my own.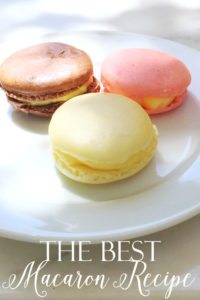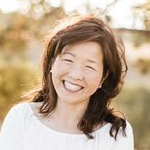 Latest posts by Janine Waite
(see all)