This Italian Pizza Bread is yummy and so easy to make. It is similar to a pizza bread loaf, or roll. Once baked, serve it up by pulling the bread apart into individual servings.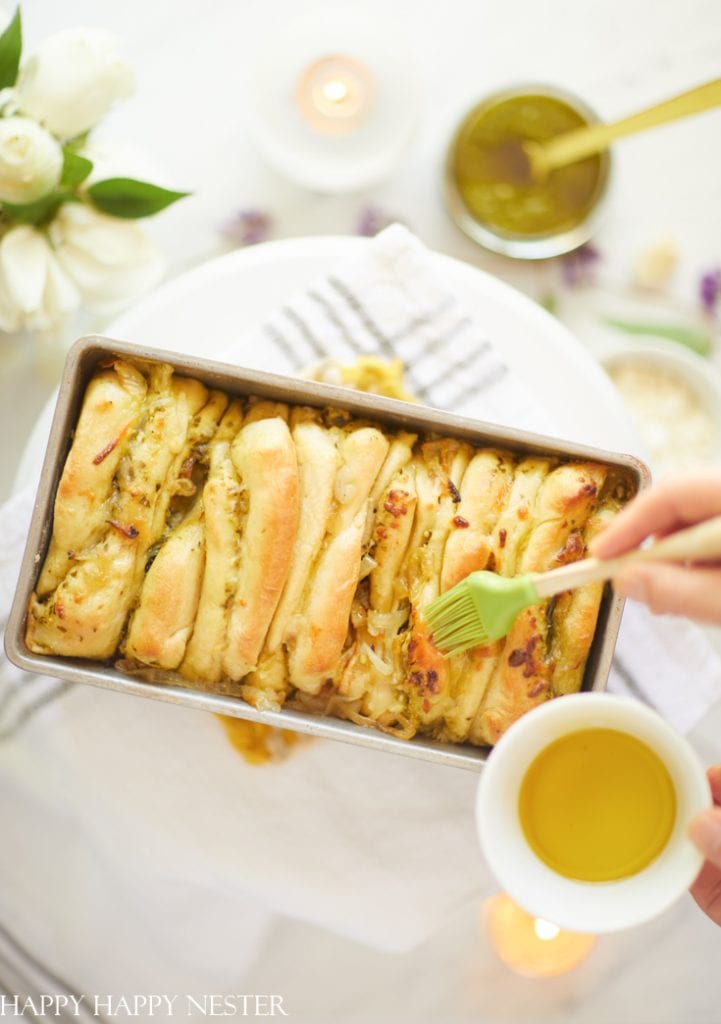 This appetizer is unique and delicious and you can customized to your family's taste in pizzas.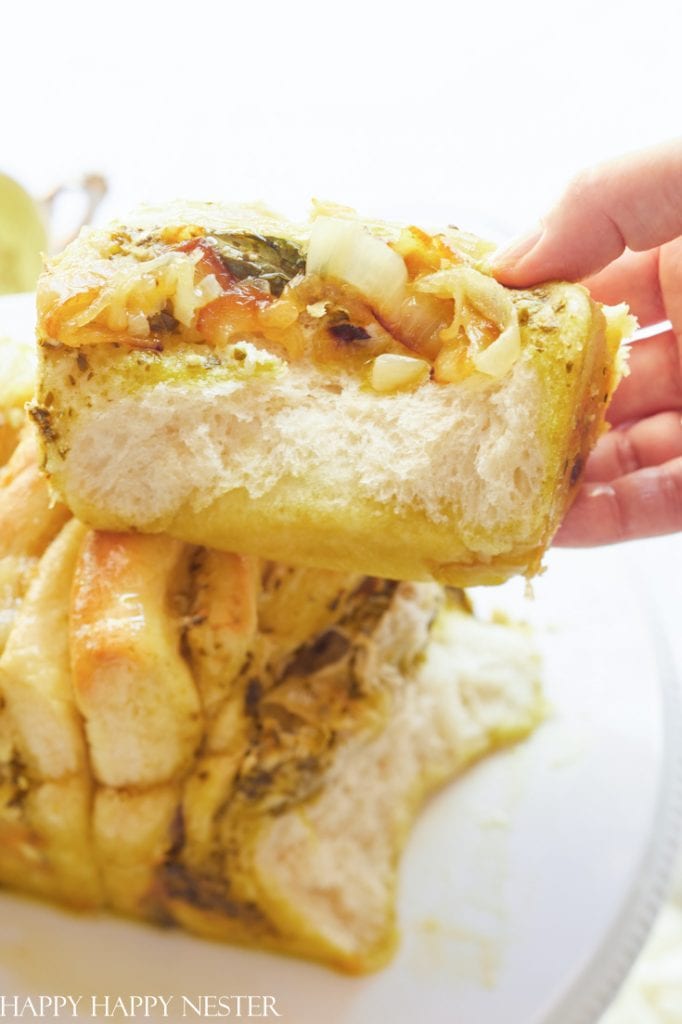 While I was cleaning my messy studio the other day, I watched a bit of Netflix's show, Nadiya's Time to Eat. I ended up mostly watching the show, and cleaning my office took forever.
I'm easily distracted.
Nadiya is a former winner of the Great British Baking Show, and in the episode that I watched, she made this delicious Italian Pizza Bread. I quickly decided that I would try making her recipe. I did make a few revisions, and one is pretty important.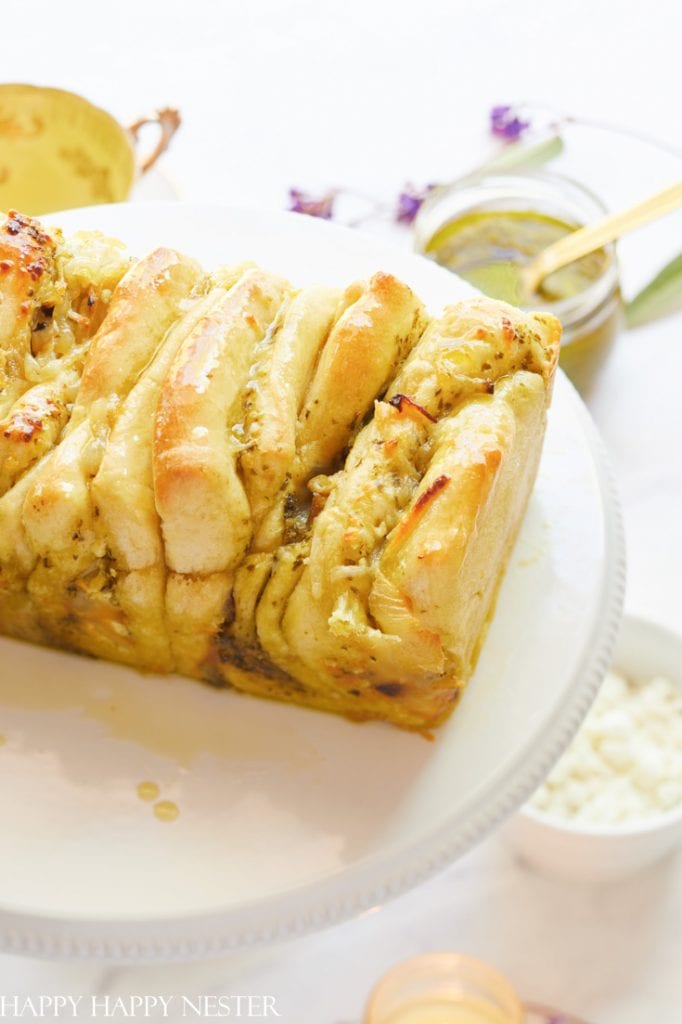 How to Make Stuffed Italian Pizza Bread Recipe
I watched the show on making this recipe, but if you don't have the time, I documented my process.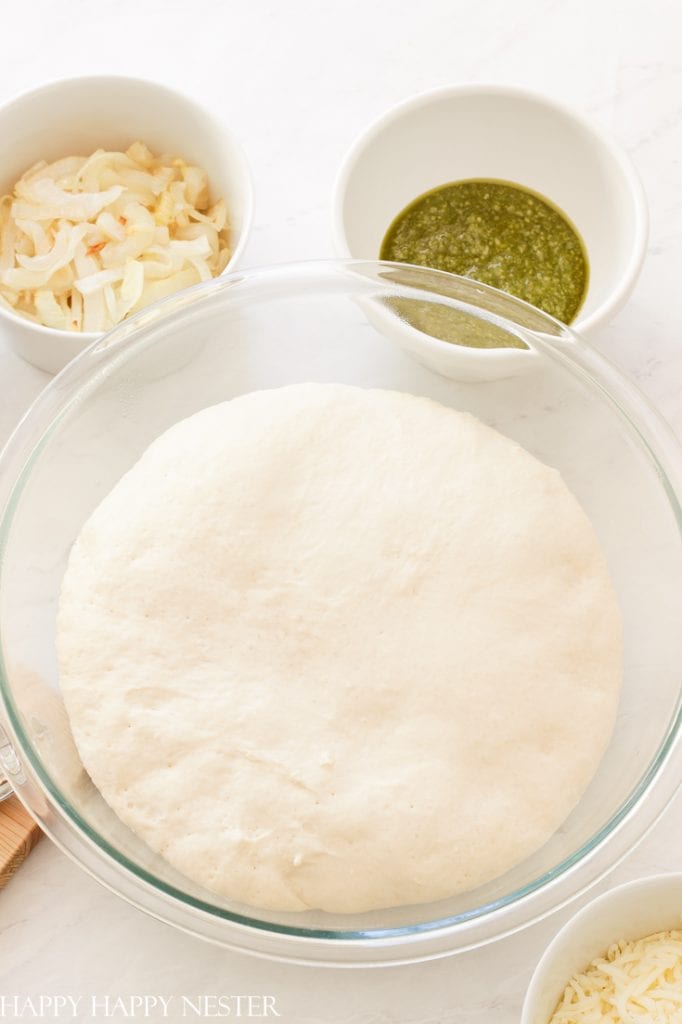 Step 1 – Make the Bread Dough
Once you mix the dough and knead it for six minutes in your Kitchen Aid mixer, you'll place it in a floured bowl and cover it with a damp kitchen towel. I placed mine in my oven with the bread proofing mode. And if you don't have the bread proofing option, place your dough in a warm spot in your house.
Also, if you can get your oven temp to around 100 degrees Fahrenheit that will work too.
This photo shows the bread that is doubled in size.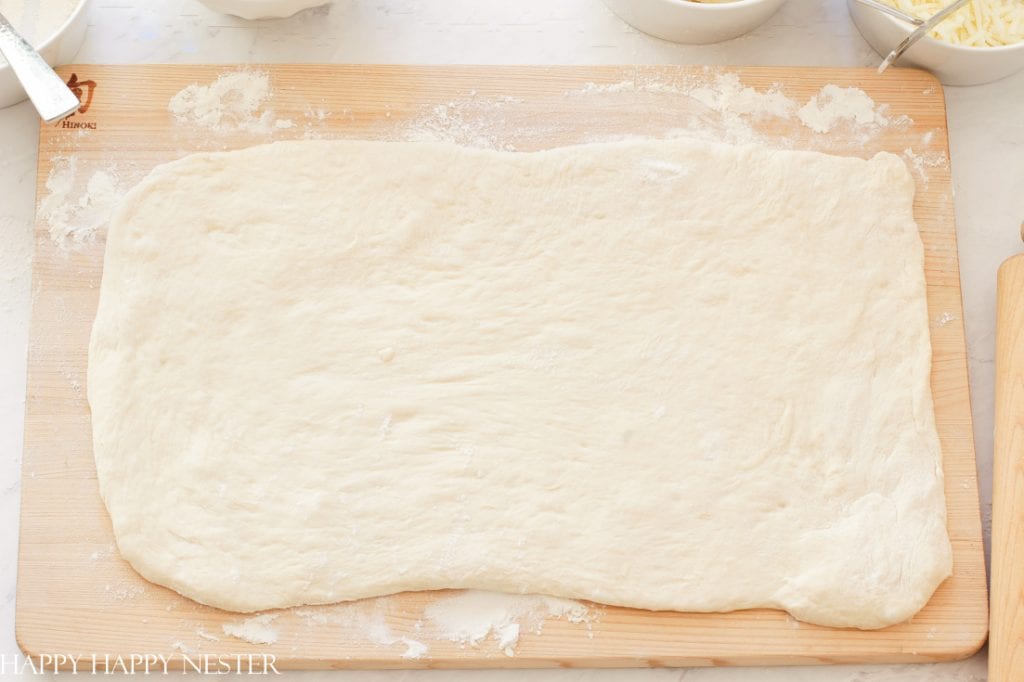 Step 2 – Shape the Dough
Punch down the air in your bread and roll it out on a floured cutting board. After I shaped my dough, I lifted the dough and sprinkled even more flour underneath.
By the way, shape your dough into a rectangle like pictured.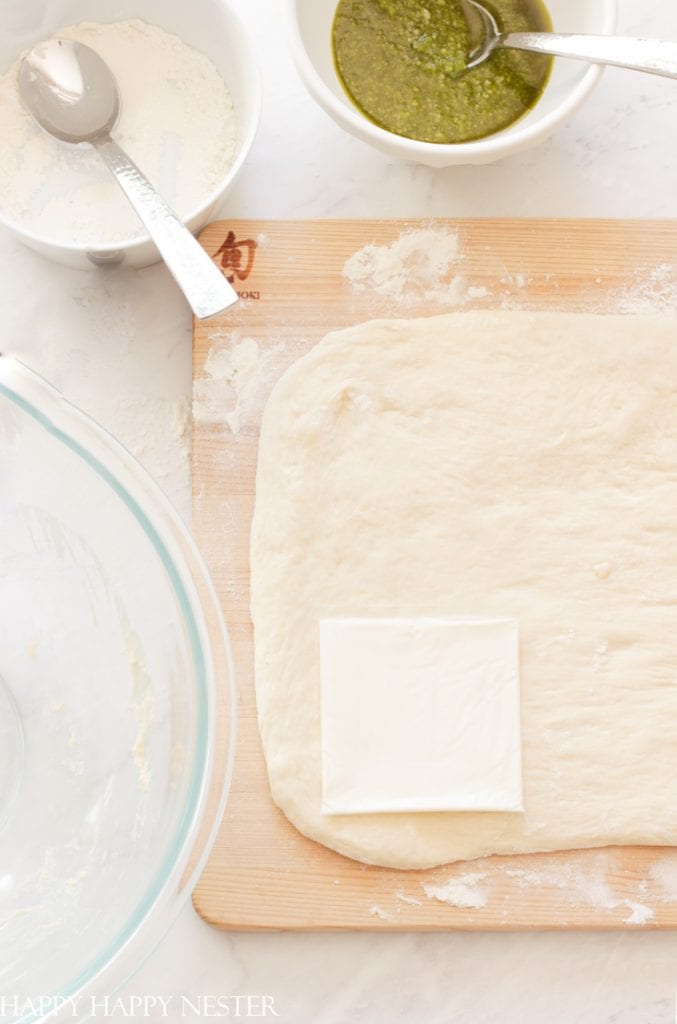 Step 3 – Cut Dough into Eight Squares
You'll make eight squares total. So, four across and two down. Nadiya used cheese squares to measure hers, and she used the cheese. I placed the cheese square down to see if the rolled-out dough was the correct size before continuing to the next step.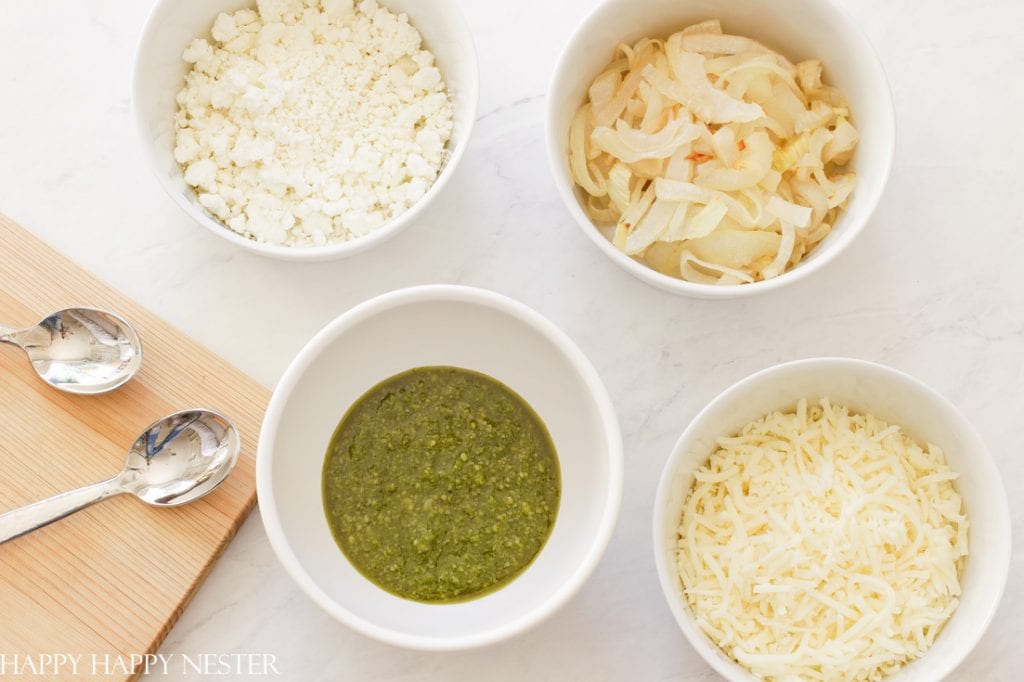 Step 4 – Toppings
Next, get all your Pizza Toppings together. I decided to add goat cheese, shredded mozzarella, pesto, and roasted onions. To roast the onions, slice one onion and spread it on a cookie sheet. Coat onions with olive oil and sprinkle with kosher salt. Mix with a spoon. Bake at 350 degrees for about 30-40 minutes until golden brown.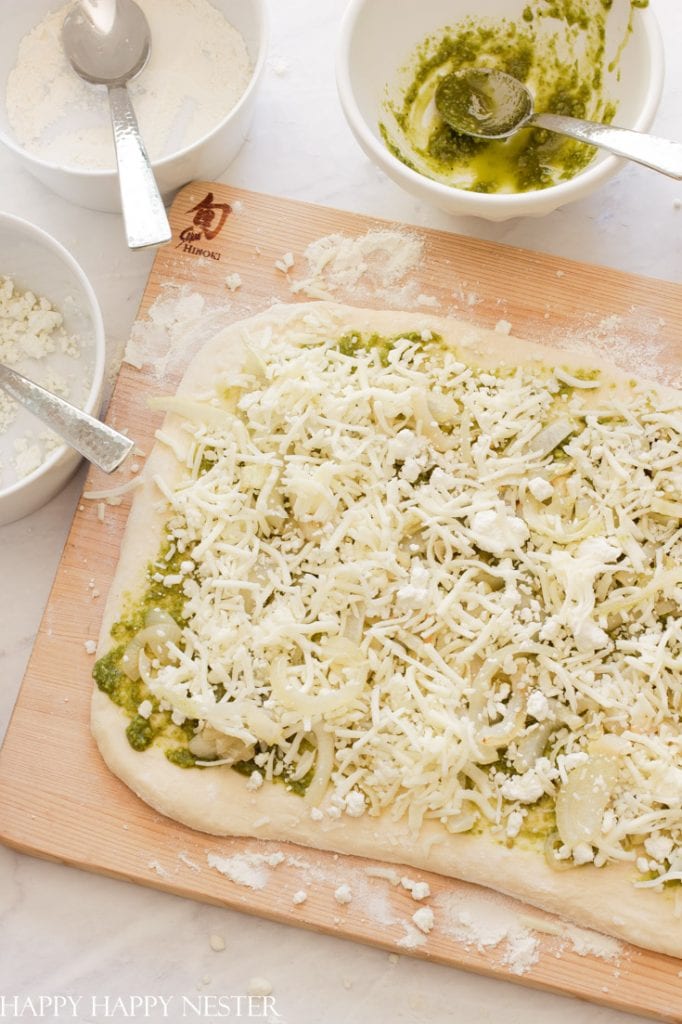 A little note about the cheese: the more you use, the moister your pizza will be.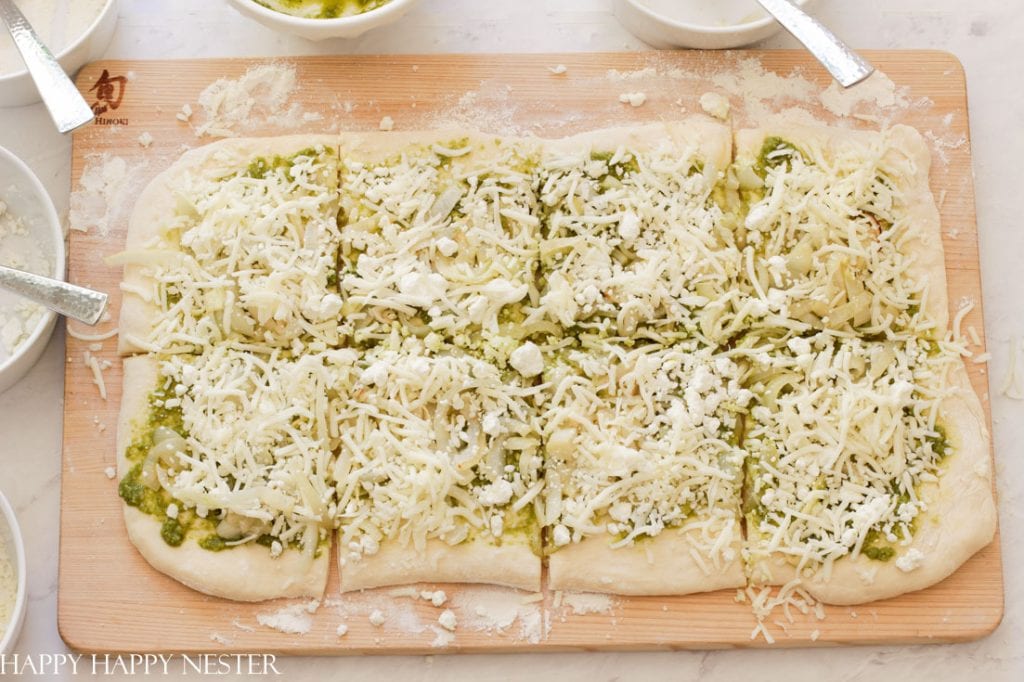 Step 5 – Cut Squares
A little tip, I used my knife to make marks on the dough where I should cut. But it really doesn't need to be exact since it all gets places in a loaf pan and looks pretty much like a rustic Italian pizza bread!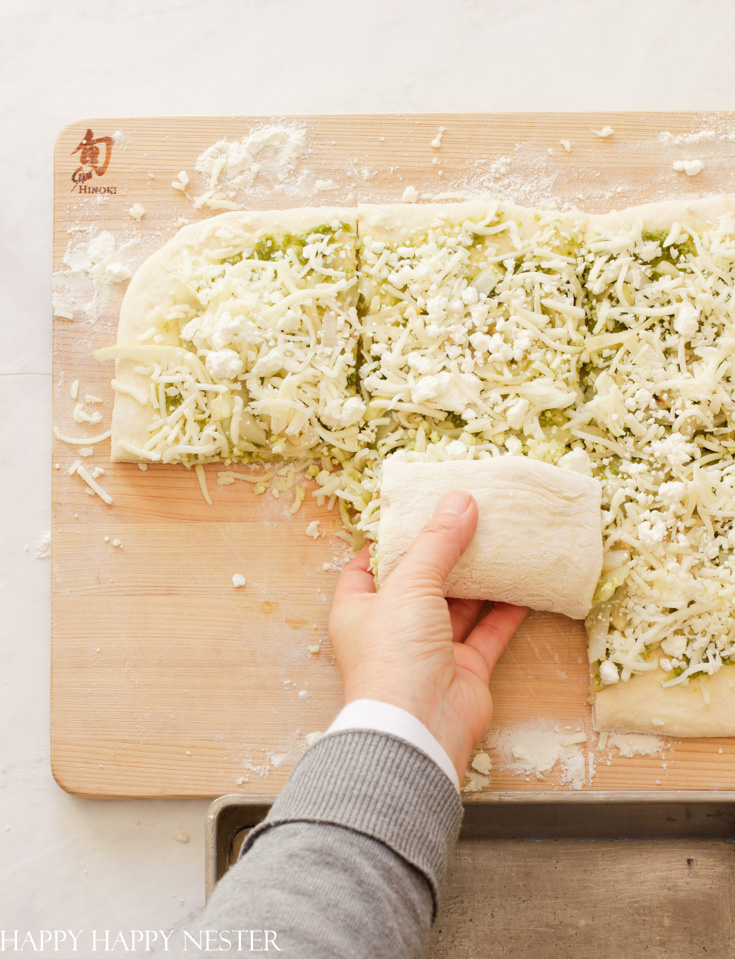 Step 6 – Fold Squares
The ingredients will try and come out, but don't fret. Either go with what you have or add the contents to the pizza squares once you have them placed in the pan.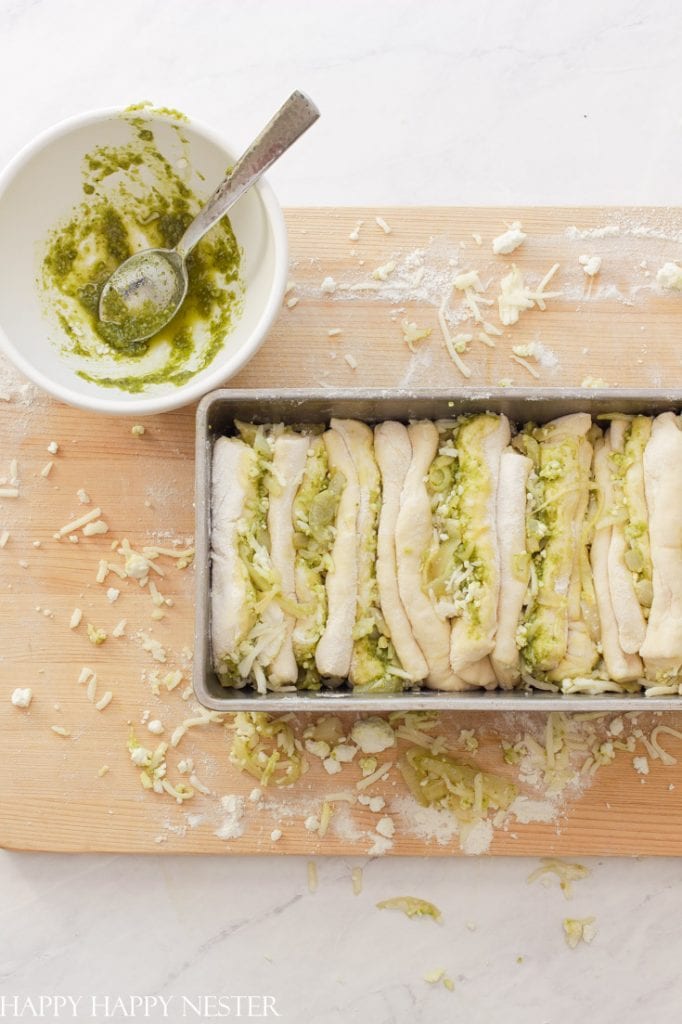 Bake in a 350-degree oven for about an hour. If you have cheese on the top of your pizza loaf, it may get a bit toasty after an hour of baking. So, if you want to prevent this from it burning, make sure the loaf doesn't have much cheese on the top.
Nadiya said to bake the pizza bread for 25 minutes. Well, it was definitely undercooked. I found that it takes about an hour or so, give or take some minutes.
Step 7 – Place Folded Pizza Slices in Greased Loaf Pan
The beauty of this recipe is you can customize your Italian pizza bread to whatever items you love.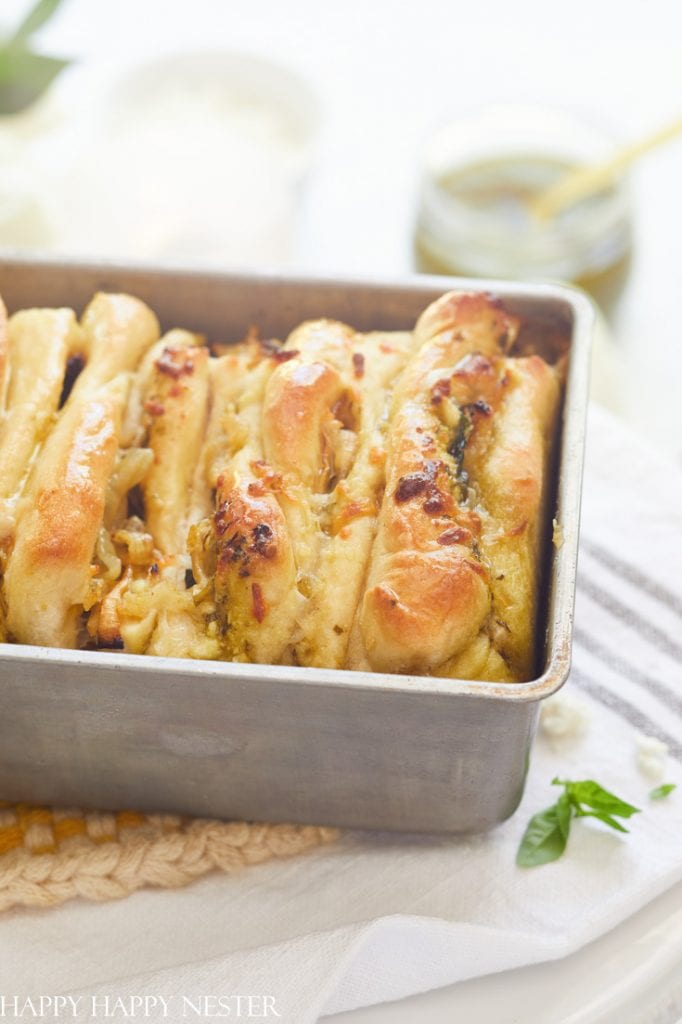 Here are some things to use on your personal pizza loaf:
Marinara Sauce
Pesto Sauce
Pepperoni
Sausage
Roasted Onions
Sautéed Mushrooms
Mozzarella Cheese
Goat Cheese
Italian Pizza Bread Recipe
Ingredients
Pizza Dough
400

grams

flour

You can also use bread flour or King Arthur flour

7

grams

fast action yeast

1

tsp

salt

1

tbsp

sugar

300

ml

lukewarm water
Instructions
Place flour, yeast, salt and sugar in a mixing bowl. Bread makers always say to not place the yeast on top or near the salt.

Mix dry ingredients and create a well in the middle and pour lukewarm water in the hole.

Mix with a spoon or spatula.

Attach the dough hook to your Kitchen Aid mixer and knead the dough for six minutes.

You can knead the dough by hand, but this will take about 20-25 minutes.

Once the dough is done kneading, lightly flour a bowl and place the dough in the bowl.

Cover with a wet tea towel.

Allow dough to sit in a warm part of your house until it is double in size. You can also proof the dough in a 100° oven. If you do this, it takes about an hour to double the dough.

Once the dough has doubled in size, knock the air out of the dough by lightly punching it.

Place the dough on a lightly floured counter.

Shape in a rectangle, four squares across and two squares down. You can view my photos and videos for this step.

Place toppings on your dough.

Cut into to somewhat equal squares. You should have eight small square pizzas.

Fold the squares in half.

Place your pizzas in a greased loaf pan with the fold on the bottom.

Proof or allow your loaf to rise for 15 minutes.

Preheat your oven to 350° while you are waiting for the bread to rise.

Bake in a oven for about 60 minutes.

Once out of the oven, coat your loaf with olive oil.

Serve in pan or out of pan on a plate. Pull apart the pizza.
Nutrition
Serving:
8
servings
|
Calories:
188
kcal
|
Carbohydrates:
40
g
|
Protein:
5
g
|
Fat:
1
g
|
Saturated Fat:
1
g
|
Sodium:
292
mg
|
Potassium:
54
mg
|
Fiber:
1
g
|
Sugar:
2
g
|
Calcium:
8
mg
|
Iron:
2
mg
Quick Tips About Making Pizza Bread
YEAST
There are a few different types of dry yeasts to choose from.
So Active dry yeast means that it needs to be Activated before use. Usually, this means allowing it to sit in warm water to activate the yeast. It is a less stable yeast, and sometimes the cultures can die and so your bread won't rise.
Instant dry yeast means that it is instantly ready for use once you open the package. Also, it is a pretty stable yeast.
Some types of Instant yeasts are RapidRise or Bread Machine Yeast. And RapidRise works quickly and is not especially great for bread that needs a slow rising time. Bread Machine Yeast is made specifically for bread machines and their specific conditions.
YEAST AND SALT
So, I keep hearing that when placing your yeast and salt in your mixing bowl, you aren't supposed to let them touch. So, of course, I asked our Google Dot, and she said that when salt comes in contact with yeast, it can kill the yeast! So, if this happens, your dough may not rise. To prevent this from happening, place your yeast and dough in separate areas of your dry ingredients.
PROOFING BREAD
This is the stage of when the bread rises.
If your oven doesn't proof, you can place a dish of boiling water inside your oven on the bottom rack. Then place your bowl of dough above it in the middle rack. Close your oven door, and the moisture and heat are perfect for encouraging bread proofing.
My oven has a bread proof option. It is at a low temperature of 100 degrees Fahrenheit. So, it appears that if you have 70-115 degrees Fahrenheit in your oven, then that is the good temperature to proof your bread.
Well, I'm enjoying my week of cooking and baking! I have more one more recipe to publish. But, if you like this Italian Pizza Bread, take a look at these recipes:
Thanks for stopping by, and enjoy the rest of the scrumptious-looking bread recipes below!
Cheers,

10 Best Bread Recipes

Happy Happy Nester // Stuffed Italian Pizza Bread Recipe
Inspiration For Moms // Popovers with Honey Butter

Finding Lovely // Rosemary Focaccia Bread
Most Lovely Things // Brown Butter Banana Bread
My Sweet Savannah // Easy Homemade Breadsticks

Modern Glam // Crusty French Baguette Recipe
The DIY Mommy // Everything Bagel Focaccia Bread with Truffle & Honey
My 100 Year Old Home // Gluten Free Sourdough Banana Bread
Tatertots & Jello // The Easiest Cheesiest Keto Breadsticks
Twelve on Main // Easy No Knead Bread Recipe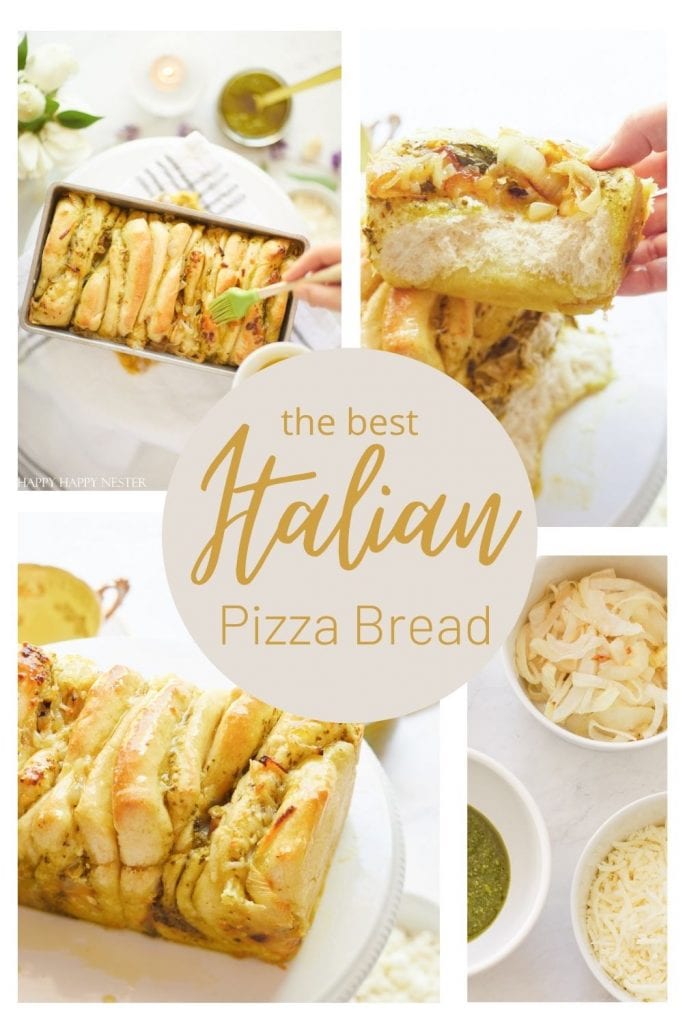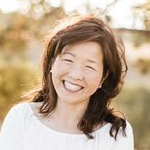 Latest posts by Janine Waite
(see all)