This White Pizza Recipe Without Ricotta is an excellent alternative to traditional marinara pizza. The mozzarella flavors, goat cheese, roasted garlic, and onions are fresh and delicious!
Over the years, I've always gravitated towards a white pizza without a red marinara sauce. Without the overwhelming tomato base, the cheese, roasted garlic, and onions are the stars. This pizza tastes of a gourmet flavor for mature palates.
This week on the blog is all about dinner recipes. So, if you missed some of my recipes, check out these other posts.
But today, let's talk pizza!
White Pizza Recipe
You might like this recipe if you want to try a more sophisticated gourmet-tasting pizza. The blend of the large clumps of mozzarella cheese and the tasty goat cheese is rich and flavorful.
You're probably wondering where I had my first white pizza and how I created this recipe. Well, here is the story.

Every summer, we vacation in Montana and fly to the college town of Missoula. Our first stop is to have lunch at our favorite pizza place, Bigga Pizza.
Their crust is bubbly and crispy, and the pizza I ordered is called Caramelized Goat. The base is a pesto sauce, and the rich garlic oil smoothers the two kinds of cheese! Here's the description, caramelized onions, goat cheese, fresh thyme, mozzarella, and garlic oil.
Holy moly, it's fantastic.
This pizza led to creating my version.
Frequently Asked Questions:
What are the best toppings for white pizza?
The possibilities for toppings are endless. Some of our favorites are roasted garlic and onions, sauteed mushrooms, fresh basil, cherry tomatoes, and chili flakes.
What ingredient is missing in a white pizza?
If you're not familiar with white pizza, it's a pizza made without tomato or marinara sauce and topped with white cheeses.
Does white pizza have white sauce?
Not always. Instead of using white sauce, you can use pesto sauce.
Does white pizza have cheese?
Yes!
Why is white pizza so good?
Since there is no red sauce, there is no competition for the pizza. White pizza is so delicious because, without red sauce, you can taste the grilled mushrooms, roasted onions, and fresh basil.
Why is white pizza called white pizza?
White Pizza is a type of Italian Pizza made with no tomatoes. This is why it is white with just little contrasting colors of the toppings.
Pizza Dough
So, I have tried several pizza doughs, store-bought and homemade. I finally found the dough that I love. It's a sourdough base, and I love its bubbly dough.
I've tried the Trader Joe's pizza dough, and I always got a soggy bottom, so to combat it, I pre-cooked it in my cast-iron pan.
But I love the sourdough pizza dough because it has a more complex taste, similar to the New York pizzas.
I found this recipe over on Alexandra's Kitchen.
I wish this recipe were something I created, but it's marvelous and Alexandra's.
But, if you don't have a sourdough starter, you need to buy some. Just joking, you can make this pizza with the store-bought dough too.
Roasted Garlic
Preheat the oven to 400 degrees.
Peel off the loose outer layers of the garlic. Cut off the top of the garlic and place in aluminum foil. Dribble olive oil on the garlic and sprinkle a bit of salt.
Wrap the tin foil and seal up the garlic like a little packet.
Place on a tray and bake for 30 minutes. If you like the softer garlic, then cook until the desired texture.
Caramelized Onions
Slice onions and set aside. Place butter in a skillet at medium to low temperature. Stir until the butter bits turn light brown. Add sliced onions and saute until onions are translucent.
Cheeses
I love goat cheese. It adds a creamy and mature taste to everything. You can buy it in crumbles or a log. Whichever one you prefer.
Mozzarella comes shredded or in fresh logs. I LOVE the fresh mozzarella that comes in logs. I also like the pre-sliced ones. A large amount of melted mozzarella on the pizza is creamy and delicious.


Ingredients For This White Pizza Recipe
Mozzarella Cheese
Goat Cheese
Roasted Garlic
Caramelized Onions
Pesto Sauce
Fresh Basil
Fresh Arugula
White Pizza Recipe
This White Pizza Recipe Without Ricotta is an excellent alternative to traditional marinara pizza. The mozzarella flavors, goat cheese, roasted garlic, and onions are fresh and delicious!
Ingredients
1

batch

Pizza Dough

Makes 4 small 12-inch pizzas
Caramelized Onions
2

onion

medium-size

4

tbsp

butter
Roasted Garlic
1

bulb

garlic

If you love garlic add make two bulbs

1

tbsp

olive oil

¼

tsp

salt
Pizza Toppings
1

small container

pesto sauce

2

12 oz

sliced fresh Mozzarella

4

oz

goat cheese

1

bunch

fresh basil

1

cup

fresh arugula

I love this on my baked pizza, this is optional.

chili peppers
Instructions
Roasting Garlic
Cut off the top of the garlic with a knife.

Remove any loose garlic skins.

Place garlic on a sheet of tin foil. Cover the garlic in the olive oil, and sprinkle with a little bit of salt.

Wrap up the tin foil by gathering the ends at the top, making a little package. Place on a baking tray and bake in a 400° oven for 30 minutes.

Once cooked, set aside for later.
Caramelized Onions
Melt butter in a medium-size skillet at medium to low temperature, and heat butter until the brown bits appear. Add onions and saute until onion slices are translucent and slightly brown.

Set aside in a bowl for later
Pizza Dough
Make the dough according to Alexandra's sourdough recipe. Allow for at least eight hours of prep. I have made it without refrigerating the dough for 6 – 8 hours, and the pizza tastes fine.

Preheat the oven to 500°. Make sure to place the pizza stones in the oven.

Weigh the uncooked dough and divide it into four equal parts.

Place flour on four sheets of parchment. The size of the paper should be at least 14 inches in length and width.

Form dough onto the paper into round 12" circles.
Building the Pizzas
Spread the pesto sauce over the formed pizza dough.

Place roasted onions and garlic on the pizza.

Place mozzarella slices on top of the pesto sauce and onions.

Sprinkle crumbles of goat cheese on the pizza.
Baking Pizza
Transfer pizza (via pizza paddle) onto hot pizza stones in the oven.

Bake for 7 – 9 minutes until lightly brown.

When pizza is done cut and serve.
Nutrition
Serving:
1
serving
|
Calories:
330
kcal
|
Carbohydrates:
5
g
|
Protein:
6
g
|
Fat:
21
g
|
Saturated Fat:
12
g
|
Polyunsaturated Fat:
1
g
|
Monounsaturated Fat:
7
g
|
Trans Fat:
0.5
g
|
Cholesterol:
43
mg
|
Sodium:
346
mg
|
Potassium:
98
mg
|
Fiber:
1
g
|
Sugar:
3
g
|
Vitamin A:
754
IU
|
Vitamin C:
5
mg
|
Calcium:
60
mg
|
Iron:
1
mg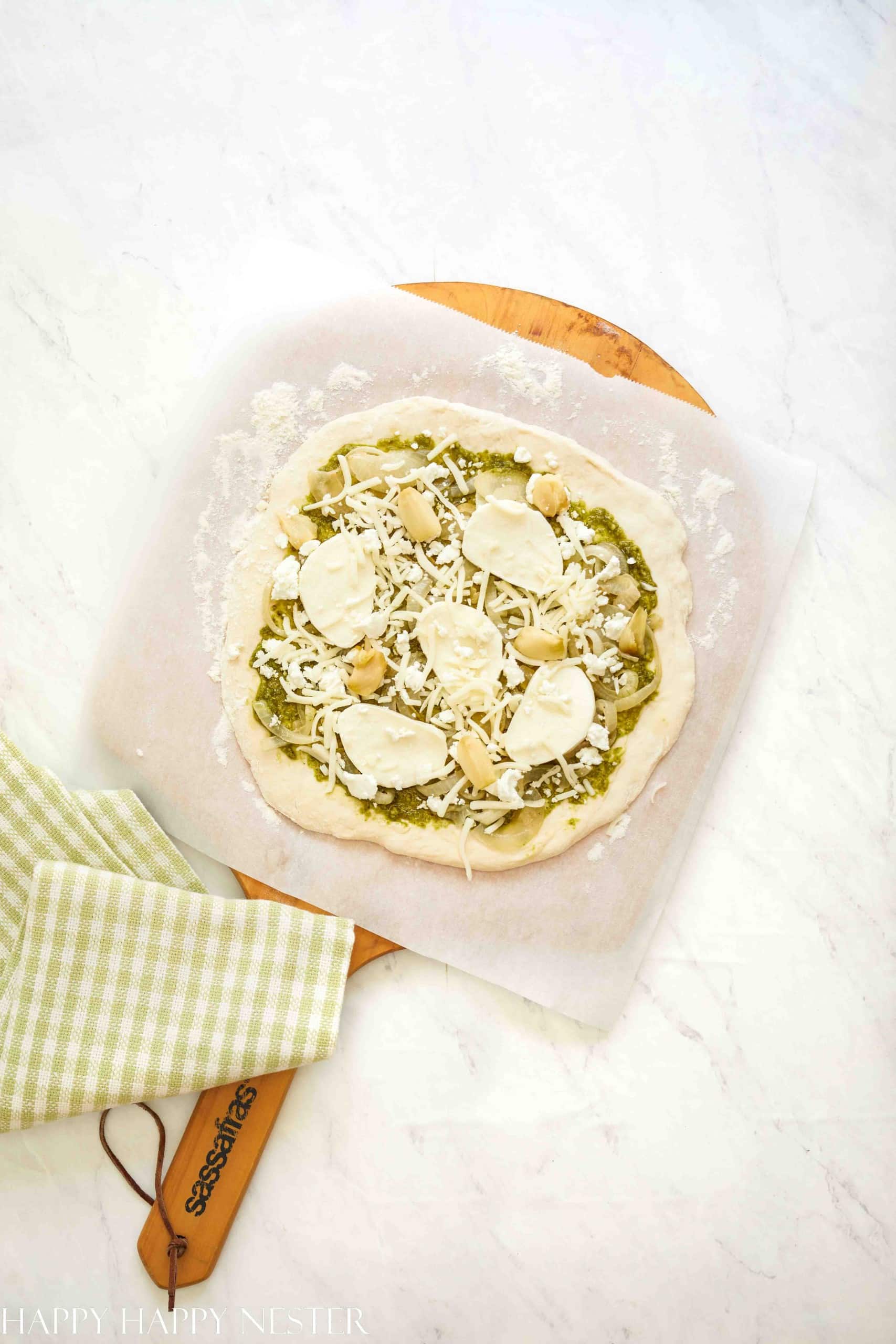 Thanks for dropping by today for this delicious recipe! Make it this weekend and include a fresh salad and buttered corn on the cob.
Until next time, Happy Cooking.
Cheers,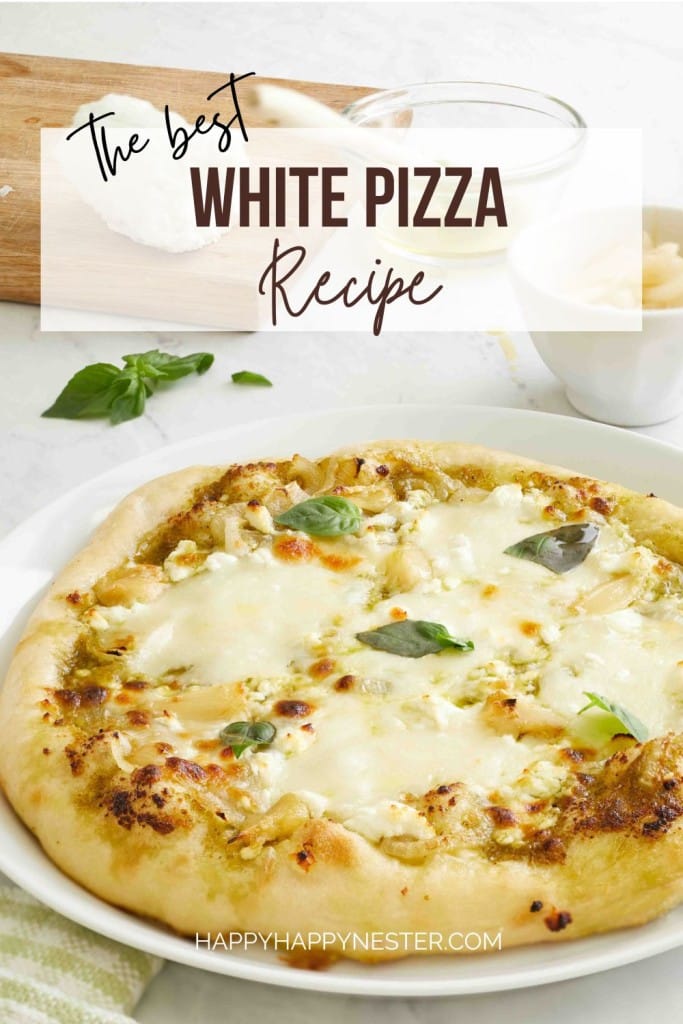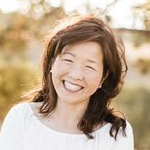 Latest posts by Janine Waite
(see all)