Check out this exciting post filled with Lazy Summer Dinner Ideas for you and your family. If you're anything like me, you're constantly searching for simple dinner options after a hectic workday. Today, let's minimize our kitchen time and savor the remaining days of summer to the fullest!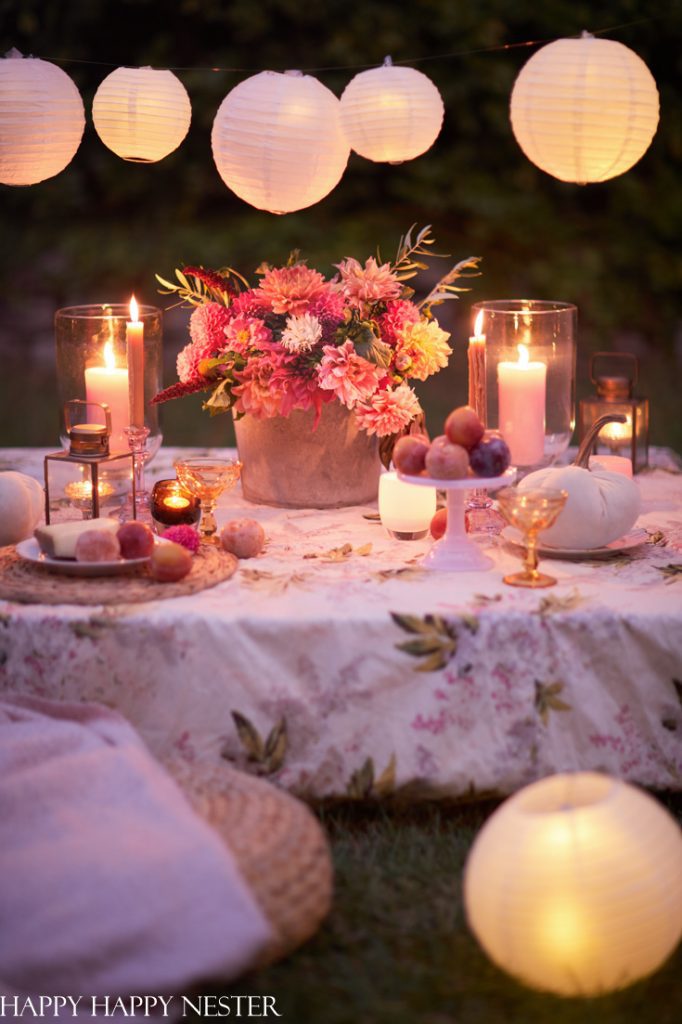 Summer can be a bit of a challenge regarding dinnertime inspiration. That's why today's post is all about serving up some fantastic options to elevate your family meals!
Saturday Chitchat with Janine – Volume 134
Happy Labor Day weekend!
Hey there, as we say goodbye to summer this holiday weekend, I hope you've got some fun plans for this well-deserved three-day break!
With summer coming to a close, I figured it's the perfect time to sneak in this fun Lazy Summer Dinner Ideas post. I mean, who doesn't love easy, low-effort dinners, right?
So today, I had a blast rounding up my recipes and a few others to share. There's something in there for every palate, so take your pick!
Kick back, enjoy the ideas, and thanks for hanging out with me today!
Personal Note from Janine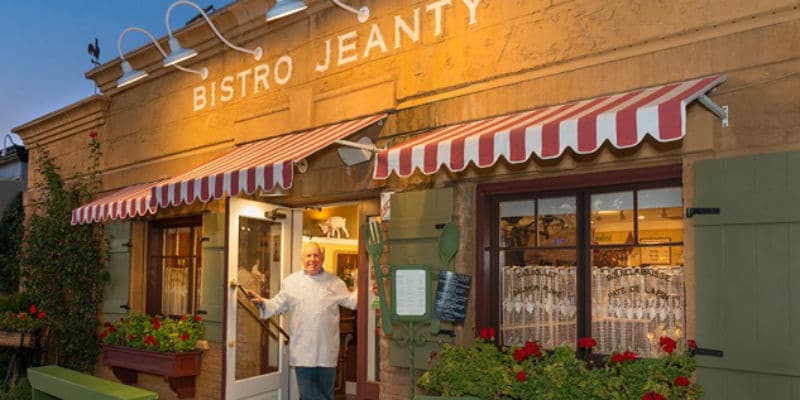 I wish I had the knack for growing veggies, especially tomatoes. Unfortunately, every spring, our tomato plants seem to wither away and perish. I'm sure those of you who've successfully grown tomatoes are now enjoying a bountiful basket of these juicy delights!
Why not gather those beautiful tomatoes and whip up some delicious and easy dinners?
As for tonight, I'm off dinner duty because we're off to Napa for a fancy French restaurant experience at Bistro Jeanty. If you've dined there before, I'd love your recommendations on what I should order.
I am wishing you a fantastic long holiday weekend. Stay safe, relax, and enjoy your well-deserved time off!
Cheers,

This Week's Inspiration – Lazy Summer Dinner Ideas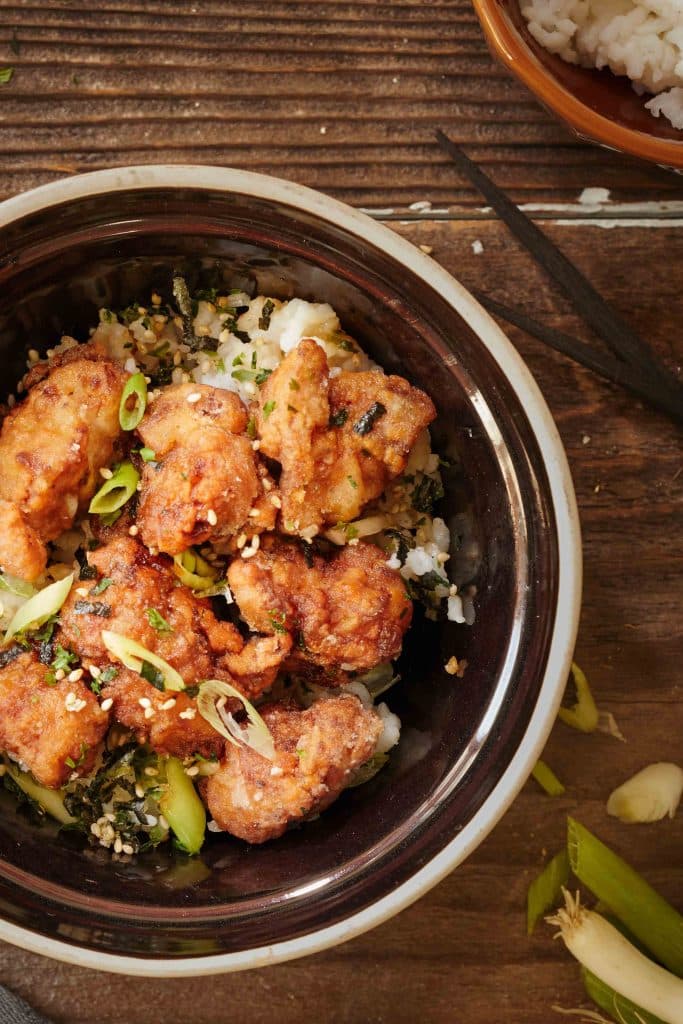 EASY JAPANESE FRIED CHICKEN
This recipe is not only delicious but also relatively easy to prepare. You can either deep-fry it or use an air fryer for cooking.
After trying both methods and making a side-by-side comparison, it was surprisingly challenging to distinguish between the two.
In the post, I provide instructions for cooking this recipe using both methods. Enjoy this dish over hot rice and sprinkle green onions, sesame, and nori on top!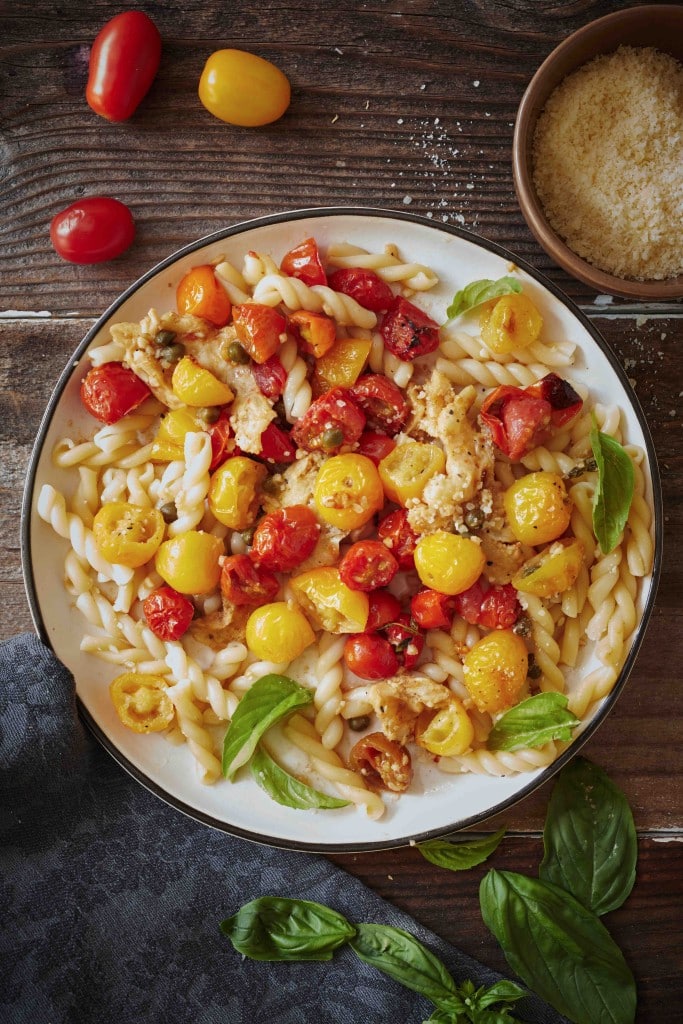 ROASTED CHERRY TOMATOES AND PASTA
This Roasted Tomato Pasta recipe is fantastic, thanks to its incredible blend of ingredients that brings out a unique and fresh flavor.
Roasting fresh cherry tomatoes takes their sweetness to a new level and dials up the flavor, creating a sauce that epitomizes sun-ripened goodness.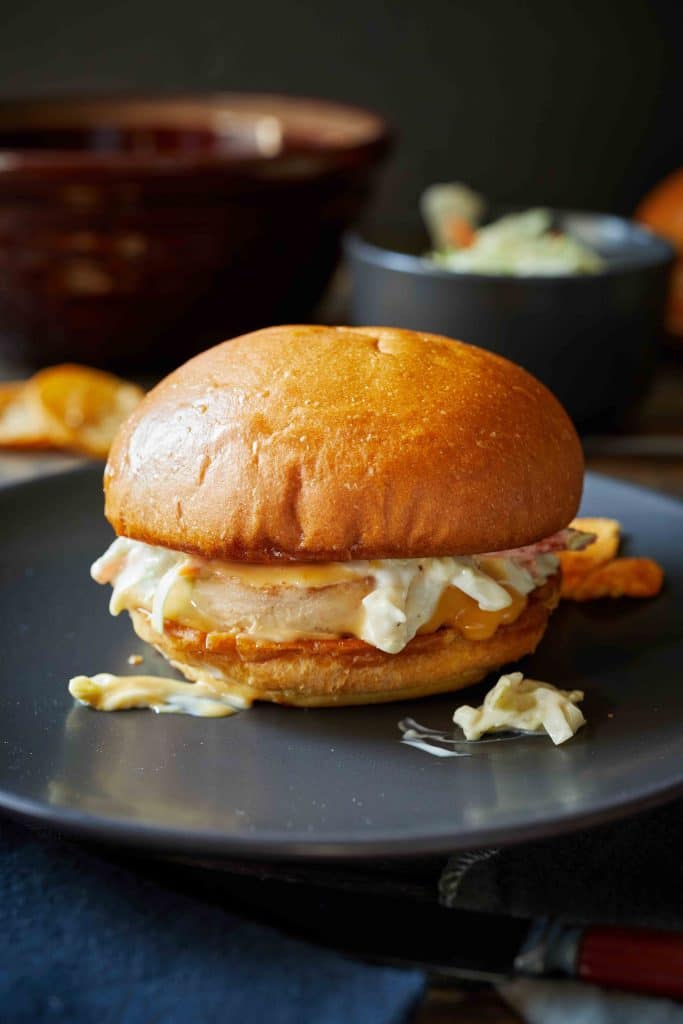 TRADER JOE'S SALMON BURGER WITH COLESLAW
If you like quick and easy dinners, check out Trader Joe's Salmon Burgers.
In mere minutes, you can have a delicious dinner. Pair it with creamy coleslaw and a delightful sweet sauce, all tucked into a toasted brioche hamburger bun.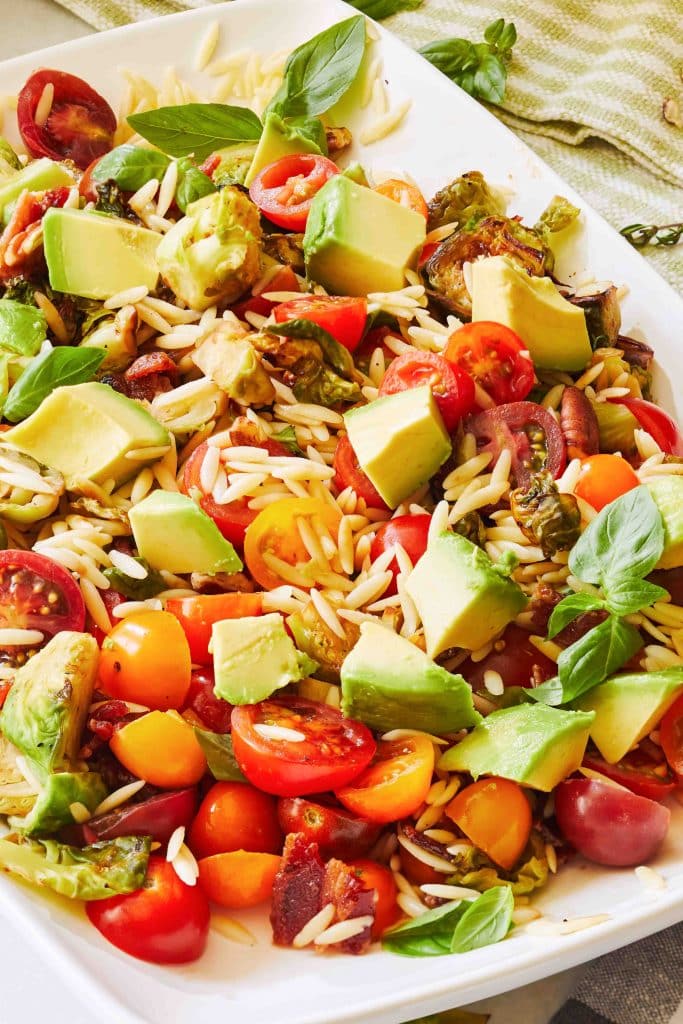 This Warm Brussels Sprout Salad recipe is seriously delicious! It's got brussels sprouts, creamy avocado, orzo pasta, a drizzle of maple syrup, a dash of cognac, and, the best part, candied bacon.
These flavors come together perfectly. Whether you want a side dish or a warm salad, this one's a keeper!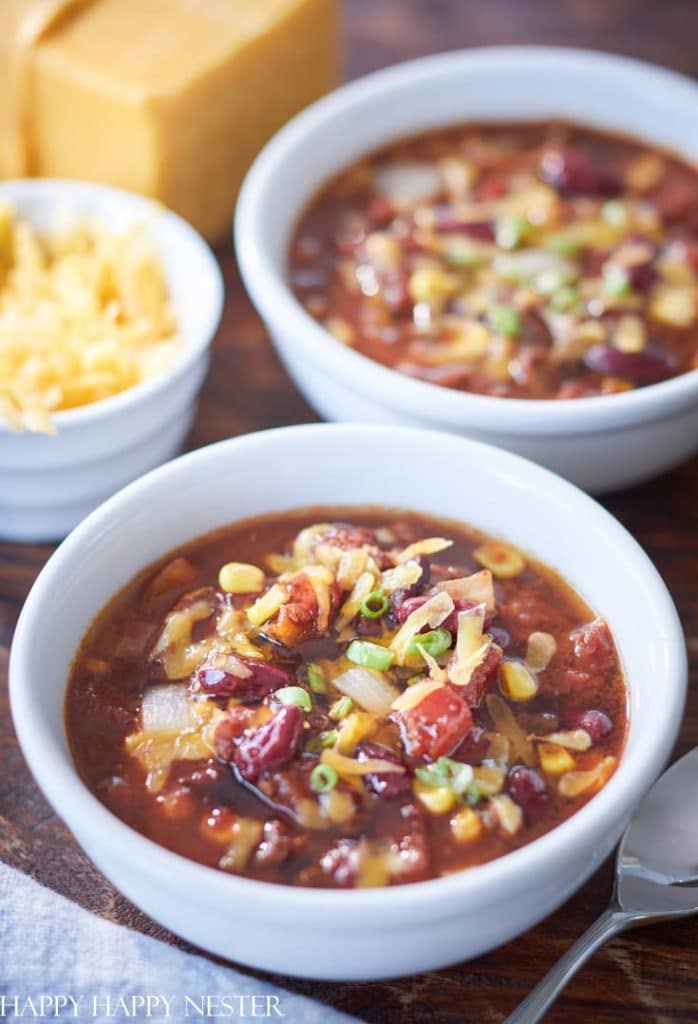 My neighbor and friend, Francie, told me about her yummy chili recipe. So, I asked her for the recipe. She loves easy recipes, and I'm happy to say this is so hearty and yummy. It is comfort food for my family.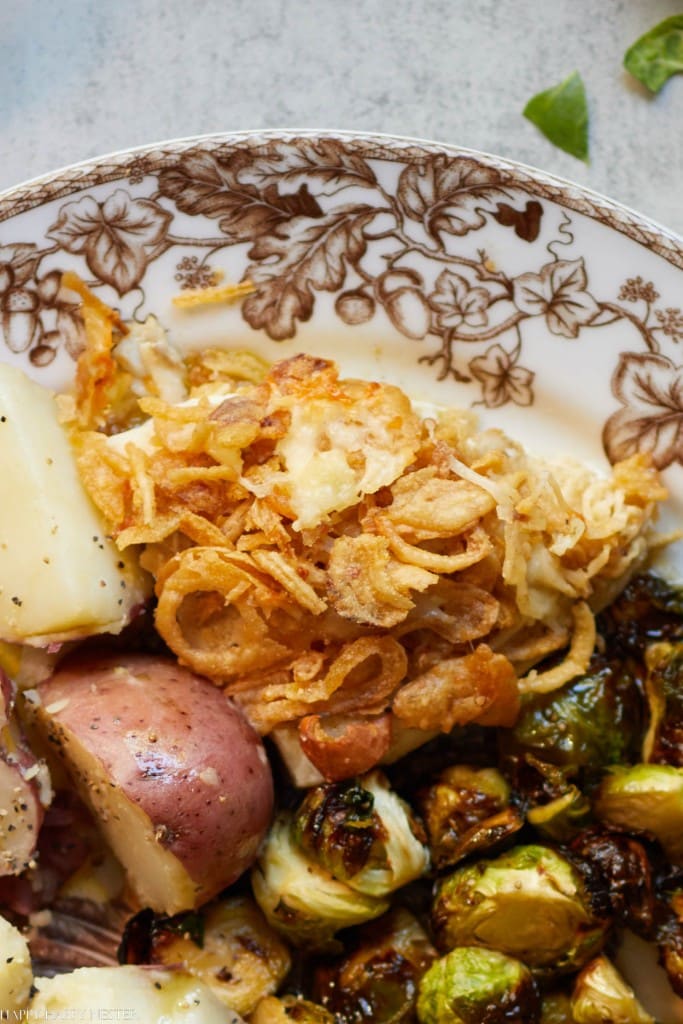 This Parmesan Crusted Halibut is an old-time family recipe! The crispy cheese topping that is smoother in butter is so delicious!
If you have anyone you know who doesn't like fish for dinner, this recipe will convert them. The fish tastes very mild in flavor, and the butter, onions, and parmesan cheese make this recipe so delicious!
RAVIOLI WITH BROWN BUTTER SAGE SAUCE
This classic Ravioli with Brown Butter Sage Sauce is delicious and easy to make.
The buttery sage sauce goes beautifully with either cheese or pumpkin ravioli. Top this dish off with basil, parmesan, and a side of French bread! This pasta dish tastes gourmet and only takes a few minutes to complete.
Boutique of the Week – Some Cozy Fall Throws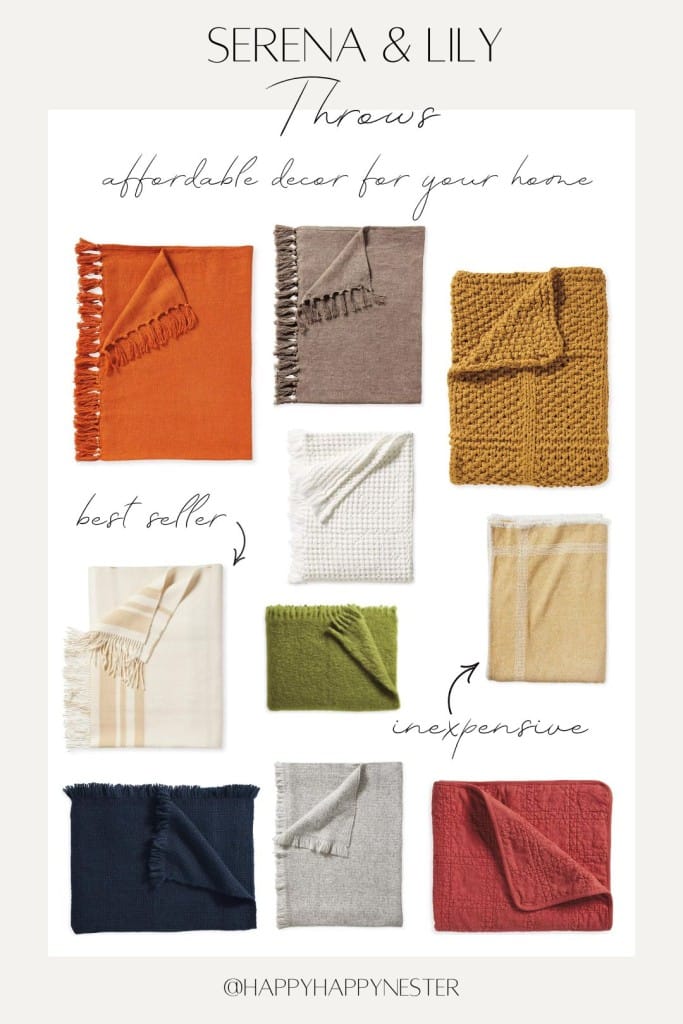 There's something magical about curling up on the couch with a cup of hot cocoa wrapped in a soft, snuggly throw.
It's like a warm hug for your whole body.
So check out these beautiful warm blankets from Serena & Lily!
My Favorite Things – Easy Dinners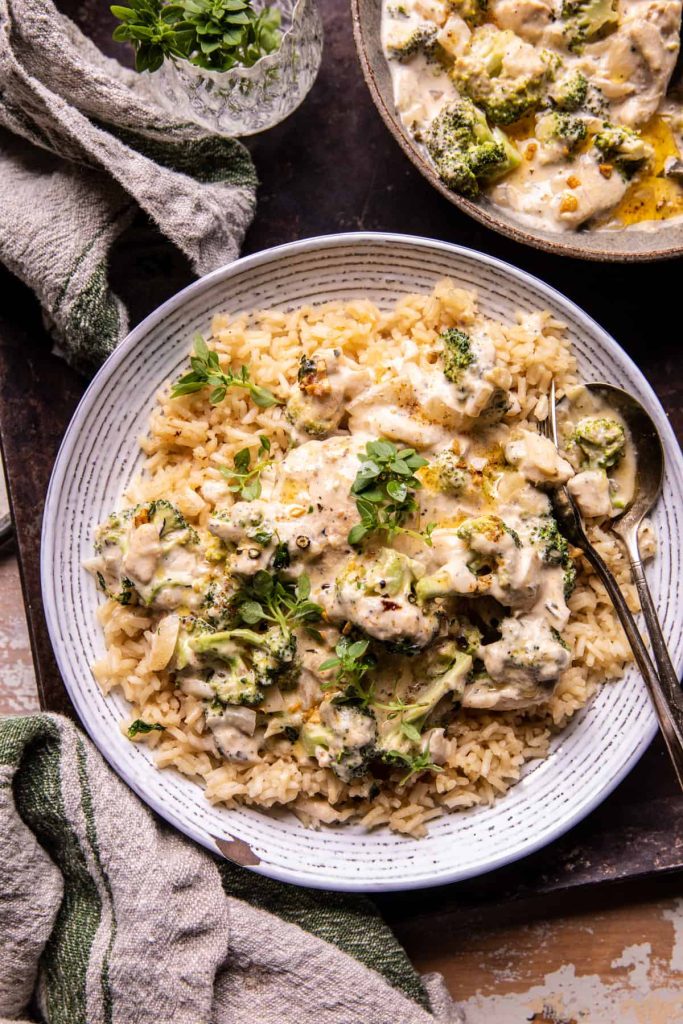 This recipe comes from Half Baked Harvest. It's a tender chicken and broccoli coated in a luscious, zesty salsa verde white cheddar cheese sauce, crowned with a golden infusion of garlic and thyme butter. It's an absolute delight – the ideal hearty and mouthwatering dish to greet you after a hectic day.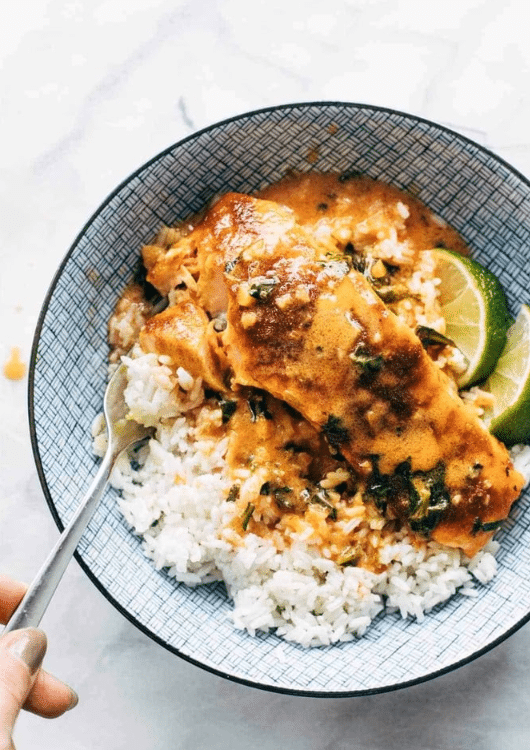 Here's a tasty and super-simple recipe from Pinch of Yum.
It's a sweet and savory spice rub, a creamy sauce poured over a fluffy bed of rice. Squeeze some lime juice on top and make this simple meal into a quick gourmet dinner!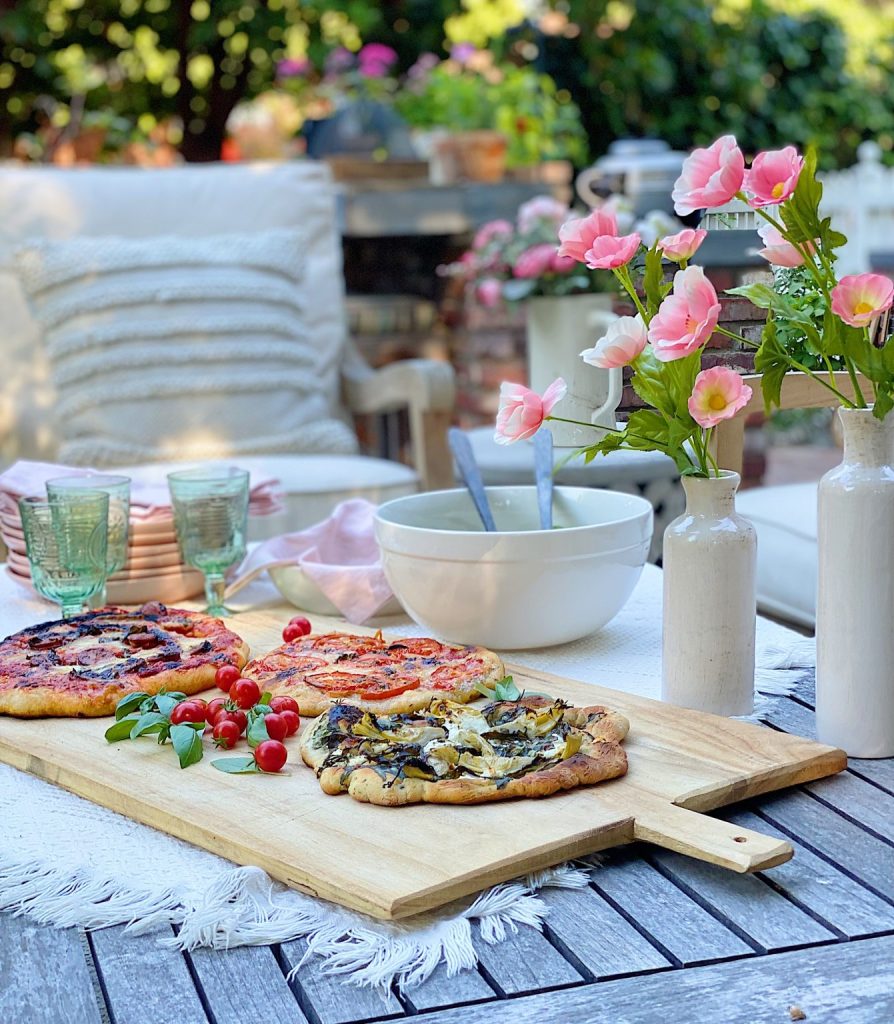 My good friend Leslie has a fantastic pizza post. She shares a wide array of pizza varieties, perfect for a casual dinner party!
Make her easy pizzas and buy the pre-made pizza dough from Trader Joe's. Head to My 100 Year Old home for Leslie's Arugula, Marinated Artichoke Hearts and Goat Cheese Pizza, an Italian Sausage, Mozzarella, Basil Pizza, and a Caprese Pizza.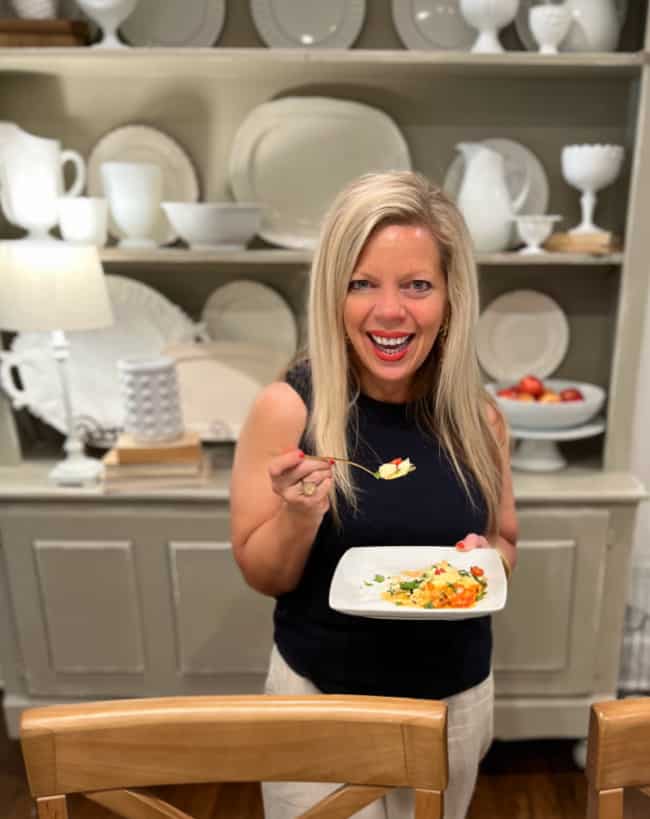 I've got a fantastic recipe from my friend, KariAnne.
Instead of the usual lasagna noodles, we're switching things up using thinly sliced zucchini! It's a great way to cut down on carbs and a fun twist on traditional lasagna. Plus, it's quick and easy to whip up for a healthy dinner option!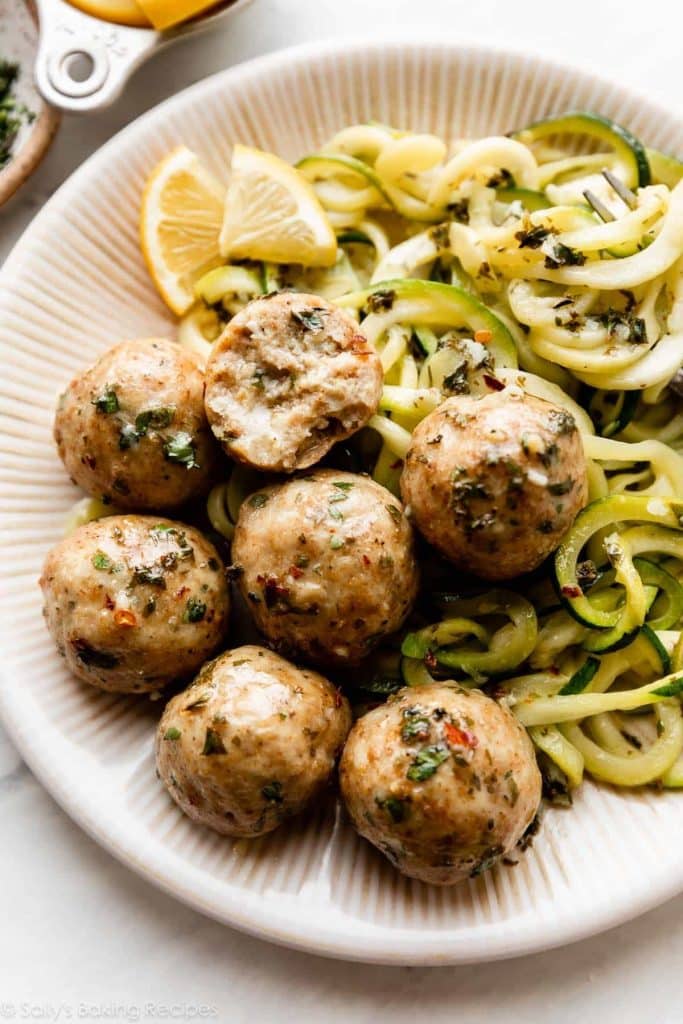 These baked chicken meatballs from Sally's Baking Addiction are an absolute flavor explosion! Bursting with deliciousness, they're baked to perfection and then generously brushed with a zesty, lemony garlic herb butter, taking their flavor game to the next level.
Even better, they have a lighter, more refreshing taste than many other meatball recipes.
What's Trending On The Blog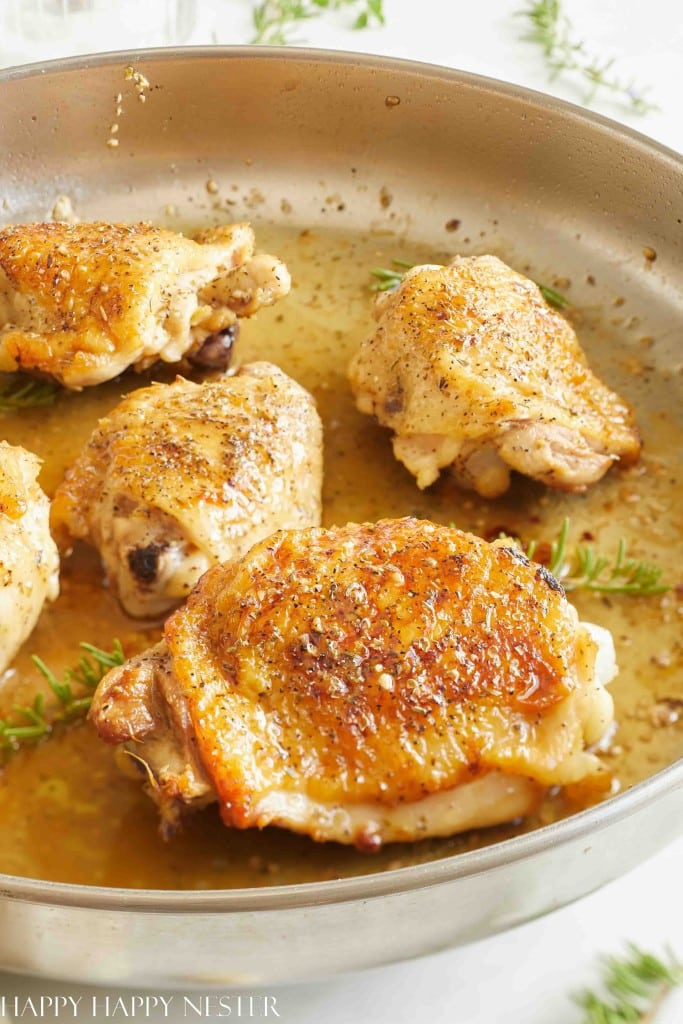 EASY CHICKEN IN ELECTRIC SKILLET
I stumbled upon this Easy Chicken in Electric Skillet Recipe while rushing to make dinner for my husband. It's a chicken recipe that's tender and moist with a rich gravy sauce.
You can use chicken breasts or boneless chicken thighs for this recipe.
And this simple recipe is a popular post-year-round on the blog!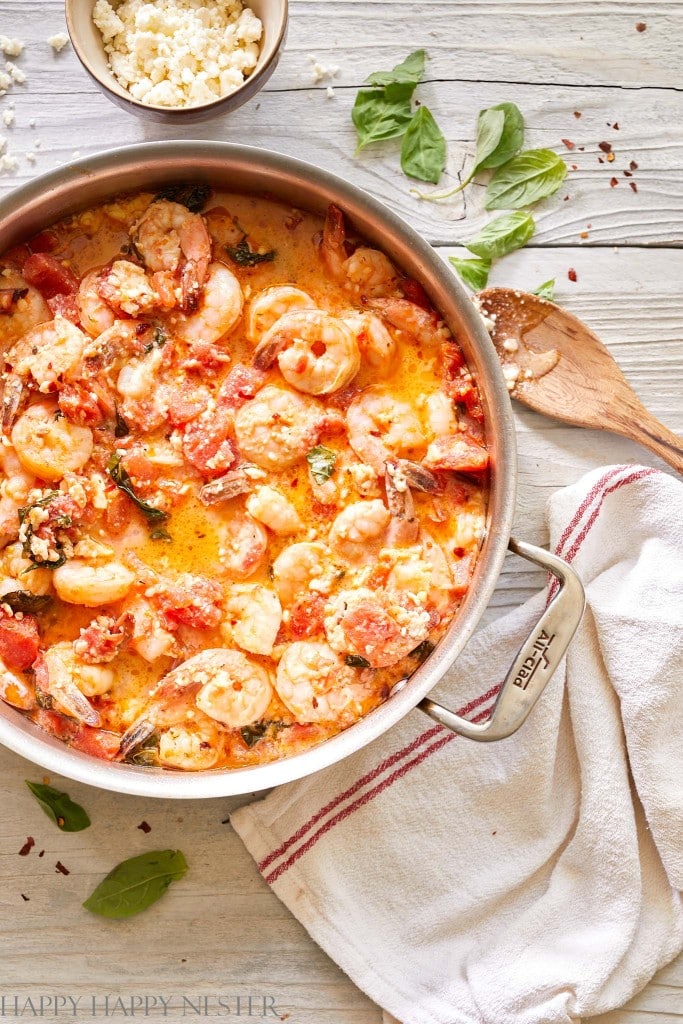 This Creamy Shrimp Pasta Recipe with White Wine perfectly combines flavors and textures.
I love how the creamy feta cheese sauce is paired with the sweet and briny shrimp, and adding tomato, basil, and chili pepper flakes takes it to the next level. And serving it all over penne pasta is just the perfect complement.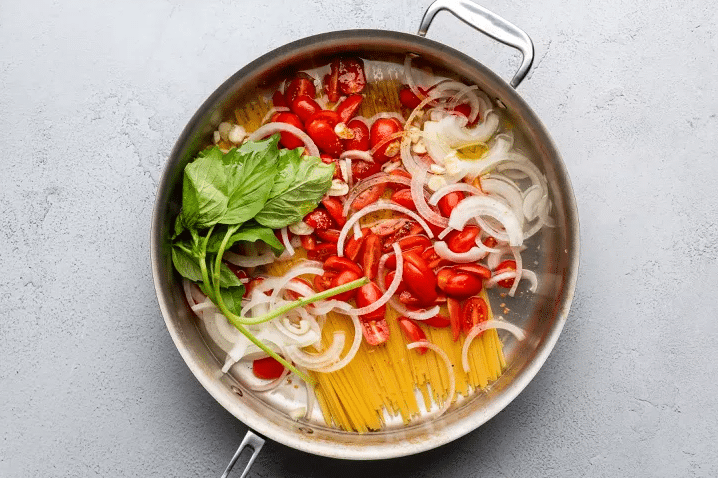 MARTHA STEWART'S ONE PAN PASTA RECIPE
I haven't had the chance to test out this recipe yet, but it's certainly piqued my interest! The concept of a one-pan dinner sounds incredibly appealing.
If you've given this recipe a shot, I'd love to hear about your experience. Please drop a comment below to share your thoughts!
This Week's Tip – Menu Idea
You know, during the pandemic, I decided to step up my dinner game. I put together a menu quite similar to this one and stuck it on our fridge. It's turned into a little habit of mine now, and honestly, it's been a lifesaver when it comes to cooking and grocery shopping.
I can't express how much I enjoy being organized and all set for the week's dinners!
Latest Obsession – Gemelli Pasta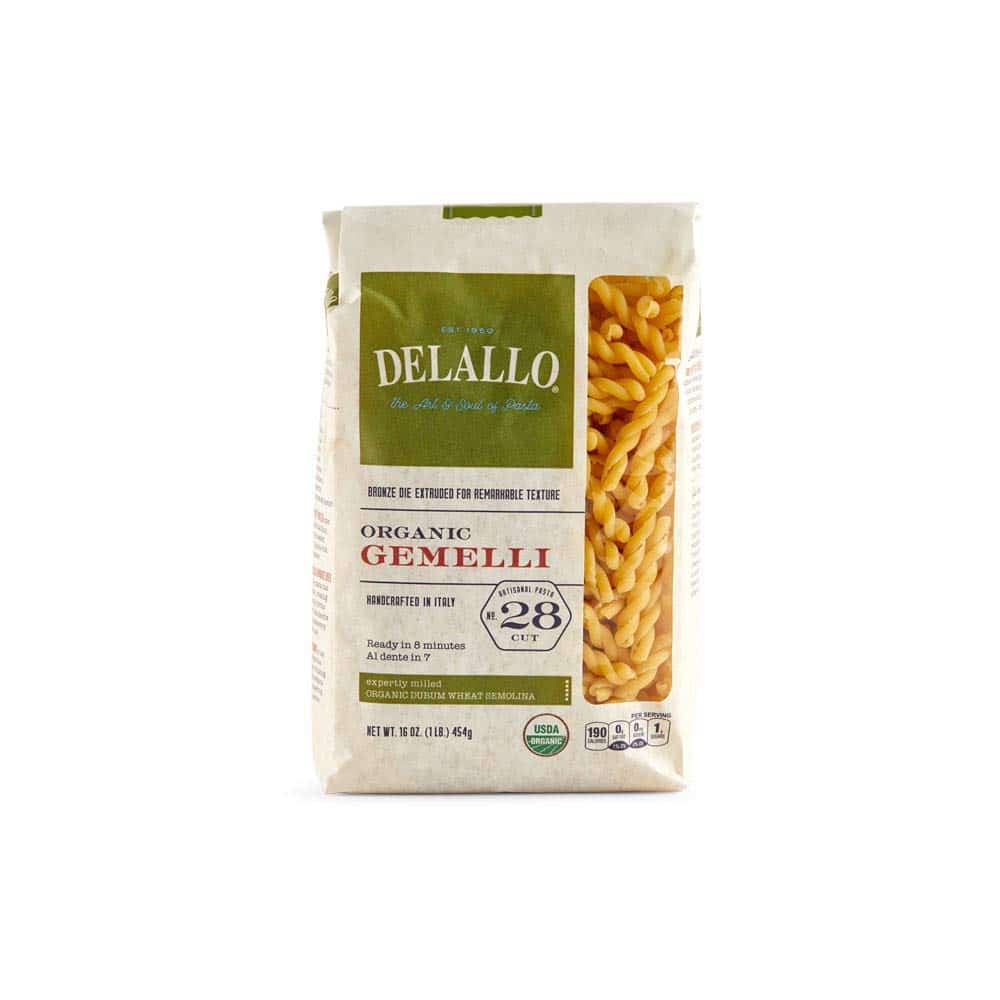 I adore experimenting with different pasta noodles and recently stumbled upon this unique variety. These noodles are wonderfully dense and incredibly delicious. It's truly remarkable how the noodle shape can bring a whole new flavor experience!
---
Once again, thank you for spending your weekend with me! I hope you had a blast checking out this post filled with lazy summer dinner ideas.
Take it easy and whip up some uncomplicated dinners as we savor these remaining days of summer!
Cheers!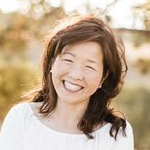 Latest posts by Janine Waite
(see all)