We had one mission this past weekend, to make Heart-Shaped Pancakes! You see most evenings we watch one episode of The Great British Baking Show and the other day they had to make 12 identical lace pancakes. Well, my husband and I were totally up for this technical challenge, and we were pleasantly surprised by the results.
Ok, these heart-shaped pancakes may look amazing but don't be intimidated. I'm here to let you know that they are so easy to make. If we can make them, then you can make them too.
And what a great Valentine's Day breakfast treat to make for your family. Btw, do you watch The Great British Baking Show? We are addicted and if you want to watch the episode that includes the heart-shaped lace pancakes then check out Season 4, Episode 4.
*The following post contains affiliate links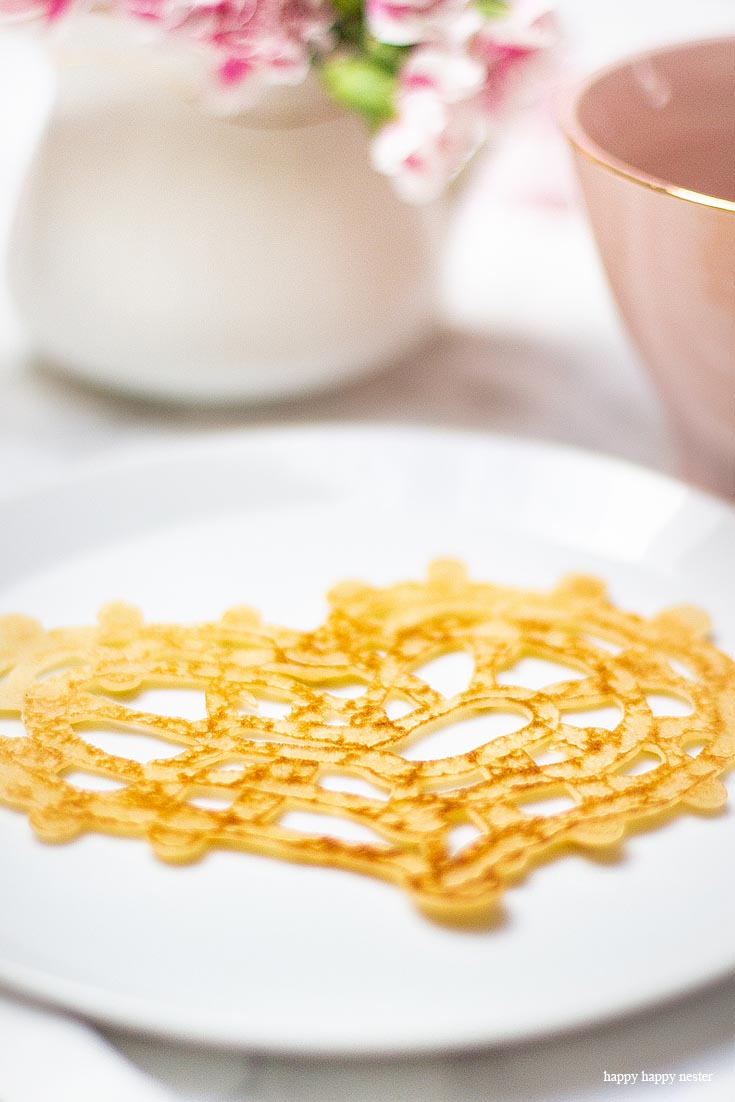 Heart-Shaped Pancakes Are Super Easy to Make
So, we were a bit worried that this project might flop since the pancakes look so amazing. But, once we had a couple of pancakes made, we were so impressed with this recipe. Ok, here are few things that we learned.
Is there a special recipe for these pancakes?
So, as Paul on The Great British Baking Show says, you don't want these too thick or too thin. We were tempted to try it with our favorite pancake recipe but at the last minute decided to use the show's recipe. We figured out it must be perfect for the task of making heart-shaped pancakes.
Also, you want to make sure there aren't any lumps in the batter. So, if you have lumps then all of a sudden when you are creating your masterpiece it clogs the squeeze bottle hole, and then a flood of batter comes squirting out! Yes, this happened to us.
The recipe calls for caster sugar, do I need it?
We didn't have any caster sugar which is a superfine sugar that seems to readily available in England. We probably should've bought the extra fine sugar that you can find in the stores, but we forgot to do that. I guess we could've ground it in my food processor, but we were lazy. The caster sugar helps the pancakes to brown more quickly. Well, a quicker browning would've meant a burnt pancake since we designed some intricate heart-shaped pancakes.
Does this recipe require any special equipment?
There are a few items that make it a ton easier to make these pancakes. First off, the squeeze bottles are a must. You don't need expensive ones, but just have a few on hand so you can work quickly and accurately in making your heart-shaped pancakes.
Next, a big metal spatula helps since it easily flips the pancakes. I love my spatulas from Sur la Table. The old version that I own is great since the spatula rest in an upright position and doesn't fall over on the handle.
Secondly, a big griddle is so helpful. We own the cast iron big flat skillets that make cooking pancakes so easy and convenient. You can view my favorite kitchen tools post.
You'll also want to buy a kitchen funnel, and we use them all the time. It makes pouring the batter into the bottles so easy.
And finally, a kitchen scale is essential since the measurements are in weight rather than cups. I have one that is supposed to arrive any day, and I'm finally trading in my old one for a sleek digital scale.
Do you need to use the squeeze bottles?
Yes! My husband went out and bought three at our local grocery store, and I'm not sure we could've made these cool designs without them. They are essential to getting the heart-shaped pancakes.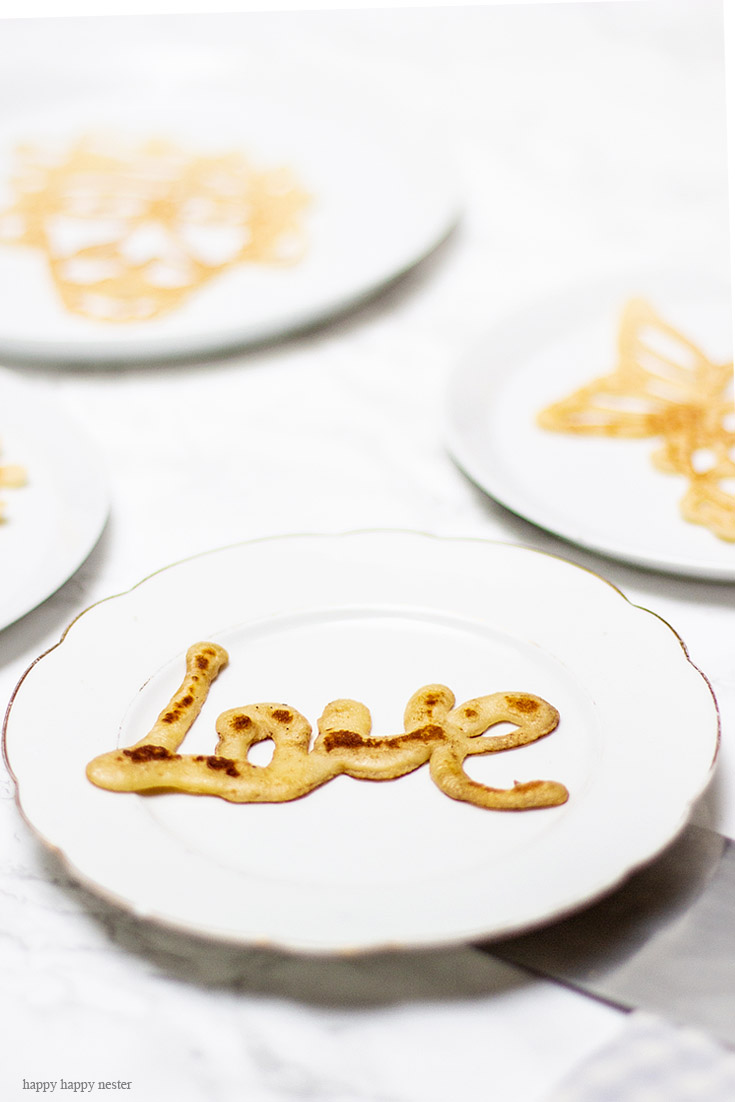 Heart-Shaped Pancakes Recipe
Heart-Shaped Pancakes
This recipe comes from The Great British Baking Show and it is a fabulous recipe. It makes the best pancake mixture to create such cute heart-shaped pancakes.
Ingredients
175

g

6oz plain flour

1

large free-range egg

1

large egg yolk

300

ml

10fl oz milk

25

g

1oz unsalted butter, melted
Instructions
Sift the flour into a large bowl and make a well in the middle. In a separate bowl or jug, whisk together the egg, egg yolk and a few tablespoons of the milk, then pour into the well.

Whisk gently, gradually whisking in half of the remaining milk, drawing in the rest of the flour a little at a time, to make a smooth batter. Stir in the remaining milk. Cover and leave to stand for about 15 minutes. Pour the batter into a plastic squeeze bottle.

Heat a frying pan over a medium heat and brush with a little melted butter. Tilt the squeeze bottle and draw a freehand lace heart pattern in the pan using the batter.

Cook the pancake over a medium-high heat for 45-60 seconds until small holes appear on the surface and the underside is lightly browned. Loosen the pancake and turn it over by flipping it with a palette knife or fish slice.

Cook the other side for about 30 seconds until golden-brown. Slide the pancake out of the pan.

Lightly grease the pan again before making the next pancake. Serve the pancakes as they are made, or stack them on a plate and reheat before serving. (If the pancakes are hot when you stack them they will not stick together; there is no need to interleave them with greaseproof paper.)
Nutrition
Serving:
12
g
|
Calories:
87
kcal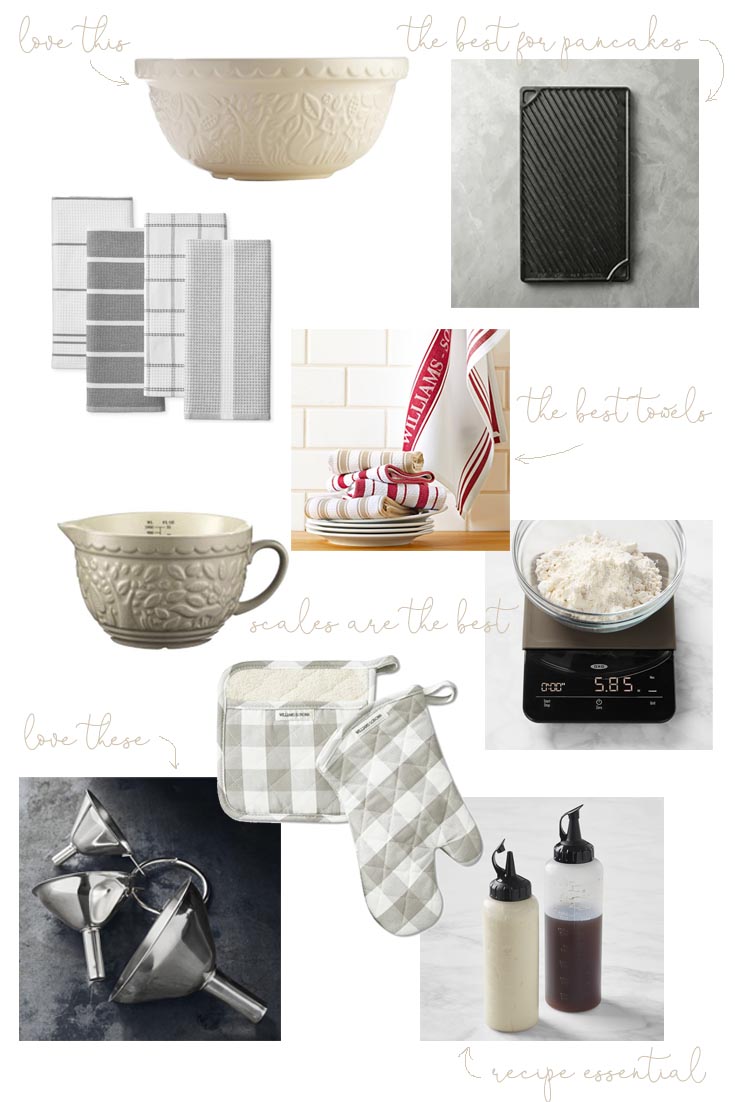 Mason Cash Mixing Bowl | Cast Iron Grill and Griddle Pan | Grey Dishtowels
Mason Cash Measuring Bowl | Willams Sonoma Dish Towels | OXO Scale
Stainless Steel Funnels | Williams Sonoma Gingham Oven Mitts | Squeeze Bottles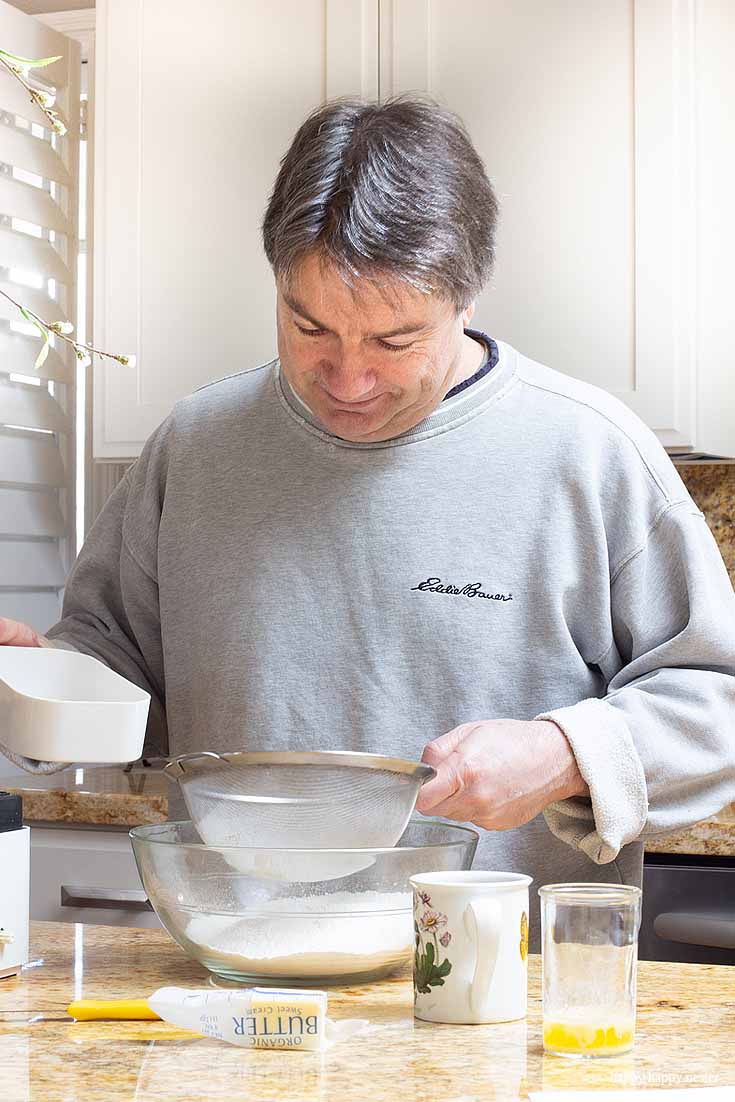 Here are a few photos that I snapped of my husband making the pancakes! The last time I got him on my blog was when he made his Trout recipe in our cook-off competition.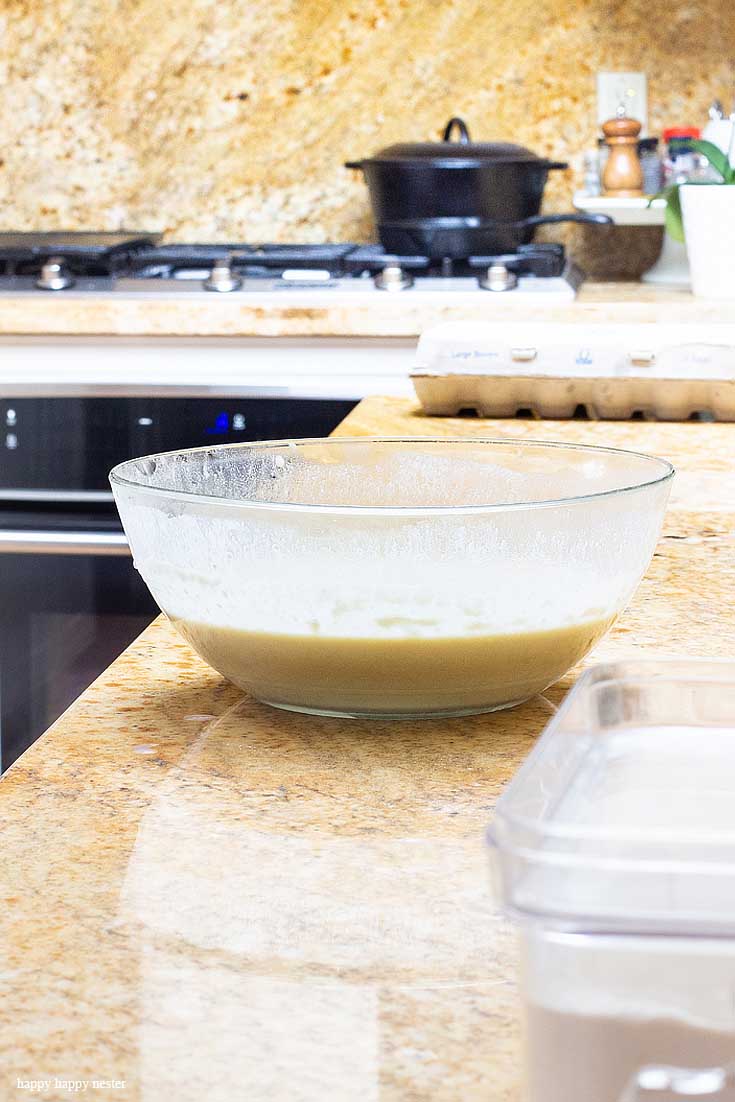 Ok, the recipe said to cover the batter and let it rest for 15 minutes. Well, we both forgot to cover the bowl, but our pancakes still came out fine.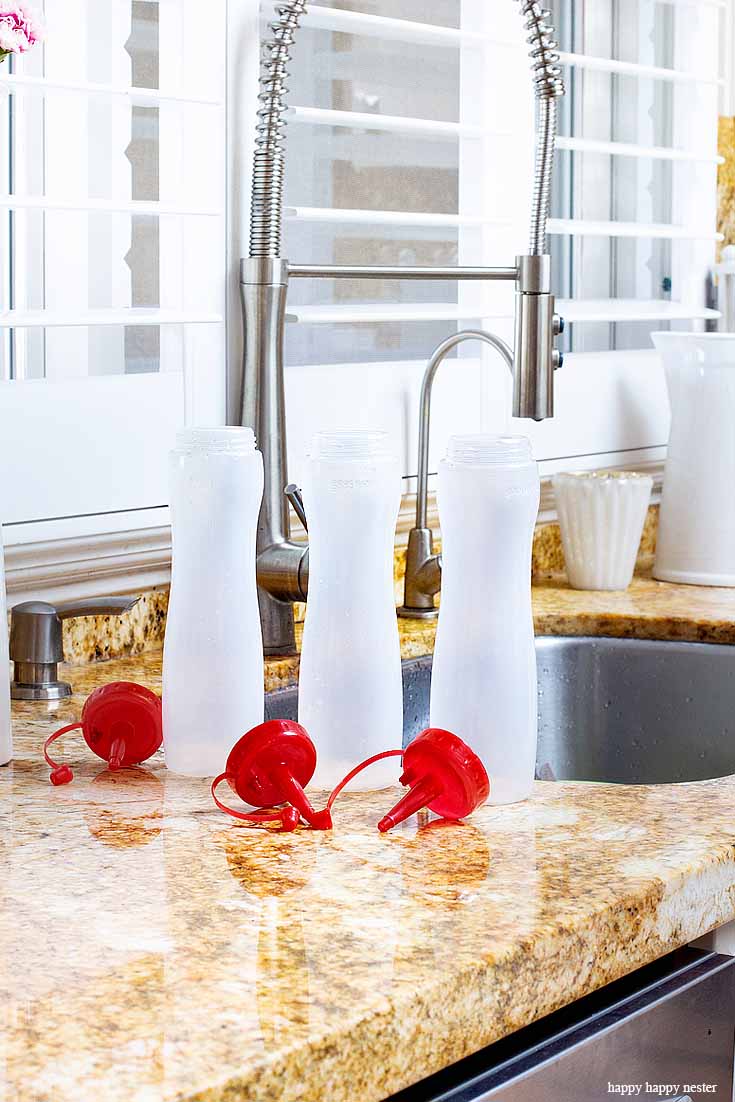 Love these squeeze bottles. Btw, the little caps kept messing up my pancake designs, and I quickly figured out that they snap onto the little knob on the top. Oh my, sometimes my husband and I can be a bit slow in figuring things out.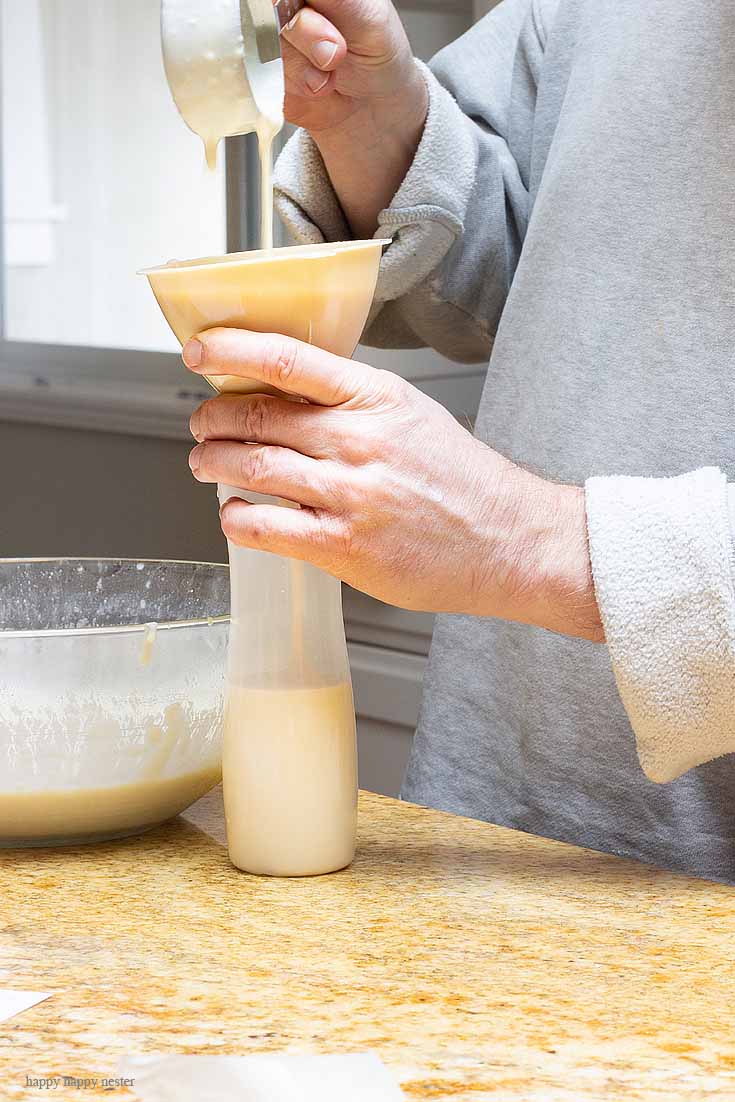 The funnel is definitely helpful so that I would invest in a couple of them for your kitchen.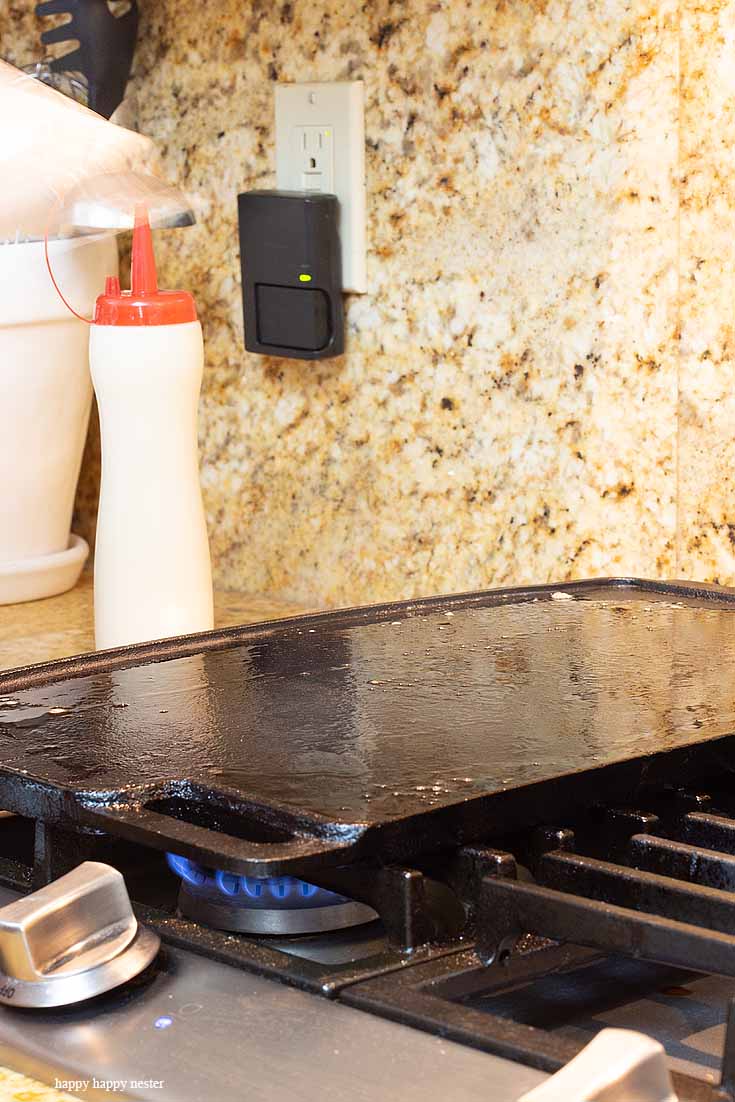 Well absolutely love these cast iron griddles, and they are constantly in use.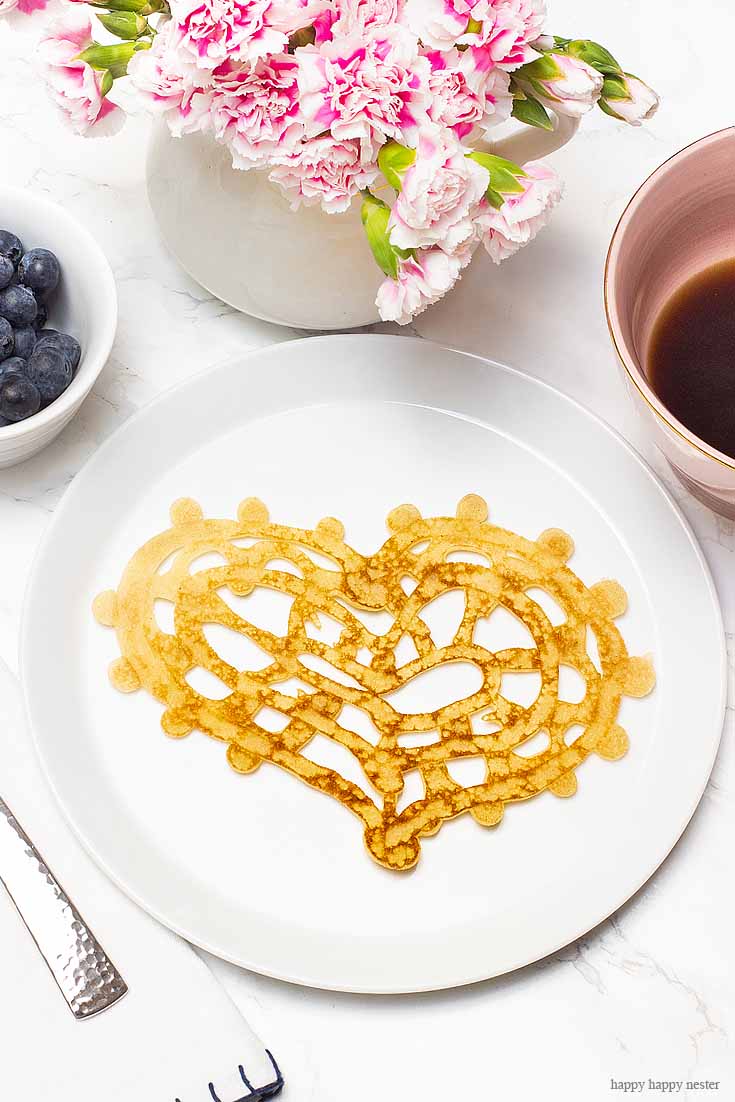 Tada, here is my husband's cute, heart-shaped pancake. Well, he couldn't stop there, and his artistic talents came out in a few more pancakes.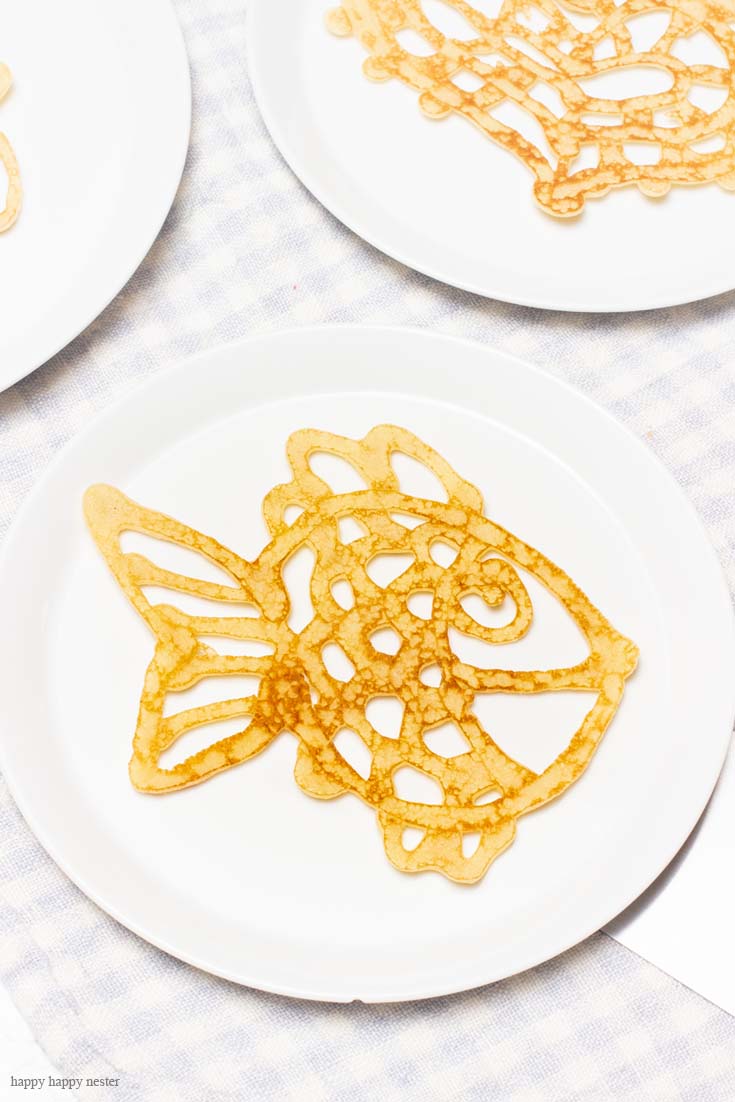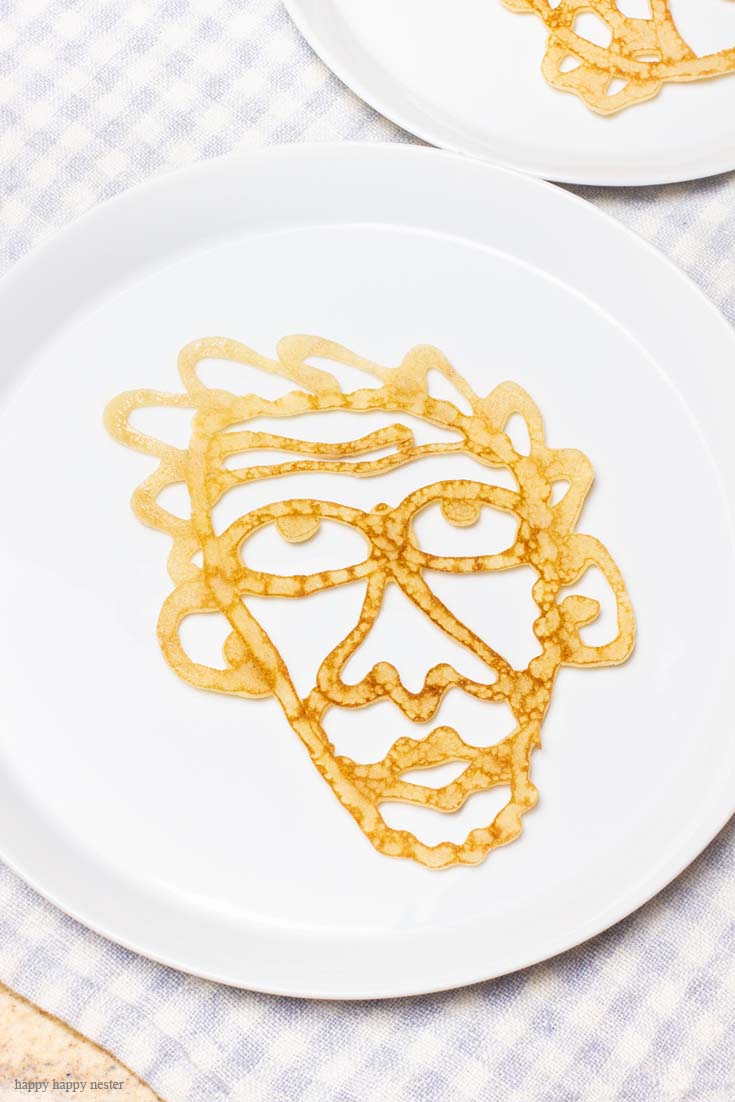 Thanks for stopping by and checking out my Valentine's Day heart-shaped pancakes. I hope you enjoyed this post and will try making them. Also, check out my Valentine's Day heart cookies, I pretty sure you'll love them.
Cheers,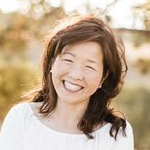 Latest posts by Janine Waite
(see all)