You'll love this fun Japanese recipe if you love Cookie Dough and Mochi. It combines a chocolate chip cookie dough with a wonderful sweet rice cake. This simple recipe is an excellent dessert when you crave a unique confectionery blend of western baking and eastern cuisine.
I am thrilled to showcase my new favorite candle that has inspired my latest dessert recipes for springtime. It's a must to light an inspiring candle with a delightful floral and citrus fragrance while I'm whipping up a new treat in the kitchen.
You're probably wondering how a candle connects to my love of baking.
This Yankee Candle is based on Ikigai, a Japanese philosophy to living a happy life. Ikigai is the Japanese concept referring to your life purpose or the reason for your happiness.
So, I did a little exercise, and I took stock of what guides my happiness, and it all points to creativity. This part of my life is what gets me excited in the mornings to begin my day. The idea of designing home decor, crafts, and desserts is what brings me complete happiness.
I love that Yankee Candle's Scent of the Year encourages us to pursue activities that bring happiness.
What inspires you? It could be a passion, hobby, or activity that makes you feel the best you can be!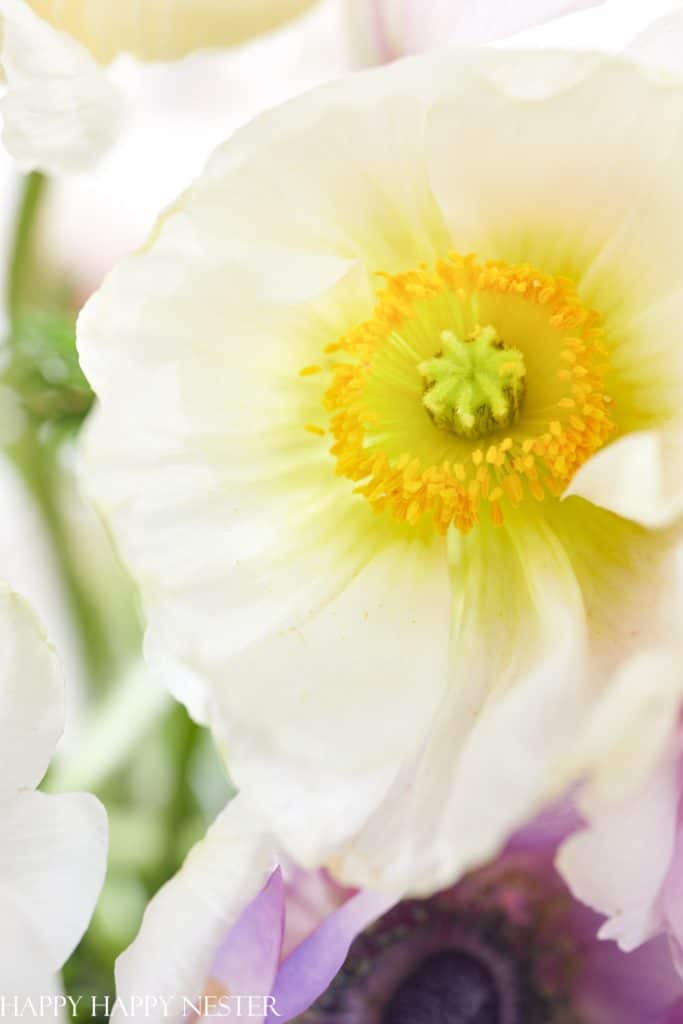 Yankee Candle Partner
Yankee Candle sponsors this blog post. And I am happy to collaborate with Yankee Candle this spring. This means that I am receiving compensation for my efforts in creating this post. All our opinions are authentically my own, and all convenient shopping links add no additional cost to you.
---
Growing up in a Japanese American family meant my mom made homemade mochi on special occasions. It is a treat that I'm still obsessed with creating and sharing on the blog. So today, I'm sharing my latest version of mochi. Here are a few different recipes:
As some of you know, my family and I love mochi's Japanese dessert you may be new to this sweet treat and are probably wondering what mochi is?
It is pronounced moh-chee.
Here is a definition of mochi according to Wikipedia,
Mochi is Japanese rice cake made of mochigome, a short-grain japonica glutinous rice, and sometimes other ingredients such as water, sugar, and cornstarch. The rice is pounded into paste and molded into the desired shape. In Japan it is traditionally made in a ceremony called mochitsuki. While also eaten year-round, mochi is a traditional food for the Japanese New Year and is commonly sold and eaten during that time.
Here are a few other facts about mochi!
Where Did Mochi Originate?
The pounding of rice originated in China. Mochi started in the Japanese Heian period, 794–1192.
Is Mochi Eaten Cold or Hot?
Serve mochi at room temperature.
Is Mochi Dangerous to Eat?
When I was a little girl, I would try and swallow a big bite of sticky mochi, and of course, I choked. I guess every year, Japan has emergency cases of choking on mochi. So, make sure to take small bites since it can be sticky going down your throat.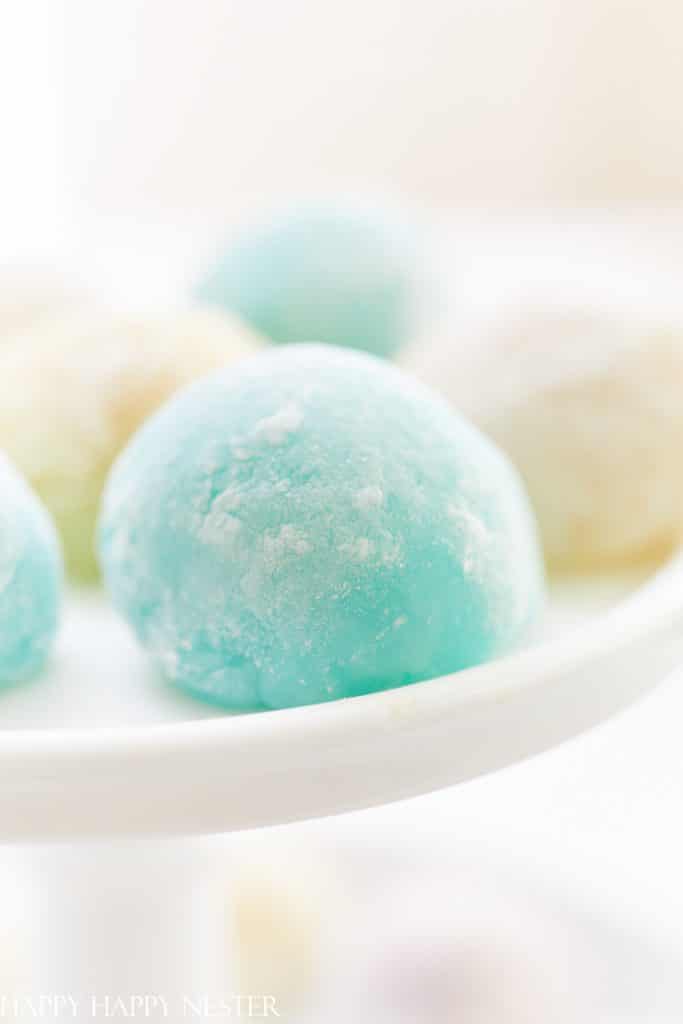 Why is Mochi So Popular in Japan?
It is popular at New Year's because it represents good fortune. Also, if you stack a bunch of mochis in your home, it will bring good luck.
Mochi also represents good health. So for the big New Year's Day feast, it is usually served in a savory dish, similar to soup, called Ozoni. You are supposed to eat it to have a healthy and great year. 
How Do You Store Mochi?
I found I could leave it out in a Tupperware container for about two days, but it needs to be wrapped in plastic and placed in the refrigerator. It is a dessert that you'll want to eat in the first couple of days. So, the fresher mochi, the better it tastes. After a couple of days in the refrigerator, the mochi will get hard. So, my brothers will pop them in the microwave for a couple of seconds to soften the mochi.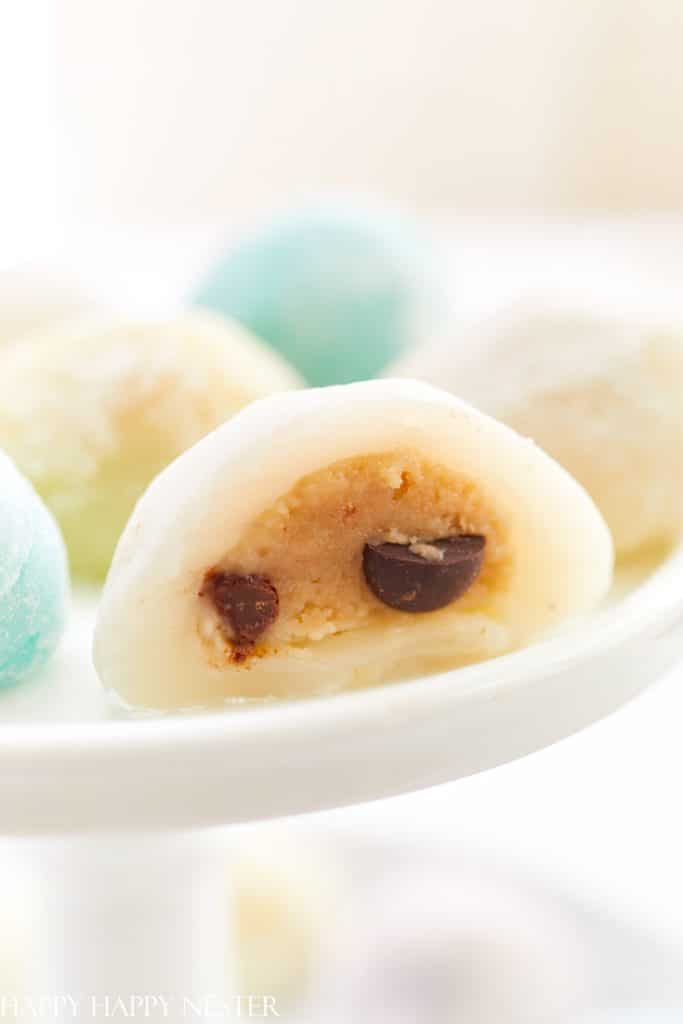 How to Make Cookie Dough Mochi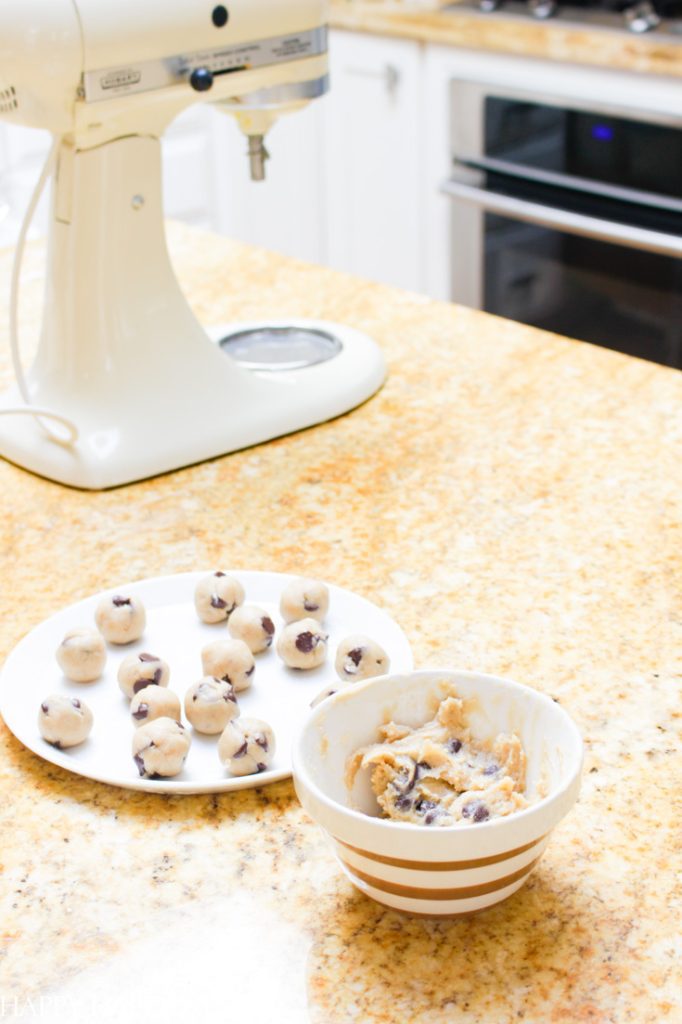 Step 1 – Make The Chocolate Chip Cookie Dough
To eat raw cookie dough, you must bake the flour first. Flour can contain harmful pathogens like e-coli. So to ensure that the flour is safe to eat, please bake it in the oven at 350 degrees for 20 minutes. Some websites say to bake it for 10-15 minutes, but I'm not taking chances! 🙂
Once your bake your flour, blend all the ingredients according to the recipe.
Step 2 – Form Cookie Dough Centers
Line a plate with parchment paper. Make the centers by forming about a tablespoon of dough into a ball shape. This recipe makes about 15 cookie dough balls. Set aside balls for later.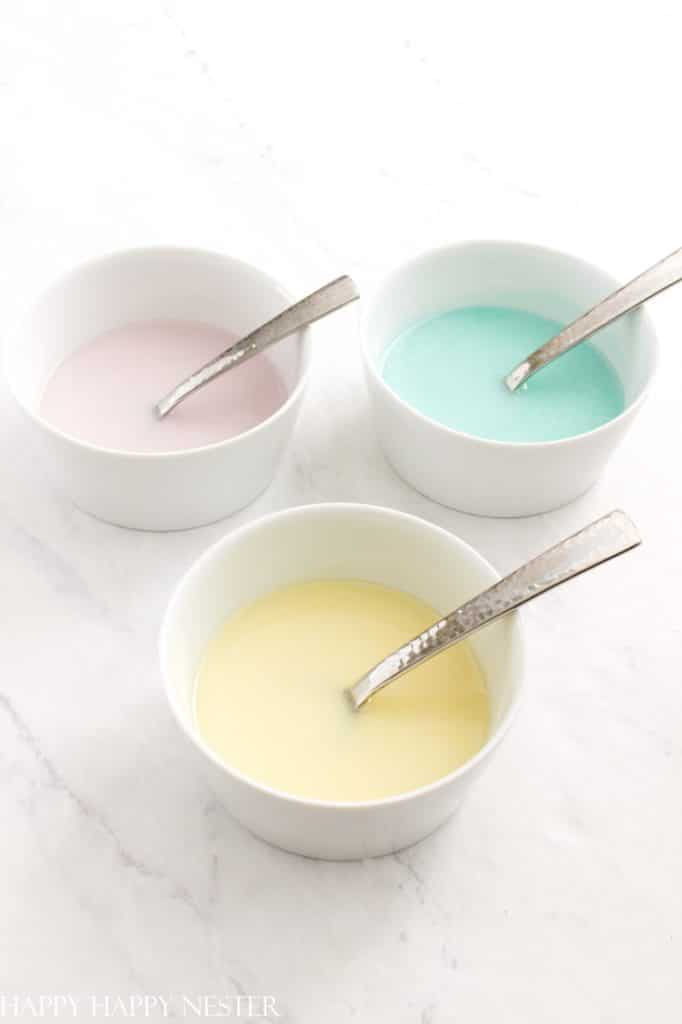 Step 3 – Make Mochi Dough
Combine Mochiko flour and sugar in a microwave-safe bowl. In another bowl, add water and vinegar. Now, add the water to the flour and sugar until well-blend. I use a whisk and sometimes use my hands to get rid of the clumps.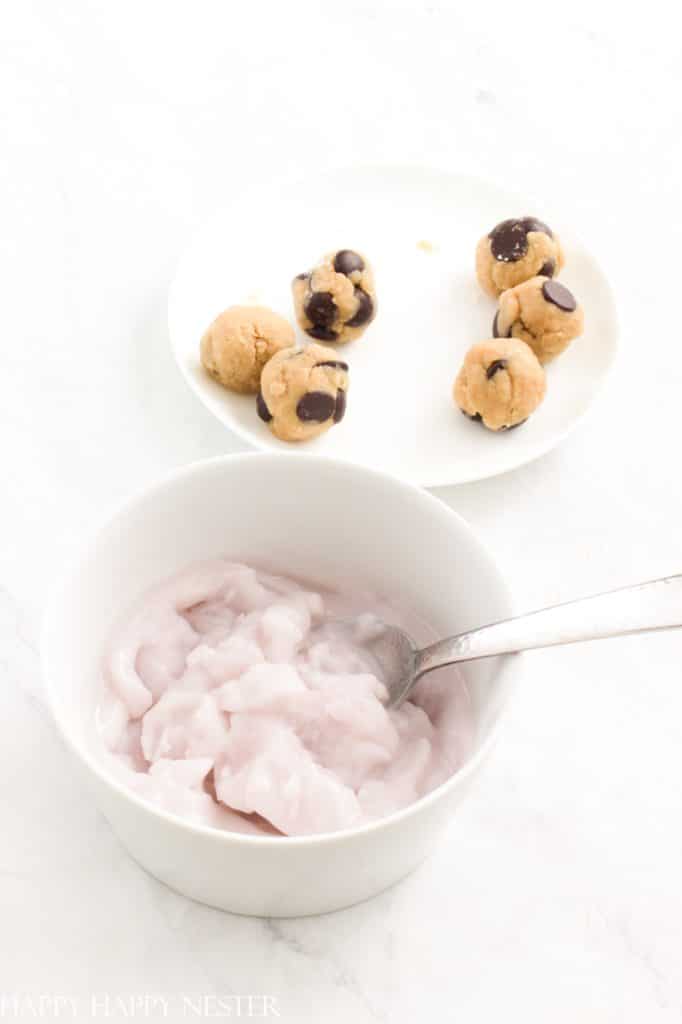 You'll want to microwave the mochi mixture since this is such an easy way to make mochi. Cook dough in one-minute intervals and stir and check the status of the mochi. It isn't easy to see, there is a bit of liquid left in the mochi, in the above photo.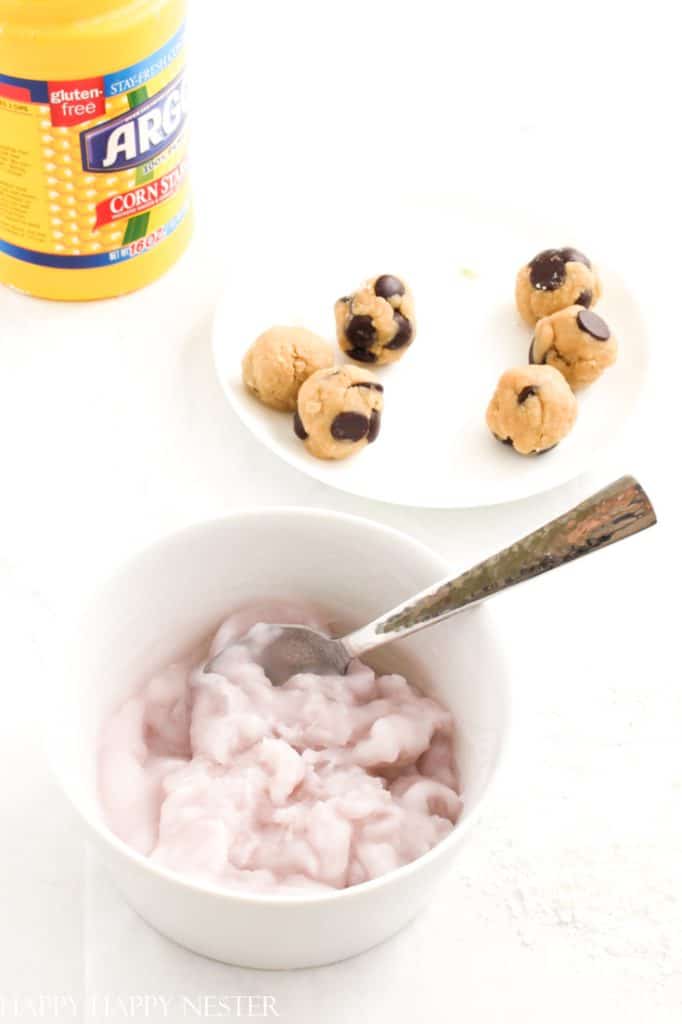 Once the mochi dough becomes more solid it's ready to use. The texture is similar to a thick sticky paste.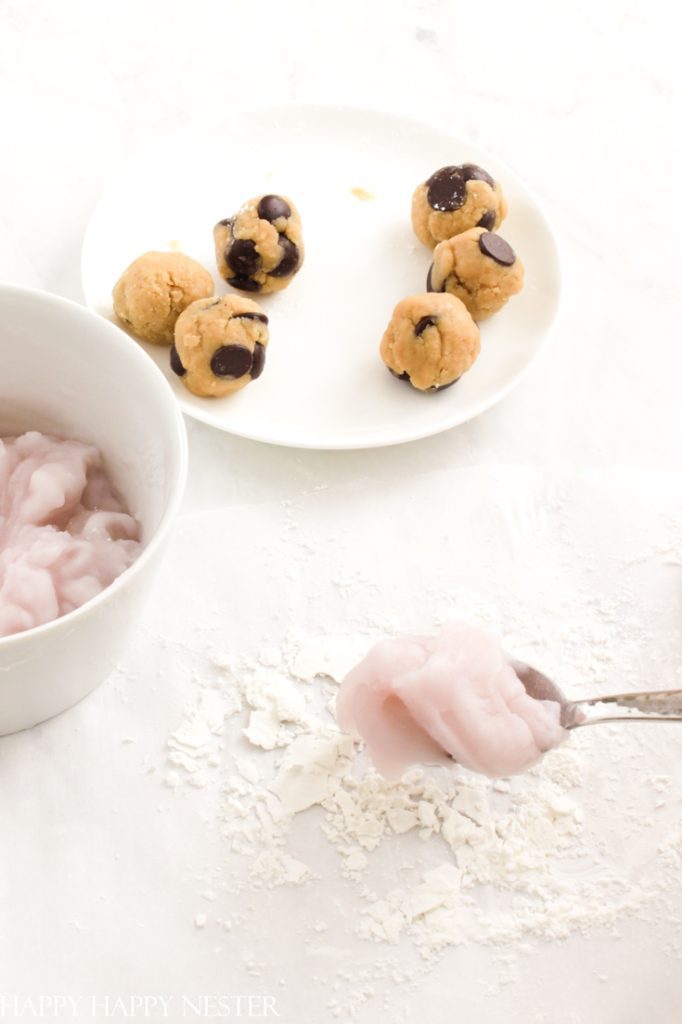 Step 4 – Form Mochi Balls
Once the mochi dough is ready, take a scoop of about 1/8 cup and mold on cornstarch-covered parchment. The cornstarch helps with the stickiness.
Flatten the mochi into a circle. Make the mochi pancake about 1/4 inch thickness. I like to make the middle of the circle a bit thicker where the cookie dough ball will touch.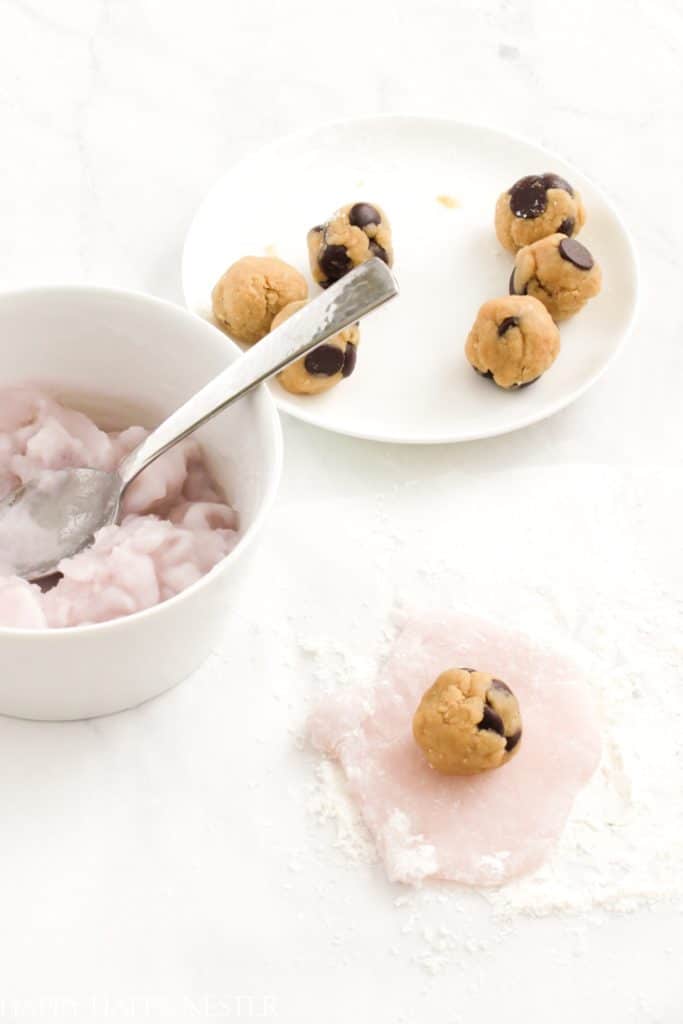 Place the cookie dough ball in the center of the flattened mochi.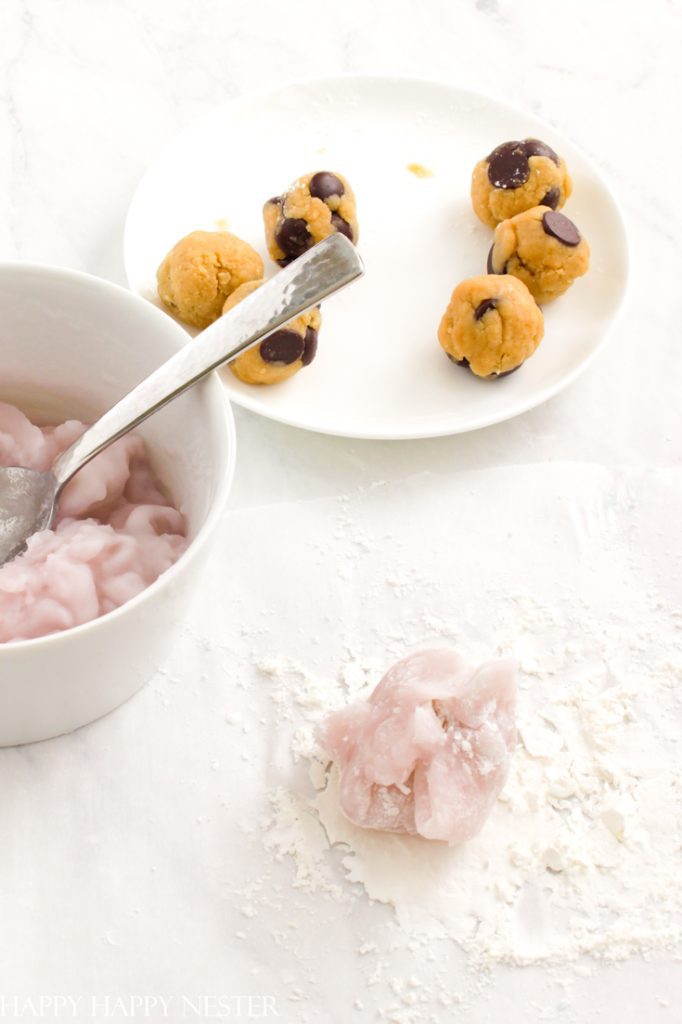 Bring up the sides and pinch them together.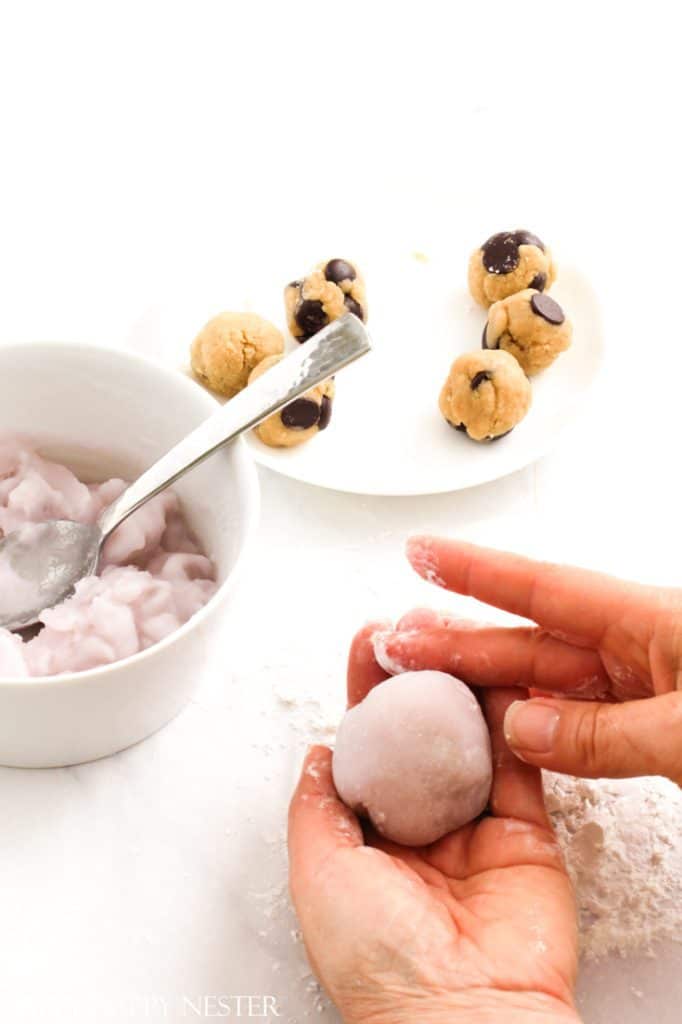 Smooth out the ball in between your two hands. Make sure to coat your hands with cornstarch so that the mochi doesn't stick to them.
Place each mochi on a plate that is dusted with cornstarch. Enjoy this yummy Japanese dessert!
Cookie Dough Mochi
Cookie Dough Mochi combines raw cookie dough wrapped in a sweet rice dough. This is a new version of the traditional sweet rice cake.
Ingredients
Chocolate Chip Cookie Dough
¼

cup

butter

room temperature

½

tsp

vanilla extract

⅛

cup

brown sugar

lightly packed

¼

cup

granulated sugar

¾

cup

flour

baked

¼

tsp

salt

3

tbsp

milk

regular or almond milk

½

cup

chocolate chips
Mochi Dough
1½

cups

Mochiko Sweet Rice flour

I prefer Koda Farms Mochiko

1

cup

granulated sugar

1½

cups

water

2

drops

vinegar

food coloring

1

cup

cornstarch
Instructions
Chocolate Chip Cookie Dough
Line a cookie tray with parchment paper.

Place flour on a cookie tray. Evenly distribute flour with the back of a spoon.

Bake for about 20 minutes in the oven. Remove from oven and allow the flour to cool before using.

Cream together the room temperature butter, vanilla, granulated sugar, and brown sugar in a mixing bowl.

Add baked flour and salt to the butter mixture. Next, add milk a tablespoon at a time and mix thoroughly in between tablespoons. Keep adding milk until cookie dough is moist and sticks together.

Form cookie dough into small balls and place them on a parchment-lined plate. Set the balls aside for later.
Mochi
I use a glass bowl that I can place in the microwave. Mix with a whisk, the mochiko flour, and sugar In a medium-sized bowl. In another bowl, add water and the two drops of vinegar, and mix.

Now, add the water to the flour and sugar until well-blend. I use a whisk and sometimes use my hands to get rid of the clumps. Add food coloring once the mixture is smooth.

Place mochi mixture in the microwave and cook on a high setting for a minute. Not all microwaves have the same strength, so your cook time might be less or more. Please adjust accordingly. I have a powerful microwave.

Take out of the oven and stir. Cover again with plastic and cook another minute. Repeat this until you cook it for about 4 minutes. You'll notice that the mochi will start to bake on the sides of the bowl.

As you continue, the whole mixture will bake. If after 4 minutes everything is cooked except the middle, that's ok, and it's done.
Forming the Mochi
Clean your counter and sprinkle it with Mochiko flour or cornstarch. I placed parchment paper down and then covered it with cornstarch.

Also, sprinkle a container or plate with Mochiko flour or cornstarch.

Scoop out your hot mochi onto your prepared surface. Cover the top of the dough with cornstarch or Mochiko flour.

Pat the mochi on a flat surface, adding cornstarch, so it doesn't stick. I usually flattened the dough to about a ¼ inch thickness. The mochi might be a bit hot, so you can let it cool a tiny bit before flattening.

Form dough into a small pancake about 3 ½ – 4 inches wide in diameter.

Place one cookie dough ball in the middle of your round pancake and bring up sides of mochi and pinch in the middle. Ensure that all edges get pinched together, so there are no holes.

Roll mochi in a ball in your hand. Place seams side down on a plate sprinkled with Mochiko flour or cornstarch.

Repeat this process until all ingredients are gone.

If the mochi dough gets dry and won't come together, add a tiny bit of powdered sugar or water, and it will revive the dough and becomes sticky and pliable again.

To store, place the plastic wrap around the mochi and put it in an airtight container.
Nutrition
Serving:
1
serving
|
Calories:
111
kcal
|
Carbohydrates:
17
g
|
Protein:
1
g
|
Fat:
4
g
|
Saturated Fat:
3
g
|
Polyunsaturated Fat:
1
g
|
Monounsaturated Fat:
1
g
|
Trans Fat:
1
g
|
Cholesterol:
10
mg
|
Sodium:
68
mg
|
Potassium:
15
mg
|
Fiber:
1
g
|
Sugar:
4
g
|
Vitamin A:
99
IU
|
Calcium:
8
mg
|
Iron:
1
mg
I hope you enjoyed this cookie dough mochi recipe.
And I'm delighted to be a part of introducing Yankee Candle's 2022 Scent of the Year, Inspire. This new candle is a part of World Fragrance Day, March 21st! If you want to try out this fresh citrus fragrance here is the link.  
Thanks again for stopping by this yummy recipe that is inspired by my fun collaboration with Yankee Candle!
Cheers,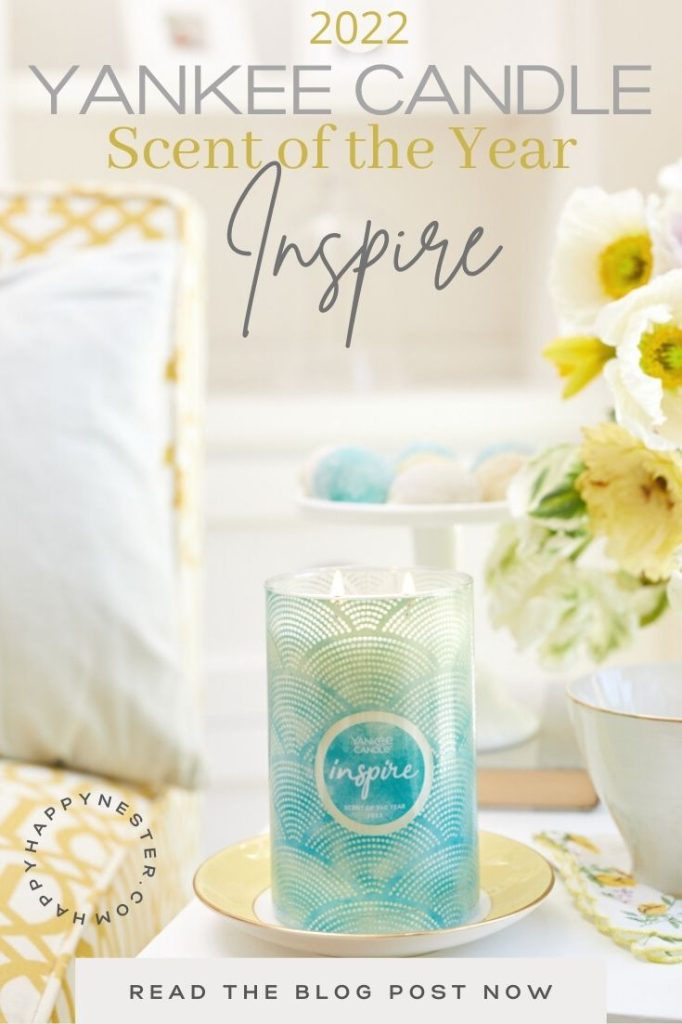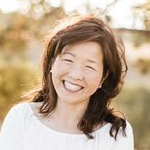 Latest posts by Janine Waite
(see all)