This delicious Chocolate Chip Skillet Cookie is a fabulous treat any time of the year. It's our family's comfort food when it comes to desserts.
My daughter asked me the other day to make this chocolate chip cookie in our cast iron skillet. So, I got busy in the kitchen and made a few versions. And today's recipe is the result.
My Baking Journey: Chocolate Chip Skillet Cookie
*The following post contains affiliate links
My daughter always requests projects, and her latest is this chocolate chip skillet cookie. I welcomed her request since I have done my fair share of baking desserts in cast iron skillets. I love how they create a crispy crust in my Mini Apple Tart recipe.
So coming up with a big chocolate chip cookie wasn't as easy as you think. My first attempt was a bit dry and lacked something.
I pondered this issue for a couple of days, then made another version using Betty Crocker's Chocolate Chip Cookie Mix. You see, I have a lot of these mixes in my pantry from collaboration with Betty Crocker. (I made some yummy Chocolate Chip Cookie Brownies for my sponsored post.)
Well, I decided to infuse moisture into my cookie, so I placed some chocolate candies in the middle of it. The results were a moist cookie but way too sweet.
So, I ditched Betty Crocker's premade mix and came up with a new chocolate chip cookie recipe. In the end, I did keep the candy middle which combines well with my new less sugary cookie.
Let's Answer a Few Questions You May Have
Can I Put a Skillet in the Oven?
Yes, cast iron is oven safe since the entire skillet is made of metal.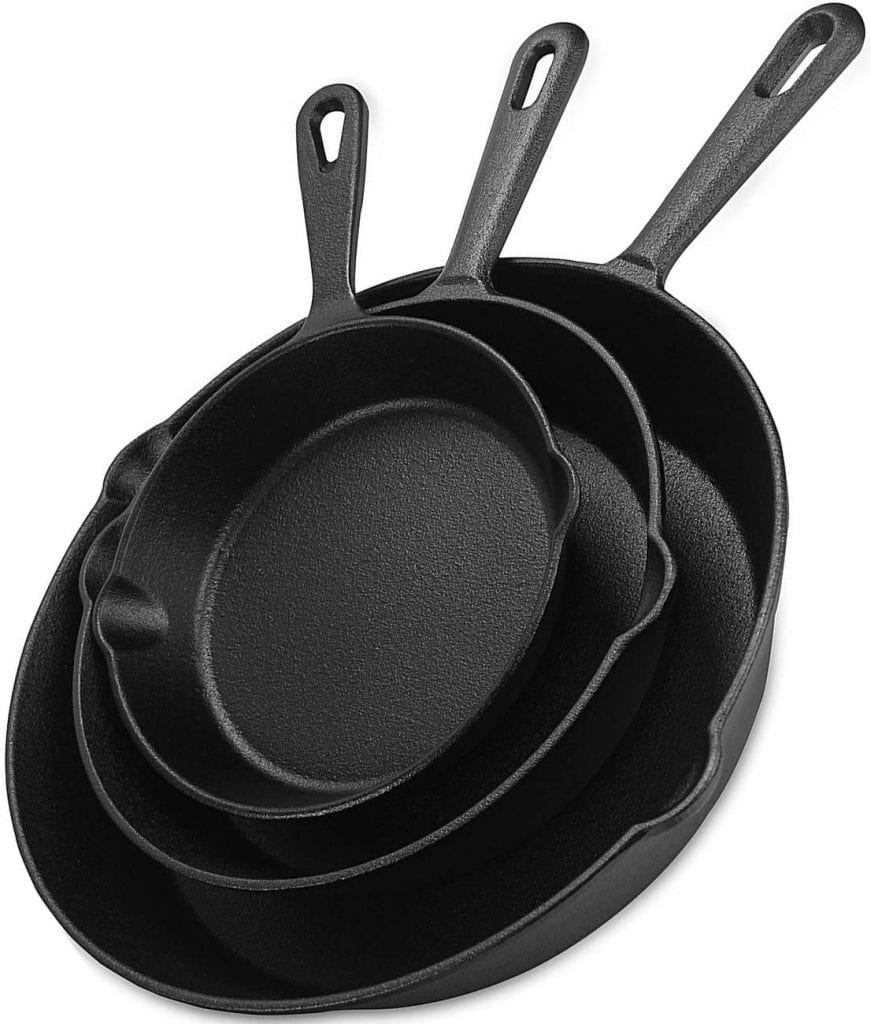 Should I Use a Seasoned Skillet?
When buying a cast iron pan, you can buy them pre-seasoned. I'm a bit lazy, and I buy them already seasoned. But, if you buy the non-seasoned pans, here is a great website that explains the process. The seasoning is what gives the pan its non-stick qualities.
Can a Chocolate Chip Cookie be Baked in a Skillet
Cast iron skillets are great to bake with. I love how easy they are to clean and how they're relatively like a non-stick pan when it comes to baking. We own quite a few pans, but I used an 8″ round skillet for this recipe.
Should I Use a Cookie Mix?
If you are tight on time, go ahead and use the Betty Crocker Mix. I would venture to say that since it runs a bit on the sweet side, it would be best to leave out the candy layer. And maybe sprinkle some kosher salt on top while the cookie is cooling.
How to Make a Skillet Cookie
Step 1 – Make the Cookie Dough
Step 2 – Preheat Oven to 350 degrees
Step 3 – Butter the Skillet
Coat the inside of the skillet with softened butter. Use a paper towel to spread or clean hands.
Step 4 – Press Half the Dough into the Skillet
Take half the dough and press it evenly to cover the 8″ cast iron skillet.
Step 5 – Top Cookie Dough with Candies
Chop your choice of chocolate candies and spread them over the chocolate chip cookie dough. Add chocolate chips if desired.
Step 6 – Press the Remaining Cookie Dough into the Skillet
Cover the layer of candies with the remaining cookie dough.
Step 7 – Bake in Oven for 40 minutes
Bake until golden brown.
Step 8 – Add Chunks of Chocolate and Coarse Kosher Salt
I chopped a bunch of Trader Joe's Belgium Chocolate and added it to the top of our skillet cookie. I later added kosher salt that goes nicely with the chocolate. These two additions are optional. My daughter is not fond of the salt topping, so I didn't add it to my latest version.
Chocolate Chip Skillet Cookie
This Chocolate Chip Skillet Cookie is a fabulous treat any time of the year. It's our family's comfort food when it comes to desserts. Whip up this cookie and add a delicious layer of chocolate in the middle. Serve warm and add a dollop of whip cream or ice cream.
Ingredients
Chocolate Chip Cookie
1½

cup

all-purpose flour

1

tsp

salt

1

tsp

cornstarch

½

tsp

baking soda

1

egg

beaten

1

egg yolk

beaten

1

tsp

vanilla extract

or vanilla bean paste

½

cup

unsalted butter

soften

¼

cup

brown sugar

lightly packed

½

cup

granulated sugar

1

cup

chocolate chips

add as much as you prefer

1

tbsp

salted butter

soften
Candy Middle
1

cup

chocolate candy

chop up either Kit Kat, Snickers, or Twixt

¼

cup

chocolate chips
Topping
1

tbsp

kosher salt

¼

cup

chocolate

chop up a bar of dark belgium chocolate
Instructions
Cookie
Prep an 8" cast iron pan with room temperature butter. Cover the insides of the skillet with butter.

Combine and mix flour, salt, cornstarch, and baking soda in a bowl.

Place the egg and the extra egg yolk in a small bowl and whisk with a fork thoroughly.

Whip butter for a minute or two with a mixer.

Add vanilla to the butter and mix well.

Add brown sugar and granulated sugar to the butter and mix for another minute or two until combined well.

Next, add the egg mixture to the butter and blend well.

Add portions of the flour to the sugar/butter mixture and beat well after each addition.

Once all the flour is added, beat for a minute.

Add the 1 cup of chocolate chips and mix well.

Next, press half the cookie dough evenly to cover the buttered skillet.
Middle Candy Layer
Chop chocolate candy into ½ inch cubes.

Top candy and the ¼ cup chocolate chips over the cookie dough in the skillet.
Third Layer
Take the remaining cookie dough and press it evenly over the candy layer.
Bake
Place skillet in preheated oven and bake for about 40 minutes until golden.

Let cool on the stove top or metal trivet. Once slightly cooled, add chunks of chocolate and kosher salt if desired.

Top with ice cream or whip cream and serve warm.
Nutrition
Serving:
1
g
|
Calories:
365
kcal
|
Carbohydrates:
33
g
|
Protein:
3
g
|
Fat:
25
g
|
Saturated Fat:
15
g
|
Trans Fat:
1
g
|
Cholesterol:
80
mg
|
Sodium:
971
mg
|
Potassium:
196
mg
|
Fiber:
3
g
|
Sugar:
27
g
|
Vitamin A:
469
IU
|
Calcium:
34
mg
|
Iron:
3
mg
I like this recipe a little bit gooey. So, once the cookie was golden I pulled it out of the oven. We did add some ice cream on top which balances the chocolate perfectly.
How to Serve The Cookie
Slice Into Individual Pie Shaped Servings
This is the most civil way to serve when having guests over! Place each cookie on a plate and top with a dollop of whip cream or ice cream.
Dig In With Spoons
This is the best way when devouring this dessert with your family members. Add a dollop of ice cream or whipping cream, and enjoy taking yummy bites with a spoon.
Chocolate chip cookies are comfort food for my family. The soft cookie dough combined with the melted chocolate chips soothes the soul.
My daughter would say that this chocolate chip cookie is happiness in a skillet.
If you need some more chocolate recipes here are few to try:
Happy baking my friends!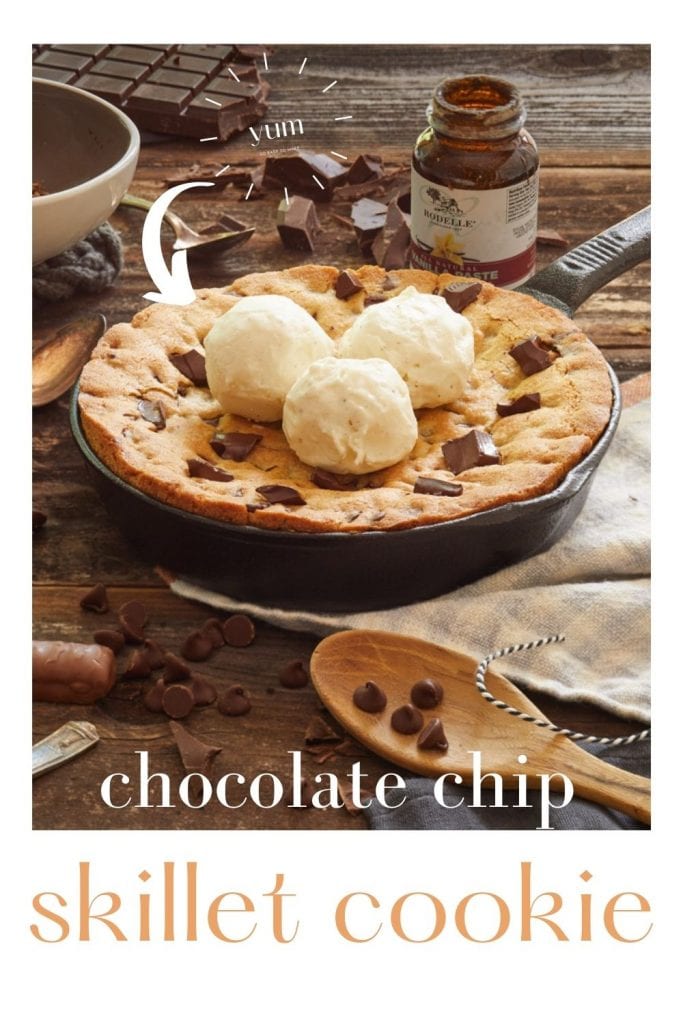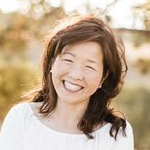 Latest posts by Janine Waite
(see all)