How to make a felt acorn branch is such an easy fall craft. These cute acorns are the perfect thing to snazz up an autumn table. Today let's get busy and create this project with just a few items. These cute acorn branches will look beautfiul on your table. I promise that you will have the perfect centerpiece for a fall table.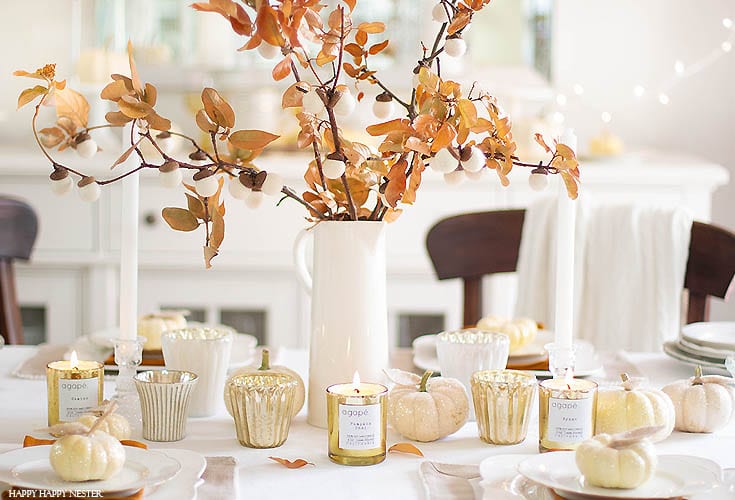 *The following post contains affiliate links




I have a fascination with fall acorns. When I go on my morning hikes, I pick up random leaves, pinecones, and acorns. Yup, you can say I'm a little pack rat. So, it makes complete sense that I would make a branch with faux acorns on it.
This project has been on my mind all summer long. I've tried attaching my acorns to mini-pumpkins, but that project turned into my glitter pumpkins. Then I tried just placing them on my Thanksgiving table, but they kind of got lost. So, recently I decided to attach them to some branches I found out in our garden. This project reminds me of my paper cherry blossoms branches.
Ok without further adieu, I'm so excited that I'm finally sharing how to make a felt acorn branch with you.
These rich brown leaves and branches are a perfect combination. Our Thanksgiving table decor is ready, and I'm delighted that I have some cute acorns. So let's get started on how to make a felt acorn branch.
How to Make a Felt Acorn Branch Tutorial
Supplies
Wool balls (choose whatever color matches your decor)
Acorn caps (I bought mine since I started this project before in summer)
Branches with leaves or no leaves (your choice)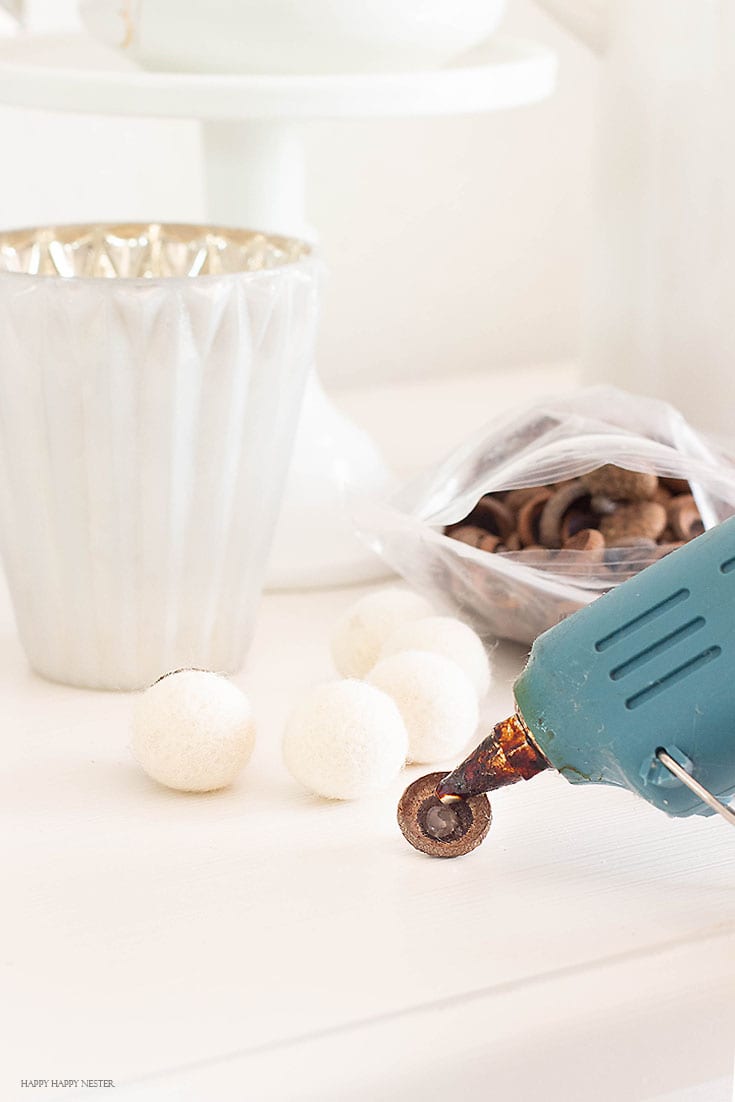 Instructions
1. Place Hot Glue in Your Acorn Caps*
Place a fair amount of glue so that it will touch the wool balls.
*If you use acorns from your yard make sure to wash them thoroughly and let them dry. Then heat oven to 350 and line a baking sheet with tin foil. Place the cleaned caps on the foil and bake for ten mins. After ten minutes take the caps out of the oven and stir them. Next, put them back in the oven for another ten minutes. Remove and let cool.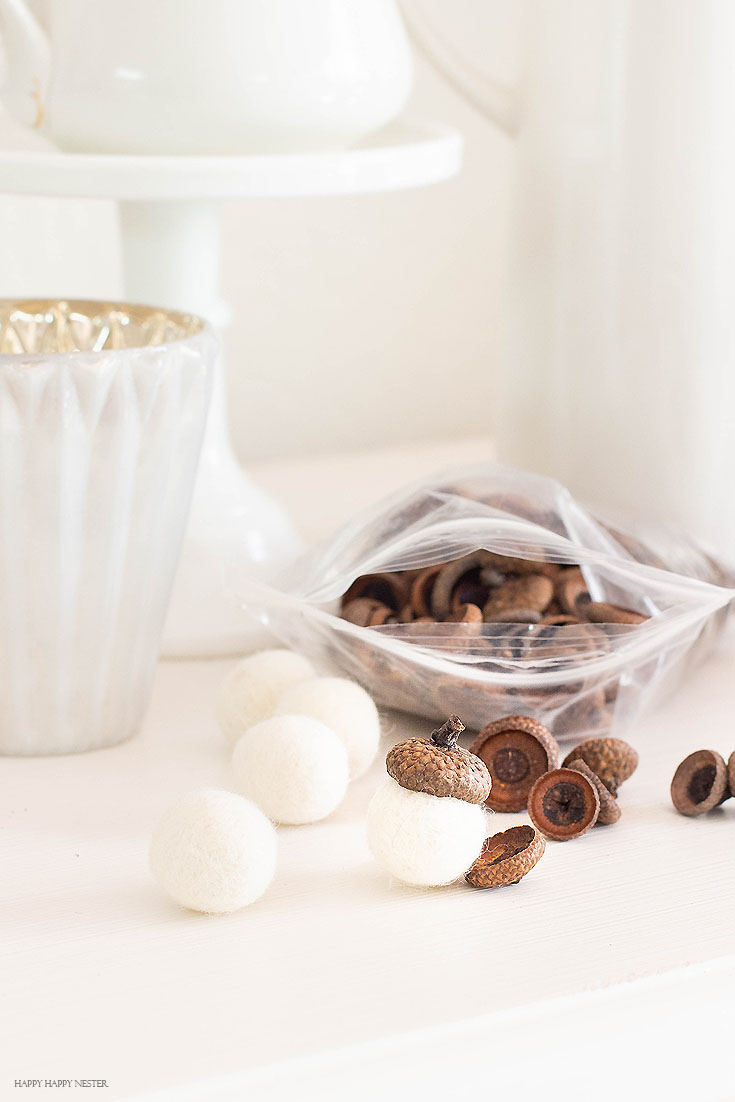 2. Place the Acorn Cap onto the Wool Ball
I like to make sure the cap and wool ball is proportional to each other in size.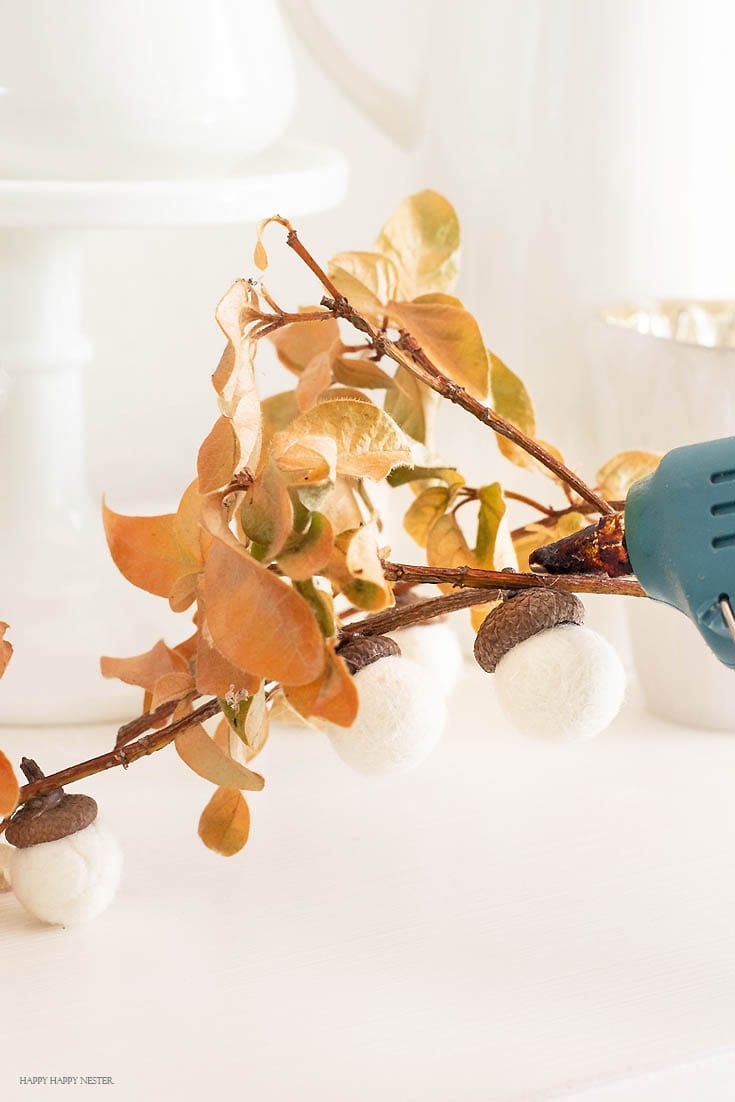 3. Glue the Acorn to the Branch
This is a bit tricky, so once you place the glue on the branch make sure to hold the acorn in place until glue sets up. Arrange the acorns on your branch in places that look natural.
4. Place the Branches in a Cute Vase
Once you place your new branches in a vase, now you can decorate your fall table. My friend, Rachel from Agape Candles sent along these wonderfully scented candles. I love the Pumpkin Chai fragrance for this time of year. Ok, my one important word of caution I have about decorating your table with candles is not to place them too close to the leaves or branches. I singed a leaf. Luckily I smelled it before it caught on fire.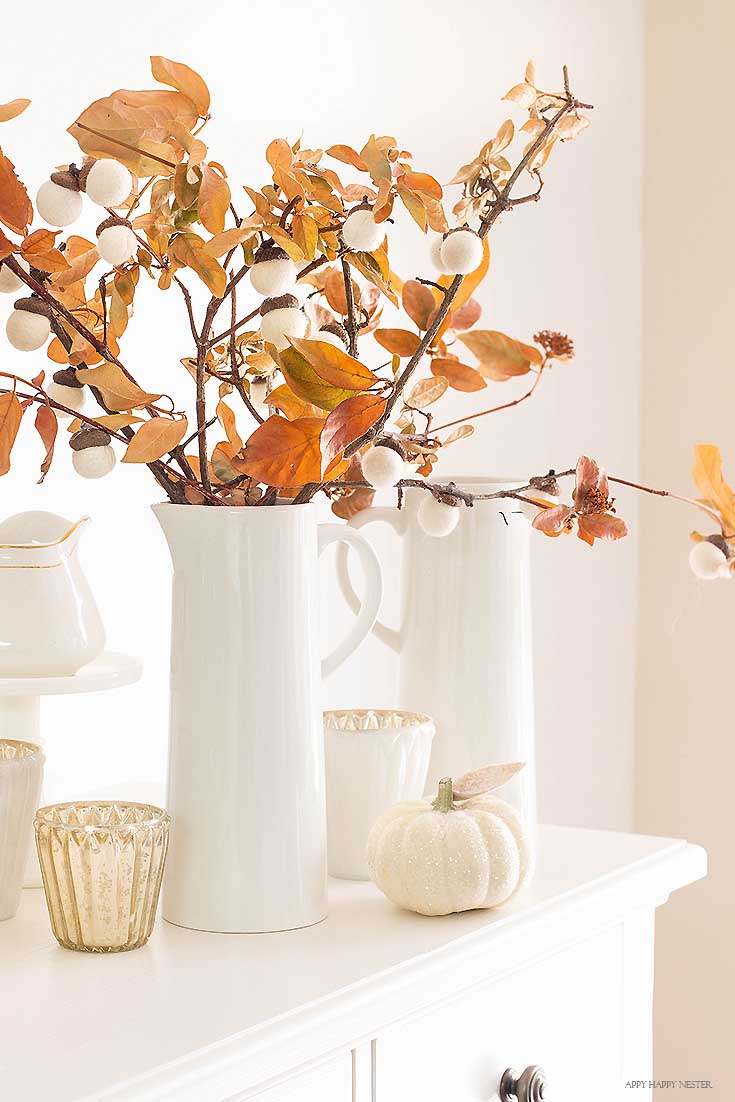 You know that I love sparkle and I found these mercury glass candle votives from Pottery Barn. Btw, if you have any white table decor, these beautiful branches stand out so nicely among them.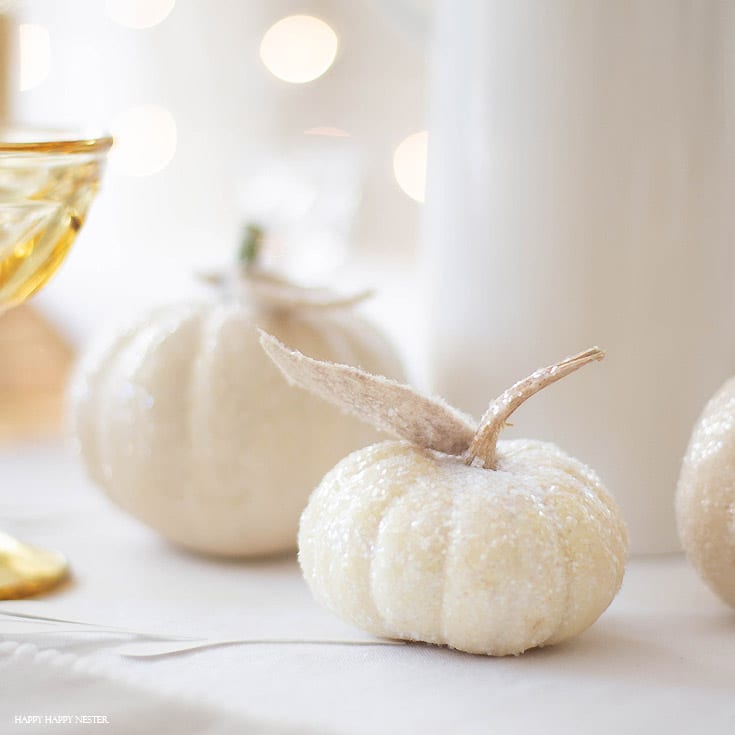 I love my glittered pumpkins; they add that fun bit of sparkle.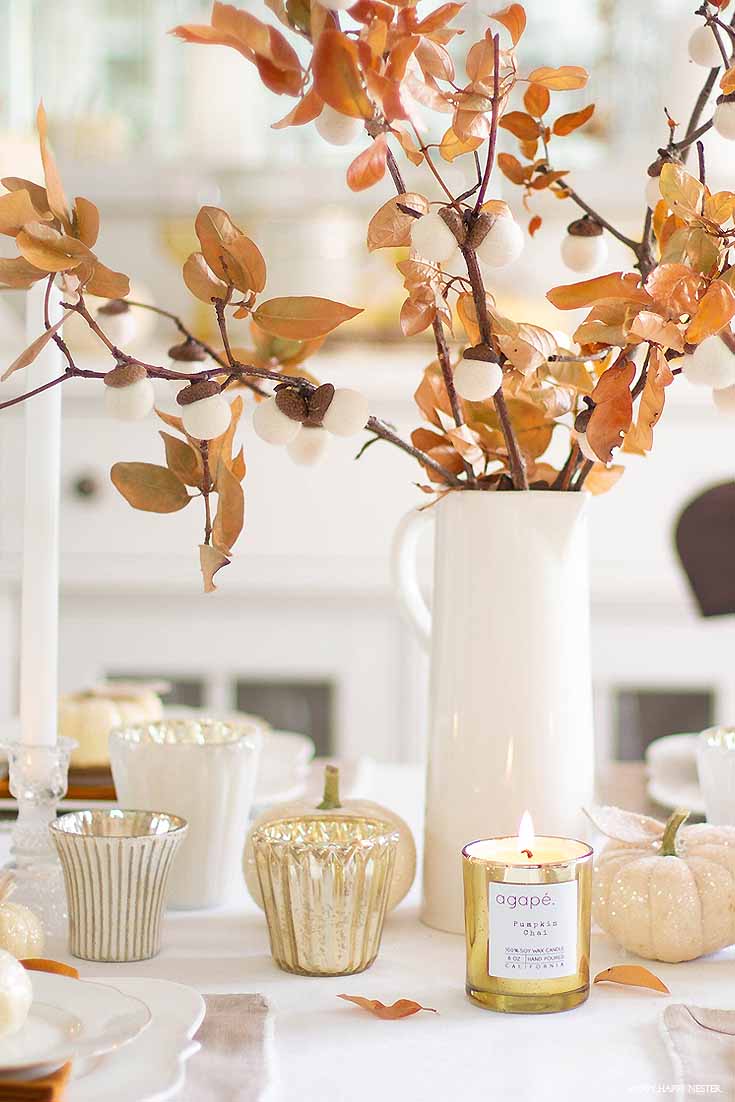 This is the cutest quote about acorns,
"Sometimes big trees grow out of acorns. I think I heard that from a squirrel."
~ Jerry Coleman
Acorns are powerful, maybe that's why I love them! Thanks again for joining me on this post of how to make a felt acorn branch. I hope you all have a chance to make these cute little fall gems.
Cheers,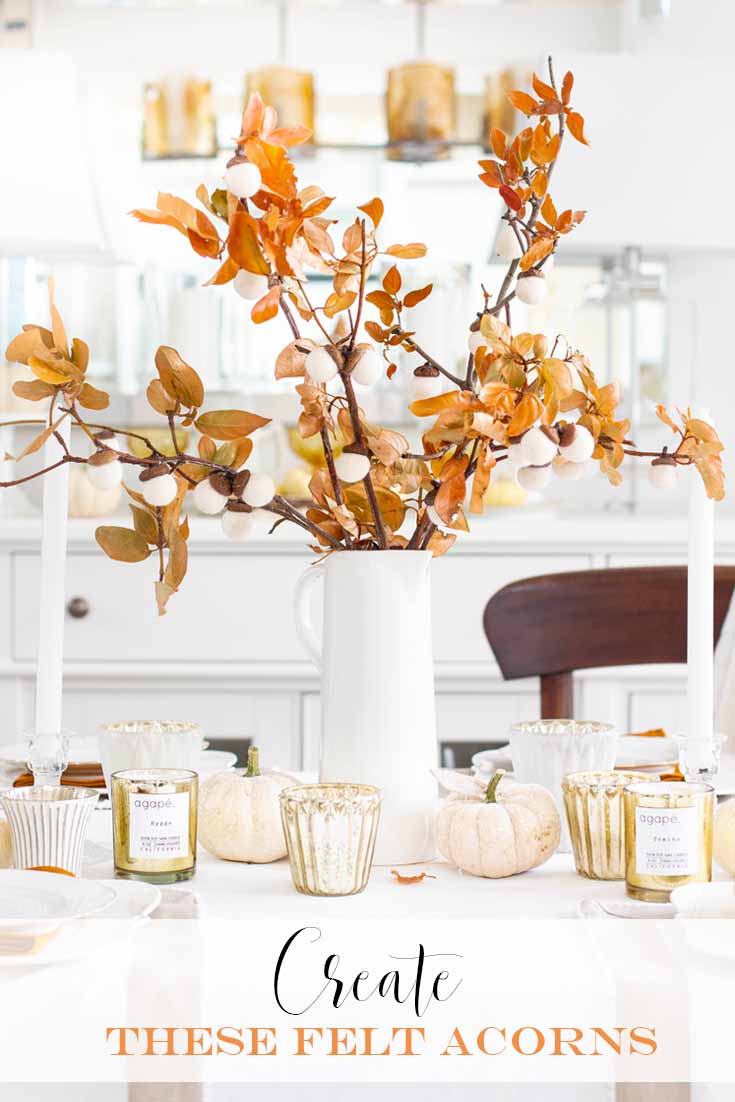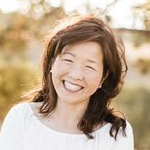 Latest posts by Janine Waite
(see all)