Here is a collection of some easy fall craft projects! These DIYs will help inspire you to create stylish fall decor for your home. I include my simple wreaths, garlands, floral arrangements, and more! Not only will you find my easy fall craft projects, but there are also my favorites, what's trending on the blog, and lots more!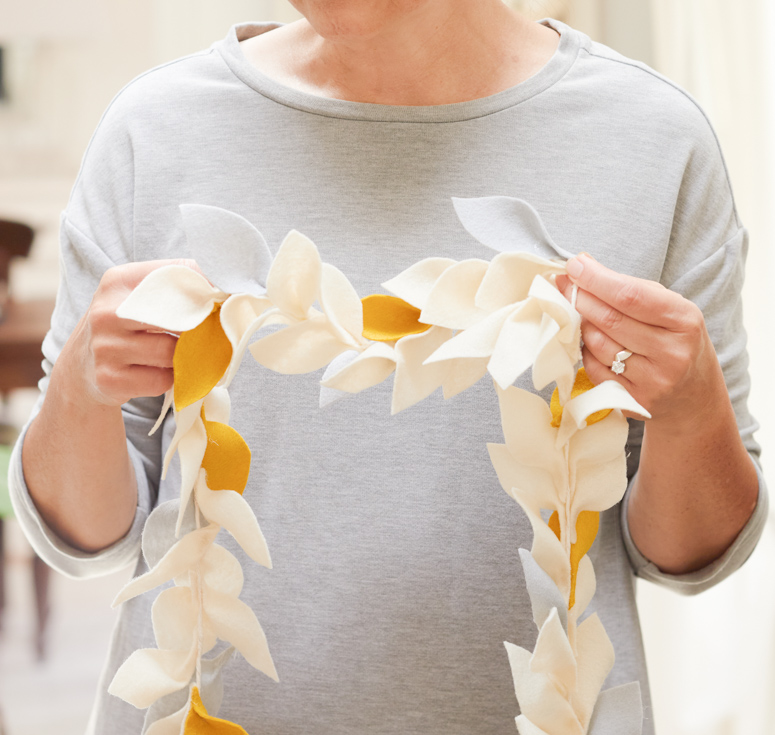 If you know me, I love fall. So when this season comes our way, I am ready to craft and create! To me, it means sweater weather, hot drinks, and lots and lots of pumpkins!
I have always enjoyed creating fall decor, and whether it's putting together an easy wreath or an inexpensive bouquet of gorgeous blooms, I love it!
So if you love fall-styled everything, then you're in the right place! Check out these fun crafts and projects to get started today!
Saturday Chitchat with Janine – Volume 31
Happy Labor Day Weekend!
Hooray for Fall! When September arrives, I count that as a fall season! And what better way to spend this season than by being curled up by the fire creating fun fall crafts!
Suppose you were thinking the same thing, perfect! I have a wide collection of easy and simple craft projects just for you to start decorating your home!
If you're like me and have started turning your house into a cozy, warm oasis full of fall colors, leaves, and pumpkins, then what's one more piece of decor? In my opinion, the more, the better!
Check out this collection of easy fall craft projects to start decorating today, and have a great weekend!
Happy Saturday!
Cheers,

A Personal Note from Janine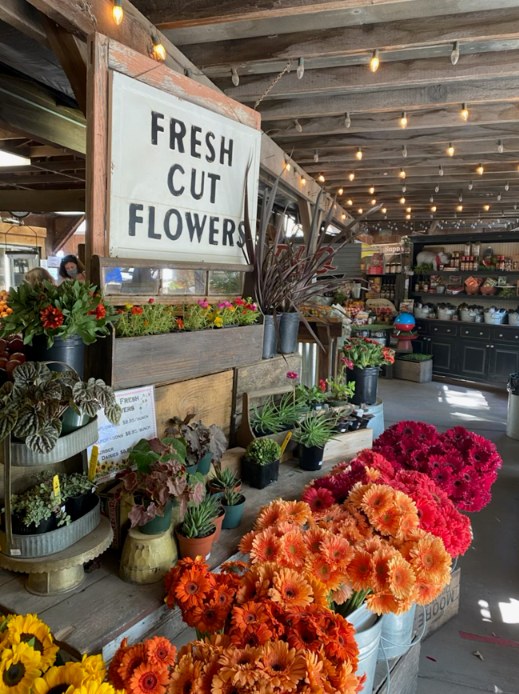 Since purchasing our little trailer, we adventure more on the weekends. So far, we have taken more trips this year compared to the last two years.
We recently visited our son down in San Luis Obispo, and we stopped at this cute little farm. The boutique shop was packed with produce, flowers, and pretty little gifts.
I love traveling to new places and experiencing all the local produce, pastries, food, and crafts. Yes, I order unique desserts from little bakeries. I study and soak it all in on these trips.
Now, I have a few new blog posts that I want to tackle.
So if you can, try and do something out of your normal routine. And hopefully, you will become inspired to create something new.
We are off to the Alameda Antique Faire this Sunday. And I'm hoping that I find some holiday items that will spark my decorating bug!
Ok, happy weekend to you all!

This Week's Inspiration -Fall Crafting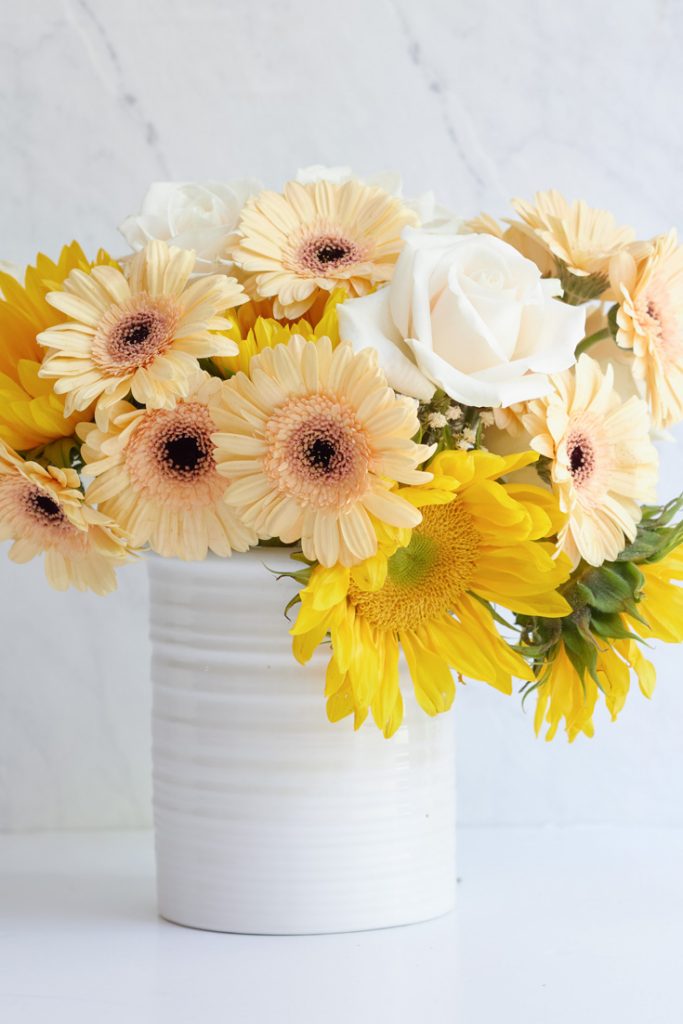 Trader Joe's Flower Arrangement DIY
And our local grocery store, Trader Joe's, has the BEST collection of premade flower arrangements, beautiful bouquets of different types of flowers, and kinds of greenery! With excellent prices and gorgeous blooms – TJ doesn't disappoint!
With these collections of flowers from Trader Joe's, you will be able to mix and match, create stunning decor, and perfect for your flower arranging skills!
Whether you're a beginner, newcomer, or pro, you will learn how to beautifully organize and design elegant Trader Joe's flower arrangements!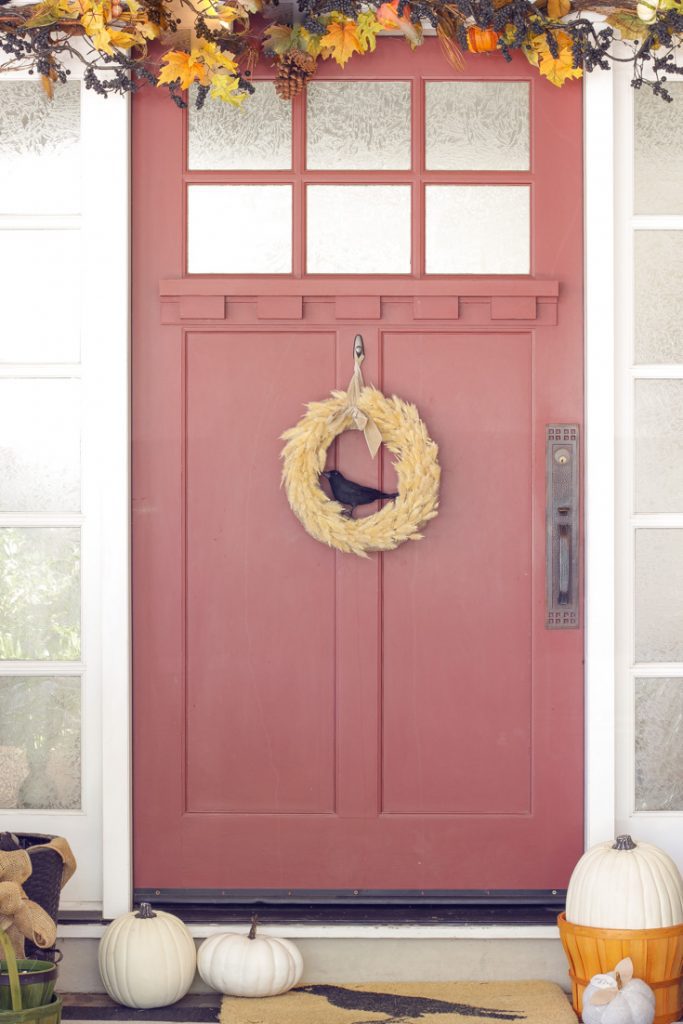 Fall is not complete without a wreath to welcome friends and family to our home. It's a cozy time of year, and recently, I've created a cozy wreath with some fluffy dried bunny tail grass! It took me less than 10 minutes to make!
If you're looking for a simple but stunning wreath for your front door, then check this out! With only a few items of supplies and a little time on your hands, you will have created a perfect piece of decor!
It's one of the many easy fall craft projects I have created and definitely one of my favorites and hopefully yours too!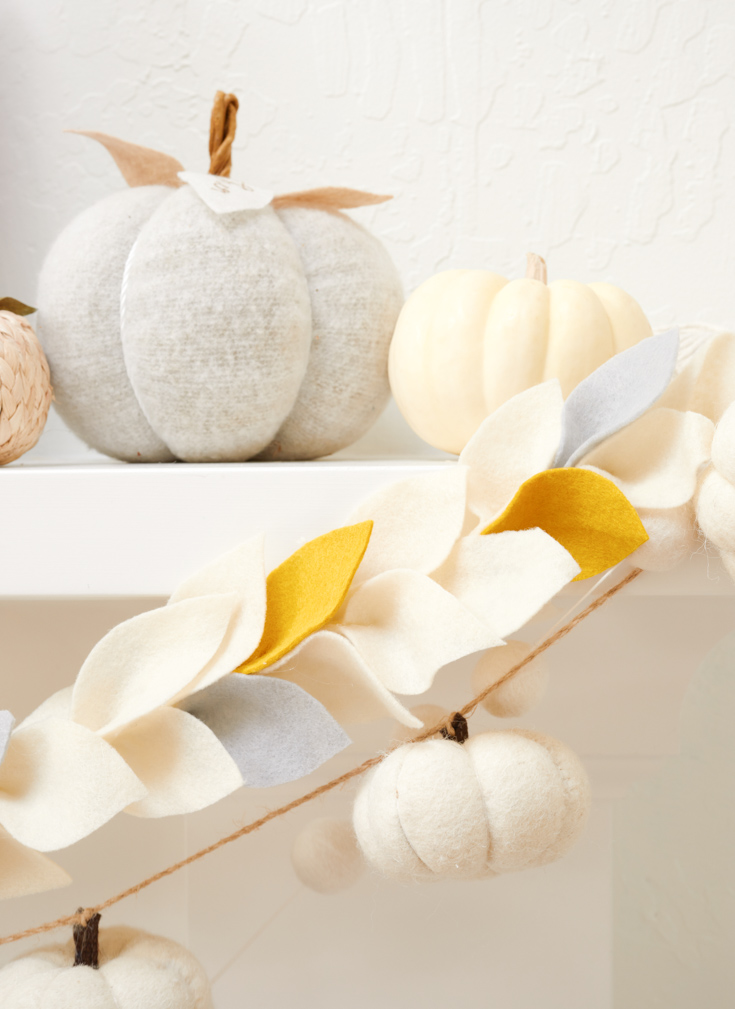 As we begin to spend more time indoors, this time of year screams for decor. I love to decorate with garlands, so I got busy and made this fun felt project.
I love any felt decor. Felt draws me in with its inviting and cozy look, and this garland is the definition of a welcoming, warm look! It's one of the many easy fall craft projects I have created.
If you're looking for a stylish and simple piece of decor to create in your free time, here it is! Check out this post to add more decor to the heart of your home!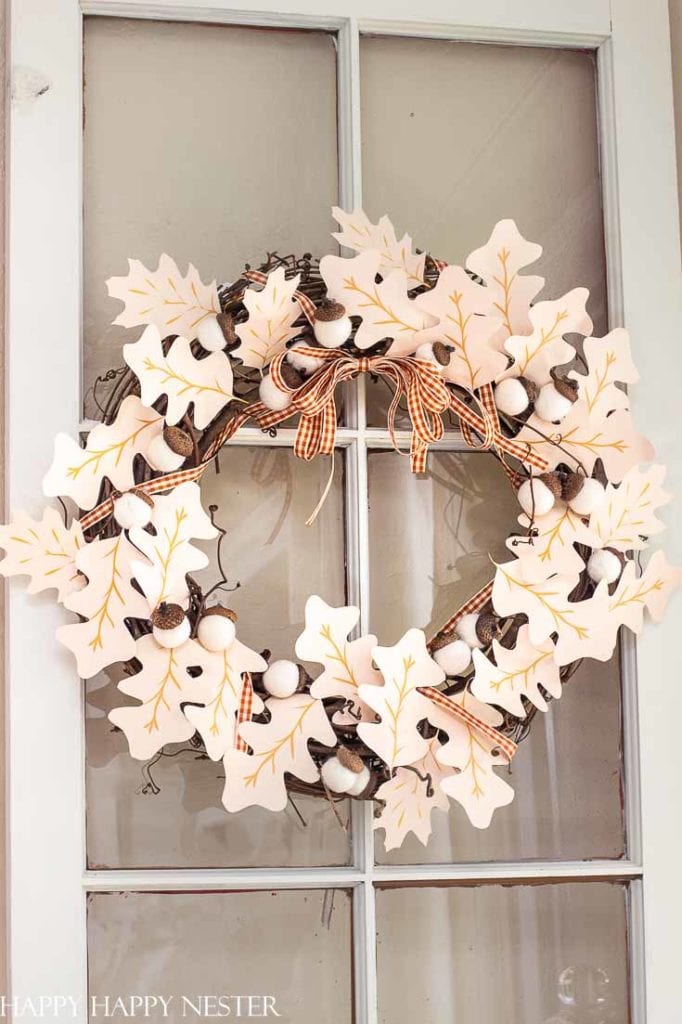 I'm super psyched to share with you this post on DIY fall wreath ideas! I love making wreaths, and my favorite is making paper wreaths that are easy and inexpensive to create!
This wreath will create a warm and cozy look to your home while also surpassing the fall vibes! It's a great craft to create when huddled inside in the cold weather.
So if you're looking for a fall wreath that is simple yet stunning, check out one of my favorite easy fall craft projects to start decorating today!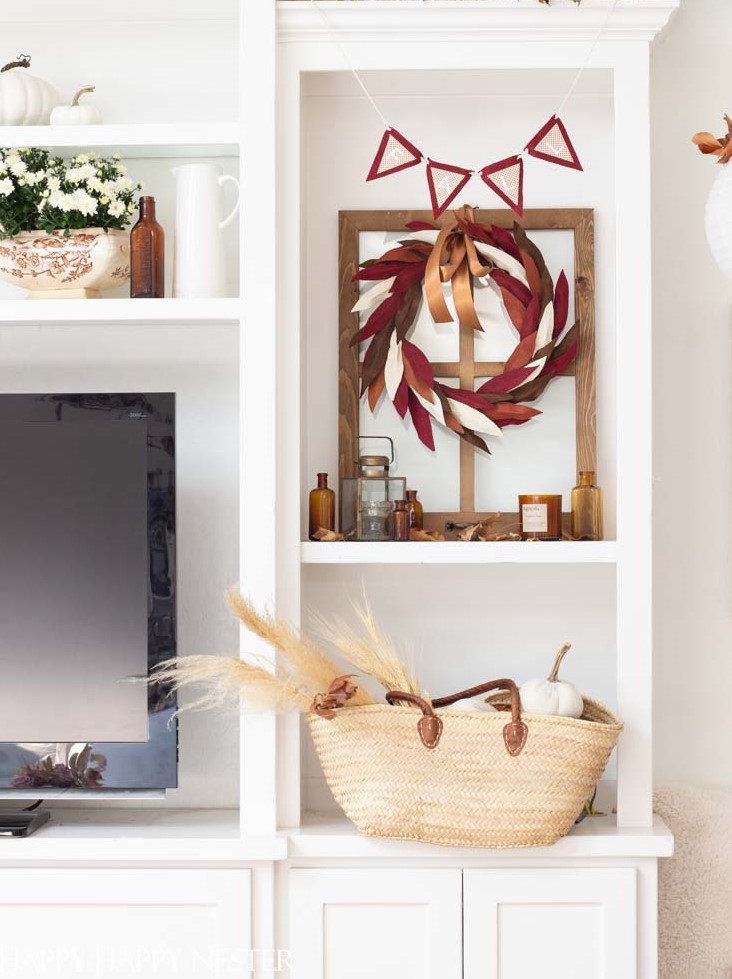 If you don't know by now, I enjoy using felt in my decor. It's simple and stylish, which sounds great to me! Whether creating a garland or something like this fall wreath, felt is the way to go!
This wreath is full of fall colors and will definitely make your home feel cozy! It can be hung on the front door, in the kitchen, living room, you name it!
That is what's fun about wreaths, and you can decorate them in every room! So check out this simple project to create a stunning wreath!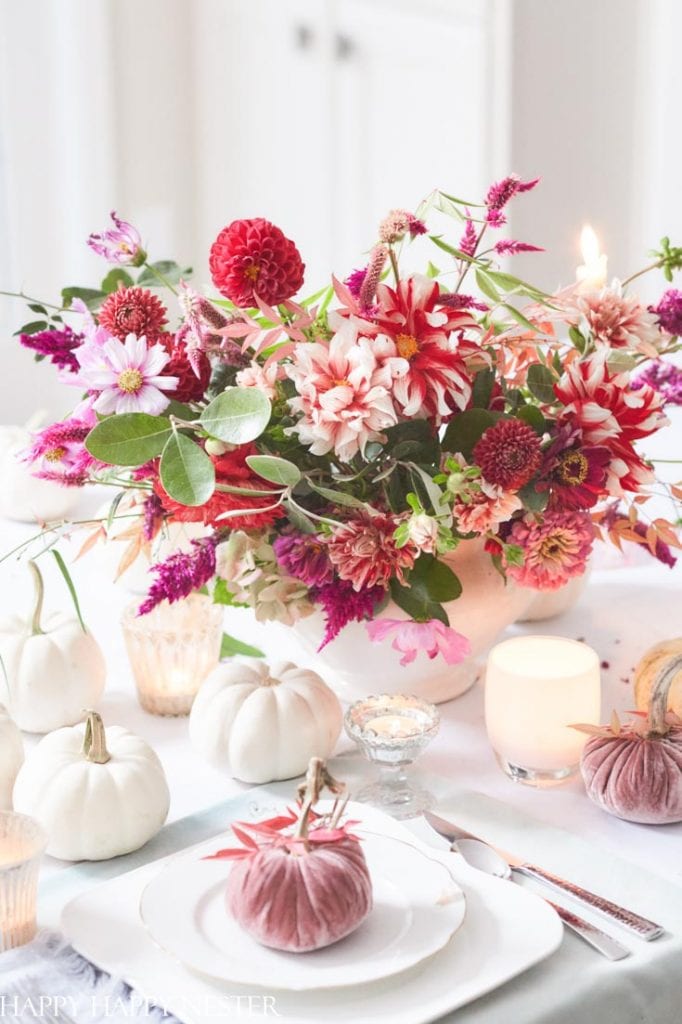 I am all about decorating my dining room table for the holidays. It's where my family and I gather for meals, laughs, and good times! This Fall, I plan on creating a stunning look, unlike any other year.
If you're planning on decorating your table like me, here is a collection of DIY Fall Centerpiece ideas to help you get started!
There is such a wide variety of these decor ideas, so check it out and have fun with it!
---
This Week's – Boutique of the Week (Fall Wreaths)
*The following post contains affiliate links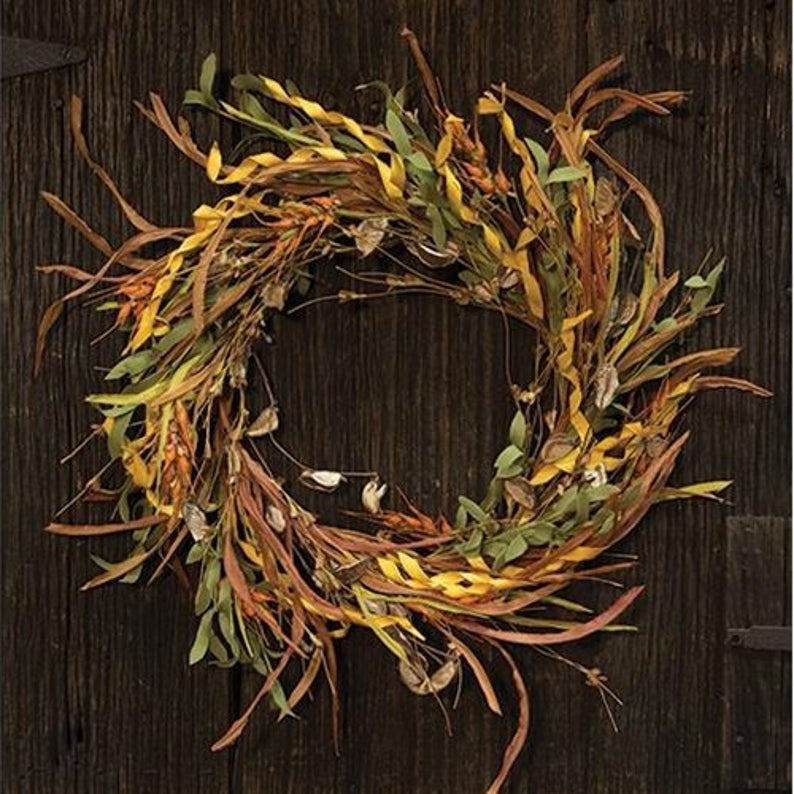 Embrace the new season with these gorgeous fall wreaths! A seasonal wreath warms up a home and is so inviting and friendly!
Here is a collection of all types of fall wreaths to choose from. This collection of wreaths you will not find in most craft stores. I've hand-picked a few that are handmade by several small business owners over on Etsy. I appreciate their artistry and craftsmanship, and I hope you do too.
Check out this post to search for your next fall wreath for the front door or anywhere in your home!
---
My Favorite Things – Fall Craft Kits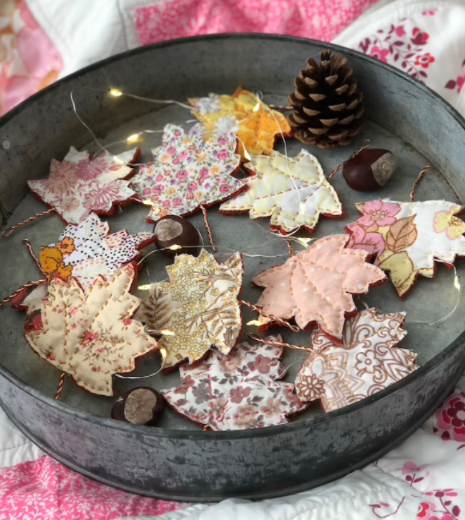 These adorable vintage fabric leaves are strung on a garland of lights to make a cozy, hygge decoration for your home during Autumn, Halloween, and Thanksgiving!
Once made, your leaves garland can be strung up above a bed, on the mantle, along the banister, or simply in a bowl or vase for some twinkly cozy night decor.
They are also a charming addition as a pretty alternative to Halloween decorations. And if you are hosting a Thanksgiving dinner, you can use them to decorate your table!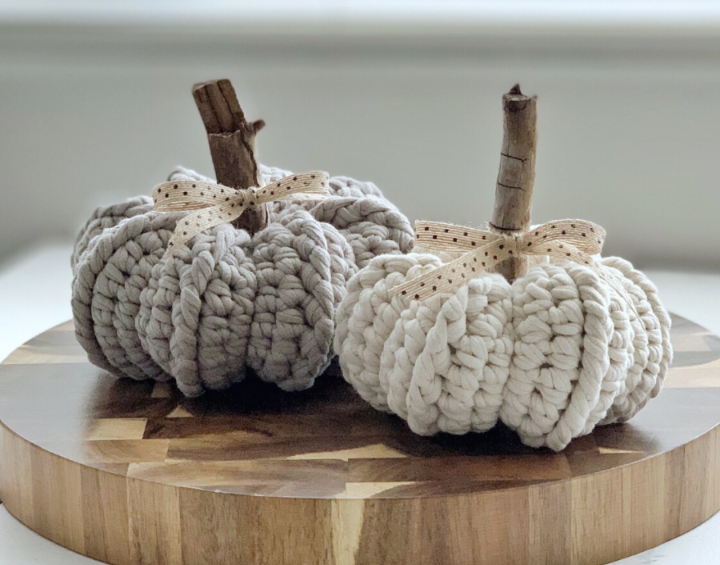 This is one of the easy fall craft projects I have selected, yet it will definitely create a stunning look within your home!
If your style is more farmhouse chic, these crochet pumpkins will be perfect for your fall decor! These pumpkins can be placed in a bowl as a table centerpiece or placed around the house!
With the cute ribbon for texture, beautiful pattern, and simple process, this craft is wonderful and 100% worth it!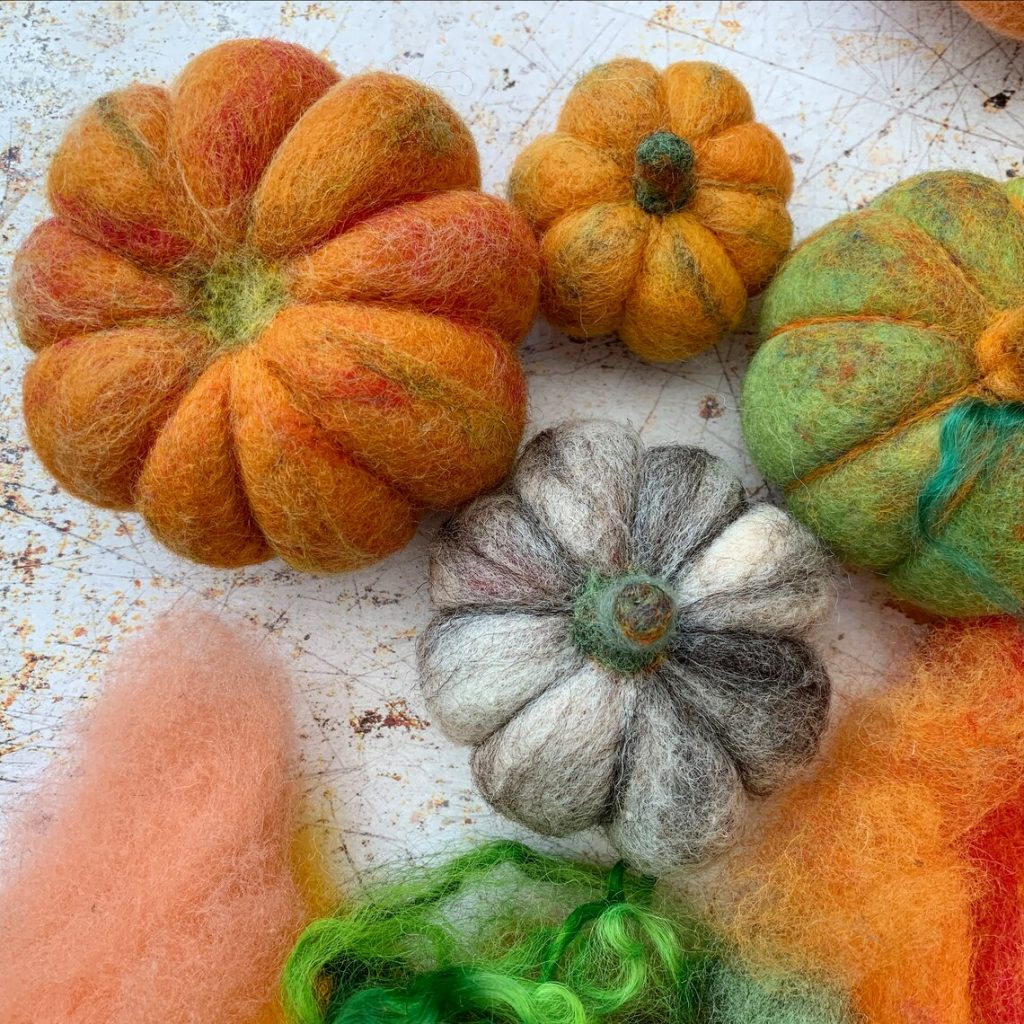 Pumpkin Needle Crafting Kit for Beginners
This is a great beginner's needle felting craft kit that will make three beautiful pumpkins.
Our pumpkin needle felting kit contains everything you will need to make several pumpkins and includes step-by-step photo instructions that will guide you from start to finish. The completed pumpkins make beautiful room ornaments or table decorations!
Needle felting is a fun and therapeutic craft that is also considered to be quite stress-relieving! It's a lovely craft to share with a friend, and the kit also makes an ideal gift for someone who loves crafts and is perfect for those rainy days at home.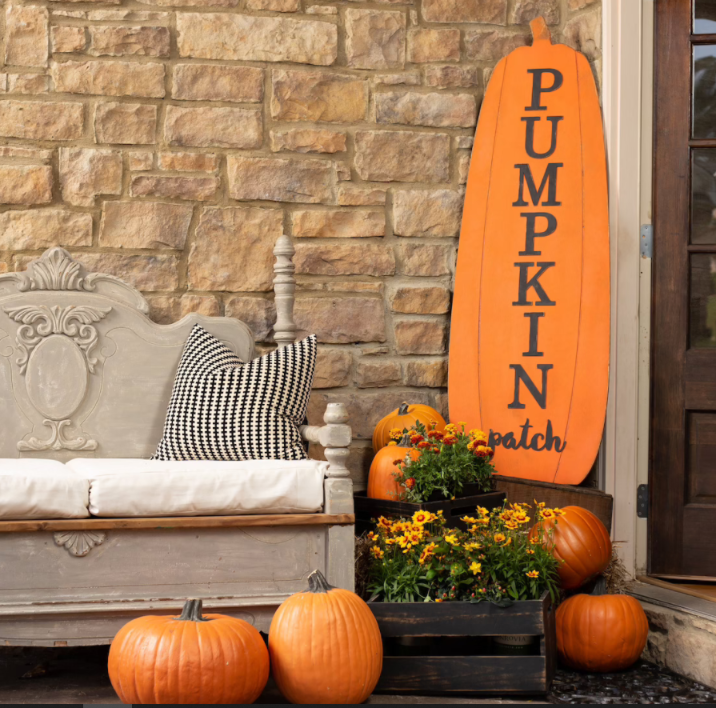 Add a seasonal welcome to your home with a huge, unfinished Pumpkin Porch Sign. Routed lines add extra interest and dimension to one side, but both sides can be painted to create a sign that you can use all fall season!
These gigantic wooden porch signs will surely make a statement. Purchase it without laser words, or choose one of our laser-cut embellishments to create a welcoming sign that is simple paint, stain, or decoupage.
This DIY pumpkin sign kit is one of the many easy fall craft projects in the book, and it will create such a warm and welcoming feel to your home!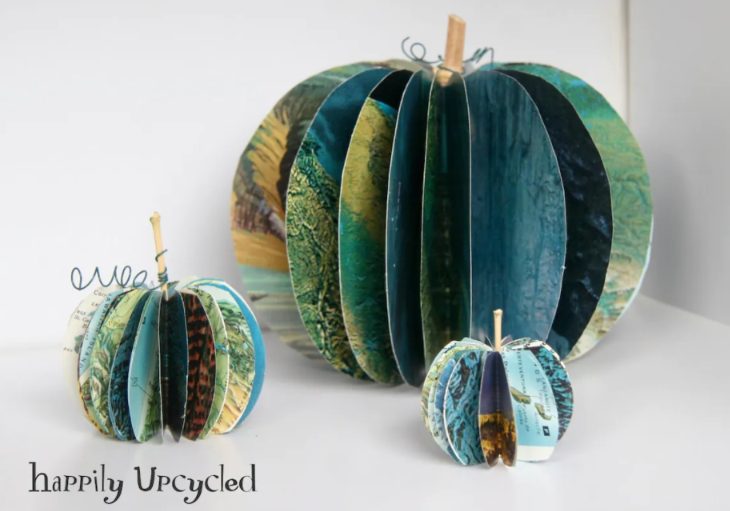 Ready to get your craft on and make some paper pumpkins for your fall decor? My DIY Craft Kit will provide you with all of the materials needed to create 3 Book Page Pumpkins!
It's such a wonderful craft for kids and makes for fun decor around the house! It's such a great DIY because not only is it a perfect piece of decor, but it is also upcycled, so it's healthy for the environment!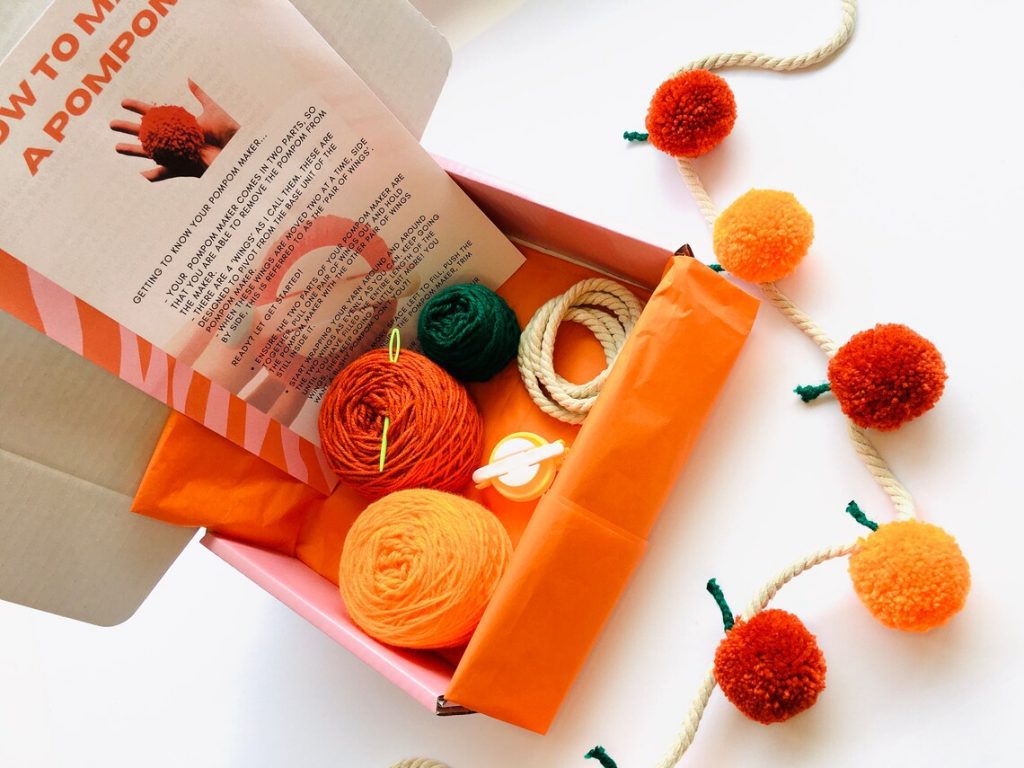 What better way to decorate your home during autumn than with a handmade pumpkin pompom garland. Plus, this kit doubles up as a great activity to do with the family or a group of friends over a mulled wine or two!
This kit includes two shades of orange DK yarn, a forest green DK yarn, cotton rope, a pompom maker, and easy-to-follow instructions! It's one of the easy fall craft projects I have selected, so have fun with it!
This kit is enough to create a meter of plump pumpkin pompoms. I hope this kit ignites your passion for crafting to experience the mindfulness and relaxation that crafting brings!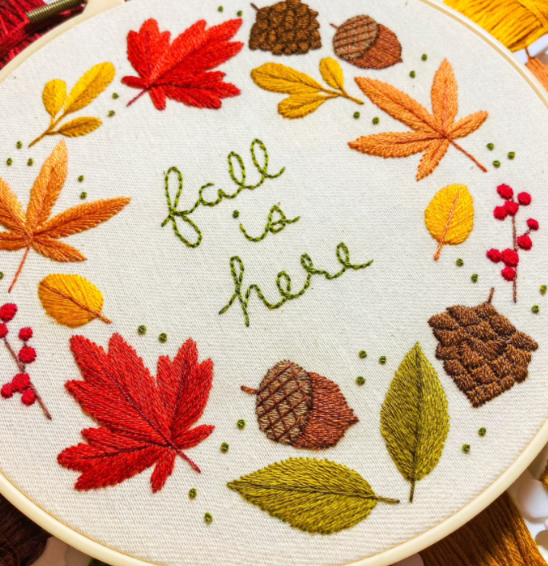 This is a digital PDF embroidery pattern of a simple fall wreath filled with acorns, pinecones, berries, and colorful fall leaves. 🙂
If you are looking to get into embroidery, this is the pattern for you! It comes with photo guides and steps to help you execute a beautiful finished project.
I absolutely love fall, and I hope you do too! If you want to become an embroidering pro or have been doing these crafts for years, this is one of the easy fall craft projects out there! Check it out!
---
Fall Projects from Friends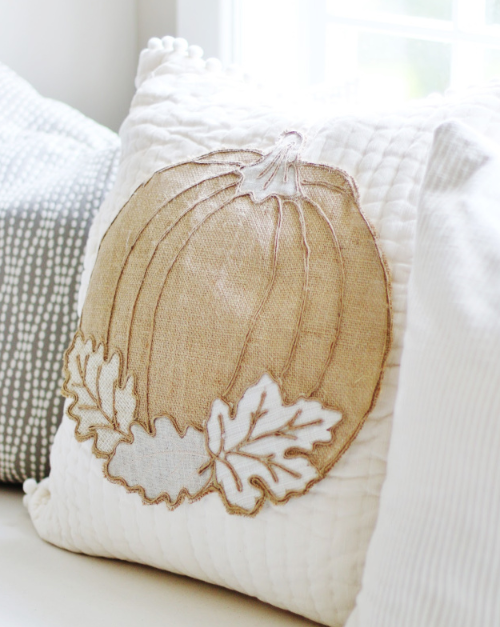 5- Minute No-Sew Pumpkin Pillow
Here is a simple tutorial on making a five-minute no-sew pumpkin pillow from a dear friend of mine, KariAnne, from ThistlewoodFarms!
When I think of fall, I think of pumpkins and pillows. Now I can create something with both, this pumpkin pillow! Seriously, this piece of decor is perfect for the fall season!
If you're looking for a simple and easy fall craft, check out KariAnne's gorgeous no-sew pumpkin pillow!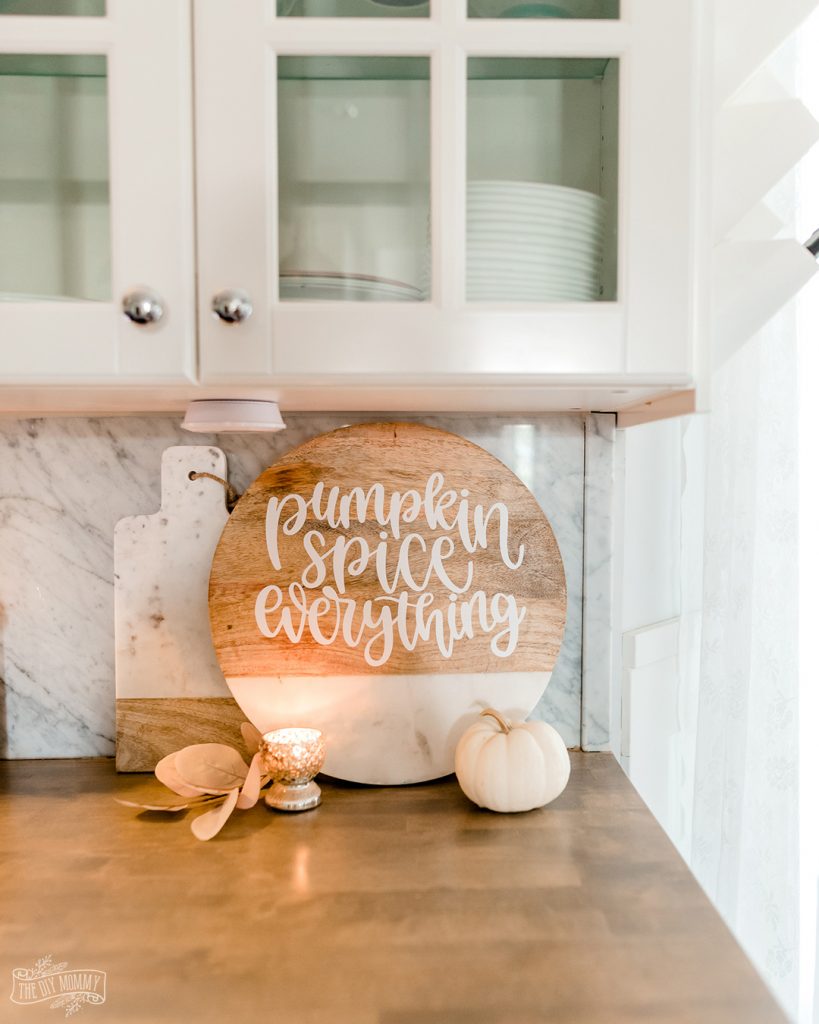 Want an easy way to decorate for Fall? Learn how to make a simple DIY Fall cutting board with a Cricut! This DIY fall cutting board is from a great friend of mine, Cristina, from TheDIYMommy!
If you're looking for a simple craft for Fall, this is the one for you! It instantly turns a plain cutting board into the seasonal decor!
All you need for this DIY is a round wooden cutting board, a Cricut machine, and some removable white vinyl!
I think this DIY is perfect and one of my favorite easy fall craft projects for this upcoming season!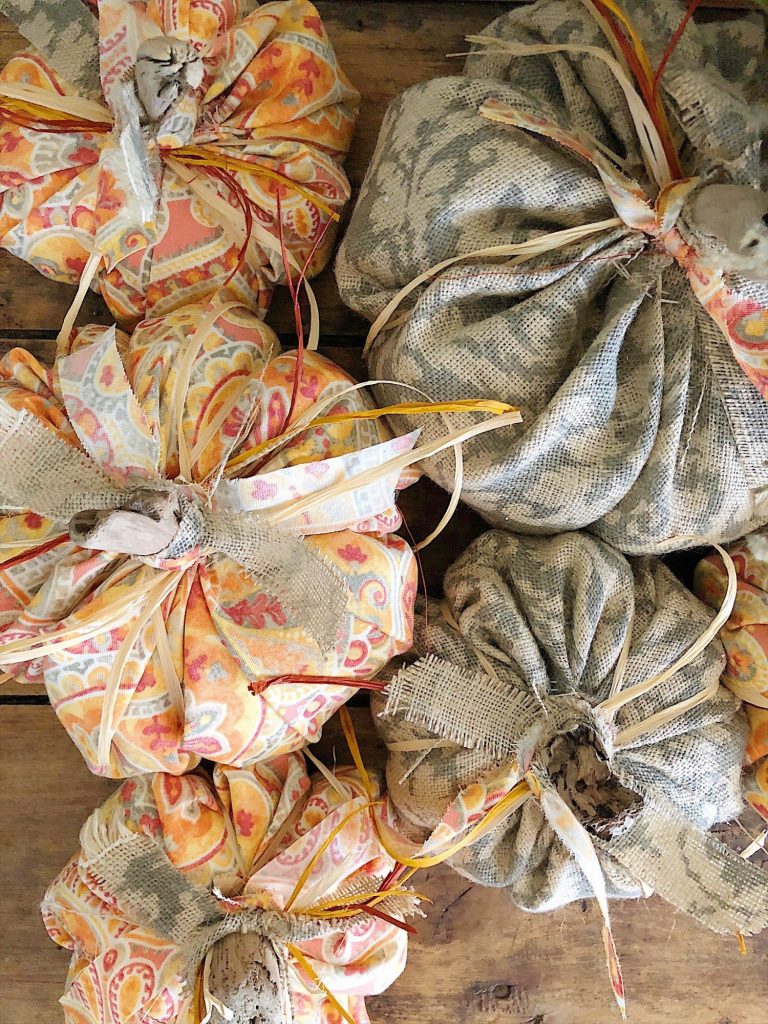 Here is one of the many easy fall craft projects for fall from my good friend, Leslie, from My100YearOldHome! They are DIY fall pumpkins made from fabric and driftwood!
It's one of those no-sew projects that is simple with a stunning outcome! When fall comes around, it's time to start decorating your home with decor, and I think some of the best fall decors are pumpkins!
If you agree, check out Leslie's post about how to create the best fall pumpkins DIY!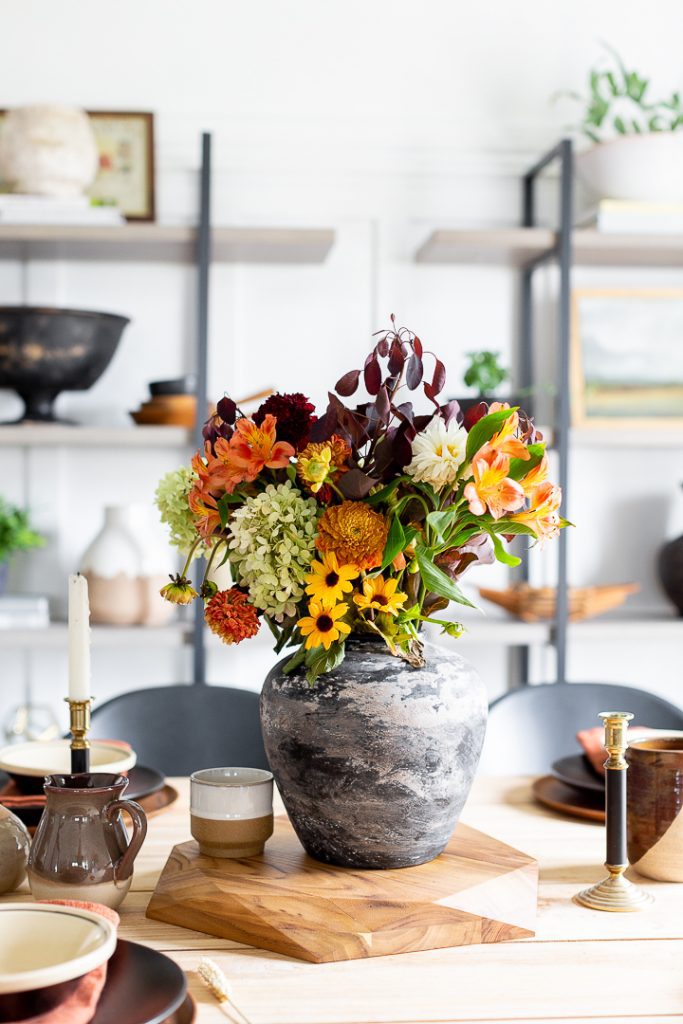 Garden Fall Flower Arrangement
This gorgeous garden fall flower arrangement is from my sweet friend, Lucy, from Craftberrybush! It's full of beautiful blooms, fall flowers, and much more.
Looking for a fall-styled bouquet? This floral arrangement will have you over the moon with its beauty, so check out Lucy's stunning creation!
---
Trending Over On The Blog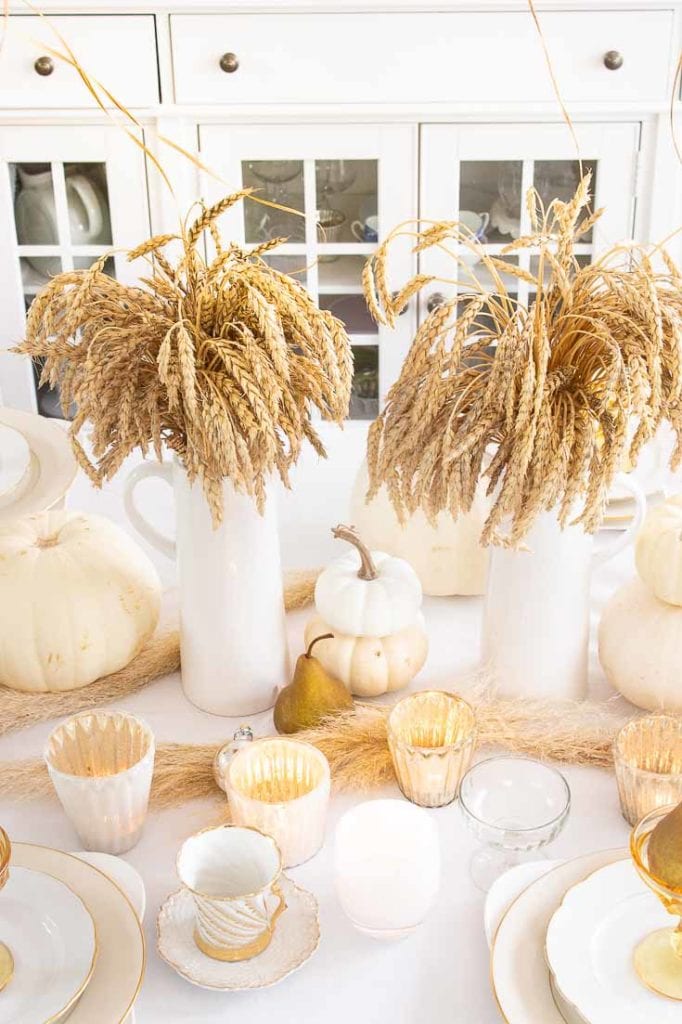 Thanksgiving Entertainment and Table
As Fall is here and the upcoming holidays are approaching, let's look at some Thanksgiving entertaining essentials. Included today in this post are beautiful dinner plates, silverware, tureens, and much more!
There is something quite pleasing about sitting down at a table that is beautifully decorated. So in my free time, I brainstorm different styles and aesthetics for my dining table!
This fall, I am excited to share with your more fall entertaining ideas, especially table decor, so stay tuned, but in the meantime, check out my Thanksgiving entertainment ideas and table post!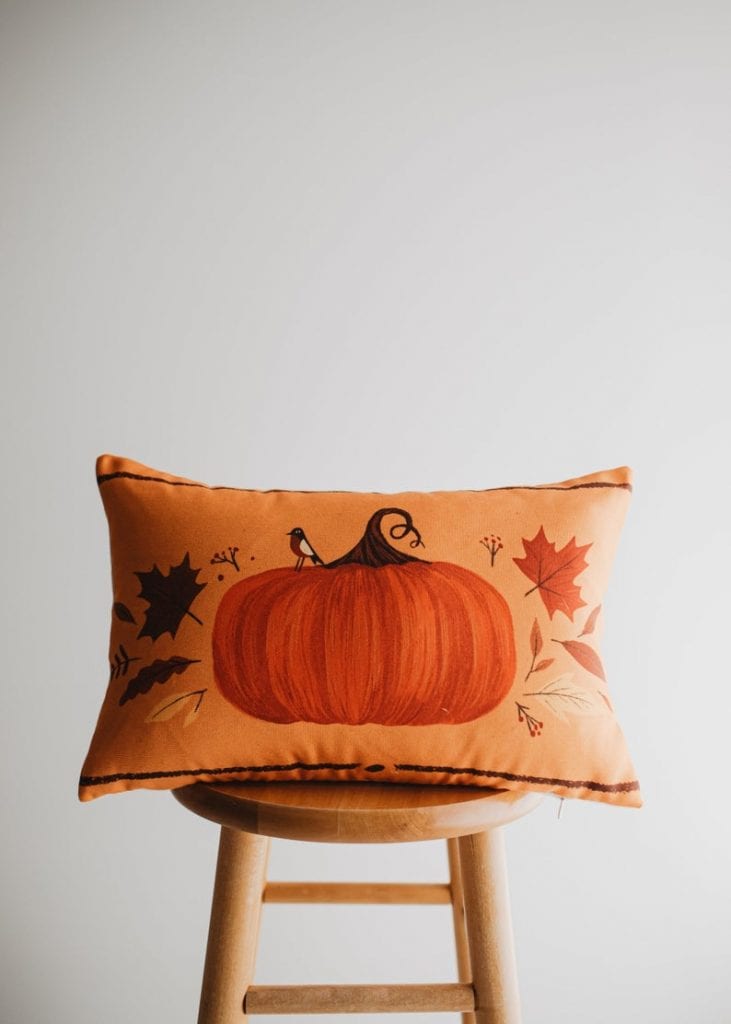 If you want an easy way to introduce some fall decor to your home, then you'll love my Favorite Fall Throw Pillows. I have found some pretty fall quilt pillows as well as French flour sack designs.
In the last couple of weeks, I have had fall decor on my mind. And this obsession has morphed into shopping for fall wreaths, pillows, banners, and pumpkins. So, it made sense to share the cute fall pillows that I found online.
There is a variety to choose from, so hop on to this big roundup of fall decor!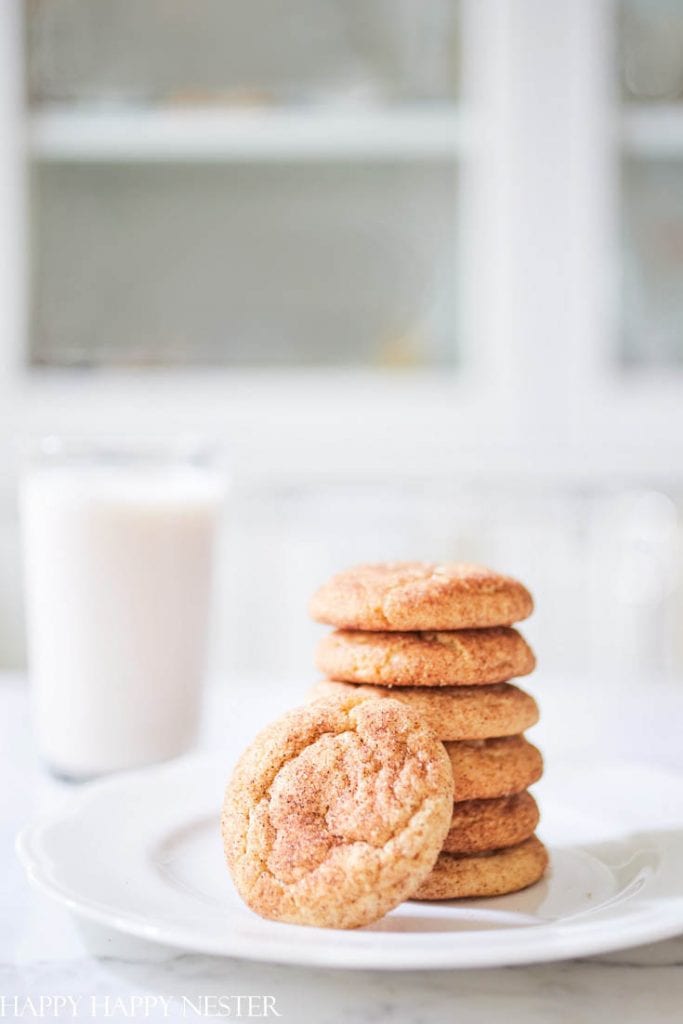 Cookies are my favorite kind of dessert. And this snickerdoodle recipe has a wonderful blend of spices that naturally make it a lovely fall and winter cookie.
I created a subtle pumpkin-flavored snickerdoodle that is perfect for the holidays. Normally, I'm not too fond of a Snickerdoodle, and it feels like there should be more to the cookie. So, when I experimented by adding some pumpkin flour to the dough, I had one of those aha moments. Strangely, the pumpkin created a fluffy cookie that my whole family loves.
I'm delighted to share my family's latest obsession. So come on over to the blog and leave with a new family favorite recipe!
---
This Week's Tip – Make Flowers Last Longer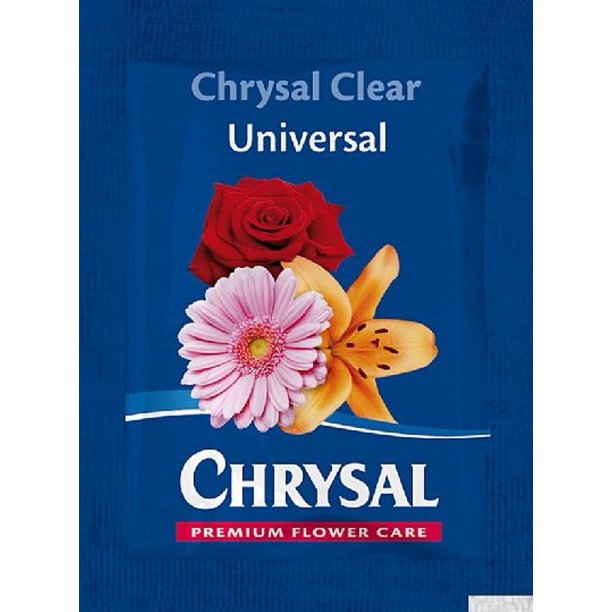 Flower Preserver
If you know me, I love flowers. I love them even more, when they last. Thanks to the little packets of flower preserver, my gorgeous blooms have been lasting twice as long. I would definitely say it is to use a flower preserver! I did a little experiment on some flowers to see what makes flowers last longer. You might be surprised by the results.
One thing is for sure, make sure to use a flower preserver to start seeing differences in your bouquets! It's amazing!
---
My Latest Obsession – Wooden Sign from Amazon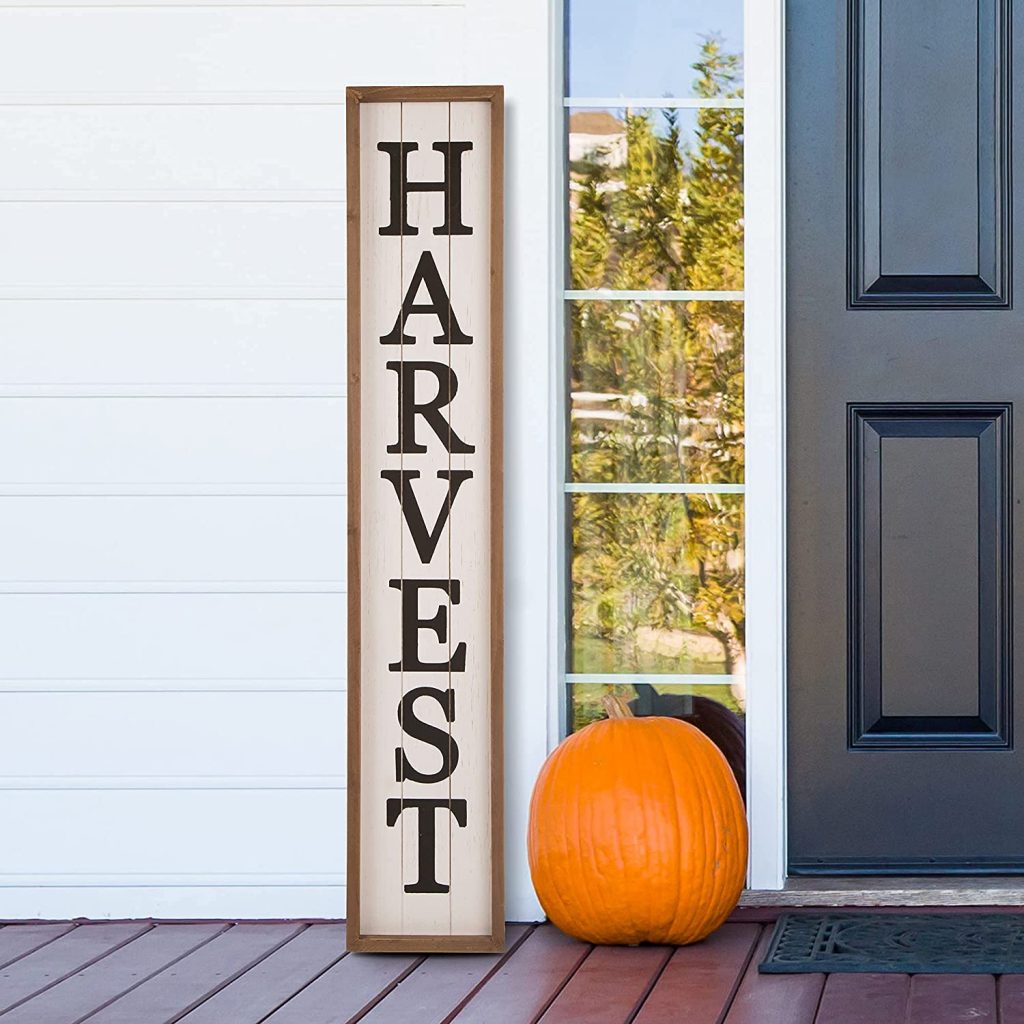 This rustic style word "HARVEST" porch sign is made of handmade natural, sustainable solid wood, durable and lightweight for easy to store & carry. It's carefully crafted just for you!
Proudly make a statement with this impressive porch sign design hanging in your house! This sign is suitable for indoor and outdoor use as well!
I own this, and I love it. It creates such a welcoming feel to my home when inviting friends and family over, plus not to mention it's the perfect piece of decor when decorating your front porch!
---
Hello, sweet friends! This is the end of this week's Saturday Chitchat about easy fall craft projects! I am so excited for you to try out these crafts and become inspired to create decor! Thanks for taking the time to visit the blog, and stay tuned for more fall decor!
Have a relaxing Saturday!

Catch up on Saturday Chitchats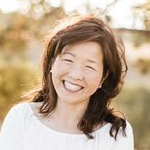 Latest posts by Janine Waite
(see all)