Embrace the new season but with Beautiful Fall Wreaths for Your Front Door. A seasonal wreath warms up a home and is so inviting and friendly.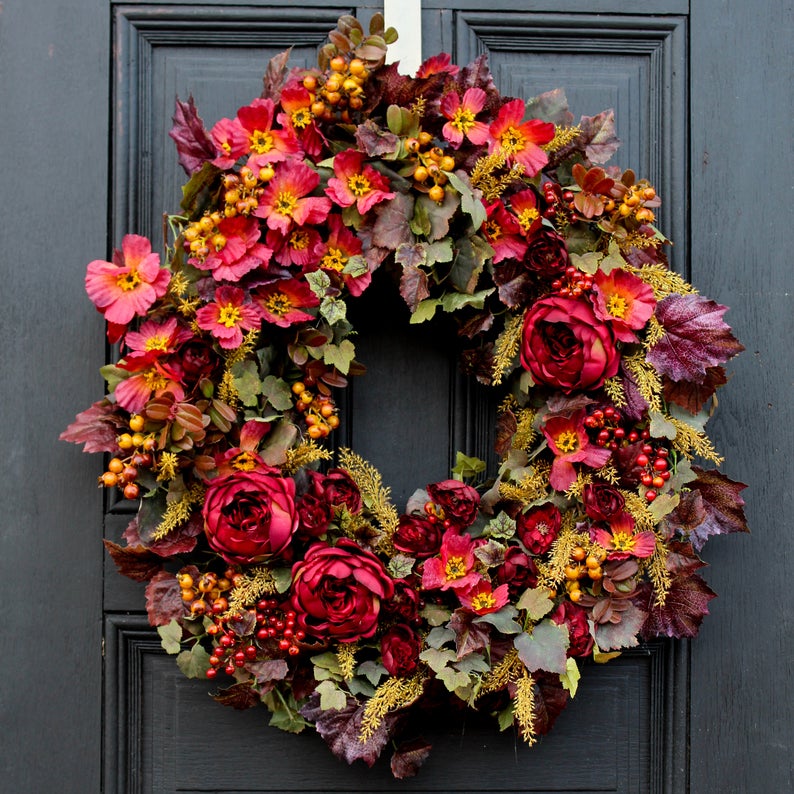 This collection of wreaths you will not find in most craft stores. I've hand-picked a few that are handmade by several small business owners over on Etsy. I appreciate their artistry and craftsmanship, and I hope you do too.
*The following post contains affiliate links.
Before we set off on the beautiful fall wreath for your front door, let's discuss a few questions you may have about how to decorate your front door.
First, Let's Talk About Your Front Door
Where to Place the Wreath on the Door
So, hang your wreath at eye-level. And according to Wikihow, eye level is typically regarded as 57 inches. So the center of your wreath should hit around 57 inches, and also it should be the center point of the width as well.
How to Hang the Wreath on the Front Door
There are several options when it comes to hanging a wreath on a front door.
Wreath Hangers – I like these, but if you don't want to see the hanger, then this one isn't for you.
Temporary 3M hangers – This is what I have, and it is up to all year round. And the great thing is that if I decide to change it, not an issue.
Place a Permanent Nail in the Door – If you know that you'll always have a wreath on your front door, then go for it.
How to Decorate Your Front Door for Fall
I like to decorate my front door with a fall wreath. I also love placing my book leaf garlands around the door. A fun thing to add is some twinkle lights, either white or orange. During Halloween, I'll add orange and black lights, which are so festive and fun.
Some More Autumn Decor Ideas for Your Front Porch
Celebrate the fall season by decorating your front porch. Here are some quick and easy ideas:
So if you aren't in the market to buy a fall wreath for your front door, maybe try a couple of my DIY wreaths:
Let's Take a Peek at These Fall Wreaths!
A little note about these wreaths: a few wreaths in this collection are made of natural elements that are in limited supply. So, their prices are a bit higher than the others. Their uniqueness and handcrafted artistry are pretty evident and stunning. Of course, they are an investment that will last more than one season.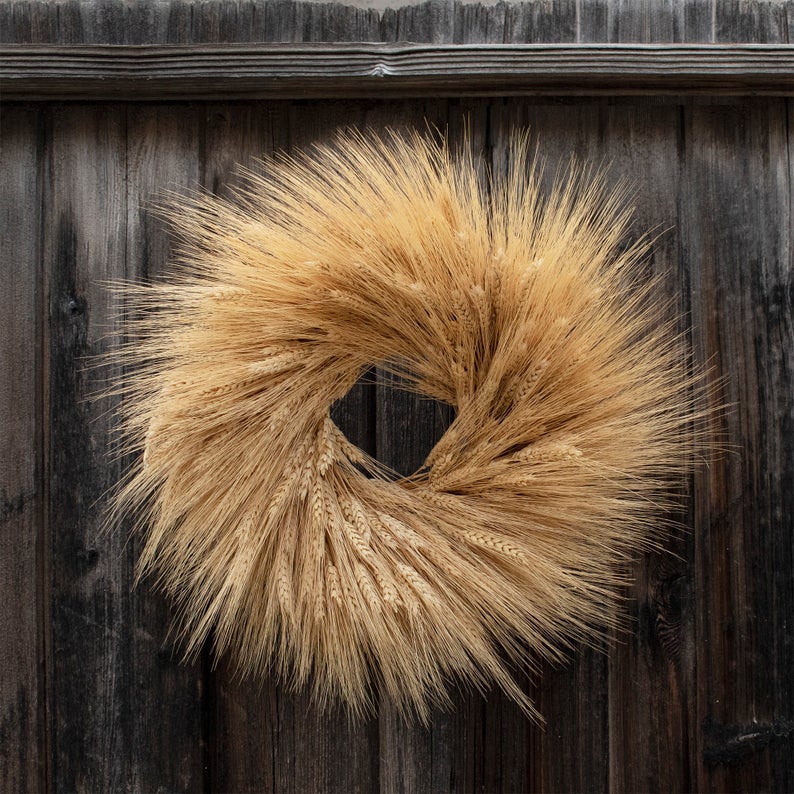 This beautiful 18″ wreath Each 18″ wreath is handcrafted in California using dried wheat harvested in Arizona.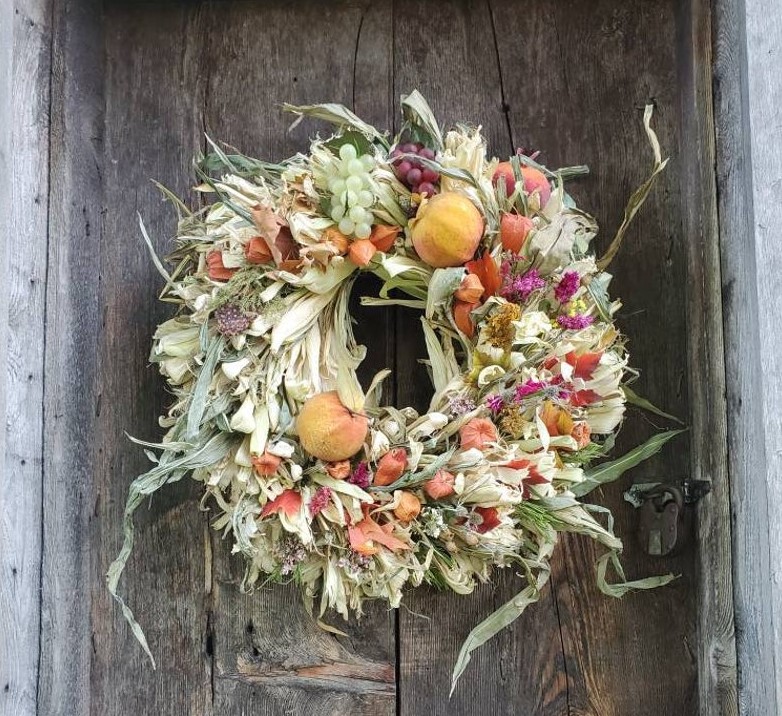 Corn Husk Wreath with Dried Flowers
This wreath has been made entirely from locally harvested corn husk, with all of its imperfections and organic goodness. It not only includes the tan husks but also beautiful dried flowers, including Chinese lanterns and fall leaves
Added to the flowers are faux fruits, including grapes.
Natural Dried Blackbeard Triticum Wheat
This Natural Dried Blackbeard Triticum Wheat Fall Front Door Wreath is the perfect statement piece for the front door, wall, or above the mantle in your home.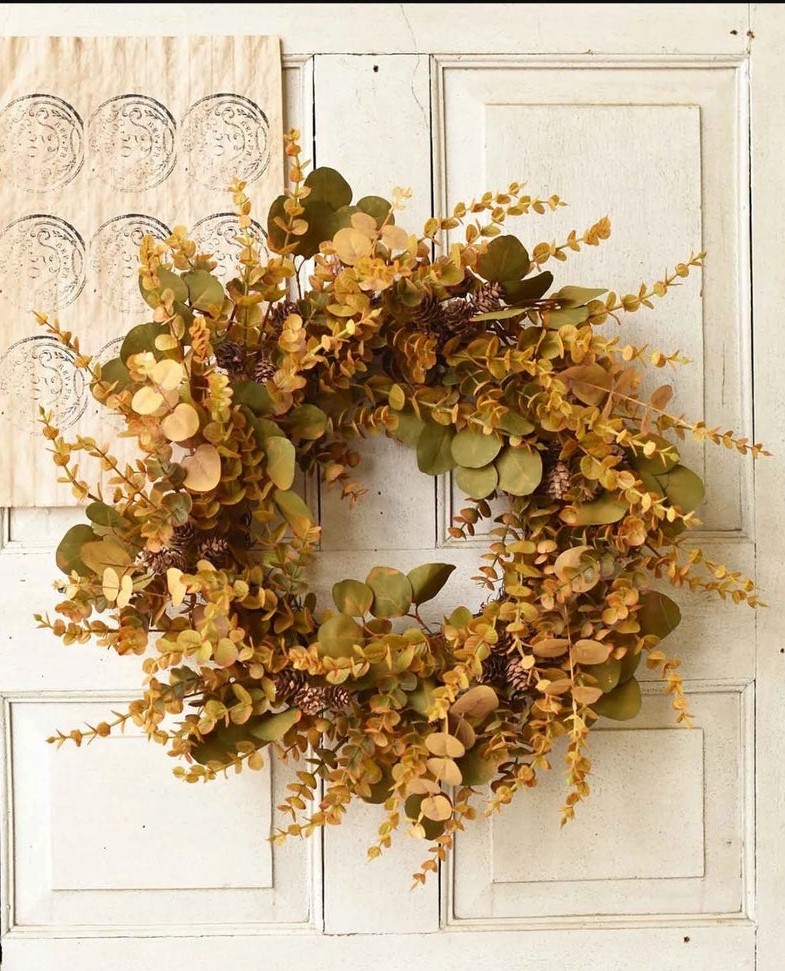 This Harvest Cascade Wreath is a great way to add a yellow mustard fall color to your decor.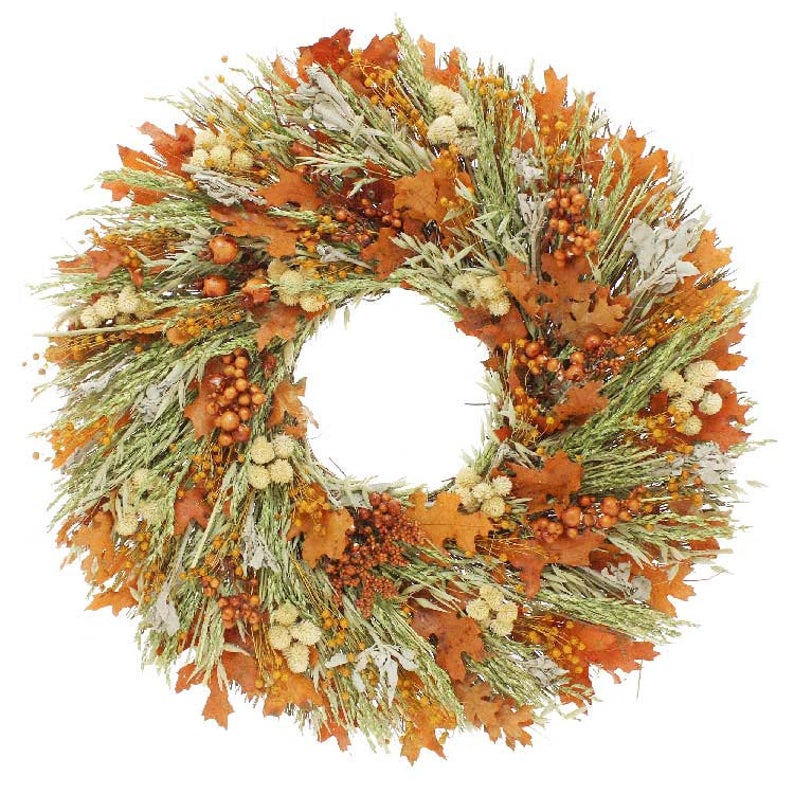 This delightful wreath has natural oats, sudangrass, preserved maple leaves, globe, and Tuscan berry accents.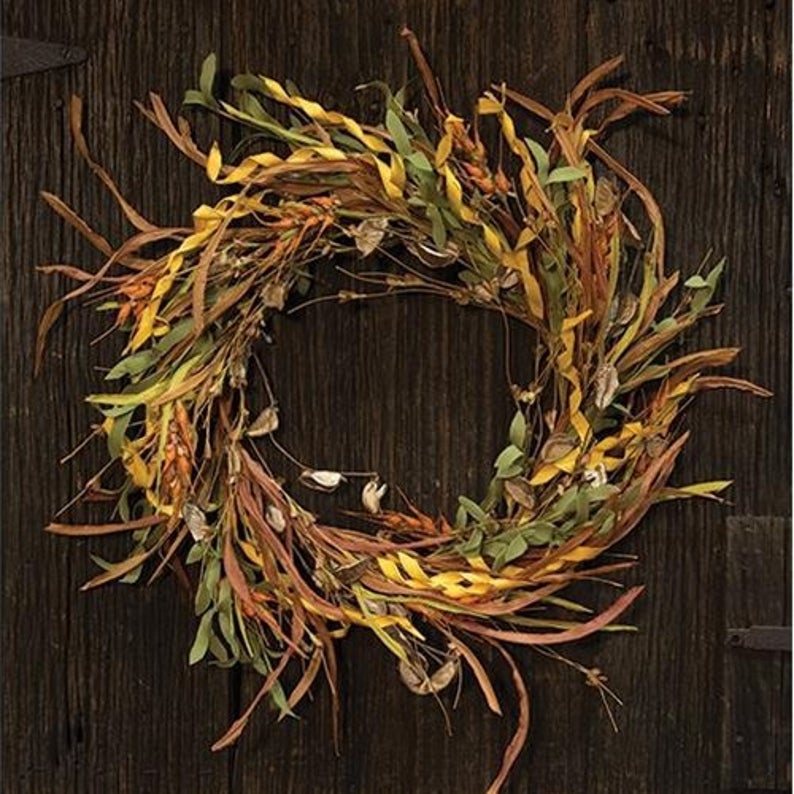 Rich fall grasses and wheat create this gorgeous fall wreath.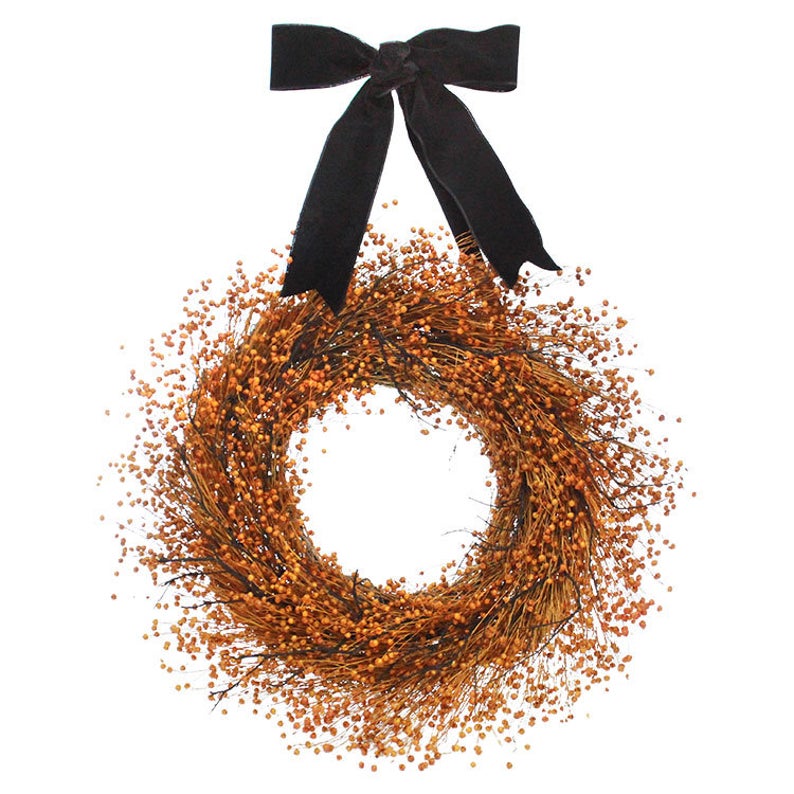 Gorgeous Orange Dried Botanical Wreath
Handmade by Artisans with farm-grown botanicals that are sun-dried and preserved. This wreath has a classic black twig base and orange flax with a beautiful black velvet bow hanger.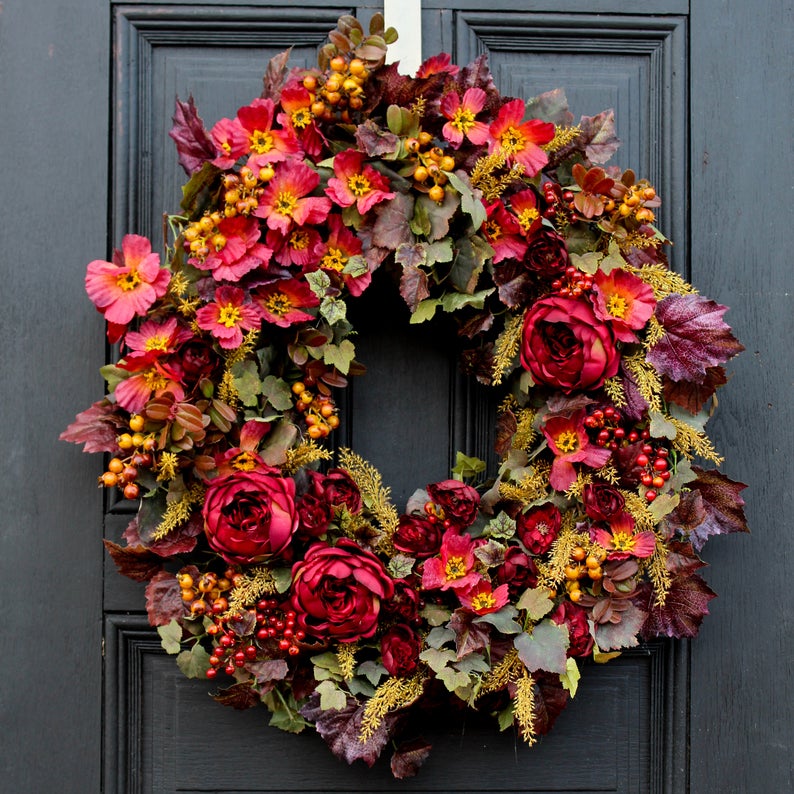 This beautiful burgundy English rose, autumn wildflower with mauve grapevine wreath is the perfect statement piece for the front door.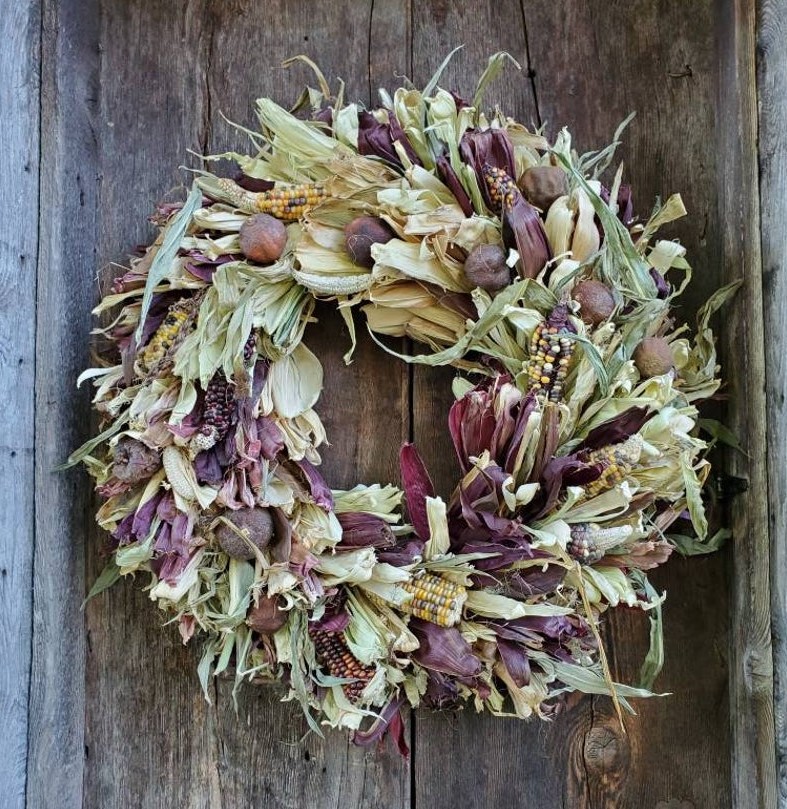 Indian Corn Husks and Cob Wreath
This autumn wreath embellished with real Indian corn cobs. It contains some whole dried fruit, which adds richness and charm to this rustic wreath.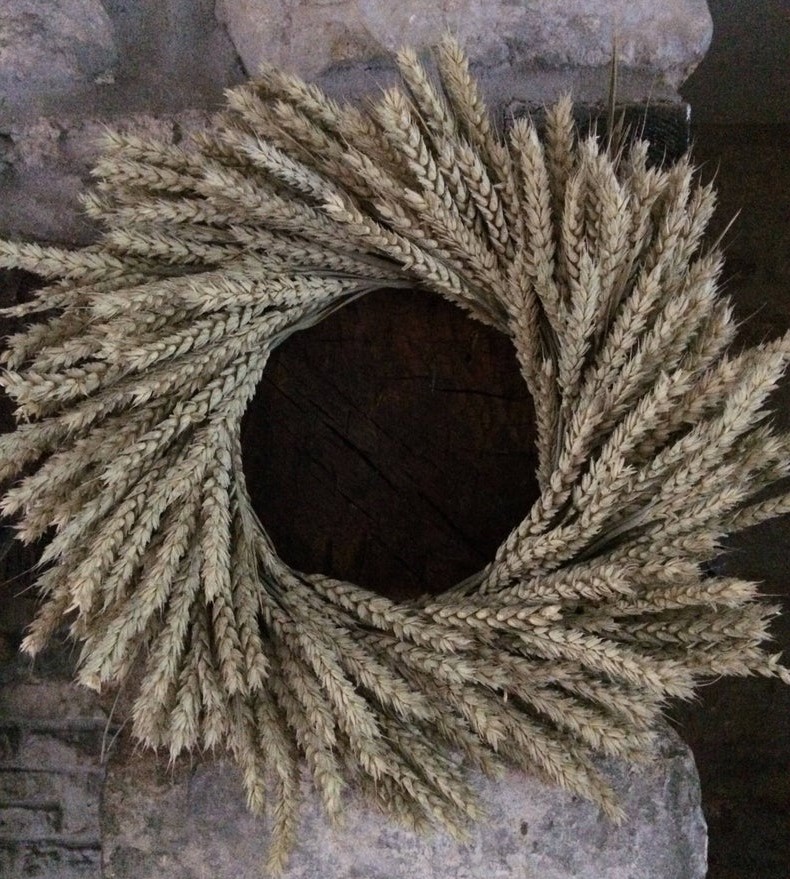 All the wheat for this wreath is grown in the UK. This wreath is handmade in Dorset, England.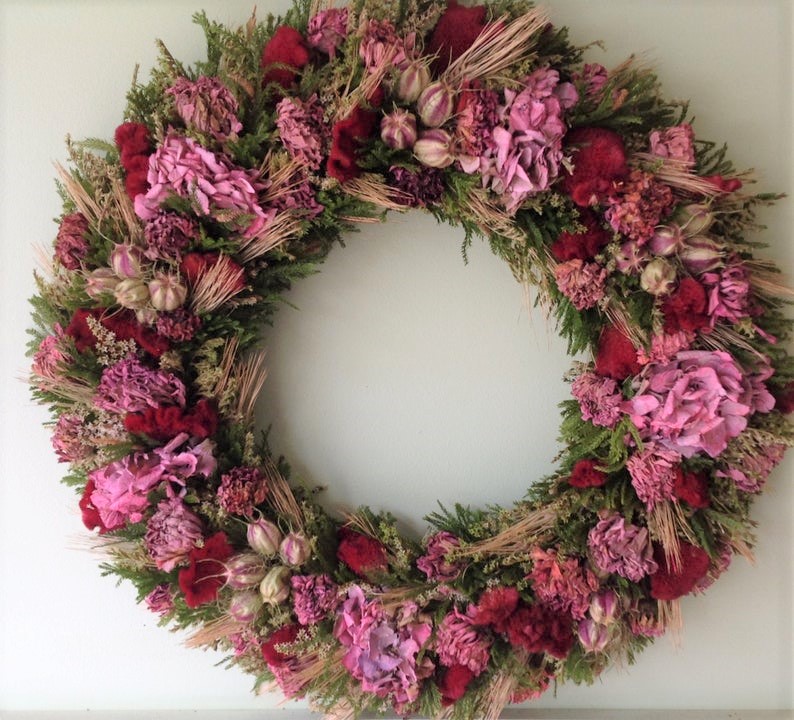 All Natural Dried Floral Wreath
The colors in this all-natural dried flower wreath are shades of pink and burgundy along with greens and grains. The flowers are all grown on a farm in Virginia.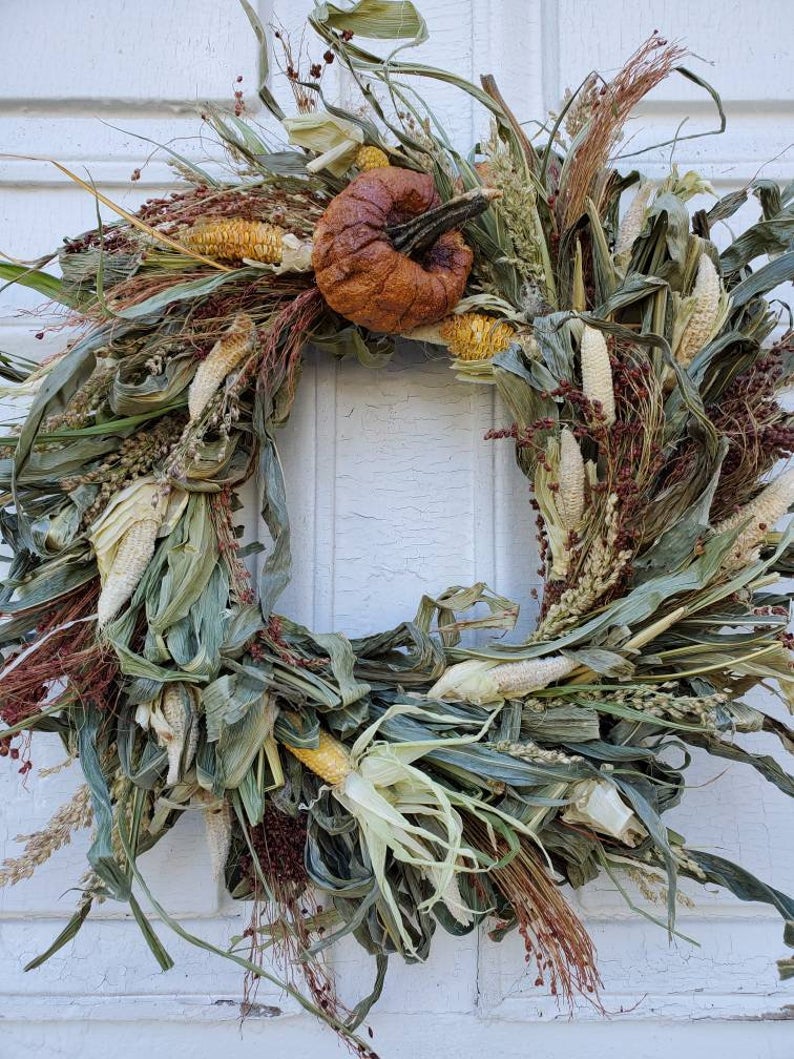 Cornstalk Wreath with Dried Pumpkins
This wreath starts with a has a base of dried broom corn and dried corn stalk leaves. Added in are many smaller corn cobs in neutral shades of yellow and underdeveloped ones in ivory. Instead of a bow, this wreath has a couple of dried pumpkin gourds.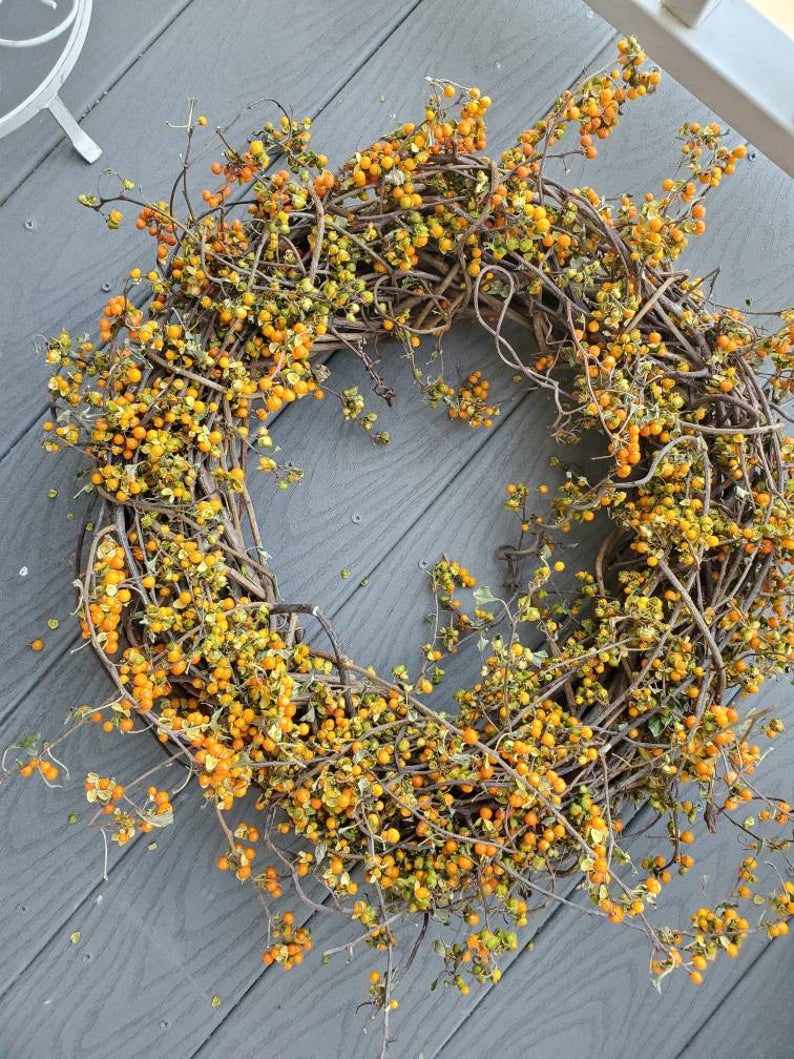 A Real Bittersweet Wreath
This bittersweet wreath has a base of grapevines. Then the wreath is topped with a great flourish of freshly harvested bittersweet vines.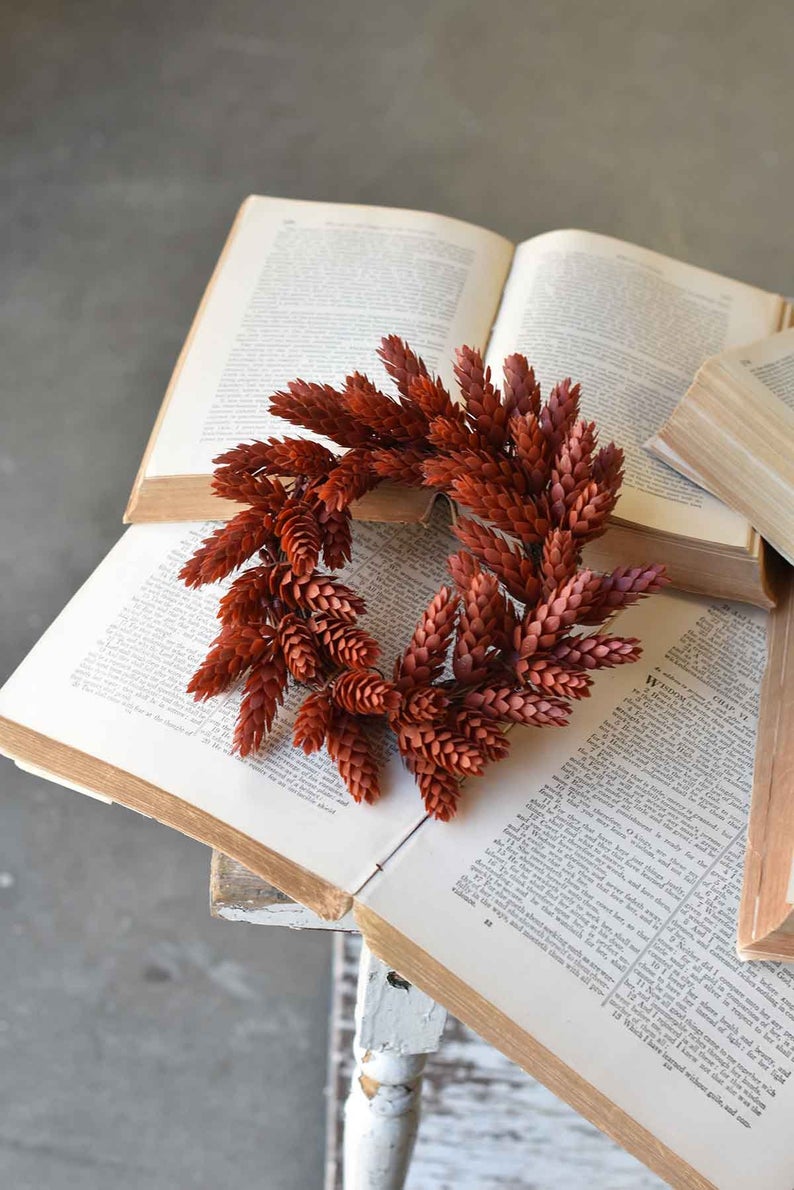 I know this wreath isn't big enough for a front door, but I had to include it since it is so cute!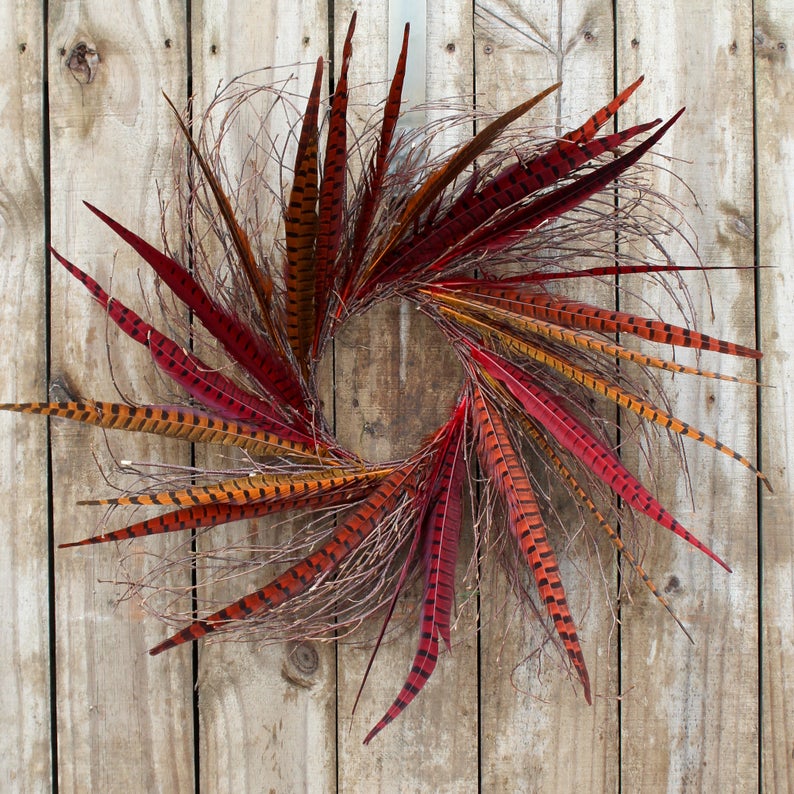 The beautiful shades of autumn Pheasant feather and birch twig create such a natural fall wreath.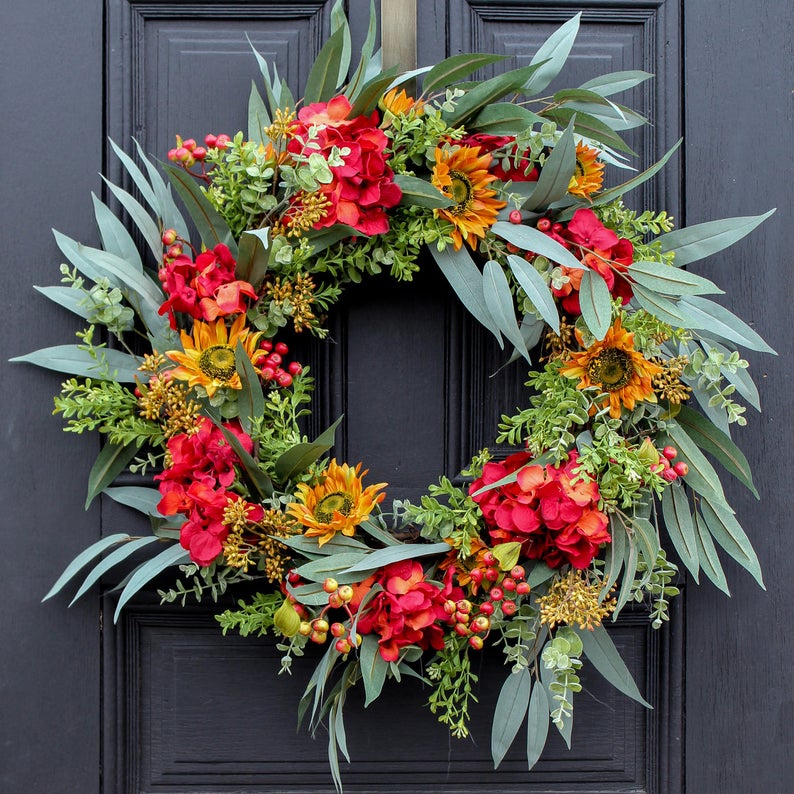 Red Hydrangea, Sunflower, and Eucalyptus Wreath
I love this faux flower wreath. This wreath captures the fall colors so beautifully.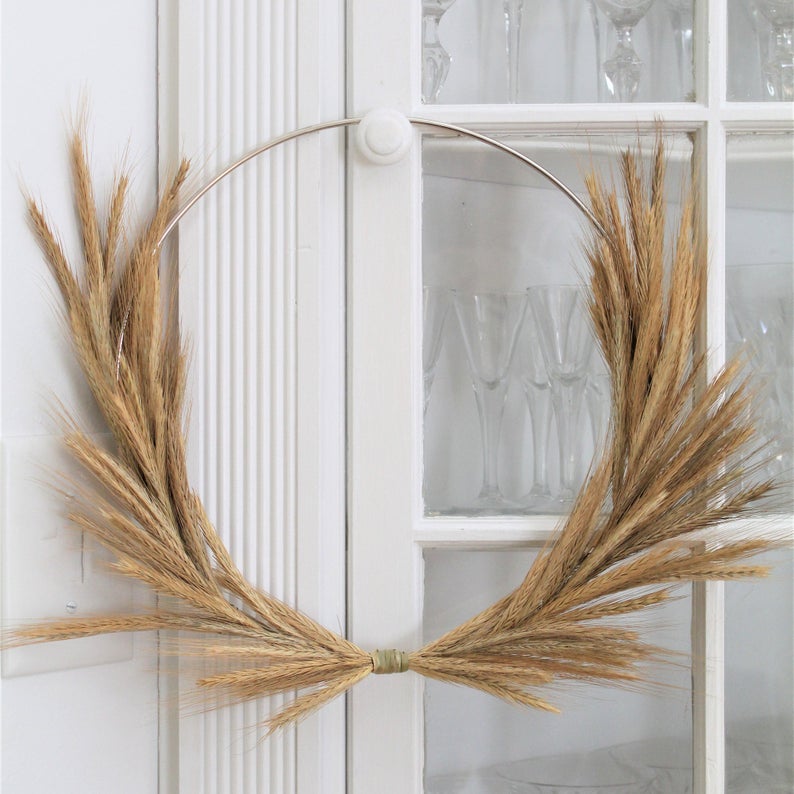 Minimalist modern Fall wreath made with a 12-inch diameter steel ring (4mm thick) and all-natural wheatgrass.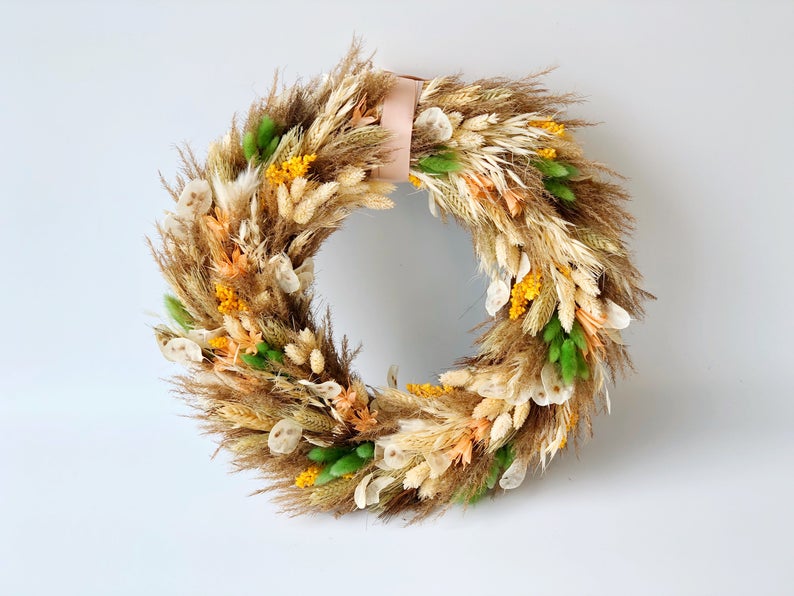 This wreath is made entirely of dried flowers. Aren't the green bunny tails adorable?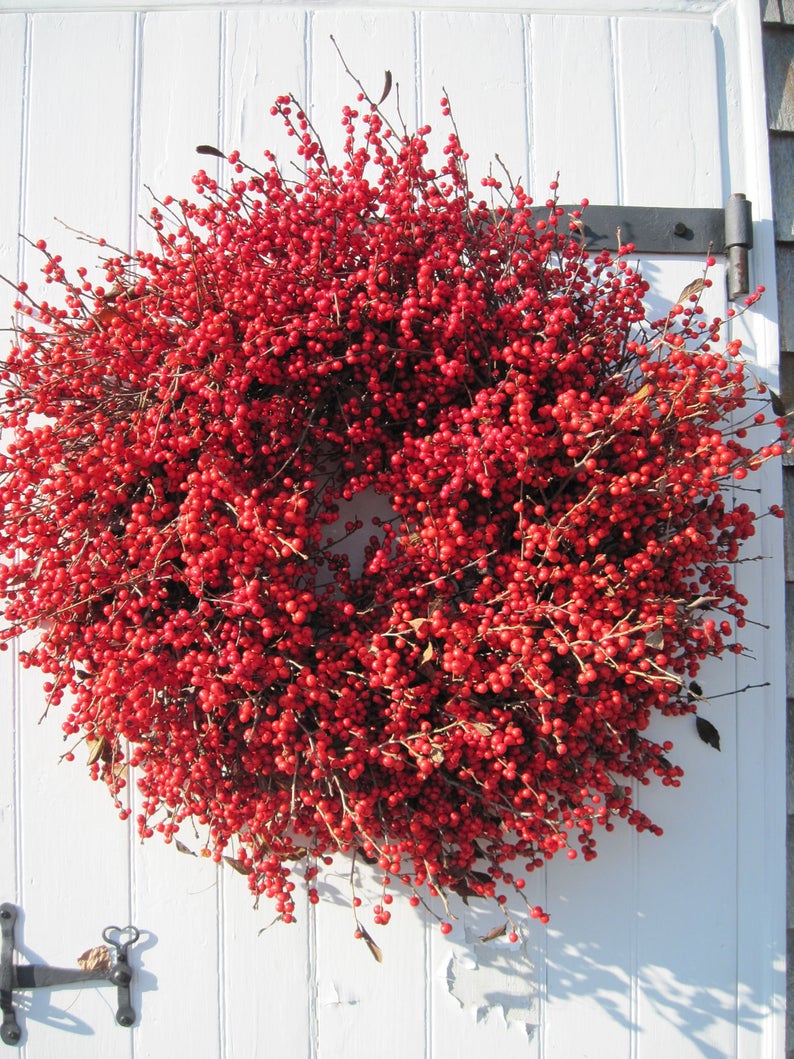 This wreath is stunning! You have to love these fresh winterberries, a gorgeous bright red.
I love the Boutique of the Week and all the great home decor items that I find. I hope you enjoyed this week's fall wreaths for your front door.
Cheers,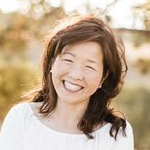 Latest posts by Janine Waite
(see all)