Well, hello there! Let's take a look at Miniature Paper Houses: Putz Houses today. These amazing mini cardboard houses are special and so cute. I've rounded up quite a few kits as well, so if you are crafty, you have the option to make a Putz house.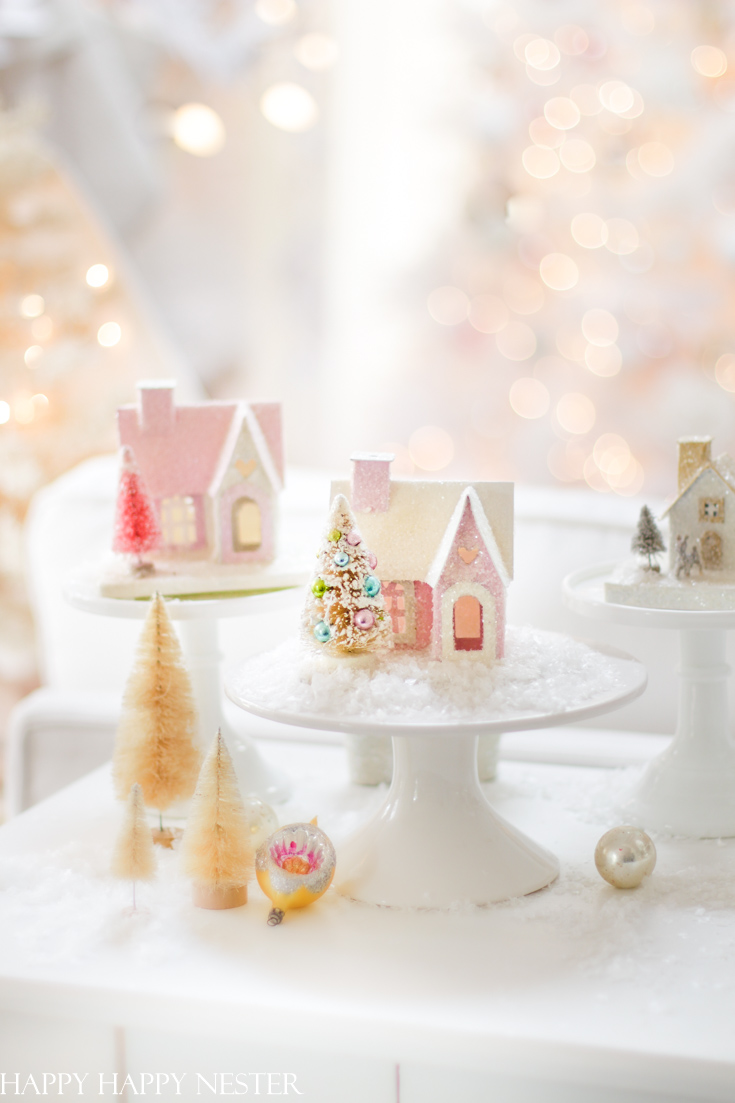 I don't know if you are like me, but I'm always mesmerized by these miniature houses. I especially love the ones that are covered in glitter, like the one picture in my photo.
Every Christmas, I style them and smile at how adorable they are. And gosh, do they make the cutest vignettes to place on a side table or shelf. And when decorating them, don't forget to sprinkle a bit of fake snow, and voila! I even placed one on a pretty Christmas Village Wreath.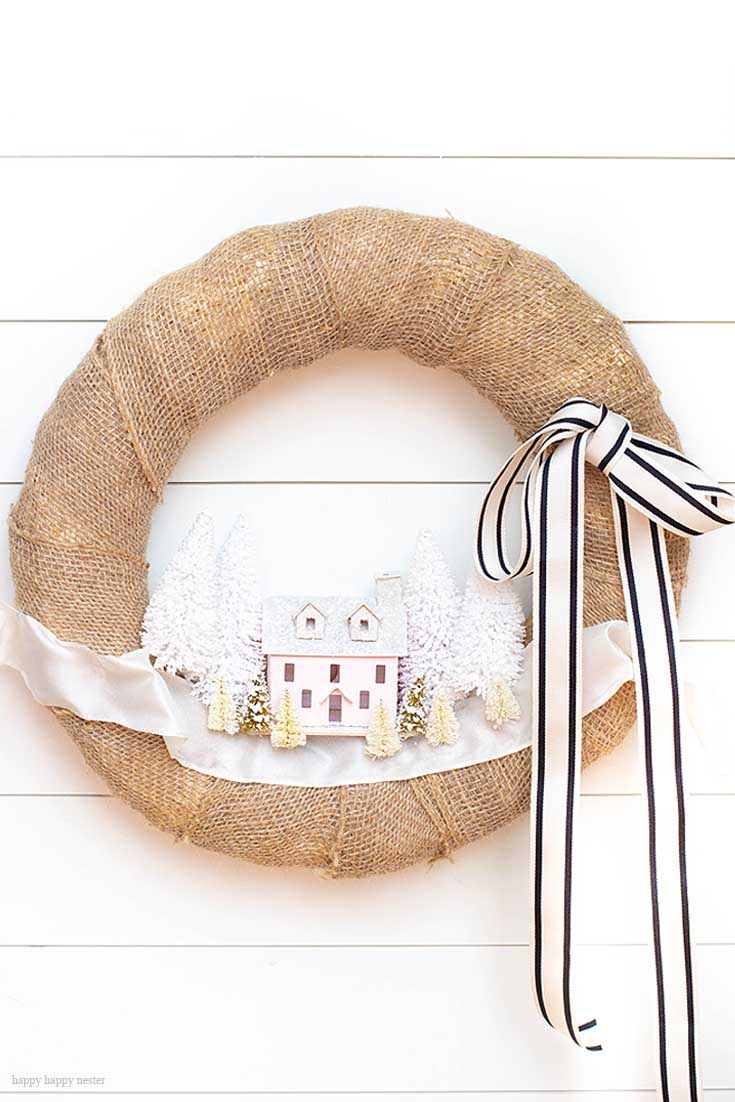 But, before we start, you may have a few questions. Actually, a few years ago, I didn't even know that these little treasures even existed.
What is a Putz House?
These little houses have been around for more than 100 years. The name is derived from the German word, Putzen, which means to decorate or adorn. The Putz houses started as the village of homes surrounding the manager scene. It originated in Europe, and the tradition included children going out to the woods to collect greenery and items to decorate the environment that surrounded the house and creche. Germany was the producer of these cute houses, but during the war, they slowed down production. Then Japan ended up making them for the United States dime stores in 1928. This version was more affordable, and they became as popular as Christmas lights.
Over the years, they have been called Paper Houses, Cardboard Houses, and Glitter Houses.
Miniature Paper Houses: Putz Houses
*The following post contains affiliate links
So the other day, I needed to share something over on Instagram, and I styled and photographed my miniature houses. Much to my surprise, the post resonated with my followers. It was obvious that I needed to write a blog post and share my resources. I mostly include reproductions in this collection since most of the vintage homes got sold while writing this post. Yup, they are flying off the shelves over on Etsy. But, when you hop on over to Etsy, search for old genuine Putz houses if that is your preference. And of course, don't dawdle and buy them as quickly as you can.
I love that you can order them as a gift for a friend or family member. It is a fun project for the long winter evenings.
PREMADE PUTZ HOUSES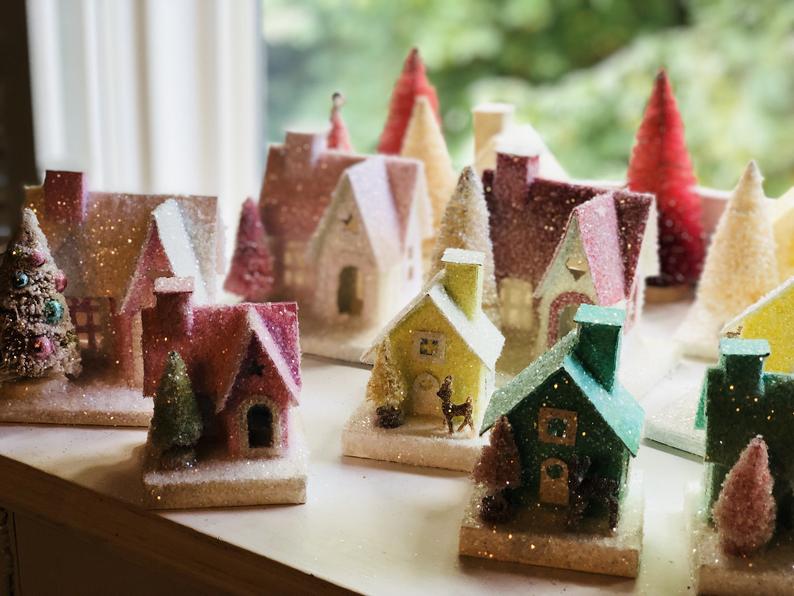 A Set of Four Made to Order Putz Houses
So, I bought my houses from this shop. And I purchased them individually a while back. And I think I paid more than this set of four houses. If the price tag is too much of an investment, maybe buy this set with a friend, and so you can buy two, and she can buy two. I LOVE my houses, and I will hand them down to my children. They are well made, and the attention to detail is amazing. As you can tell by my photo, these houses are prettier than what this shop photographed.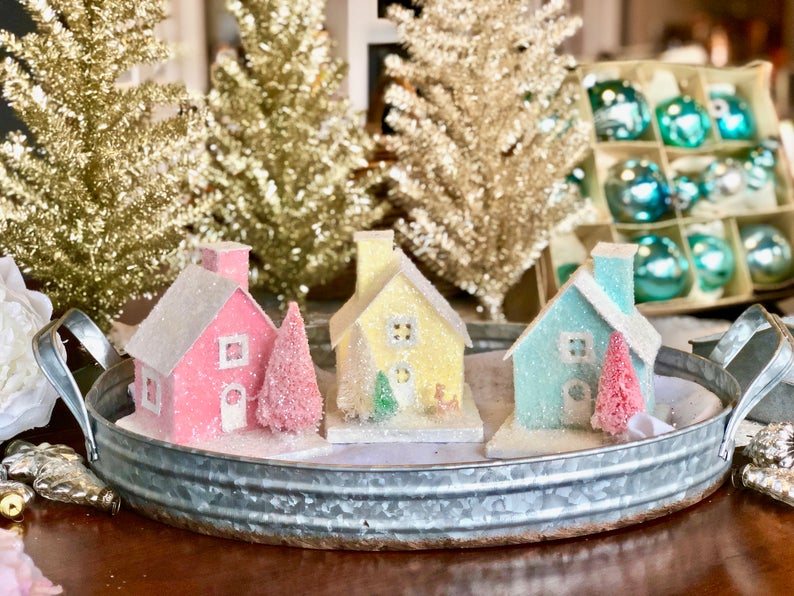 Little Glitter Village – Set of Three Putz Houses
Let these vintage-inspired glitter houses take you away to a time long ago…a place where the holidays are filled with love and possibility. They dazzle the eyes and inspire the coziest of feelings.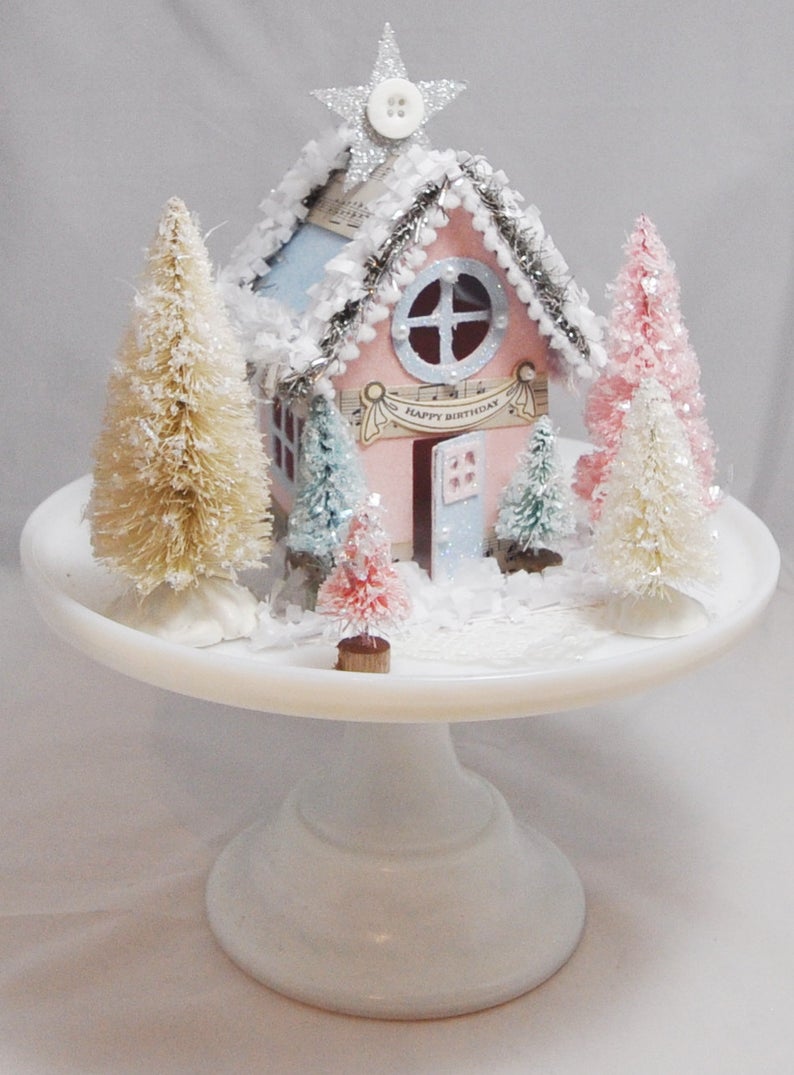 Adorable Pink Decorated Putz House
This house is made out of high-quality cardstock and covered with glitter. The roof is trimmed with baby pom-pom fringe, vintage silver tinsel, and handmade tissue paper fringe. Vintage music notepaper was added. The banner says either Happy Birthday or Happy Holidays. Tiny pearls, a star covered in silver glitter, and a button finish it off. The house lifts off the base, which was also covered in tissue paper fringe so that you can put something small underneath it. You could also add an electric tea light too.
Pop-Up Pastel Christmas Village
Made of fine Italian pearlized card stock with "no-shed" champagne-silver glitter accents. The glitter doesn't shed! Each house is designed to easily pop-up and fold flat for easy storage. Illuminate with battery tea lights. (sold separately). Of course, if you visit this shop, they sell a lot more styles of houses.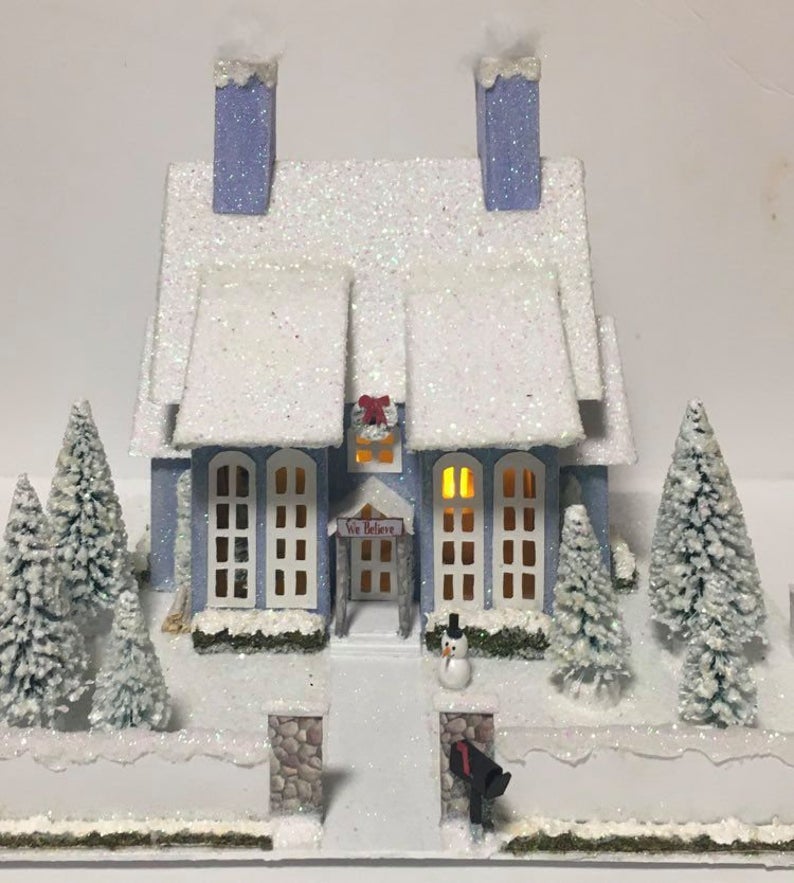 Nothing more festive for Christmas than a beautiful, sparkly Putz house that lights up, displaying a Christmas tree in the window. Pale blue with white trim, fresh snow just fallen over house and bottlebrush trees, Highly detailed with Christmas decorations, a mailbox just waiting for Holiday cheer, and the tree that stands in the window. The house is 9″ tall and 7 1/2″ wide. It's 5″ deep and sits on an 11″ by 9″ snowy base. It comes with small flickering lights.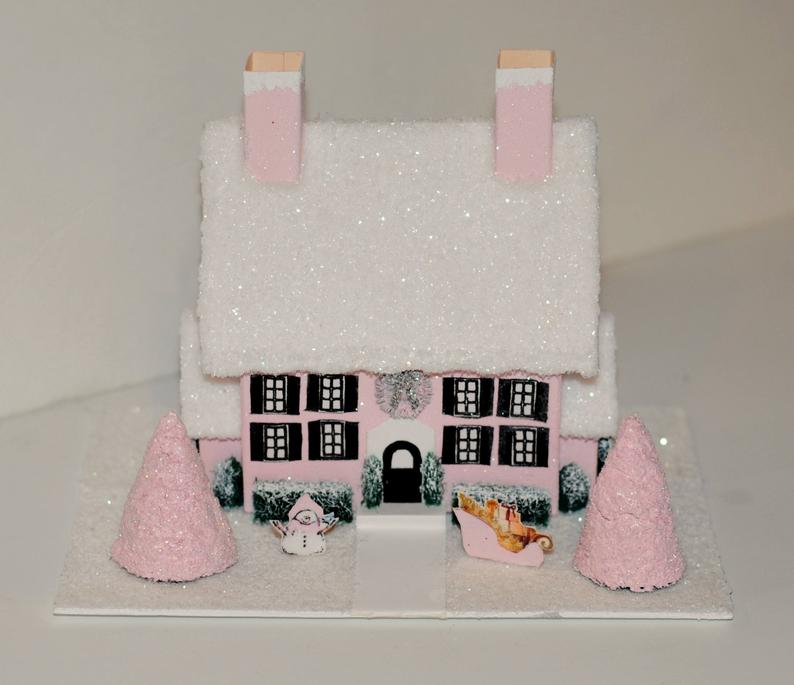 A handmade pink glitter house with sparkly delicate pale pink glitter. This little house is detailed with a snowman, sleigh, and "Merry Christmas" sign, all in pink glitter. On the roof, Santa is making his way down the chimney, head first. His red legs and black boots are all you can see of him. This house, with the pale pink color against the white, is just beautiful. Perfect for your Christmas village or as a special Christmas gift.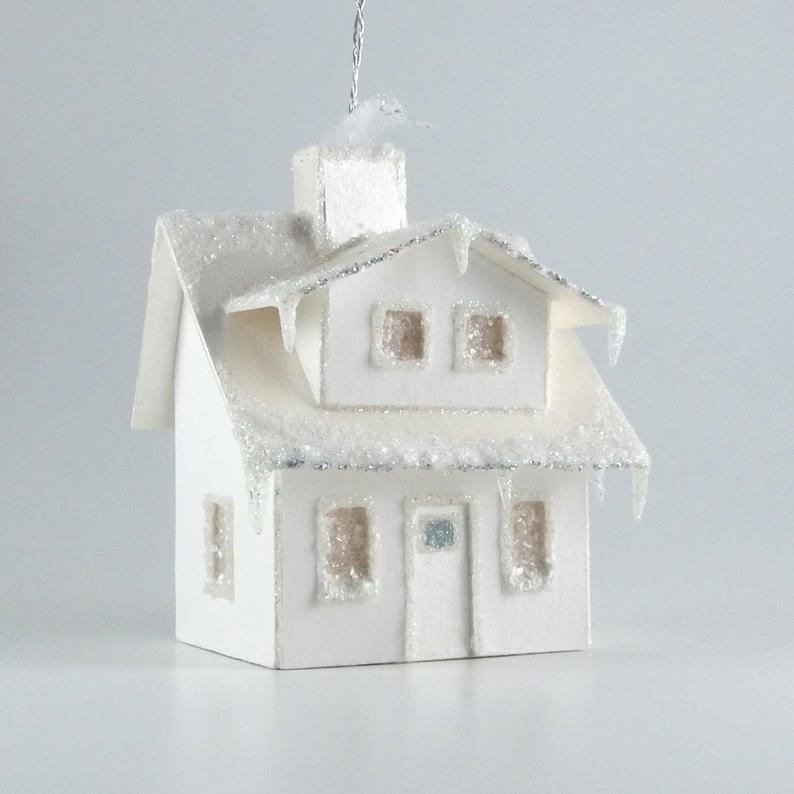 The bungalow house is crafted using traditional materials: archival paper, vellum, and vintage ground-glass glitter. Measures 2 inches wide, 1.5 inches deep, and 3 inches at the chimney. Arrives carefully packaged in a 4-inch white gift box. Makes a charming gift for party hosts and new homeowners.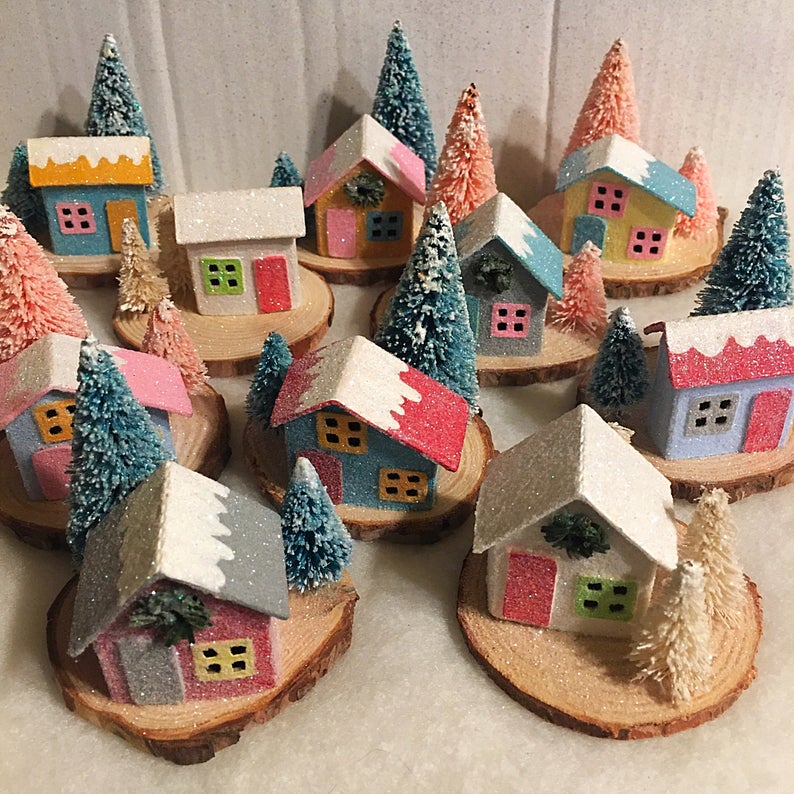 It takes a village! These sweet little hand-made mini Putz-style houses (or Sugar Houses) are all finished and ready to add a little sparkle to your holidays! They stand about 1-1/2" tall and have been hand-painted and "sugared" In the vintage Putz-house style.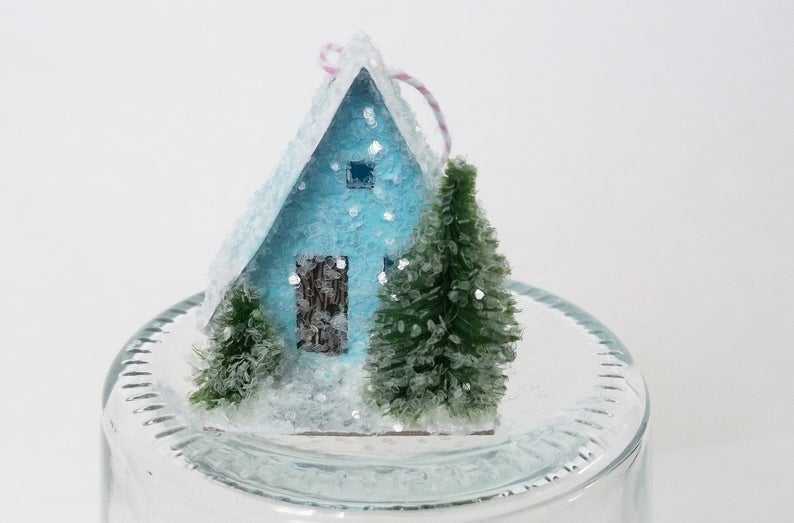 Vintage Putz Style Miniature Farmhouse
This sweet little hand-cut, handmade house is and baby blue and landscaped with tiny hand-cut trees and sugared generously with glitter.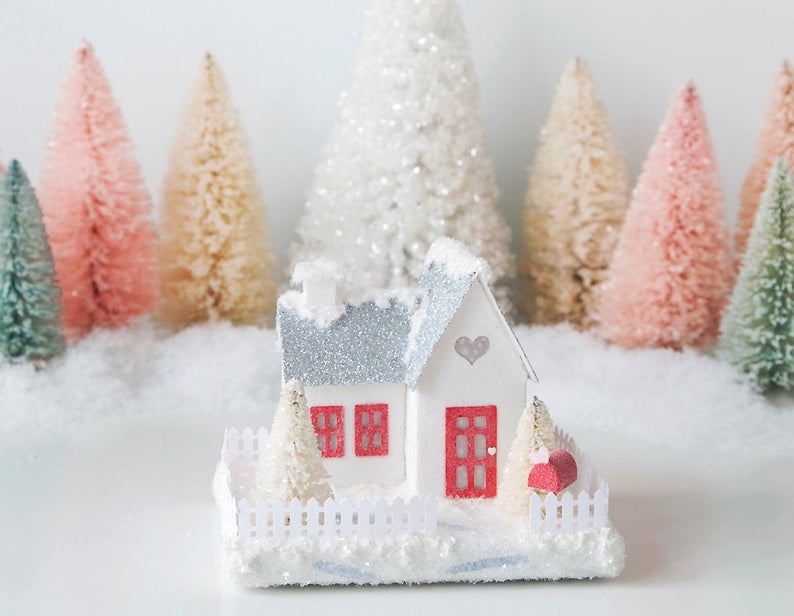 This White Farmhouse is surrounded by glittery bottle brush trees and a snowy white picket fenced yard. It is a Valentine's Day house, but it still looks great for Christmas time.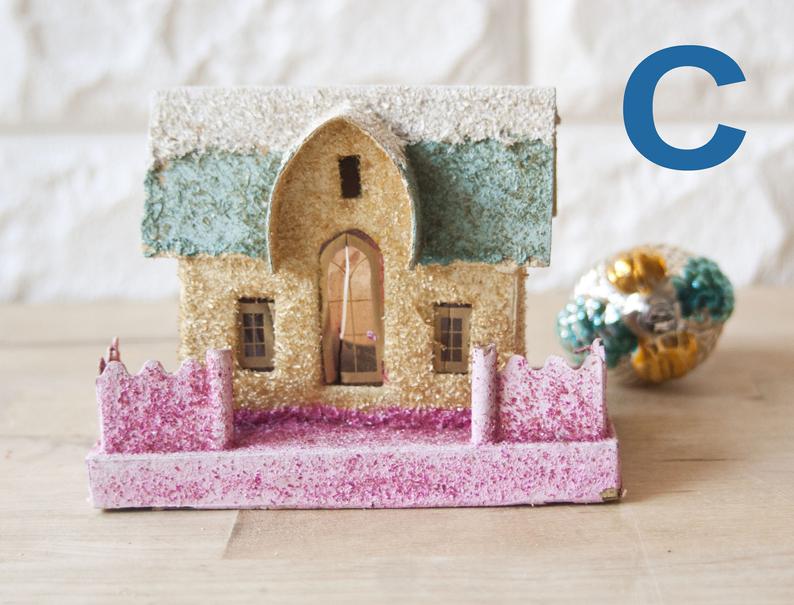 These houses are originals, not reproductions. Made in Japan. These are all larger size houses, not the ornament size, and looks SO cute under the Christmas tree. This Putz house is vintage and can range from the 1930s to the 1950s. This house has a double roof house and is decorated with sand and coconut.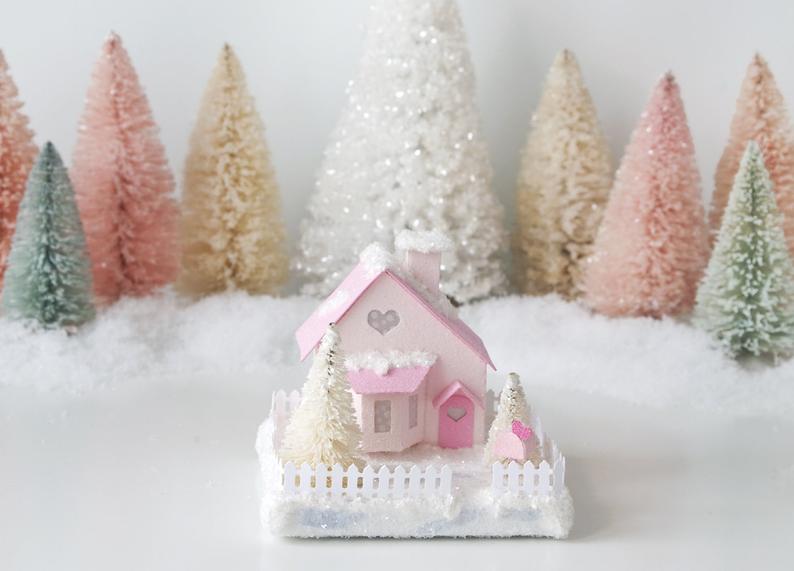 Another Valentine's Day Putz House
This Putz house will look cute all year long. It is originally for Valentine's Day but looks cute for the holidays as well.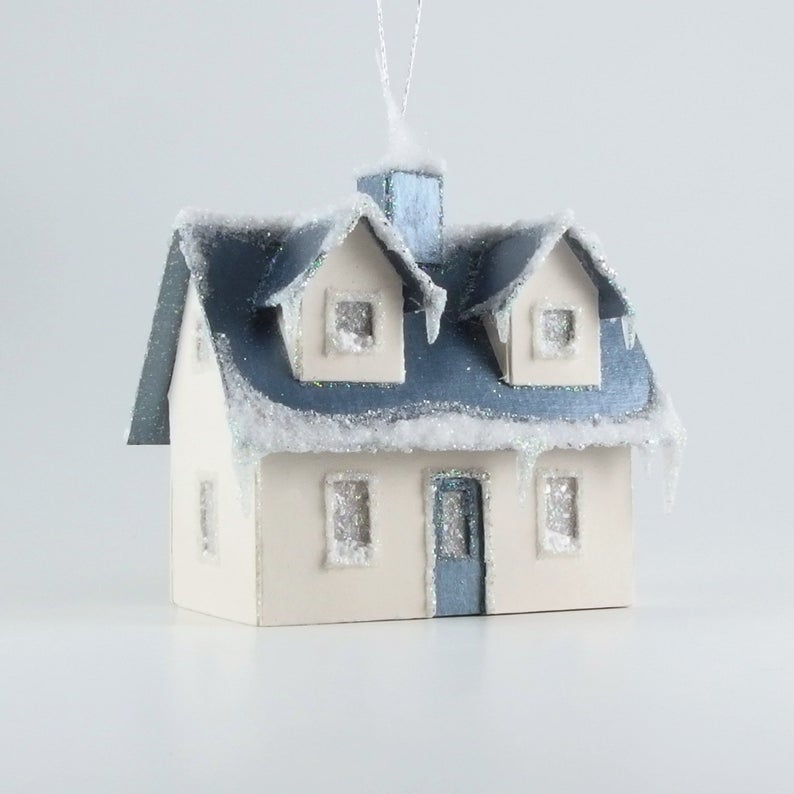 This adorable Cape Cod Ornament can be placed on a tree or a shelf. I love the icicles and all the frosted windows.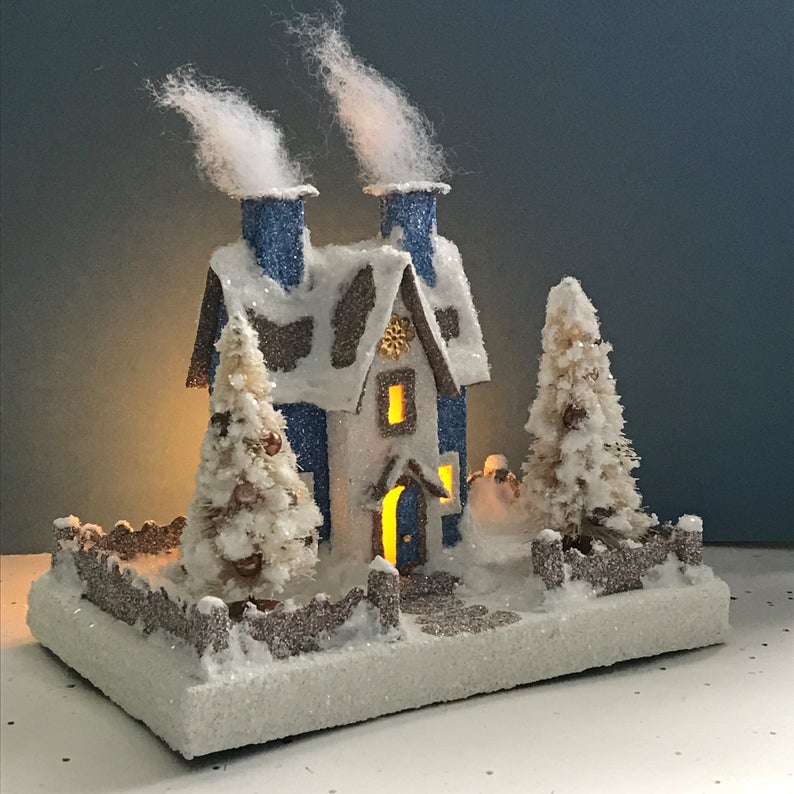 The hand-crafted Putz house is made from scratch: the pattern, the house, the window and door frames, the base, and the fence. Nothing in the houses is from a die-cut. Each house is crafted by hand. The base is made from an upcycled Christmas card. The base measures 5 3/4″ wide x 3 3/4″ deep.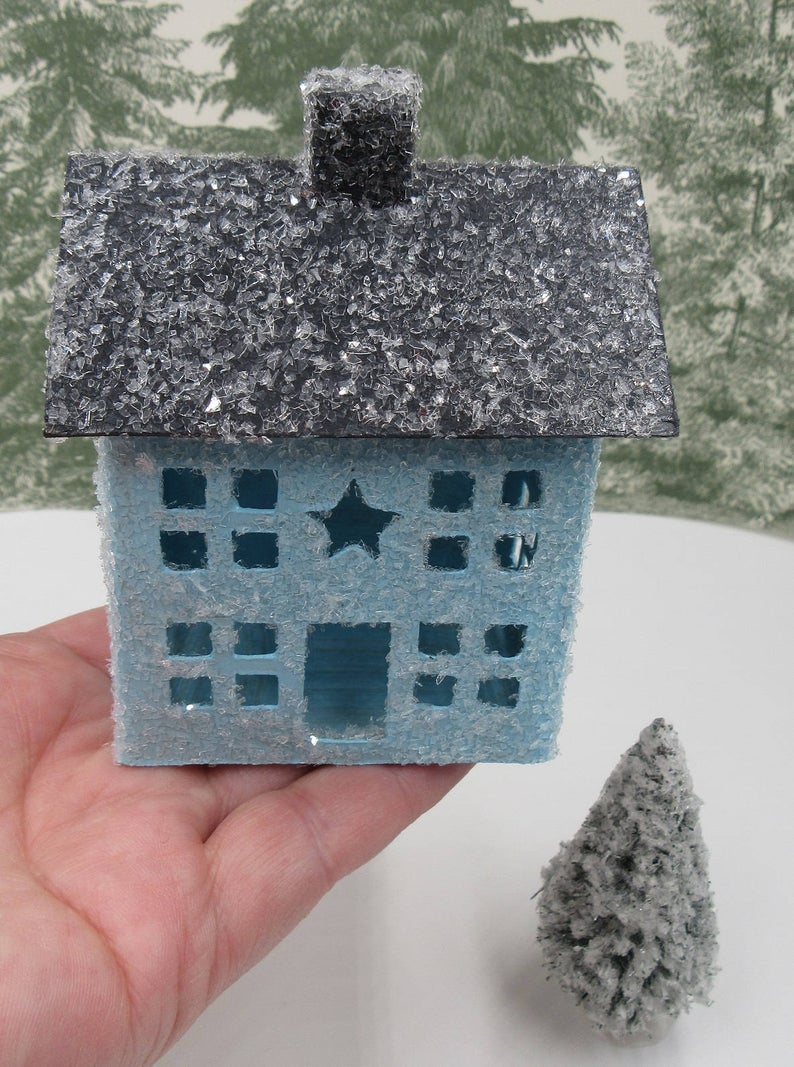 This hand-painted this paper mache house and covered it with glass glitter snow. I coated the glass glitter to give it the effect of sugar. Included with the house are a hand-glittered bottle brush tree and a set of 3 tiny vintage deer. Inspired by the vintage Putz houses. The owner of this shop will customize the colors when you order the house.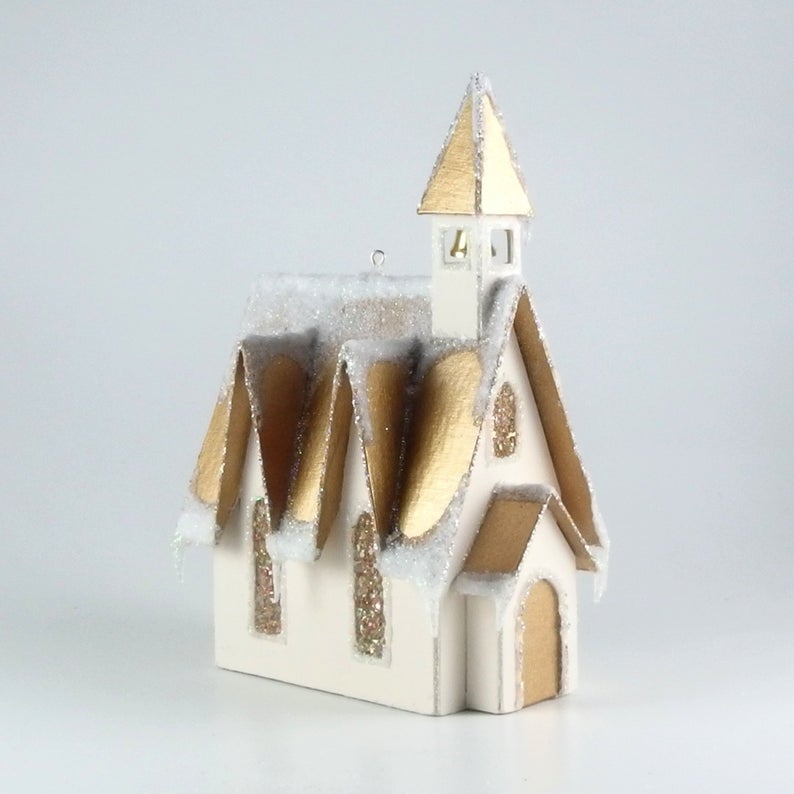 This village church features a small vestibule, a steep roof above the nave, and dormer roofs over the windows. It's crafted with archival paper and vintage ground-glass glitter. Snow has dusted the roof, and miniature icicles cling to the eaves. Ground-glass glitter mimics the traditional stained-glass windows. A tiny silver bell in the steeple waits to welcome villagers on Christmas Eve. Measures 3.25 inches wide, 2 inches deep, and 5 inches at the steeple. Arrives carefully packaged in a white gift box.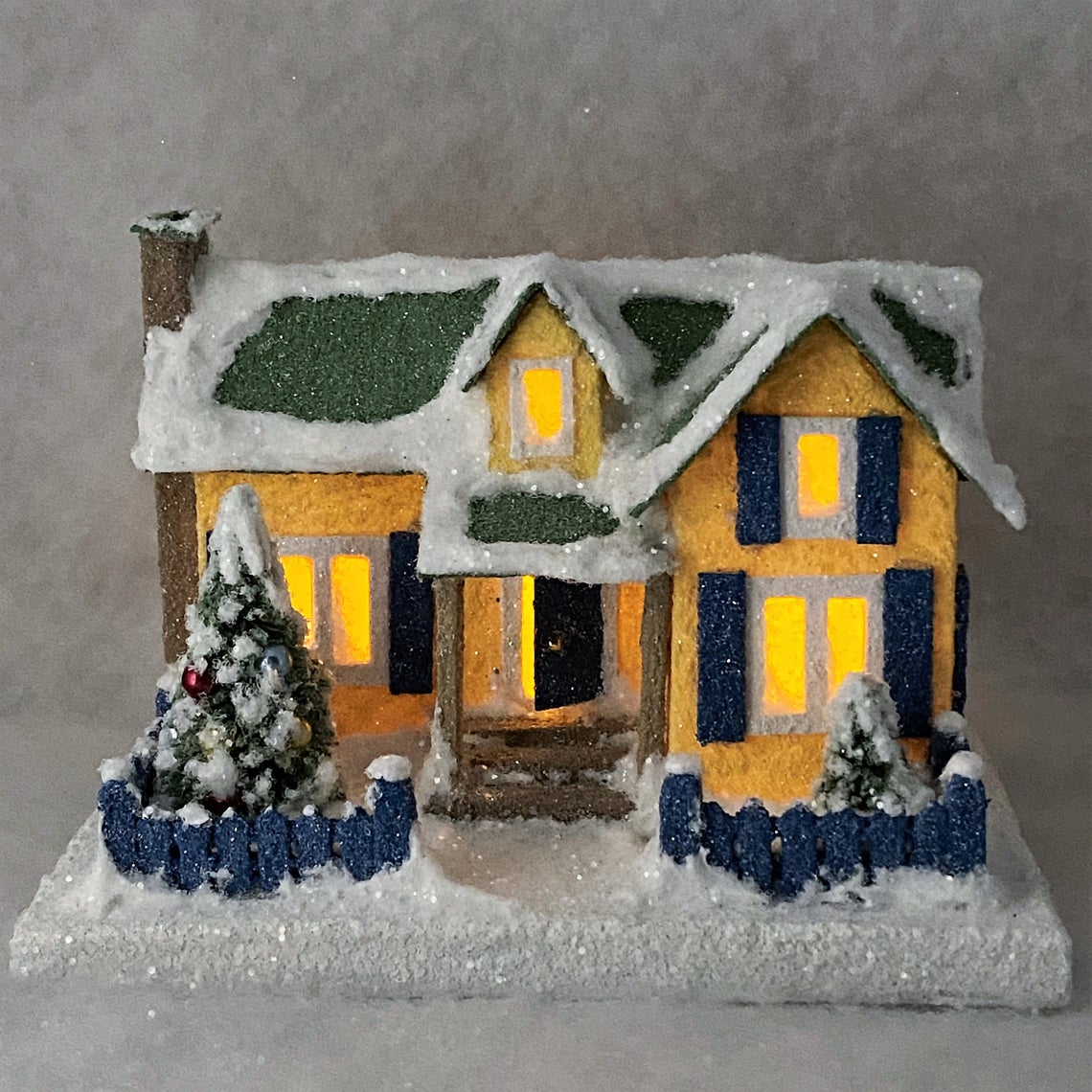 A Maine cottage in winter. Lots of snow and ready for the holidays. This beautiful house is made from cardboard, acrylic paint, sand, Upcycled Christmas card, bottle brush trees, craft glitter, pearl beads, faux snow, and lots of love.
PUTZ HOUSE KITS/DIY
If you are crafty and want to make these miniature paper houses, then here are a few to make.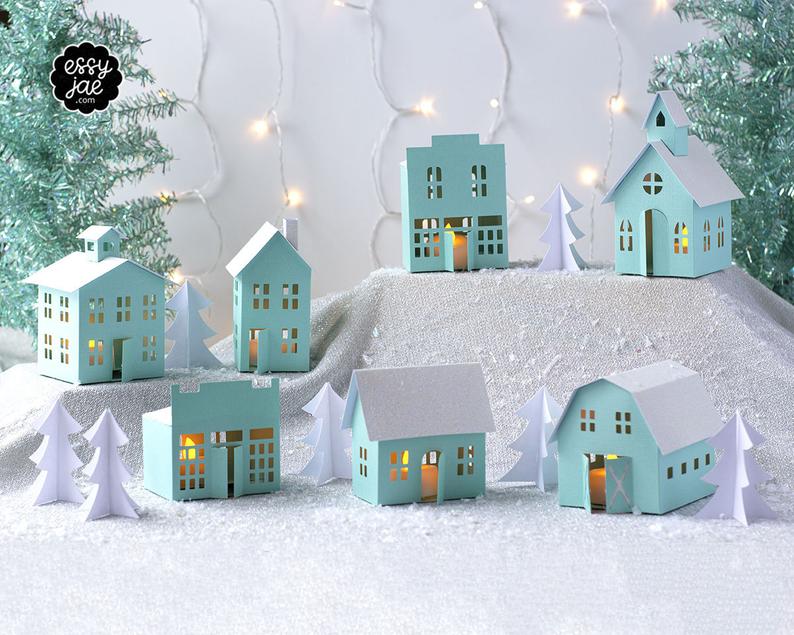 This listing is for a bundled set of 8 different mini paper Christmas village SVG cut files for Cricut, Silhouette, etc.! The old West's towns inspired this Christmas village design, so the buildings have a unique, old fashioned flair! All buildings were designed to be easy and simple to cut and put together, and each one has a special opening to allow the placement of an LED tealight inside each building. It makes a stunning display that glitters in the daytime and glows in the nighttime – perfect for hosting a Christmas party or Christmas dinner!
This magical little Putz Farmhouse Ornament makes a beautiful holiday mantel or tabletop display…add Bottle Brush Trees or Greenery and light the windows with battery operated tea lights or a lighted garland bulb. Leave the house all-white for a minimal winter display, glitter the roof or create a one of a kind house with paint and glitter. It's the perfect cozy holiday craft!
This is a pre-cut Putz House kit to make one house. The fence is included. You assemble, paint, and decorate yourself.
MINIATURE TRAILERS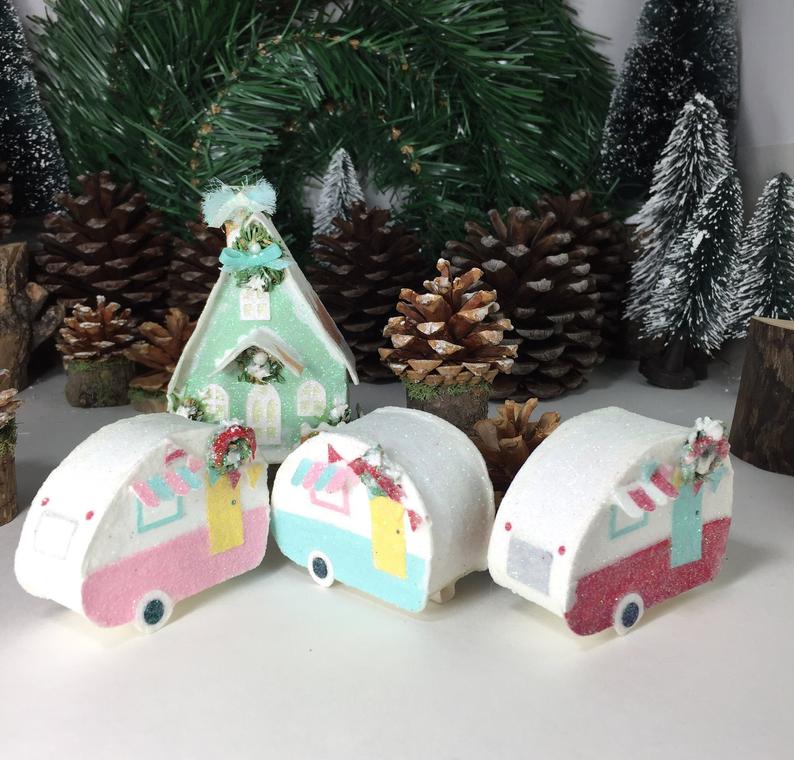 Tiny Putz camper, trailer, caravan- Now you can buy one already made. This listing is for one Camper/Trailer with flag streamer and bottom color panels. Choose from the three color choices.
This Teardrop Camper is crafted with archival paper, vellum, and vintage ground-glass glitter. Tiny icicles dangle from the top, and a miniature bottlebrush tree is tied to the snowy roof—measures 3 inches long, 1 inch wide, and 1.75 inches at the tree. Hanging string attached. Arrives carefully packaged in a 4-inch white gift box. Makes a charming gift for an RV enthusiast.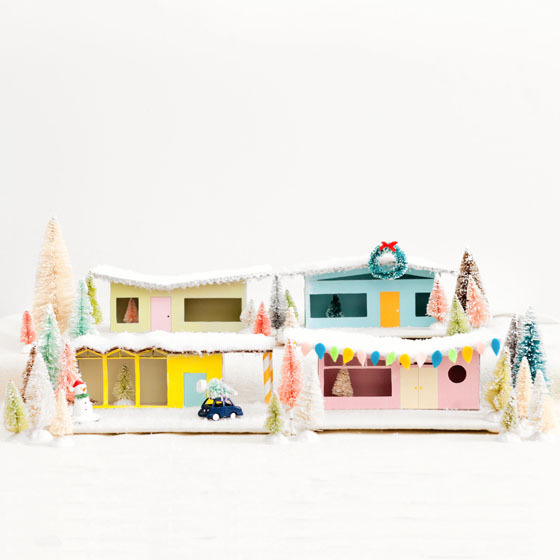 If you like mid-century modern homes, then you might enjoy making this one from this fun blog post.
Writing this post and seeing all these wonderful miniature paper houses makes me more obsessed. I so want to create more of my putz houses. I have a couple of kits and haven't gotten around to make them. I have a feeling that I'll spend the month of January, creating these fun projects.
Happy Holidays my dear blog friends!
Cheers,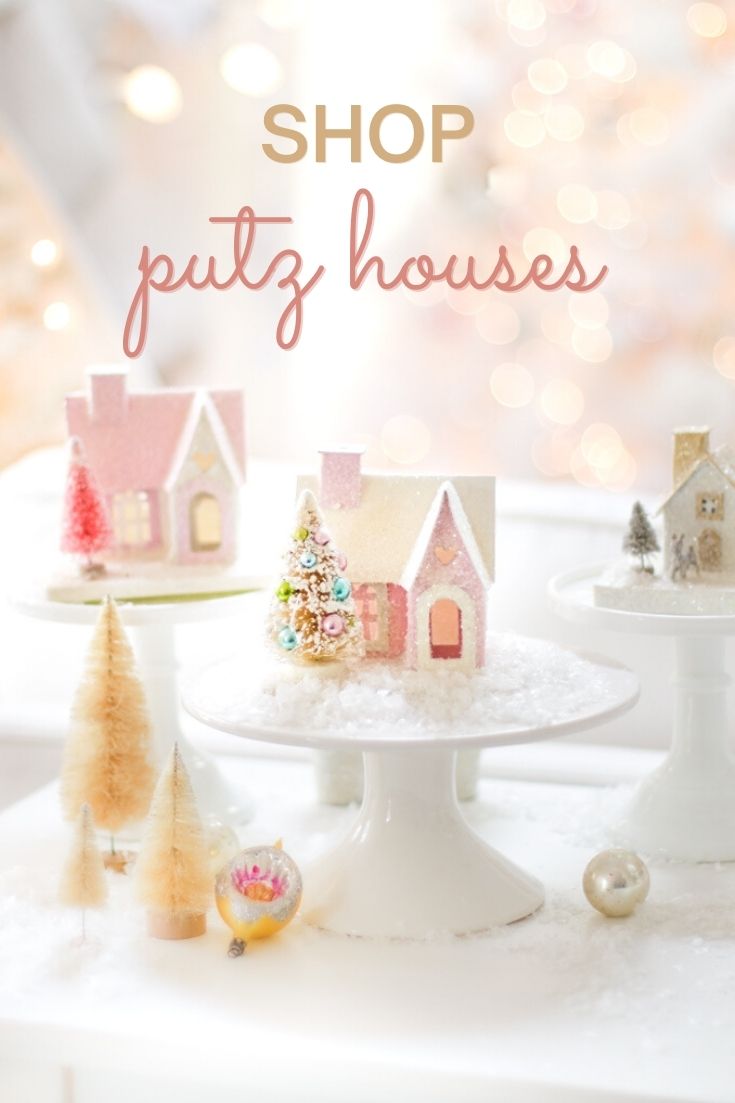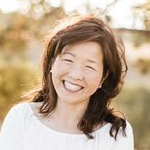 Latest posts by Janine Waite
(see all)