Here are some tips and tricks on How to Decorate Your House for Halloween! From delicious recipes, festive decor to everything Halloween, you'll find what you've been looking for when it comes to October.
Time to check out some go-to desserts, simple decor, and some of my favorites of the month!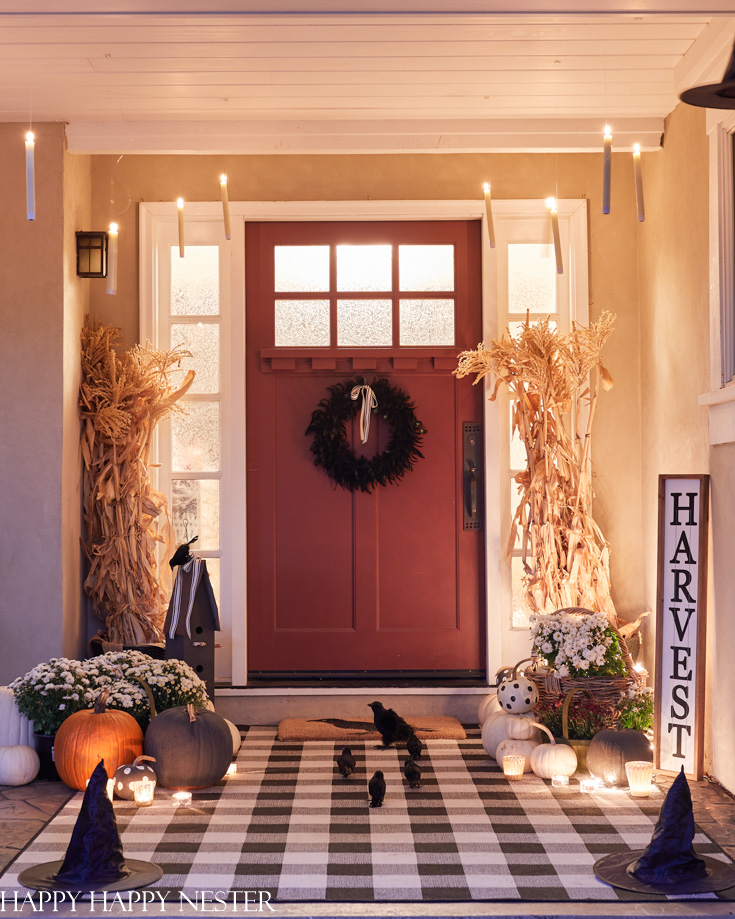 Do you tend to go all out for Halloween? When it comes to decorating, my style is simple yet stunning and easy to create. I guarantee your home will scream Halloween vibes afterward!
Check out these mouthwatering recipes, fun decor, and more to have a holiday you'll never forget, mwahaha!
Get cozy and scroll down to check out some of my recent posts from the blog!
*This post contains affiliate links
Saturday Chitchat with Janine – Volume 37
Hello Weekend!
I finally decorated my porch for Halloween and got my candy for trick-or-treaters! I don't know about you but hopefully, this Holiday is better than last year.
In the meantime, while juggling my porch and shopping, I created delicious, simple recipes to create with your friends and family!
I also decorated my favorite spots to give you some inspiration on how to decorate your house for Halloween!
Alright, friends, I won't keep you a minute longer. Have fun with these decorations, recipes, and more!
Have a spooky Saturday, everyone!
A Personal Note from Janine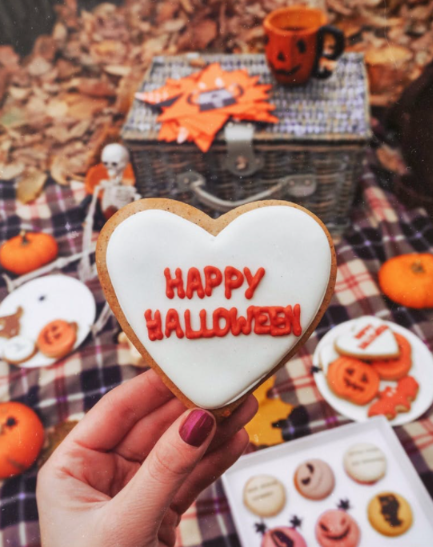 When our son was little, I was ecstatic to be a new mom, and I wanted him to experience all the holidays with tons of excitement and beauty! So, I decorated our Seattle craftsman's bungalow to the nines. I mean, every nook and cranny was accounted for, and our house glowed orange and white on his first Halloween.
You see, we had many years of infertility treatment, and when we finally got the adoption process started, we were super antsy to become parents. So the first couple of years of my son's life was a big celebration of all the holidays!
Back when my kiddos were little, I was younger and had tons more energy back then. So this meant that the house was an explosion of holiday decor.
I hate to admit that it was a common occurrence that I overloaded our electrical breakers and would trip it all the time.
Do you see a pattern of my obsessive personality?
Well, my son is now off to college, and I still enjoy decorating. And lucky for you, I'm sharing all my latest projects with you. I'm happy that I now have a creative outlet for all my decorating, crafting, and baking shenanigans.
So, pull up a cozy chair, and let's hang out this Saturday morning!
Cheers,

This Week's Inspiration – All Things Halloween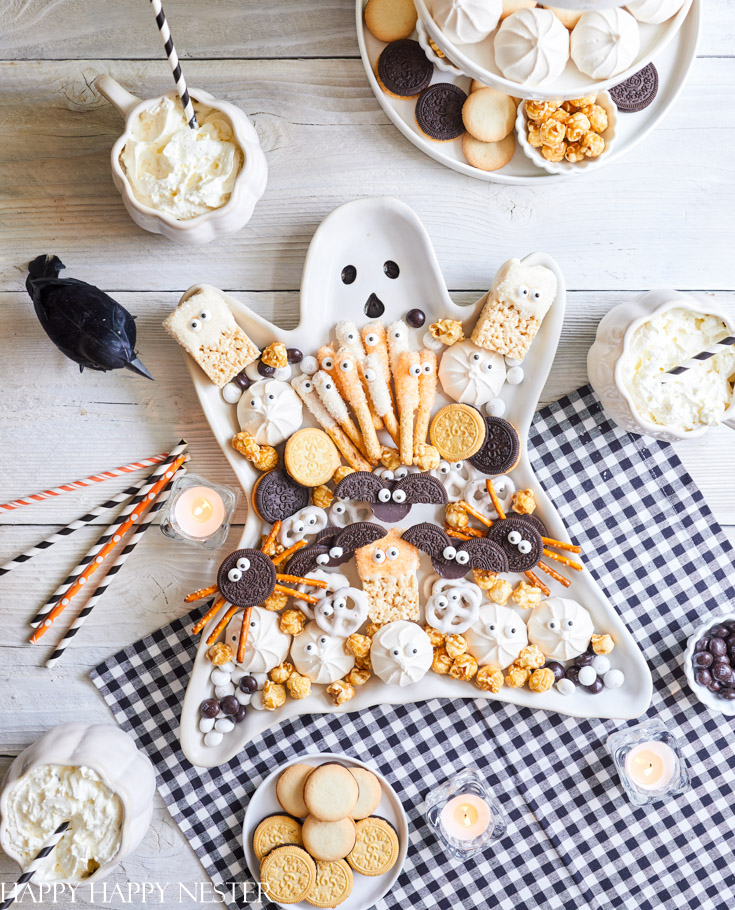 Halloween Candy Charcuterie Board
Who can't resist a fun Halloween Candy Charcuterie Board? Candy is my soft spot, and I love to nibble a bite or two, so making a candy tray was an easy project. Also, you'll be happy to know that this ghost tray is easy to assemble and decorate, and the results are super cute!
There are few different things to consider when designing your candy charcuterie board. So I was hoping you could take a look at this post for all my helpful tips!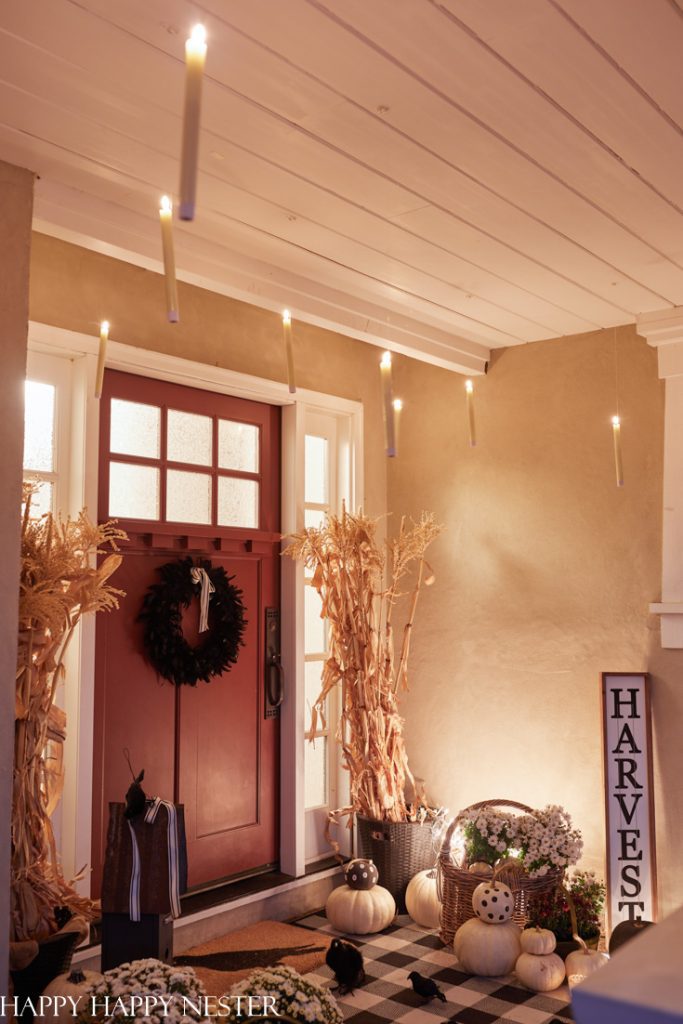 Harry Potter Floating Candles DIY
If you are just as obsessed as I am with the Harry Potter movie series, then you will love this DIY! I promise that I found the easiest way to get these spooky candles floating on your front porch or Halloween home.
You'll need a few supplies, and you'll be ready to decorate your house for Halloween! This decor is perfect for kids and a spooky Halloween party!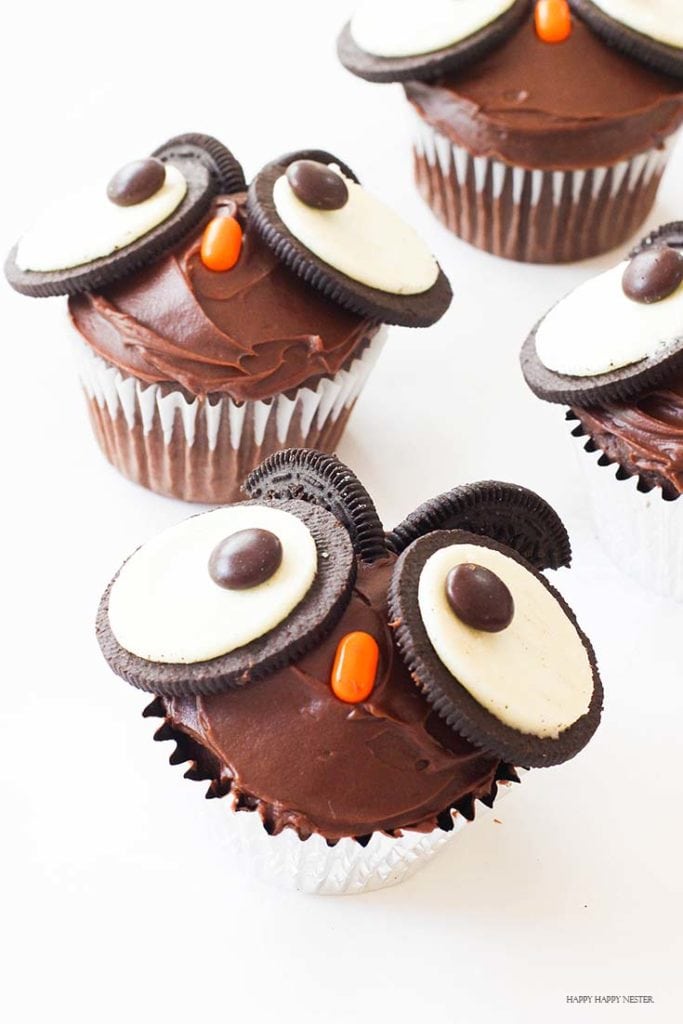 Check out these Oreo Halloween Treat Ideas to create spooky yet delicious desserts to share with family and friends during this festive season! Here you'll find some simple goodies to develop that will have you howling at midnight like a wolf! 
Now that Halloween is in full swing here at the Waite house, I say it's about time we start to bake some ghostly goodies, beginning with these Halloween treat ideas!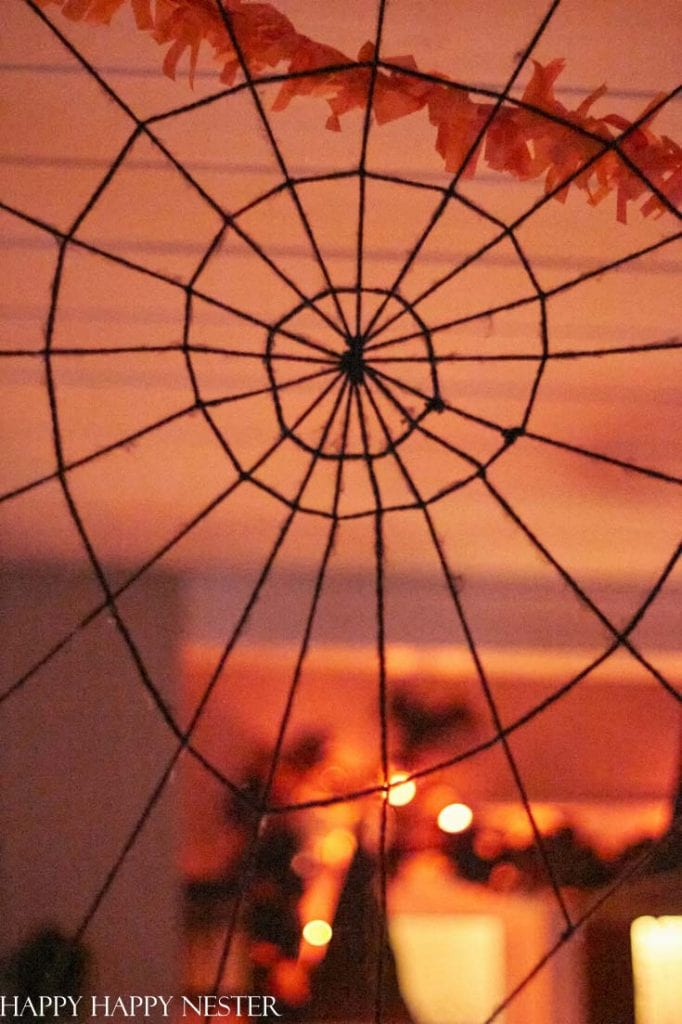 How to Make a Giant Spider Web Using Yarn
Are you in need of some simple and festive Halloween decor? Here is my tutorial on how to make a spider web with yarn!
I had such a blast making these fun crafts! I guess I love decorating for Halloween every year, and my porch is full of witches' hats, crows, bats, and now a couple of giant spider webs. And now I want to inspire you to get your spooky on with this craft!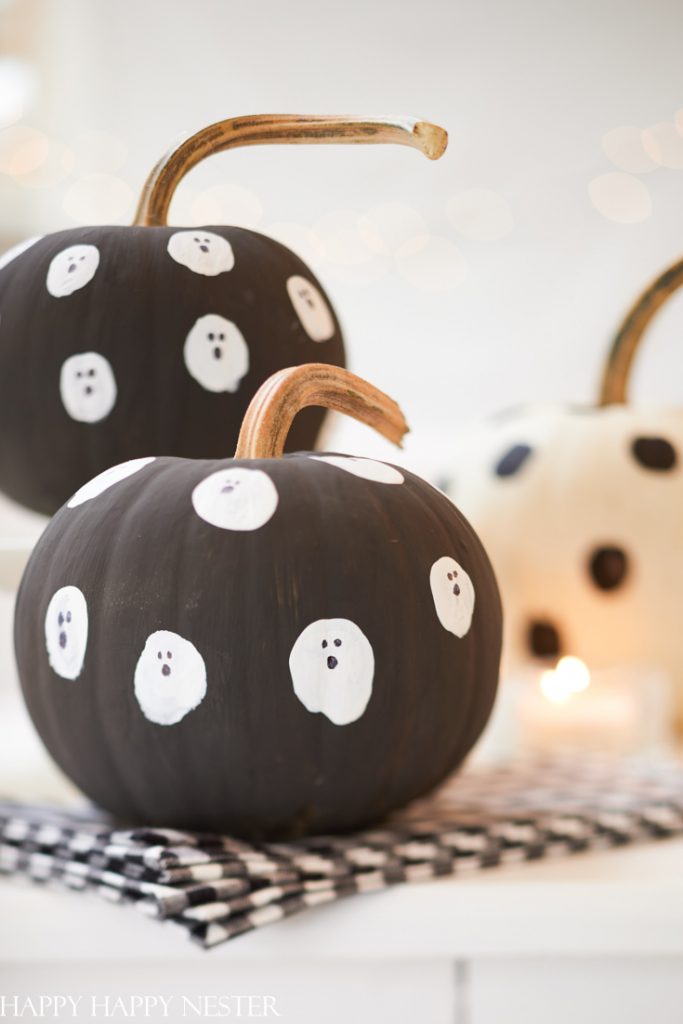 Ghost Painted Pumpkin For Kids
Here is a Ghost Painted Pumpkin For Kids tutorial on creating adorable Halloween decor for your home! Not only will these decorations create a festive look on your front porch, but this craft is a simple step-by-step DIY that will be fun for Fall!
I saw these adorable pumpkins using orange pumpkins and white ghosts, and I thought I would add a new twist and paint my pumpkins grey. This Halloween project is easy, adorable, and perfect for the spooky season!
---
This Week's – Boutique of the Week (Ceramic Halloween Decorations)
*The following post contains affiliate links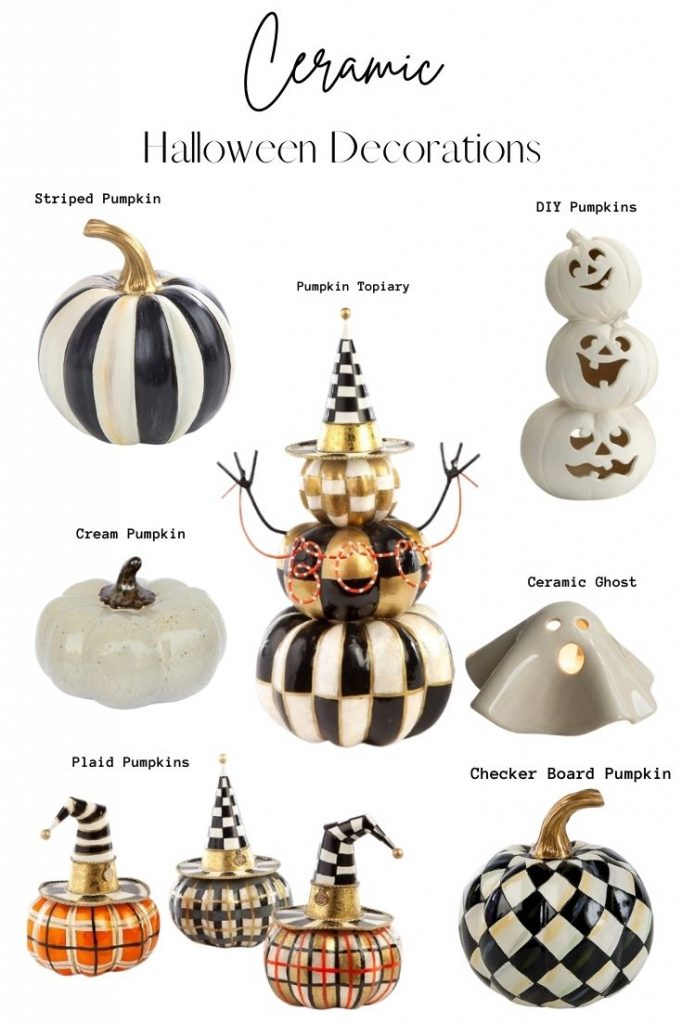 Boutique of the Week – Ceramic Halloween Decorations
Since Halloween seems to be right around the corner, I say it's time to decorate! With these pieces, you will find some wicked-cool decorations from pumpkins to ghosts to more!
These ceramic decorations I picked out will spice up your home with fun and festive decor to create a spooky look for this season.
With this collection, you will transform your oasis into a haunted homey look!
---
My Favorite Things – Halloween Decor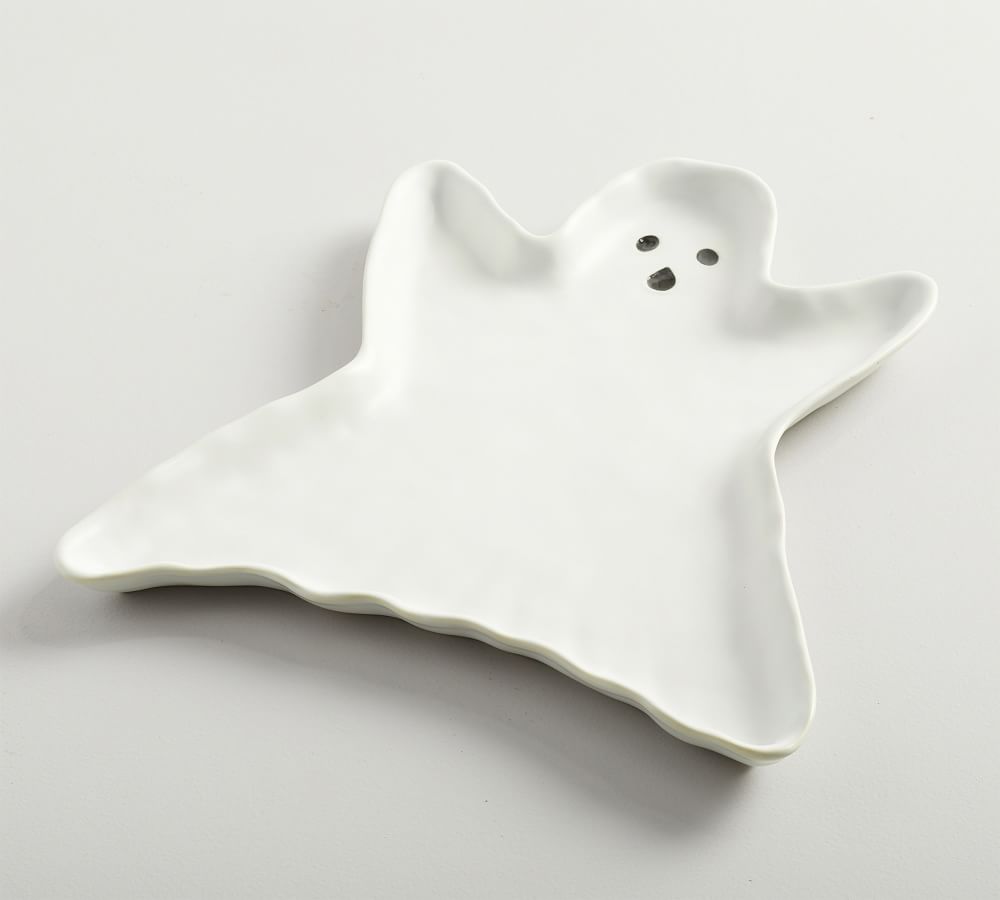 Ghost Charcuterie Board
Spirited, sweet, and ready with treats, our stoneware Ghost-Shaped Platter makes a whimsical addition to Halloween festivities. Fill with appetizers, confections, or whatever you end up serving in a lively style.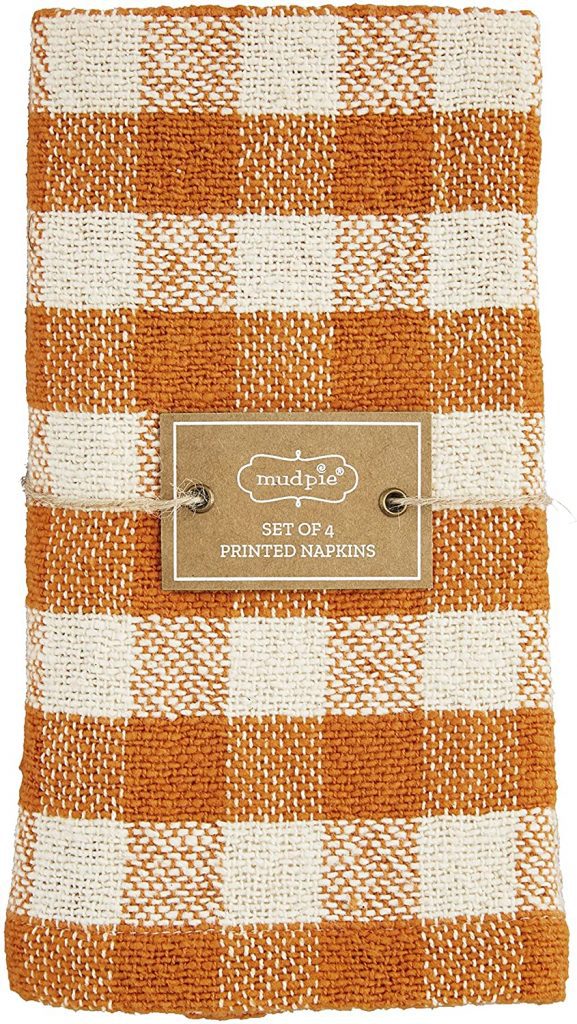 When decorating for this season, I style my kitchen with cozy decors, such as these cloth napkins! But to be honest, these napkins scream Fall to me, so I knew I had to get them!
I have always been a fan of buffalo plaid print, especially when it's orange because orange is one of the best Fall colors of all.
If you like to spice up your kitchen for the Fall, then check out these harvest cloth napkins!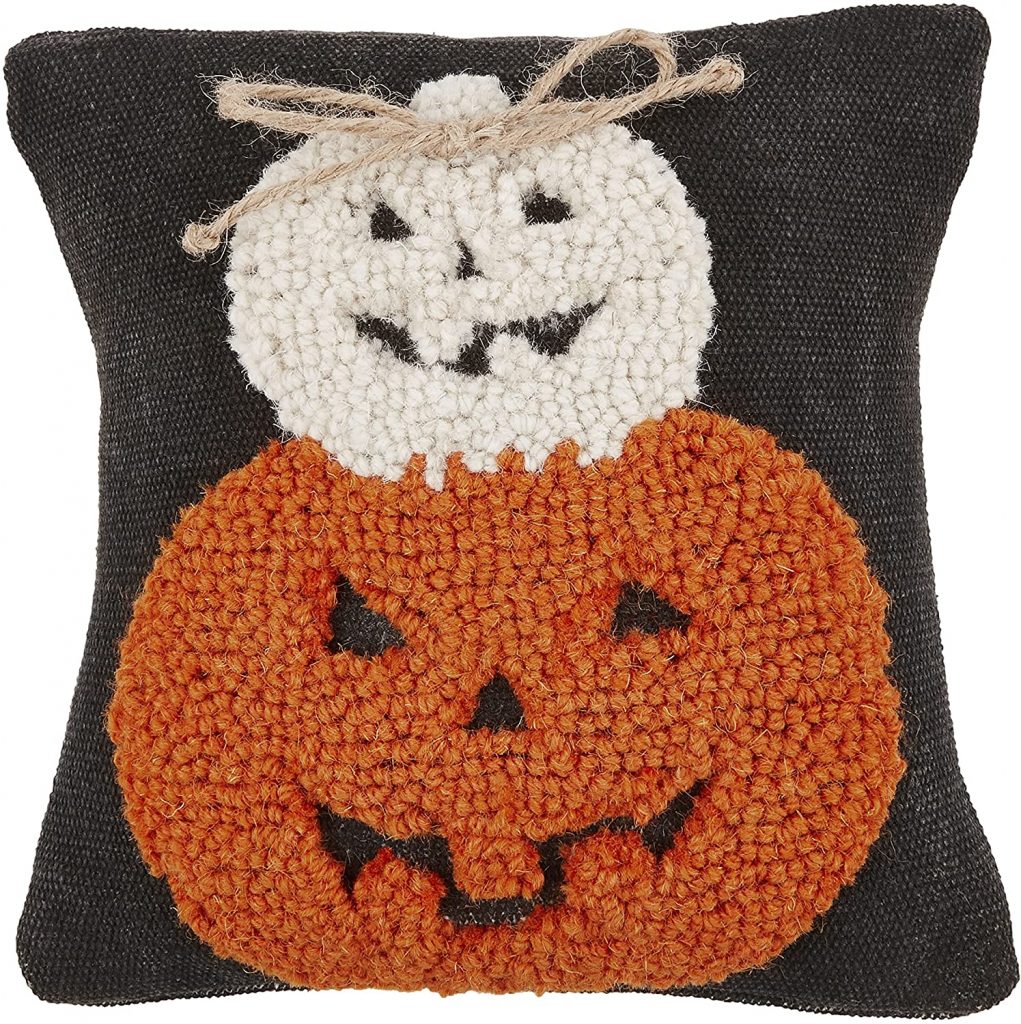 This mud pie pumpkin pillow is the definition of Halloween! I mean, it's super festive! If you know me by now, then you know I love pillows.
I have so many it's an obsession, but when I came across this adorable pumpkin pillow, I knew I had to share it with you all. So if you're looking for a simple yet festive piece of decor, check out this pillow!
---
Halloween Recipes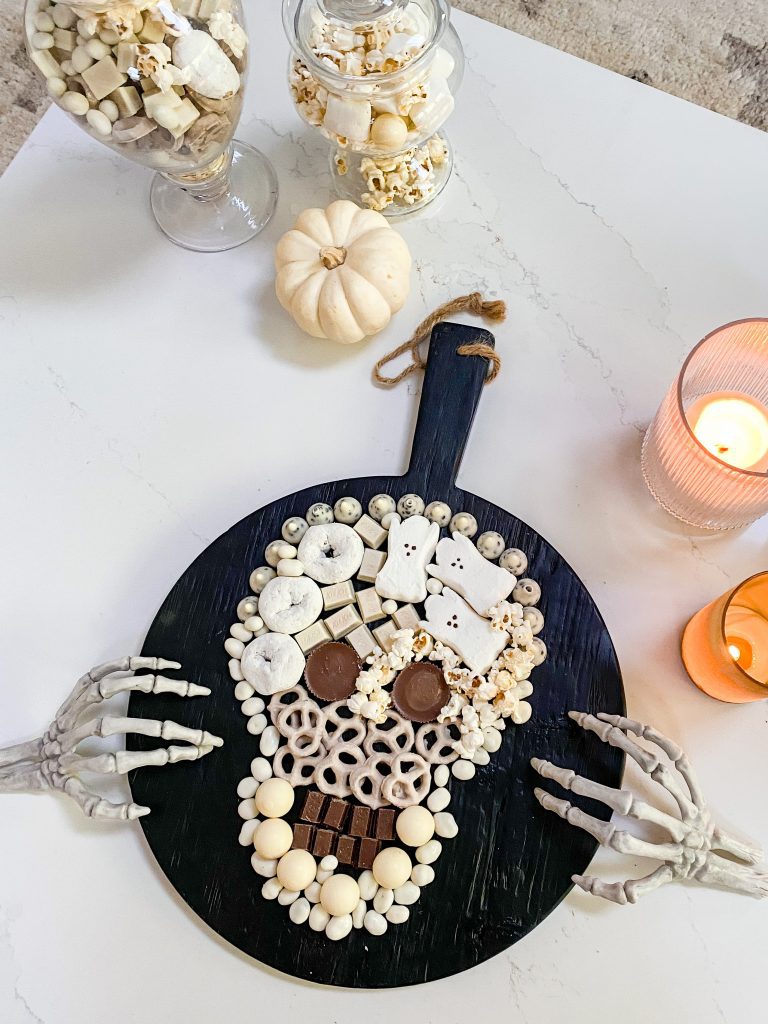 This fun and festive candy board are from my good friend, Ashley! Who doesn't love a delicious charcuterie board full of sweets and treats? I do! And this one looks scrumptious!
Check out Ashley's simple Halloween candy board today to create a new snack idea to share with family and friends!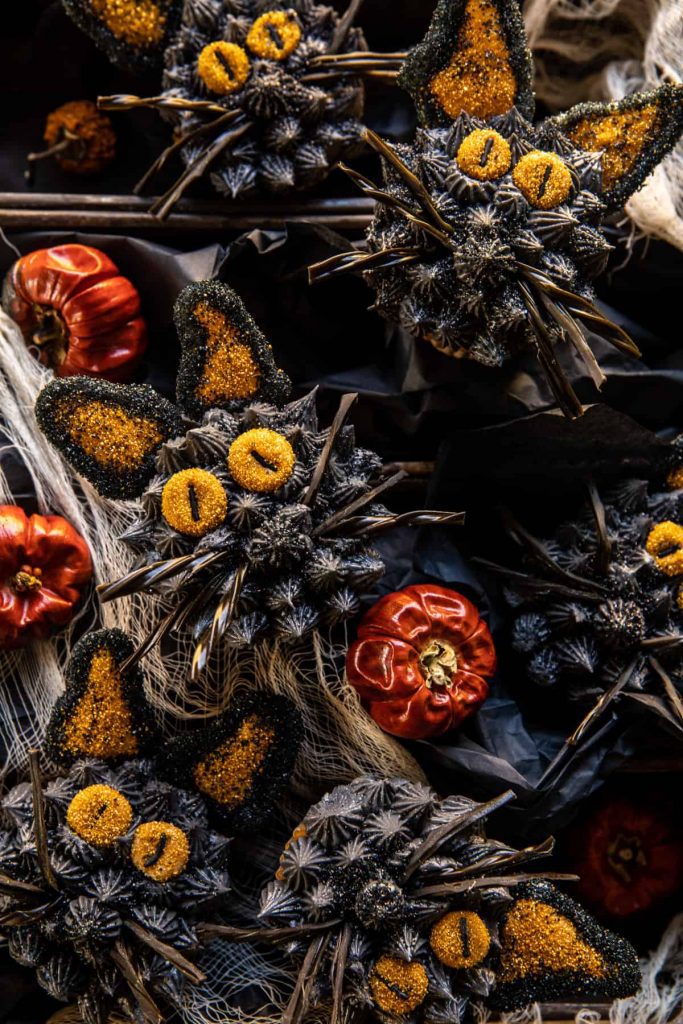 Here are deliciously cute pumpkin cupcakes that are the Halloween dessert to make from Tieghan!
The cupcake itself is my favorite spiced pumpkin cupcake made with brown sugar, pumpkin, and of course, plenty of pumpkin spice. And then there's the frosting! It's a simple cream cheese frosting.
It sounds like a delicious recipe to me that just so happens to be Halloween styled. Check it out!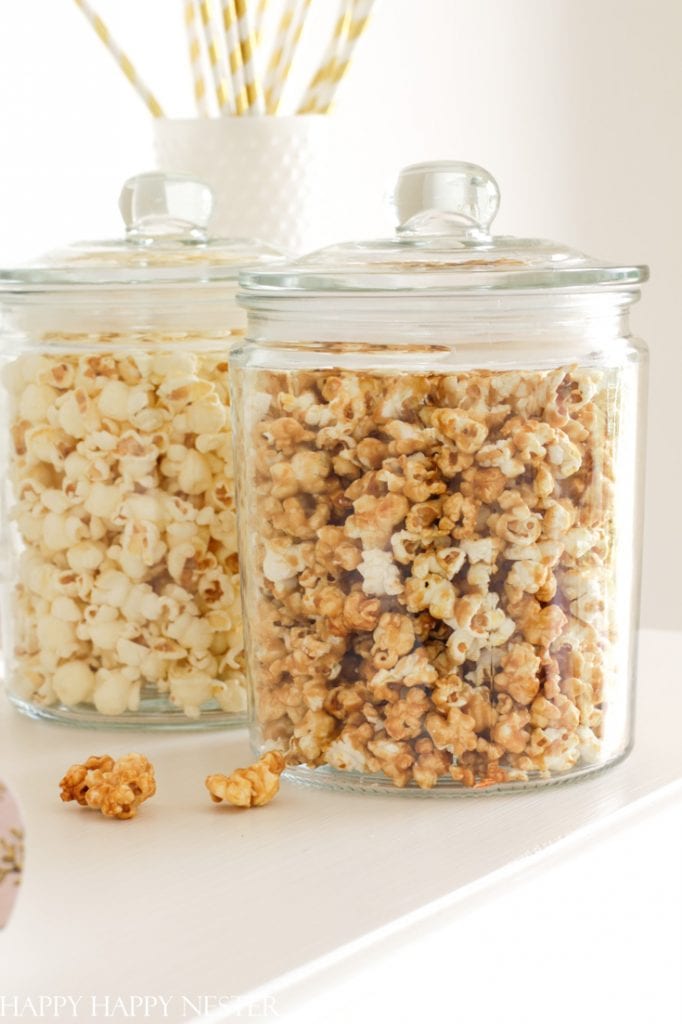 Easy Microwave Caramel Popcorn Recipe
My family and I are big fans of popcorn nights, especially with a spooky movie! Our favorite is caramel popcorn! What's yours? If you love caramel too, check out my recipe that is too good to be true.
Seriously, though, this popcorn is microwaveable and can be served, so you don't have to wait any longer to start your scary movie with friends and family!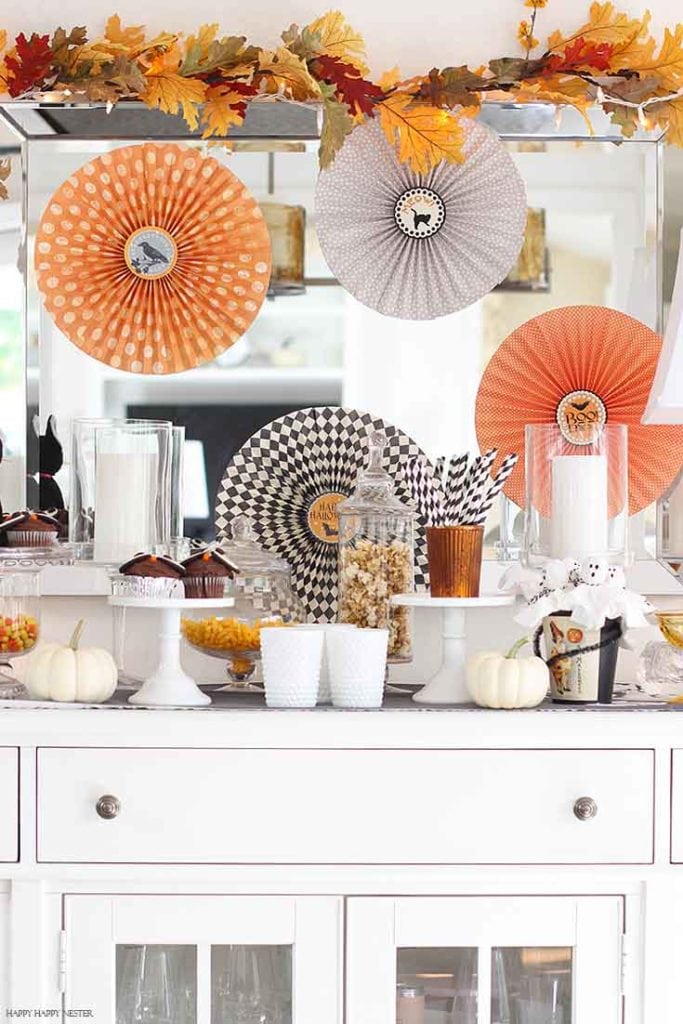 How to Make Paper Rosettes for Halloween
Alright, I am a fan of decor. And since it's prime time for a set, I present to you these paper rosettes for Halloween! These pieces are entertaining when having a party or a small get-together during this spooky season.
I have always loved crafting, and these paper rosettes are by far one of the favorites that I still decorate with today!
If you're looking for a simple craft to make with your friends or family, check out this fun and festive DIY!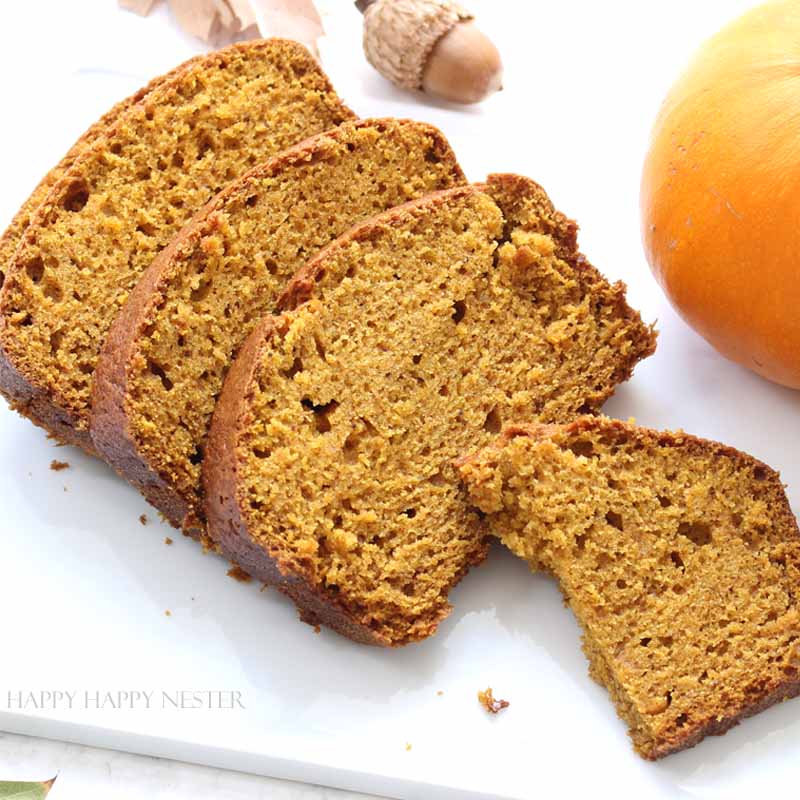 Here is a copycat recipe for the Starbucks pumpkin bread! This is very similar to the one you'll find at a popular coffee shop! I don't know about you, but I love to bake once the weather changes, and this recipe hits the spot.
Somedays, we aren't able to run errands and grab the pumpkin bread from Starbucks, so why not make it at home instead? It saves time and hassle!
Enjoy a slice (or two) with a warm cup of coffee or tea and enjoy the change of the weather.
Come on! What are you waiting for? Let's get cooking in the kitchen!
---
Trending Over On The Blog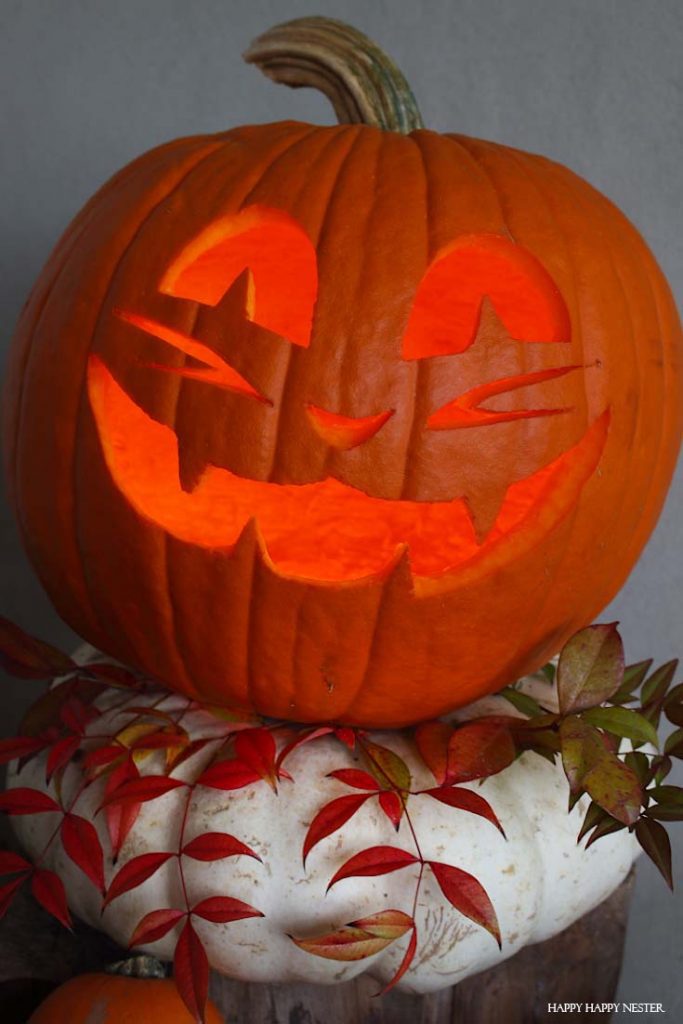 10 Essential Pumpkin Carving Tips and Tricks
It's that time of year to start carving pumpkins! With these tips and tricks, you'll be able to become a master of pumpkin carving!
 I love carving pumpkins! It's my favorite part of Halloween. If you enjoy carving too, check out this post and start carving today!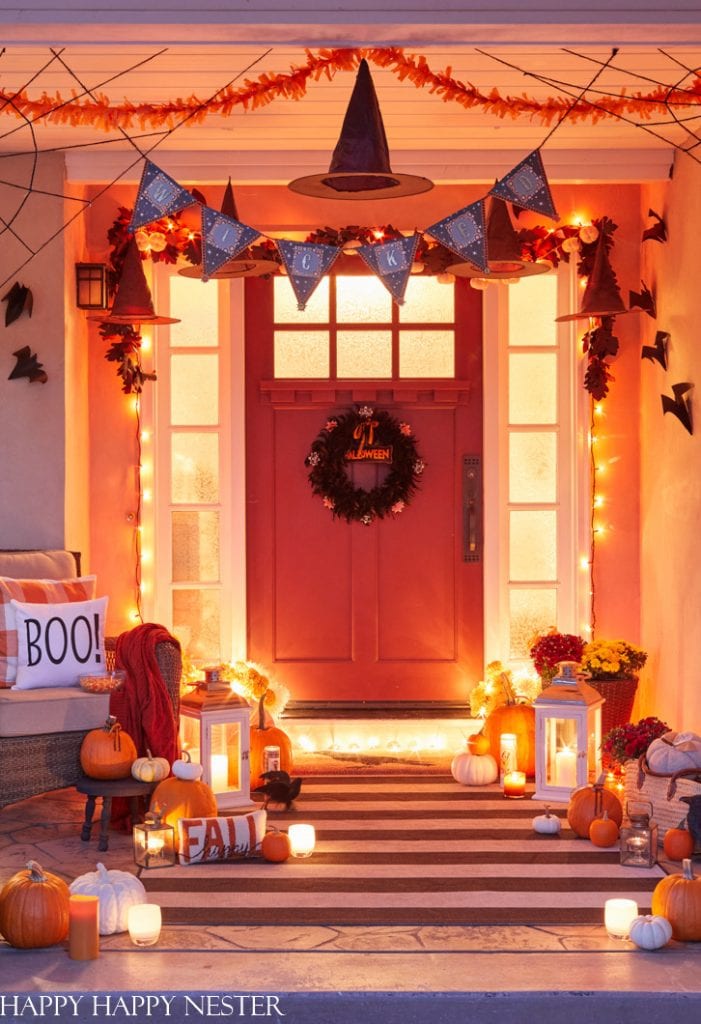 20 Halloween Front Porch Ideas
I absolutely love this time of year. And it looks like our porch has become a pumpkin patch that is ready for trick-or-treaters.
It is funny that our cranberry-colored front door looks best with Halloween and Christmas. So, when this time of the year pops up, I go crazy and decorate our porch like a mad lady. And as you can see, my style is all about more decor.
Check out these crazy and incredible front porch ideas to get inspired today!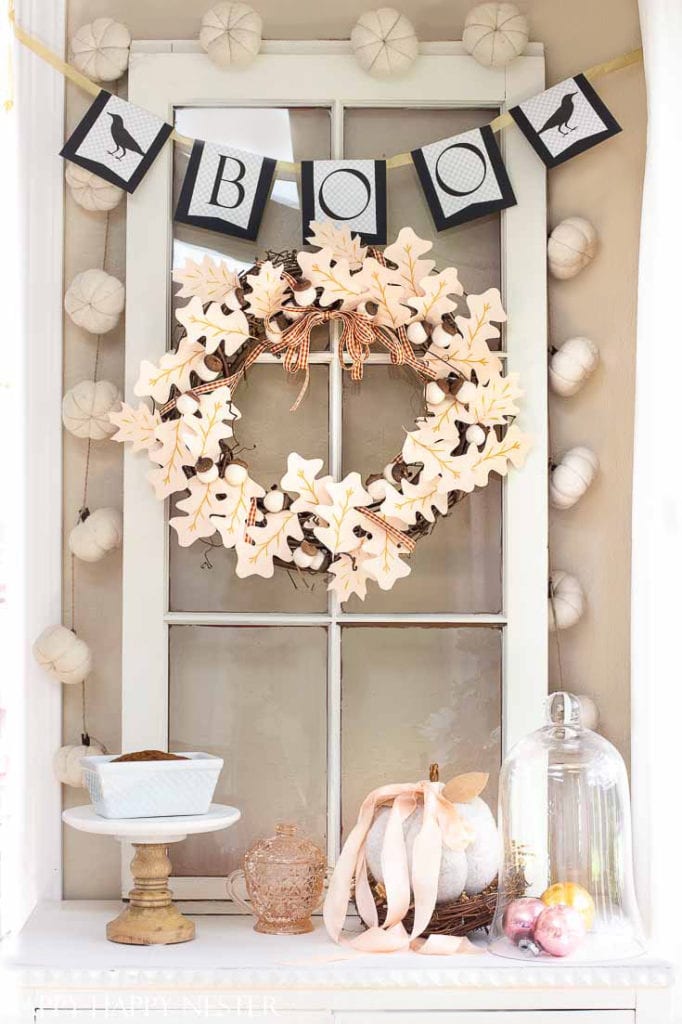 Easy Paper Halloween Garland DIY
You could say I'm a bit obsessed with paper projects since I have a lot of them over on my blog.
But today's paper craft is one of my favorites! This is an easy paper Halloween garland DIY that will bring such a cozy vibe to your home!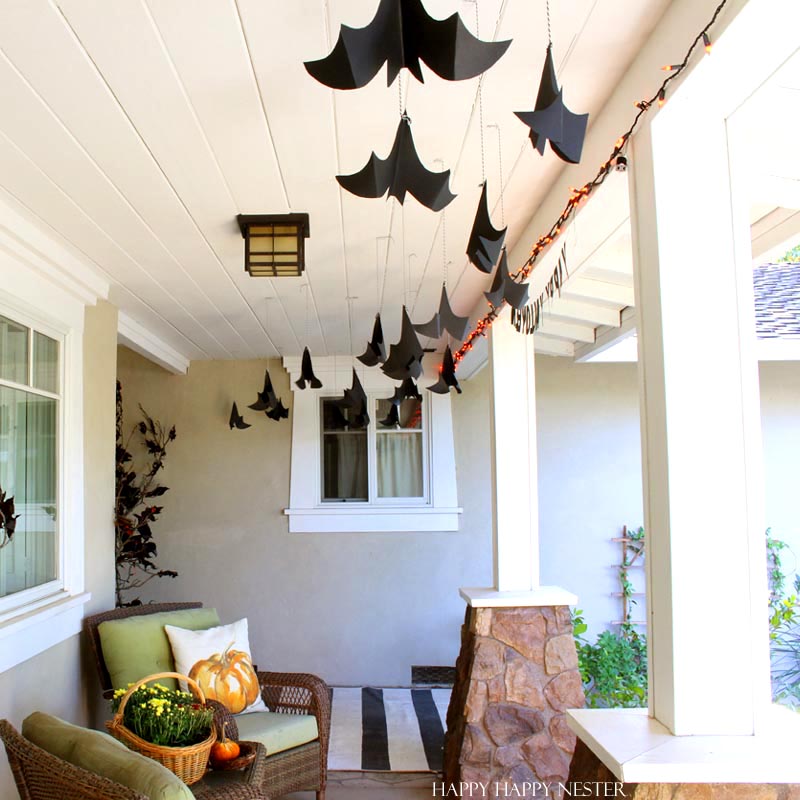 You Will Absolutely Love This Easy to Make Halloween Craft
Here is another simple craft to decorate your house for Halloween! These bats are so fun to create and more fun to decorate with!
If you're in need of some easy decor fast, check out my tutorial on this craft! I guarantee you will have the best house on the block!
---
This Week's Tip – Gingerbread Houses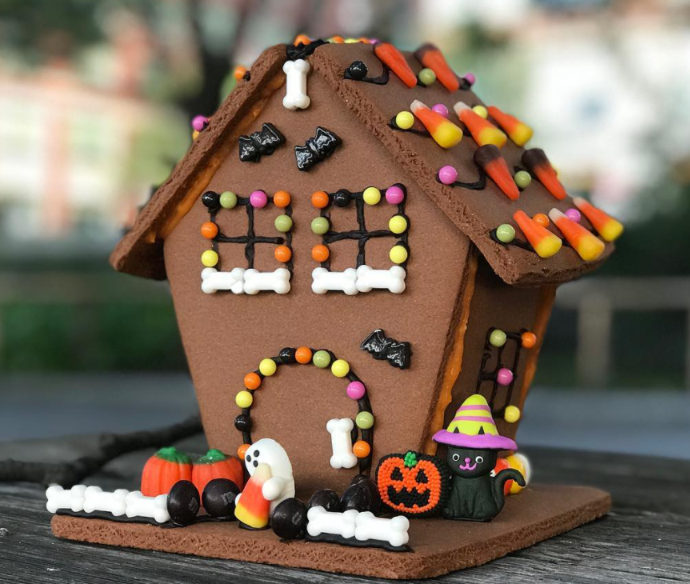 Trader Joe's Halloween Gingerbread Houses
Here's a tip that's related to Halloween and Christmas. So, Trader Joe's sells a Halloween gingerbread house kit that is adorable.
I bought four today, but I'm not going to use them for Halloween.
You see, I'm planning on decorating them for Christmas. My one gripe about other gingerbread house kits is that the houses are too big for my mantel. Do you know what I'm talking about?
The gingerbread houses hang out over my shelf, and with one little move, the village could tumble over.
So, Trader Joe's gingerbread houses are a ton shallower and perfect for my holiday decor.
I know it's pretty early to think about the holidays, but these Halloween houses will only be in stock for a couple more days at Trader Joe's!
Snag a few this weekend if you want to decorate one for Christmas!
Here's a link to buy it online but it's significantly cheaper if you can visit the store. I think I paid $7.99 for each house.
---
My Latest Obsession – Fall Doormats
I love a seasonal doormat, and I always dress up our porch with my crow one.
But one that is trending over on the blog is the "Hey, Boo" Doormat. It's so cute and such an excellent alternative to my crow mat.
I love my buffalo plaid outdoor rug since it goes so lovely with my Halloween decor. It's fun to layer your doormats and rugs to create a fun and inviting welcome to guests!
---
Hello, sweet friends! I hope you're having a great Saturday so far. Thanks for sticking around to check out my helpful tips on how to decorate your house for Halloween! Hopefully you found some inspiration whether it's baking a new recipe, crafting a new DIY or decorating your home with my style!
Have a great weekend, and stay tuned for more recipes, crafts, decor, and more!
Cheers,

Catch up on Saturday Chitchats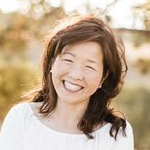 Latest posts by Janine Waite
(see all)