I have quite a few Halloween posts and so do my friends. So, I had an epiphany, why not round them up in this Halloween Front Porch Ideas post.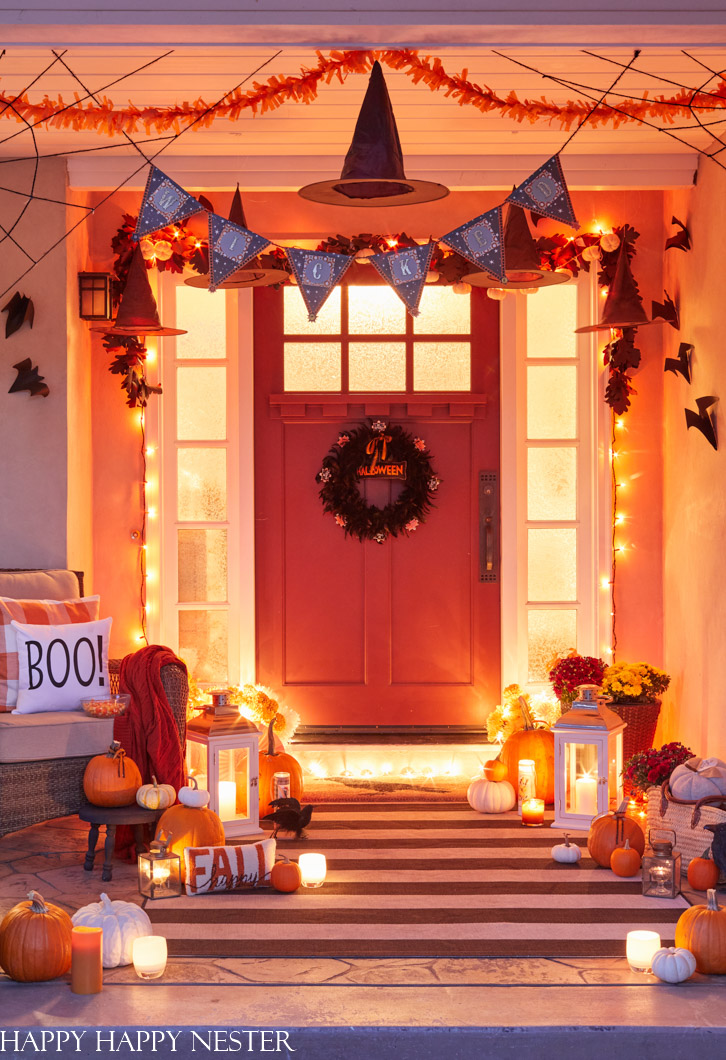 I absolutely love this time of year. And it looks like our porch has become a pumpkin patch that is ready for trick-or-treaters.
It is funny that our cranberry colored front door looks best with Halloween and Christmas. So, when this time of the year pops up, I go crazy and decorate our porch like a mad lady. And as you can see, my style is all about more decor.
*The following post contains affiliate links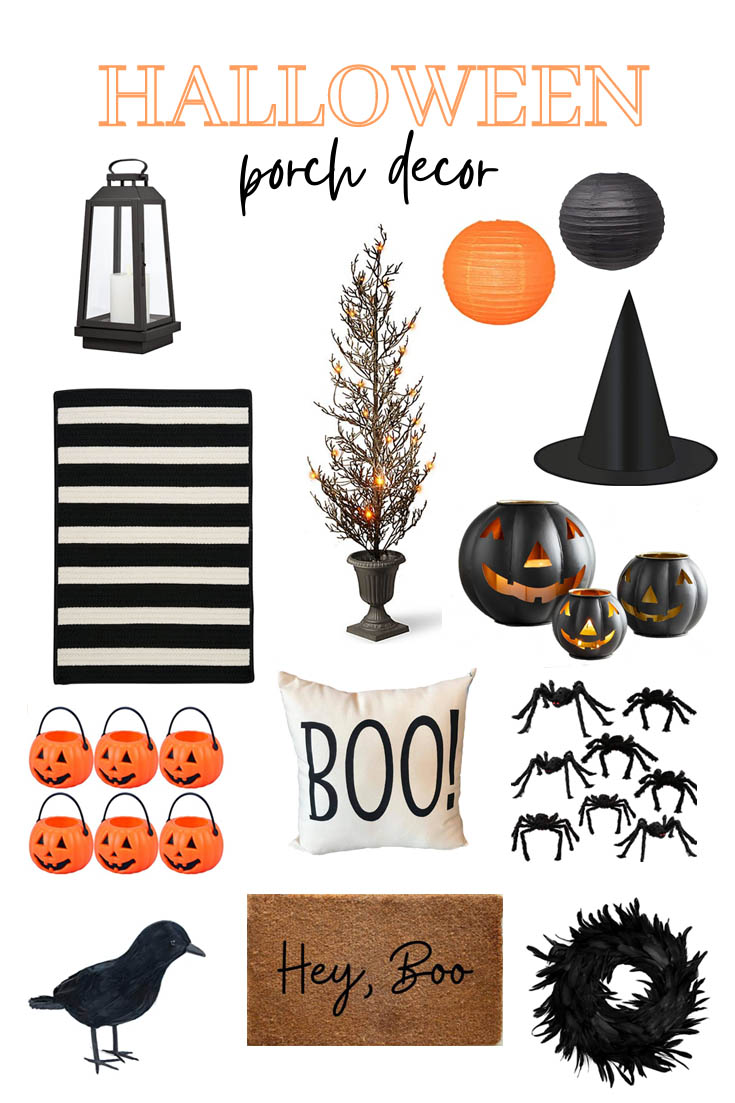 A. Black Lantern | B. Paper Lanterns
C. Black and White Stripe Outdoor Rug | D. Porch Tree | E. Witches Hats | F. Black Metal Jack-o-Lanterns
G. Orange Plastic Pumpkins | H. Boo Pillow | I. Black Spiders
J. Black Crows | K. Hey, Boo Door Mat | L. Black Feather Wreath
A Roundup of 20 Halloween Porch Ideas!
Well, for today, I'm eager to share a few of my friend's fun porches as well. I hope that this post will inspire you to decorate your front porch for Halloween!
I've organized the post into categories for your convenience. So, let's get started.
Halloween Bats!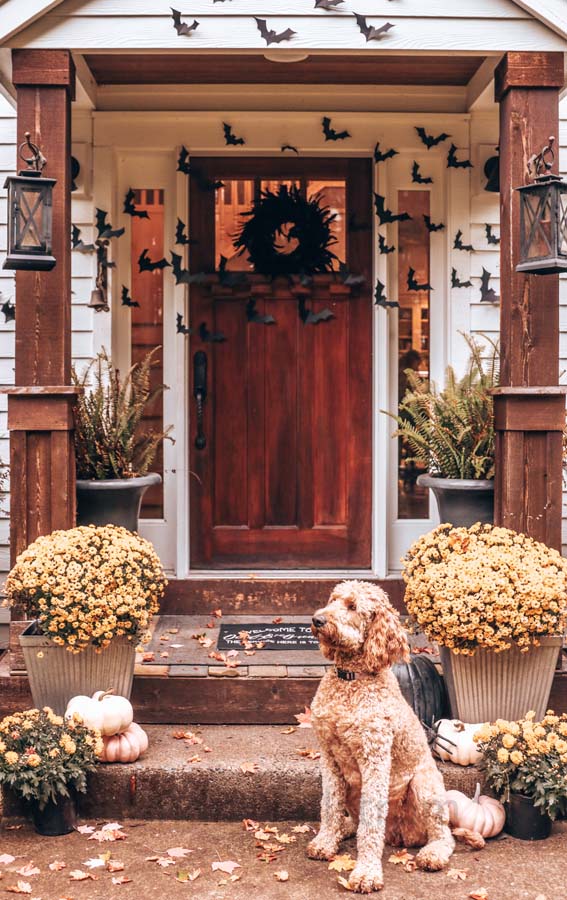 Rhonda from Hallstrom Home has so many great projects over on her blog. I especially love her sister's front porch. It's a classic vignette.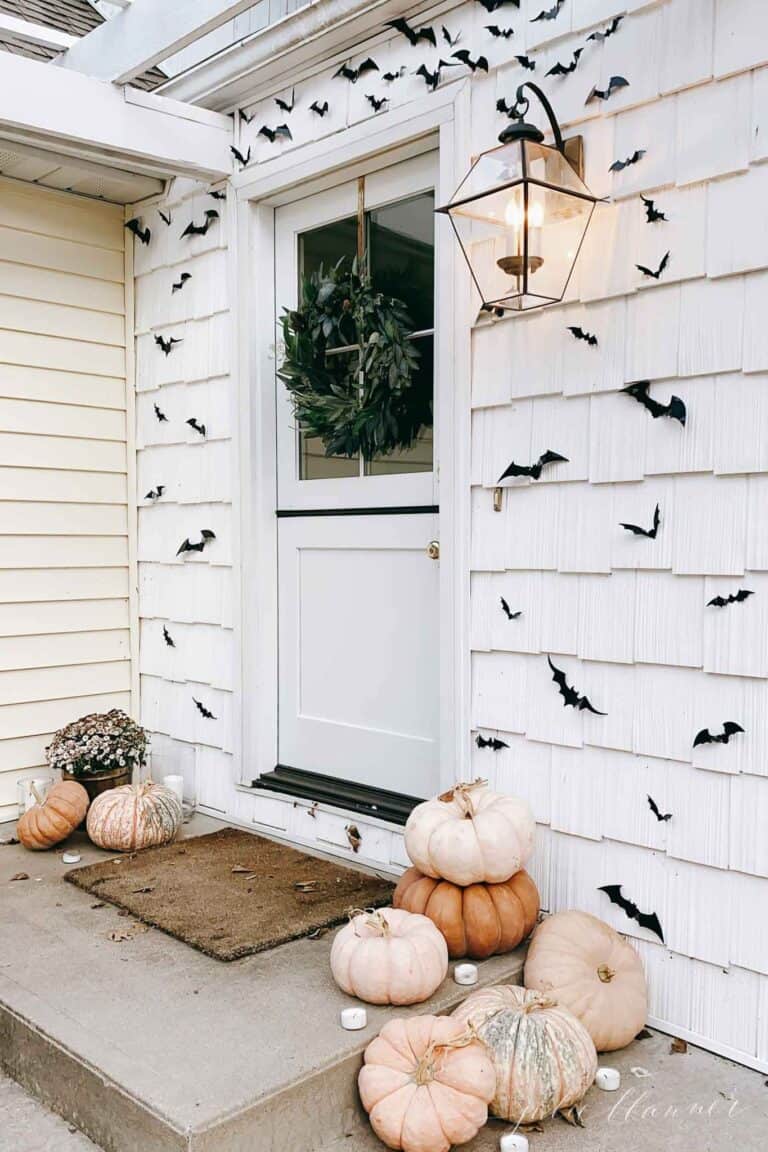 Julie's bat's and beautiful pumpkins are the perfect combinations for a porch. I do love the tiny paper bats which transmit a daintiness to them.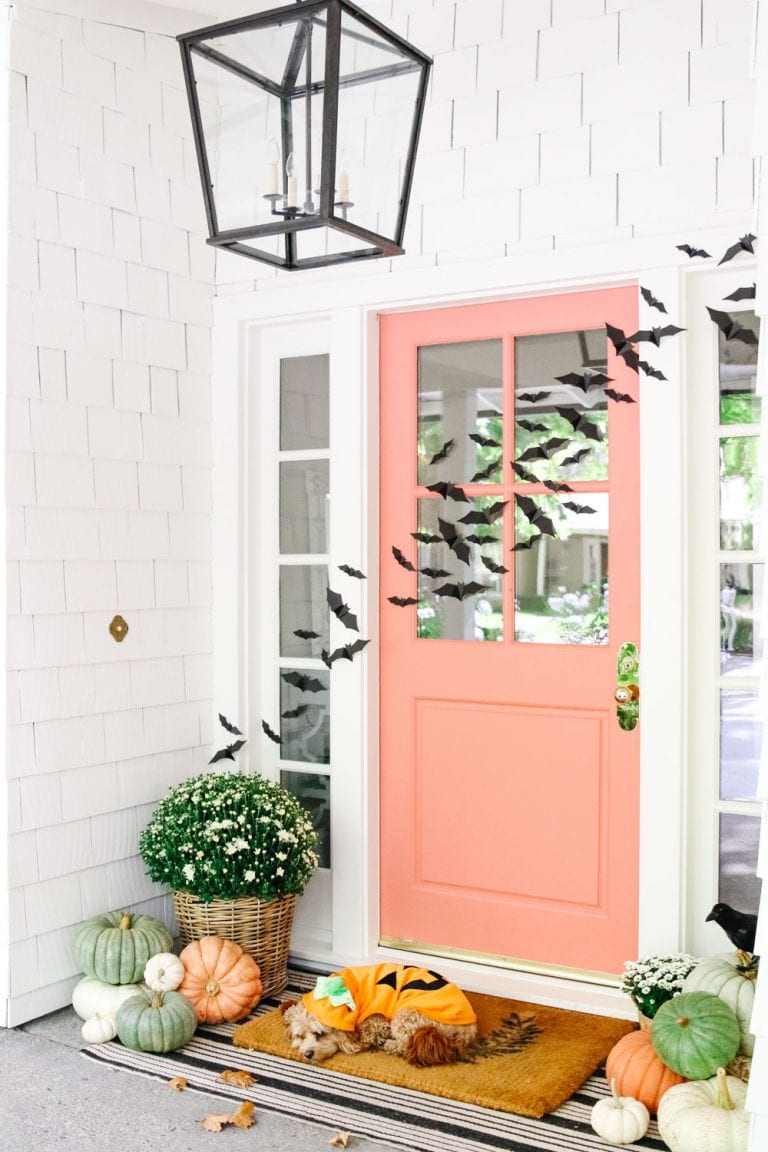 Ashley from Modern Glam has the prettiest front porch around. Her bats and little dog Romeo create the cutest porch. I love the combination of pumpkins and mums, as well as the flying bats.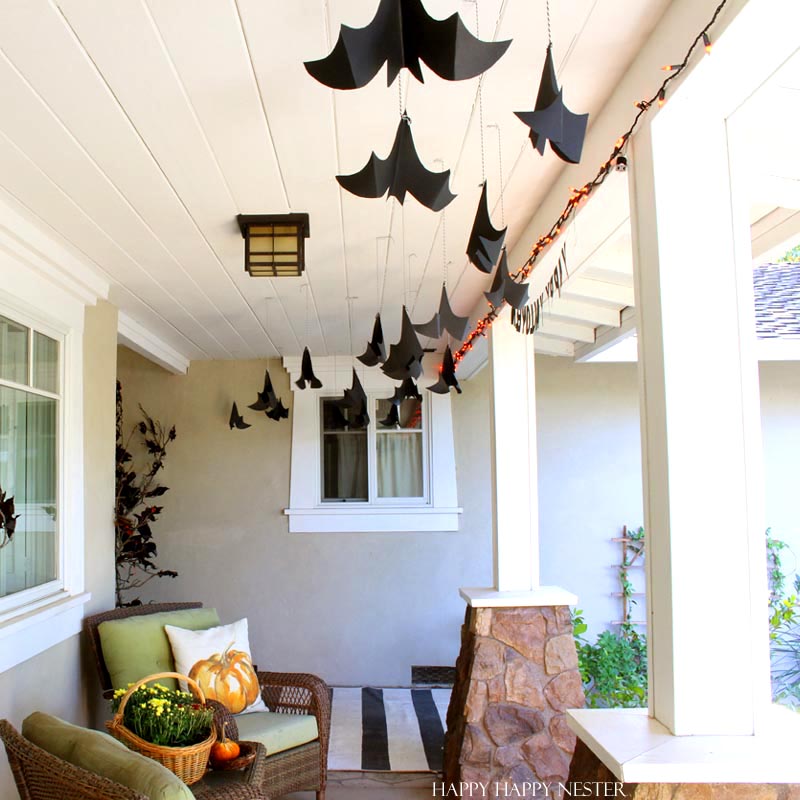 Here are my hanging bats! This easy Halloween craft is pretty cheap to make, and it creates such a big statement. Make it tonight, and you'll be ready for Halloween.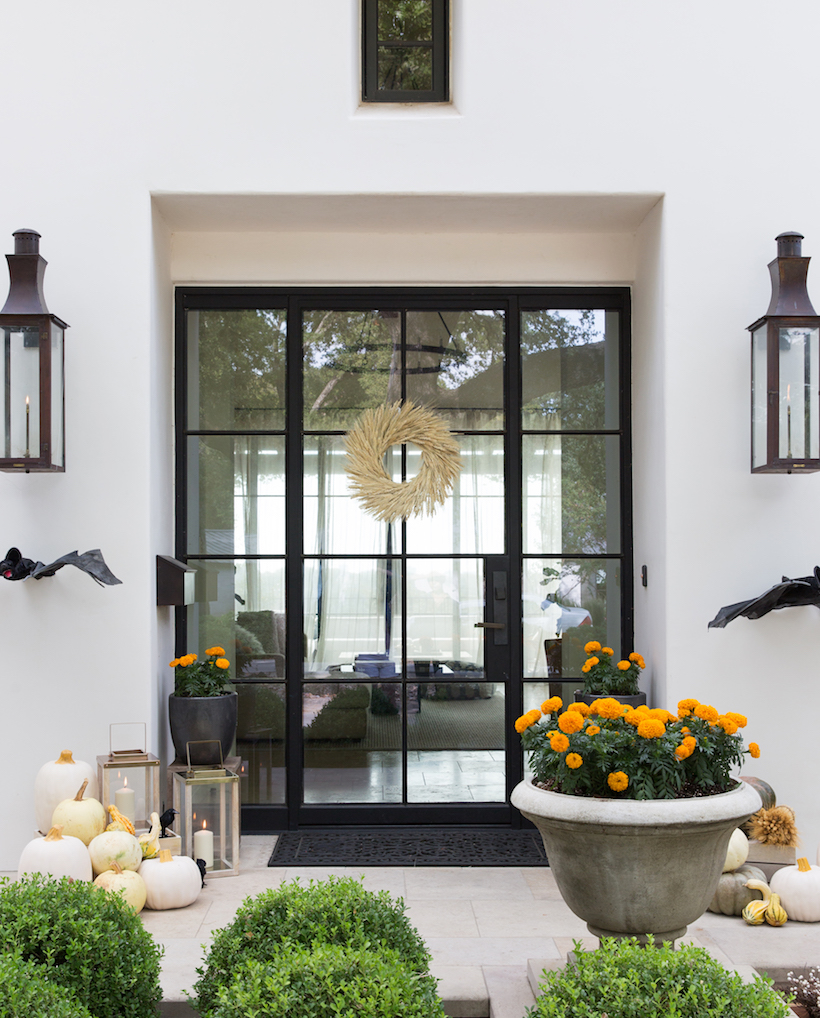 Camille Styles placed pretty dramatic bats on the walls along with fall pumpkins. Sometimes simple decorations are just as beautiful.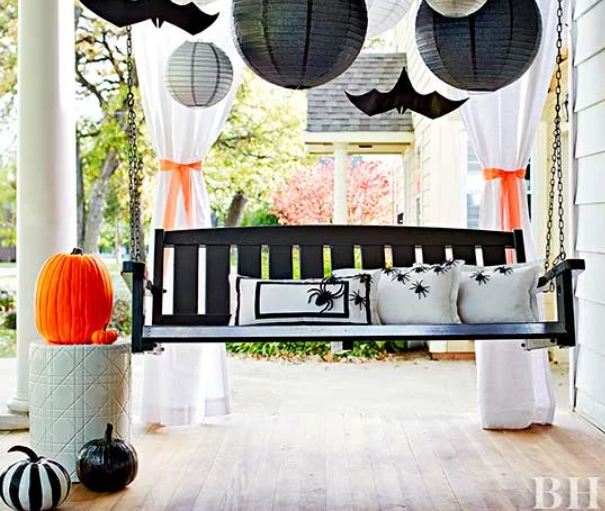 Placing paper lanterns are a quick way to add Halloween decor in any room or porch. They come in orange, black, and white to match any decor.
Add Fun Halloween Crows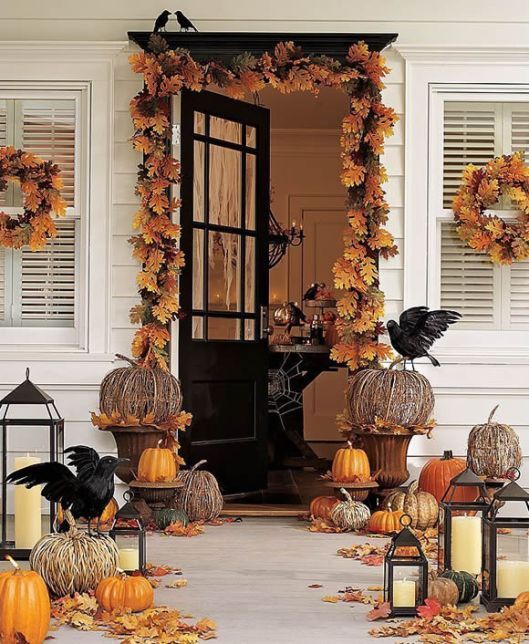 A post of Halloween porch ideas wouldn't be complete without crows. Photo credit: Pottery Barn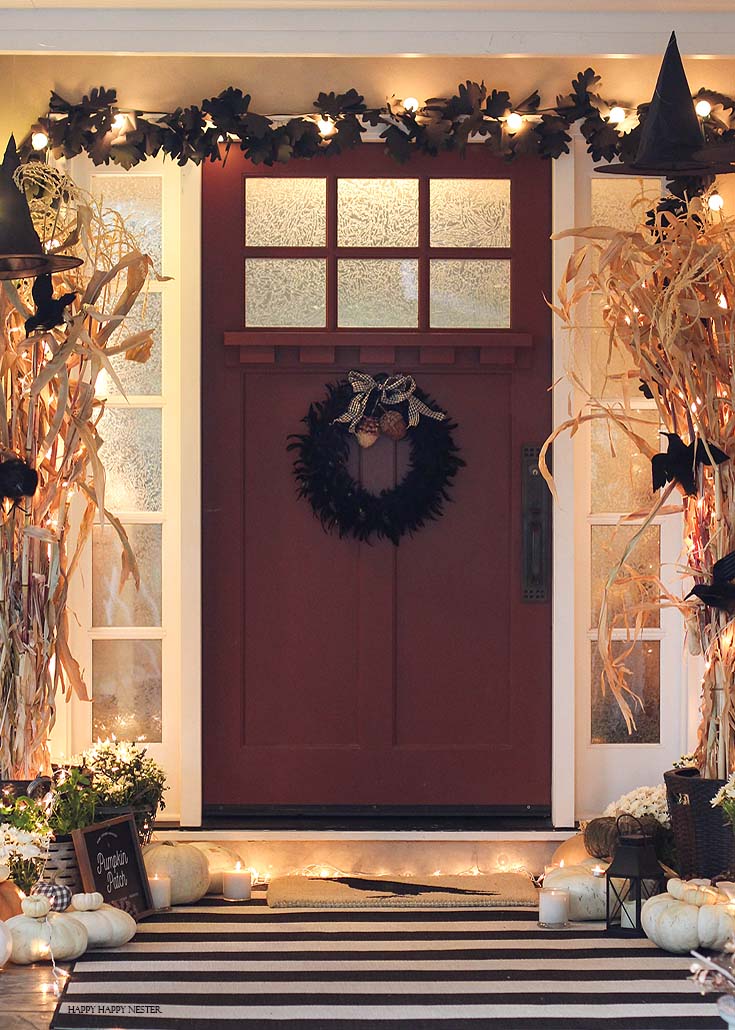 I have quite a collection of fake and real. Every day there are lots of crows outside in our garden. So, I also place fake crows on our Halloween porch!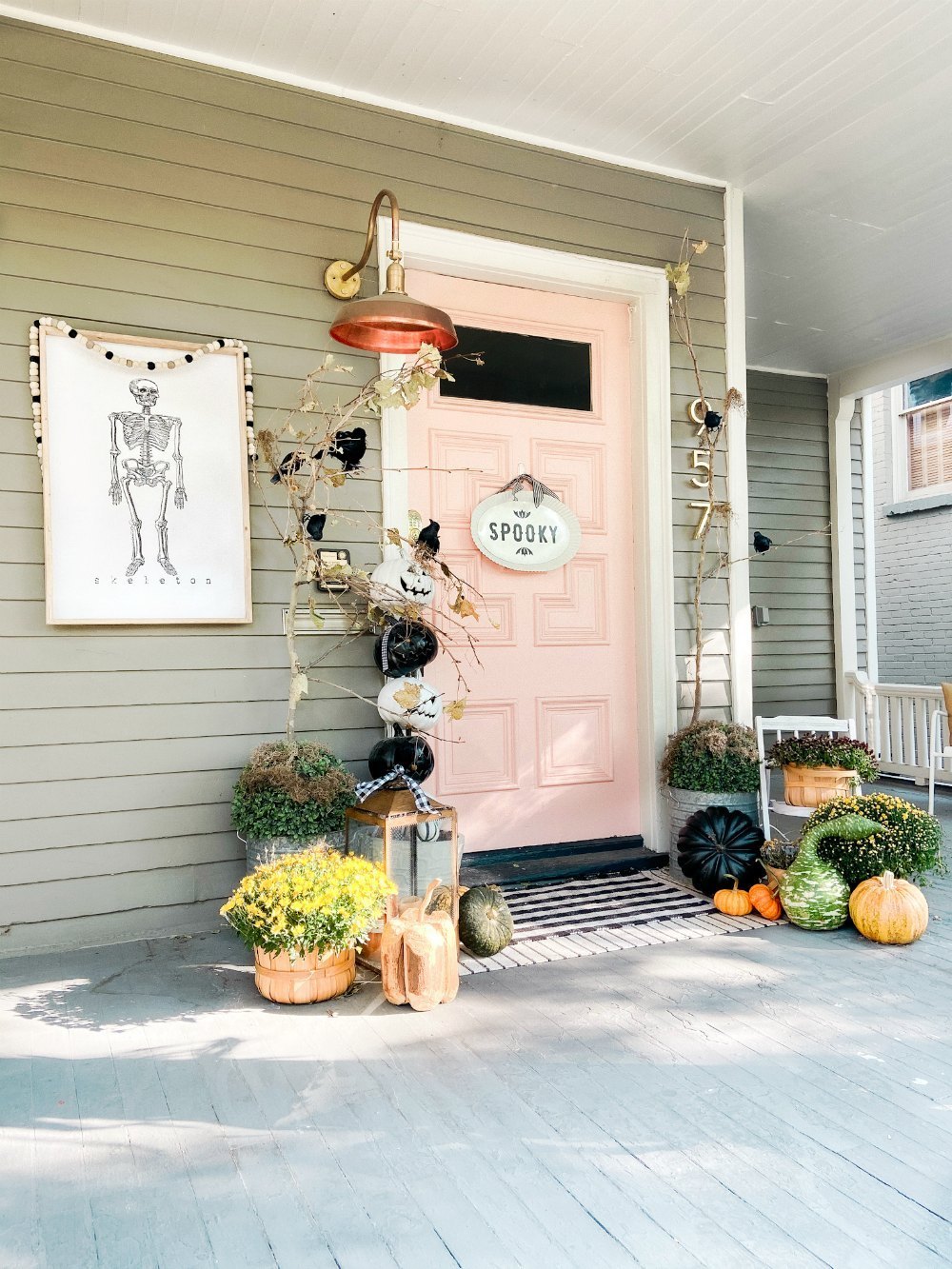 Place some branches from your yard in some planters or mum plants and then attach some fake crows to them. I love this from Spooky Forest Porch by Tatertots and Jello.
Spooky Giant Spiders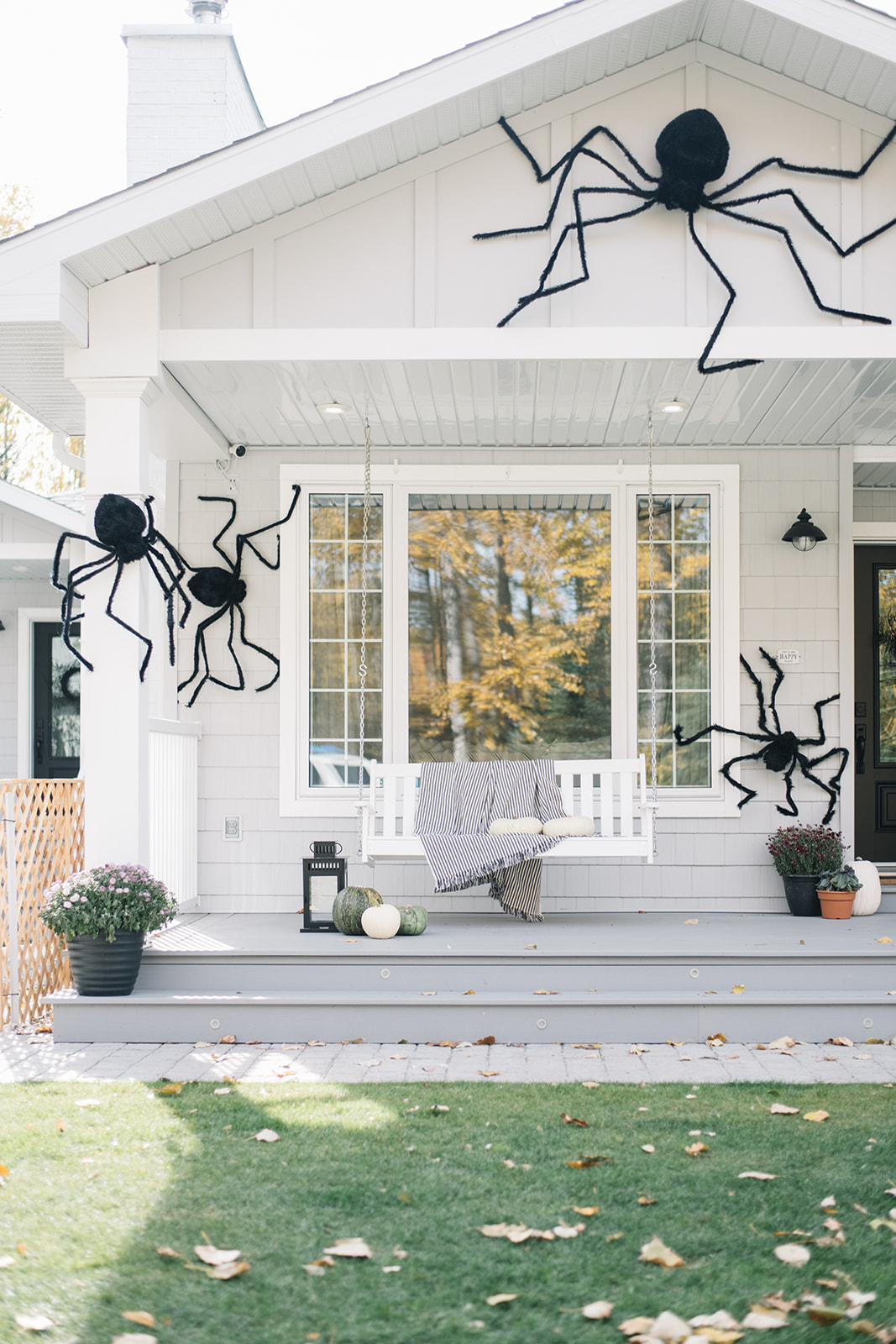 Oh my, I love these giant spiders. My son, who is petrified of spiders, would disagree with me about using spiders in Halloween decor. This wonderful porch is from The Ginger House.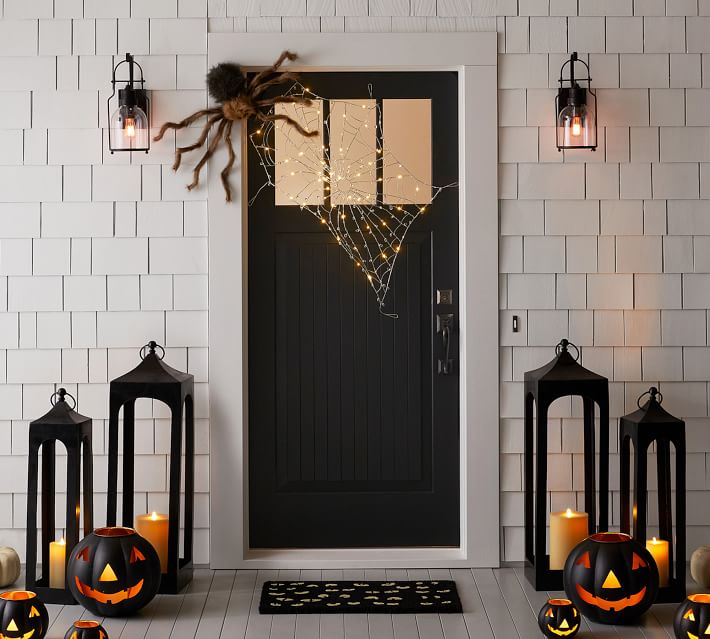 This porch is from Pottery Barn, and that tarantula looking spider is pretty convincing. I love all the products in this photo.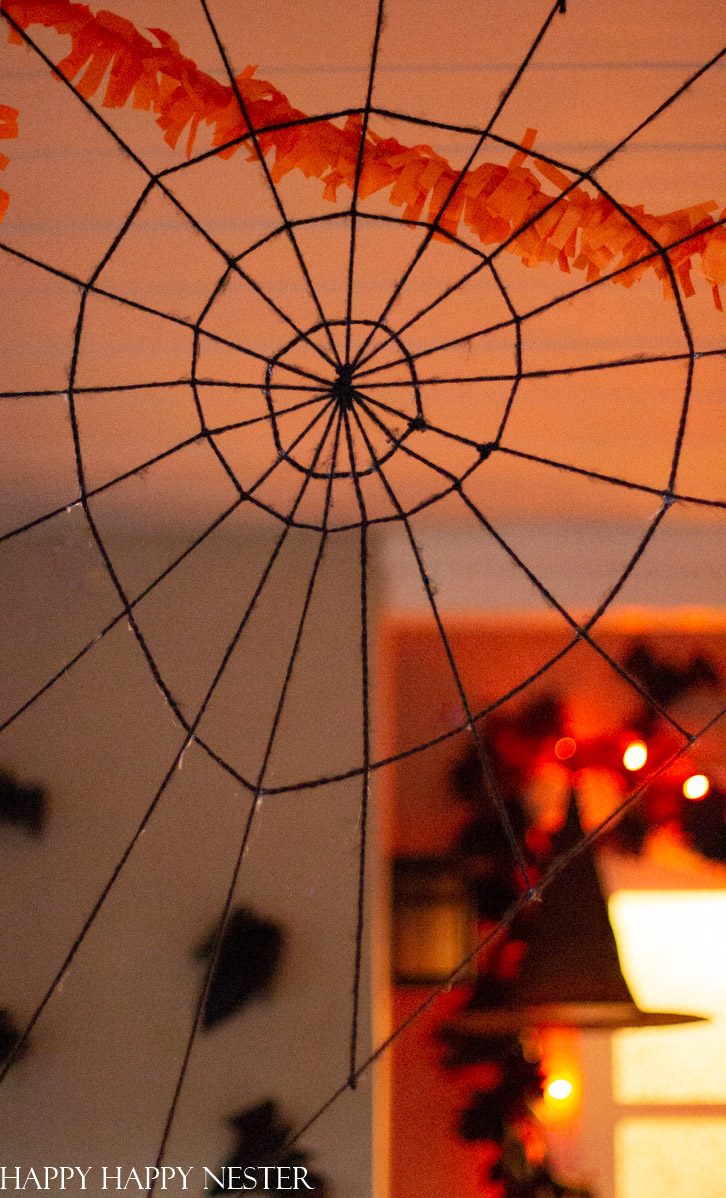 Maybe next year, I can use my giant spider webs with some giant fake spiders. This spider project only uses black yarn, temporary velcro, and a glue gun. It looks nice, flanking the two corners of my front porch.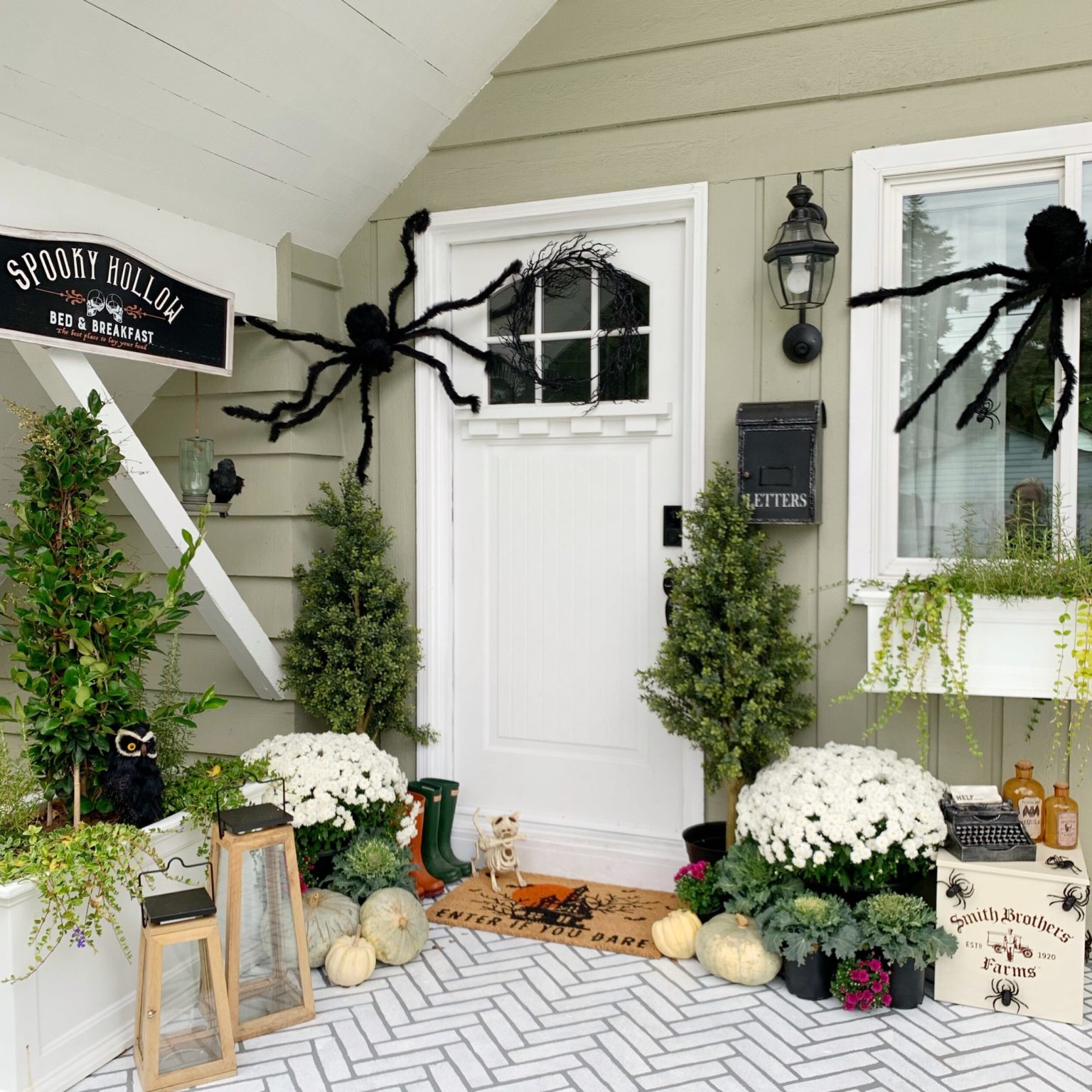 This is my friend, Sarah, from Dreaming of Homemaking. I love how spiders are taking over her front door. They are so dramatic and so festive.
Halloween Jack-o-Lanterns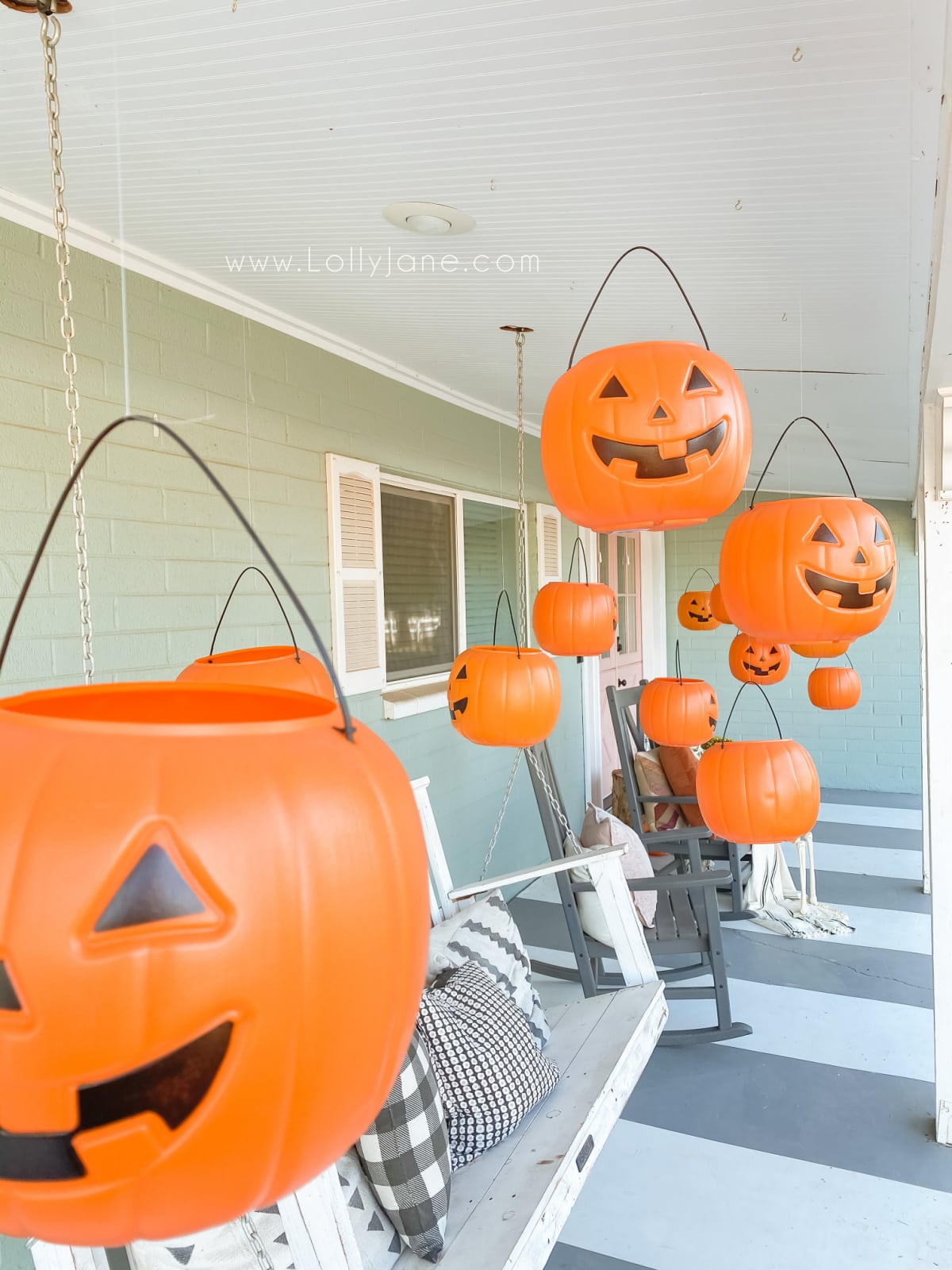 Kristi and Kelli from Lolly Jane bought these plastic pumpkins from The Dollar Store and then hung them from their porch ceiling. I wanted to do this but never got around to it this year. And by the way, they place battery operated votives in them to light up the pumpkins at night.
Door Decor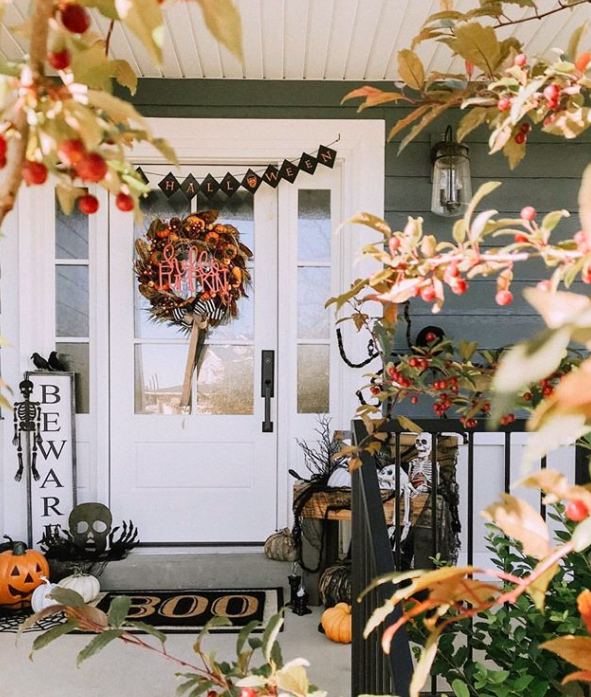 Check out the cute Halloween wreath on Fig Tree Cottage over on Instagram.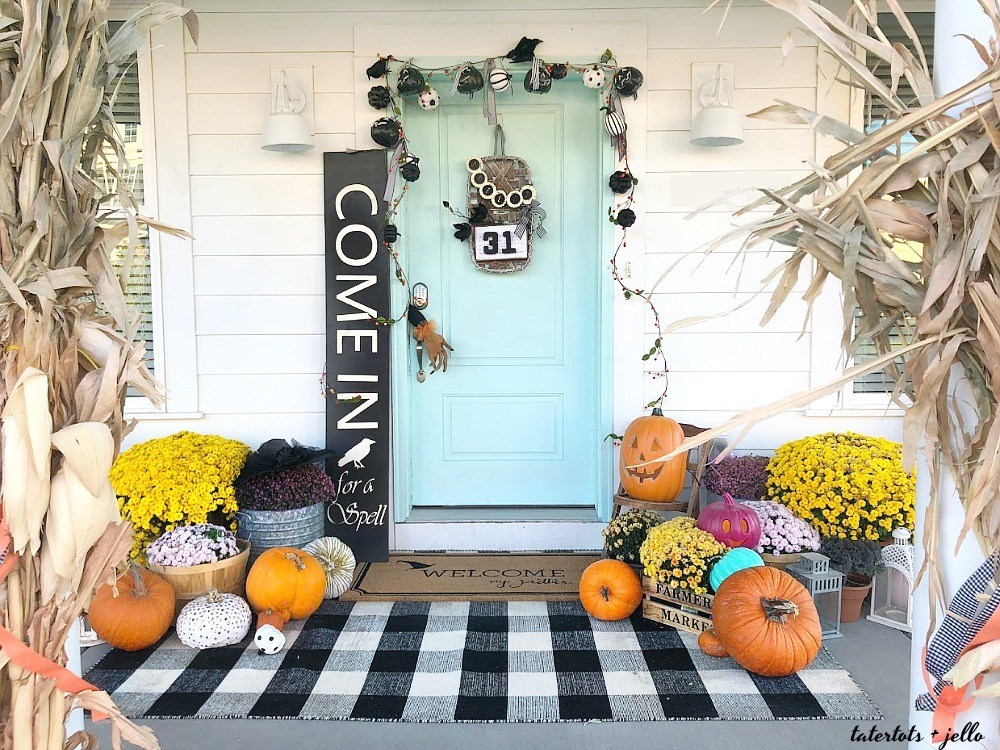 Jen from Tatertots and Jello is always coming up with great holiday decor, and this Halloween porch is such fun!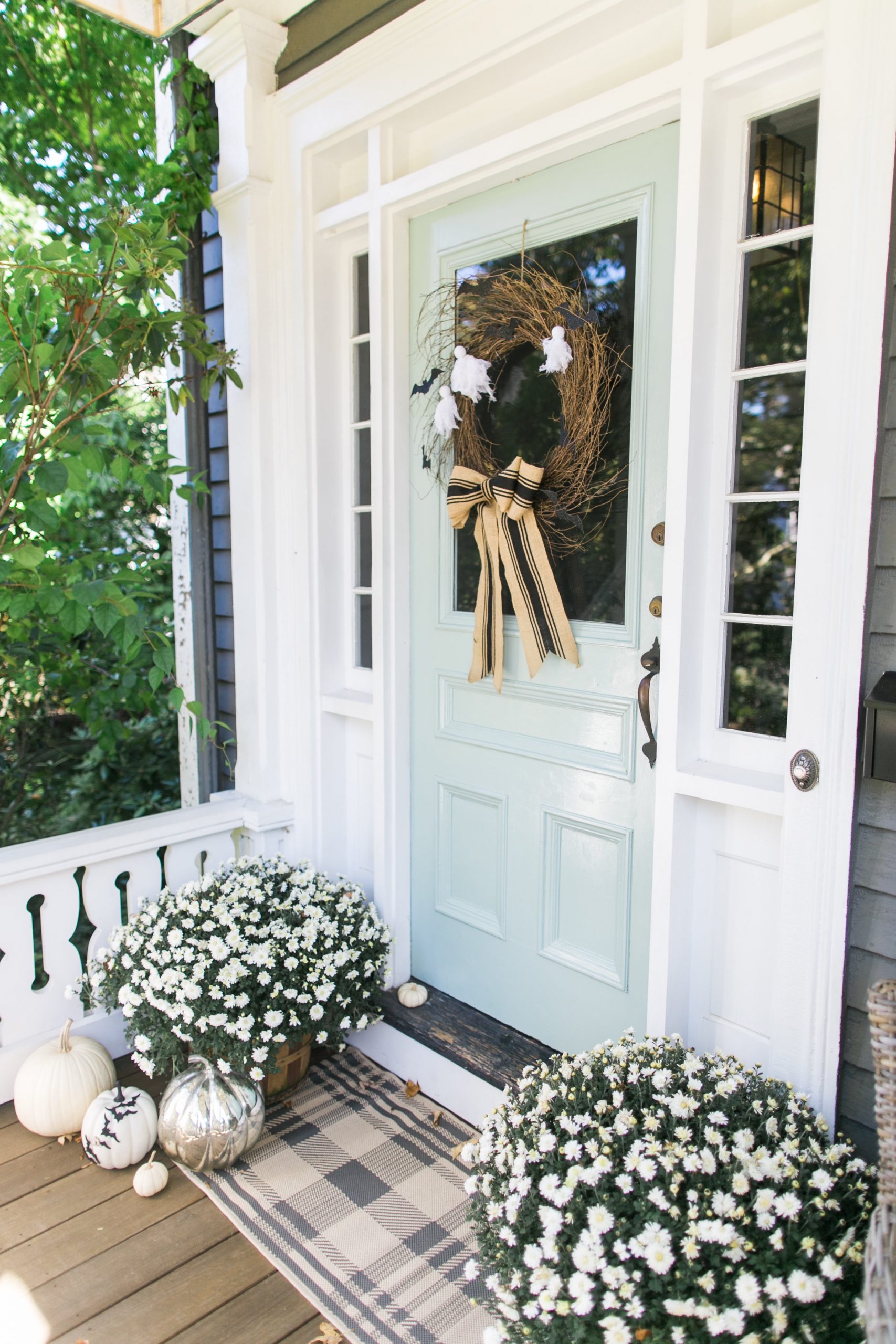 Jackie from Finding Lovely always has the prettiest decor. Here is her Halloween porch with a cute wreath. You can view her Halloween Tour with this link.
Witches Hats
I can't get enough of these witches' hats. They are so easy to add to your home, and they are pretty inexpensive Halloween decor.
Jen from Tatertots and Jello always adds a bit of fun humor to her decor. You gotta love the skeleton unicorn.
Black and White Farmhouse Decor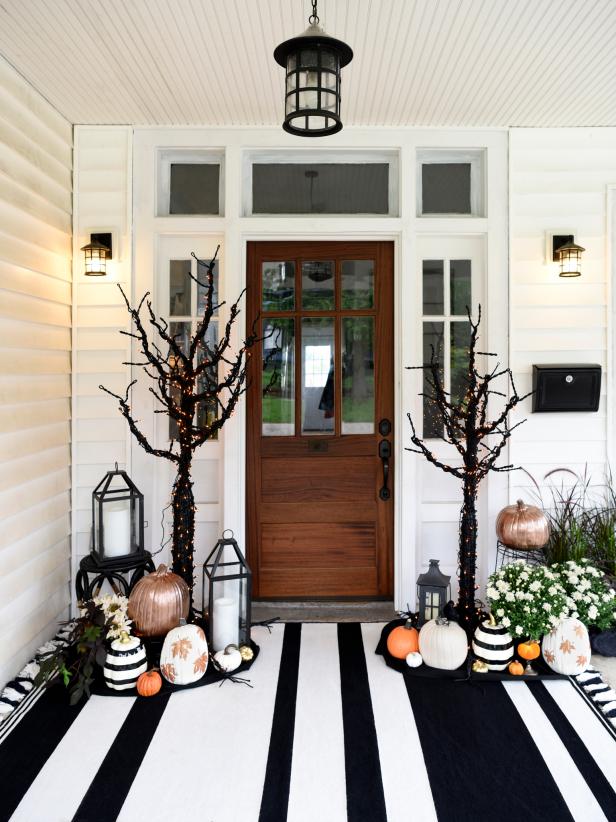 I love this black and white porch. It is perfect in every detail. Those black trees are the best.
I hope you enjoyed this post on Halloween front porch ideas. And if we don't get trick-or-treaters this year, decorate your porch for your family and your neighbors. I have walkers who stop to check out my front porch. Well, at least I hope they are admiring my decor.
Cheers,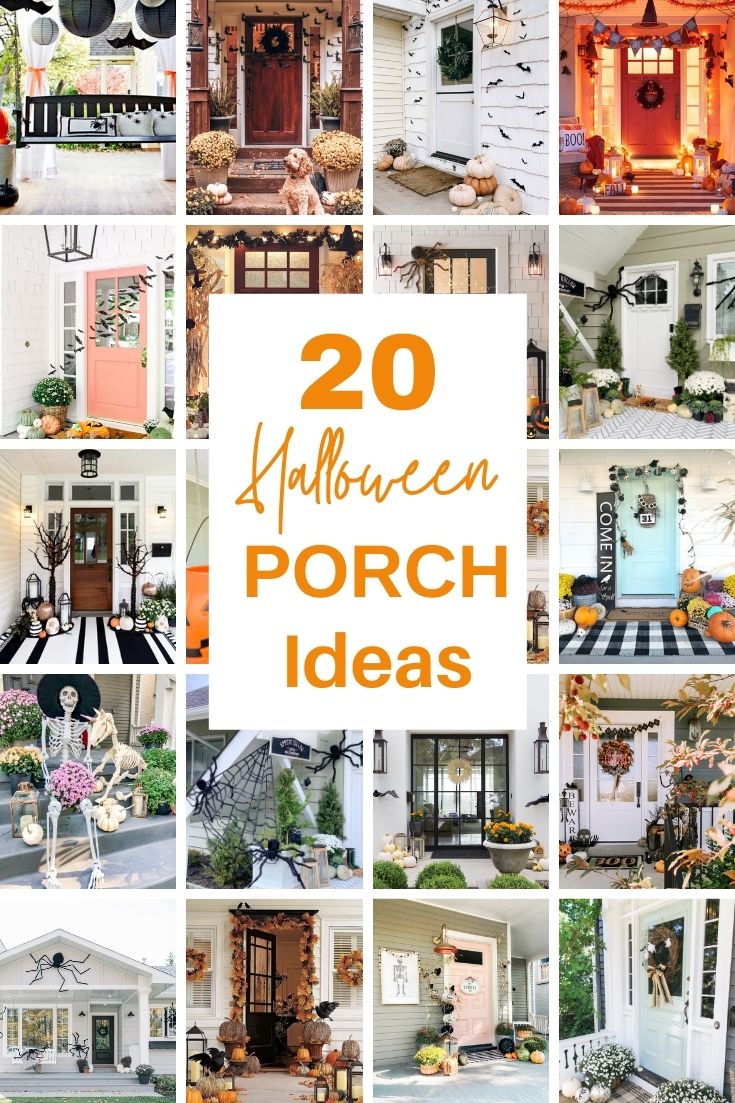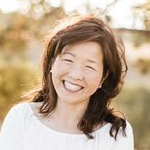 Latest posts by Janine Waite
(see all)