Need some pretty Halloween Front Porch ideas this year? Here's a black-and-white porch that brings white pumpkins and white chrysanthemums along with crows and ghosts.
Gather up all your white Halloween decorations to deck out your front porch. Let's blast the door and floor with a sea of white!
I always have fun decorating for Halloween. There's something magical about adding pumpkins, candles, ghosts, and witches hats to a front door.
If you've missed past porches, here are the links to them!
I'm mixing it up this year!
I display orange pumpkins most years, but I'm changing things this year. Out with the orange and in with the all-white.
Yes, I went a bit overboard with white pumpkins, white chrysanthemums, and white decorations. Now, if only my front door were white rather than red. I had half a mind to paint it, but I didn't have the energy for that project.
Halloween Front Porch
It's been hectic here since we are heading back to Vermont for my father-in-law's memorial. Trying to organize a last-minute trip for my family and decorate and blog is a bit stressful.
But this week, I had a nice distraction from decorating our front porch.
Since my personal life is a bit complicated this year, I wanted to keep the Halloween decor simple. So, I confined my porch decorating to two colors, white and black.
It was a fun project, and even my brother, who photographed the porch, helped me install my hats, lights, and more!
Here are the supplies you'll need
White Pumpkins (real and faux)
White Chrysanthemums
Corn Stalks
Fishing Line
Let's Decorate Your Porch
Pumpkins
You'll want all-white pumpkins for this part. I'm not sure how many I have on our front porch, but I'm sure it's over ten! I bought most of mine at Trader Joe's and our local grocery store.
Suppose you buy all different shapes of pumpkins. That's fine as long as they are all white. Different shapes and sizes add a nice look and texture!
Door
I placed two cornstalk garlands over the top and sides of my red door. This was the first thing I purchased for my entry and set the tone for the rest of the porch.
I made the cornstalk wreath, but unfortunately, I didn't make a tutorial. But if you like the cornstalk wreath, you can buy this gorgeous one I found on Etsy.
I added the cutest witches' legs to the wreath and found some over on this website. Attach them with a pretty velvet ribbon.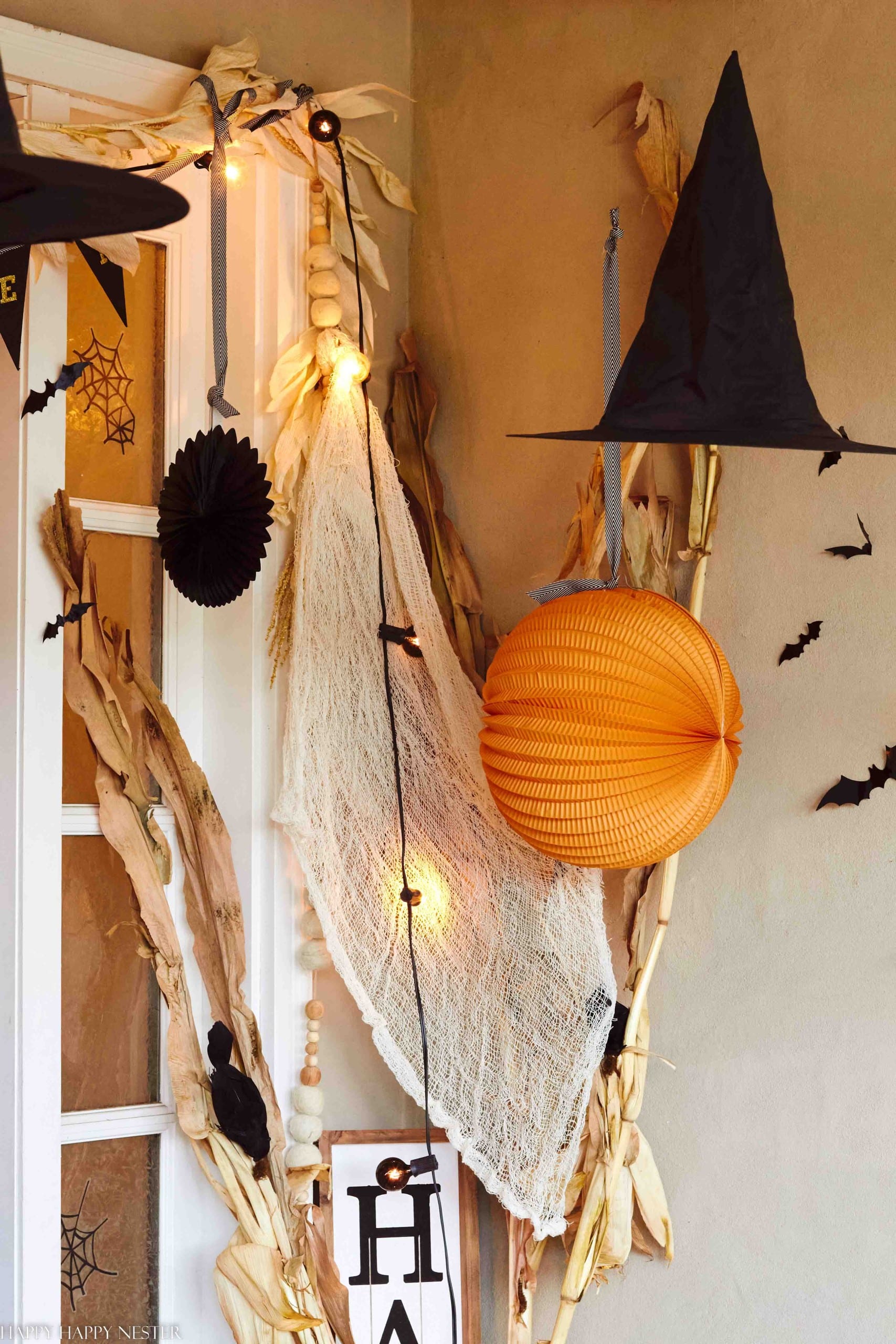 Hanging Hats and Party Decor
I tied the fishing line through the hats and attached them to the ceiling via velcro. Inside the hat, double knot the string or add a bit of fabric so that the line holds in the hat. Then on the other end of the fishing line, tie a small piece of velcro. Attach a small amount of temporary velcro to the ceiling of your porch. Now bring the two pieces together, and your hat will hang nicely.
I need to publish a post on how to hang witches' hats from your porch. I did publish a post on hanging candles like Harry Potter floating candles. It's the same idea if you want to see the tutorial.
I also hung the fans and balls in the same fashion as the hats.
Garland
I made this garland many years ago, and it was one of my first blog posts. Unfortunately, I didn't publish a tutorial with the post. But you can get a closer look at my Halloween garland post.
Halloween Signs
I'm a bit obsessed with these adorable signs from Target. I love that they are made of wood, and I'll be able to use them every Halloween.
And the black and white colors are so dramatic and eye-catching. Target has the best decor for Halloween.
Another Halloween is upon us, and I hope my front porch inspires you to decorate your porch or home.
Add a few pumpkins, signs, or chrysanthemums, and you'll be ready for the trick-or-treaters.
Until my next post, have a wonderful weekend!
Cheers,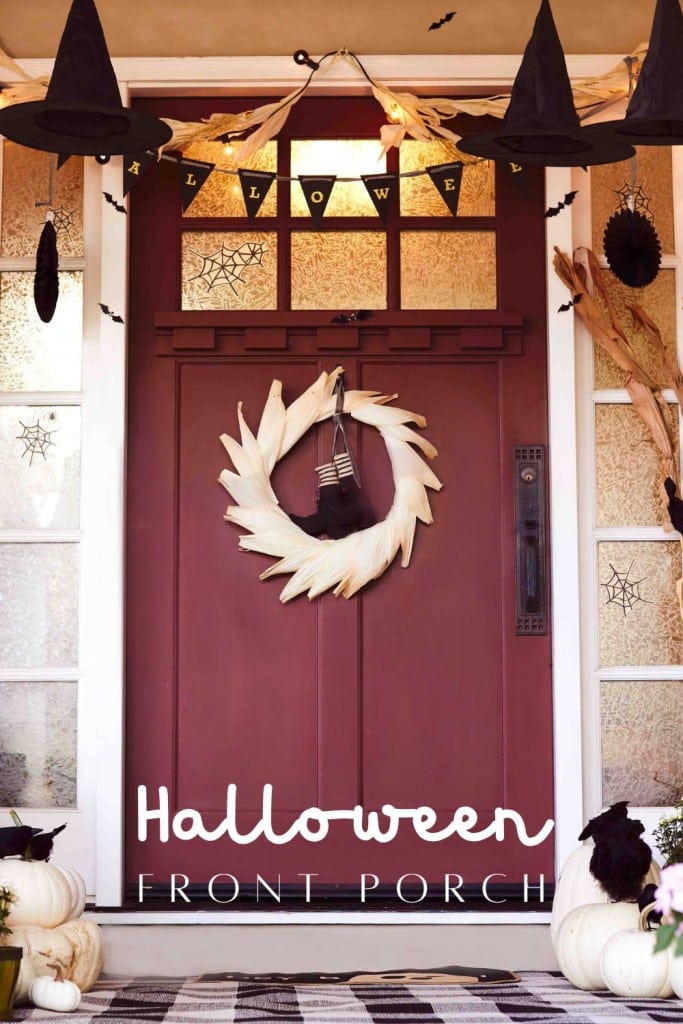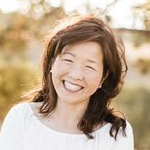 Latest posts by Janine Waite
(see all)