This homemade Easy Microwave Caramel Popcorn recipe is so addicting. The caramel is made in the microwave and added to the already popped popcorn. Then bake in the microwave again for a minute or two, and it is done! It's that simple to make.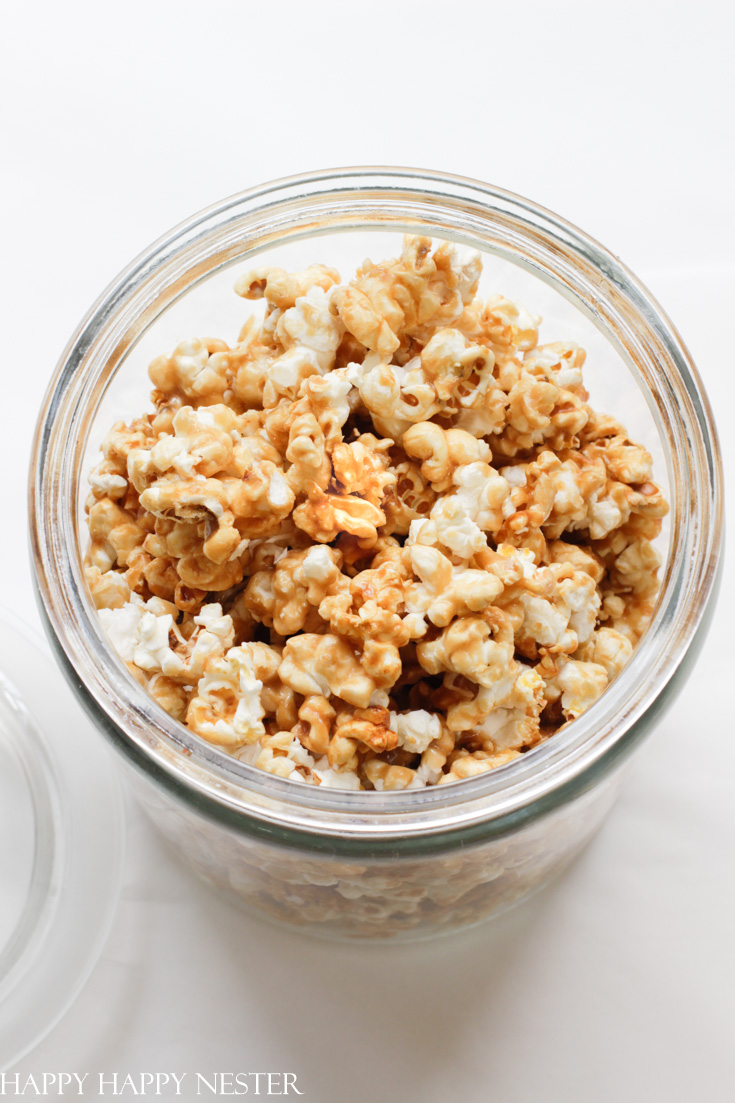 Snacking on caramel popcorn is my weakness when it comes to food. We will buy the kettle corn when we go to the Alameda Antique Fair, and I always enjoy eating the whole bag. This recipe is pretty similar to the kettle corn that you see at events.
My brother has a similar passion for caramel corn as well, and he makes it every Christmas. Every year, I remember him in the kitchen making boatloads of this sugary treat.
He'd packaged it all up and graciously delivered them to all his friends.
Well, he kindly shared his caramel popcorn recipe with me.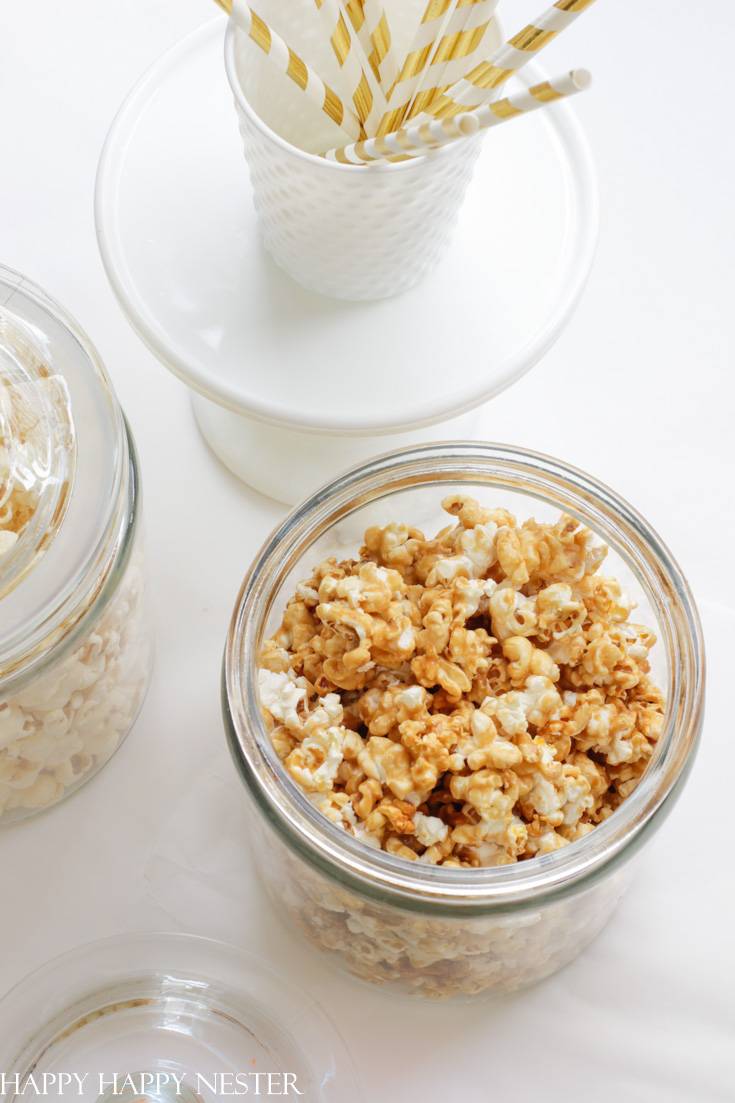 So, I think the original recipe is made in a brown paper bag. It seems simple enough, but l, I just had too many issues with the paper bag. I won't go too into details, but let's say that the bag was a bit flammable.
Yes, like the hot red stuff.
So, I decided to tweak the recipe and use a big microwaveable bowl.
Now, it was a bit dramatic with the bag, but I must admit I love my revisions. Not calling the fire department is a plus in my book.
Well, let's get this party started.
A Little History of Caramel Corn
I always love to research the history of things, and according to
Wikipedia
, Caramel Popcorn dated back to the United States in 1890. Do you remember Cracker Jack's popcorn? Well, they were the first to make this yummy snack. And it was introduced in the Chicago's World Fair in 1893. Its predecessor is Kettle Corn.
The Difference Between Kettle Corn and Caramel Corn
So caramel corn is made with a hot sugary caramel sauce, whereas kettle corn is popped in an oiled hot kettle, and after the popcorn is popped, the sugar and salt are added. I love both to tell you the truth!
EASY MICROWAVE CARAMEL POPCORN
*The following post contains affiliate links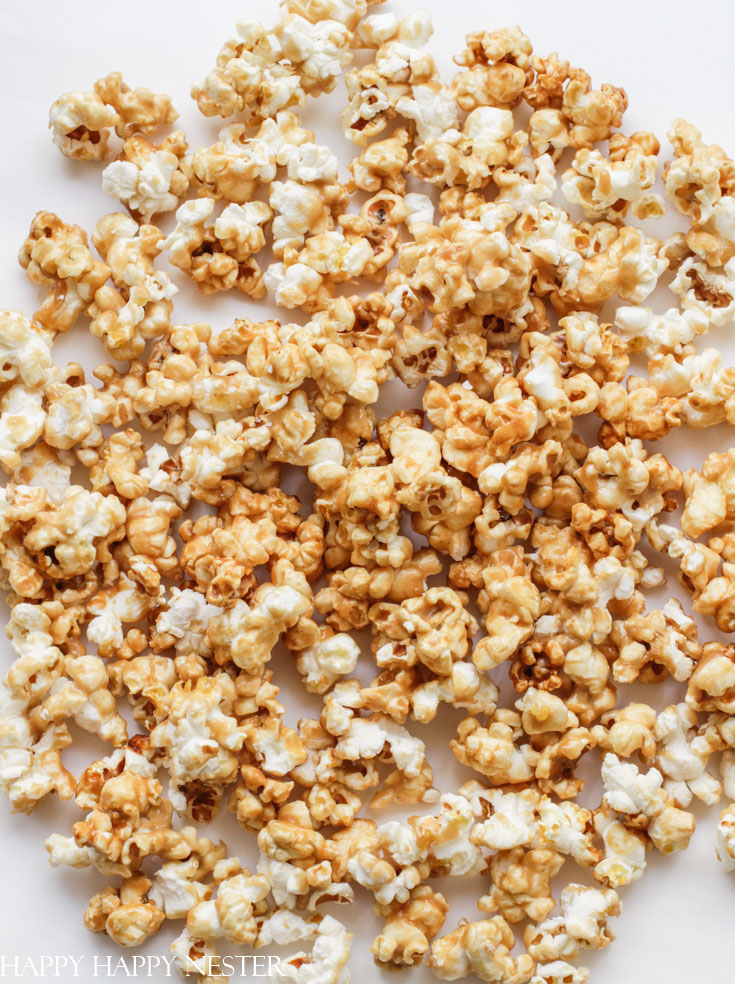 Ingredients:
Popped Popcorn
Brown Sugar
Unsalted Butter
Corn Syrup
Salt
Baking Soda
Vanilla Extract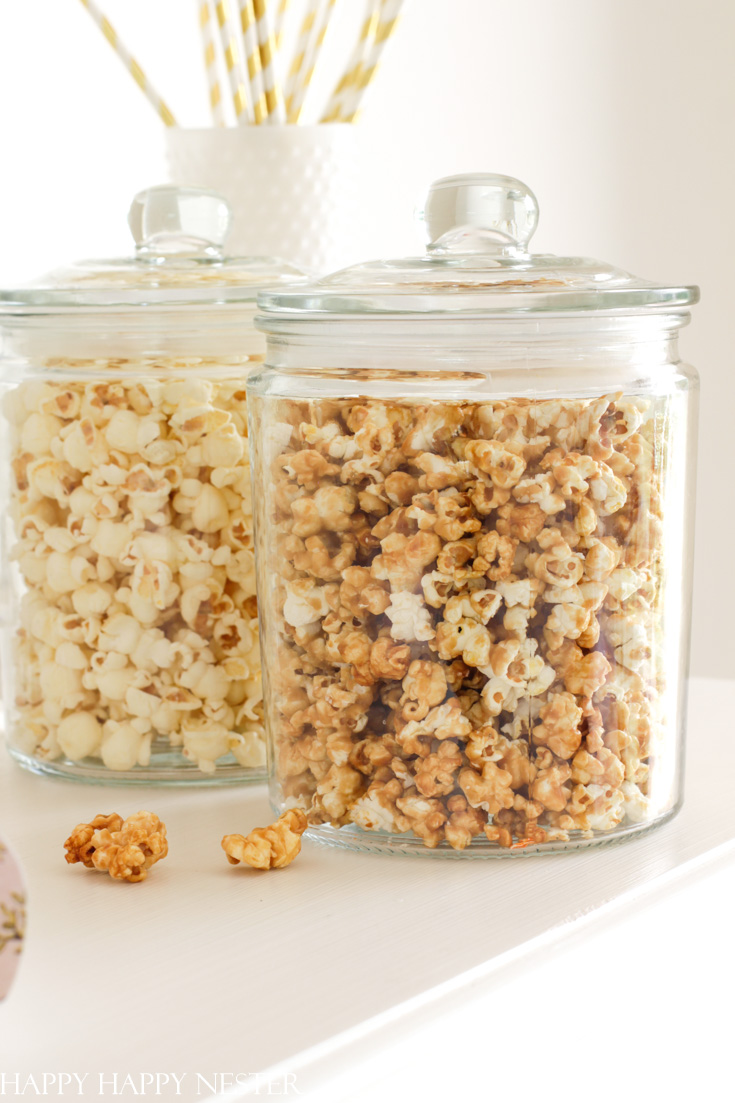 Here are some other family recipes: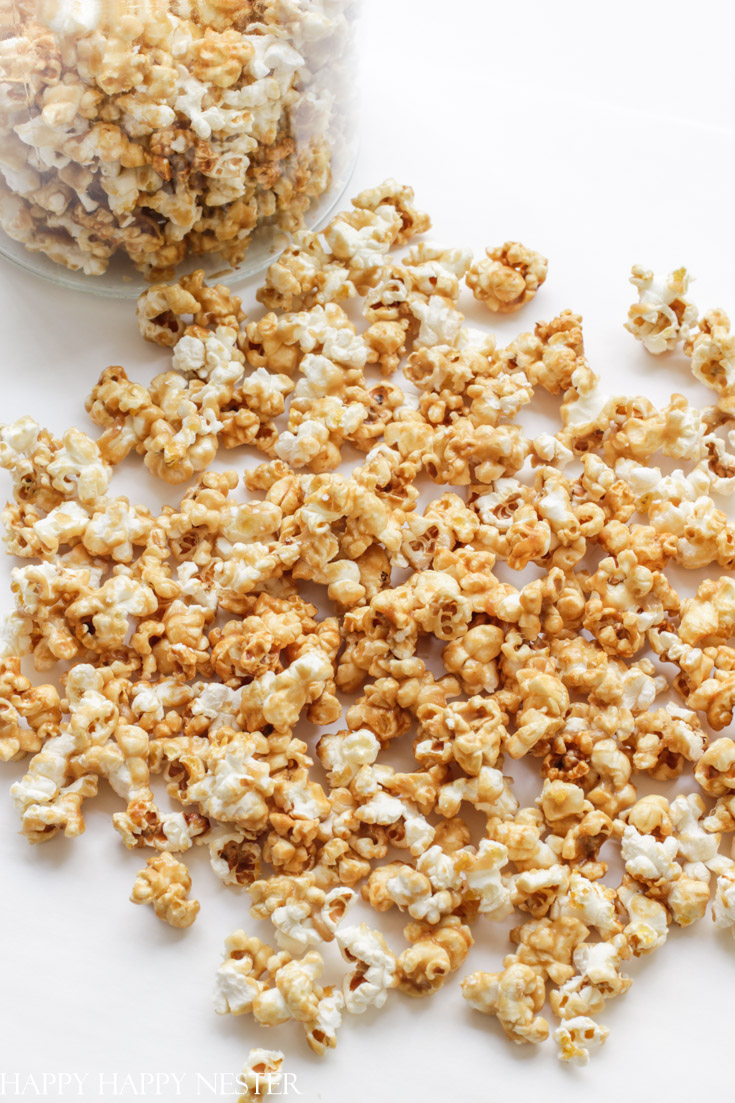 Here Is Our Favorite Popcorn Maker!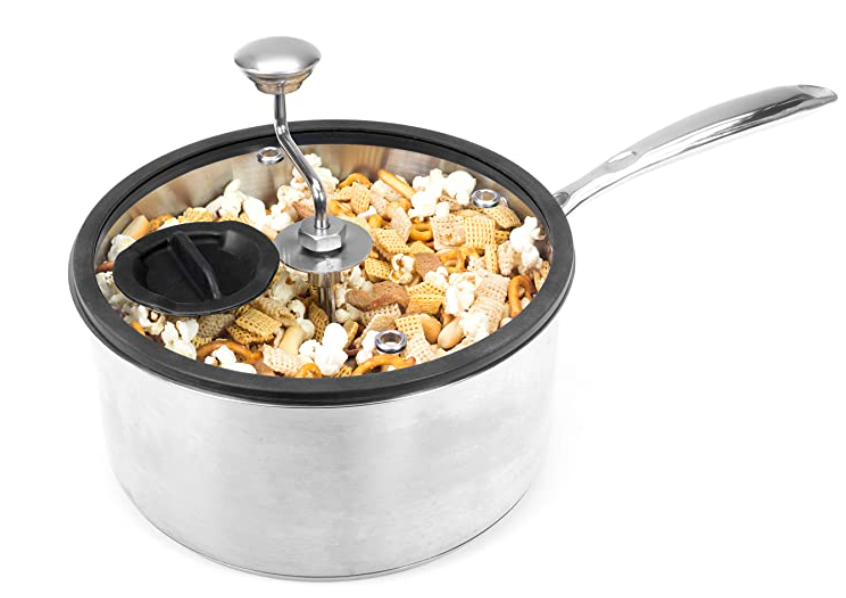 My husband loves to make his own popcorn. So one Christmas, I bought him this great popcorn maker. I went into the store to buy him the Whirly Pop Popcorn Maker and decided not to buy it. I found the stainless steel pot a bit on the flimsy side.
Well, his popcorn maker is always in use, and he loves it. He raves about how much he loves it. He is the popcorn guy, and I rarely make the popcorn. But, I did end up using it to make this easy microwave caramel popcorn.
Here are a few reasons that my husband loves this stovetop, popcorn maker:
Heats the popcorn evenly
It makes a perfect amount of popcorn for like three people.
The spinner helps you shake the popcorn so the kernels fall to the bottom.
Pops the kernels evenly
It is well-made and sturdy
Easy Microwave Caramel Popcorn
This homemade Easy Microwave Caramel Popcorn recipe is so addicting. It tastes like kettle corn and it only takes a few minutes to make.
Ingredients
16

cups

popped popcorn

1

cup

dark or light brown sugar

½

cup

unsalted butter

¼

cup

corn syrup

½

tsp

salt

½

tsp

baking soda

1

tsp

vanilla extract
Instructions
Pop the popcorn on the stove. Then spray a large glass bowl with vegetable oil. Measure and place cooked popcorn in the prepared bowl.

Place butter in a large glass pyrex measuring cup, and melt in the microwave for about a minute. Make sure to watch the butter, so it doesn't overflow.

Mix corn syrup, brown sugar, and salt into the melted butter.

Microwave on high and cook for 4-5 minutes, stirring every 1 ½ minutes. Watch carefully so that it doesn't boil over the edges of the pyrex.

Once the caramel mixture is cooked, immediately add baking soda and vanilla, stir well. The mixture will foam up, but keep stirring.

Pour caramel over the popcorn and gently stir with a spoon.

I add the caramel mixture in stages and stir after each addition. Remove popcorn kernels by transferring the popcorn to another glass bowl. This is an optional step.

Microwave the popcorn mixture for 1 minute. Stir popcorn and cook for another 15-30 seconds if it needs the extra time. I have a high-powered microwave, and so my popcorn was done in 1 minute. Be careful not to overcook and burn the popcorn.

Remove popcorn from the bowl, and spread on parchment paper. Break up clumps of popcorn if you like.
Nutrition
Serving:
1
servings
|
Calories:
105
kcal
|
Carbohydrates:
15
g
|
Protein:
32
g
|
Saturated Fat:
3
g
|
Cholesterol:
13
mg
|
Sodium:
150
mg
|
Sugar:
15
g
|
Vitamin A:
158
IU
|
Calcium:
12
mg
|
Iron:
0.1
mg
Well, if you don't have the energy to make homemade caramel popcorn, here is a link to some gourmet ready-made popcorn!
Hey, thanks for stopping by, and I hope you enjoy this recipe as much as we do!
Cheers,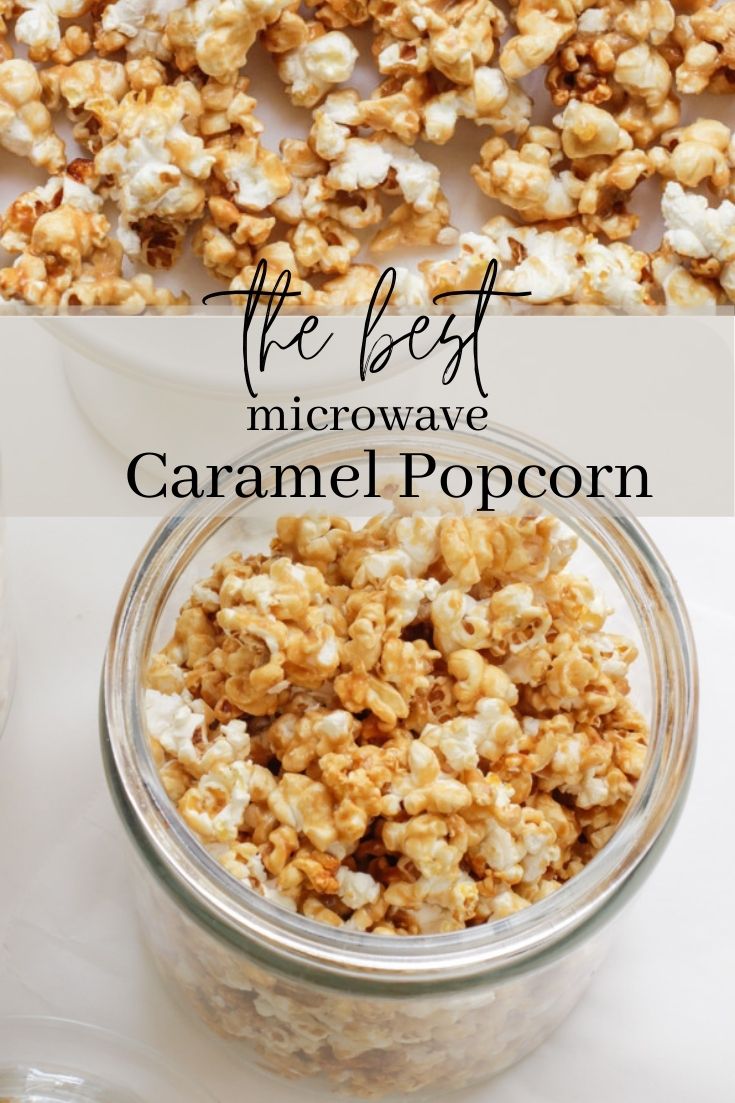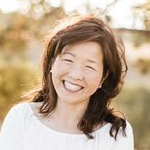 Latest posts by Janine Waite
(see all)