Popcorn Bar For A Party DIY is today's post for this fun Valentine's Day Blog hop. If you love popcorn and want to treat your family or party guests to a fun little display of popcorn, then you'll like this post.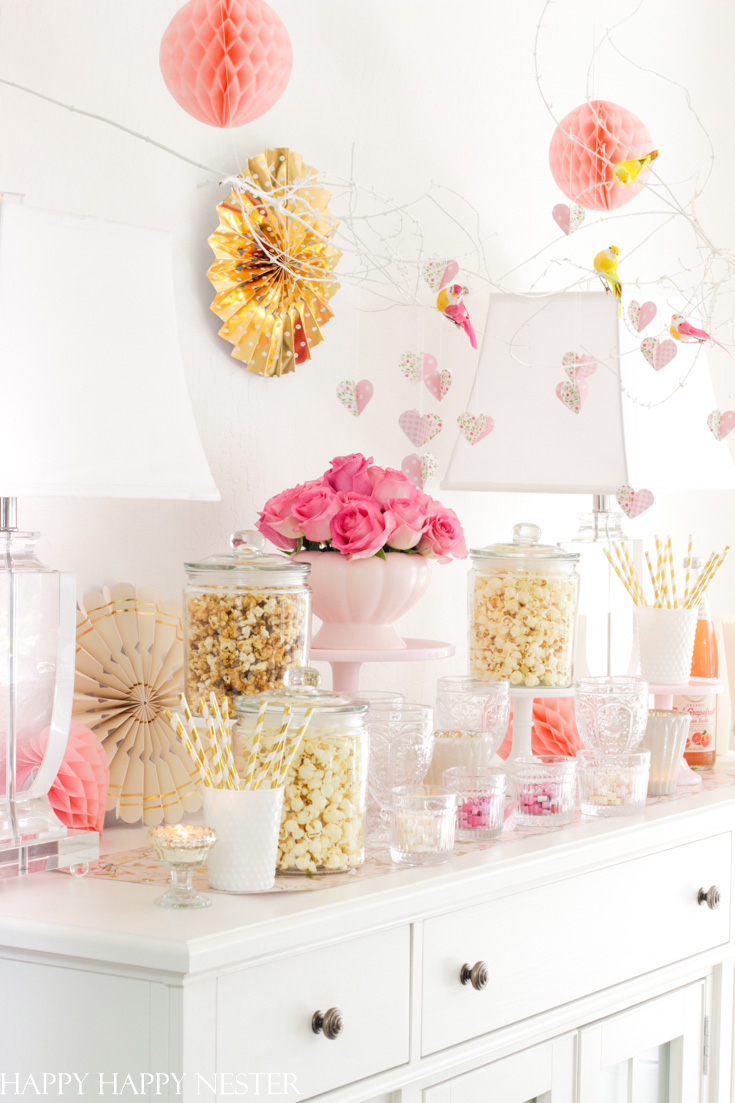 Whether you're planning a popcorn bar for a birthday party, movie night popcorn bar, or some other special occasion, your guest will enjoy your yummy treats.
Have you noticed that these wonderful spreads of popcorns are quite popular?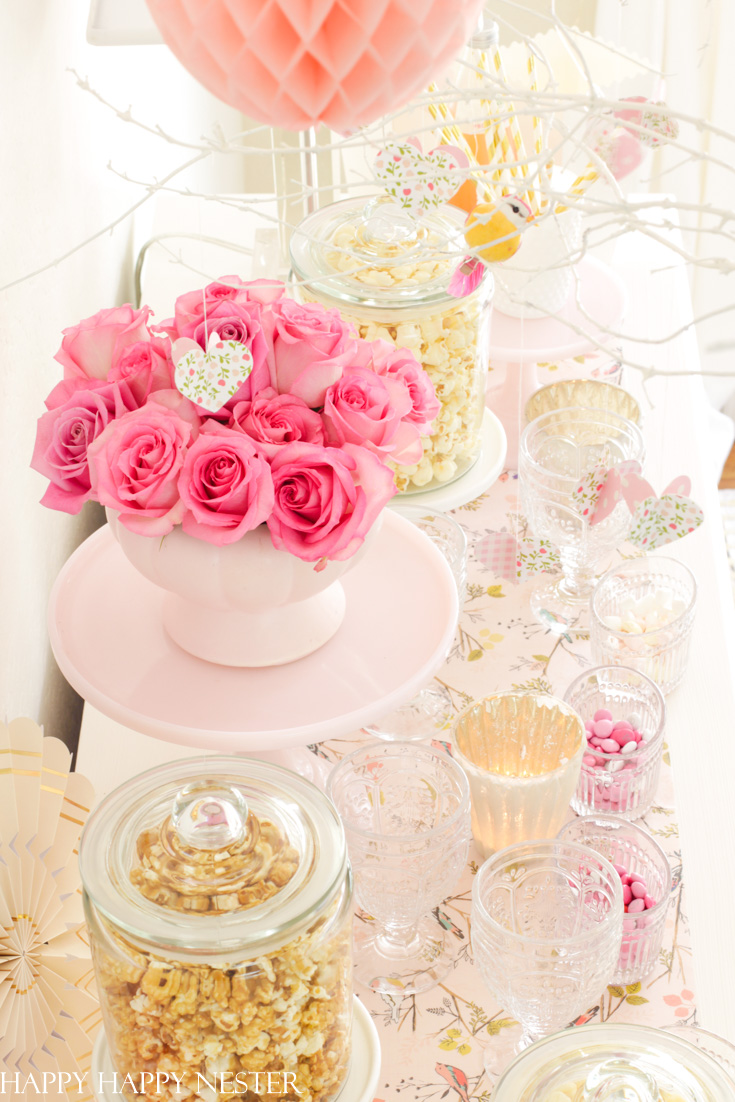 A few years ago, our niece had the most amazing wedding and reception in the Washington Peninsula countryside. She had her special day on this pastoral farm with a gorgeous barn. I was stunned by how gorgeous the barn was decorated. My niece had done such a great job styling and organizing the reception.
And for a little appetizer, she had the cutest popcorn bar for her guests. I remember thinking how cool it was and that someday I would love to recreate it for my family.
During this pandemic, we are watching movies in the evening time and munching on yummy homemade popcorn. So, I decided to create my own popcorn bar in our dining room.
VALENTINE'S DAY PROJECTS
So, before we dig into the details, I want to mention that this post is a part of a fun Valentine's Day Blog Hop! Our host is Sheila from Maison de Cinq, and my friend's projects are in the middle of this post!
How to Create a Popcorn Bar for a Party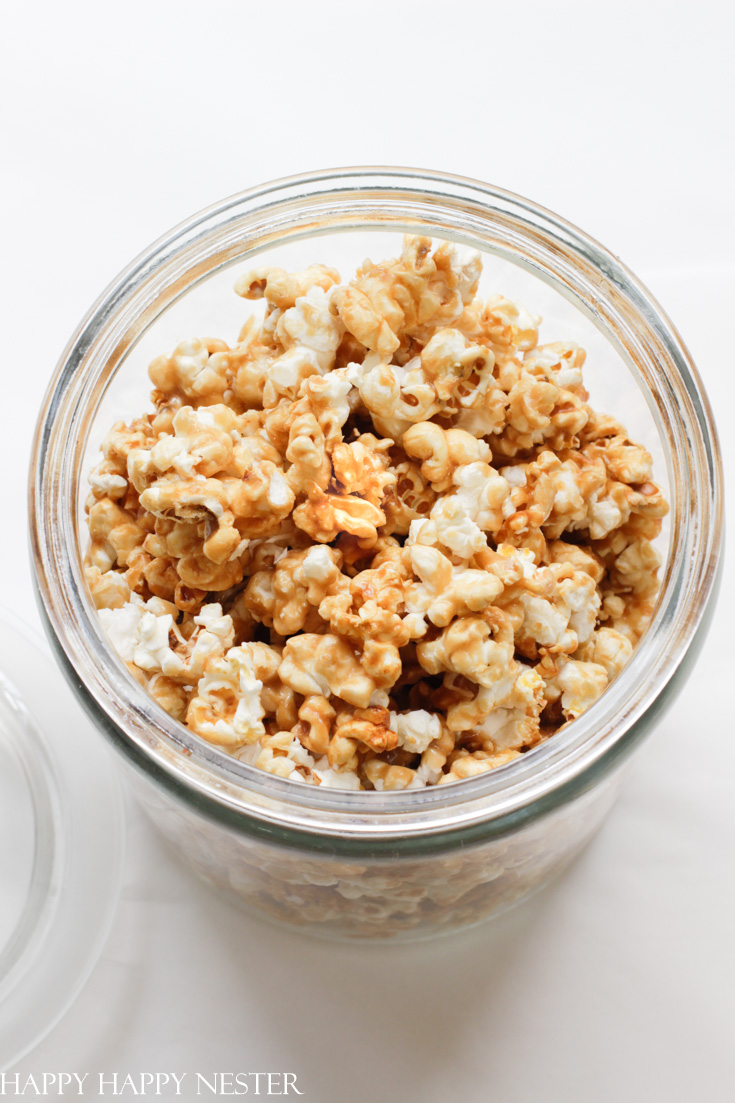 DIFFERENT FLAVORS OF POPCORN
I have a wonderful Caramel Popcorn Recipe that is yummy and also pretty easy to make. So, if you like sweet treats, add caramel popcorn alongside the cheesy style popcorn. You can buy your popcorn online. Here are a few popcorn options.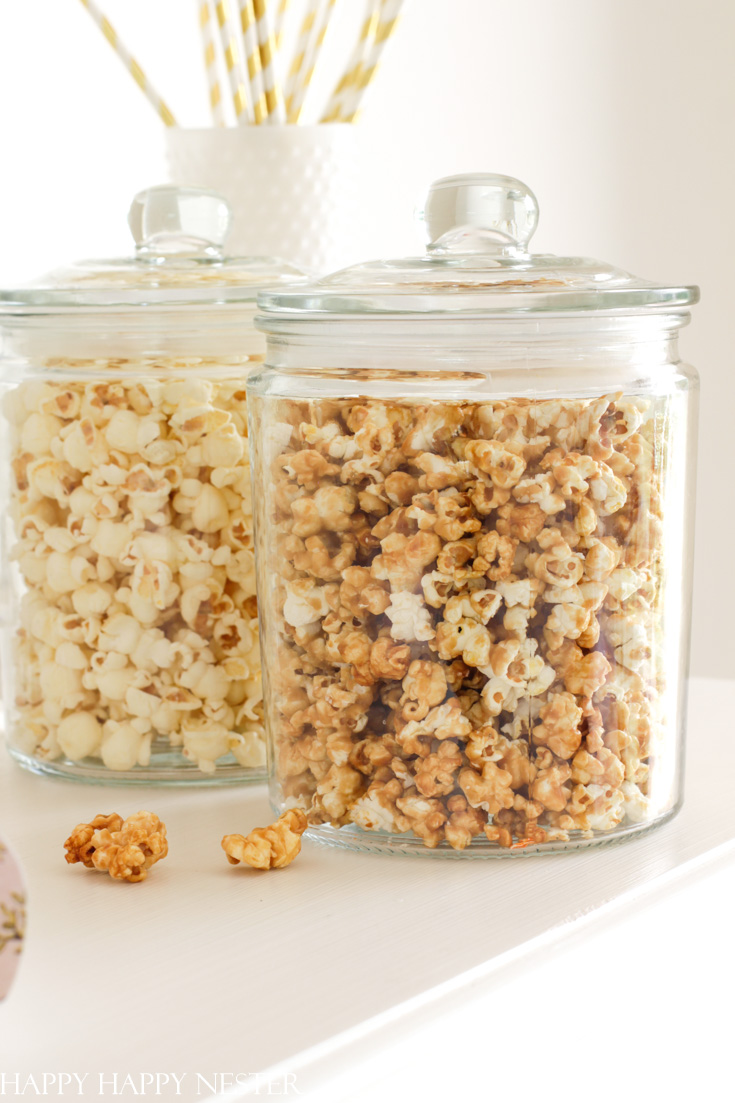 CONTAINERS
I love glass so people can see what each jar contains. I love these pretty glass jars that seal tight. I plan to use them for storing my baking supplies. But if you are worried about glass breaking, then I would use either wooden or metal buckets.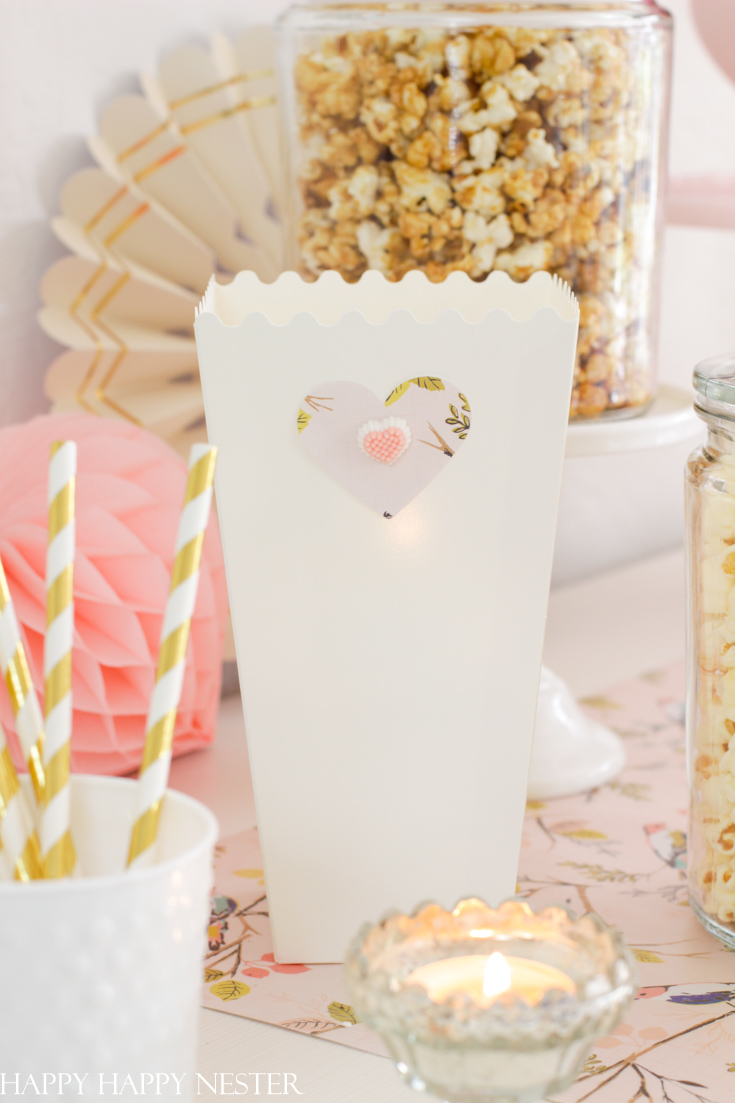 POPCORN BOXES
I found these nice white popcorn boxes that you can either decorate or leave plain. There are so many different heights and colors to choose from.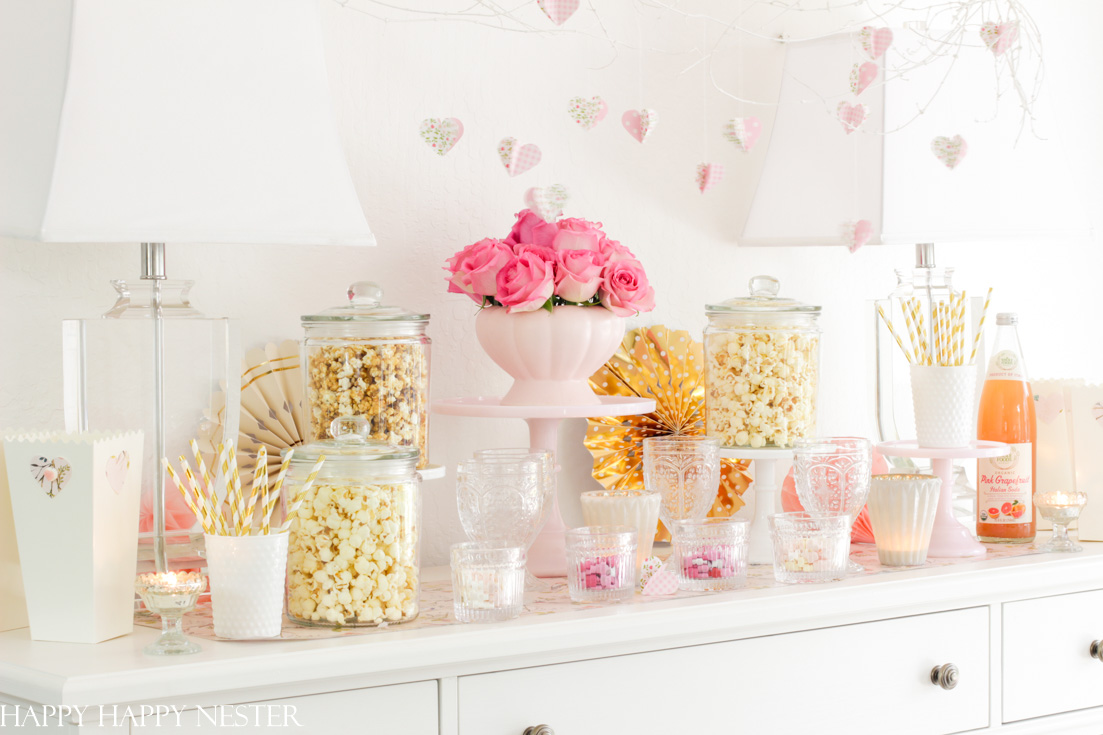 CAKE STANDS
A popcorn bar for a party wouldn't be complete without cake stands. I can't get enough cake stands. I think that I have an issue with hoarding them. I'm especially fond of the Mosser Glass stands, which have a vintage style to them. Don't they look like something Martha Stewart would love?
BUFFET TABLE
This buffet table is popular with my readers, and I always forget to link my blog posts. I'm such a space shot sometimes. Ok, here is the link. It looks like the white one is out of stock, but I'm sure they will soon have a new supply. Here is another version in a linen color. By the way, I created the paper table runner that you see here. I made it out of a fun pink bird scrapbooking paper!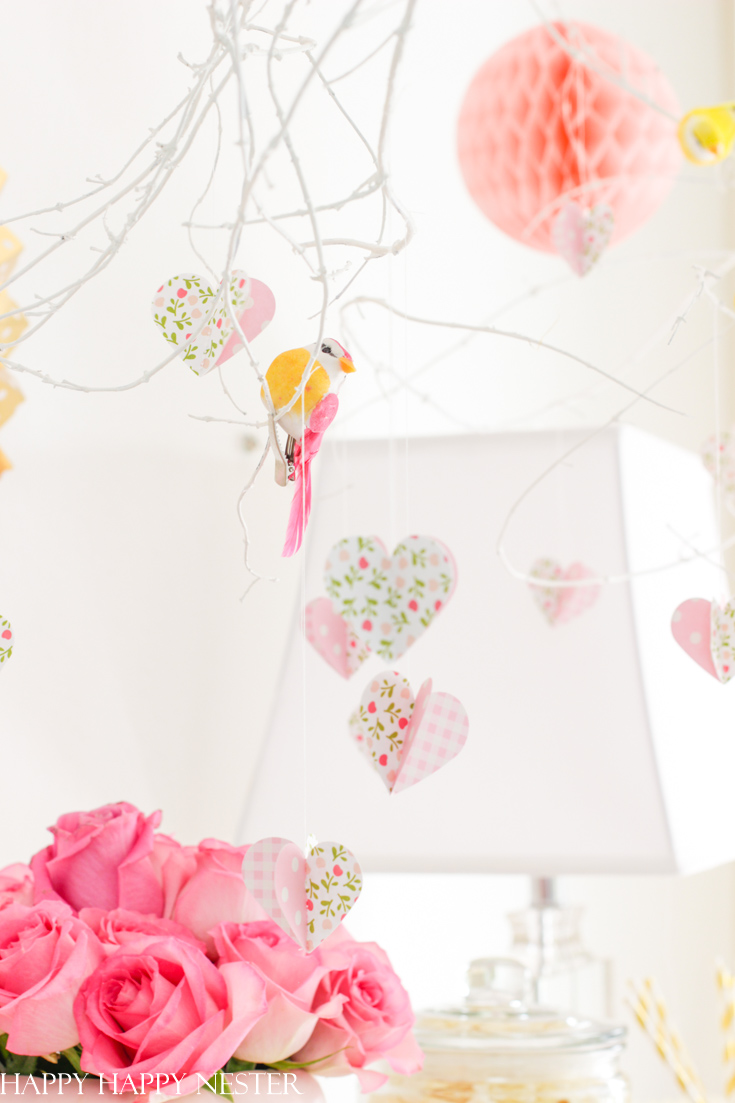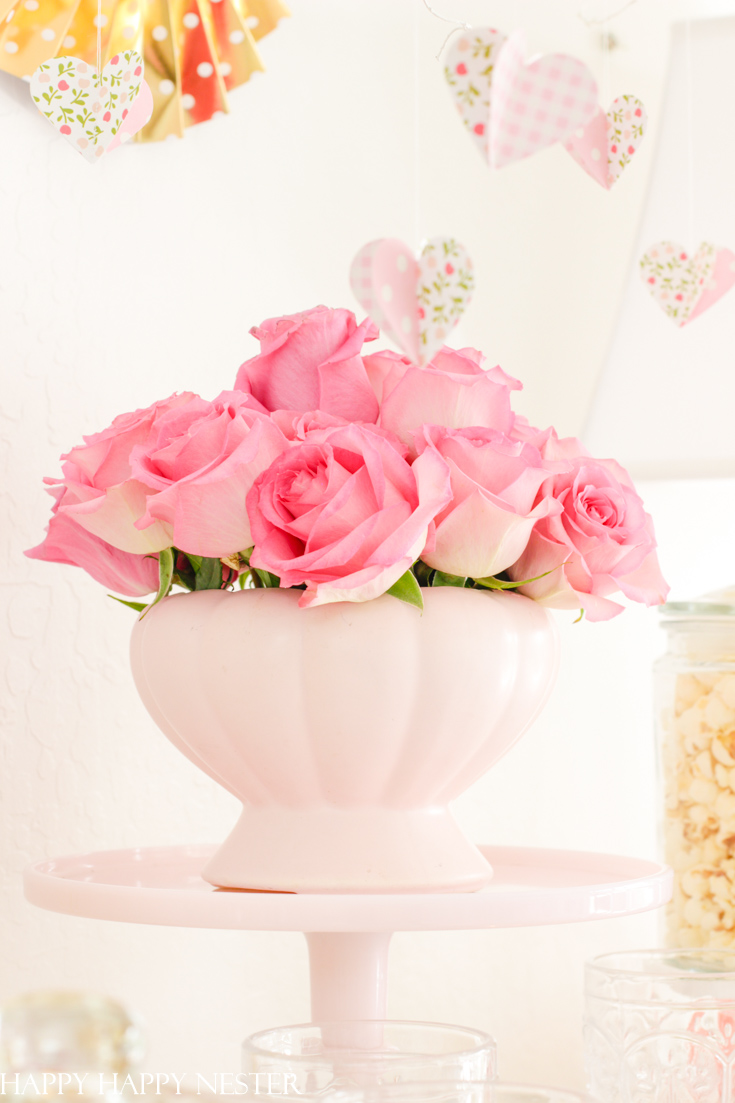 DECOR
And don't forget to add fresh flowers, party fans, and fun honeycomb hearts. I did add a few white branches with hearts and birds, and that post DIY will be coming this Thursday, so stay tuned.
AND I LOVE THESE WONDERFUL VALENTINE'S DAY DECOR FROM MY FRIENDS!
Maison de Cinq | Designthusiasm | Happy Happy Nester
Modern Glam | French Country Cottage | Zevy Joy
I had a blast decorating this popcorn bar for my family. This reminds me of my kiddo's playdates. Yes, I was the mom that always had a wonderful spread of snacks, treats, and craft projects. I miss those days, but I'm happy that my young adult kids still enjoy the desserts and snacks that I make.
I hope you enjoyed this easy popcorn bar for a party blog post. Make a batch of popcorn and enjoy a fun movie night. Creativity is key these days during our pandemic!
Cheers,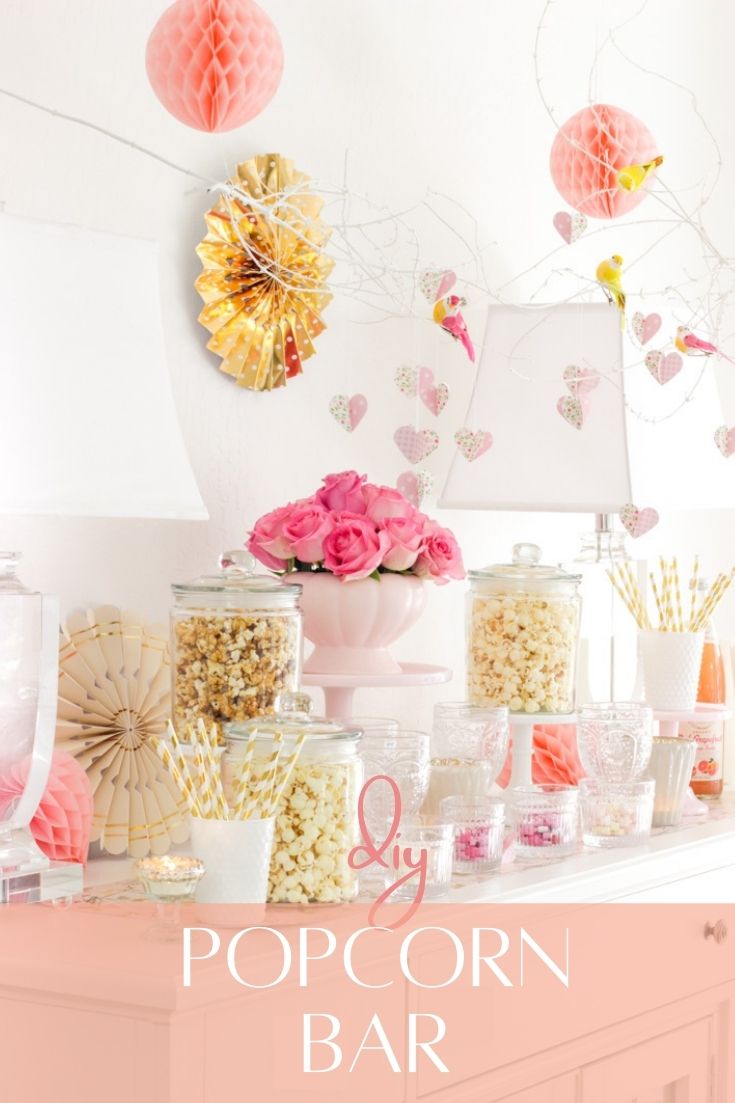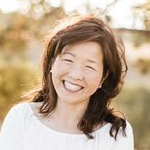 Latest posts by Janine Waite
(see all)