This Easy Stovetop Olive Oil Popcorn Recipe is our favorite way to make a healthy snack. Making homemade popcorn is such a better choice than prefab microwave popcorn. There are a few tips on making olive oil popcorn at home.
Homemade popcorn is by far our favorite snack, and so my husband has perfected how to make it over the past couple of years.
And now that he cooks it with olive oil, this family snack is healthier. Of course, making your own popcorn rather than the premade is a better choice!
Olive Oil Popcorn Recipe
Here is the backstory to this recipe!
I'm always hunting for some somewhat healthy snacks, so I bought my husband a popcorn maker one Christmas. Well, let me tell you, he LOVES this popcorn maker.
Yup, it is the most used pan in our kitchen!
It makes a perfect batch of popcorn every time without much fuss. So, since we snack on popcorn quite a bit, he decided to make olive oil popcorn.
He encountered a few issues, which I will address in this post. But his popcorn is a hit and the family loves this evening snack.
So if you're on the hunt for a good family treat, you're in the right place.
Here are few more recipes you might like:
But, first, let's cover a few things.
Is Popcorn Healthy?
According to the website Healthline:
"Popcorn is high in several important nutrients, such as vitamins, minerals and polyphenol antioxidants. Not only that, but it is also incredibly tasty and one of the world's best sources of fiber. At the end of the day, popcorn is very healthy and consuming it in moderation may even help with weight loss."
I make sure to use organic popcorn as well as minimal amounts of olive oil which has healthy monosaturated fats. Also, I add very little salt to keep my blood pressure in check. My husband on the other hand, liberally salts his popcorn. We learned early on that everyone salts their own popcorn.
Does Olive Oil Change the Taste of Popcorn?
So here's the thing, it will change the taste if you cook the popcorn incorrectly. What I mean by this is if the heat is too high, then the oil smokes and gives off a bitter fruity taste.
But if cooked on the stovetop correctly, there's no taste difference.
Can You Use Olive Oil Instead of Vegetable Oil for Popcorn?
Yes, and the benefits to using olive oil are awesome. Olive oil is a monosaturated fat, so its a good oil. It also has antioxidants that actually lowers LDL which are not the good type of cholesterol.
How Does Olive Oil Popcorn Compare to Microwave or Movie Popcorn?
Taste wise there's a big difference between homemade olive oil and theater popcorn. If you are on the hunt of a movie popcorn recipe then this recipe is not for you. Microwave and movie popcorn are a whole different snack since they cover them with artificial butter flavors and chemicals.
I hate to be the bearer of bad news but the bags that the microwave popcorn comes in contains perfluorooctanoic acid (PFOA). This chemical when heated has been linked to infertility, cancer and other diseases in lab animals.
So, no matter how much you like the flavor, you might want to make your own popcorn! I used to like the mini-microwave popcorns but decided to change my habits.
And I love our new way of making popcorn!
The Best Way to Make Popcorn on the Stovetop
Step 1 – Choose a Heavy Bottom Pot
I initially wanted to buy the Whirly Popcorn Maker for my husband. But once I saw it at the store, I quickly decided to opt for a heavier pot. If you scroll down you'll see why we love our popcorn maker.
Also, choose a container that has a glass lid so you can view the popcorn as it cooks.
Step 2 – Add Oil and Popcorn
My husband coats the bottom of our popcorn maker with both olive oil and then popcorn kernels. I did measure it for you but if you aren't into measuring things, maybe try his method. 🙂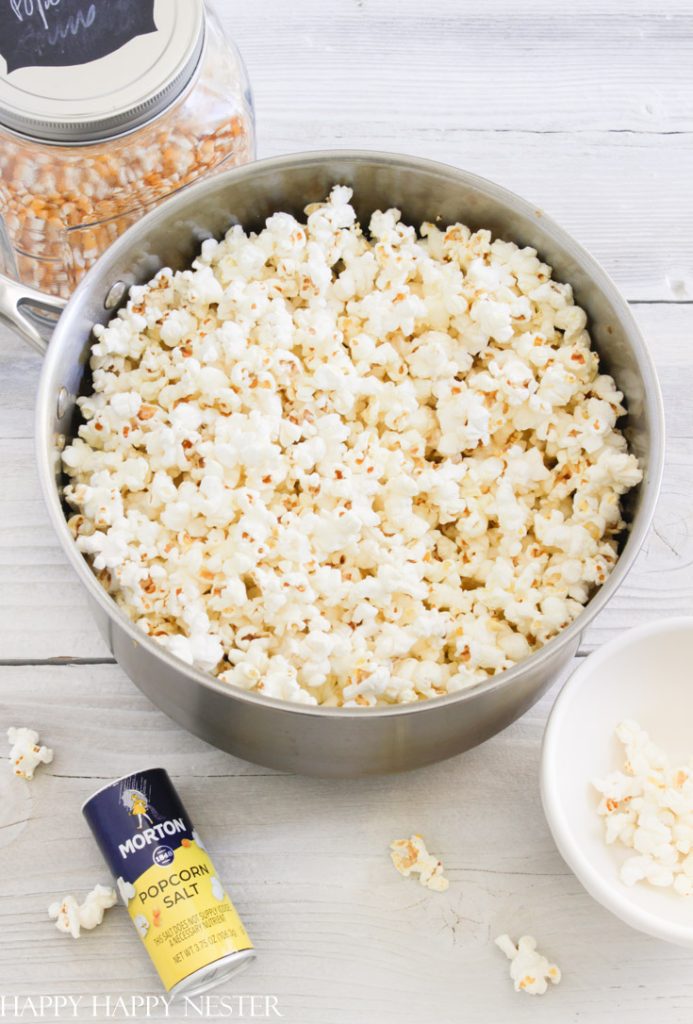 Step 3 – Cook Popcorn on Low
So, here is the most important thing about making olive oil popcorn.
This oil should not be heated to over 350 degrees. So when making popcorn, your heat should be on a low setting. You don't want to be in a hurry and you want to slowly heat the oil.
Basically you don't want your oil to smoke and if it does then you need to start over. The popcorn will taste bitter and may have some harmful compounds.
Step 4 – Remove Popcorn Immediately When Its Cooked
My recipe and the Zippy Popcorn Maker pretty much pops almost all the kernels. But if your popcorn over flows, take some out and return the pot to the stove and cook the remaining kernels.
Once the popcorn is all popped, immediately remove from the hot burner and pour into popcorn bowls.
Olive Oil Popcorn
This Easy Stovetop Olive Oil Popcorn Recipe is a healthy snack. I share our favorite popcorn maker in this post and our tips and tricks.
Ingredients
5

tbsp

extra virgin olive oil

⅔

cup

popcorn kernels

salt
Instructions
Coat the bottom of a stainless steel pan with extra virgin olive oil. Next, coat bottom with popcorn.

Place on low heat on the stovetop.

Cook for 5 minutes until popcorn kernels are popped.

Once the kernels are popped, immediately toss popcorn in bowls.
Nutrition
Serving:
1
serving
|
Calories:
54
kcal
|
Carbohydrates:
4
g
|
Protein:
1
g
|
Fat:
4
g
|
Saturated Fat:
1
g
|
Polyunsaturated Fat:
1
g
|
Monounsaturated Fat:
3
g
|
Sodium:
1
mg
|
Potassium:
16
mg
|
Fiber:
1
g
|
Sugar:
1
g
|
Calcium:
1
mg
|
Iron:
1
mg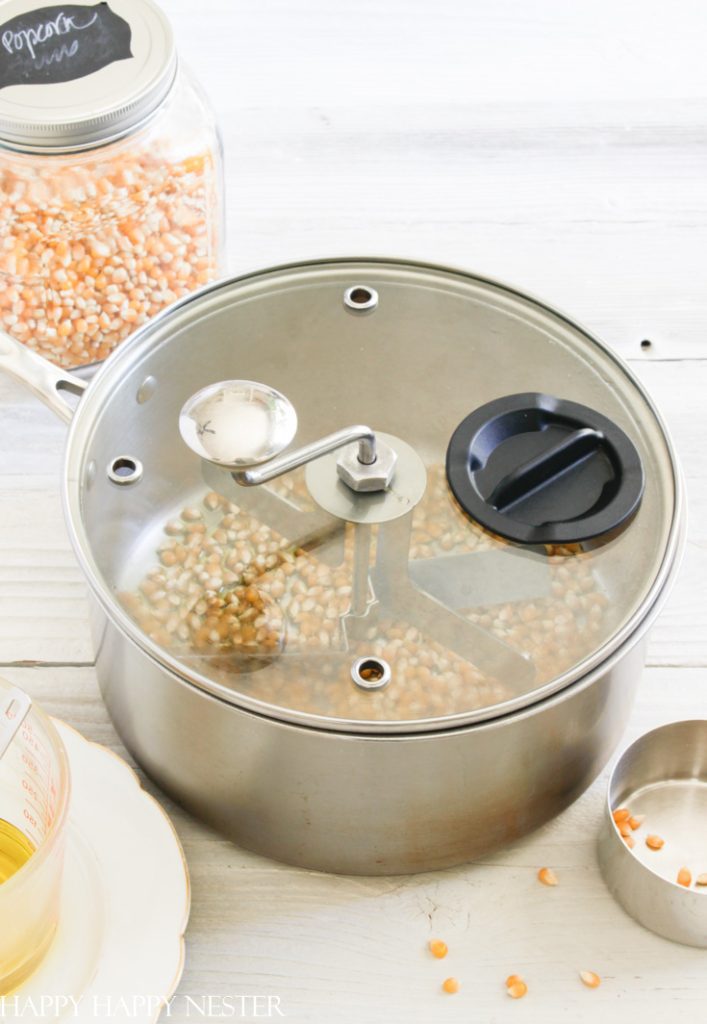 Our Favorite Popcorn Maker
Hands down we love our Zippy Popcorn Maker. It makes a perfect batch of popcorn every time we use it.
The stainless steel pot is thick and sturdy so that means less chance of burning your popcorn. Also, the glass lid allows you to view how your popcorn is cooking.
I know that this popcorn maker is available in the stainless steel and Teflon, but I prefer the stainless steel pot. I know that it is more expensive but, I like that the stainless steel doesn't impart chemicals into our popcorn.
---
Well, I'll continue to add things to this post as we experiment more with different popcorn toppings. We did try the popcorn salt that is finer than regular salt. I truly don't see a difference but we did have to try it on our popcorn.
I hope you enjoyed this post.
Thanks for stopping by and supporting my little blogging business.
Cheers,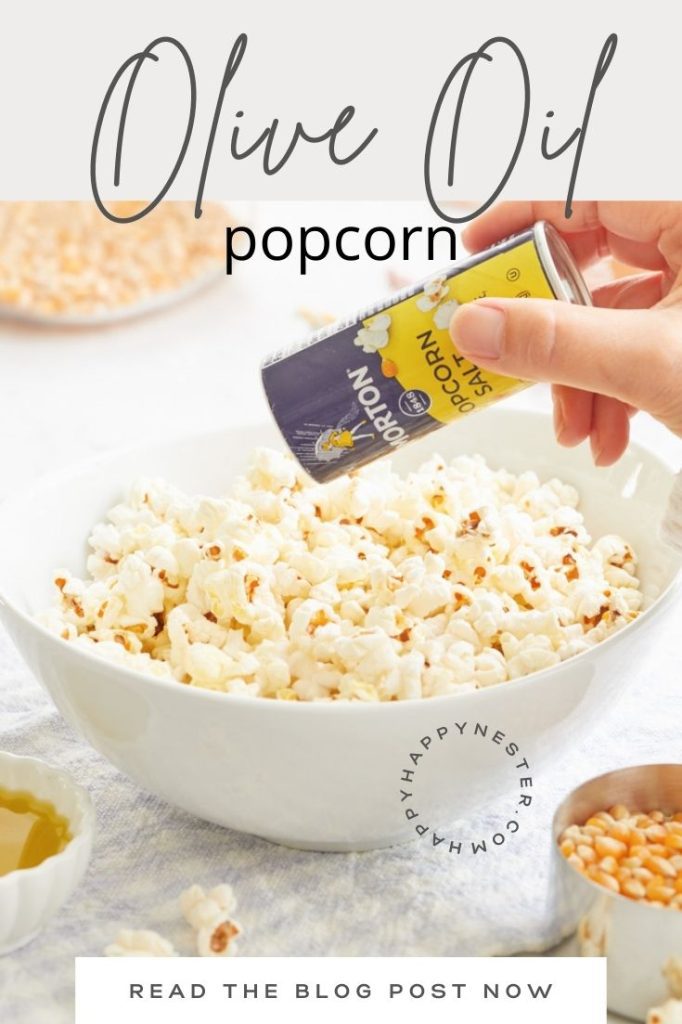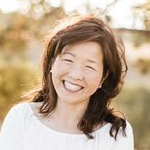 Latest posts by Janine Waite
(see all)