Acai Bowls are a Healthy Protein Snack that is packed full of the super fruit, Acai. This smoothie is in a bowl and topped with lots of delicious fresh fruit, granola, and nuts.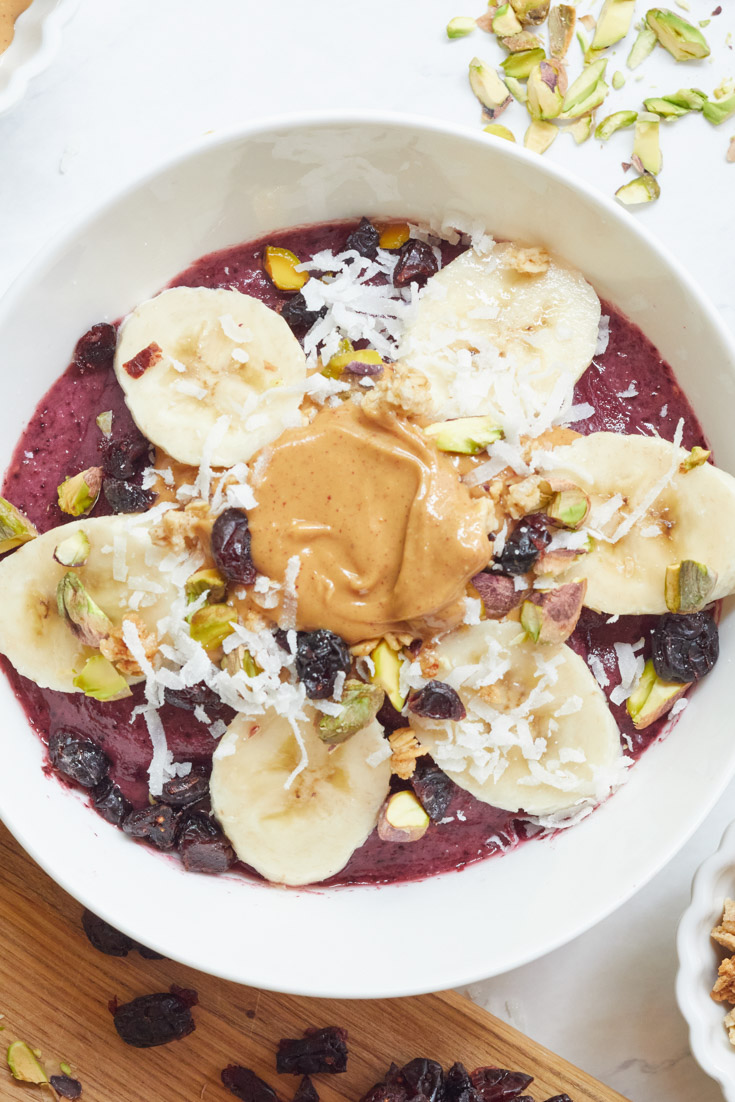 Add any fruit to your smoothie and top with your favorite toppings. This recipe includes a big dollop of peanut butter, bananas, pistachios, dried cranberries, granola, and more.
My first introduction to an acai bowl was at the Alameda Antique Fair. My daughter was obsessed with acai bowls and she talked me into buying some at one of the many food trucks at the fair.
Well, we both immediately fell in love with the bowls that we ordered. So, the smoothie part was a mix of berries topped with a generous helping of peanut butter, granola, nuts, and sliced bananas. And all of this was sprinkled with coconut shavings. Every bite is a blend of fruit and crunchy yumminess.
Acai Bowls
If you're like me you're probably wondering what is Acai and how is it pronounced.
How to Pronounce Acai
The acai (ah-sigh-EE) berry is a grapelike fruit harvested from acai palm trees, which are native to the rainforests of South America. Like other berries, acai berries contain antioxidants and fiber.
What is Acai?
According to the Mayo Clinic, "Acai berries are widely touted as a so-called superfood, with proponents claiming that they are helpful for a variety of health concerns, including arthritis, weight loss, high cholesterol, erectile dysfunction, skin appearance, detoxification, and general health. However, research on acai berries is limited, and the claims about their health benefits haven't been proved."
Ok, What is an Acai Bowl?
Well, if you like fruit smoothies then you're in luck since an acai bowl is a smoothie with toppings. Of course, the smoothie contains frozen acai berries blended into it which sets it apart from most smoothies. Then place this smoothie in a large bowl and top with your favorite fruit, nuts, granola, sauces, and peanut butter, and more.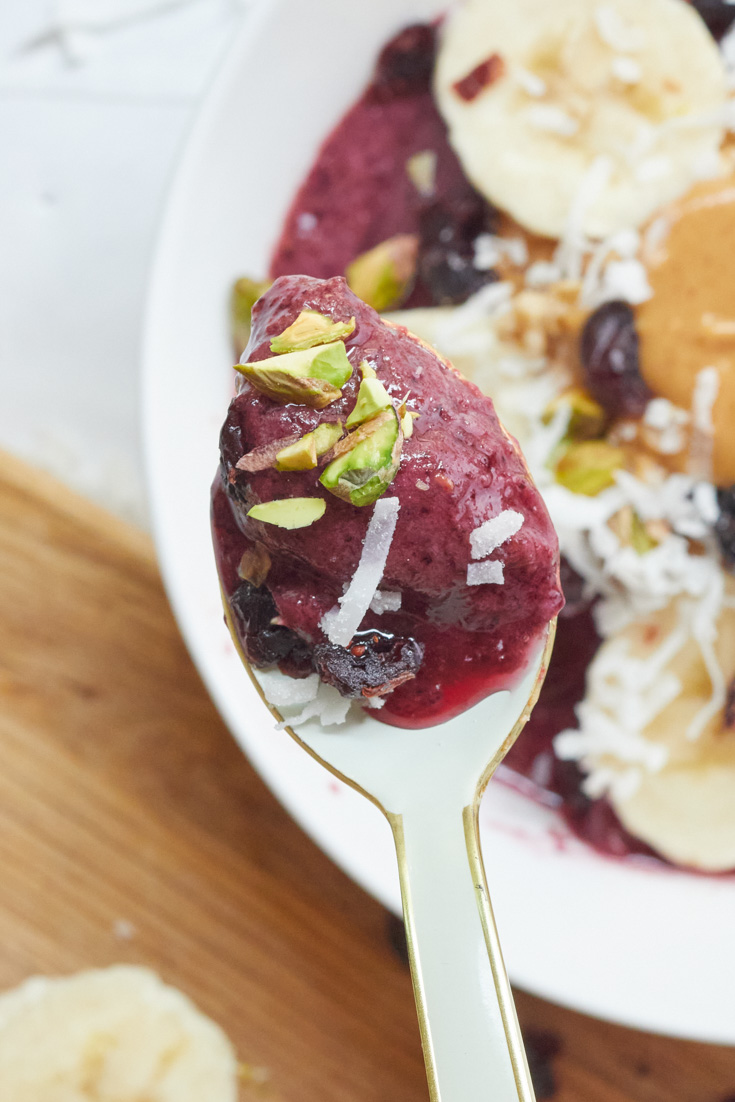 Are Acai Bowls Healthy?
According to the Mayo Clinic, "Acai berries may have more antioxidants than cranberries, blueberries, and strawberries. Some claim acai contains more antioxidants than any known edible fruit in the world. In addition, acai is low in sugar and higher in healthy fats."
Also, it is high in protein which is another great benefit. And if you top it with some peanut butter that makes it even better. I try to eat a mostly vegetarian diet so I'm always looking for ways to add protein to my diet. So, this delicious acai bowl is a nice gluten-free alternative snack.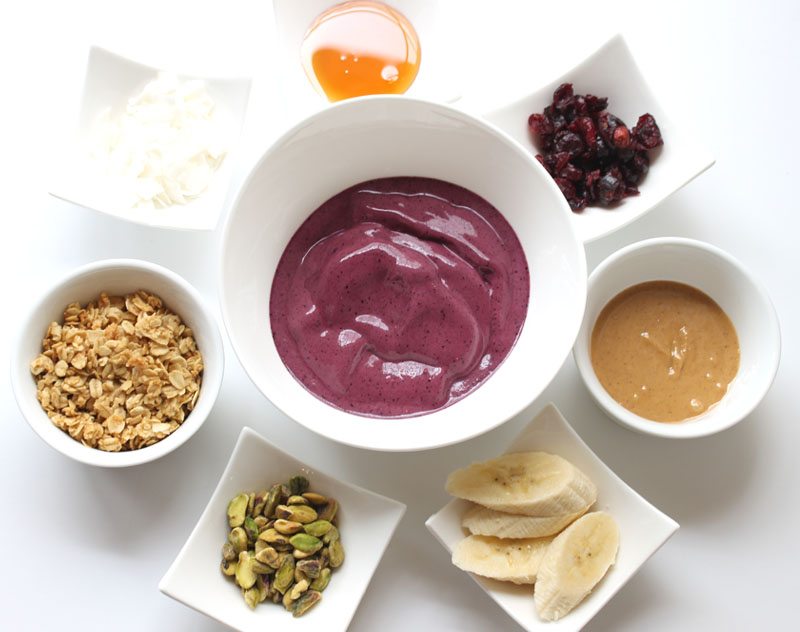 Smoothie Ingredients
Grape Juice
A packet of Acai Berries (sold at Whole Foods and Amazon)
frozen banana
Frozen Strawberries
Frozen Blueberries
Toppings:
Granola
Honey
Banana sliced diagonally
Coconut shavings
Dried Cranberries
Pistachios
Creamy Peanut Butter
How to Make an Acai Bowl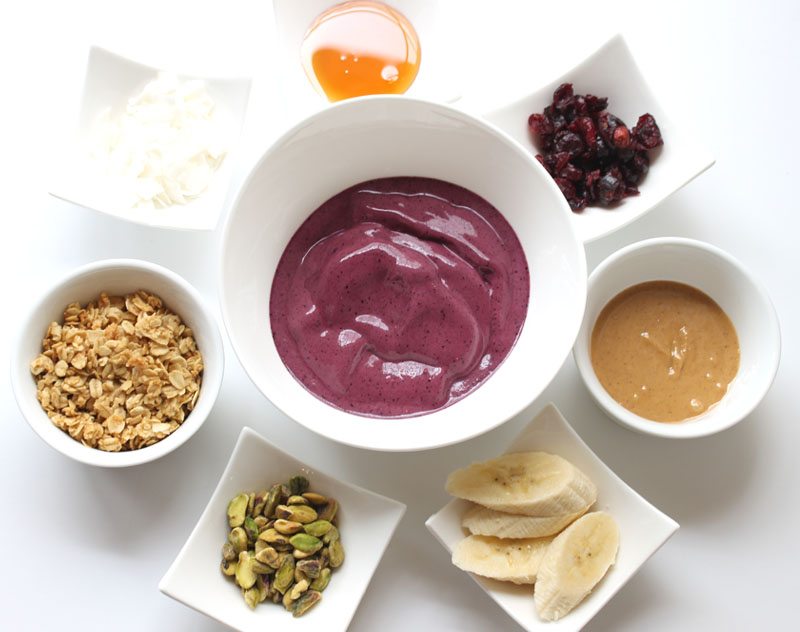 Blend smoothie ingredients in a blender. Divide and place ingredients in two bowls.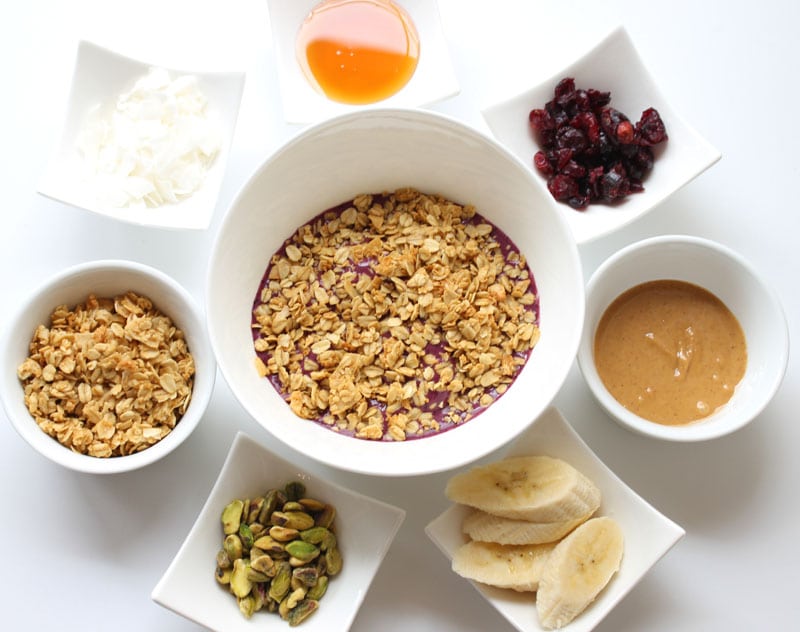 Then spread a layer of granola over the smoothie.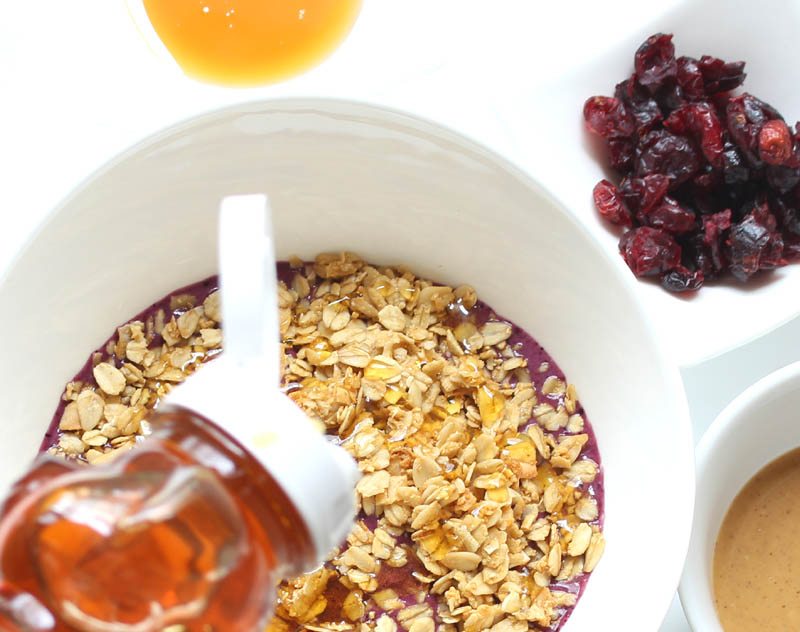 Next, drizzle honey over the granola.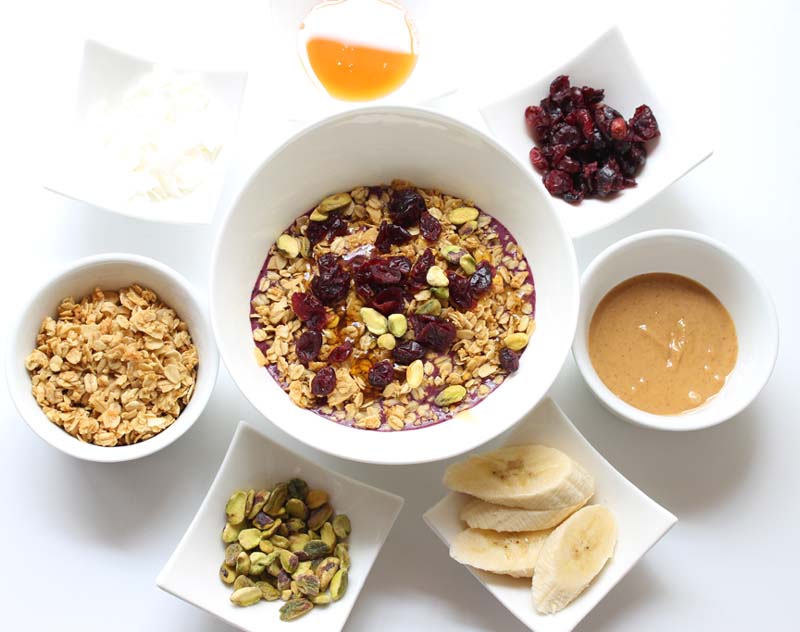 Sprinkle your coconut and cranberries over the granola and then place a dollop of peanut butter in the center.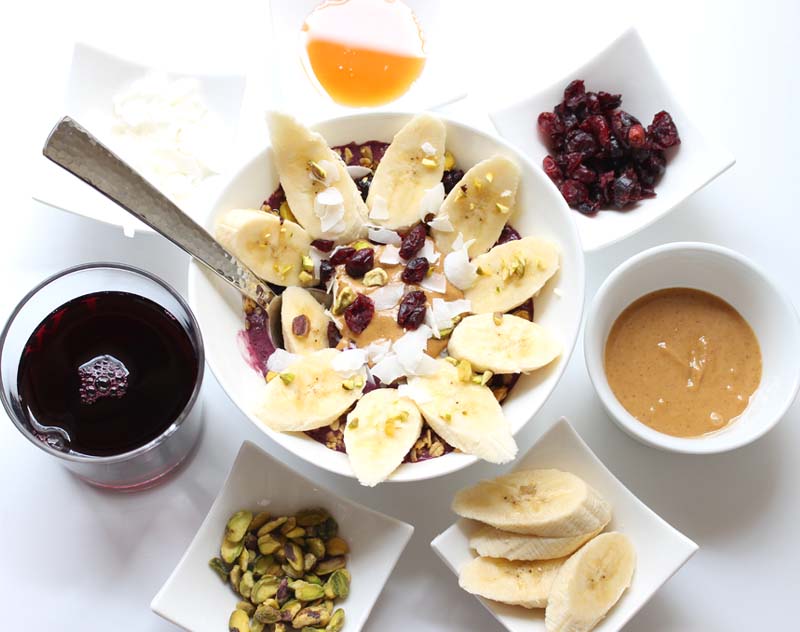 Next, arrange bananas on the outer edge to form a flower petals shape. Sprinkle bananas with chopped nuts. So, I hope you enjoy our heart-healthy Acai bowl.
Acai Bowl Recipe
Acai Bowls are healthy and heart-friendly. Acai berries are a great smoothie since they're high in protein. Top it off with nuts and fruit.
Ingredients
Fruit Smoothie
2

cups

Acai Berry Juice

2

banana

frozen

2

cups

strawberries

frozen

2

cups

blueberries

frozen

2

tbsp

honey
Toppings
½

cup

granola

2

bananas

sliced diagonally

¼

cup

dried cranberries

2

tbsp

pistachios

chopped

½

cup

creamy peanut butter

use ¼ for each bowl

1

cup

shredded coconut
Instructions
Blend smoothie ingredients in a blender. Divide and place ingredients in two bowls.

Then top with a layer of granola.

Sprinkle coconut, cranberries over the granola. And then place a dollop of peanut butter in the center.

Next, arrange sliced bananas on the outer edge to form what looks like petals to a flower.

Sprinkle bananas with dried cranberries and chopped nuts.
Nutrition
Serving:
1
serving
|
Calories:
500
kcal
|
Carbohydrates:
173
g
|
Protein:
27
g
|
Fat:
59
g
|
Saturated Fat:
22
g
|
Polyunsaturated Fat:
12
g
|
Monounsaturated Fat:
20
g
|
Sodium:
431
mg
|
Potassium:
1962
mg
|
Fiber:
22
g
|
Sugar:
110
g
|
Vitamin A:
279
IU
|
Vitamin C:
120
mg
|
Calcium:
115
mg
|
Iron:
5
mg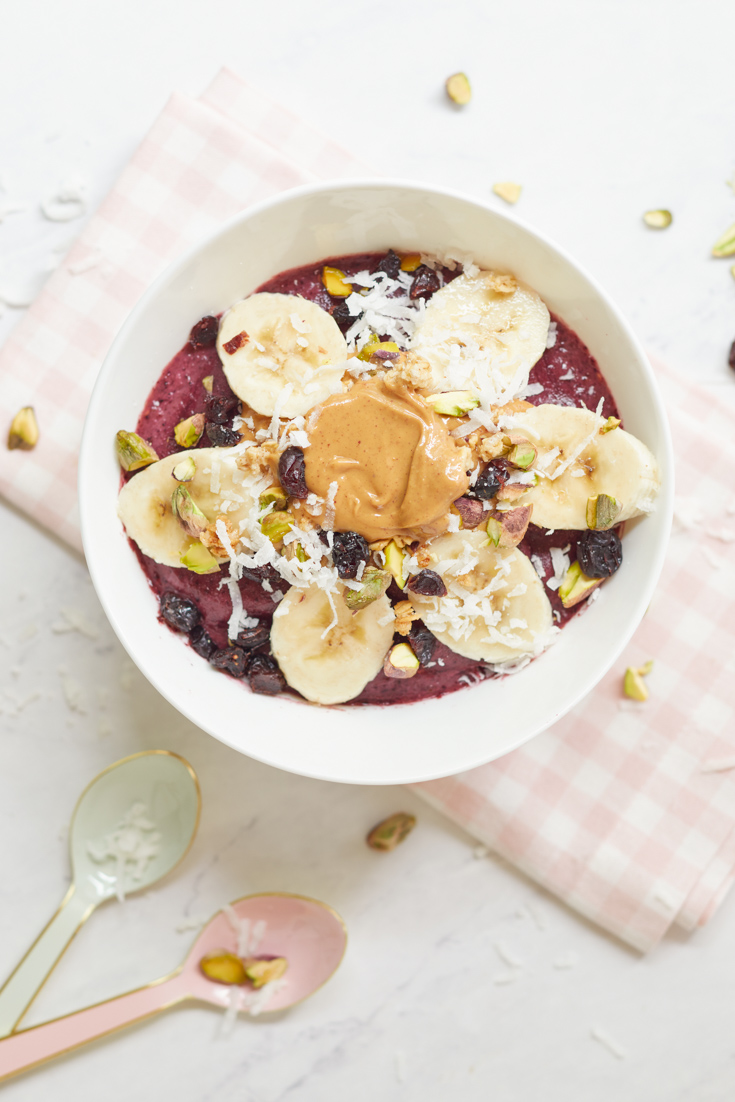 If you like this recipe then you might want to check out these recipes:
I love using grape juice for this recipe since the concord grape contains polyphenols that play a role in supporting a healthy heart? So, grab some fruit along with your favorite toppings and make a couple of acai bowls for your family!
Cheers,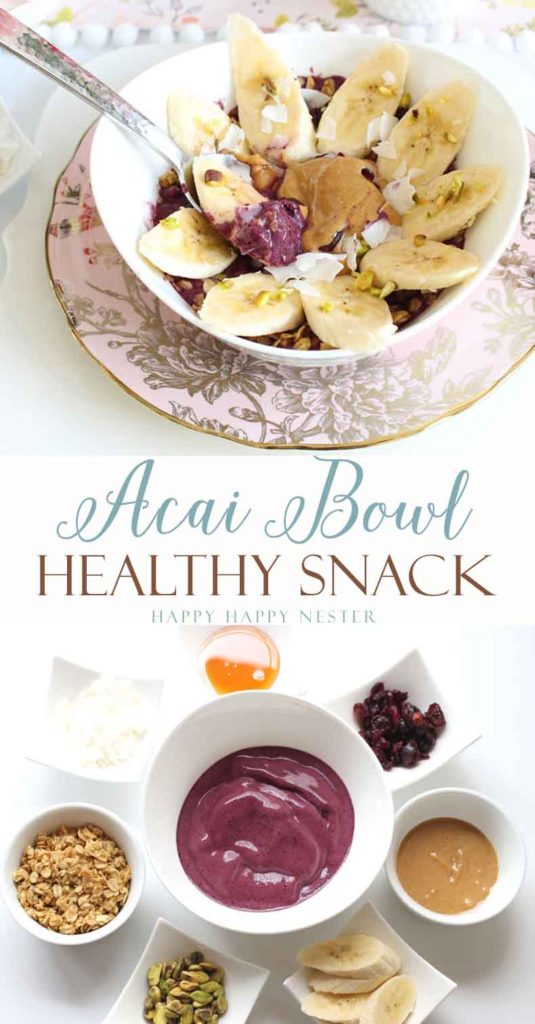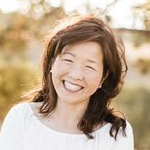 Latest posts by Janine Waite
(see all)