This is my favorite Peach Cobbler with Fresh Peaches recipe! It's an old-fashioned cobbler that is extremely easy to make and so delicious.
If you have fresh peaches or canned peaches around then, you must try making this cobbler. The drizzled melted butter on top creates a crunchy buttery crust that is so good right out of the oven.
I love anything with fresh fruit! And now that I think of it, my mom was the same way. So I'm pretty sure she passed along this fruit obsession. And I'm passing it along to my daughter!
This summer, we are obsessed with picking some very yummy peaches out in our local farms. So I decided to post a yummy peach dessert and share it with you today.
I know I just said I'm crazy over fresh peaches. I think that also pertains to blueberries, apples, and more. Here are some of my recipes:
While writing this post and looking at the photos, they make my mouth water! You're going to like how delicious the topping is on this recipe as well as how simple it is to make. The crumb topping is crispy and has a caramel texture from the melted butter.
Peach Cobbler with Fresh Peaches
What is Peach Cobbler?
Cobbler is commonly known as a fruit dessert that is topped with a batter before baking. However, it is different than a crumble since it doesn't contain nuts or rolled oats. Also, the crumble may have brown sugar sprinkled on top as well as buttermilk in the fruit.
I think I've mostly tasted crumbles, and now that I've had the cobbler, I'm obsessed.
How to Make Fresh Peach Cobbler
Step 1 – Butter a Baking Pan
Step 2 – Peel Peaches and Slice
Refer to the note below on how to peel fresh peaches. If you don't want to place them in boiling water, you can peel them with a knife. Next, slice the peaches, not too thinly.
Step 2 – Line an 8″x11″ Pan With Peach Slices
Place the peach slices in a buttered 8″x11or 8″x 8″ or 7″x 11″ size pan.
Step 3 – Drizzle Lemon Juice Over Peaches
Drizzle fresh lemon juice and almond extract over the peaches. Mix the juice into the peaches.
Step 4 – Mix Crumble Topping
Sift flour and measure. In a bowl, add the sifted flour, sugar, salt, and one beaten egg. Mix thoroughly with your hands until you have a crumble consistency.
Step 5 – Sprinkle Crumble
Sprinkle the crumble over the peaches. Covered most of the peaches. This crumble is delicious when the crumble is baked. It's the perfect combination of crispy, sweet and caramelized.
Step 6 – Drizzle with Melted Butter
Next, melt butter and drizzle it over the crumble.
Step 7 – Bake for 35-40 Minutes
Bake until the crumble is golden in color. Let cool a bit, and then serve slightly warm with a dollop of ice cream on top.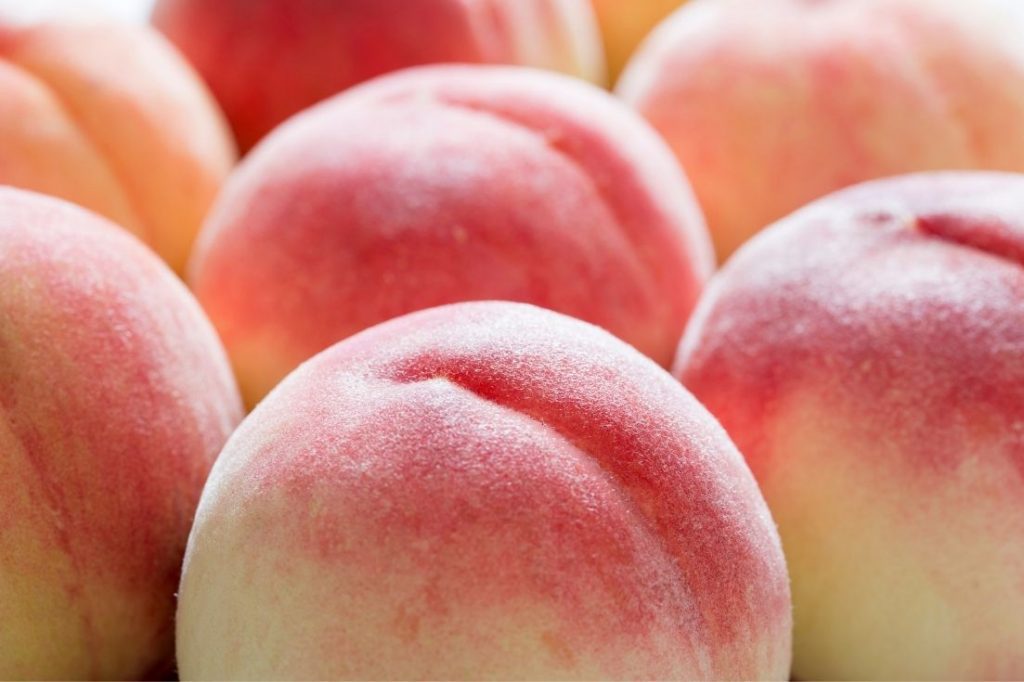 The Different Types of Peaches
Did you know that there are more than 300 peach varieties in the United States? And there are over 2,000 different varieties globally. That's so amazing!
And did you know that there are three categories of peaches? These three types are freestone, clingstone, and semi-freestone.
Freestone is where the pit is easily separated from the fruit's flesh. These peaches are harvested May-October. So you might find these fresh peaches in your local grocery store. They're firmer and larger peaches compared to clingstone peaches. And less juicy and sweet but still excellent for baking and canning.
Clingstone is where the pit attaches to the pit. They are harvested May-August and are orange in color. And this type of peach turns red as you get closer to the pit. Clingstones are sweet, juicy, and perfect for desserts, canning, and preserving. They're the peaches in the canned fruit section of your local grocery stores.
Semi-Freestone is a newer variety of peach. It starts as a clingstone but is like a freestone peach when it is ripe and ready to eat. It is an all-purpose peach that is good for eating, baking, and canning.
Gluten-Free Version
I recently prepared a delightful peach cobbler without gluten, and it was a hit with the family.
Let me share something exciting with you: I recently discovered an amazing gluten-free flour from Italy that has completely transformed my baking experience. I can't express enough how much of a game-changer it is. If you have the opportunity, I highly recommend trying it out for yourself. You can find the gluten-free flour I used at this link: gluten-free flour.
Now, if you decide to make the cobbler gluten-free, there's a small adjustment to keep in mind.
I noticed I had to extend the bake time by around 10 minutes or more. Towards the end, keep an eye on it to ensure it browns nicely. You'll discover that this version of the cobbler is slightly more doughy and absolutely delicious.
Additionally, the uncooked cobbler mixture may be slightly moister, but don't worry, simply cover the cobbler as instructed.
The Best Ever Peach Cobbler
This is my favorite Peach Cobbler with Fresh Peaches recipe! It's an old-fashioned cobbler that's easy and quick to make. It's so delicious.
Ingredients
3

cups

peaches

best with fresh peaches

1

tbsp

lemon juice

fresh juice is best

½

tsp

almond extract
Crumble
1

cup

flour

sift and measure

1

cup

sugar

½

tsp

salt

1

egg

beaten

6

tbsp

salted butter

melted
Instructions
Peel skins off the peaches and slice. You can boil some water and place peaches one by one in boiling water for a minute and then submerge them in ice-cold water. This makes it easier to peel the peaches.

Butter an 8"x11 or 8"x 8" or 7"x 11" size baking dish.

Place sliced peaches on the bottom of the pan.

Sprinkle with lemon juice and extract. Mix ingredients.
Crumble
Stir together flour, sugar, salt in a bowl.

Add egg and mix with fork or hands. Mix well.

Crumble the dough over the peaches.

Melt butter and drizzle over the crumble.

Bake 35 to 40 minutes until golden and bubbly.
Notes
If you use canned peaches use a 29 ounce can of sliced peaches. Drain the peaches before using it in the cobbler recipe. 
Nutrition
Serving:
1
g
|
Calories:
174
kcal
|
Carbohydrates:
28
g
|
Protein:
2
g
|
Fat:
6
g
|
Saturated Fat:
4
g
|
Polyunsaturated Fat:
1
g
|
Monounsaturated Fat:
2
g
|
Trans Fat:
1
g
|
Cholesterol:
29
mg
|
Sodium:
152
mg
|
Potassium:
93
mg
|
Fiber:
1
g
|
Sugar:
20
g
|
Vitamin A:
320
IU
|
Vitamin C:
3
mg
|
Calcium:
8
mg
|
Iron:
1
mg
This summer, we visited our local farm and picked a ton of peaches! There is nothing quite like a fresh peach right off the tree. The peaches that I picked are Red Haven and Fay Elberta. I love both varieties. I believe the Fay Elberta has a slight red peach flesh, and that's why some of my photos look like I baked my cobbler with rhubarb!
Do You Need to Refrigerate Peach Cobbler
I allow the cobbler to sit out on my kitchen counter for a couple of days before refrigerating it. I always place plastic wrap and tin foil over the top. But, I'm here to tell you that our peach cobbler with fresh peaches rarely makes it to the fridge.
Additional Cobbler Spices?
This recipe calls for almond extract and I love the surprise flavor it adds. But, if you're not a fan of almond, you could add cinnamon, nutmeg, cloves or vanilla extract instead.
Can I Use Canned Peaches Instead of Fresh?
Yes! Since fresh peaches aren't always available year-round, canned peaches are a perfect alternative. When using canned peaches, make sure to drain them thoroughly before adding them to the cobbler.
However, I must admit that the taste of canned peaches is not as flavorful as fresh, so when making it, add a bit more almond extract and maybe a tiny bit of cinnamon? I added about 1 teaspoon of almond extract, and it was a nice replacement for flavor.
How to Reheat the Cobbler
I know the microwave is easiest for reheating food, but I really prefer the oven or, better yet, a little toaster oven. Pop it in the oven until it is warm and then serve with a dollop of vanilla ice cream. The oven is best for achieving a crispy crumble.
Easy Way to Peel Fresh Peaches For Cobbler
Wash the peaches.
2. Bring a pot of water to a boil.
3. Place the peaches in hot water one at a time. Use a slotted spoon to place them in the water gently.
4. Remove the peaches from the hot water a minute later.
5. Place the peach in a pot of cold water and let sit.
6. Skin peaches using a knife. The skin will slide off easily. You can also use your fingers to slide off the peach skin.
My daughter and I enjoy our trips out to a local organic farm to pick peaches. In fact, we are planning another trip this week for probably our last batch of peaches. There is nothing like fresh you-pick produce, so if you can find a local farm, make sure to buy some fresh peaches for this cobbler recipe.
The Urban Edge Farm (organic fruit)
2017 Walnut Blvd, Brentwood, CA 94513
The Origin of This Recipe
There is a funny story behind this recipe.
We took our newly purchased trailer out for its maiden voyage. We headed up to Truckee, California (near Lake Tahoe) for a camping trip. Unbeknownst to us, we had to reserve a campsite. We did find a site that was miraculously available, but we needed cash or a check to secure it.
Well, the Waites were ill-prepared and had neither a check nor cash.
Well, before heading into Truckee to retrieve some cash, I decided to say hello to a couple nearby to tell them of our predicament. Well, they were so kind to lend us the cash for the campground fee. But, now we had to still go into town to reimburse them.
When we arrived back at our campsite, we found our trailer's deep cell battery drained, ugh! It was pretty obvious we are new to this whole trailer thing.
We decided not to panic and somehow talked ourselves into making the best of our trip. So, my husband delivered the cash over to our neighbors. They are super nice, and they invite us over for some homemade peach cobbler. My husband and I were so perplexed that they made a camp cobbler, and we had no electricity! Well, later that evening, we feasted on Jeff's amazing dutch oven cobbler that he baked over bbq brickettes! And to top it off, he served it with ice cream.
And you know that I had to have the peach cobbler recipe. So, this is the fantastic peach cobbler with fresh peaches recipe, and I'm so happy to share it with you!
---
Well, I have quite a few recipes over here with fresh fruit. So, if you want them delivered to you via your email, here is the sign up form.
Thanks for the visit!
Cheers,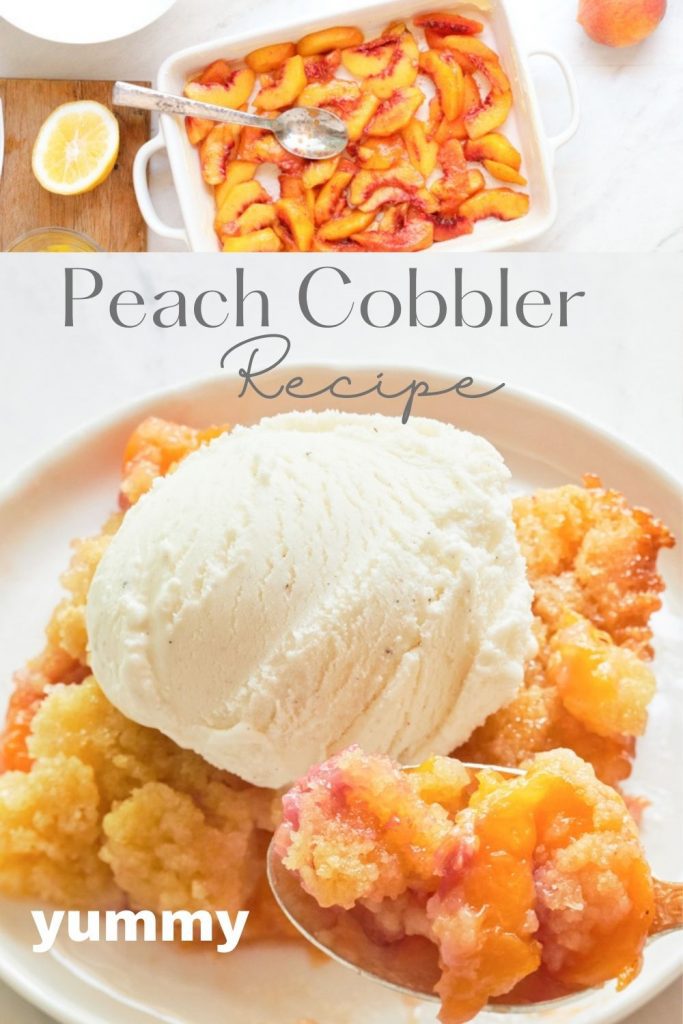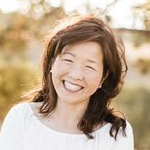 Latest posts by Janine Waite
(see all)