This Peach Galette Recipe is so simple to make and tastes delicious. I love that the fruit isn't overwhelmed with a thick crust topped with a layer of turbinado sugar for a sweet, crunchy taste. If you're cramped for time and want the flavor of a peach pie, then this is an excellent alternative.
In the summer, fresh fruit is plentiful and wonderful to bake with. This fruit galette recipe adapts well to most seasonal fruit like apples, cherries, apricots, nectarines, and more.
If you're crazy about fresh fruit desserts, you'll want to look at some of my other recipes. If you don't have time right now to make them, pin them on your Pinterest account for later. Pin this recipe, too, so you have it for future baking sessions.
Here are more fruit dessert recipes!
The Best Peach Galette Recipe
I've made a few fruit tarts and galettes, and I'm biased about peach desserts. This recipe combines a buttery, flakey crust that melts and crumbles in your mouth like butter! The peach filling is simple to make, and the fresh peaches are the show's star.
If you make this peach galette, serve it warm for the best results. Top with a dollop of ice cream or combine it with a warm cup of coffee or tea.
Most of all, I love how easy it is to make this summer treat!
Why You're Going to Like this Peach Dessert
If you are new to baking, this peach recipe is easier to make than a double-crusted peach pie.
There is no complicated crimping or lattice work on this rustic peach tart.
Since the dough only covers a portion of the galette, the crust isn't overwhelming. The peach-to-crust ratio is perfect, in my opinion.
The crust is flakey and, like no other that you have tasted.

My favorite summertime activity is picking fresh peaches at a local organic orchard. There's nothing quite like a fresh peach picked from the tree. I hate to admit that I have a gazillion peaches, so I'm on a mission to share my peach recipes on the blog.
If you're in an area that grows peaches, try and visit a farm and buy or pick some! And, of course, try a few of my delicious recipes.
You're Going to LOVE This Pastry Crust
I've made lots of pie crusts, and this one is different. This crust is so light and flakey and complements the peach filling nicely. To create a buttery taste, make sure to use a stick of butter. The key is chilling the dough for a minimum of two hours. This step hardens the butter and relaxes the gluten.
If you like, you can make the dough and refrigerate it a day before making the galette.
Peach Galette Recipe
This Peach Galette Recipe is so simple to make and it tastes delicious. If you want the flavor of a peach pie, this is a nice alternative.
Ingredients
Galette Crust
1½

cup

flour

½

cup

butter

chilled and cut into ½-inch pieces

3

tbsp

shortening

chill

2

tbsp

sugar

1

pinch

salt
Crust Topping
1

egg

beaten

turbinado sugar

You can use granulated sugar for sprinkling on crust.
Peach Filling
½

cup

sugar

3

tbsp

flour

½

tsp

cinnamon

4

or 5 peaches

skinned and sliced
Instructions
Crust
Place flour, butter, shortening, sugar, and salt in a Cuisinart blender.

Pulse the blender at first, and the dough will resemble a very coarse meal.

Continue to mix the pastry dough until it forms a round soft ball.

Sprinkle a piece of parchment or wax paper with flour and place the dough on the paper. Flatten into a small disk shape.

Wrap up the dough in the parchment paper and refrigerate for at least two hours.
Peach Filling
Preheat the oven to 375° F.

Peel and slice peaches into ¼ – ½" thick wedges.

In a medium-size bowl, stir the granulated sugar, flour, and cinnamon.

Gently toss prepared peaches into the sugar mixture. You can add a tiny bit more sugar if your peaches are tart,
Forming the Galette
Remove dough from the refrigerator. Place on a floured piece of parchment measuring 12" long and wide. I transfer the dough and paper to a rimless baking sheet.

Beat your ball of chilled dough with a rolling pin and knead the dough briefly around the edges to soften slightly. Moving from below center, roll the dough out to the edge. Lift the dough, turn it slightly, and give another roll. Sprinkle dough on the top and bottom with flour and keep rolling.

Create an 11" circle with the dough. I needed the edges a bit thicker to lift it over the top of the galette.

Starting 1 to 1½ inches from the edge of the round, arrange the peach wedges in a single layer in concentric circles until you reach the center of the circle. When placing the peaches on the dough, leave the extra juice in the bowl and not on your galette.

Fold the outer edges of the pastry over the peaches, creating overlapping folds as you work around the perimeter. Once you form the galette, ensure no cracks in the dough where the peach filling can seep.

Brush the top of the pastry with the beaten egg and sprinkle with sugar.

If your galette is juicy, place another baking sheet underneath to catch any juices overflowing.

Bake for 50 to 60 minutes, until the crust is golden and the filling is cooked.

Let the galette cool on the baking sheet on a wire rack. Cut into wedges and serve warm.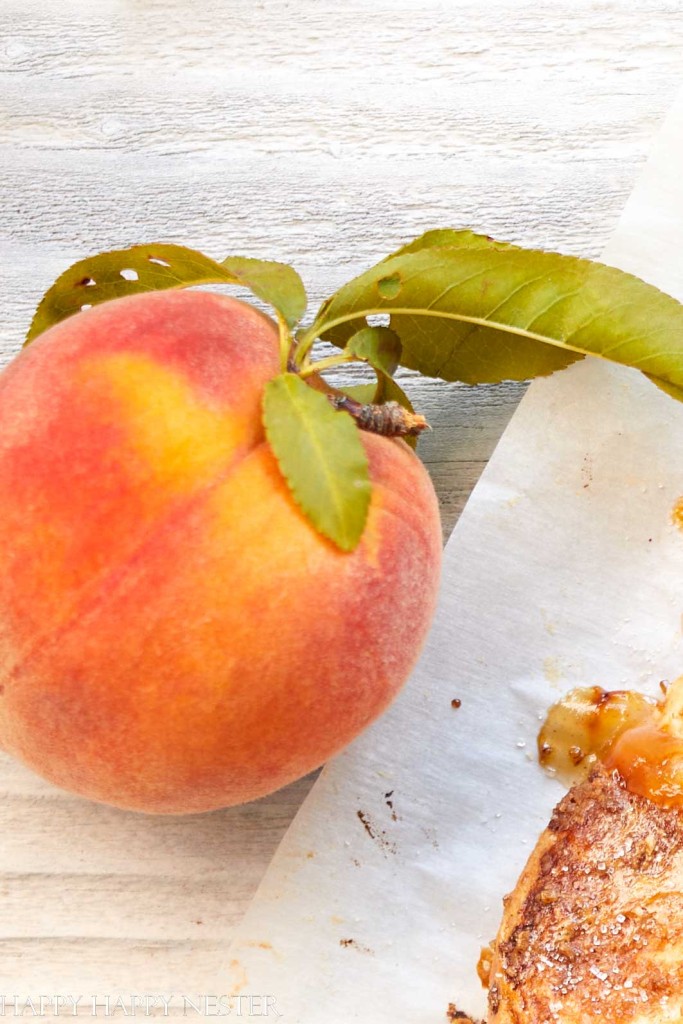 I hope you can have free time to make this wonderful peach galette recipe!
Have a great weekend, and see you tomorrow for Saturday, Chitchat!
Happy Baking,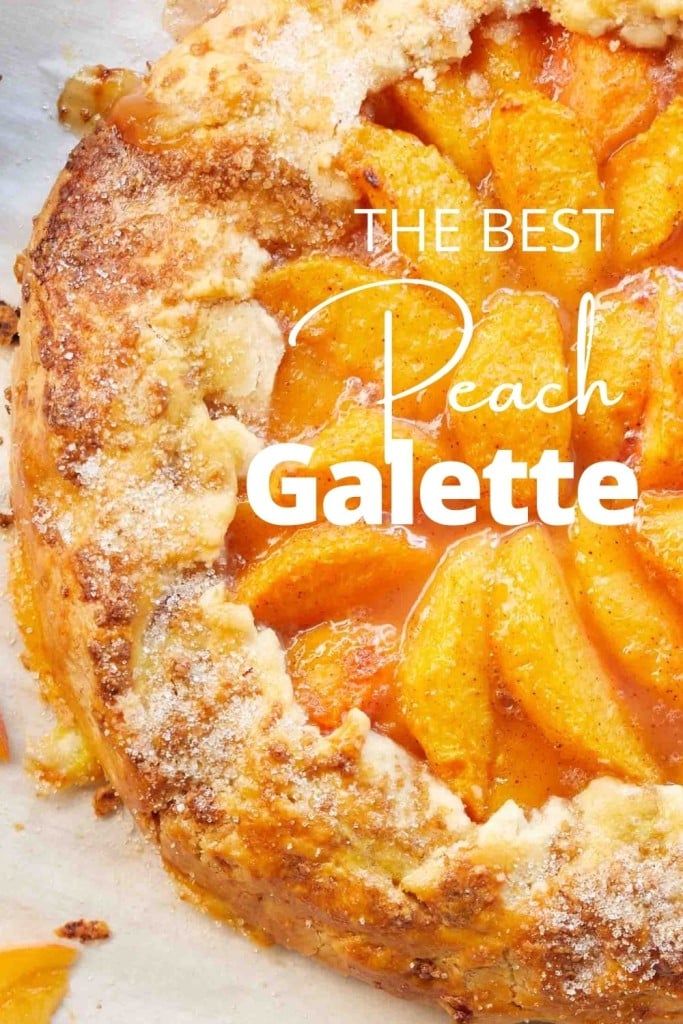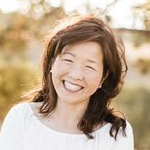 Latest posts by Janine Waite
(see all)