Here is a Ghost Painted Pumpkin For Kids tutorial on how to create adorable Halloween decor for your home! Not only will these decorations create a festive look on your front porch, but this craft is a simple step-by-step DIY that will be fun for Fall!
If you know me at all, you know I love to decorate for Halloween. Every year I go all out!
I saw these adorable pumpkins using orange pumpkins and white ghosts, and I thought I would add a new twist and paint my pumpkins grey. This Halloween project is easy, adorable, and perfect for the spooky season!
Today I'm joining some good friends of mine who also share their pumpkin crafts for this season! These friends and their creations are all linked down below at the end of this post! Don't forget to check out their DIYs to receive more inspiration for your home!
In the meantime, if you are looking for more crafts relating to Halloween or Thanksgiving, feel free to check out these blog posts!
Let's get our craft on and create this ghastly ghoul of a pumpkin!
*This post contains affiliate links
Ghost Painted Pumpkin For Kids
This tutorial includes step-by-step instructions and the supplies I used to make these ghost-painted pumpkins for kids!
Before you start, you should know that you could paint multiple different designs on these pumpkins, but we are painting ghosts today!
Some other adorable designs for Halloween could be bats, owls, bones, eyes, spiders, and much more! There is a fun book by Ed Emberley that shares how to make thumbprint images! Check out his book here.
Supplies:
Pumpkins
2-3 Mini White Pumpkins from Ace Hardware.
I would suggest purchasing mini white pumpkins for this DIY. In my case, I bought about 2-3 mini white pumpkins.
Whether you decide to buy more giant-sized pumpkins or mini-sized, make sure there are little to no bumps, curves, dents, etc., I say this because you want your paint to look smooth on your pumpkin.
Paint
Annie Sloan Graphite Chalk Paint or any acrylic paint will work. Plus, you'll want some white craft paint to create the ghosts.
Paintbrush
I would suggest a medium-sized paintbrush to paint the pumpkin and a watercolored medium tip paintbrush for the thumbprint touch-up.
Paper Plate
Place your paint on this paper plate, which makes it easier to grab a thumbprint of color.
Black Sharpie Pen
I used a thin tip Sharpie pen, but you can use a fine paintbrush with acrylic paint. I thought that it was pretty easy to draw faces with my pen.
Instructions to create ghost painted pumpkins for kids:
Step 1 – Paint Your Pumpkin
I have found that Annie Sloan Chalk Paint seems to work the best when wanting a smooth, well-painted finish on any object or surface. I chose a dark grey color when painting my pumpkins because I wanted a dramatic contrast between the white ghosts and the gray pumpkin.
Also, you'll want to paint at least two layers. Make sure the first layer is thoroughly dry before applying the second one. Also, if you're working with little kids on this project, you might want to do this painting step for them.
Step 2 – Fingerprint the Ghosts
Once your pumpkin is painted (twice) and dried, then you're ready to paint the ghosts. Squeeze some white paint on your plate and dip your thumb in the paint. Next, press your painted thumb on the pumpkin like a thumbprint.
When you place your finger on the pumpkin, move your finger around to create a circular shape with the white paint. This way, your ghost will come out as a circle and less like a fingerprint.
Repeat this step to create multiple ghosts.
Once you've painted your ghosts, let the pumpkin thoroughly dry.
Step 3 – Draw Faces
Once the white fingerprints are dry, take your black sharpie and draw mini circles for the eyes and one circle for the mouth.
Unlike the typical ghost face, you can have fun with this step and draw silly faces or facial expressions, so have fun!
And you're done once you have finished drawing faces on your fingerprint ghosts. You can now place these pumpkins anywhere you like to celebrate the Fall festivities!
Check Out My Friend's Pumpkin Projects!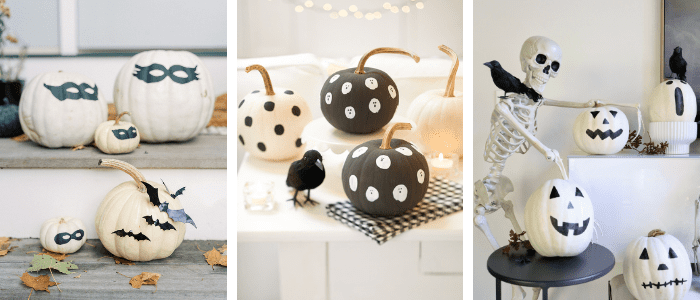 Painted Mask Pumpkins || Finding Lovely
Ghost Painted Pumpkins For Kids || Happy Happy Nester
No-Carve Pumpkin Ideas || My Sweet Savannah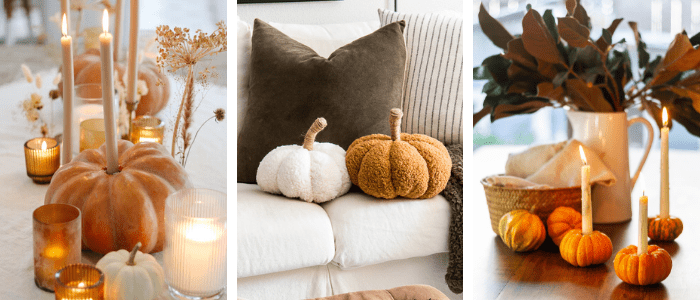 Heirloom Pumpkin Candle Holders || Modern Glam
Cozy Pumpkin Pillows || Inspiration For Moms
DIY Pumpkin Candle Holders || Zevy Joy

How to Make Easy DIY Floral Pumpkin Vase || The Design Twins
DIY Boho Chic Pumpkin Decor from Dollar Store Pumpkins || The DIY Mommy
Light Up Pumpkin Farmhouse Wreath || Tatertots & Jello
DIY Faux Clay Pumpkins || The Happy Housie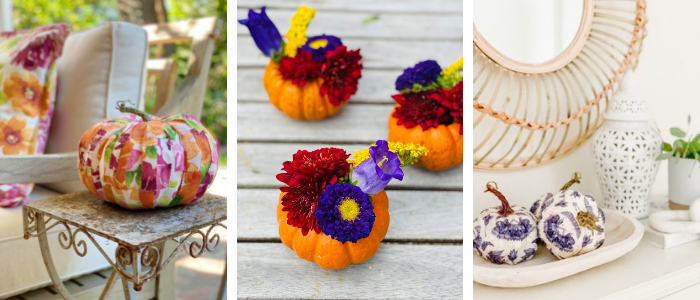 Easy Fall Cinderella Pumpkin Crafts // My 100 Year Old Home
How To Make Pumpkin Planters || Most Lovely Things
Blue and White DIY Pumpkins || Life Is Better At Home
---
Thanks so much for joining me today to create this ghost-painted pumpkin for kids! I hope you had as much fun as I did. Stay tuned for more crafts, decor, and delicious recipes on the blog!
Happy Fall to you all!
Cheers,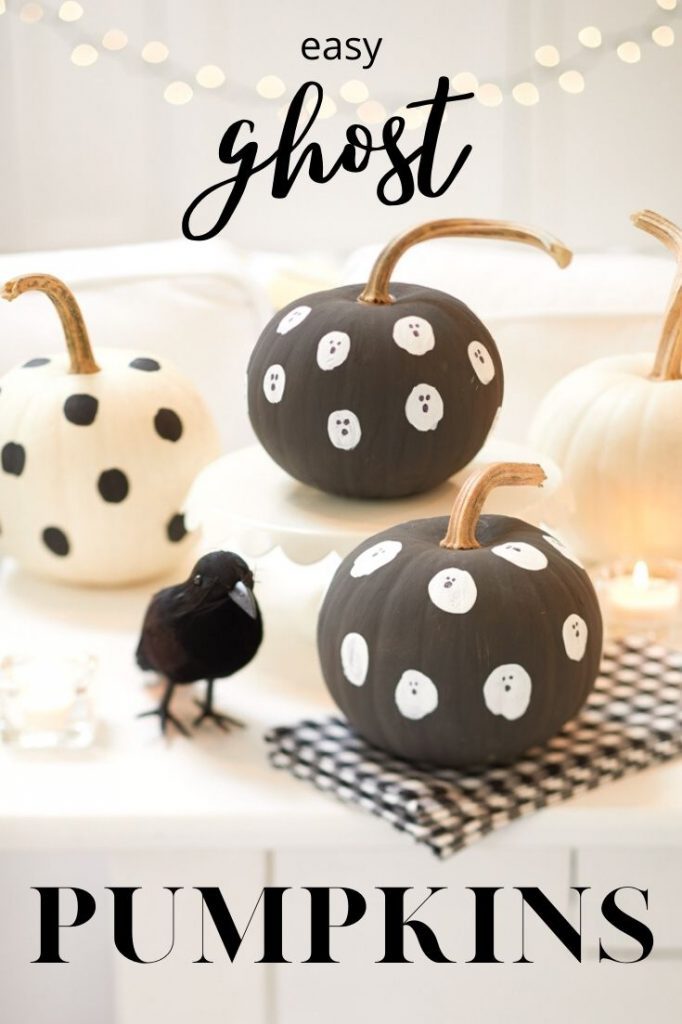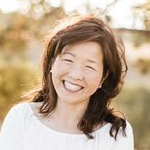 Latest posts by Janine Waite
(see all)