Cute Ideas for Halloween Decorations are on the blog today! Halloween has taken over my house, and here are few fun ideas for you.
*The following post contains affiliate links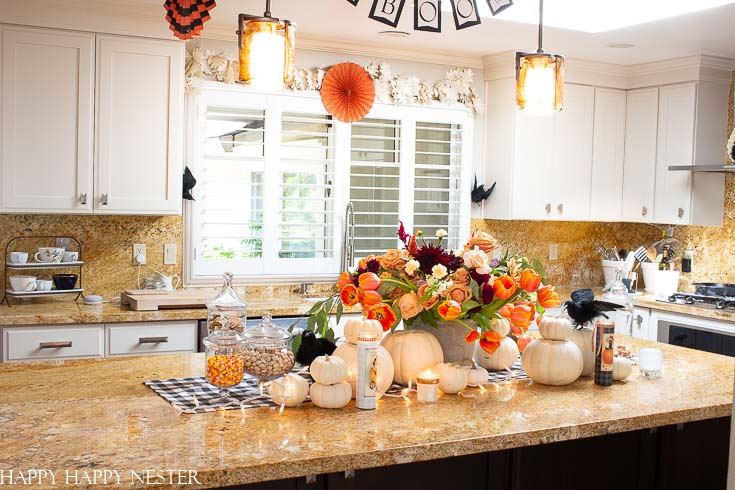 Among all the craziness going on in our lives, I was able to create a super Happy Halloween Kitchen! Somehow, I skipped right over fall and went straight into decorating for Halloween. I have to say that I must be attracted to the white, black, and orange color combination. Today, when I was adding a few final touches to these post ideas for Halloween decorations to our kitchen, my husband mentioned that he would love to decorate for Halloween, I guess I'll have to take him up on his offer for our front porch.
Well, today, I'm part of a Halloween Blog Party, hosted by Kristen from Ella Claire & Co. I'm so honored to be a part of this list of bloggers! So, I suggest you take a look at their great post after you peruse mine.
I thought it might be helpful to break down my Halloween decorating into 7 different steps.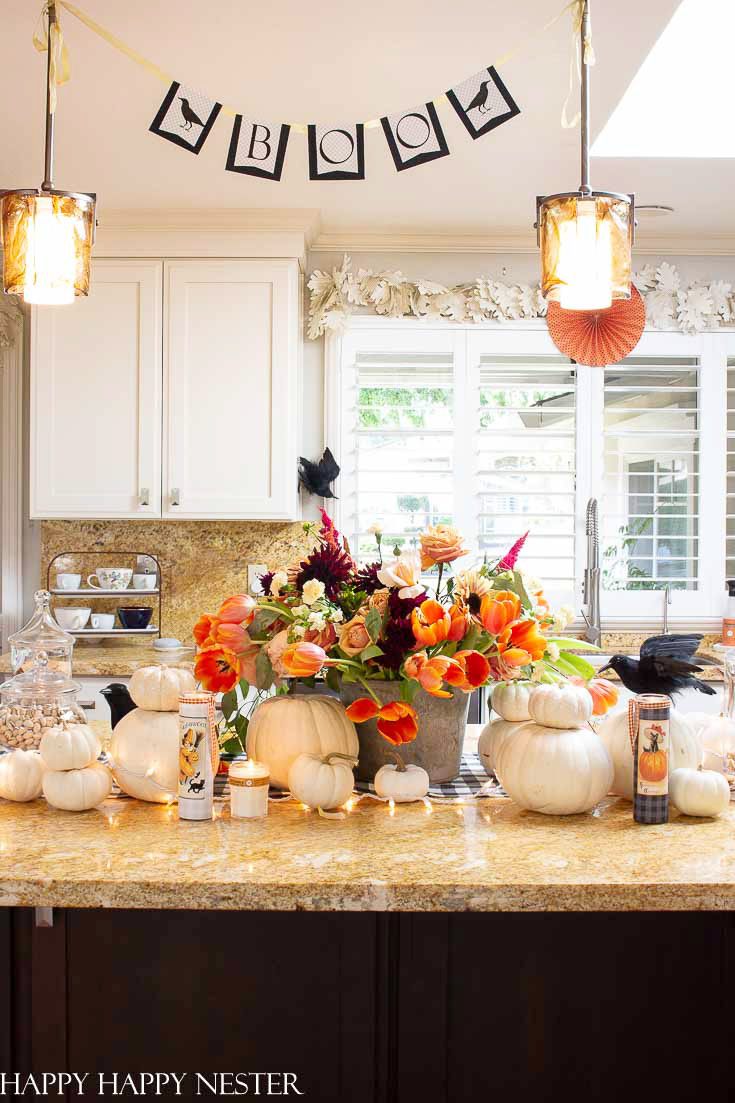 Here are 7 Ideas for Halloween Decorations
Pumpkins are Best for Halloween
So, late one night while I was lying awake in bed and my brain wouldn't shut off, I thought I would cover my kitchen island with pumpkins. So, the next day, I was super jazzed to start working on this idea. So, here are the results of my pumpkin shopping. Of course, I had to take this pumpkin shopping trip alone since my budget conscience hubby would probably negate all my purchases. Men just don't get this whole seasonal decorating obsession.
Find a Cute Runner
For the season, I also go out of my way to find a fun table runner, and I found this at Homegoods. And I feel the only reason it was still on the shelf is that at the ends were some gaudy felt pumpkins. If I had scissors in the store, I would have taken them off in the store! Well once home, I had to remove them first thing. This runner adds the right amount of pop and accents to the other black decor.
Ok, here is probably a more beautiful table runner than mine. 🙂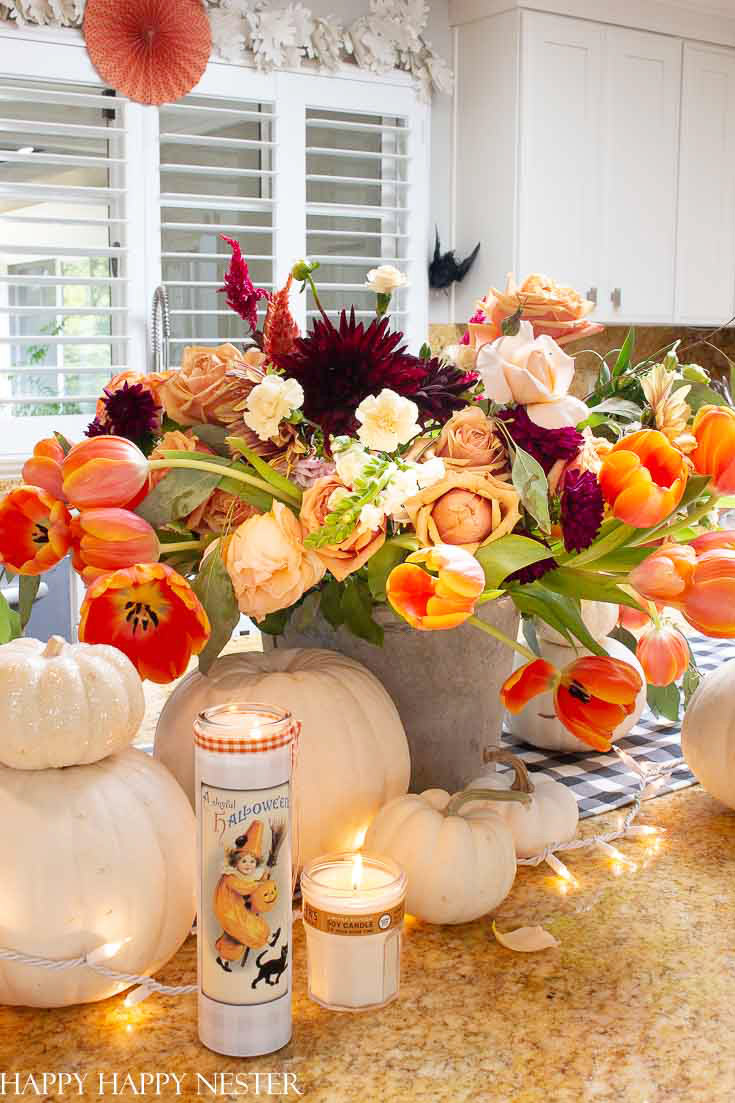 Fall Flowers Add a Nice Touch for Halloween and Fall
Well, for my ideas for Halloween decorations I love to add a pretty bouquet of fresh flowers. I think I spent only about $30 for this arrangement. I did place a few of my own David Austin garden roses in with the mix, and now my kitchen smells like a beautiful rose garden. Ok, back to the floral design, when I plan them, I like to choose two colors. So for this bouquet, I went with orange and burgundy. This fun duo of color is surprisingly an unusual and fun combination.
By the way, I love this vintage bucket for my flowers, but you can find a retro one here.
Fall and Halloween Candles
Once the temperature cooled, I immediately whisked out our candles. The witch pumpkin is a candle DIY, and it is the most straightforward project, ever! And the Mrs. Meyers Pumpkin Spice candle is seriously the best! You see, I have a superpower in my nose! I can detect the slightest whiff of smoke, so that means I'm uber-sensitive to candle smoke. It's so annoying, why couldn't I have a gift in anything else?!!! Well, long story short, this candle burns remarkably clean, and I can keep it lit for hours! I have this one burning every day, which I love!!!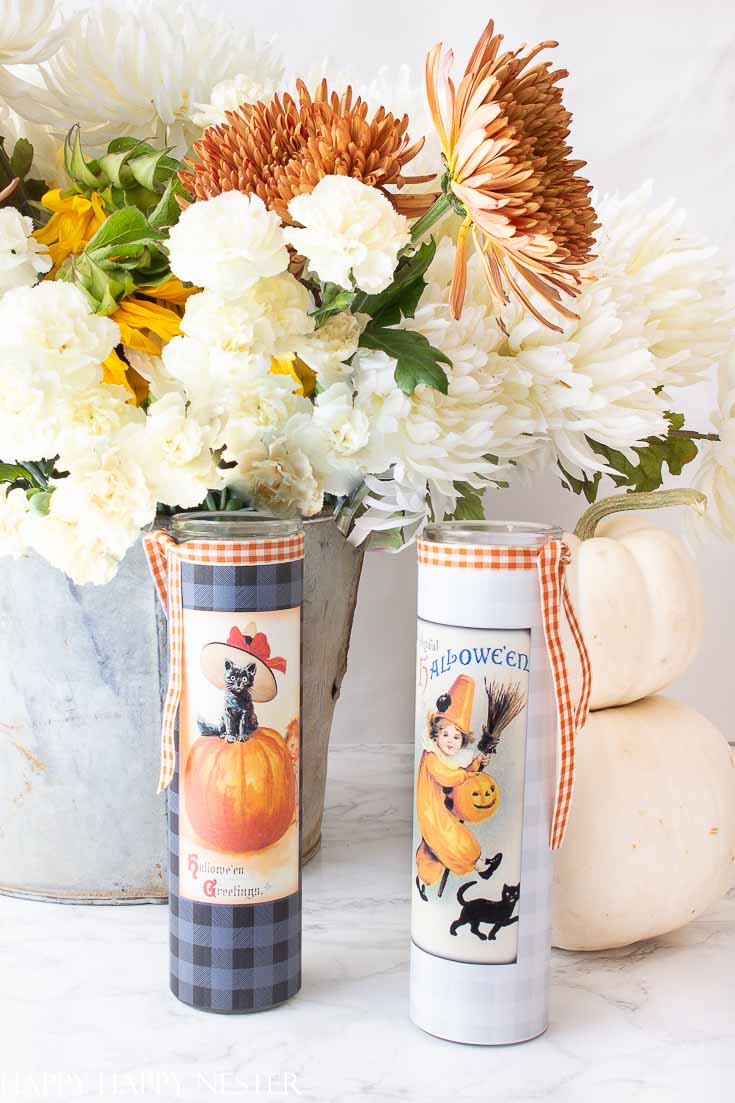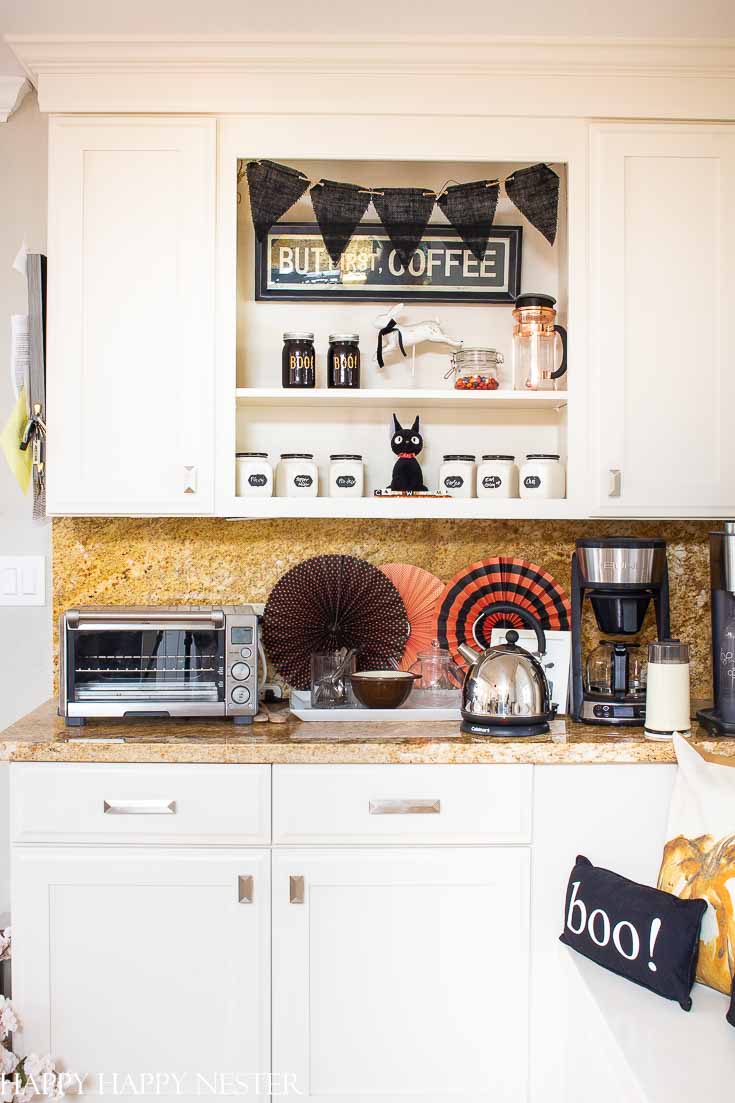 Festive Halloween Banners
I love banners, and I have them throughout my house. I like them since they add an accent color which brings your eye up to view the whole room. This one is the cutest, and I am pretty confident I can replicate it. I need to buy the supplies, and I'm on it. But, you can see my latest over my kitchen island that says boo! You can find the Easy Halloween Paper Banner DIY on my recent blog post.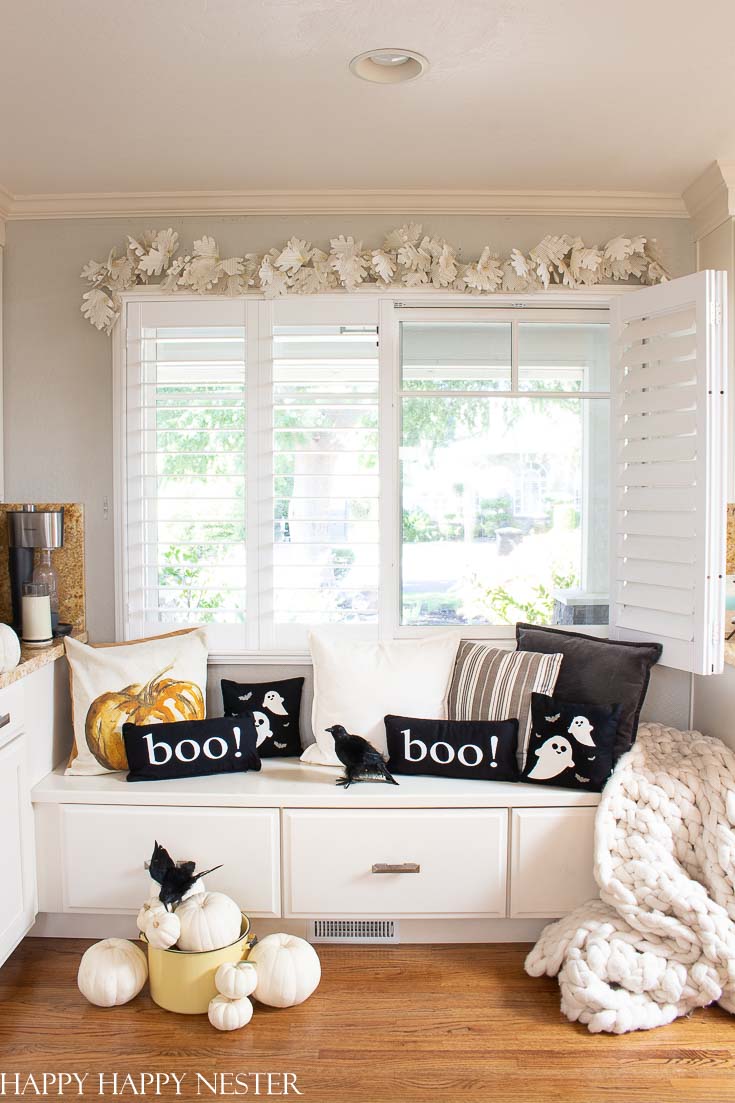 Halloween Pillows
When it comes to ideas for Halloween decorations, I always love to add pillows, and who doesn't like a few whimsical pillows like these. Of course, I had to add my favorite Pottery Barn Pumpkin pillow. It is still my favorite after many years of owning it. That tells you it is a wonderful design that has survived the test of time and styles. I would venture to say it is a classic!


Crows are Great for Halloween Decor
Who doesn't have some of these black-feathered crows? Last year, I had them out on my porch, and I always wondered what our resident crows thought of them. Yup, we always have a murder of crows on our front lawn. Yes, we have a menagerie of animals in our neighborhood.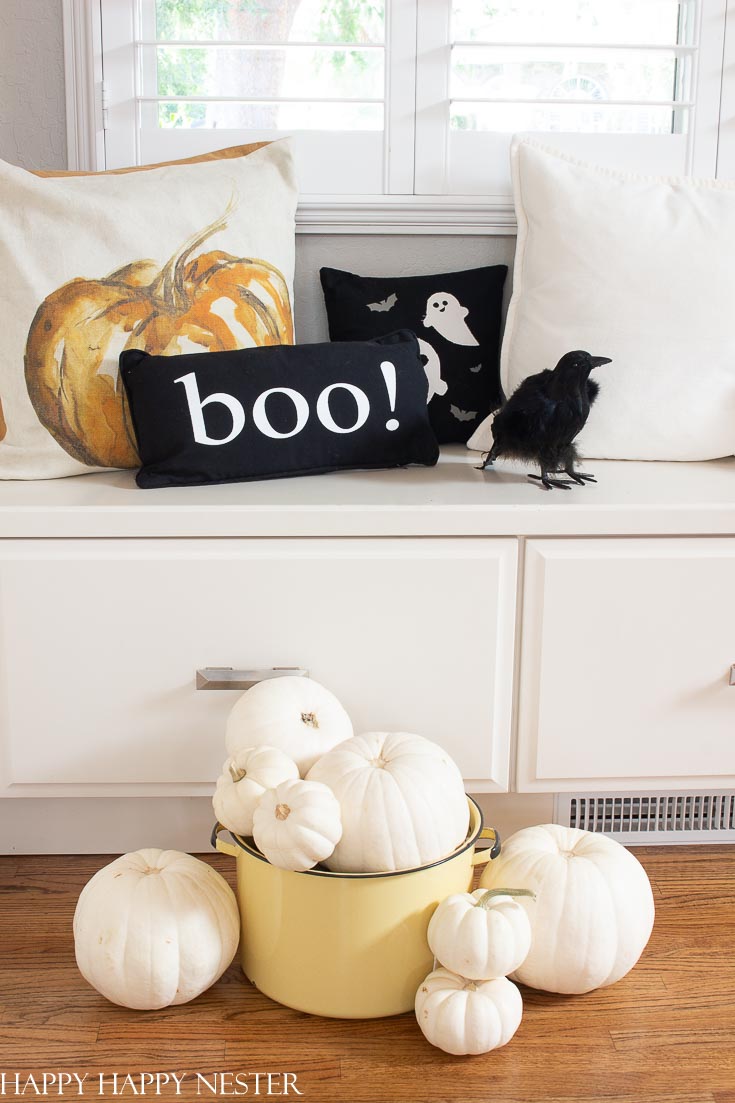 Here are Some More Ideas for Halloween Decorations: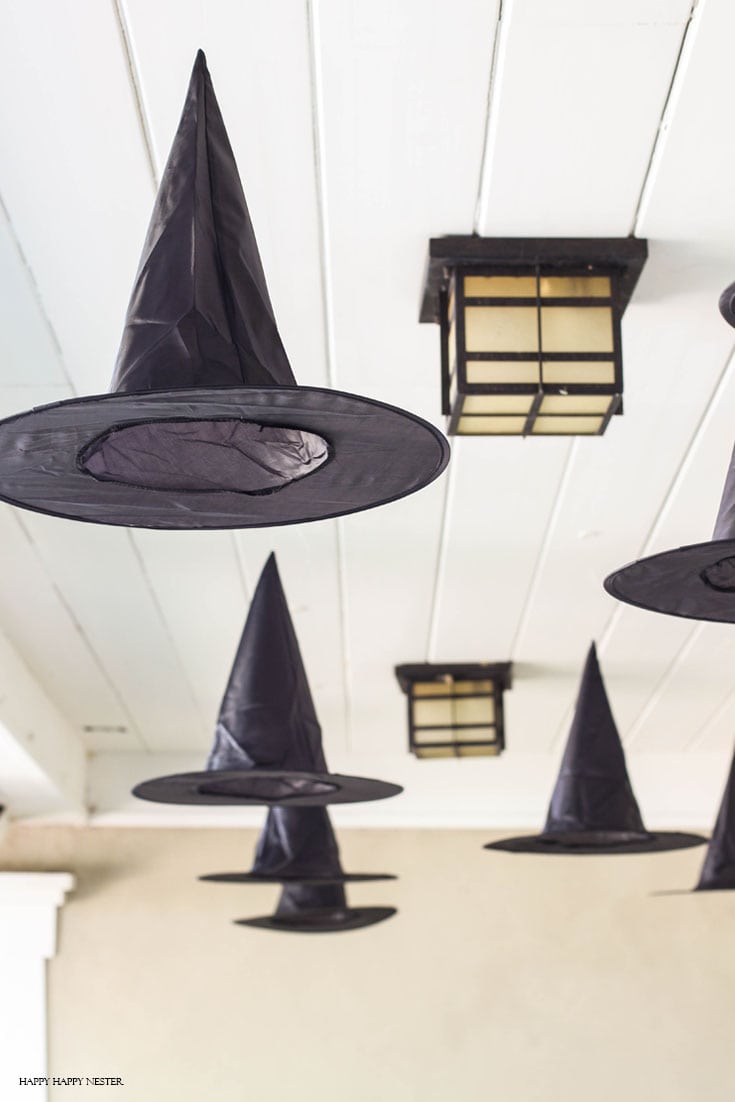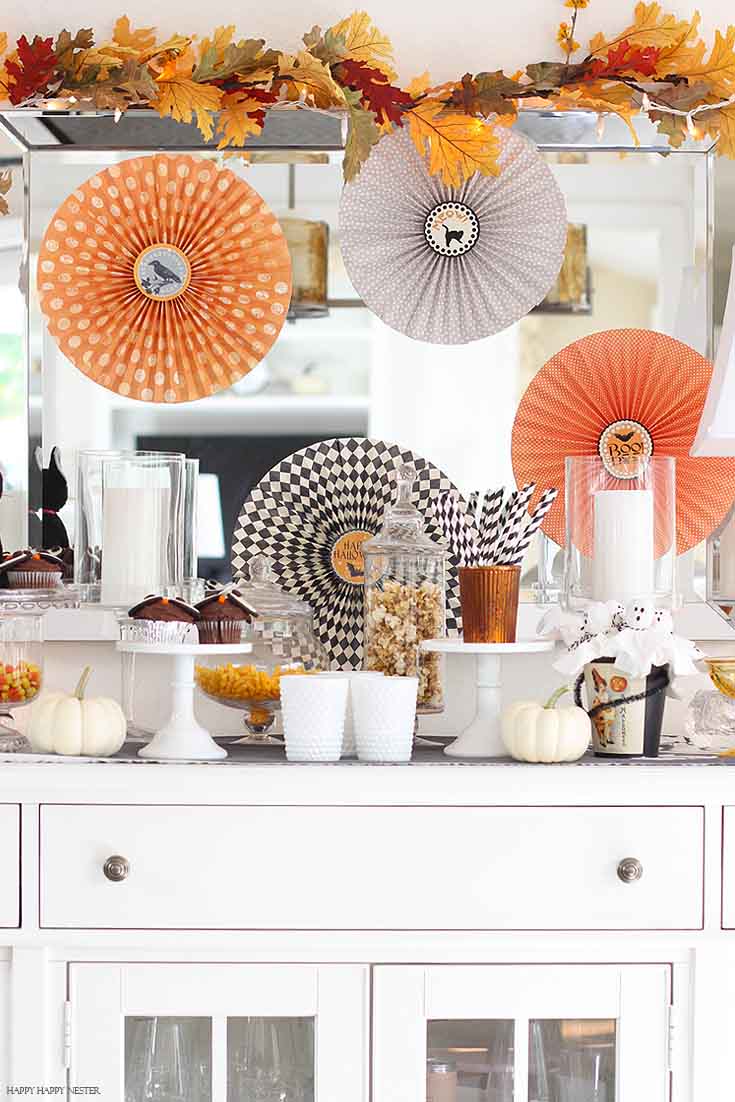 So, I was going to try and keep this post short since I was running around taking my husband to doctor appointments and my mom is in the hospital, but of course, I got to chatting, and now this post looks like it is super long and wordy. I'm so sorry for the lengthy post, and if anything, I hope you enjoyed it.
I hope you came away with some ideas for Halloween decorations.
Cheers and Happy Decorating!

Here are Some Wonderful Ideas for Halloween Decorations From My Friends!
Ella Claire & Co. | So Much Better With Age | Taryn Whiteaker | Live Laugh Rowe | Kindred Vintage
Nest of Posies | Twelve On Main | Nick + Alicia | Paint Me Pink | Town and Country Living
Zevy Joy | My Sweet Savannah | Kelly Elko | The Wicker House | Sagehill Cottage
A Blue Nest | Happy Happy Nester | The Tattered Pew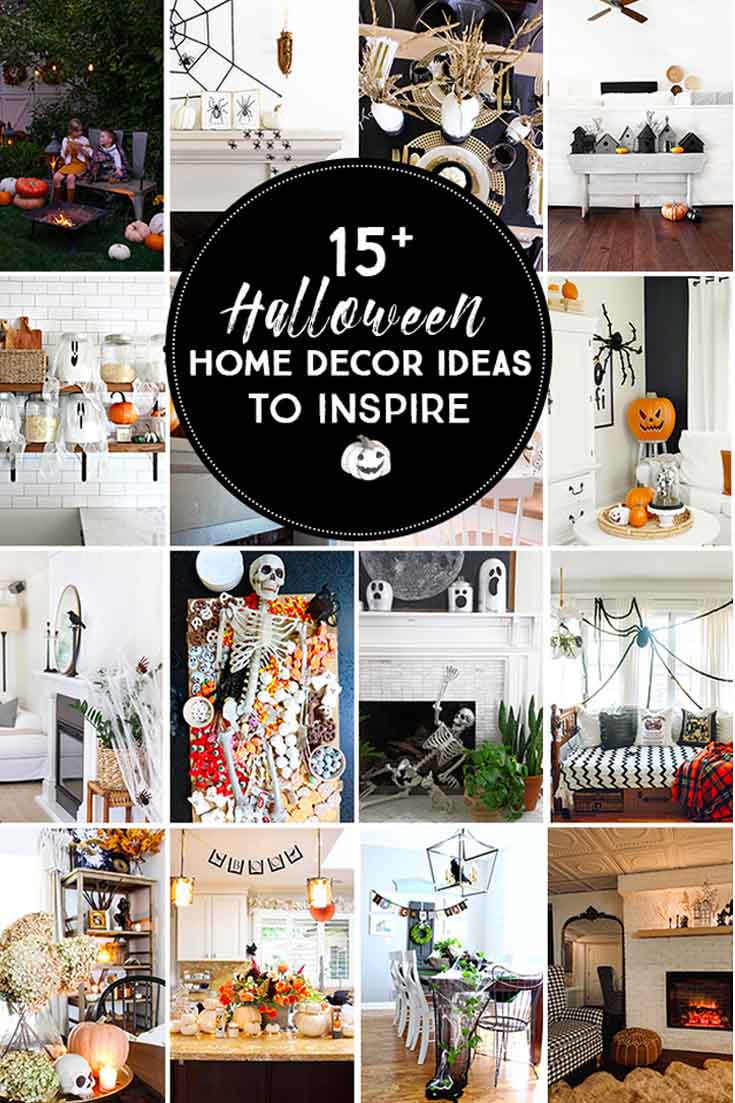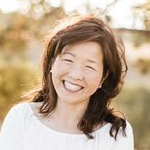 Latest posts by Janine Waite
(see all)