Here is a collection of Cozy Fall Home Decor! These pieces will help inspire you to create stunning spaces that will bring warmth and coziness to your home during the Fall. I also include DIY fall decor, my favorites, what's trending on the blog, and lots more!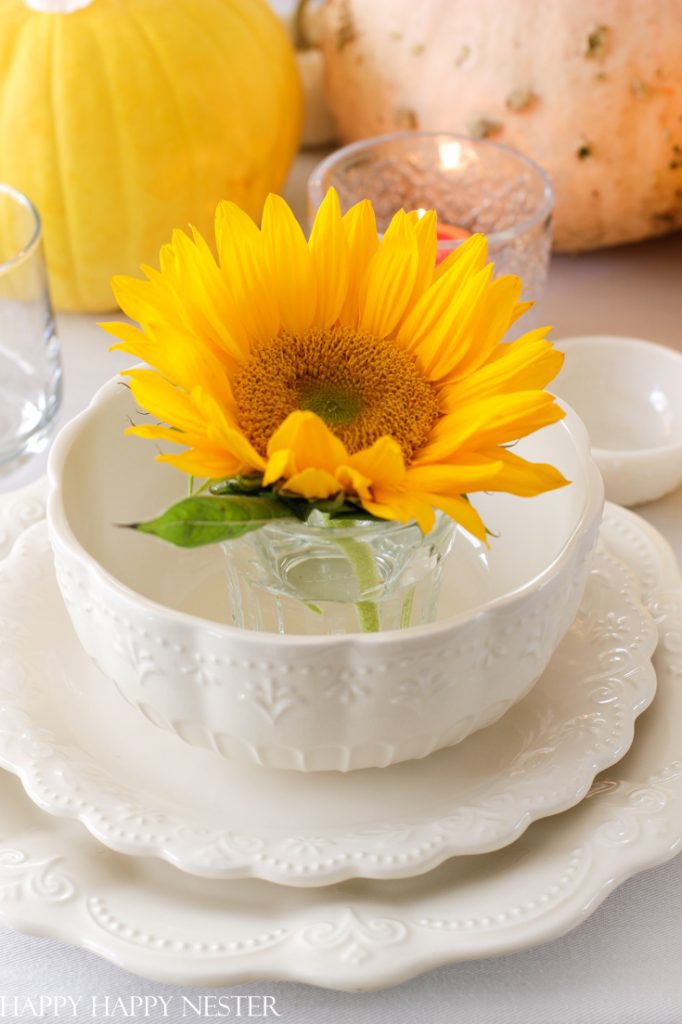 It's time to get out your comfiest pillows and blankets and decorate your home with fall decor! But seriously, the weather is getting colder, and soon we will be cuddling by the fire, so we might as well be surrounded by cozy vibes!
Come on, let's fill your home with these simple crafts that create unique decorations!
So for all those crafters out there, you're definitely in the right place. Scroll down for cozy fall home decor and more!
*This post contains affiliate links
Saturday Chitchat with Janine – Volume 34
Woot woot for the weekend!
It's officially Fall Y'all! But seriously, Fall is here, and it's time to spice up the house with the decor!
Who's ready to decorate, craft, and bake? I don't know about you, but this season is perfect for all of those hobbies and more. So let's get started!
I love Fall most of all, and you should too. I believe Fall is proof that change is beautiful, and it's okay to try new things and create new favorites.
So since this season is in full swing, it's your time to shine! Time to check out these cozy fall home decor pieces to have your home full of harvest wishes and pumpkin kisses!
Have a cozy Saturday!
A Personal Note from Janine
So our temps aren't cooling down, but that doesn't stop my Fall decorating.
Yes, we are still in flip-flops and shorts, and I'm getting a bit impatient. You see, I can't wait to wear my sweaters, shoes, and coats.
Yes, I wore my coat for this photo, and please don't tell anyone that it was 91 degrees when my brother photographed me. 🙂
Well, in the meantime, I'm busy decorating our cozy Northern California, and who cares that our air conditioning is running.
This week, I teamed up with Walmart and created a super fun fall table. I gathered up some pumpkins and styled them with a new color combination, pink and yellow! And I bought some cute retro-style dishes from Walmart.
But this look wasn't my first choice. Yup, I initially planned to decorate my table with blue dishes, and well, the blue didn't feel like Fall, so I changed plans.
So the moral to this story is if your first attempt doesn't work, don't panic! Next, don't be afraid to reconsider other options.
I am super happy with my final table, and I love that eventually, everything came together so nicely.
So, enjoy a cup of coffee or tea and join me for this week's Saturday Chitchat!
Cheers,

This Week's Inspiration -Fall Decor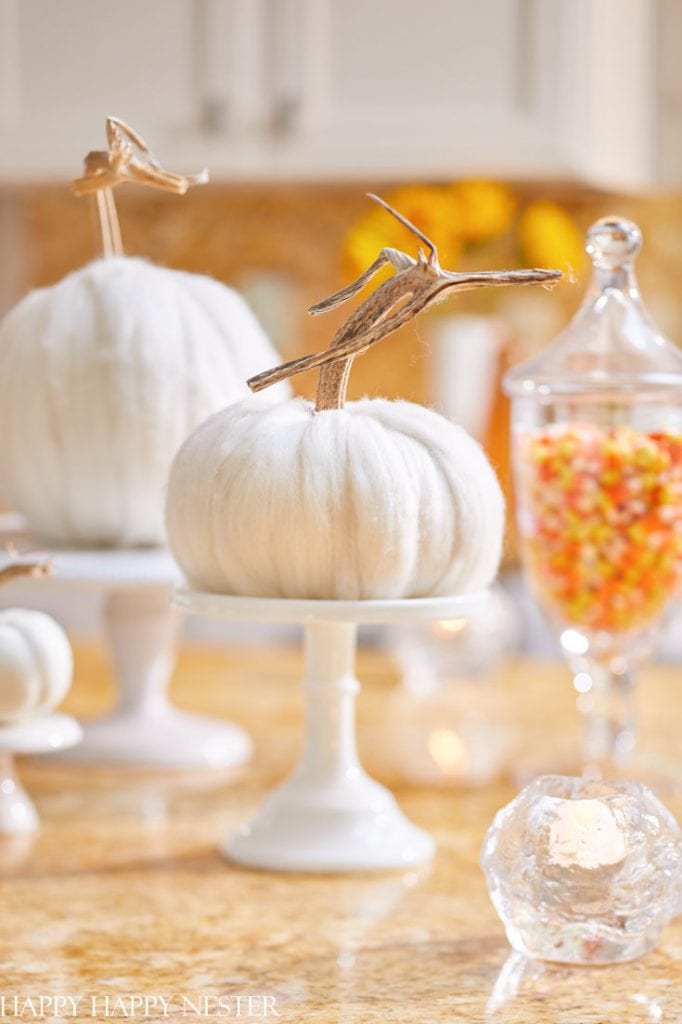 If you have a few faux pumpkins that you don't know what to do with, then listen closely. Here is your sign to create something out of those pumpkins!
This project requires only a few supplies to transform a faux pumpkin into a fluffy, cozy pumpkin! Simple with a stunning outcome sounds like a win to me!
A wool pumpkin (or two) could definitely create a homey look when decorating for this season, so check out this piece of cozy home fall decor!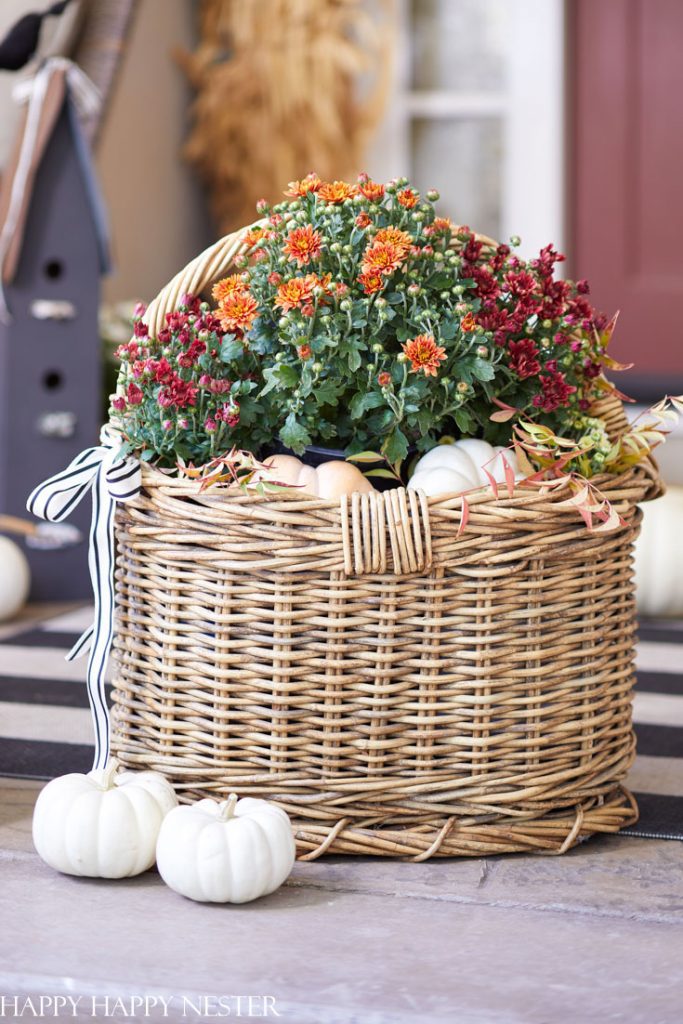 Need help with Fall mum display ideas for your front porch? Check out this post for the best color combinations, arrangements, and containers!
The nurseries are full of these delightful fall flowers, and I love how the colors mimic the beautiful leaves in Autumn. I always have them around and in my home to create that "fall feeling."
When decorating your front porch (or wherever you desire), check out my tips and tricks on how to display them beautifully!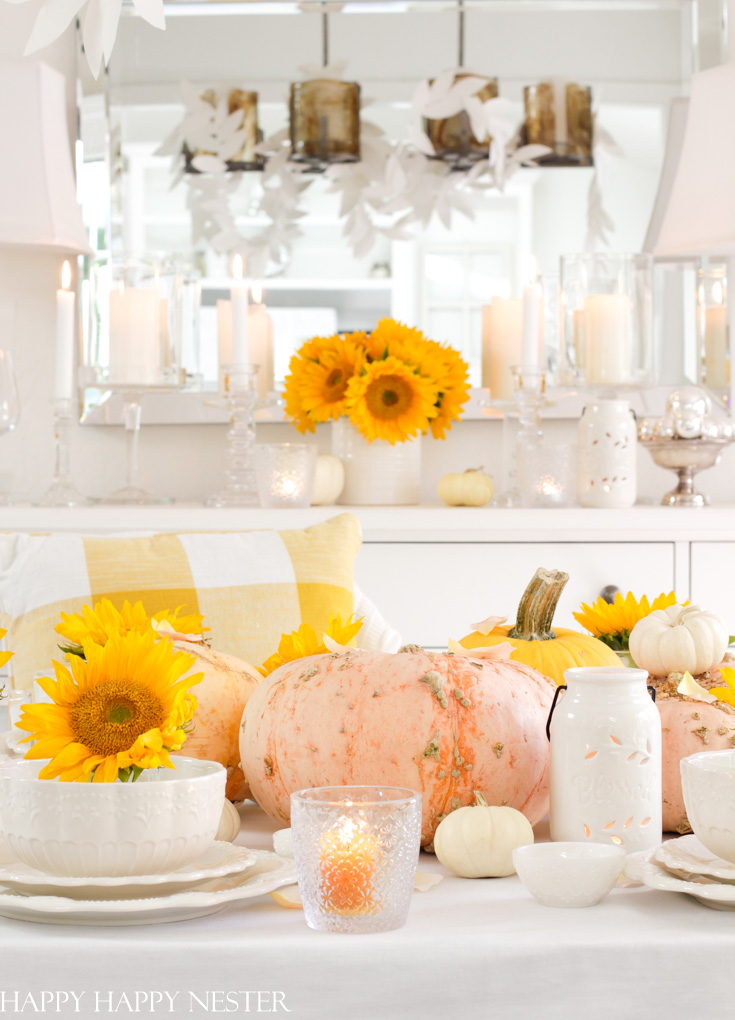 You're in for a treat today. I have styled my table with my favorites of Pioneer Woman decor. I created a pretty fall tablescape full of gorgeous dishes, candleholders, and more!
Ree Drummond's home product line is so pretty, and her dishes are to die for. I fluffed up my fall table with some festive pumpkins and farm-fresh sunflowers!
This fall table is simple and elegant, and perfect for a weekend dinner with the family. Here is my happy fall table DIY to hopefully inspire you to create this look or a look of your own!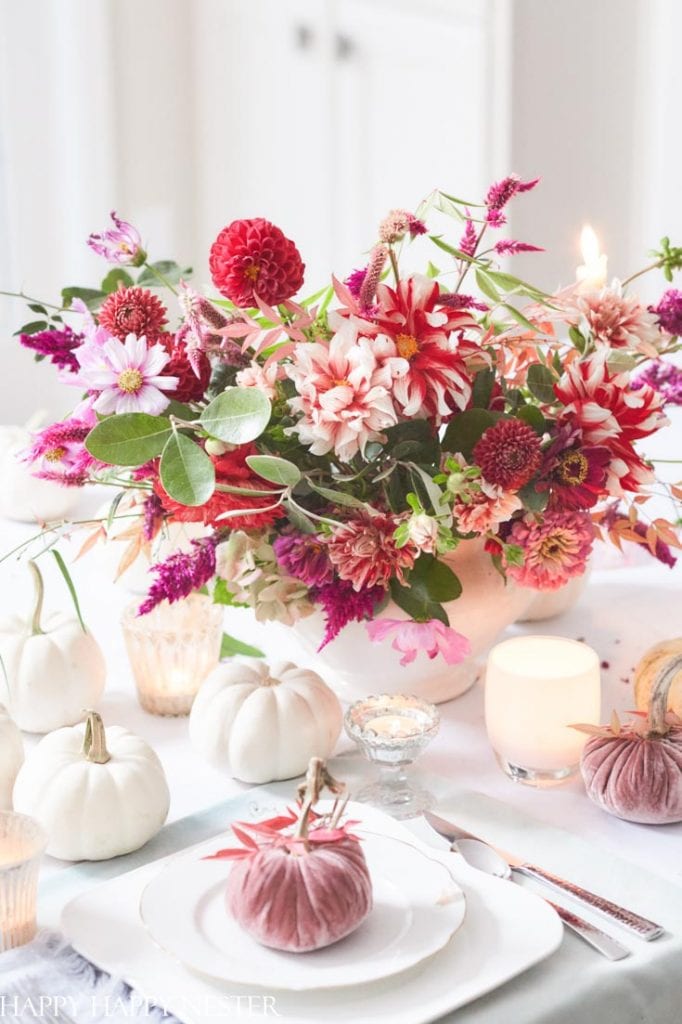 Flowers make me a happy girl, so I'm jazzed to share my romantic floral arrangement this week. And as predicted, I created a nontraditional flower arrangement for Fall. Here's to breaking tradition!
I believe a centerpiece makes all the difference so if you agree, check out this DIY to create this exact arrangement or your bouquet of blooms!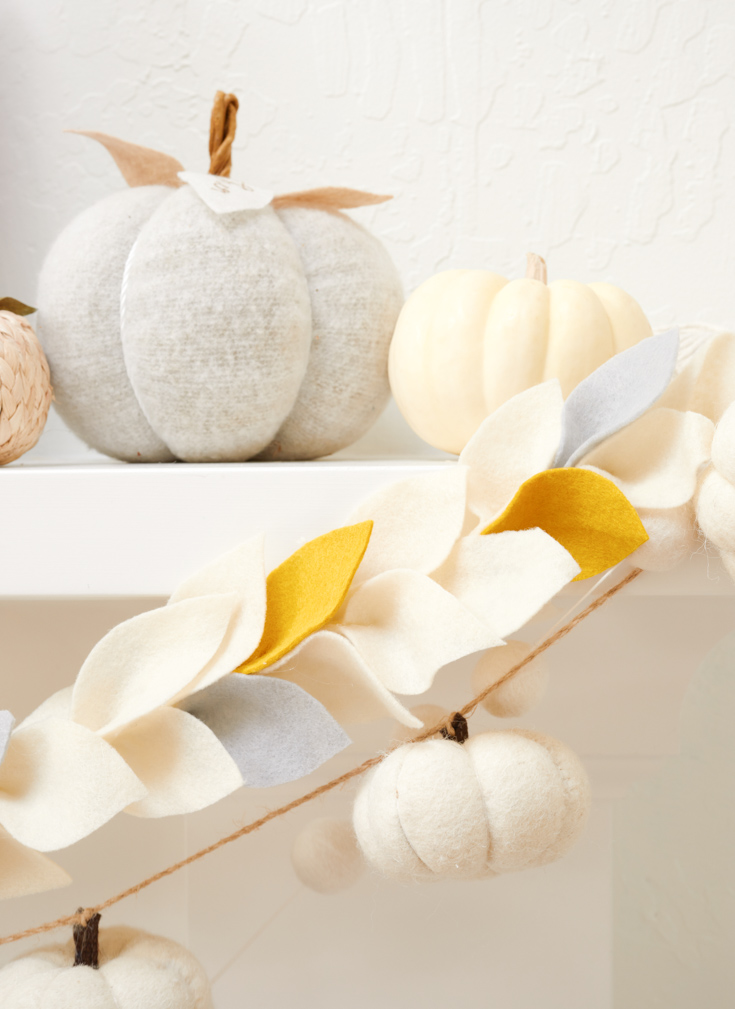 As we begin to spend more time indoors, this time of year screams for decor. I love to decorate with garlands, so I got busy and made this fun felt project.
I love any felt decor. Felt draws me in with its inviting and cozy look, and this garland is the definition of a welcoming, warm look! It's one of the many pieces of cozy fall home decor I have created.
If you're looking for a stylish and straightforward piece of decor to create in your free time, here it is! Check out this post to add more decor to the heart of your home!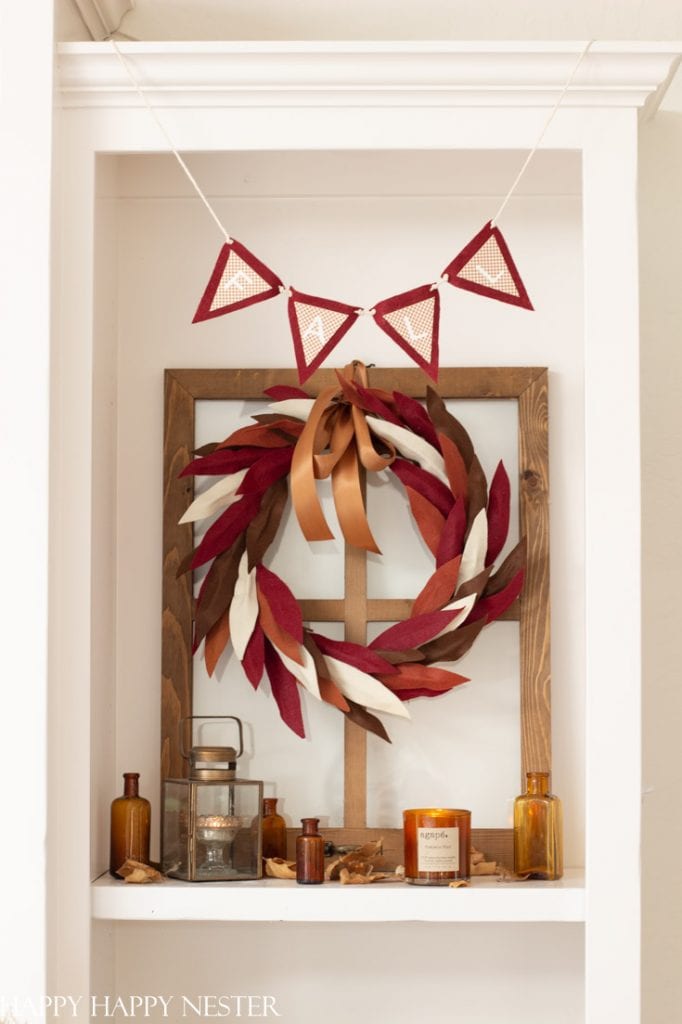 If you don't know by now, I enjoy using felt in my decor. It's simple and stylish, which sounds great to me! Whether creating a garland or something like this fall wreath, felt is the way to go!
This wreath is full of fall colors and will definitely make your home feel cozy! Hang it on the front door, in the kitchen, living room!
That is what's fun about wreaths, and you can decorate them in every room! So check out this simple project to create a stunning wreath!
---
This Week's – Boutique of the Week (Cute Pumpkins)
*The following post contains affiliate links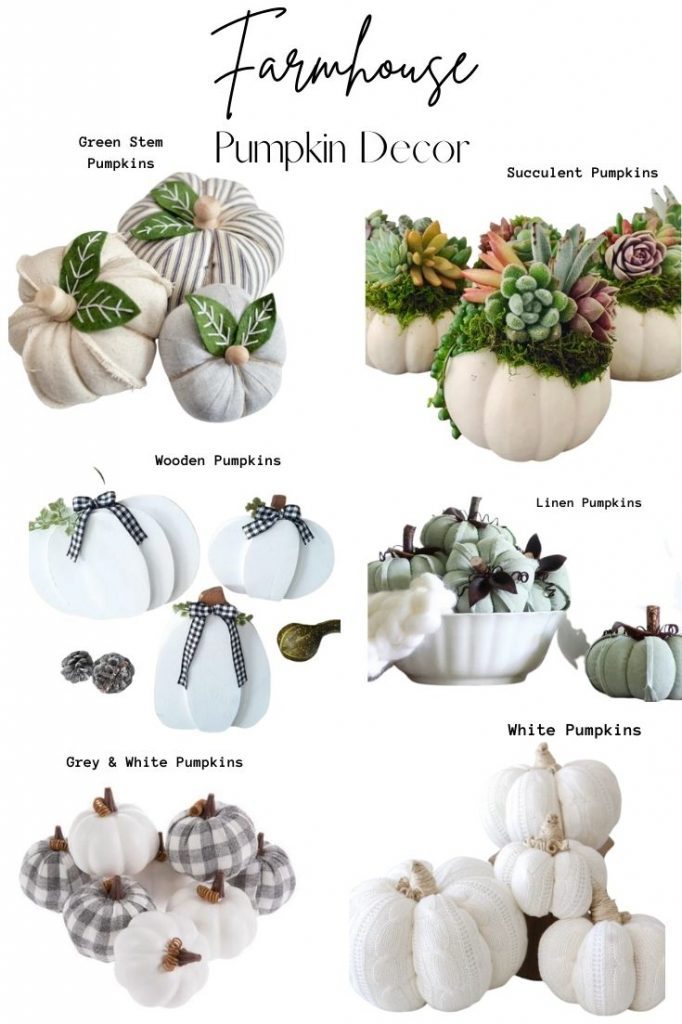 Tis' the pumpkin season. Am I right?
If you've seen my home, you know I love to decorate with pumpkins. All colors, shapes, and sizes too!
There are many ways to style with pumpkins throughout the heart of your home. It's fun to have mix and matched pumpkins to be festive in your way! I am here to help you become inspired to create any look you desire.
With this collection of farmhouse pumpkin decor, you will find the perfect pick for your outdoor and indoor spaces. I have included velvet, felt, hand-knitted, glass, and more types of pumpkins to choose from! This way to the pumpkin patch!
With these fall pumpkins, your home will transform for Autumn and become the pick of the patch in your neighborhood!
---
My Favorite Things – Fall Decor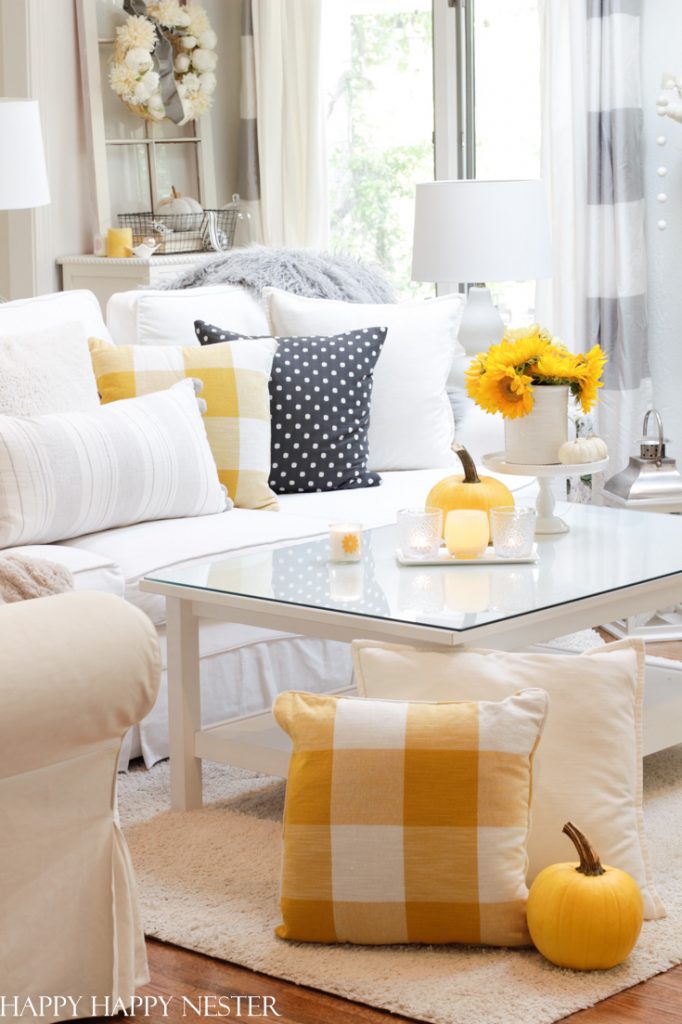 I Love These Pillows!
Get comfortable with this cute yellow buffalo pillow! It features a polyester fill with a 100 percent cotton shell, and the color is so pretty.
Cord piping edge is added as a decorative touch and for added durability. This pillow can work with many different decor themes!
I decorated my dining room with these, and I love them! They bring such a cheerful vibe to the room and honestly make meals more fun too!
If I had to recommend any fall pillow to you, this is the one!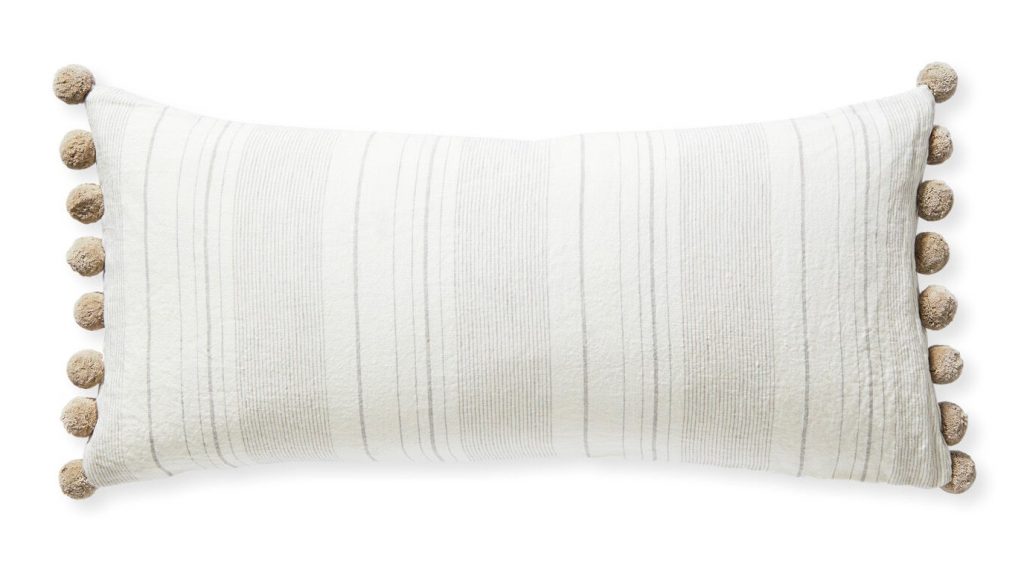 Everything about this pillow showcases our obsession with pretty textiles – from the yarn-dyed stripes to the playful pom-poms and relaxed linen base.
I love to decorate with pillows. Everywhere. So one could say that I don't need any more pillows, but this one Serena & Lily pillow with pom poms has been on my mind like crazy!
The details required expert craftsmanship and extra time to produce, but we think the results were well worth it!
---
Fall Decor From My Friends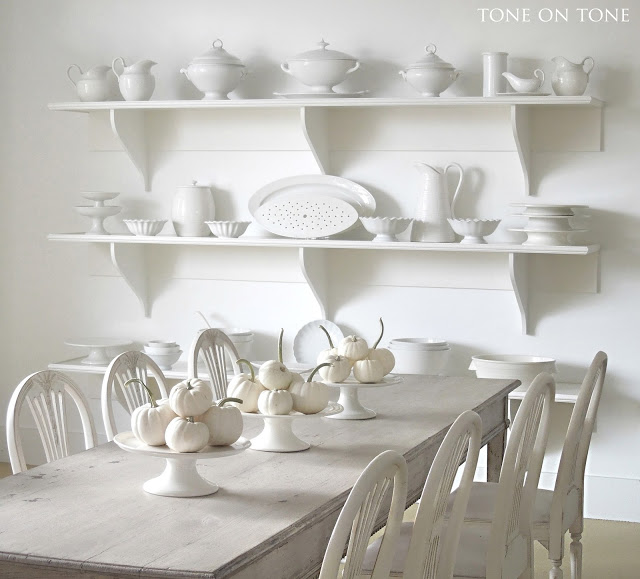 Are you looking for farmhouse decor? Check out my dear friend, Loi, from Tone on Tone Design. His decor will seriously blow your mind.
Loi has created a simple yet stunning look within his home, full of white everything! He's got white pumpkins, antlers, cake stands, dishware, and more!
All in all, he has created such a beautiful space that screams farmhouse chic! To get inspiration, check out Loi's white fall decor!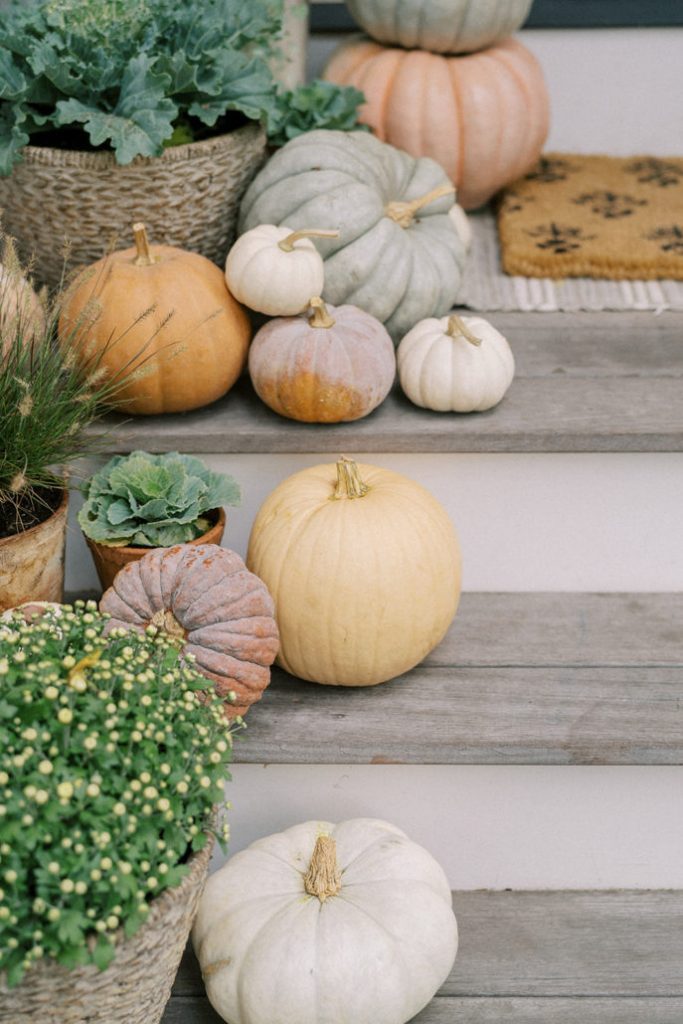 We all love a lovely porch during the Fall to admire as we drive by. To get some inspiration, check out my good friend, Jackie, from Finding Lovely. She has a beautiful porch!
She includes the decor pieces, style, and steps it took to create such a wonderful and welcoming look for this fall season!
If you love pumpkins and you enjoy decorating with them, check out Jackie's post because she uses pumpkins of all shapes, sizes, and colors!
Like I have mentioned many times before, I love pillows! So in honor of my love for pillows, here are some DIY pillows ideas from my good friend, Leslie, from My100yearoldhome.
Leslie is the queen of crafts, let me tell you. And today, her craft is a painted pillow with gorgeous stitching to create a fun leaf design for Autumn!
If you enjoy crafting and creating, check out Leslie's DIY to get started today!
---
Trending Over On The Blog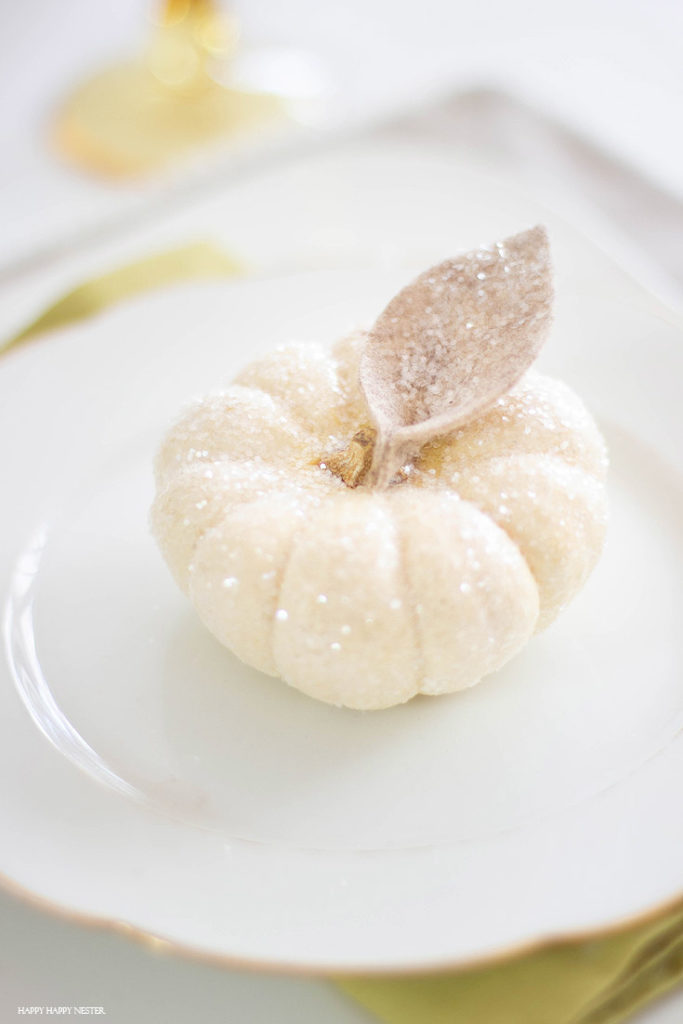 How to make glitter pumpkins is surprisingly easy. Like most of my craft projects, you'll enjoy creating these cute pumpkins!
And I promise that this project will only take you a couple of minutes to make. Soon you will be obsessed with these fun glittery pumpkins, and they will take over your home.
Once you know how to make these glitter pumpkins, you'll find many ways to decorate with them. Their sparkly appearance makes them feel so magical as cozy fall home decor!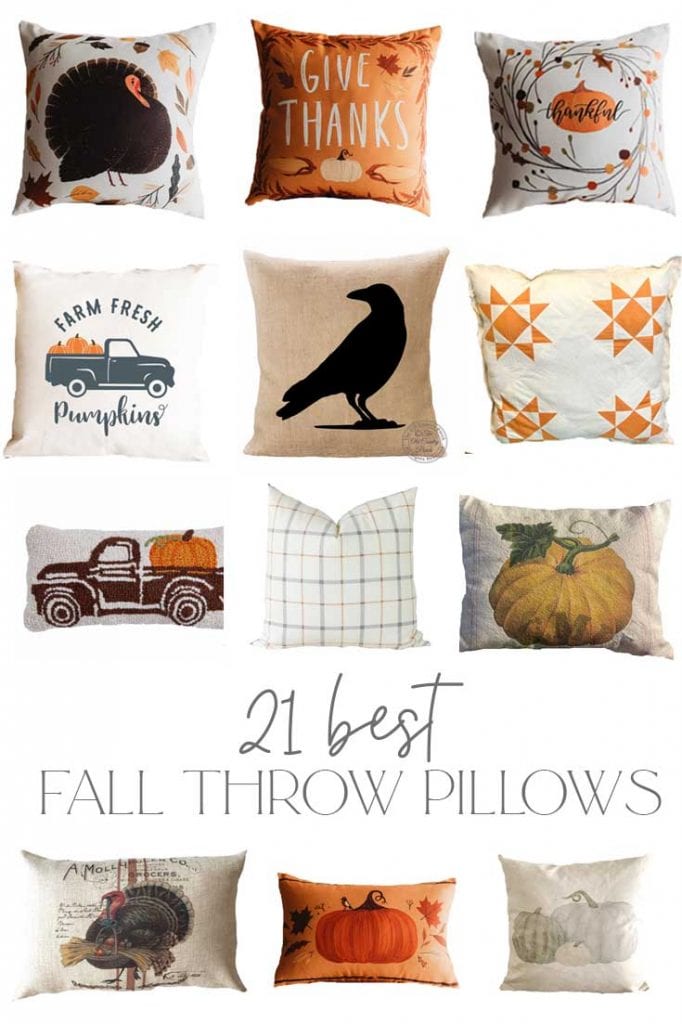 If you want an easy way to introduce some fall decor to your home, then you'll love my Favorite Fall Throw Pillows!
I have found some pretty fall quilt pillows as well as French flour sack designs. There is a variety to choose from, so hop on over to this big roundup of fall decor.
In the last couple of weeks, I have had fall decor on my mind. And this obsession has morphed into shopping for fall wreaths, pillows, banners, and pumpkins.
It only made sense to share the cute fall pillows that I found online! So have fun picking out the perfect pillow as cozy fall home decor!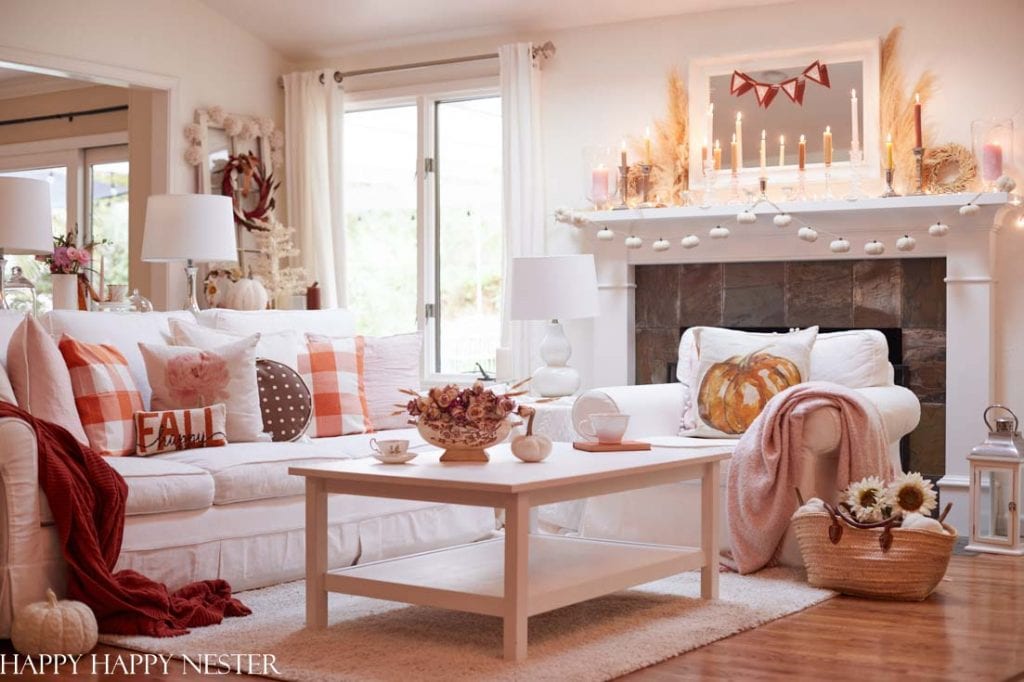 Lately, around the Waite Pad, it's all about cozy fall decor ideas with pink and orange. And if you like nontraditional color combinations for the Autumn, then you'll love this fall tour!
I always look forward to Autumn.
And I think that this year has put us through a lot of stress, and we desperately crave a lovely home. I love wearing fuzzy socks, wrapping up in a warm blanket, and decorating with pumpkins and fall decor.
It is the best time to retreat indoors and refresh our interior spaces.
So with that being said, check out my cozy fall decor and home tour to get inspired to create a warm and welcoming look in your house!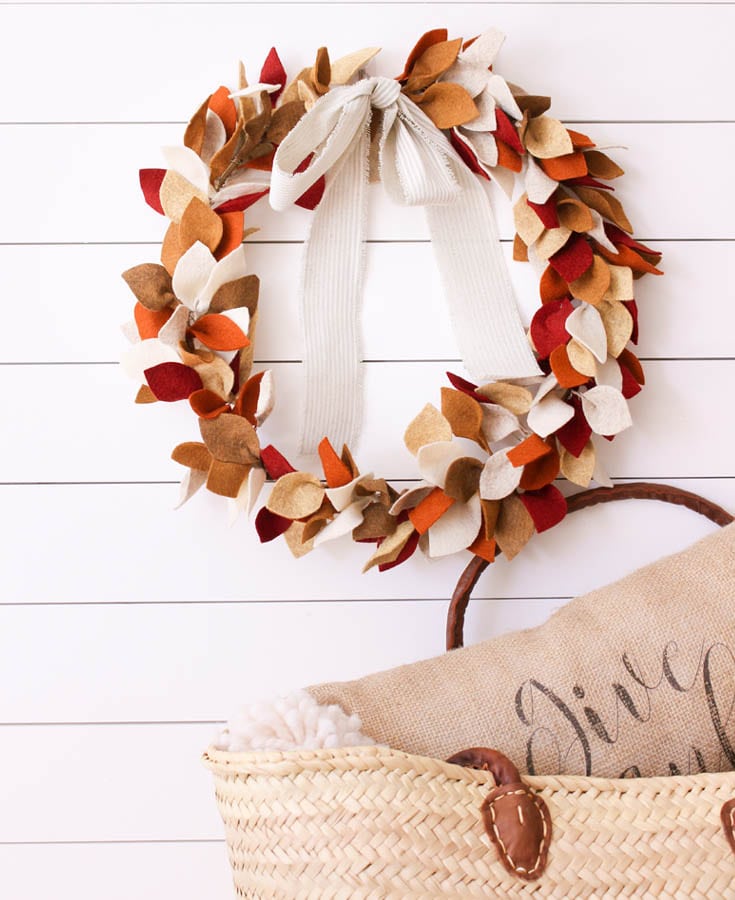 How to Make a Felt Leaf Wreath for Fall
In need of a simple wreath? Here is one of my favorite fall decor projects. I believe mixing the classic fall colors is the way too! With this wreath, you will incorporate Fall into your home!
It's perfect for the front porch, in the window, or inside! Either way, it will make a statement within your home!
---
This Week's Tip – Where to Buy Pumpkins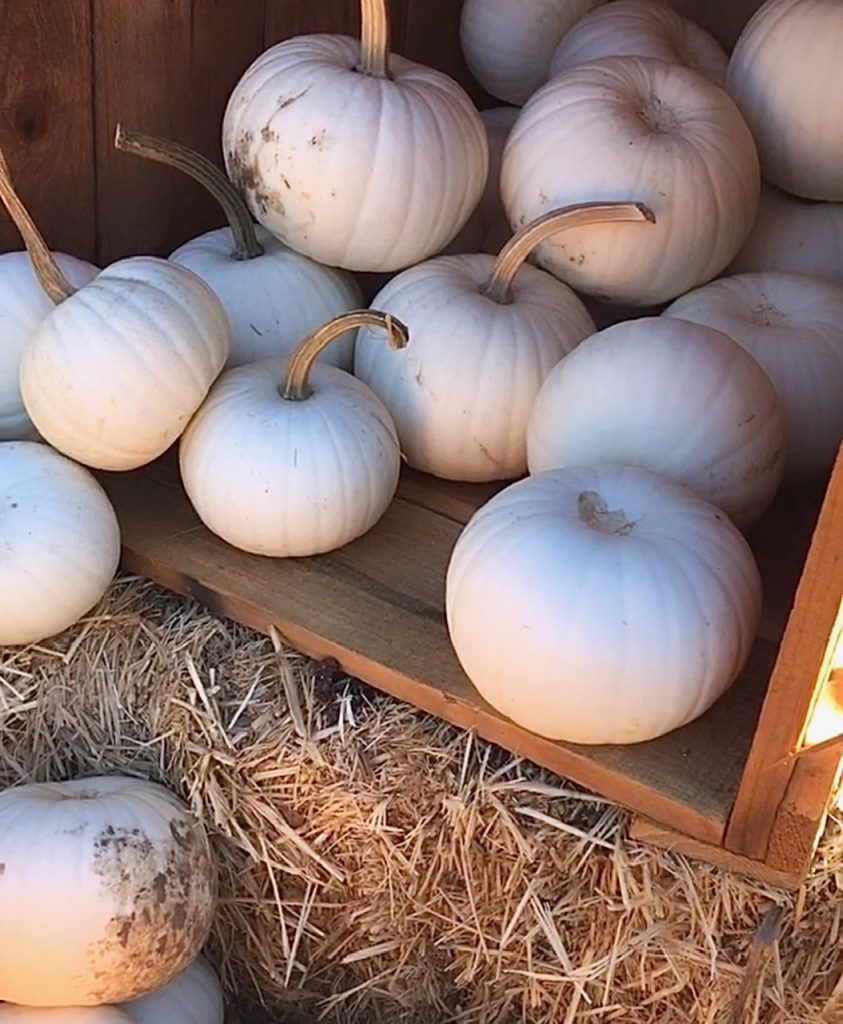 Pumpkins are the perfect decor for Fall. If you've seen my front porch, then you've seen the explosion of pumpkins. I have so many, but it creates such a fun and festive look that I couldn't resist buying many!
You may be wondering, where do you get good pumpkins? I usually look to my local grocery store, Safeway, which sells all types, shapes, sizes, and colors!
I also go to Ace Hardware! They have great options, and this year is the first year that I have seen yellow pumpkins! So, yes, of course, I had to get some for myself.
And lastly, I go to Trader Joe's, another local grocery store of mine. They have the cutest pumpkins ever, and my favorite pumpkins are the mini white ones, and TJ's have them in stock!
---
My Latest Obsession – Cute Cookie Cutter for Fall
I'm Obsessed with Large Baskets
If you know me at all, then you know I love baskets. I have about 20 or so, but let's not count. But I have a lot.
I organize my baskets with decor, flowers, onions, potatoes, and anything pretty! If you love baskets too, check out this link to the Etsy shop – willow basket. I guarantee you will get the best baskets for any use!
When I don't purchase baskets online, I find them at thrift shops and flea markets. But it seems that everyone buys things online these days, so Etsy is the place to do that!
---
Hello, sweet friends! I hope you're having a great Saturday so far. Thanks for sticking around to see my cozy fall home decor and more! I wish I inspired you to create your fall look for this season!
Have a great weekend, and stay tuned for more recipes, crafts, decor, and more!
Cheers,

Catch up on Saturday Chitchats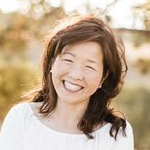 Latest posts by Janine Waite
(see all)