Tis' the pumpkin season. Am I right? With this collection of Farmhouse Pumpkin Decor, you will find the perfect pick for your outdoor and indoor spaces. I have included velvet, felt, hand-knitted, glass, and more types of pumpkins to choose from! This way to the pumpkin patch!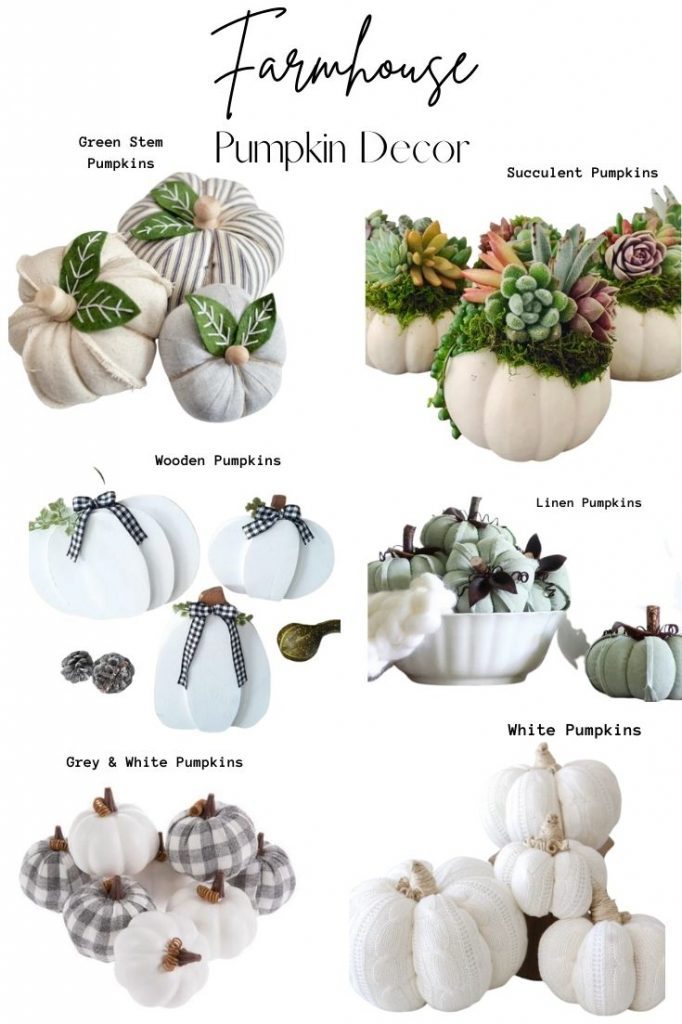 Fall is sweater weather, falling leaves, lots of baking, and most of all, pumpkins! If you've seen my home, you know I love to decorate with pumpkins. All colors, shapes, and sizes too! My favorite ones are mini white pumpkins, and I find them so adorable yet perfect for decoration.
There are many ways to style with pumpkins throughout the heart of your home. It's fun to have mix and matched pumpkins to be festive in your way! I am here to help you become inspired to create any look you desire.
With these fall pumpkins, your home will transform for Autumn and become the pick of the patch in your neighborhood!
Before we get our pumpkin on, check out my latest Boutique of the Week blog posts to receive more inspiration for Fall!
Farmhouse Pumpkin Decor
*This post contains affiliate links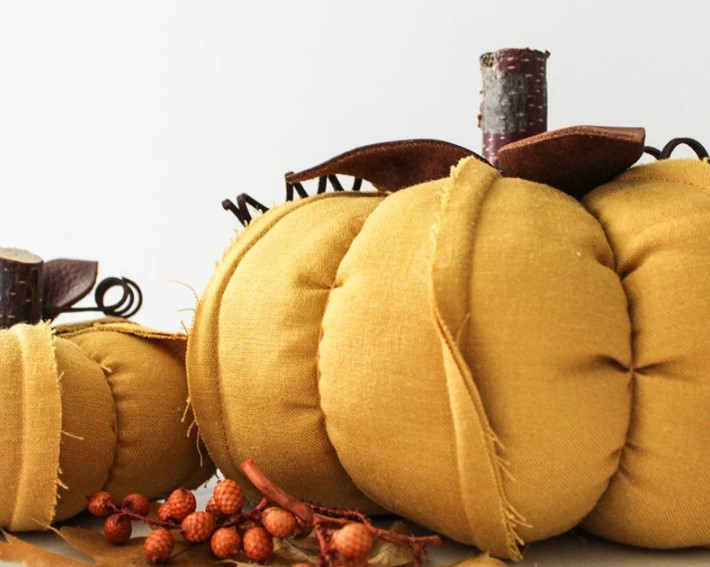 No, these aren't your basic, average, ho-hum everybody-has-'em-pumpkins. These are pumpkins re-imagined, and these sweet honey yellow pumpkins will add a pop of color to your farmhouse decor!
While they are the best pumpkins you'll ever see, I should warn you this type of farmhouse pumpkin decor will put your other pumpkins to shame.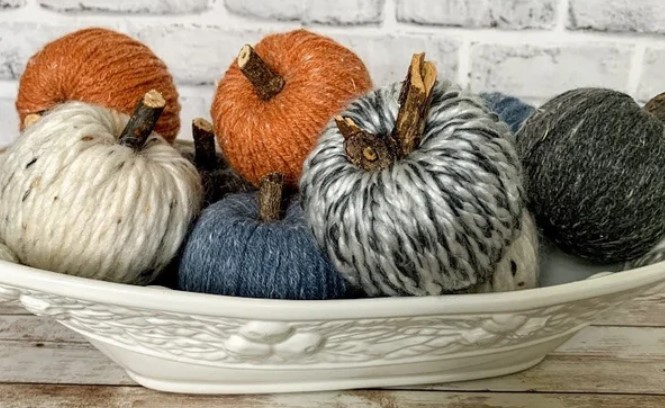 These adorable pumpkins are wrapped in assorted yarn colors and are perfect for bowl fillers or tiered tray décor. Add them to your existing fall vignette or as an accent on a wreath.
They come in various colors that you are welcome to mix and match to fit your decorating style!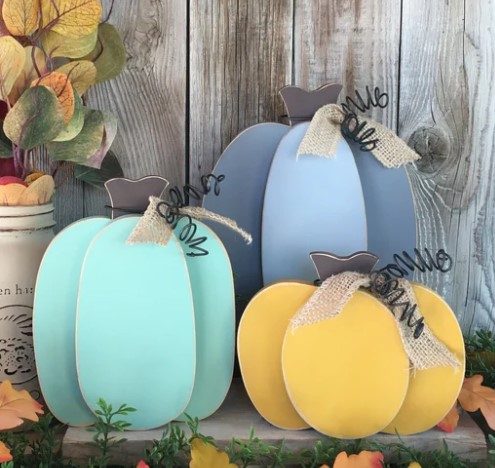 Just in time for Fall, these rustic wooden pumpkins come in 5 different sizes with eight different colors to choose from. These farmhouse decor pieces are the perfect size for your tired tray, coffee bar, or a few on a shelf!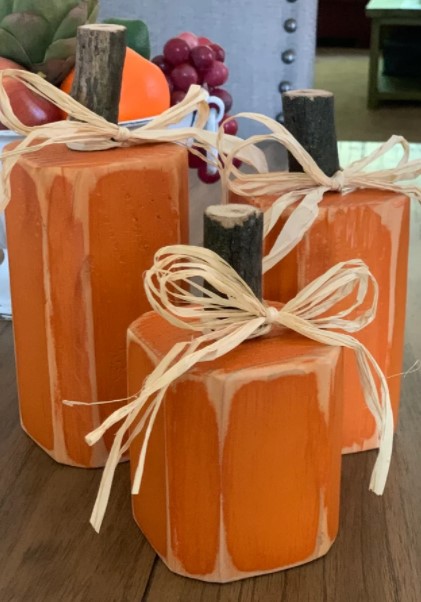 Farmhouse Wooden Pumpkin Set is a perfect match for your farmhouse Fall decor!
Are you looking for a Pumpkin Three-Piece Set? This find is perfect for a rustic look within your home, and it's also great for shelves or table settings amongst rustic Fall decor.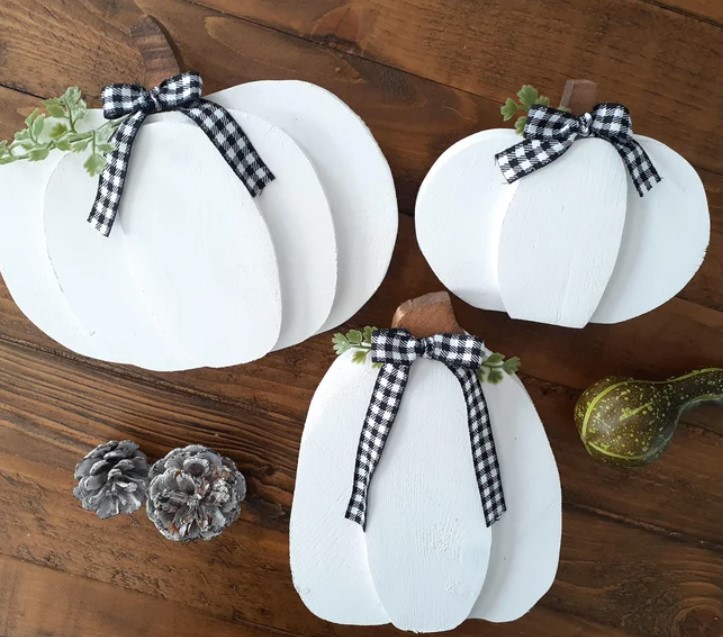 The pumpkins are hand-cut, sanded, and painted white, with a natural stained stem. These pumpkins are rustic yet chic!
They come in three sizes; small, medium (tall and narrow), and large (short and wide). They are the perfect fall décor with classic colors!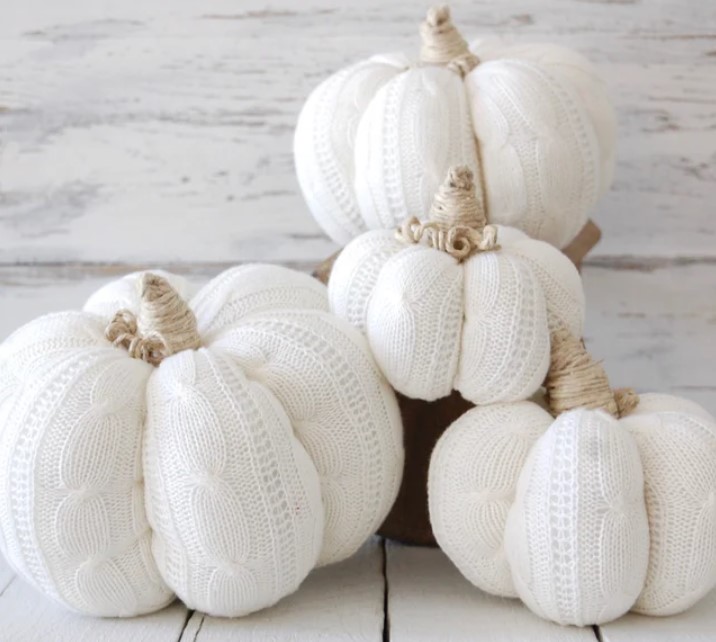 These pumpkins make the cutest fall or holiday decor and go great with so many styles of decor! They are great for tiered trays or shelves or mantles, and you can use them all in one spot or break up the set around your home.
Not only are they excellent holiday decor, but these are some of my favorite farmhouse pumpkin decor pieces ever!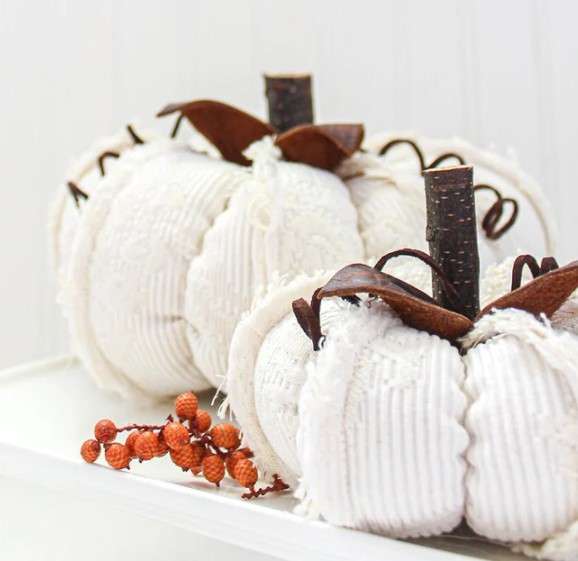 The texture is the name of the game. These new vintage-look creamy-textured pumpkins are one of the best additions to any fall decor – I mean, look at those photos! The soft, creamy, ribbed fabric is designed with a subtle pattern that is timeless and versatile.
And the best news is that you can use them over and over again, so no more FOMO for you!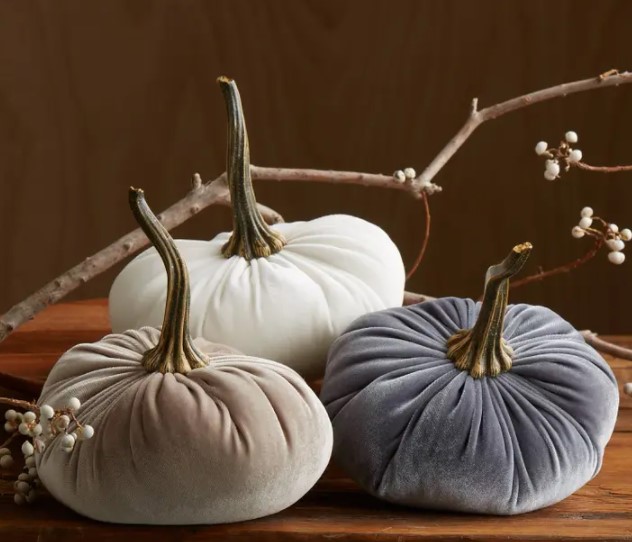 Wow! These pumpkins have been popular! Velvet is a hot trend this season, and these farmhouse pumpkin decor pieces are the best of the best!
These are handmade velvet pumpkins that will add sophistication to your home. The stem is hand-painted resin, realistic, and very durable, and the fabric is velvet!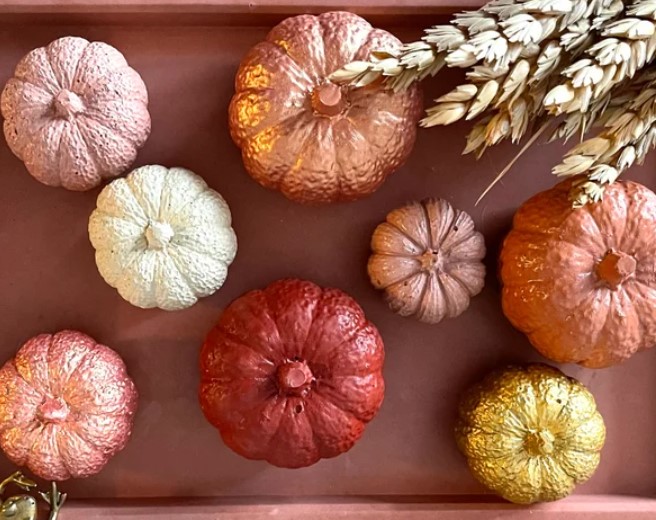 Adorable mini handmade concrete pumpkins make for a cozy Autumn vibe! They are aesthetically pleasing and add a nice touch to modern and contemporary home decor. The colors are created by adding a concrete pigment into the cement recipe.
These pumpkins provide a modern minimalist matte look for subtle style. All pumpkins will be sealed for longevity and to prevent staining so that you can use these every year!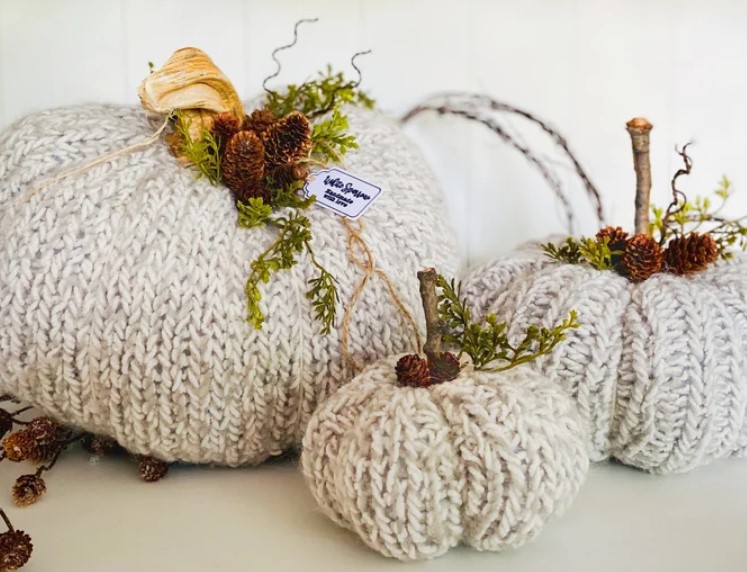 Neutral Cottage Style Pumpkins
These sweater pumpkins made from a reclaimed sweater with braided knit and natural stems are just so cute and cozy! They are designed with a neutral cottage home in mind, but the whole family would befall-tastic in any home, and they would be great all winter long as well!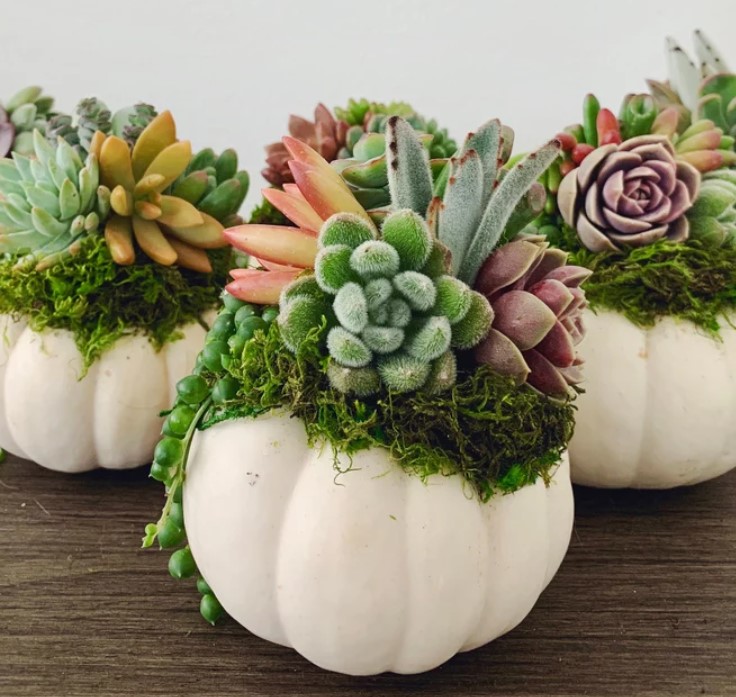 It's finally PUMPKIN SEASON! Succulent Pumpkins are perfect Fall home decor. These are excellent farmhouse pumpkin decor pieces for Halloween and Thanksgiving.
This centerpiece is made out of LIVE greenhouse succulent cuttings and a faux pumpkin placed with lace moss over the top of the pumpkin and securely glued to the cuttings to the moss. Pumpkins come in a few sizes, shapes, and colors!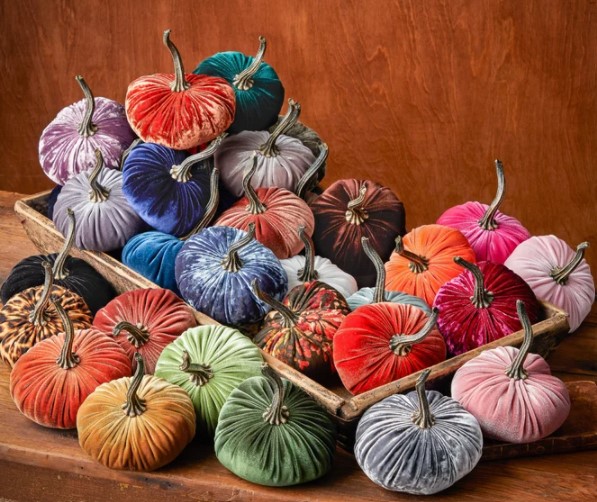 These handmade small fabric pumpkins will add sophistication to any home. Please select from the assortment of colors and fabrics. Gather a grouping of pumpkins for a gorgeous holiday centerpiece, tablescape, or mantle decor!
Pumpkins are a great gift that perfectly complements traditional, modern rustic, and glam decor!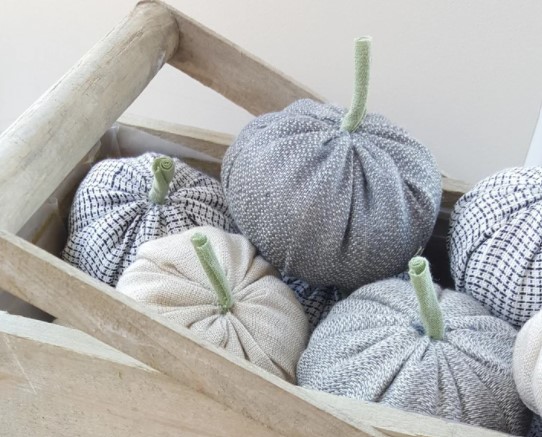 These natural colored linen pumpkins are so beautiful as decor. Place them on the dining table, mantle, or front porch to create a simple yet stunning look!
If you're looking for more of a farmhouse look, these pumpkins will do the trick! With their natural fabric, designs, and patterns, you can't go wrong!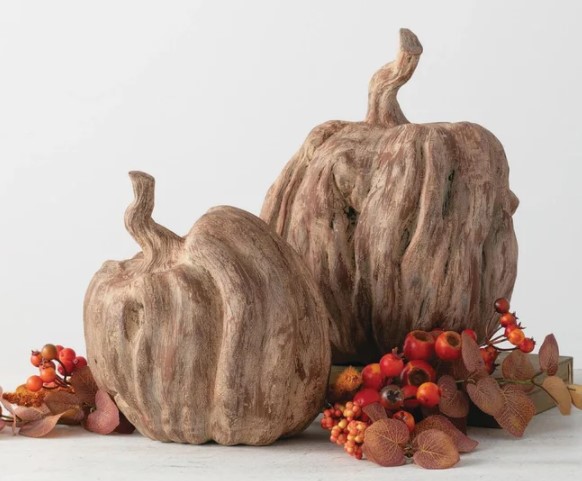 Harvest your decorative panache when you place this Rustic Carved Pumpkin Set on display this Fall. Cast from durable polyresin to guarantee they won't wilt when the season is through, this pair is a rustic and wood-like piece perfect for any space!
These wood pumpkins with glitter stems are so fun and festive for this fall season! When looking for a more traditional look with the colors orange, black, and white, these pumpkins are perfect for you!
Not only will they add a festive Halloween look, but they will also create a spooky space within the heart of your home.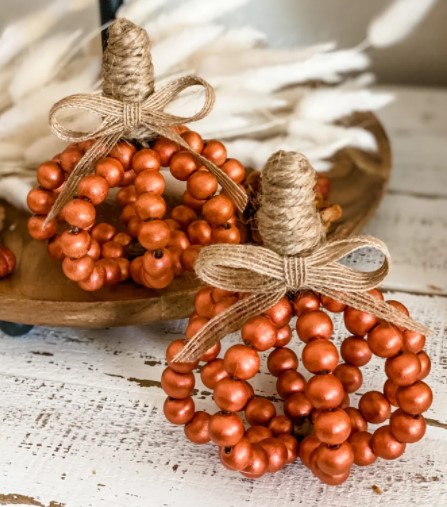 These adorable beaded fall pumpkin decors are excellent in tiered trays, bowls, or as part of a table display. Perfect rustic charm. Each wood bead is individually hand-painted in a distressed metallic copper color to add a farmhouse look to your home!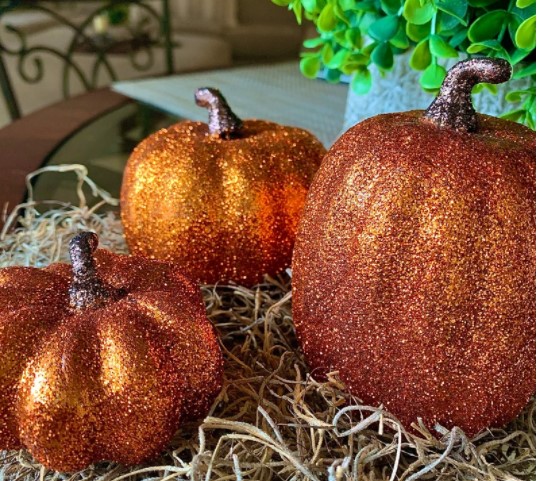 Incorporate the heart-warming magic that comes with the arrival of Fall into these miniature pumpkins! These pumpkins feature a sparkly orange color with brown glittery stems that capture the look of the harvest season.
If you want more fun and festive look for this Fall, check out these glittery pumpkins!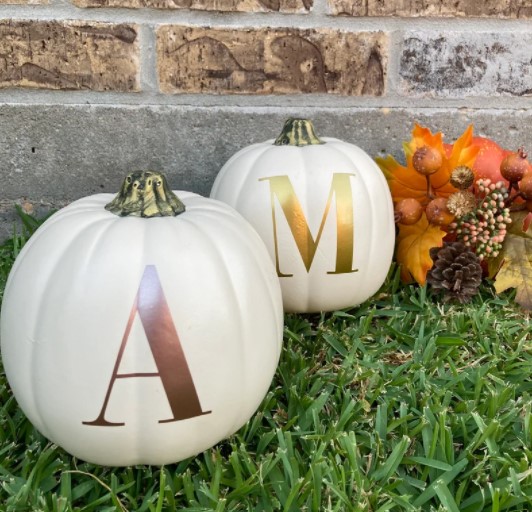 These cute monogram pumpkins are the perfect addition to your home decor this Fall! Add them to a tablescape, centerpiece, mantle, accent table, or porch!
Pick your letter and choose from Gold, Rose Gold, or Silver. Have a different color in mind? You can select any color you desire to match the scheme of your existing fall decor!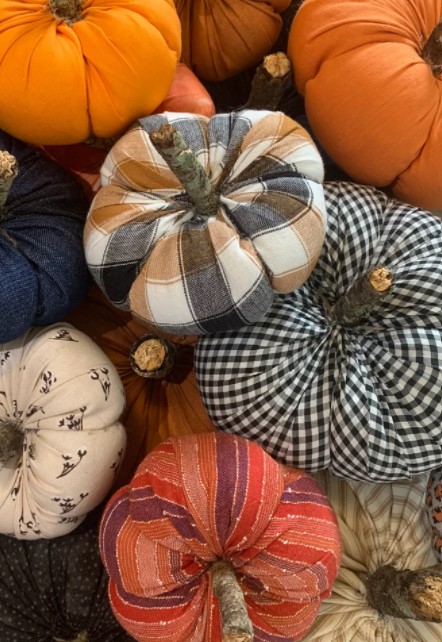 Mix and Match Stuffed Pumpkins
Pick your own set of our colorful fabric pumpkins with this listing. Your perfect decor pumpkin patch is only a few clicks away. These pumpkins are 100% hand cut, hand sewn, hand-decorated, and hand-packaged with care.
Because of the handmade nature of these items, they are each guaranteed to be a one of a kind piece of art and will all vary slightly, this includes the stem, and each branch is a genuine natural oak or pecan wood stem, size, shape, color, height will vary.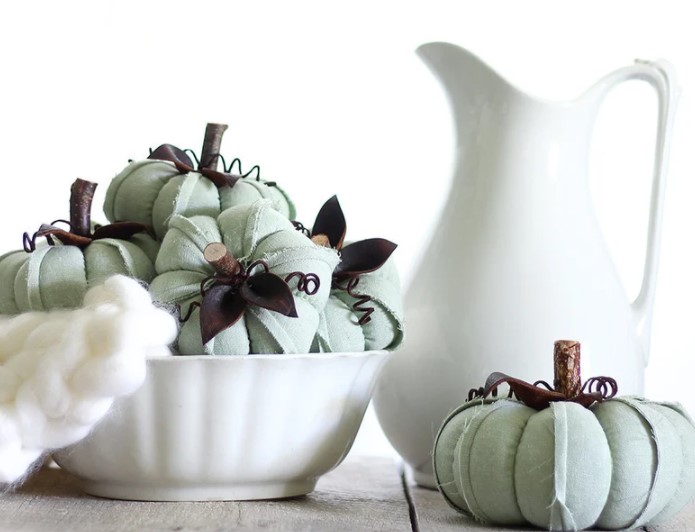 Can't find those gorgeous light green pumpkins that you see all over Instagram? You know the ones – that look almost blue, green, grey? Where do you even get those beauties?
Well, here they are! Yep, that's right. These linen pumpkins are perfect as farmhouse pumpkin decor and will look even better in your home!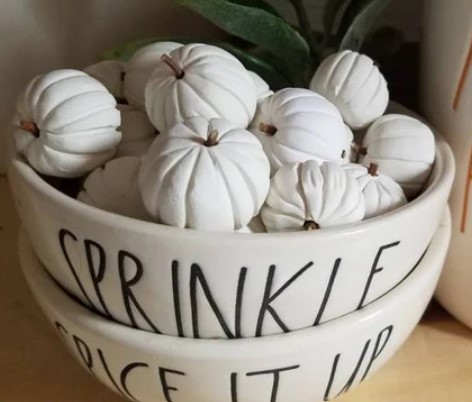 Modern Farmhouse White Pumpkins
These white pumpkins are perfect for your fall farmhouse decor, fall decorating needs and great when decorating on a two-tiered tray!
When looking for a farmhouse, rustic look, these pumpkins are your best bet!
I am giddy about these adorable little felt pumpkins! They're the perfect thing to scatter around your dining room table centerpiece or to fill in a clear jar sitting on your mantle.
These shapes are non-synthetic, eco-friendly, biodegradable, and safe for children and pets. You may choose a single color, or you are welcome to mix and match!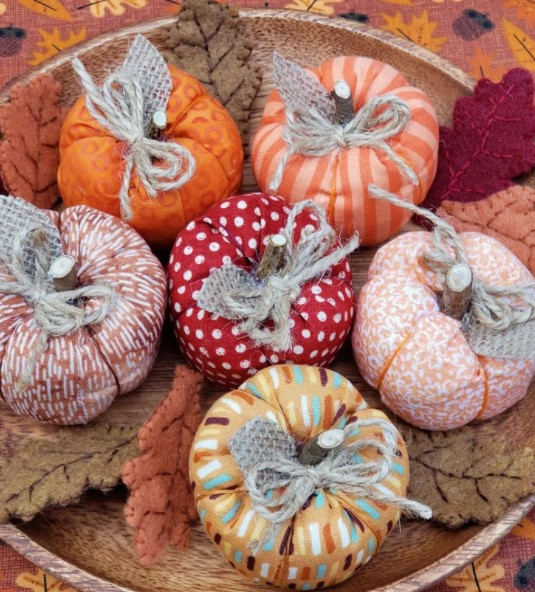 Cute mini fabric pumpkins will add some spice to your fall decor. Display them on a shelf, in a basket, or bowl. They're perfect for a tiered tray display. Or use them to accent your fall dinner table!
Each pumpkin is made with a Fall colored cotton fabric, a tree twig used for the stem, a burlap leaf, and a twine bow. The pumpkins are sold separately, so pick one or a few to make a set!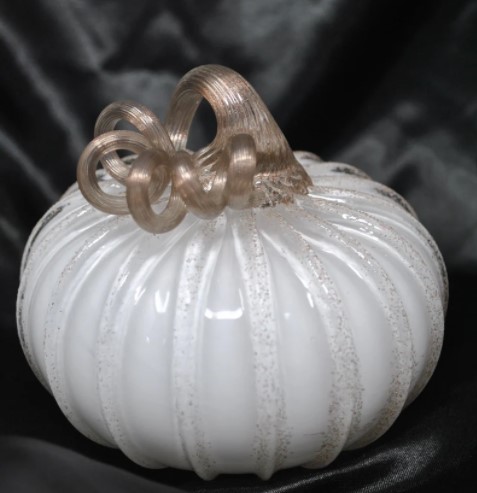 A medium-sized handblown glass pumpkin, great for fall home and office decoration. This pumpkin is blown out and hallow on the inside, and it has white frit on the outside, with small gold spots on the edges and a gold stem!
If you're looking for more of an elegant look this Fall, check out this glass pumpkin!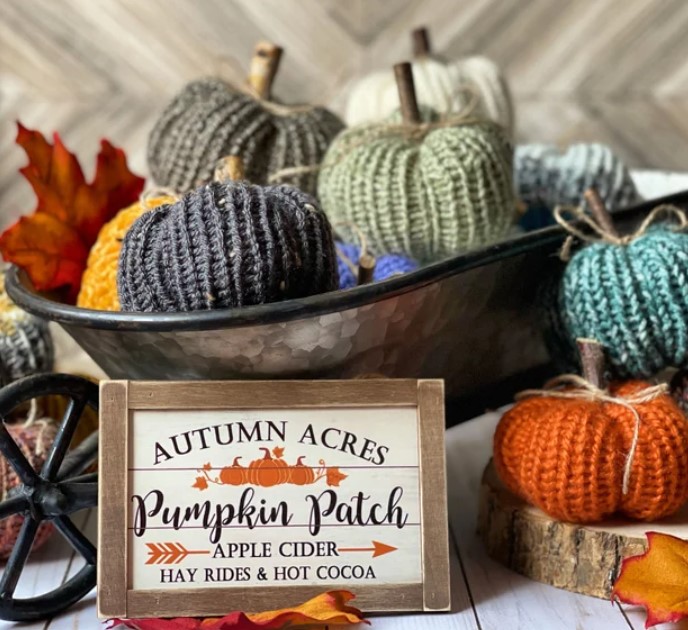 These pumpkins are the perfect size for tiered trays. Group a few as a centerpiece on your kitchen table, sitting on the mantel over your fireplace, or placed randomly throughout your home!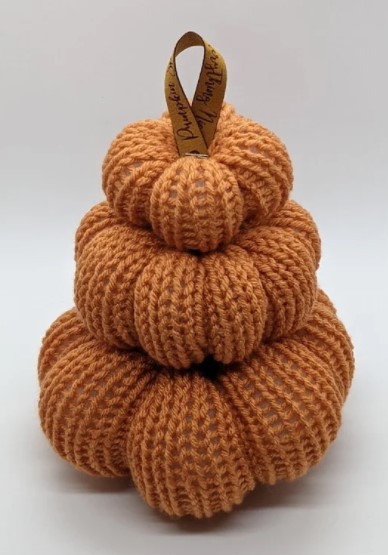 Knit pumpkins that will make the perfect fall decor for your home! I have never come across pumpkin decor like this until now!
With this beautiful orange fall shade, you will create a warm and cozy vibe to your home while also having stunning decor such as these knit pumpkins!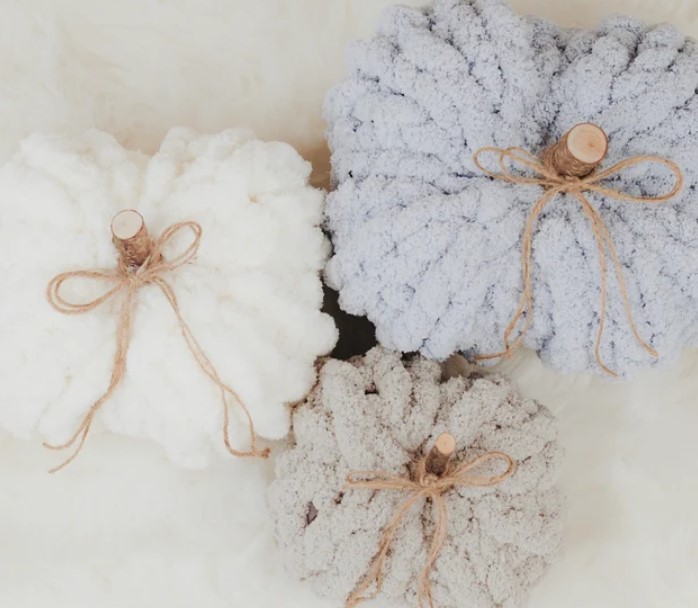 Hand Knit Chunky Yarm Pumpkins
This cute and soft Hand Knit Chunky Yarn Pumpkin will be the perfect centerpiece or accent to any great fall/ Halloween arrangement.
If you want a farmhouse look, check out these simple colored pumpkins to add a rustic vibe to your existing fall decor!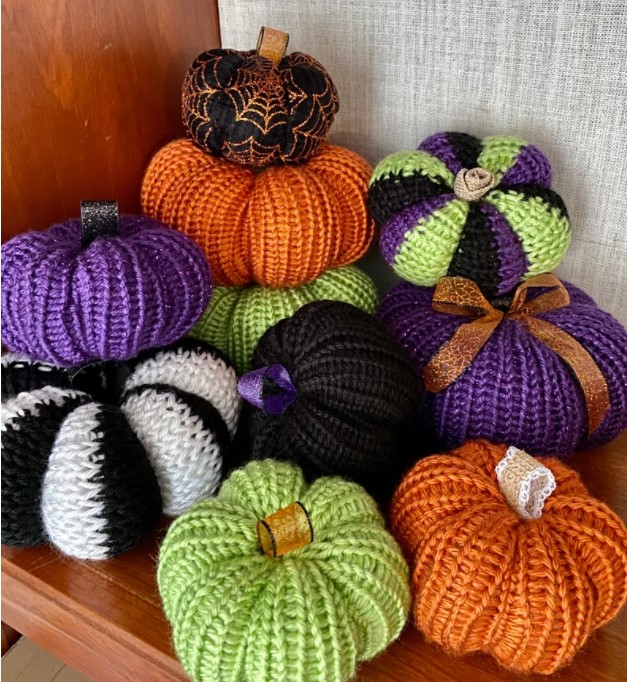 You can't have Fall decor without pumpkins! Need a pumpkin that doesn't rot after a few days? Well, look no further because these will last you for years to come!
Grab a whole stack and arrange them how you feel, get just one, or build an entire army of little tiny pumpkins. There are no rules!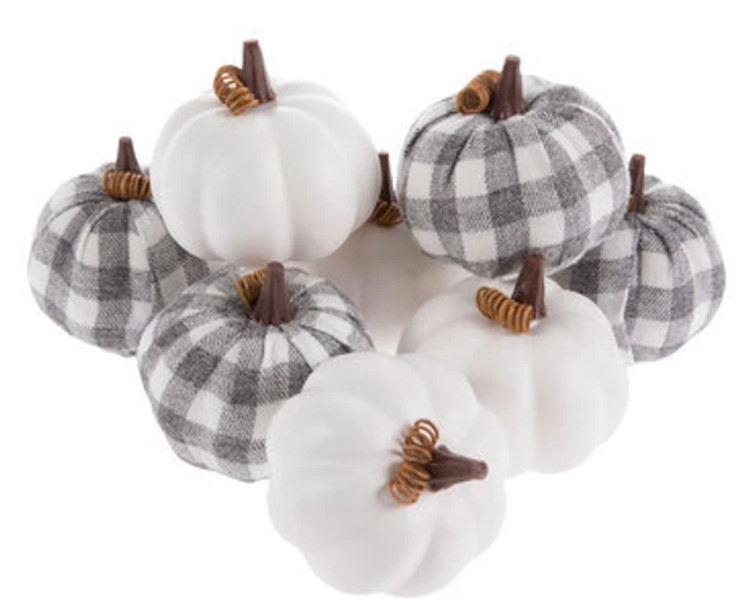 What better way to decorate for Fall than with these Grey & White Buffalo Check Pumpkin? They feature small foam bases with short, stubby dark brown plastic stems with a brown paper-covered wire swirl.
Half are white, and the other half are wrapped with grey and white buffalo check fabric. Check them out!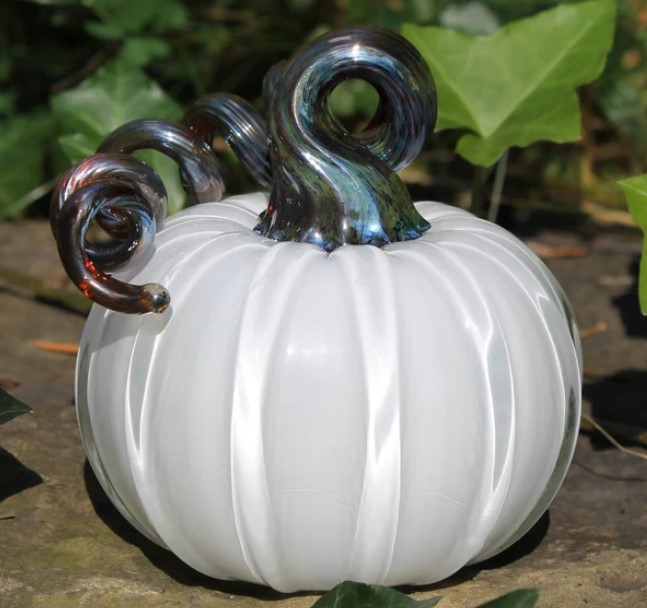 Beautiful blown glass pumpkin with a charming curly stem. Great for fall decor or all year long! Each one is individually handmade so that you will receive your very own handblown pumpkin!
If you're the type of person who enjoys simple decor with simple colors and designs, this pumpkin is the one for you!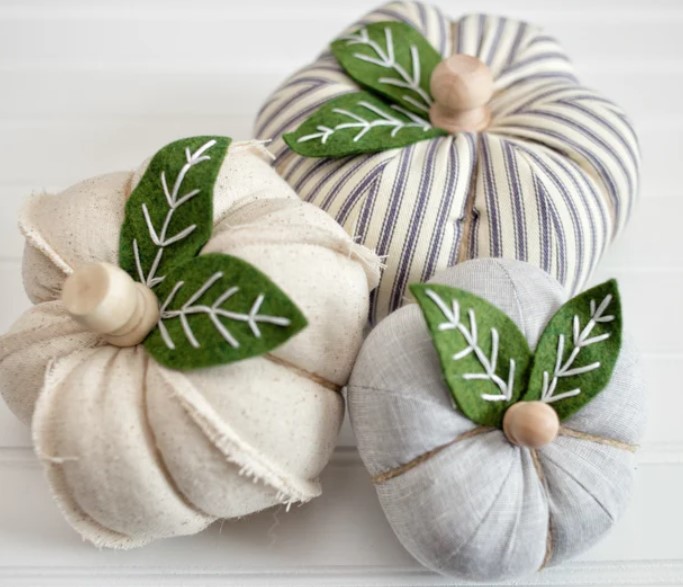 These fabric pumpkins are a great addition to your farmhouse decor for the entire fall season. Perfect on your mantel or as a centerpiece!
I adore the stems full of greenery to add a pop of color, making styling these more fun within your home! Each pumpkin is hand-stitched and wrapped with jute to give it its pumpkin shape, and it is topped with hand sewed felt leaves and a woody stem.
Like at the pumpkin patch, these pumpkins are one of a kind.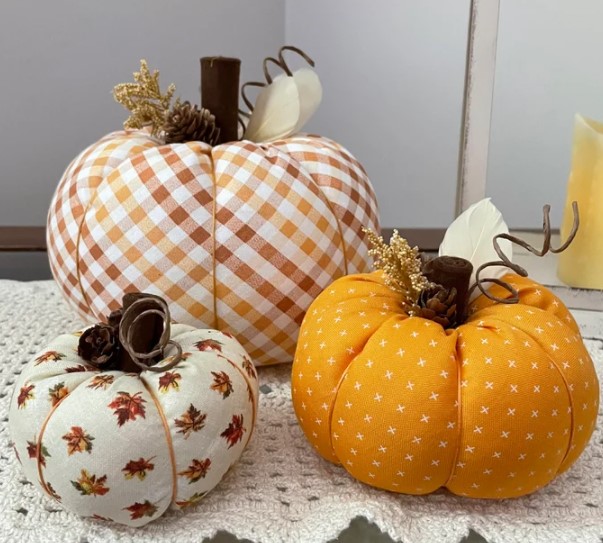 Do you love pumpkins as part of your Fall decor? This set of three pumpkins are made with shades of gold and cream check, gold with cream crosses, and cream with fall leaves!
Pine cones, goldenrod floral, and cream-colored feather leaves add a finishing touch. They are perfect for your tier trays, tabletops, or part of your centerpiece!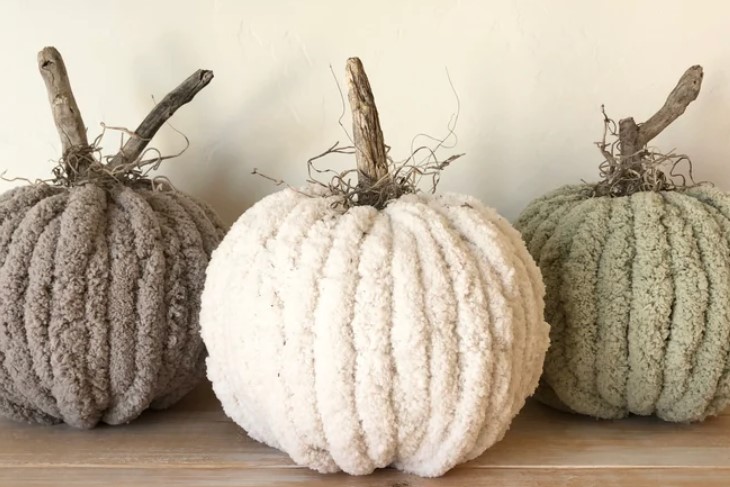 These cute chunky yarn pumpkins will be great for your fall season home decor! These gorgeous pieces of farmhouse pumpkin decor come in 3 colors: cream, mustard yellow, burnt orange, light sea blue, sage, and grey!
Have fun mixing and matching these pumpkins to your existing decor!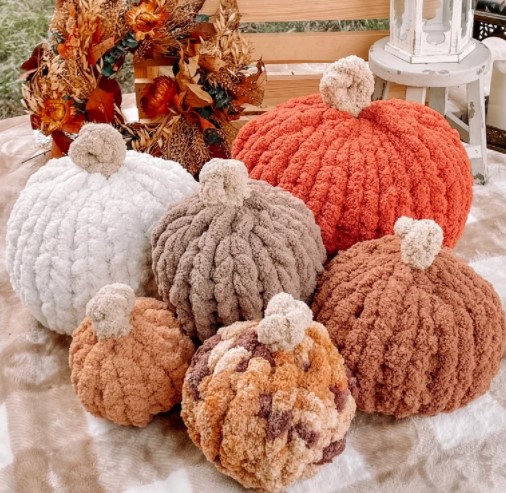 Here are some handmade, chunky, knit pumpkin pillows made with so much love! These are so cute and a great addition to your home decor. Use them as fall decorations, a centerpiece on your coffee table, or pillows on the couch or bed!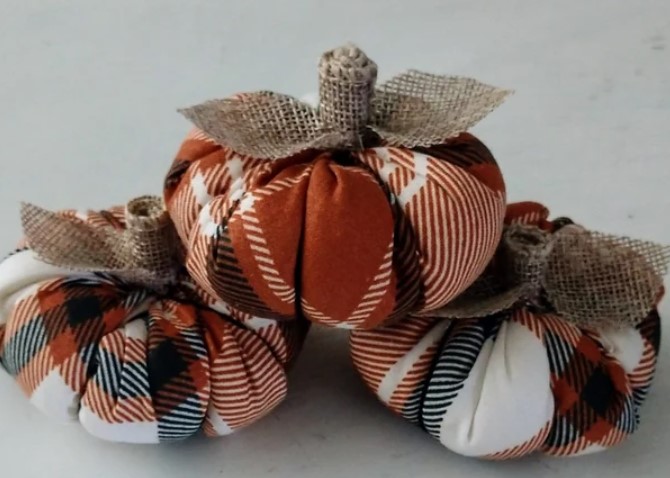 These pumpkins are made from black, white, and orange buffalo check fabric, sectioned off with black floss, and topped with a burlap stem and leaves!
The perfect decor on a tiered tray, as bowl fillers, or as shelf sitters! These pieces of farmhouse pumpkin decor will create a fun and fall look because of the design, colors, and beauty!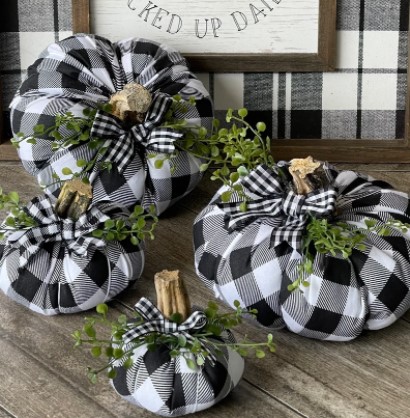 These buffalo plaid pumpkins are so in right now when it comes to decorating your home for Fall. I love the look, and you should too!
With the simple plaid design of black and white, you will be able to get the Halloween colors without going overboard!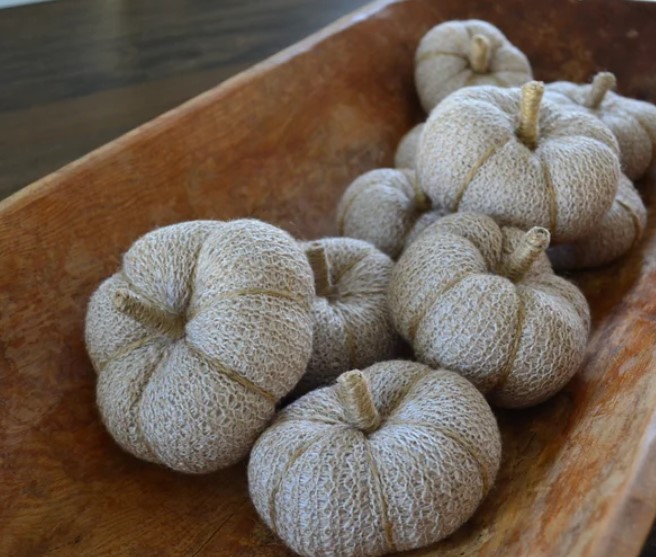 Cozy Brown Sugar Sweater Pumpkins
This fabric reminds me of brown sugar, and the green reminds me of pine trees. So by saying that, these pumpkins are perfect for decor because they resonate in Fall time!
Every pumpkin is a little different, and they all have their unique touch with a button on their bottom. So check out these cozy pumpkins and get decorating!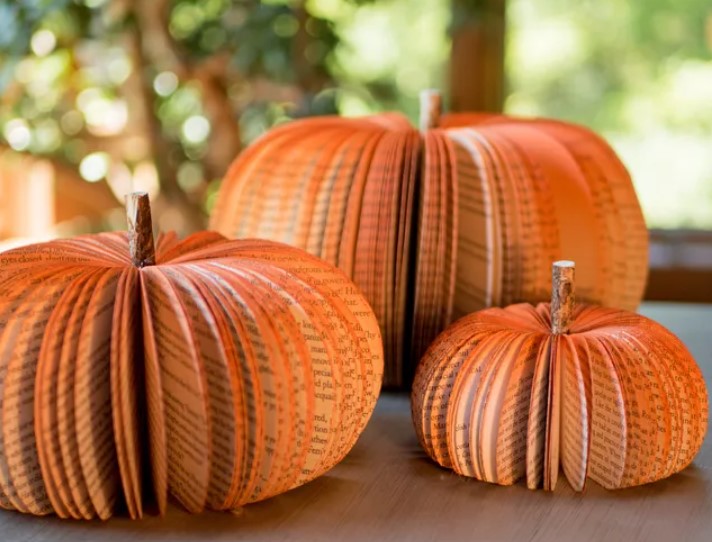 These Paper Pumpkins are made from upcycled books and are the perfect addition to your fall decor. They add a wonderful touch as a table centerpiece and will undoubtedly serve as a conversation piece while providing that cozy fall look.
You can even use them to decorate your fire mantle, end table, cabinet, bookcase, or give them away as party favors or gifts. The options are truly limitless with these paper pumpkins!
These pumpkins are great for any Deco style you have, whether it's Modern, Farmhouse, Bohemian, or Chic, and this is sure to add texture and charm to your decor!
Since this pumpkin style is so unique, you will have a look no one else on the block will have. So have fun with these denim pumpkins!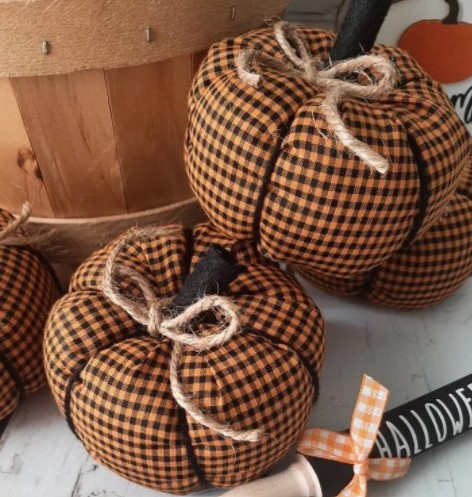 Cute and trendy Fabric Pumpkins to add to your home! Use in your tiered tray display, mantel, office, or classroom – anywhere you want to add some fall decor!
Great accent for your farmhouse décor and will go great in every home when setting the scene for Fall, and you will be able to use it through Thanksgiving. Use as your centerpiece on your table, in your entryway, or as your mantle and fireplace décor!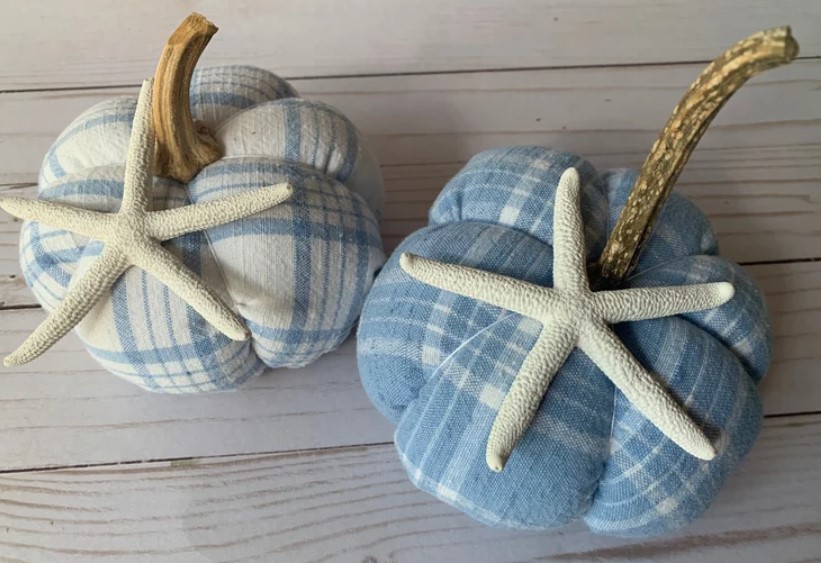 These miniature fabric pumpkins are currently available for your fall decorations. Imagine a bowl full of them! Not only can you style them in a bowl, but they will be as lovely on the mantle, in the kitchen, front porch, and more!
It's always nice to have something to remind you of the warm summer days while being stuck inside, cuddling by the fire. So if you need some warm memories, check out these beach-styled fabric pumpkins!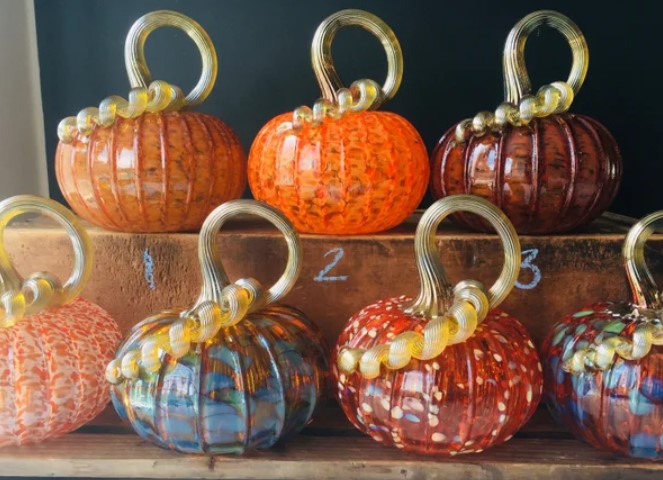 These gorgeous handblown glass pumpkins are so fun because of the colors, designs, and patterns! These decorations will create a festive look within the heart of your home!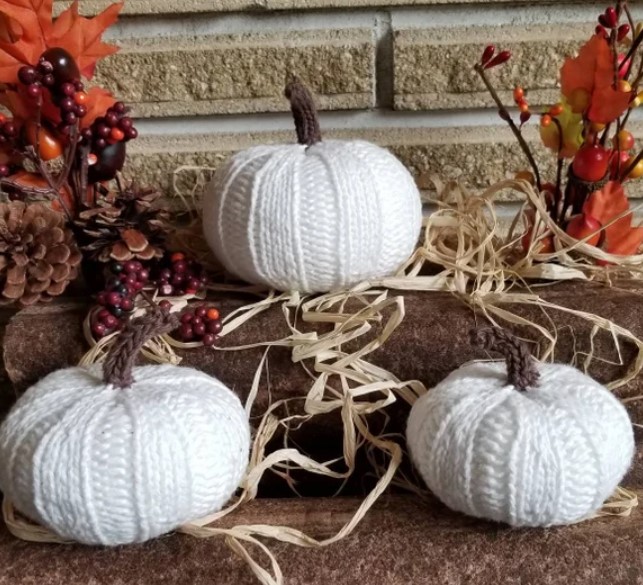 Are you looking for the perfect touch this Fall? Look no further. These sets of 3 white pumpkins are the perfect fall decoration for any Halloween party or Thanksgiving centerpieces, or just to up on your mantle!
These knit white pumpkins are the perfect decor pieces when it comes to a farmhouse, rustic look. They are small yet stunning yet straightforward enough to make it feel warm and cozy during the cold, Autumn days.
---
Thanks so much for checking out this collection of farmhouse pumpkin decor! I had such a fun time picking these out. I hope you had a grand time with me at the pumpkin patch. Look out for more fall fashion, crafts, decor, and more on the blog!
Have a wonderful Wednesday, friends,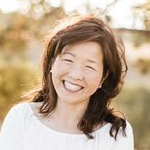 Latest posts by Janine Waite
(see all)