You're in for a treat with my Pioneer Woman Decor. I styled a pretty fall tablescape full of gorgeous dishes, candleholders, and more.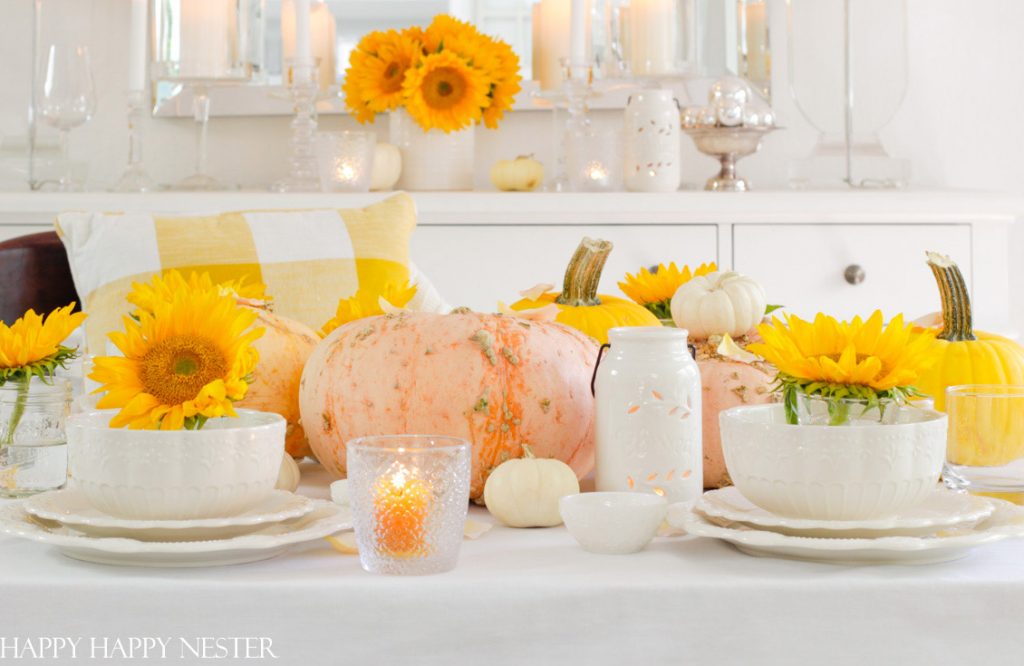 Ree Drummond's home product line is so pretty, and her dishes are to die for. I fluffed up my fall table with some festive pumpkins and farm-fresh sunflowers. This fall table is simple and elegant, and perfect for a weekend dinner with the family.
Walmart Partner
Walmart sponsors this blog post. And I am happy to collaborate with Walmart Home this summer. What this means is that I am receiving compensation for my efforts in creating this post. All our opinions are authentically my own, and all convenient shopping links add no additional cost to you.
Speaking of Walmart, have you checked out the Pioneer Woman's Home Decor line of home decor? Well, I found quite a few things for this fall table at Walmart.com.
---
.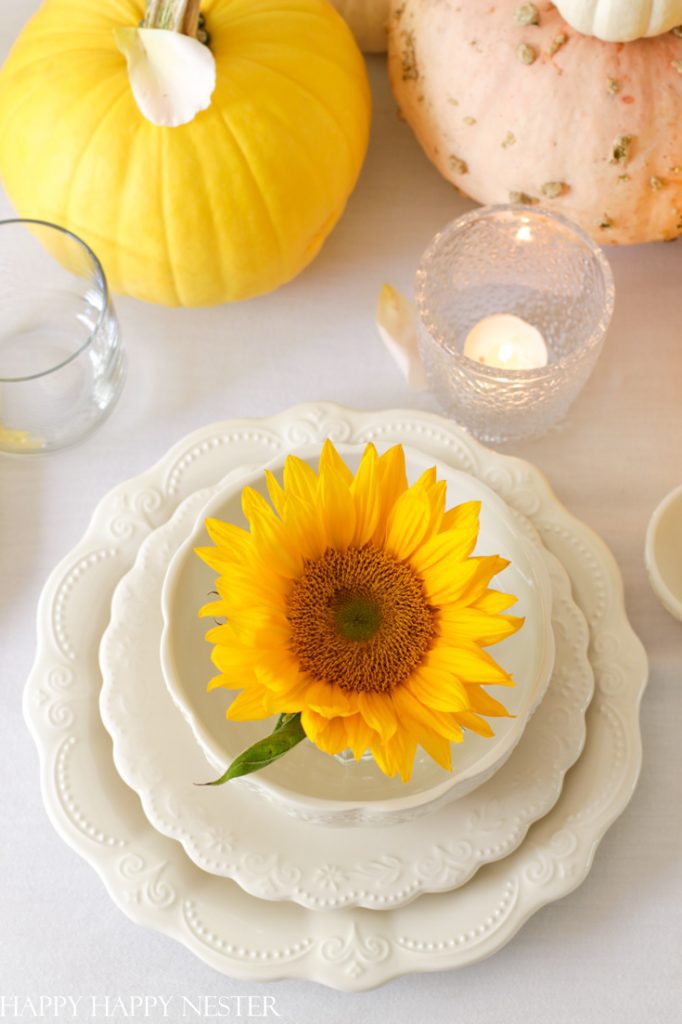 I love the home decor line that Ree Drummond and Walmart design. Her dishes have a touch of vintage meets farmhouse. And the style goes well with my dining room table decor. You can find it all over on Walmart Home.
It's vital when styling a table to have a few elements chosen. Besides the colors of yellow, light pink, and white, I kept my decor within those combinations.
Let's take a look at what I styled.
You all know that I love to style a colorful table setting, and this one includes some fun plates and flowers!
Pioneer Woman Decor
Some of you might ask, who is the Pioneer Woman?
Well, her name is Ree Drummond, and she is a blogger who got her start with her now-famous blog, The Pioneer Woman.
Ree includes inspiring home design ideas, effortless beauty and style tips, and even the latest entertainment. She and her team of editors also strive to have food and lifestyle content so that you will get the best of all worlds!
Pioneer Woman products help you create new looks, styles, and vibes within the heart of your home. You will also cook and bake delicious recipes that will soon become family favorites. Ree Drummond is an inspiration to all.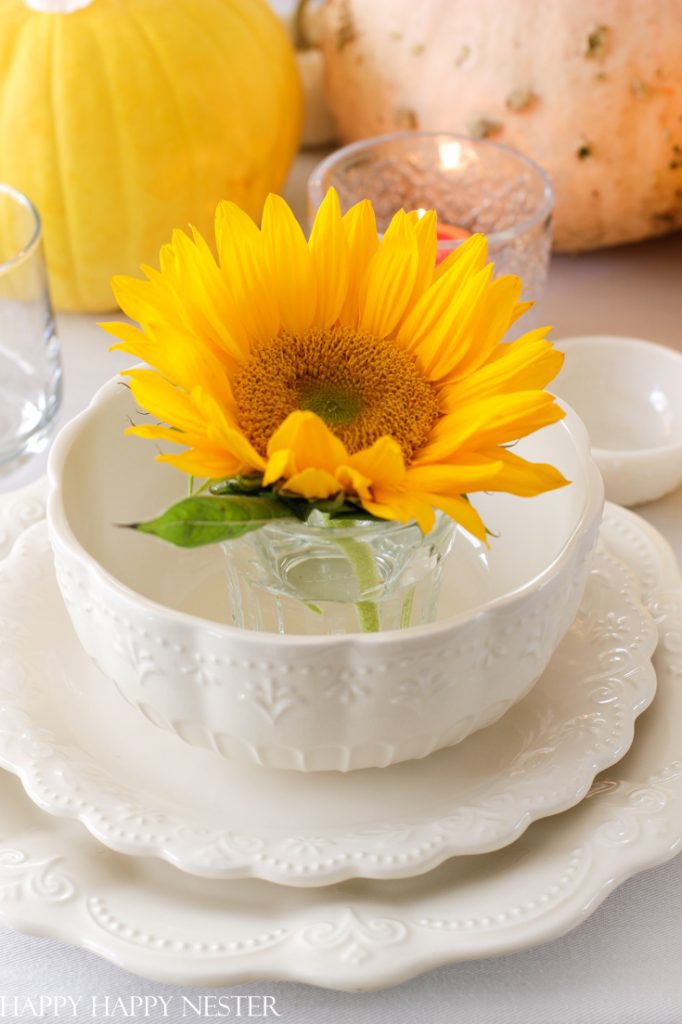 Gorgeous Linen Dishes
How unique are these dishes? These dishes caught my eye immediately with their cute scalloped edges and vintage-inspired designs. The Pioneer Woman Toni 12-piece Dinnerware Set makes a pretty and practical addition to your everyday dining table.
This versatile dish set is ideal for casual meals and special occasions alike!
Mix and match with other items from The Pioneer Woman Collection to create eye-catching table settings that are sure to impress your guests!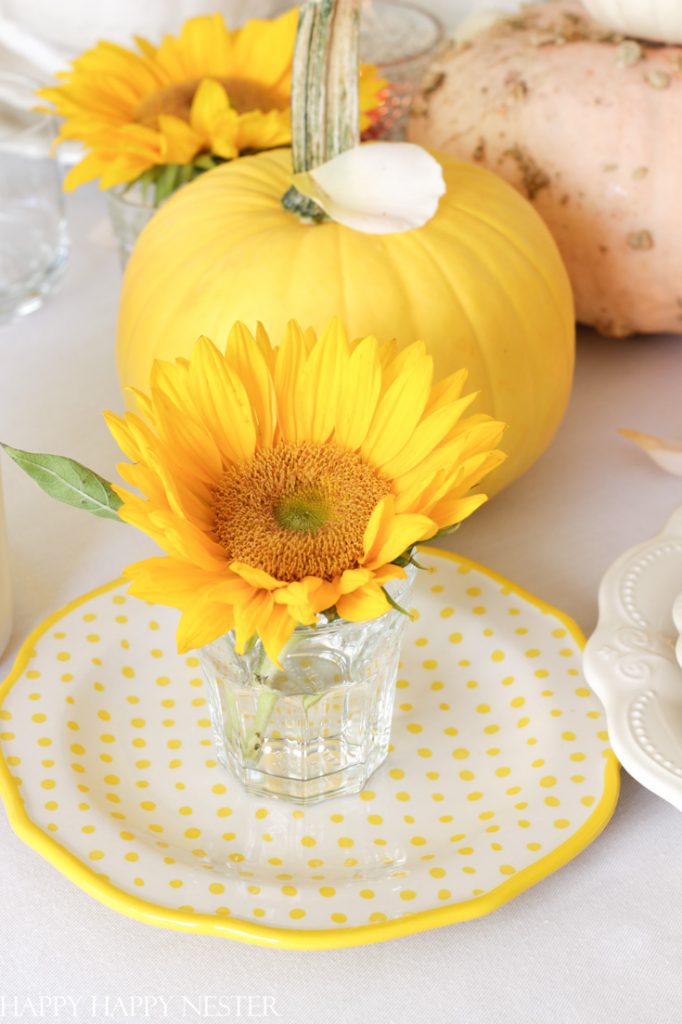 Floral and Polka Dot Dishes
These adorable yellow polka dot dishes are part of a fun floral retro dot dish set. There is a combination of colors in this grouping, and I love how the yellow plates went perfectly with my table decor.
They're such a cheery plate!
With The Pioneer Woman Timeless Floral and Retro Dot 12-Piece Dinnerware Set, mixing and matching patterns has never been easier.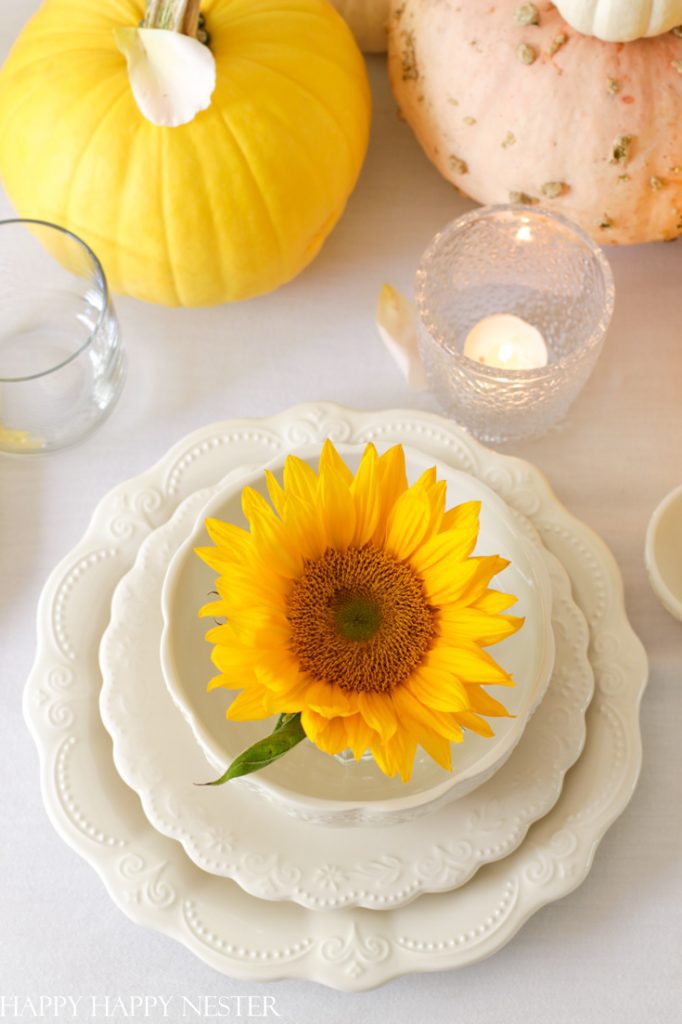 Adding a Sunflower
When decorating your table, you want your kitchenware to pop with color. To do so, add a little surprise to your place setting by decorating the bowl with a cute flower!
I included my favorite fall flower, a Sunflower, and placed each bloom in a linen bowl. It ended up looking so pretty against the dish design!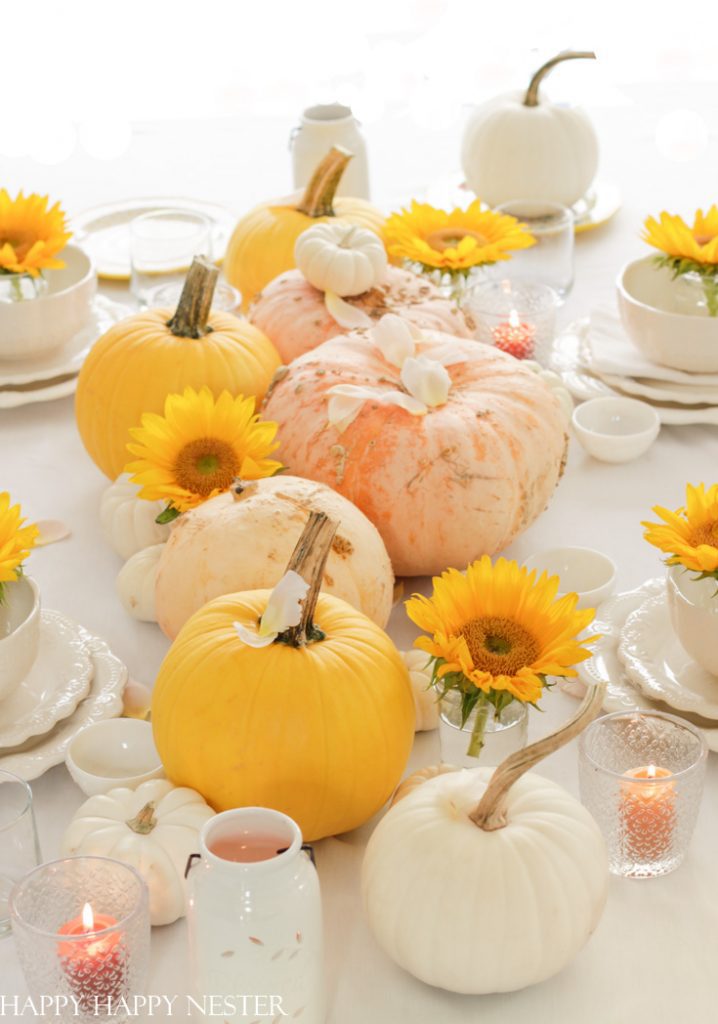 Candles Votives
I love to have a candlelit meal, so candle votives are necessary to create a tablescape. When choosing certain votives from Walmart, I couldn't get enough of these glass containers in my repertoire! These candleholders create such a warm and welcoming look that they will make meals a whole lot better.
I wanted unique glass votives to reflect light, and these containers did such a perfect job at capturing not only the light but also the beauty of the space!
The more patterns to the glass, the more the candlelight sparkles, and these sparkled!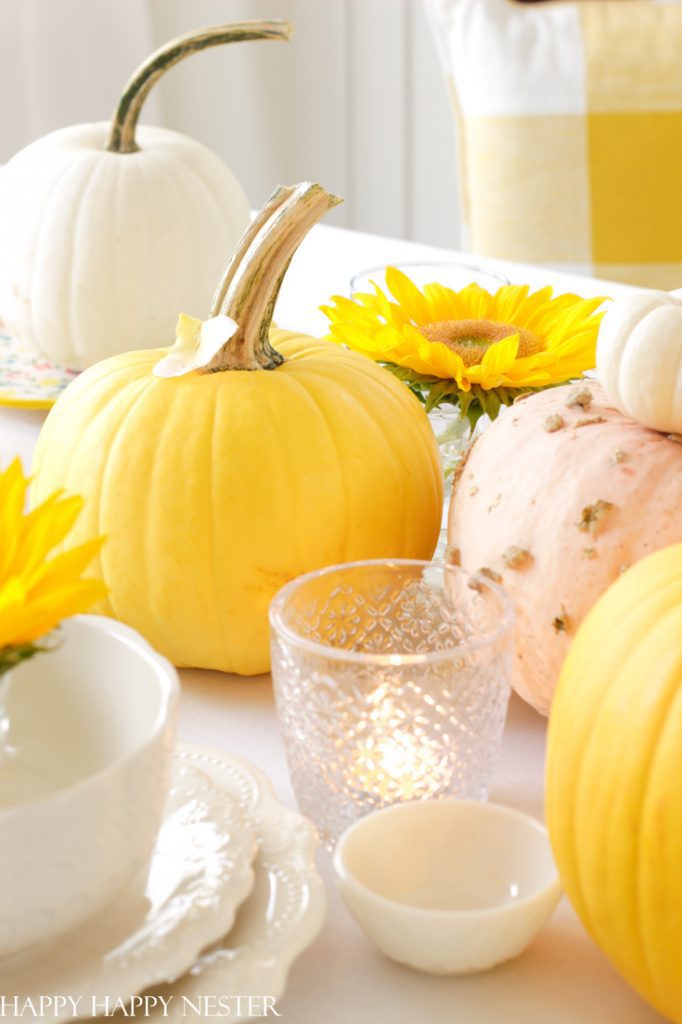 Mini Glass Bowls
To add more to my choice of dishware, I bought this adorable embossed glass bowl set from Walmart. They're vintage styled with a milk glass finish! Unfortunately, Walmart only offers the teal version of this glass bowl on their website.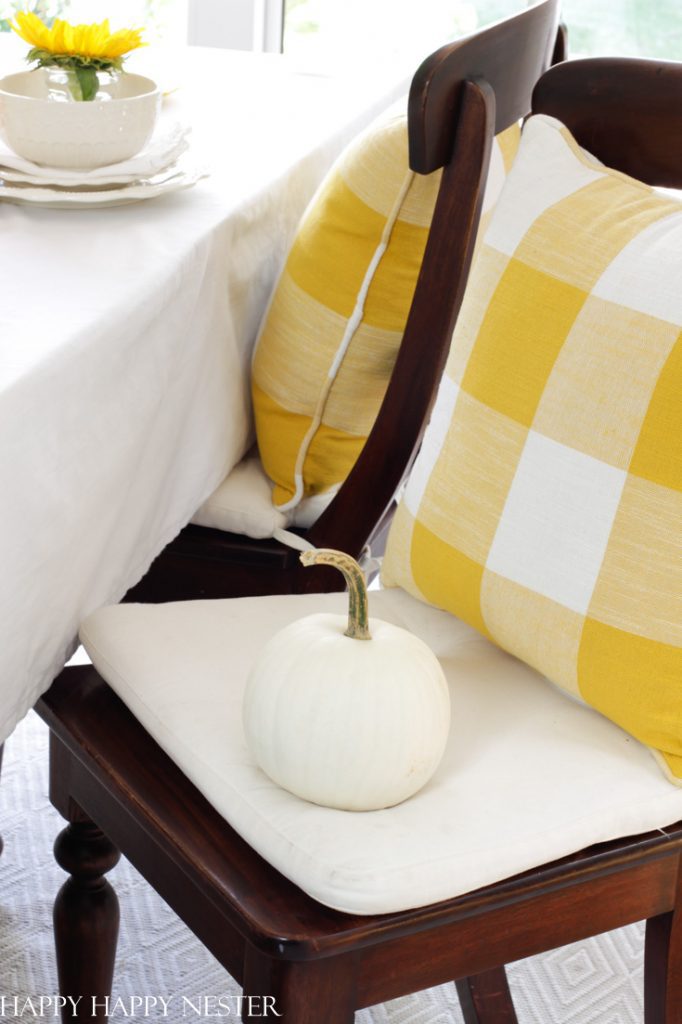 Festive Buffalo Pillows
When sitting at the dining table, you want to be comfortable. Well, let's get comfy with these Main Stays Plaid Decorative Pillows! Having a different buffalo plaid color other than black and white was so much fun!
Ok, more about the pillow.
These pillows feature a polyester fill with a 100 percent cotton shell, which gives it a soft feel. These pillows also include a cord piping edge is added as a decorative touch and for added durability. This pillow can work with many different decor themes!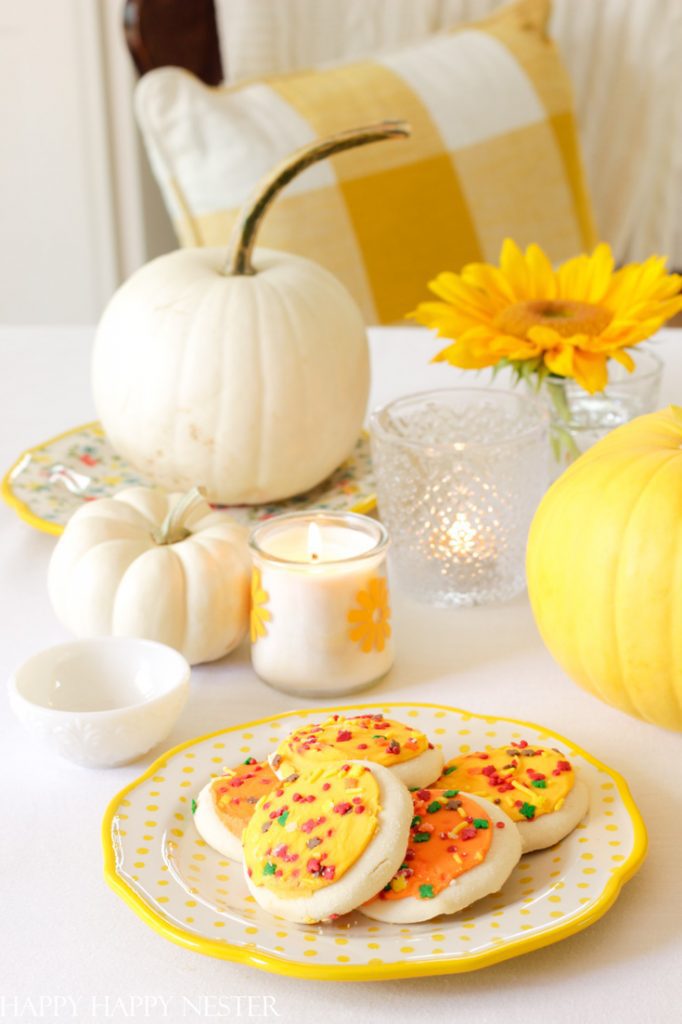 Holiday Treats
I'm a sucker for sweets, so what's a tablescape without a few cookies here and there? Speaking of cookies, these fall-styled sugar cookies were incredible alongside my table decor.
Walmart does not sell these fall sweets online, but they do sell them in-store! So hurry up and get these delicious cookies to share with family and friends.
Not only are these treats perfect as decor, but they are even better in your belly!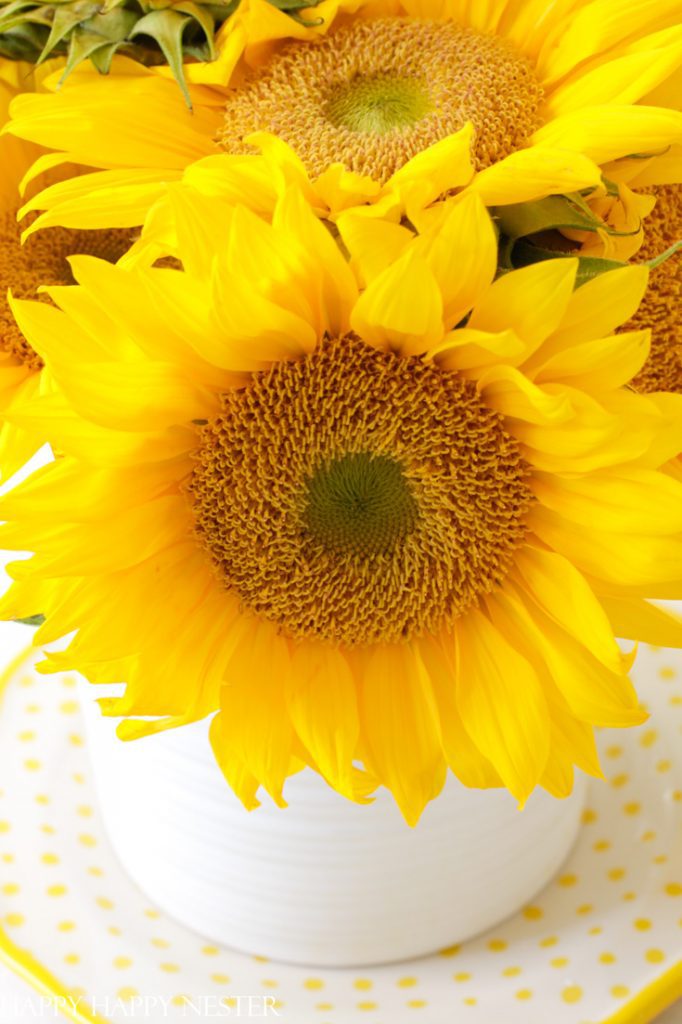 Local Sunflowers
To top my tablescape off with happy vibes, I added a bouquet of blooming Sunflowers! Walmart does not sell these flowers, so we visited a local Sunflower farm! These fresh flowers add such a cute fall vibe to my table while also bringing a smile to my face!
Place them in this beautiful white farmhouse-style vase, and it's ready for any fall table. And When in doubt, always add a floral arrangement.


Thanks for catching up on my Pioneer Woman decor post! I hope I inspired you to grab some beautiful dishes, candle votives, flowers and decorate your home or table!
Here are a few other tablescapes that you might find interesting.
Well, happy decorating, my friends!
Cheers,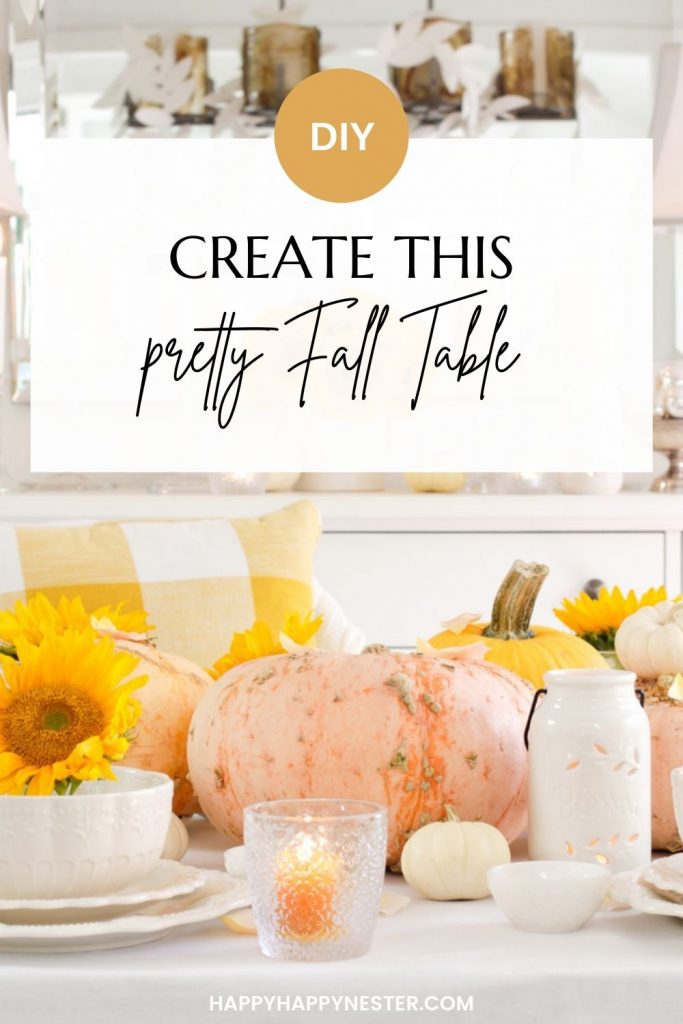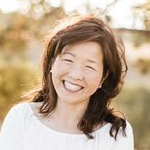 Latest posts by Janine Waite
(see all)