Today, I'm Sharing My Thanksgiving Table Setting Made Easy Post. I love that with a few elements you can create a gorgeous table within minutes.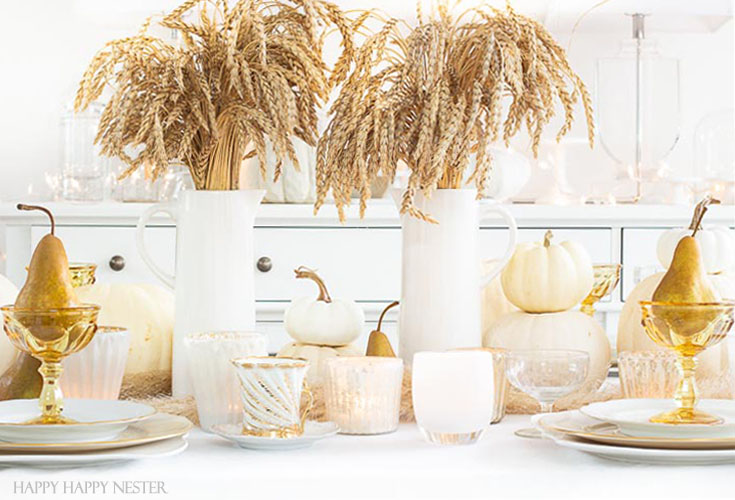 If you need a few ideas for a Thanksgiving table, well, make sure to view all the rest of my fellow blogger's posts at the bottom. There are some incredibly gorgeous tables and such a vast assortment of styles.
*The following post contains affiliate links.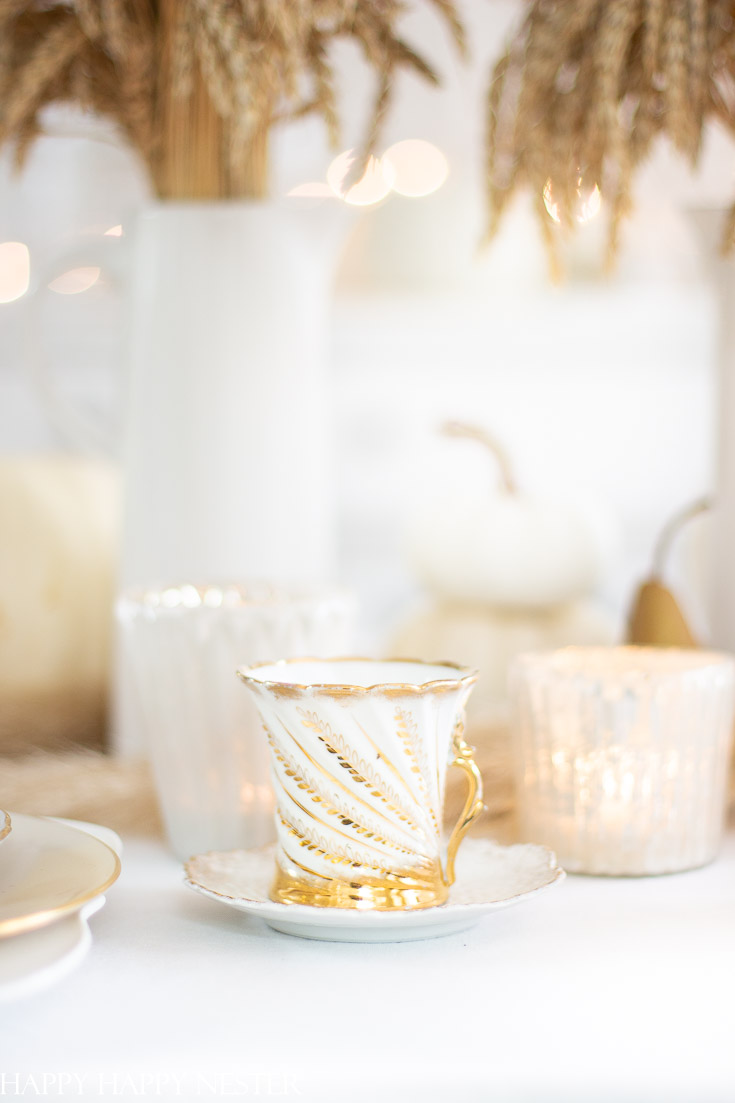 Lately, I lack time and money, so my focus is on how to create a Thanksgiving table setting made easy! I had most of the elements already so I just added the wheat and pampas grass. I always have some table decor essentials that I love, and then I add a few beautiful accents that set each table apart from the others. So, let's see how I created my latest table setting.
Here Are Some Other Table Settings You May Enjoy:
 How to Create a Thanksgiving Table Setting Made Easy!
I broke down my styling into seven easy steps on how to create a Thanksgiving table.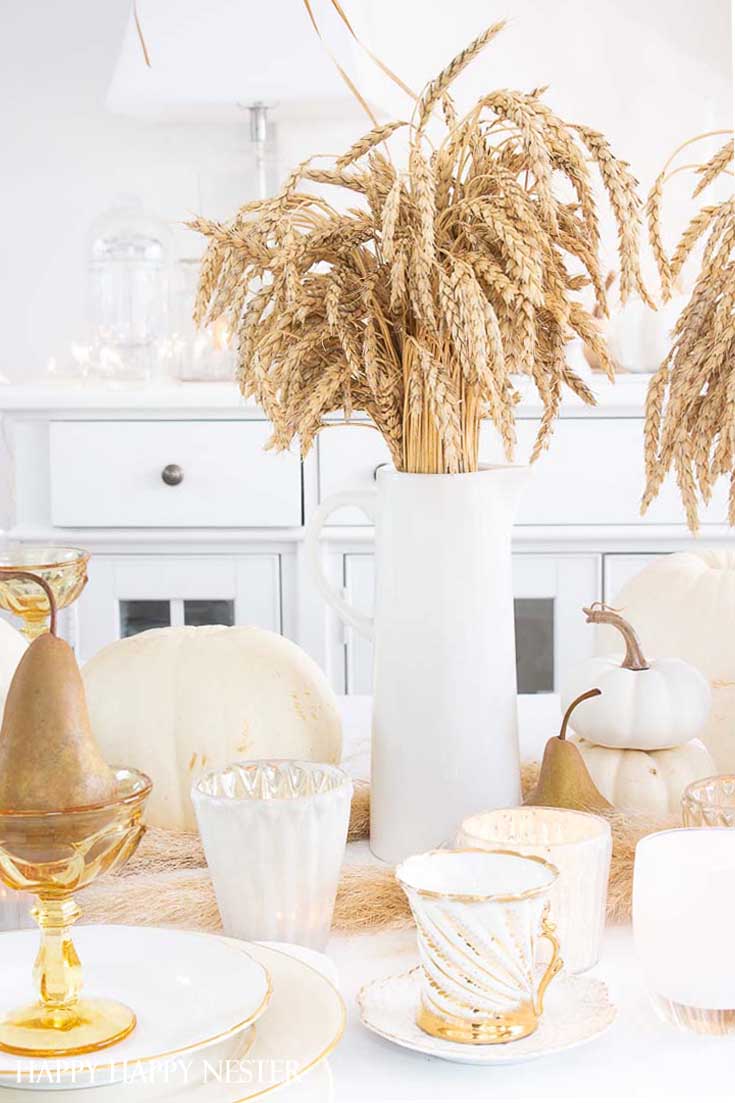 1. Use Natural Wheat
I recently visited the Alameda Antique Fair and found the shop, The Warped Table. They carry gorgeous items, and I always seem to purchase things from them. But since you can't buy it from them, I'm placing an Amazon link: dried wheat
Well, this time, I instantly fell in love with these gorgeous bundles of wheat. Well, if you notice this wheat curves, unlike the regular wheat that shoots straight up. The farmer who harvested it apologized that this year's crop drooped downward. I love that it cascades so beautifully in the vase.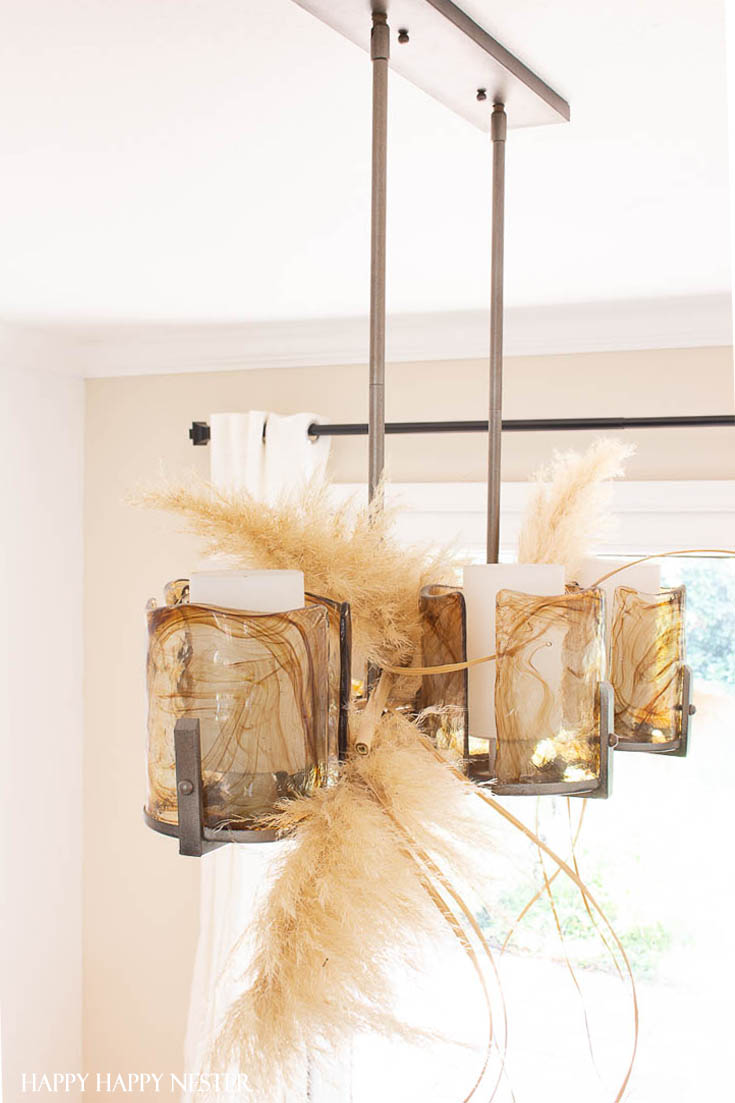 2. Wild Pampas Grass Adds an Organic Element
Pampas grass is abundant here in Northern California. I spy a ton of it alongside the highways, but unfortunately, I can't stop to pick them. Well, this weekend while we were at the Alameda Antique Fair, I snagged a few branches from the bushes right in the parking lot. While I pruned some of the bushes, my brother snapped some photos of the shipyard nearby.
Once I was home, I placed some grass up in my chandelier and on my table. I is such a beautiful natural element and the best part is that it is free! But I want to share a word of caution. Make sure not to place the pampas grass anywhere near a flame, and it is highly flammable.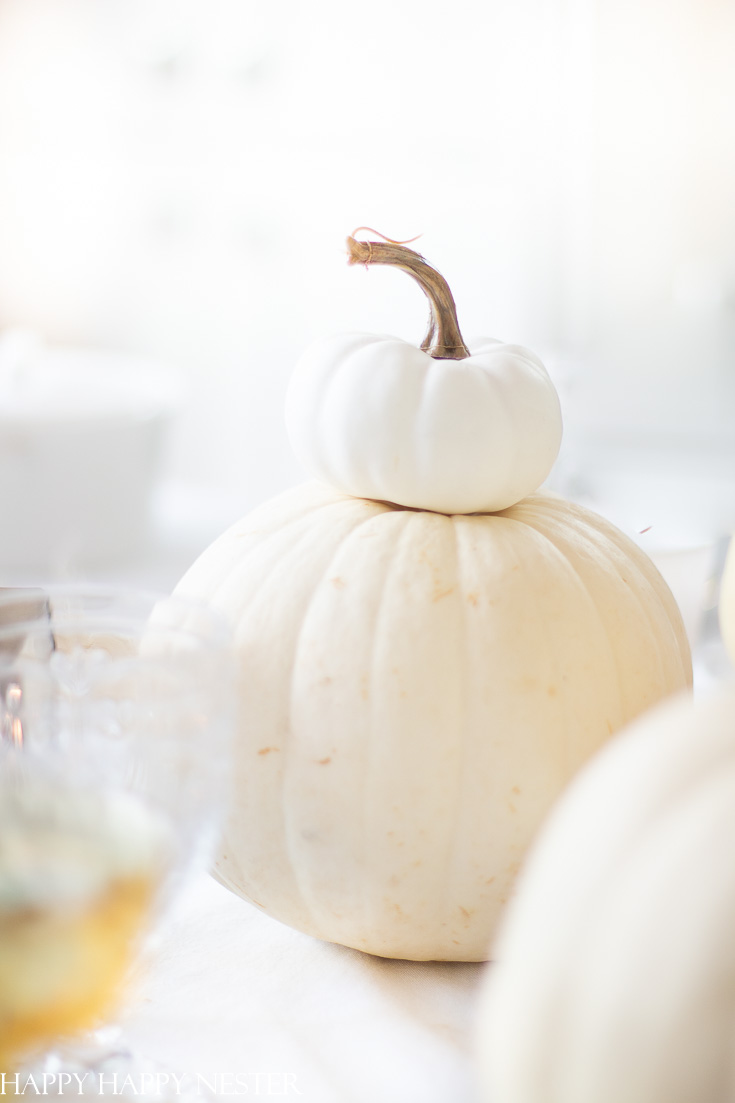 3. White Pumpkins Scream Thanksgiving
White pumpkins are a must when creating this Thanksgiving table setting made easy. I bought these in early September and I love that they last such a long time. I recently went out after Halloween to buy more, and the store cleared out their inventory. So, next year I'll buy all that I need early in the season.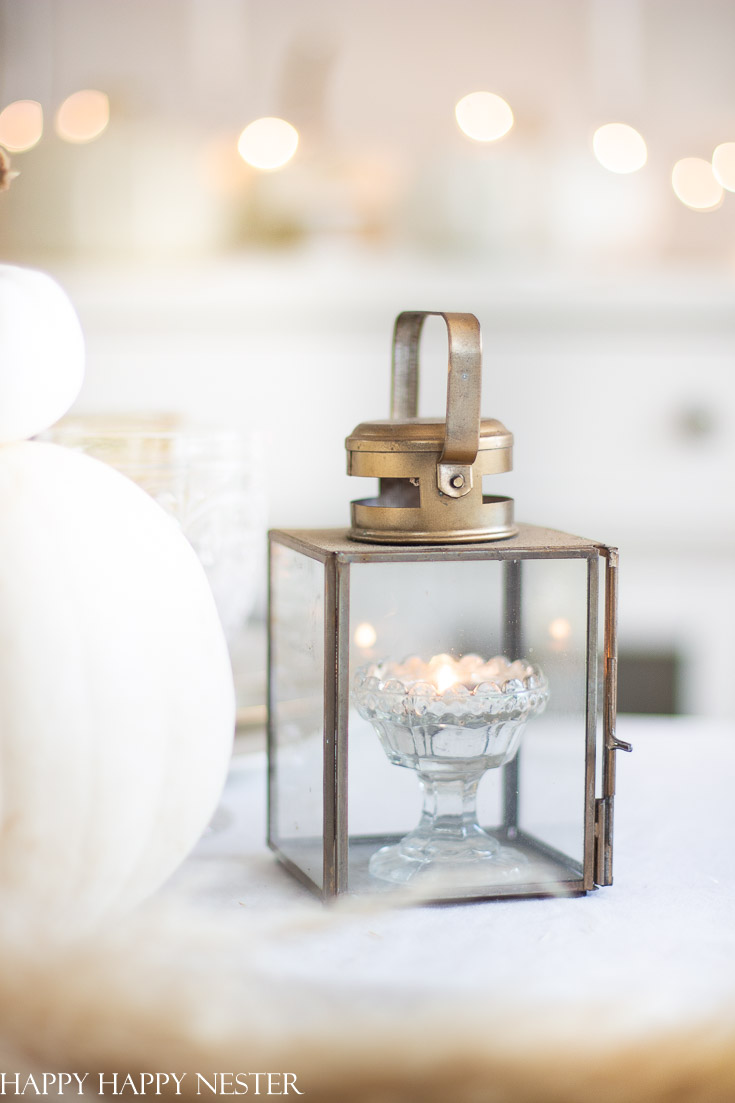 4. Candles
Gold, silver, and white are the colors that I unearthed from my dining room buffet. I decided to have fun with this little lantern and I combined the silver and gold as an element of surprise. Have fun and mix and match finishes.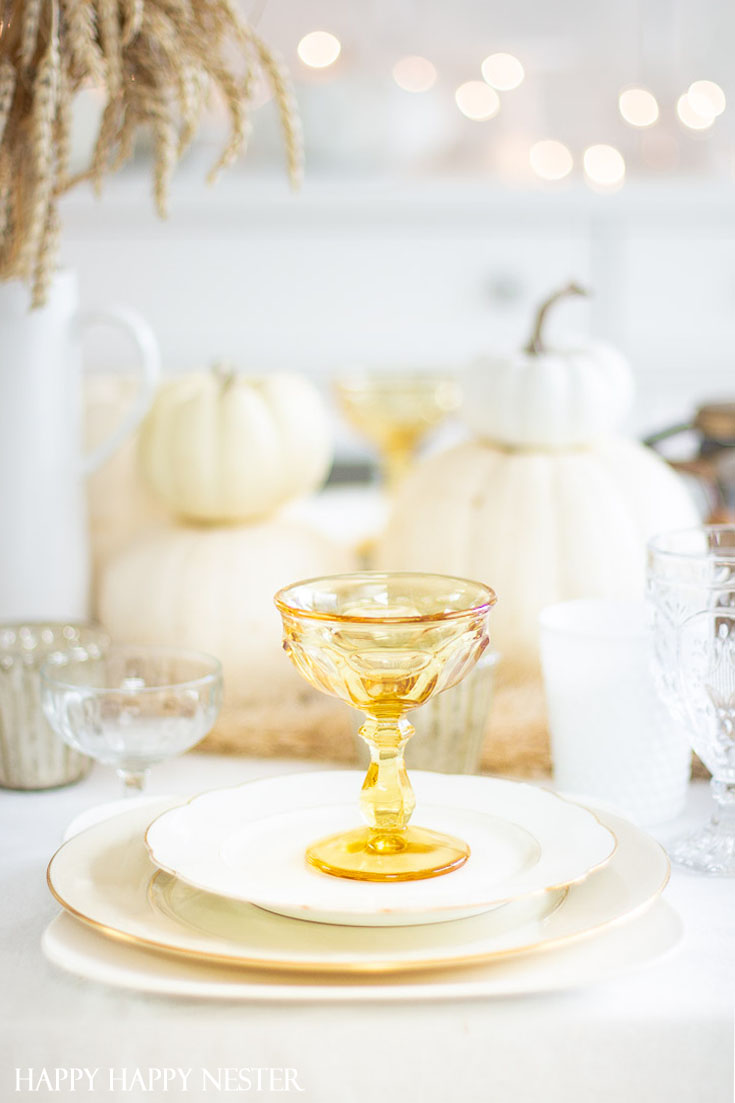 5. Use White Plates With a Touch of Gold
I bought these pretty French plates from our local store Elsie Green. Everything from the store is shipped directly from France in a big cargo container. I bought the top scalloped plate from their sale section and thank goodness I didn't spend too much money. As you can see, I'm all about saving money these days so, this amber glass I found at Goodwill.
When working on your Thanksgiving Table, be creative, and shop your home and thrift shops!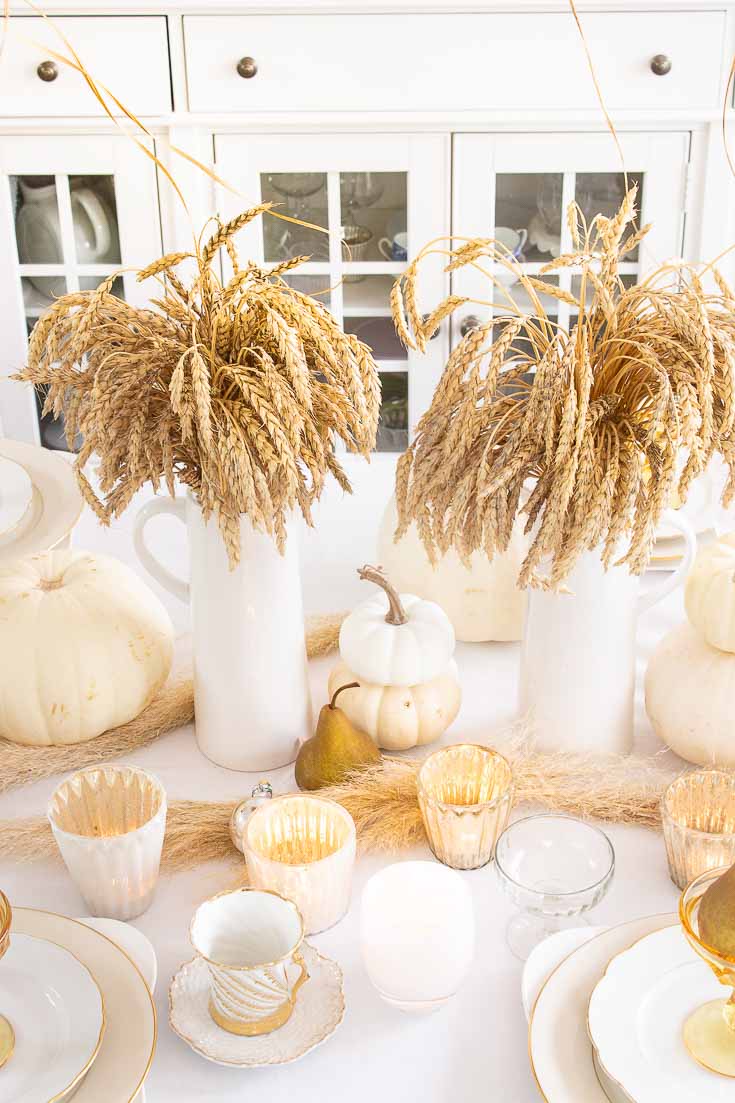 6. A White Linen Table Cloth is Perfect For a Thanksgiving Table
I have about three white table cloths since I adore how white is the perfect backdrop for any table decor. Alas, I always like a light and bright table. I think living in Seattle left an impression on my need for sunshine and light.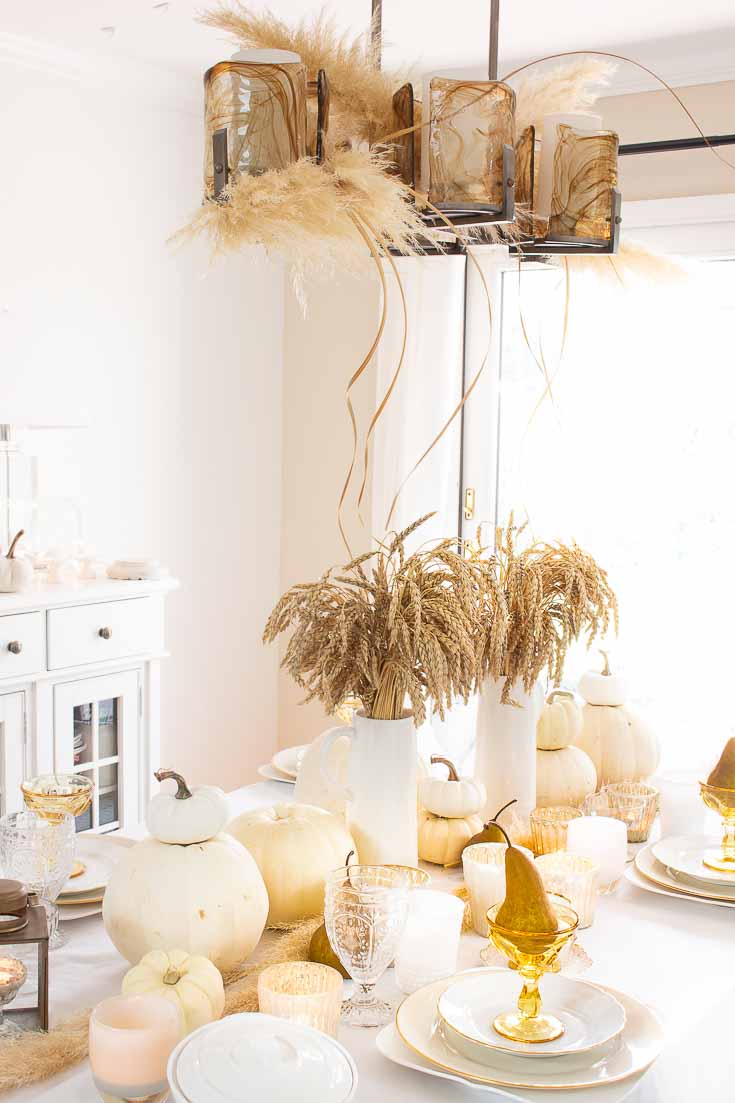 7. Add Fall Fruit
This is a no brainer when styling your Thanksgiving Table. Add fruit such as pears, persimmons, grapes, pomegranates, and apples. A couple of years ago, my gardener gave me a considerable amount of persimmons from his tree, and I loved how they combined with my pink pumpkins.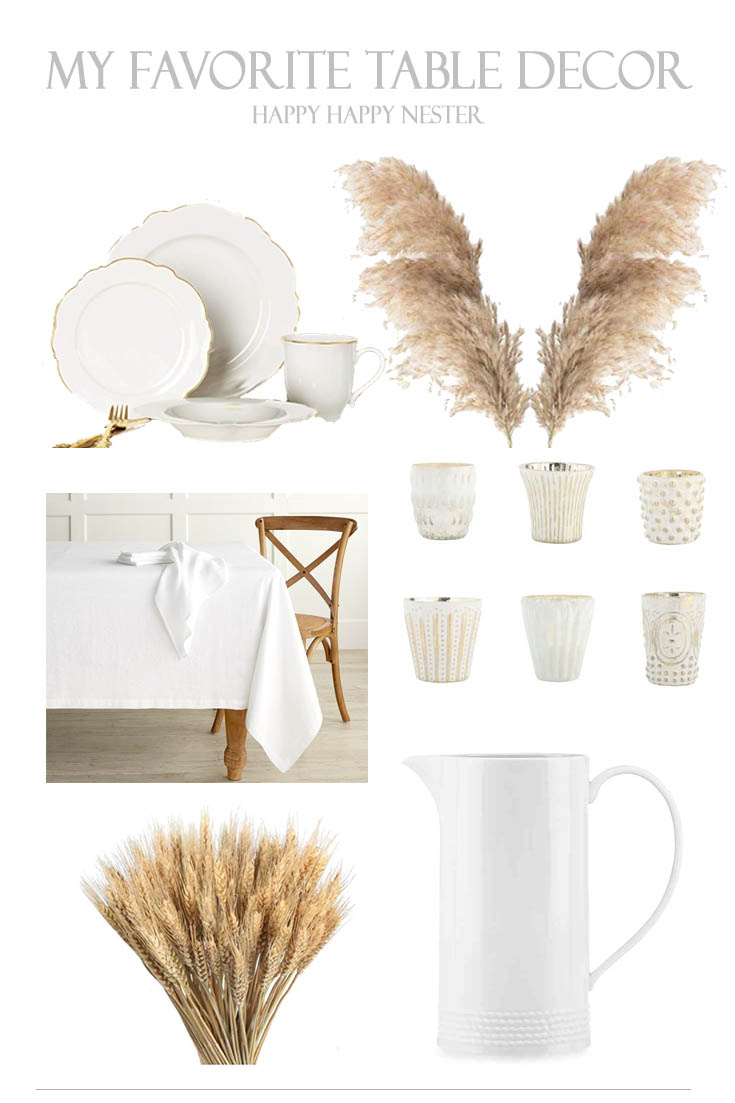 Bone China Set | Dried Pampas Grass | Italian Table Linen | My Favorite Votives | Dried Wheat |White Pitcher
I'm happy you joined us today for this inspiring Thanksgiving Table Setting post. I love creating these festive tables, and I hope you enjoyed my post.
Happy Thanksgiving to you and your family!


Thanksgiving Table Setting // Easy Thanksgiving Centerpiece // How To Decorate a Thanksgiving Table // A Foraged Centerpiece // Thanksgiving Table, Warm Fall Colors 

Natural Thanksgiving Centerpiece // Dried Hydrangeas Fall Centerpiece // Fall Centerpiece // Live Pumpkin Floral Centerpiece // Fall Centerpiece

Thanksgiving Centerpiece // Friendsgiving Ideas // Thanksgiving Dinner Outdoors // Cozy and Intimate Thanksgiving Table // Thanksgiving Centerpiece Ideas 

Thanksgiving Centerpiece with Fresh Fruit // 5 Step Easy Thanksgiving Centerpiece // Thanksgiving Centerpiece Ideas // Thanksgiving Table Settings // DIY Floral Centerpiece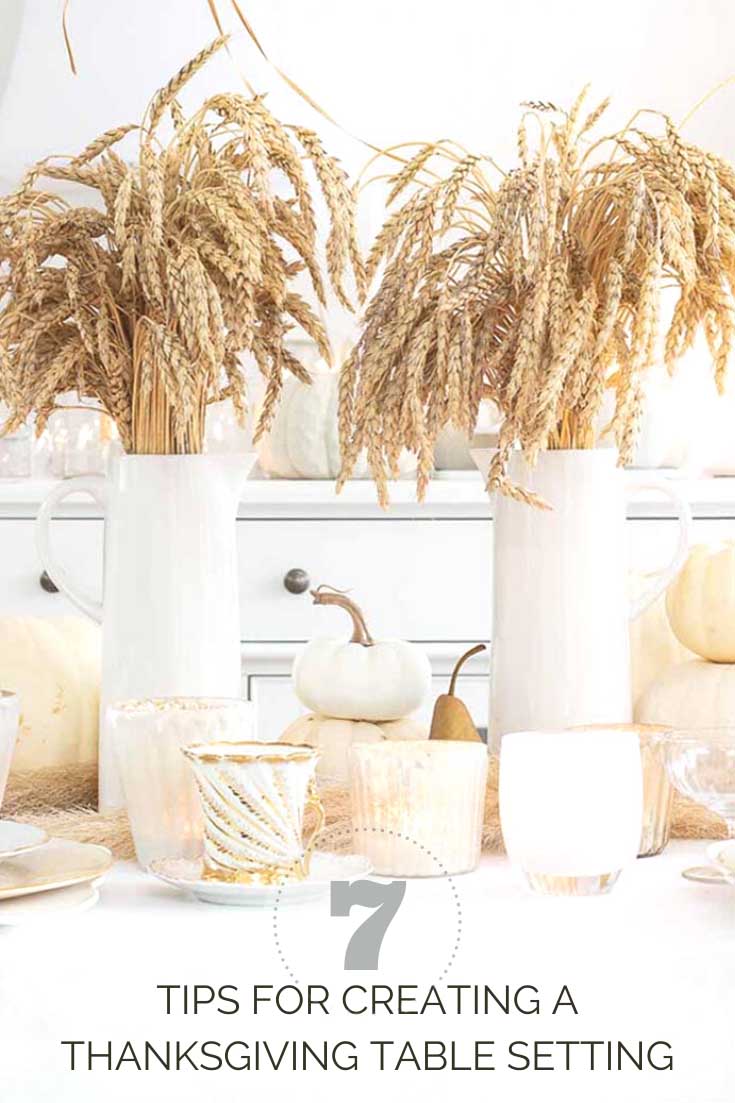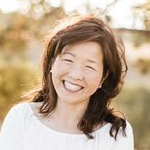 Latest posts by Janine Waite
(see all)