Join me today, and let's start decorating our Christmas tree with these Holiday Favorites from the blog.
It's finally December, my friends, and I can't think of any better way to celebrate the season than by checking out festive crafts, decor, and recipe ideas.
Okay, when do you start decorating for Christmas?
I've heard some start in November before Thanksgiving. Others begin afterward, and then some prepare in December.
Which person are you?
Whenever you may start, here are some ideas. If you're into crafting, baking, or decorating, there is something here for you.
Saturday Chitchat with Janine – Volume 95
Hello everyone!
How was your Thanksgiving? I hope it was a good holiday for you.
Now, it's time to talk about Christmas.
I have already decorated, so it's my job to get you up and ready to set up your tree, hang those ornaments, and wrap those gifts 🙂
The season is here whether you're ready or not. I'm here to give you simple and easy DIYs to make this month easy and breezy.
Skip the holiday stress with these holiday favorites from my home to yours!
Personal Note from Janine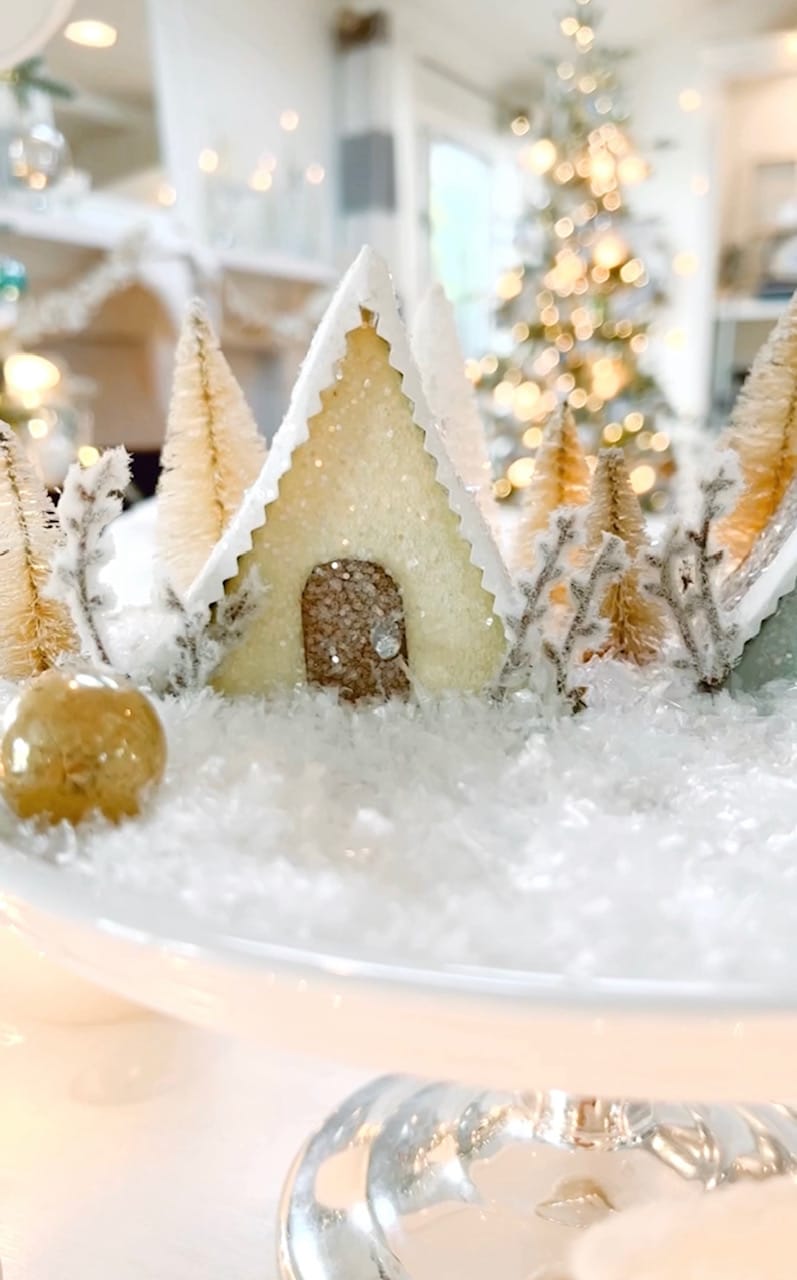 The holidays are in full swing over here.
I'm creating so much that I can't even think straight these days. But I'm not as bad as my husband, who made coffee the other day and forgot to place the coffee pot in the machine. Yup, we had coffee everywhere. 🙂
But I like to work a lot during the holidays. I stay busy since I have so many sad memories this time of year. Both my mom and dad passed away in the fall and winter months.
I'm sure many of you have similar scenarios and can relate to my sadness. And I wish you peace and love this time of year.
So, in addition to trying to stay distracted, I also feel it's super important to bring cheer and beauty to you this holiday season. I want to share my projects and crafts to brighten your days!
Enjoy this newsletter, and let's hang out!
Cheers,

PS: This project is from my Instagram Reel. Come on over and check it out!
This Week's Inspiration – Holiday Favorites
Modern Farmhouse Christmas Tree
This year, my Balsam Tree fir tree has the feel of a Modern Farmhouse Christmas Tree. It has a rustic yet elegant style that fits my holiday decor perfectly.
I decked them with vintage blue and white ornaments and blue velvet ribbon. I'm sharing all the elements that went into decorating my tree.
7 Homemade Gift Tags Free Templates
Here are 7 Homemade Gift Tags templates for Christmas. Download the file and print out as many tags as you need for the holidays!
You'll love these free printables and how easy they are to print out on your home printer.
Christmas Cookie Charcuterie Board
A Christmas Cookie Charcuterie Board is always a welcome treat during the holidays! Add homemade cookies and store-bought cookies along with sweet gourmet treats.
Learn how to make this easy Christmas charcuterie board dessert.
How to Make a Vintage Ornament Wreath Without Glue
This project is a simpler version of How to Make a Vintage Ornament Wreath.
I came up with a new way to attach them without glue. Also, the fantastic thing about this wreath is that you can change the ornaments each year to match your holiday decor!
Who's excited to finally see my Pink Theme Christmas Tree? I'm thrilled to show you!
Today, I share my best tips and tricks on decorating my tree, what accessories I use, and how to create this winter fairytale.
I recently made these Mini Gingerbread Houses and created a little village with them.
If you're worried about making them, they are not complicated, and you can make quite a few since they're small. Create a little snowy village with them, and add some mini twinkle lights!
DIY Christmas Diorama Ornament
I've always wanted to make some DIY Christmas Diorama Ornaments. So this year, I crafted some easy bottle brush tree ornaments.
I love any project or decor with mini-bottle brush trees, which look so cute in these plastic ornaments!
How to Make a Fleece Cone Christmas Tree
So, today you are in luck. I'm sharing my latest fleece cone Christmas tree tutorial with you. As you know, I'm obsessed with anything felt related. 
So, when I spied these adorable felt trees on Pinterest, I knew I had to make them. After some planning, my husband and I devised the best way to create these beautiful miniature trees.
Learn How to Make a Silver Christmas Wreath in this DIY post. You can use vintage ornaments or new ones, whichever you prefer.
This silver and gold wreath is the perfect holiday accent for any decorated room. Add cute bottle brush trees to the house to enhance the retro style!
This year we have a Red and White Christmas Tree in our cozy living room. I love how this color combination resembles striped candy canes and is so fresh and festive.
For accents, I added some paper snowflakes around the tree and red and white striped ribbons. Learn how I created this bright and merry Christmas tree!
Boutique of the Week – Beautiful Artificial Christmas Trees
Beautiful Artificial Christmas Trees
'Tis the season to celebrate with this collection of Beautiful Artificial Christmas Trees.
Whether or not you're buying one from a Christmas tree farm or browsing online for the latest look, I have a collection of gorgeous choices that I know would look fab in your home.
My Favorite Things – Holiday Favorites
DIY White Christmas Tree with Feathers
Create these beautiful Christmas trees with my friend Leslie! Add them to your existing home decor for the holidays.
9 Red and White Christmas Decor Ideas
Here are nine winter wonderland ideas for your home! Check out these options to start decorating this weekend.
Easy Slice 'n' Bake Vanilla Bean Sugar Cookies
Bake these delicious cookies with friends and family with the recipe by Tieghan, and have the holiday spirit in your home for the season!
The Best Holiday Ornaments and Collectibles
Follow Martha Stewart's tips on where to find some of the cutest ornaments for this year's Christmas tree!
Create these beautiful gift tags made by Jackie and start wrapping your gifts a new way this holiday season!
DIY Tiered Wooden Houses Advent Calendar
We all love advent calendars! Make this DIY with Laura today and create the countdown to Christmas with loved ones.
Find The Right Christmas Tree Here
Shop for the right tree for the right price! It's tough finding the perfect one. Start looking today!
What's Trending On The Blog
Make a Chunky Knit Wreath in Under 30 minutes!
Yes, you heard correctly. This is probably the simplest wreath I have ever created. I can't get enough of the beautiful Merino wool yarn. 
An Edible Holiday Wreath made from sugar cookies makes a beautiful treat or gift! I've always wanted to create a wreath made of cookies but needed to devise a way to attach the cookies.
Finally, after watching The Great British Baking Show, I got the courage to tackle this project. And you're lucky since I'm sharing my tutorial with you today!
I'm so into the Christmas movie Elf, and as most of you know, I'm obsessed with everything paper.
So, one year I embraced the paper decor and created a frosty forest in our living room. Here's the look!
My sweet friend Elisabeth gave me the cutest Christmas Gnomes. This was my first introduction to them five years ago. All my gnomes or Tomte are from Sweden.
These adorable gnomes are now popular everywhere. So, let's look at the vast array I collected for you! They come in so many fun styles.
This Week's Tip – Battery Operated Candles
The Next Best Thing to Real Candles
I love these remote control taper candle sticks.
Seriously, I never thought I would like the look of these faux candles. But on a whim, I placed them on my mantel, and I love them.
So they require two batteries, so no wires are involved. And with a tap of a remote button, you can turn them on.
This brand's candles flicker and look very realistic. They glow and set the mood that I like on my mantel. I'm using them this holiday since I bought many for my Harry Potter Halloween porch.
Latest Obsession – Paper Crafts
Paper Crafts
(Book Pages Paper Garland Pictured Above)
Creating home decor out of book pages and paper has always been an obsession of mine.
And this year, with the economy the way it is, people want more simple and inexpensive decorations.
I'm creating 12 holiday crafts on my Instagram account. So, if you're over there, drop in and see my latest projects.
I plan to share a few of them over the blog in the next couple of weeks.
---
---
Hello, my friends,
Who's excited about Christmas? I sure am!
As a family, we love driving around, looking at lights, and drinking the best warm drinks in town.
Plus, I adore having my kids home from work and college 🙂 There's no better feeling.
In the meantime, thanks for checking out these ideas, and I hope you found something to incorporate into this year's holiday look!
Have a great day, everyone,