This year, my Balsam Tree fir tree has the feel of a Modern Farmhouse Christmas Tree. It has a rustic yet elegant style that fits my holiday decor perfectly. I decked them with vintage blue and white ornaments and blue velvet ribbon. I'm sharing all the elements that went into decorating my tree.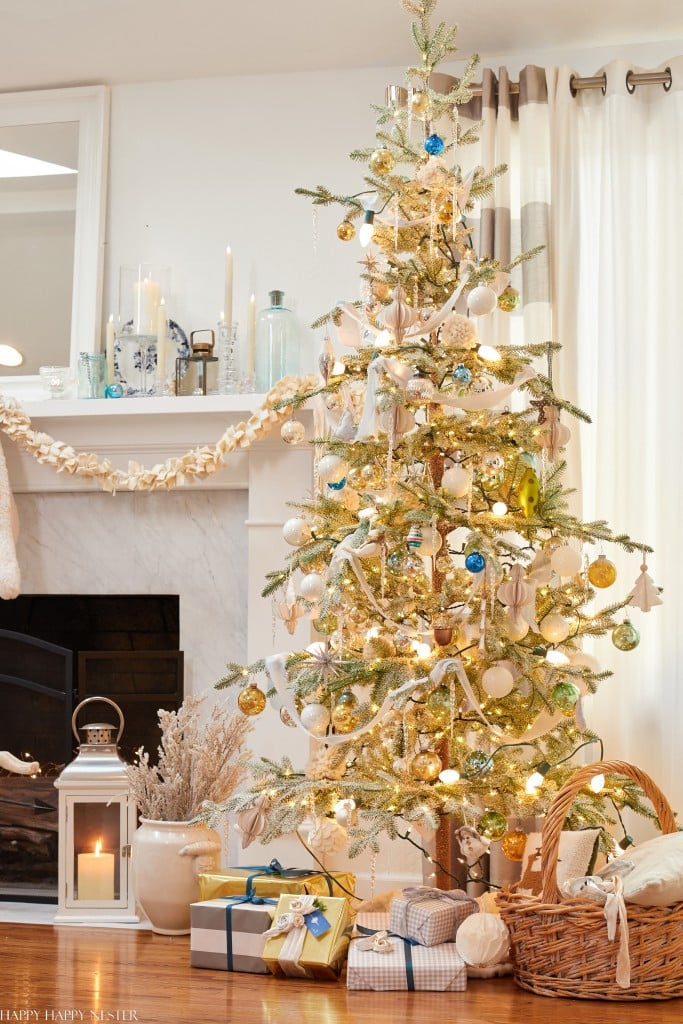 I love this year's trees! Our two trees create a forest for a warm and inviting living room. So please grab a cup of your favorite holiday drink, and let's look at what I've been working on.
We have lived in our Northern California house for about 13 years. I never thought I would stay in one place for that long. This is the longest we have ever lived in a home. I guess you could say this is probably one of my favorite homes among the many we have owned.
One thing that resonates throughout most of the homes we have lived in is that they are all older homes. We love the architecture of the craftsman-style homes and all the attention to detail.
We buy these older homes and update the kitchens, bathrooms, bedrooms, etc.
I love our home and how cozy it is, especially at Christmas time.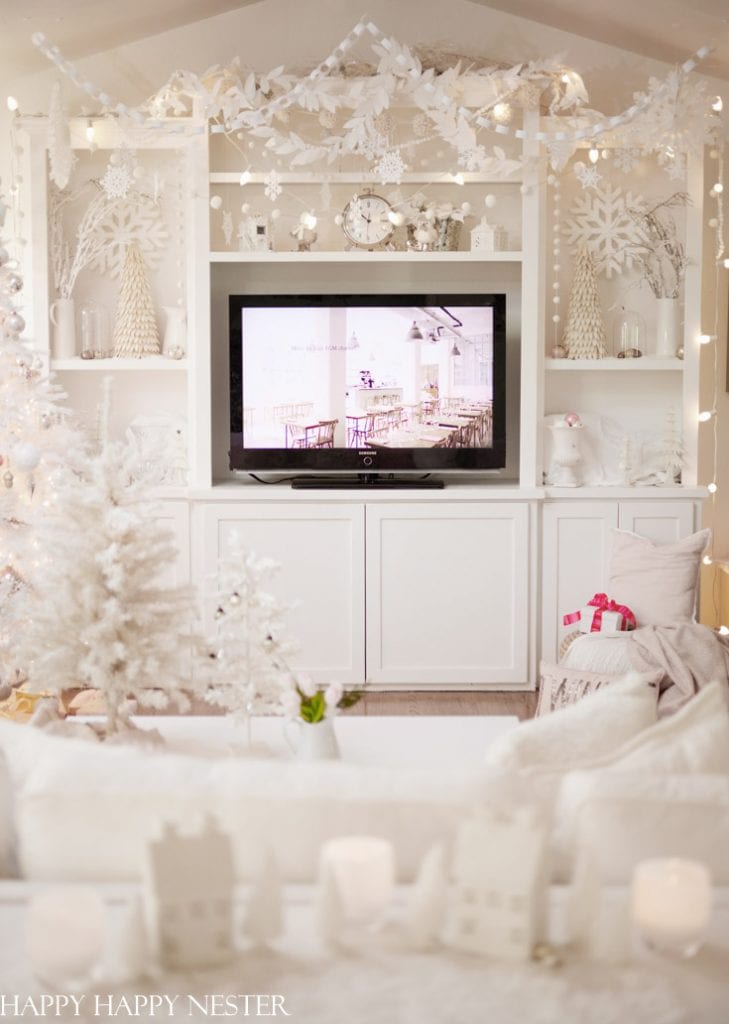 Here's our living room from two years ago. I went all out trying to replicate the whole Elf style from the movie. I had a blast with the snowflakes!
If you want to peek at my past Christmas decorations, here is a list of a few.
And before I forget, this post is a part of a blog tour of Christmas trees. There are 12 trees on this tour, and I hope you can check out my and my friend's trees!
Well, without further adieu, let's look at my latest decorating project!
Modern Farmhouse Christmas Tree
Here are a few elements I love adding to our Christmas trees to cozy them up!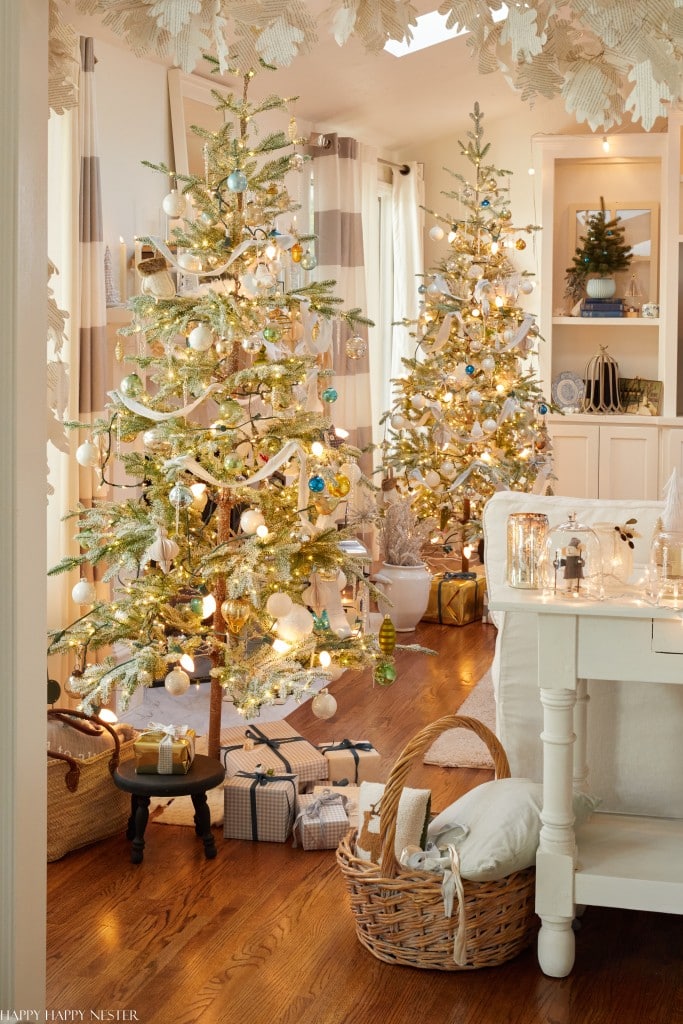 My Favorite Christmas Trees
I have had many trees over the years, and I love these two trees. They are perfect for our size living room and don't overwhelm our space.
If you're thinking of purchasing these trees, you might find my review of these Balsam Hill Trees helpful.
Lights: I need to add to the review the lights that come prewired and on the cool side in the evening. I love a warm yellow glow, so I added my twinkle and classic ceramic lights.
Flocking: The flocking on these trees is on the light side. There are no clumps of flocking but relatively small flakes, which gives it a delicate snowy look but not my new one in my bedroom.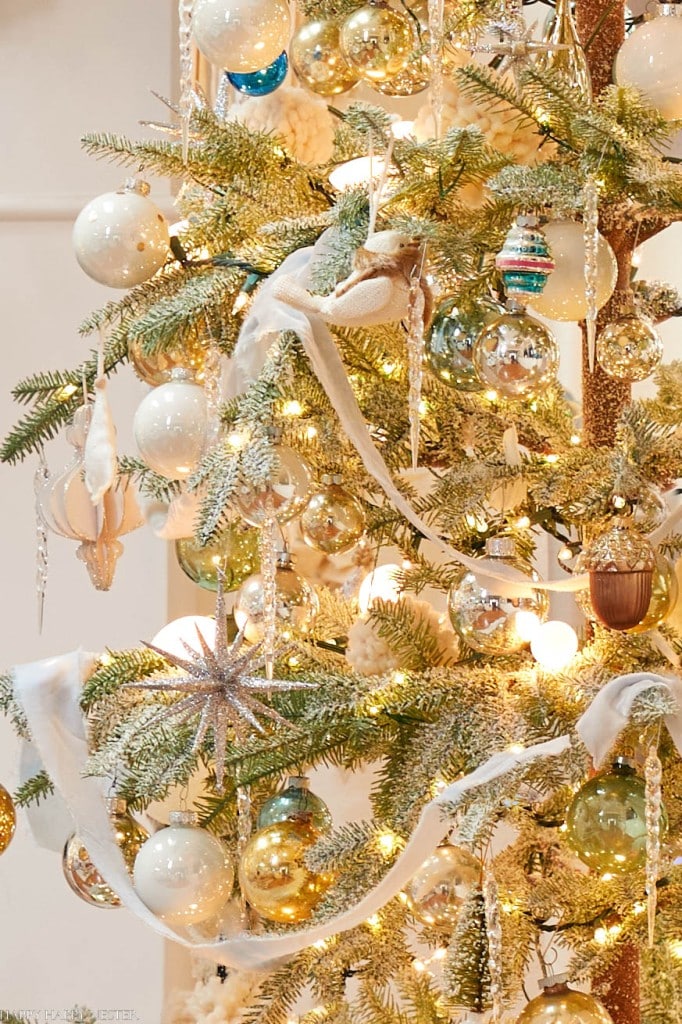 Hand Dyed Silk Ribbon
I bought this beautiful silk ribbon last year. I wanted the hint of a garland, but nothing overpowering. I wanted to create a tree that would match one that would be found during the time period of Little Women. And if you're wondering where I buy my ribbon, there are a ton of little ribbon shops you can shop through this link.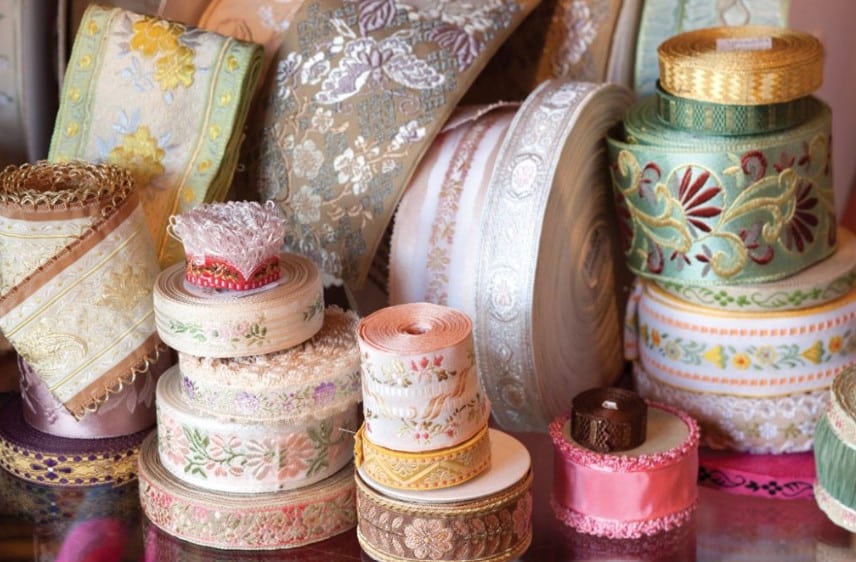 I'm a ribbon fanatic. There is a store in San Francisco that is called The Ribbonaire. It's one of my favorite stores in the city.
Here's the address:
The Ribbonaire
3695 Sacramento Street
San Francisco, California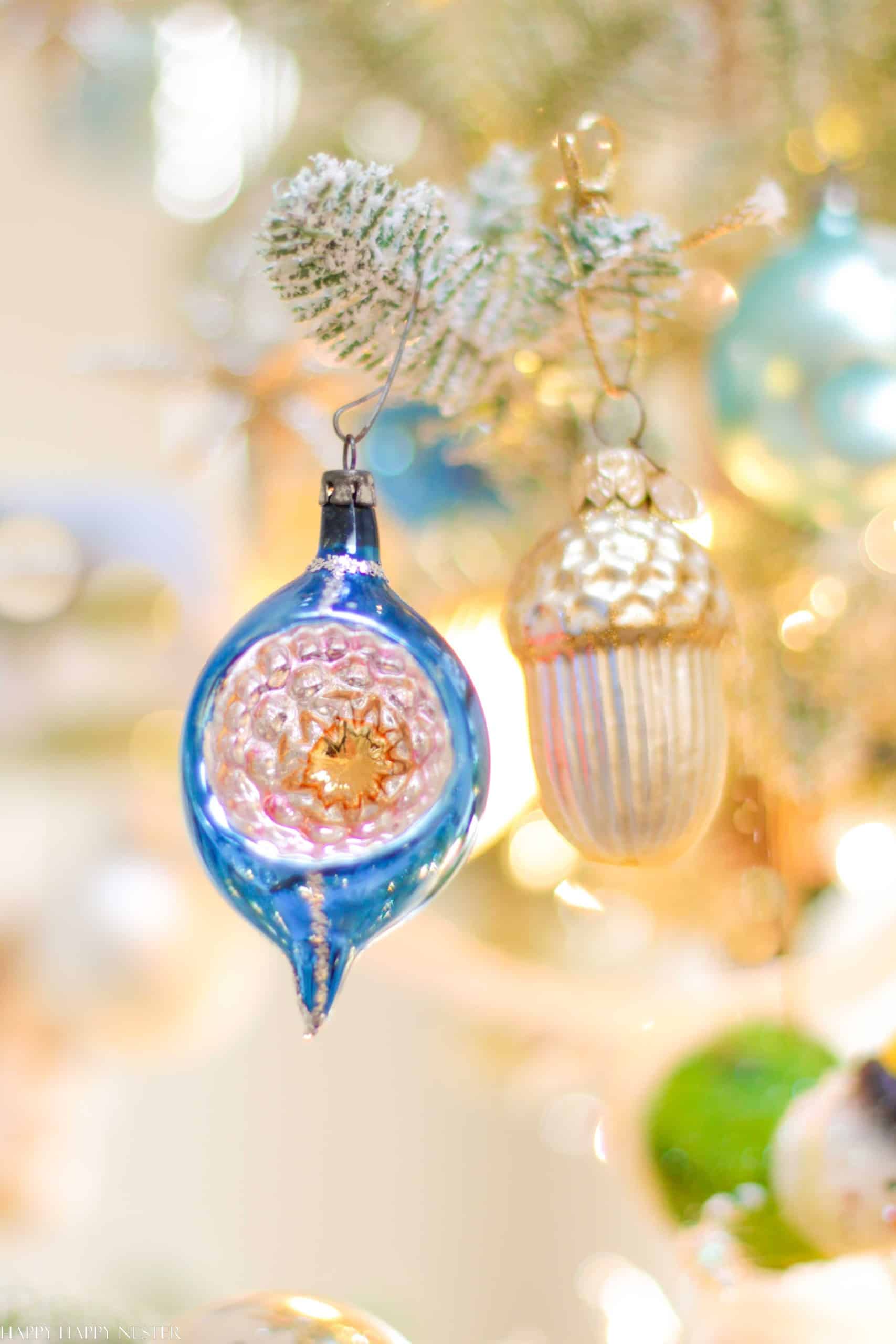 Vintage Ornaments
Another passion of mine is collecting vintage ornaments. I love the look and the patina on them. I feel that vintage ornaments add so much character to a tree.
I've been collecting them for years, and I buy ornaments throughout the year. If we visit an antique store, I'll go out of my way to search for old decorations. Besides antique stores, I have other sources for my ornaments, thrift shops, and online shops. Here are a few of the online shops I buy from, Glass Vintage Decors and Grannysbox.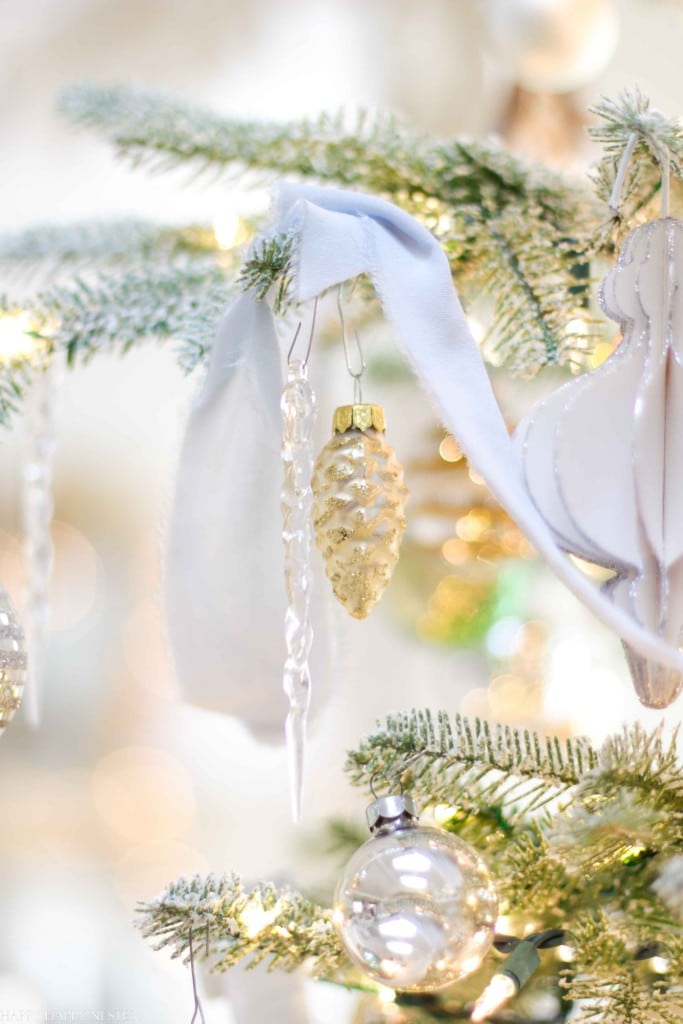 Icicles
I've had these plastic icicles for years. They aren't fancy, but in the end, they catch the twinkle lights' reflection, adding an extra sparkle to the tree. They also feel a bit old-fashioned, which adds a nice touch to my Christmas tree.
Here is a link to ones pretty similar to my icicles.
Christmas Tree Lights
I adore these wonderful retro bulb lights. They give a hefty dose of color and light to whatever you adorn them on. I grew up with these, so I'm a bit sentimental about them.
They come in all colors and also a green or white cord.
I no longer can buy them online due to some California law, but I did find them at our local Ace Hardware store. But if you don't live in California, you can buy them through this link.
And by the way, the difference these string lights have made to my tree is fantastic. It warmed up the room and my trees with a golden glow!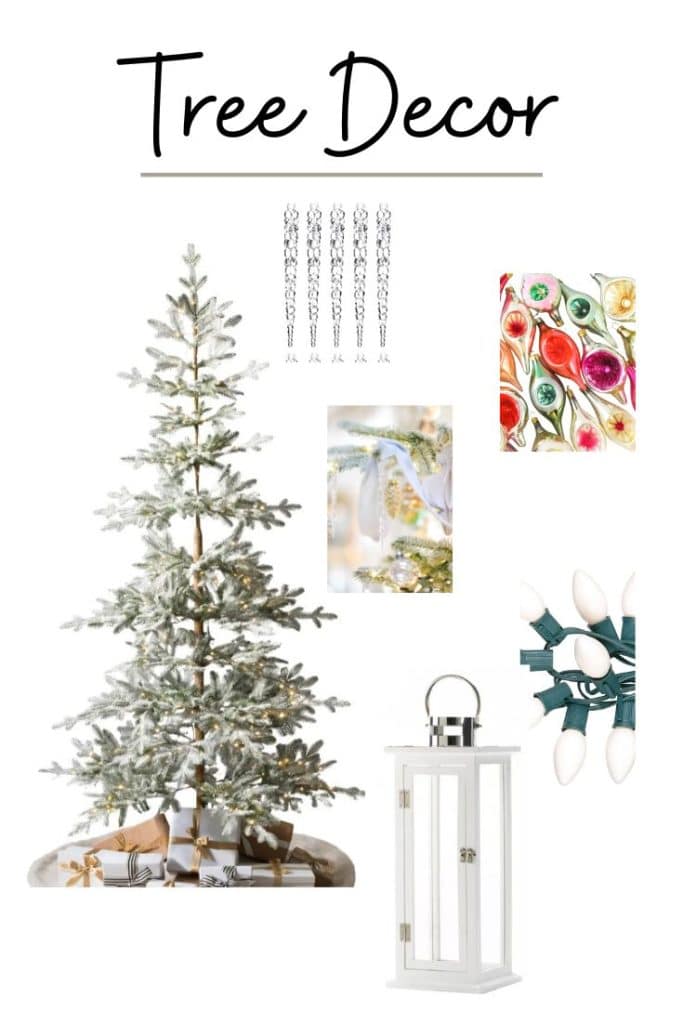 Frosted Alpine Artificial Tree | Tree Icicles | Vintage Ornaments
Blue Hand Dyed Silk Ribbon | Ceramic Lights | White Lantern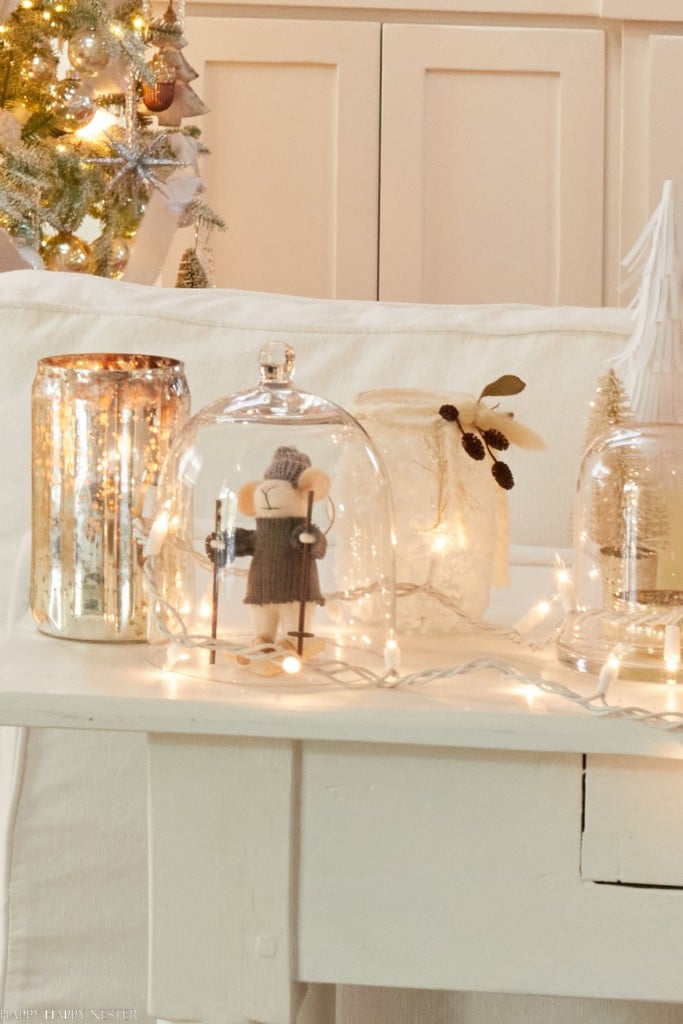 Well, this little mouse and I are ready to call it a day. Thanks so much for stopping by! I wish you a Happy Holidays to you and your family.
I must mention that if you want to create some fun crafts this winter, I'll be sharing 12 crafts for the holidays over on my Instagram account. Today is the first day of my series.
See here and over there too!
Cheers,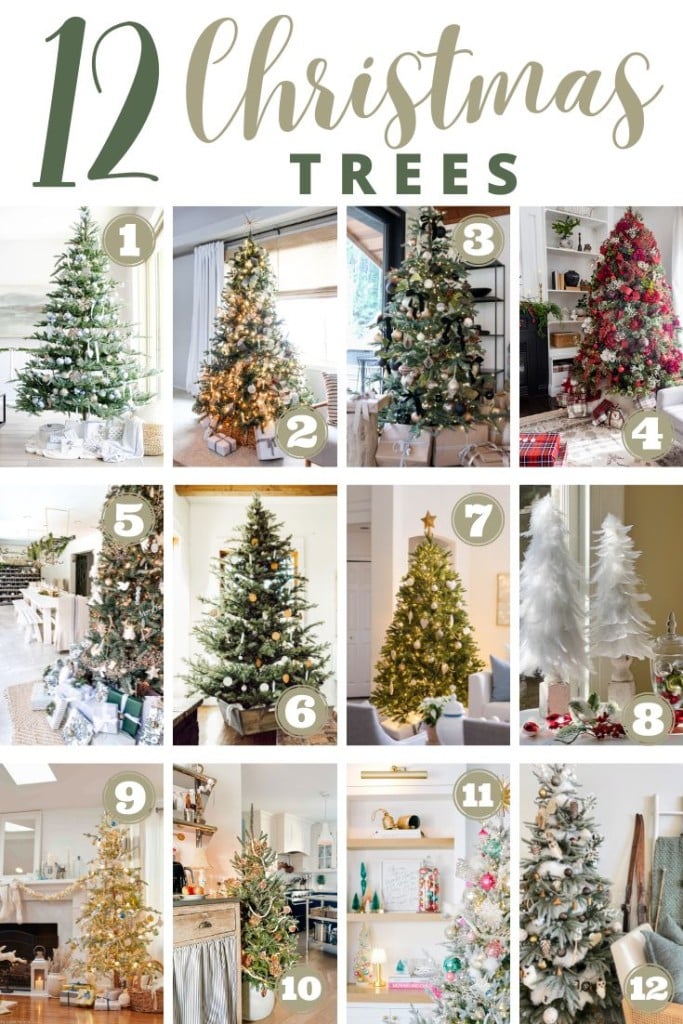 Blogger's Best Christmas Trees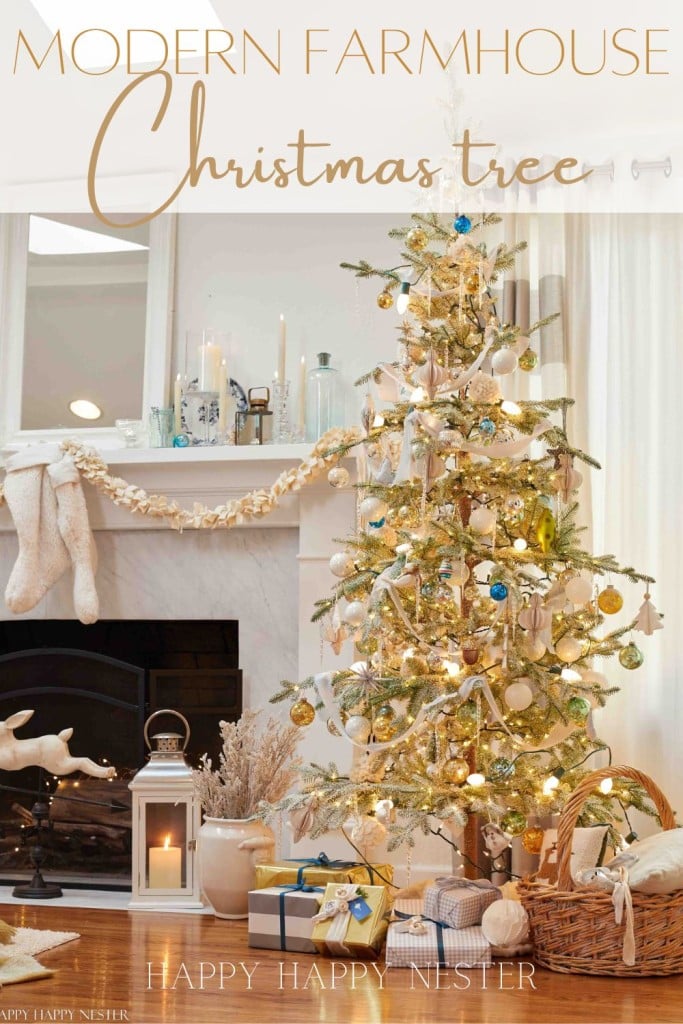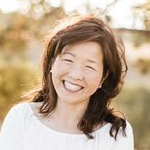 Latest posts by Janine Waite
(see all)