Grab your Christmas Inspirations here and find new recipes, crafts, and DIYs for this year's holiday season.
Christmas is approaching faster than ever. It's time to prepare and finish in time for the holiday!
Whether you love to bake, create, or craft, there is something here for you.
Yes! I have desserts ready to bake, wreaths to make, and ornaments to hang. It's that time of the year, my friends.
Feel inspired here with my ideas from my home to yours!
Saturday Chitchat with Janine – Volume 96
Hello, my friends!
I love this time of year. I mean, who doesn't love Christmas? Do you?
The trees are up. The front porch is set. I'm ready for the 25th.
If you're caught up in the holiday rush and can't find the right decor, you're in the right place.
This post is designed to help you. So come on, and look at this collection of Christmas inspirations!
Personal Note from Janine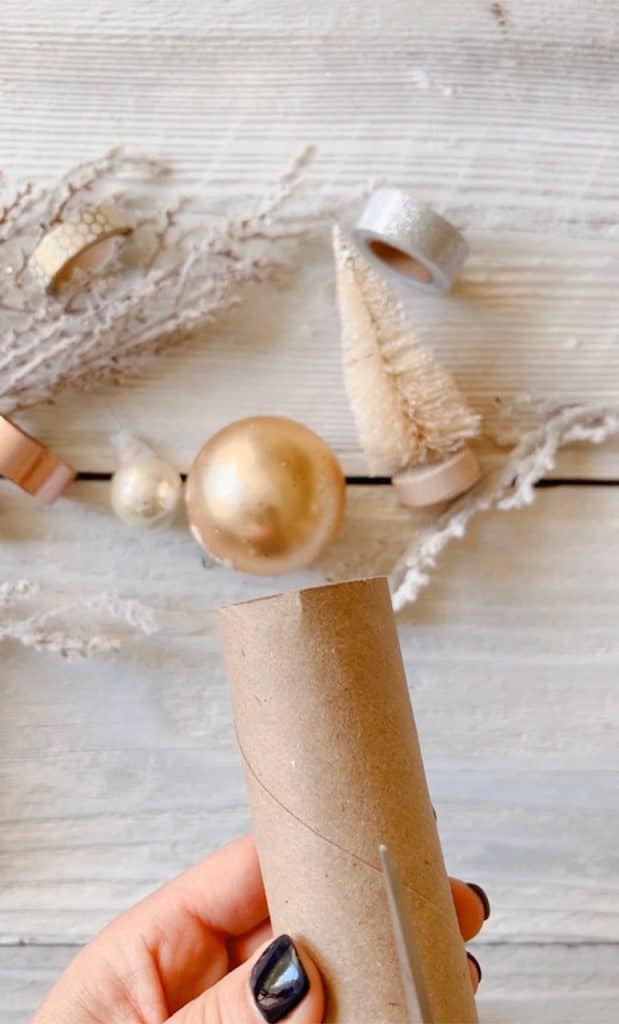 Happy Saturday, Friends!
I told myself I wouldn't make a toilet paper craft. Well, it happened.
I had a collection of tp rolls, and this project popped into my head. Initially, I fought the urge to make this craft, but I finally gave in.
So, once I decided to make this ornament, I got busy. One idea led to another, and the results are stunning. I showed my sparkly ornament to my husband, and he couldn't tell that toilet paper rolls were underneath the silver and gold washi tape.
If you want to see how to make it, check out my Instagram Account. Yes, I'm still making 12 Christmas Crafts over on IG.
On another note, I hope you are enjoying the long evenings!
Since the daylight savings time change, our schedule has been pushed forward. And around 6:30 pm, we're done with dinner, and my husband and I look at each with blank stares. Truthfully, we feel ready to hibernate and go to bed, but we muster up the energy to plop in front of the tv.
Of course, I'm always crafting or writing while we watch television. Yes, I'm the annoying and productive type!
So without further adieu, enjoy today's Saturday Chitchat and have a wonderful weekend crafting, baking, shopping, or relaxing!
Stay healthy and warm!

PS the toilet paper roll ornament tutorial will be published in two weeks. Nothing like the last minute!
This Week's Inspiration – Christmas Inspirations
Christmas Tree Charcuterie Board
This easy and fun Christmas Tree Charcuterie Board is perfect for a holiday party. Place your favorite nuts, fruits, cheeses, and meats on your board, along with rosemary sprigs!
Use a cutting board or a charcuterie shaped like a tree to display your savory food.
I've always admired the antique German feather trees. But, of course, they are super expensive, so I found an excellent alternative that's made of wool.
So, here is my Vintage Style Feather Tree that I bought over on Etsy. It comes as a kit that, when you're done, it's the prettiest little tabletop tree!
Free Printable Vintage Christmas Tags
I'm excited to share my Free Printable Vintage Gift Tags for Christmas. These paper tags are authentic images from old holiday cards. Download your pdf and print them at home.
Make as many as you need for your gift-wrapping needs!
These Apple Crisp Mini Cheesecakes are the perfect blend of sweet apples, cinnamon crumbs, and cream cheese filling.
These easy cheesecake desserts are baked in paper muffin liners or pretty porcelain ramekins!
Check out these easy DIY Fabric Ornament Balls for Christmas. This craft project only requires a few supplies, felt, styrofoam balls, glue, scissors, and an ornament hanger.
Make them in any color that works with your holiday decorations!
Homemade Cookies Gift Packaging
Do you like making cookies and giving them to friends and neighbors? Well, here is the cutest Homemade Cookies Gift Packaging idea! It's a super-easy way to wrap up your Christmas treats to give as holiday gifts.
Place your yummy cookies in the box and tie them up with a cute bow, and your homemade care package is ready for your friends!
Christmas Tree Rice Krispie Treats
These adorable Christmas Tree Rice Krispie Treats are so easy to make. Add crushed candy canes and Reese's peanut butter cups, and the cereal quickly transforms into a holiday dessert.
Kids love to make these fun no-bake Christmas trees during the holidays!
These adorable Hanging Mug Topper Cookies are the easiest to make. Unlike the complicated mini gingerbread houses mug huggers, these cutout sugar cookies don't require building a house.
Also, the cookie cutters sit perfectly on the coffee mug's rim since the cutter's physics are excellent.
Decorate a mantel, window, or bookcase with a garland for a significant impact. Then, learn to make your decor with this DIY Pom Pom Garland tutorial.
Create your yarn garland in any color or size for home decor. And the cool part about this home decor is that it's so inexpensive to create!
This Winter, everything is coming up pom-poms. Today, I'm sharing with you an Easy Pom-Pom Wreath DIY!
Pom poms are super easy to make, and no special equipment is required. Make your wreath any size that fits your home.
Boutique of the Week – Cozy Christmas Gift Basket Ideas
Cozy Christmas Gift Basket Ideas
Get in the seasonal spirit with this collection of Cozy Christmas Gift Basket Ideas!
Here you will find festive baskets full of sweet and savory options to make this holiday the best.
My Favorite Things – Christmas Inspirations
How to Clean Every Type of Christmas Ornament by Type
Follow these expert-approved tips from Martha Stewart to ensure your precious pieces are pristine before tucking them away in storage!
18 Christmas Cakes Ideas to Make
Check out Better Homes & Garden and see their dessert recipes. These festive holiday cakes will put the finishing touch on your Christmas dinner menu!
Bring a White Christmas to Your Home with These Decorations
Bring the classic Christmas song to life in your home with these elegant garlands, wreaths, stockings, and more with Sunset Magazine!
Here's a fun DIY made by Leslie that is easy, simple, and stunning! Make this craft today and start decorating your holiday home.
The cookie that tastes like cake! These Italian Christmas Cookies are the perfect treat. Bake this recipe by Laura and satisfy those tastebuds!
Christmas Vacation Dirty Chai Cocktail
We are celebrating the holiday season with this festive Christmas Vacation Dirty Chai Cocktail. Follow Tieghan's recipe to have a great holiday!
What's Trending On The Blog
Seasonal Christmas Dessert Recipes
I say it's about time we start baking in the kitchen with some Seasonal Christmas Dessert Recipes to celebrate the holiday a little early!
There's a lot to get done before the big day but first, let's bake! Bake a treat or two for your neighbors, friends, teachers, or loved ones.
Winter Wonderland Decorating Ideas
Let's get in the holiday spirit with this Winter Wonderland Decorating Ideas collection.
Here are festive wreaths, desserts, and decor ideas from my home to yours!
Non-Christmas Winter Decorations
Now that the holidays are over, but it's still Winter, I thought it was best to round up a collection of Non-Christmas Winter Decorations to style your home with a cozy, seasonal spirit.
I guarantee you will find something to decorate your holiday home!
Join me today, and let's start decorating our Christmas tree with these Holiday Favorites from the blog.
It's finally December, my friends, and I can't think of any better way to celebrate the season than by checking out festive crafts, decor, and recipe ideas!
Merry Christmas and Happy Holidays
Merry Christmas and Happy Holidays! Don't miss out on my latest winter crafts, recipes, decor, and more to get a look at the festive season!
Tis' the season to bake delicious desserts with loved ones, create simple crafts, and design your oasis with beautiful decor. Together we can create a seasonal style for the heart of your home!
We all know December can be a busy month. So to help save time, here are some Easy Christmas Treat Recipes to bake for your friends and family!
And besides, desserts taste better when it's almost Christmastime, so come on! Join me, and let's take a look at these mouthwatering recipes to get a taste of one of the best holidays!
This Week's Tip – Holiday Movies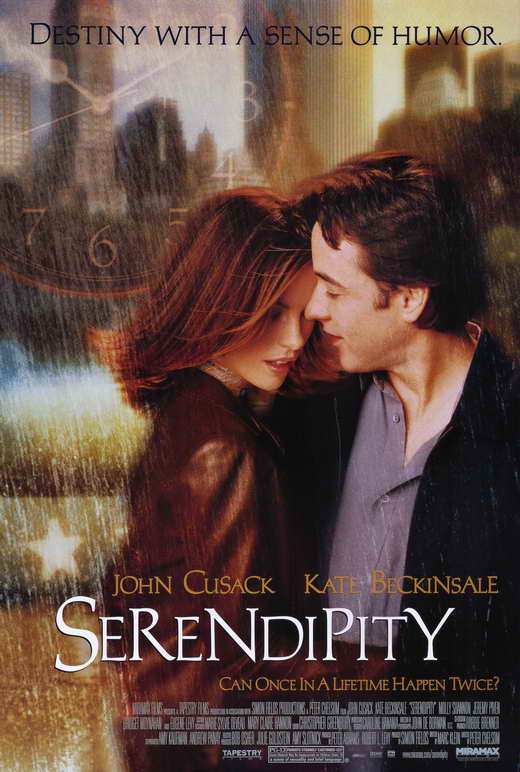 Christmas Movies
Ok, I know we all watch Christmas movies this time of year. I thought I would share a few that I enjoy. Of course, there are the classics and then a few new ones. I may have included one Hallmark movie, so let me know if you have a favorite.
And I must add, please leave a comment below. I would love to hear about more movies.
Here is my list:
Latest Obsession – A New Type of Candle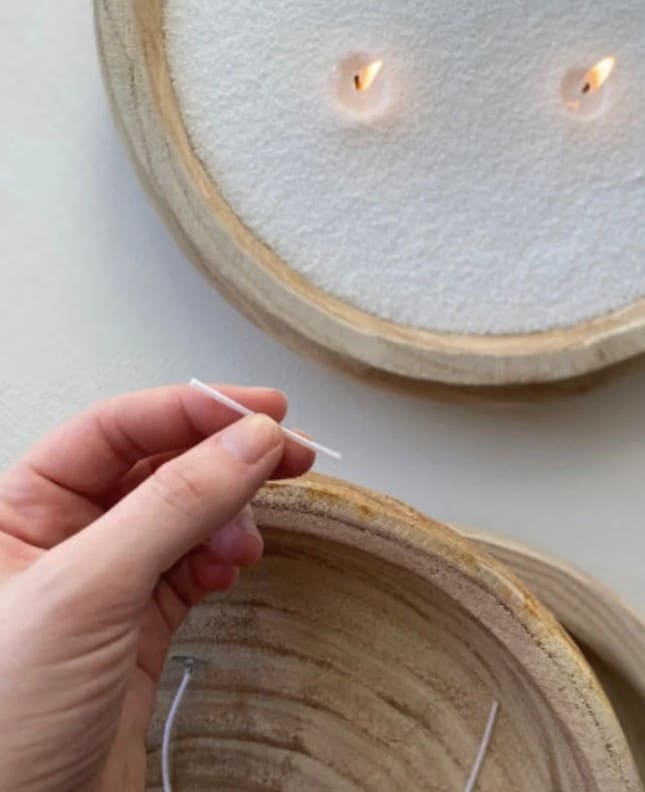 Make a Candle in Seconds!
I made the candle to the right with this unique candle wax. It comes in tiny beads of wax that you can pour into any container!
I had this fun antique tin that I turned into a beautiful candle. Once you pour the candle beads (or what this brand calls sand), place the wicks into the wax. It's so simple and so fun!
---
---
Hey everyone!
Thanks so much for checking out this post. It means a lot to have this much support from people who love what I create!
We are in this together through every season and holiday.
If you loved this post and want more holiday inspiration, there are tons more ideas on the blog, whether you wish for crafts, recipes, or other similar ideas!