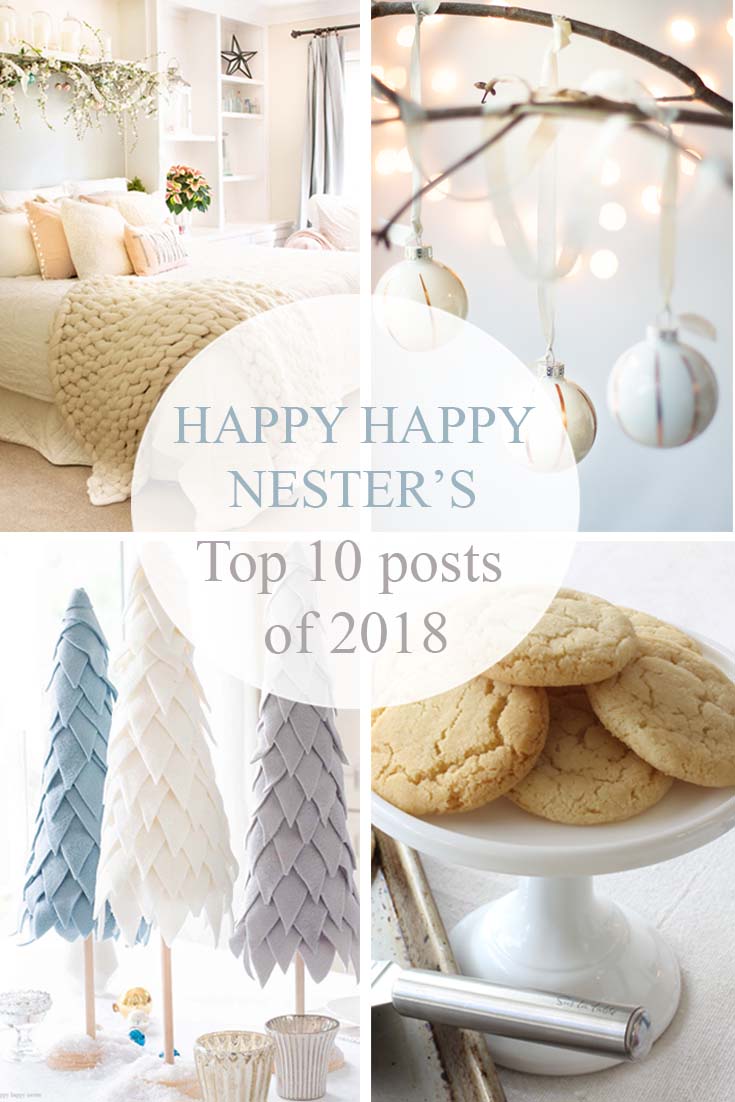 Countdown of Our Top Posts of 2018
This year has been an inspiring one for me, you see I decided to come up with the blog goal of blogging three times a week, and I succeeded! Not only did I complete it, but my blog traffic also increased as well, which was a bonus. So, thanks so much for all your support and encouragement. So, now looking forward, I will continue to blog three times a week, and I have many great projects already scheduled for this month. I feel more focused than last year, and as a result, my projects appeared to resonant more with my followers. So, hello to this year's new crafts and home decor projects. Now that I'm accountable to you for weekly inspiration let's start a countdown of our top posts for 2018. I'll begin with 10 and work our way down to the top post.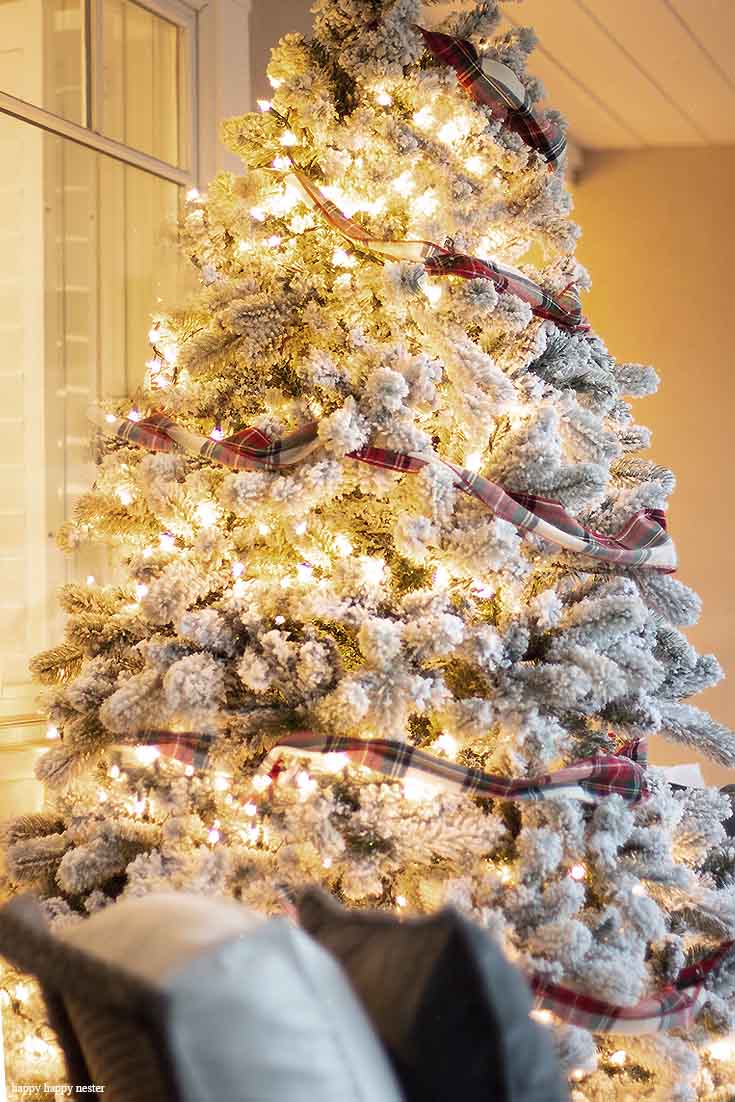 I pushed out a ton of Christmas posts in November and December. To tell the truth, it was all a blur to me, some days I don't know how I got dinner on the table since I was buried deep in decorating, crafting, and baking! So, you can imagine that I was so surprised that I decorated our front porch. I powered away one afternoon and a miracle happened, our festive porch came out beautiful. I'm super pleased that it made it in my
Christmas Home Night Tour
.
I created this 
yummy hot chocolate
 recipe that is great for any time of the year. I do have a surprise ingredient that gives it a lovely rich flavor. I do have it on my schedule to make one is dairy free for my lactose intolerant friends. Btw, this post comes with a free gift tag with hot chocolate instructions. It makes a fun gift for a friend.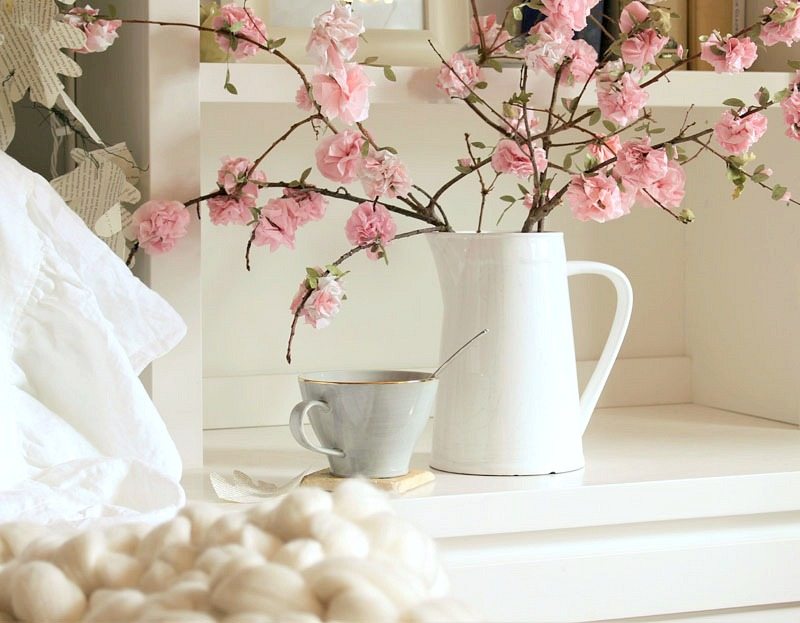 The minute I published this
paper flower tutorial
it was popular out of the gate. Surprisingly it is popular with brides who are planning weddings. I love that you can have flowers in the house all year and they stay fresh looking. Ok, the countdown of our top posts of 2018 has been mostly Christmas posts. And here is another one to add to the list.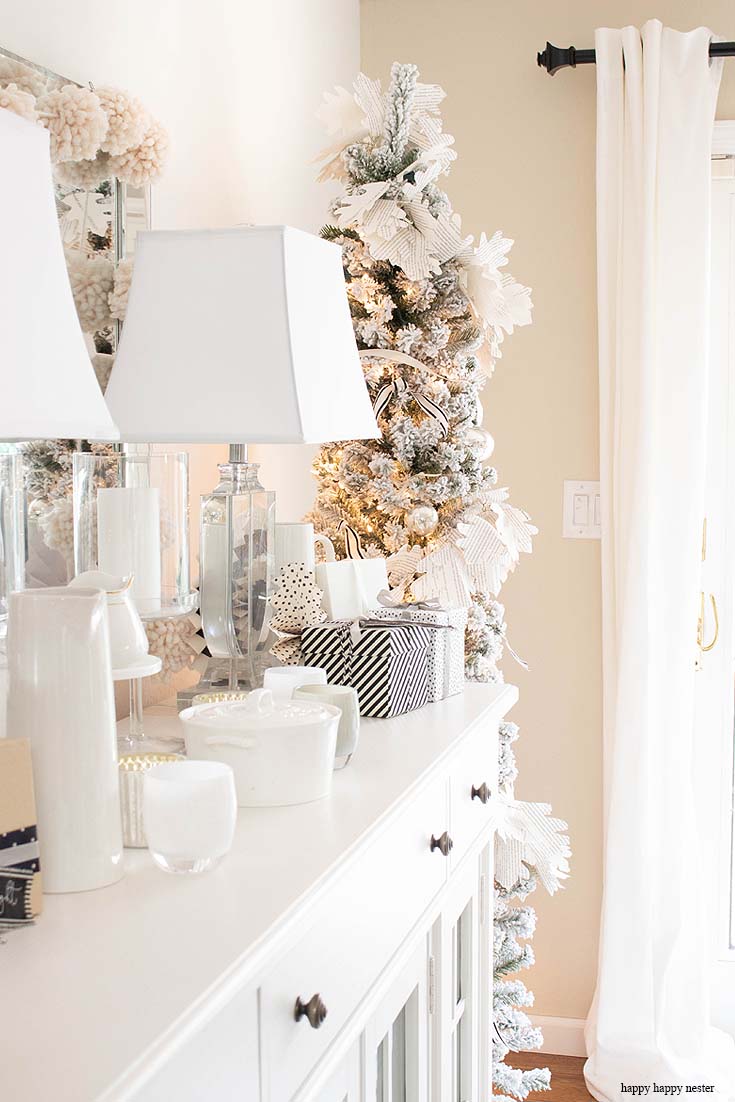 This year, I added two
faux Christmas trees from King of Christmas
and I couldn't be more delighted. These two trees look like they were made for the dining room. Once I put them back into storage, I'm going to have two empty spots next to my buffet.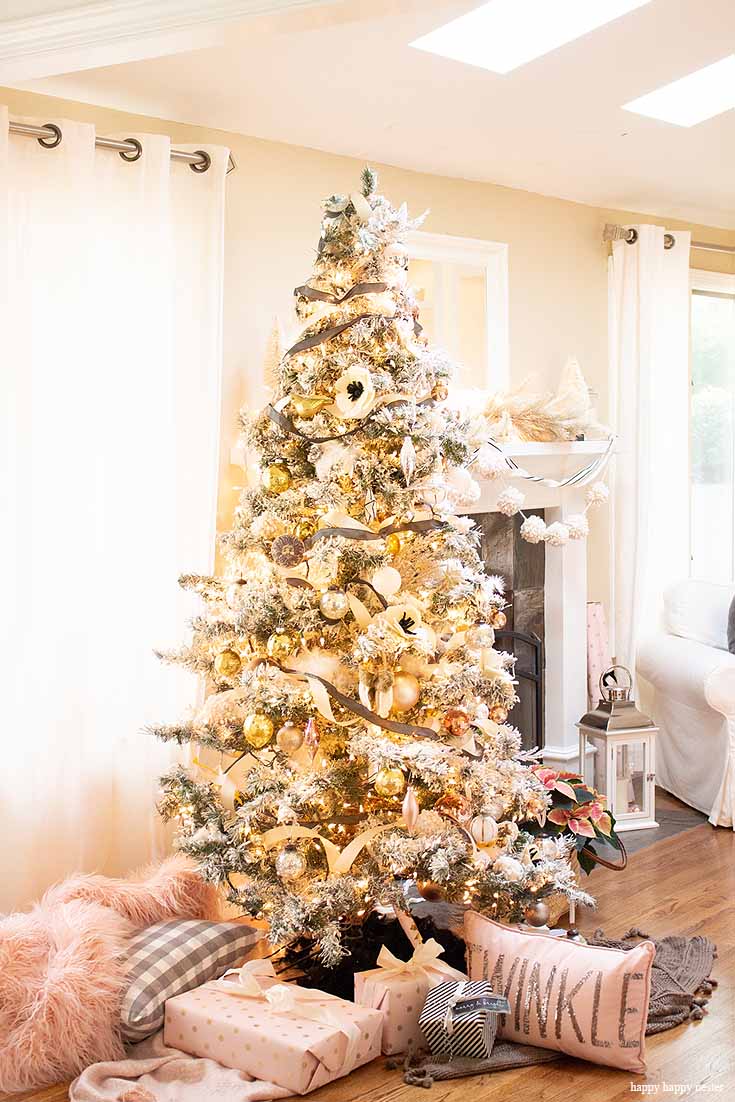 My
cottage Christmas tour
was a study in pink, black and gold. It is too funny to think that all began with my fascination with 
felt anemone flowers
. The minute I placed them on my tree, I knew that they would be covering it this past Christmas.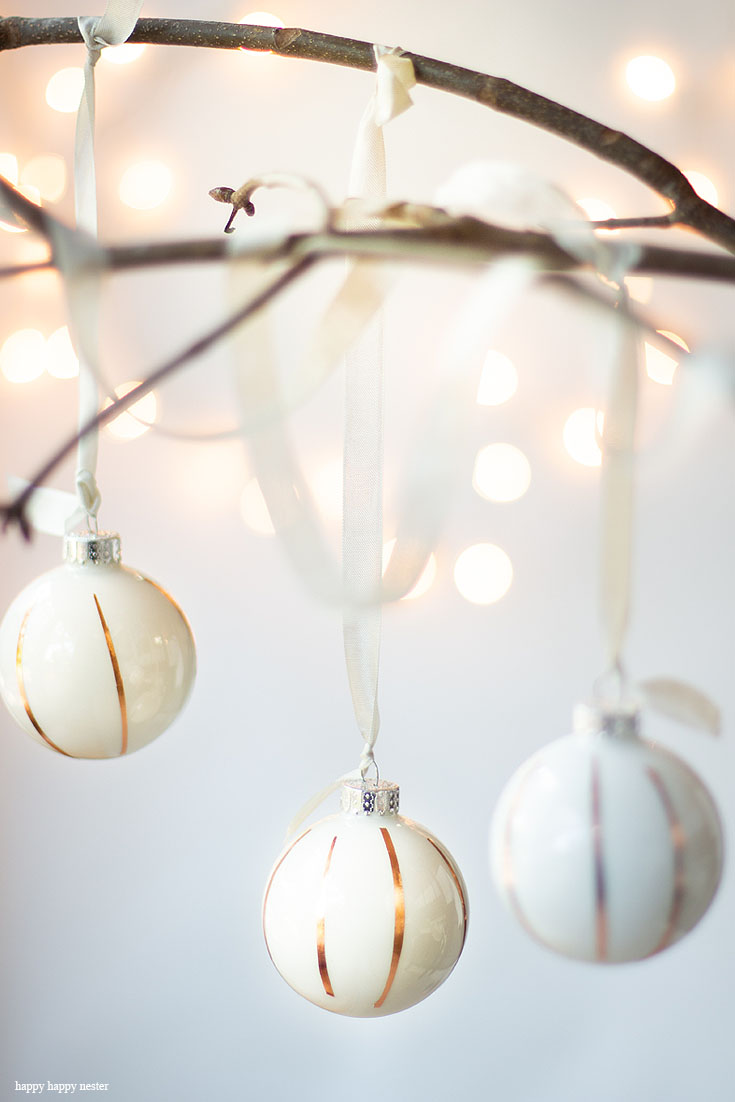 This project just kind of happened one day. I wanted more
copper ornaments
, and I had these plain white balls and some copper washi tape, and so I combined the two. The great thing about these ornaments is how easy they are to make. Ok, we are at four in the countdown of our top posts of 2018!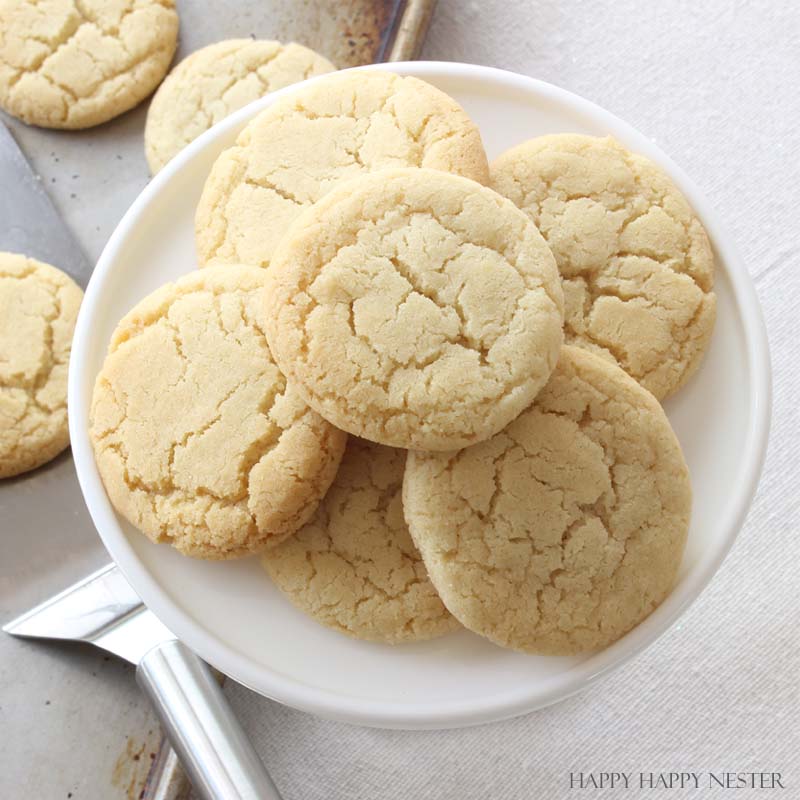 I was pretty confident that my mom's
almond cookie recipe
would show up in the countdown of our top posts of 2018. It is a fabulous recipe, and the cookies always come out looking perfect. You'll impress your friends and family with this cookie.

Do you ever have a project that you thoroughly enjoy making? This
 fleece cone Christmas Trees tutorial
was one of those projects. It was fun figuring out how to build the tree, and I especially love how it turned out. It is a very popular pin over on Pinterest.
This is always a favorite blog post, so it wasn't a huge surprise when it showed up in the countdown of our top posts of 2018! This
chunky arm knit throw DIY
always popular in the winter, and it is the perfect project for the long evenings. It is super easy to make, and I also have a 10% discount on all your knitting needs. So, why wait to make this?  You can start this for your fun new year's craft project. Ok, drumroll, please! Here is the top blog post in the countdown of our top posts of 2018!

I'll let you in on a secret. I've been working on these
bottle brush trees
for about a year. So, in 2017, I worked on bleaching some trees, and I found out that not all
bottle brush trees
are created equal. In 2018, I tried a ton of ways to dye these little trees and I found a few interesting things. Hop on over to my bottle brush tree tutorial to find out what I have learned about these cuties. I always research every craft in depth, and I'm happy to pass along my knowledge to you. Well, this concludes my countdown of our top posts of 2018. Here is to a great year! I hope this year has more great posts and more growth for my blog. Make sure to visit all my friends on the list below! Cami from
Tidbits
is our fearless leader this year in this blog hop. Cheers,

Now please take a minute to check out my DIY and Home blogger friends top posts in 2018! This is the very best the web has to offer!
TIDBITS
|
Miss Mustard Seed
|
Farmhouse on Boone
|
Maison De Pax
|
A Burst of Beautiful
Simply Designing
|
Bless'er House
|
Taryn Whiteaker Designs
|
Designthusiasm
|
Unskinny
Boppy
Live Laugh Rowe
|
Kendra John Designs
|
House by Hoff
|
So Much Better With Age
|
Life On Virginia Street
ZDesign At Home
|
Town and Country Living
|
Shabbyfufu
|
Happy Happy Nester
|
Stacy Risenmay
Cherished bliss
|
Clean and Scentsible
|
anderson + grant
|
The Happy Housie
|
Summer Adams
Decor Gold Designs | Maison de Cinq | Seeking Lavender Lane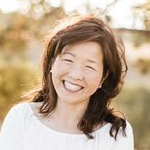 Latest posts by Janine Waite
(see all)