I know it's a busy time of year and we're all scrambling to come up with gifts for family and friends. Well, don't panic because I have you covered with my homemade hot chocolate mix with a gift tag. This hot chocolate recipe is simply the best. I love that all you have to do is add water or milk and within a couple of minutes of warming it up on your stovetop, you'll have a yummy gourmet tasting hot chocolate. And if you like chocolate, make sure to check out my Gluten Free Peanut Butter Chocolate Chip Cookie recipe!
*the following post, "Homemade Hot Chocolate Mix With A Gift Tag "contains affiliate links
Are you like me and you I enjoy spreading cheer among your neighbors and friends? I've done this for as long as I can remember. You see, my mom had this same tradition and in fact, every year during the holidays she made her popular date nut bread. Her friends would wait patiently for her to deliver her delicious cakes to them.
Well, the apple doesn't fall far from the tree, I'm my mother's daughter in every way. Oh, my husband would agree with that statement a 100%!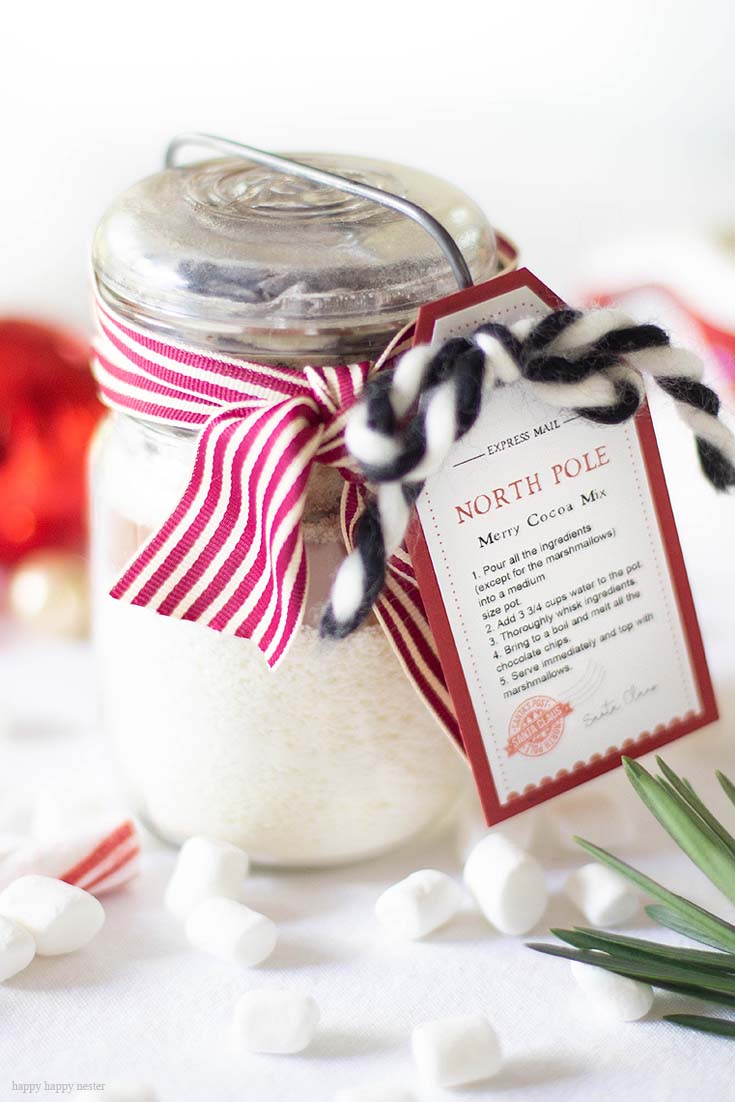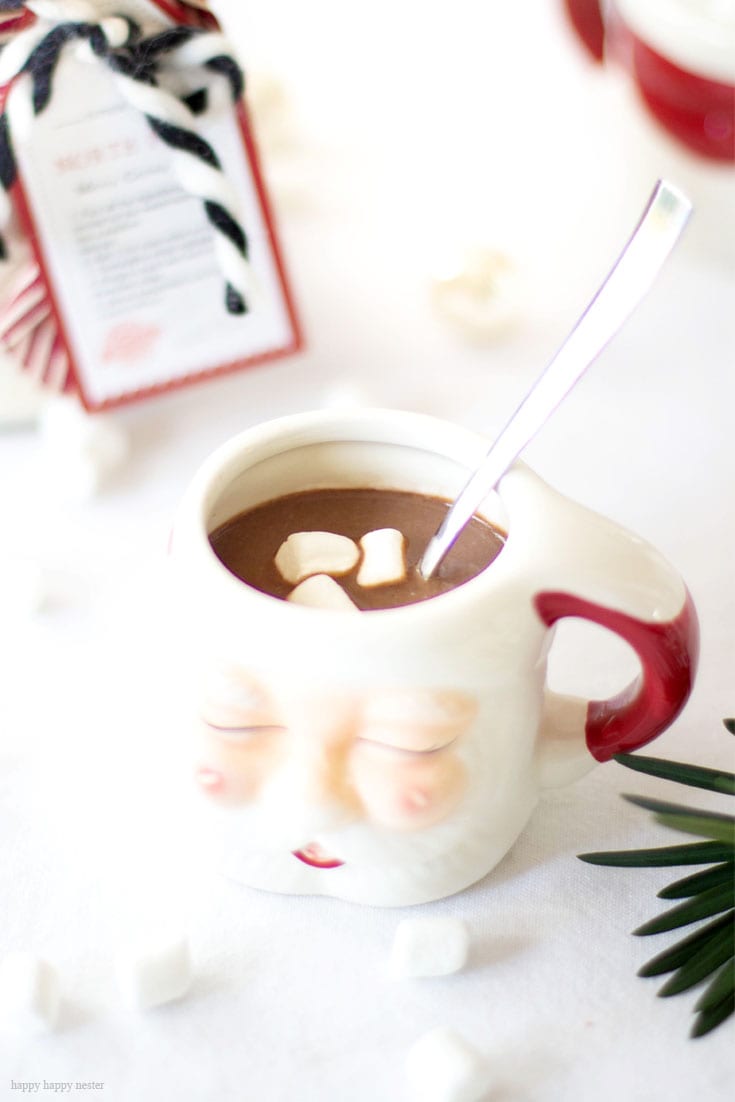 Well before we dive into my homemade hot chocolate mix with a gift tag post, let's cover some questions you may be curious about.

How Do You Make Hot Chocolate Mix Rich?
To make a rich and gourmet hot chocolate mix, I feel the ingredients you use are key. So, when you make my recipe don't scrimp on the quality of cocoa and chocolate chips.
Also, I added a premium French Vanilla Powder that I feel adds to the richness. If any of you are familiar with the brand, Coffee Bean and Tea Leaf you'll recognize the vanilla powder since they use it in their delicious drinks. Vanilla powder is pure, unadulterated vanilla bean rather than vanilla extract that contains alcohol. You can learn more from the website, Food Republic.
How Do You Make Hot Chocolate Mix in a Jar?
I love how you can layer your hot chocolate mix ingredients in a pretty jar. Place each layer in the jar and tap down with the bottom of a spoon to create a firm layer. It is best to place chocolate chips at the top since they have nooks and crannies that other ingredients can fall through. I have created a recipe that you can place in a mason jar for a gift or you can just place it in a storage container as well.
How to Store Your Hot Chocolate Mix?
Store it in an airtight container and I always prefer glass or stainless steel. So, maybe a mason jar would be perfect.
How Long Will Hot Chocolate Last?
Since most other dry hot chocolate mixes last for 6-12 months this expiration date is a safe bet. It is interesting that powdered milk can last for about 2 years and cocoa powered has a shelf life of 3 years, so you can decide for yourself. I think over time the taste of the chocolate will lose its potency.
Homemade Hot Chocolate Mix with a Gift Tag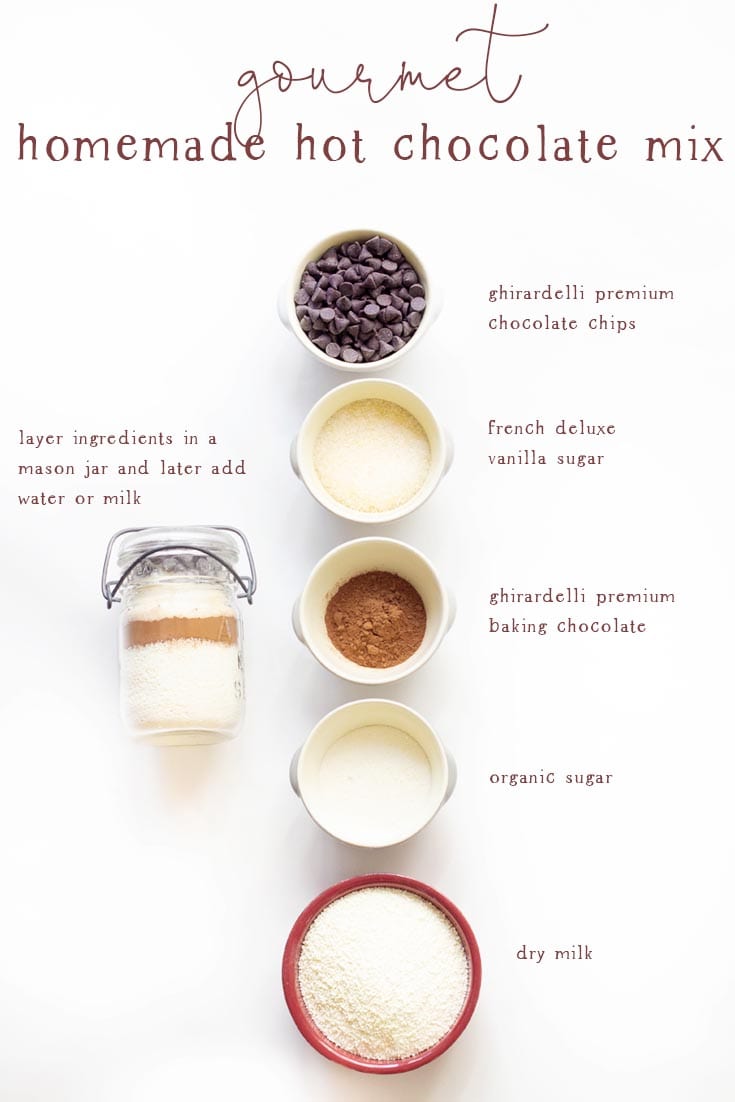 Homemade Hot Chocolate Mix
This Gourmet Hot Chocolate Mix is a great gift for friends and family. You can either layer it in a jar or just mix it altogether in an airtight container. Just add water and marshmallows, and you have a scrumptious instant hot cocoa.
Ingredients
5

tbsp

baking cocoa

Ghirardelli

6

tbsp

organic sugar

3

tbsp

vanilla powder

1/3

cup

chocolate chips

Ghirardelli

1/3

cup

non-fat dried milk
Instructions
Place non-fat dried milk in a mason 8 oz jar. Tap down the ingredients with a spoon.

Next place a layer of the premium baking cocoa on top of the dried milk.

Combine the vanilla powder and sugar in a small bowl and add the mixture to the mason jar.

Finally, add the layer of chocolate chips and cover. If you have the room, you can add marshmallows.

When using the mixture, place all ingredients in a saucepan with 3 3/4 cup water or milk. Heat over low heat until warm. Serve and top with marshmallows if desired.
Notes
*If stored in an airtight container this hot chocolate mix should last 6 - 12 months.
Nutrition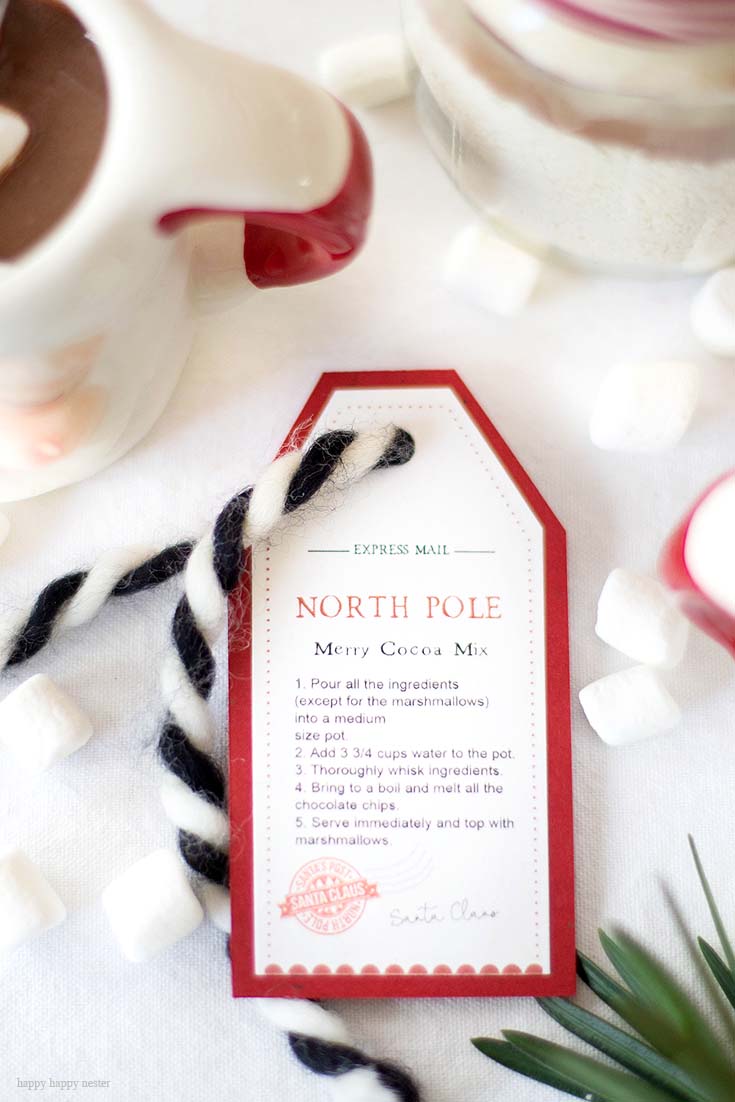 Free Gift Tags
So, since you're interested in my homemade hot chocolate mix with a gift tag, you'll want to download your printable. Please fill out the form below to receive your free Cocoa Recipe Gift Tag.
Supplies
1 16 oz Mason jar
1 Hot Chocolate Printable (Fill out the form below to receive your free Printable)
White cardstock paper
Red cardstock paper
Ribbon (red) & (black and white)
Download Your Free Cocoa Recipe Gift Tag Printable HERE:

Instructions
1. Print out tag (Fill out the form above to receive the free printable)
2. Cut out printable with scissors or a box cutter and steel edge ruler.
3. Place cut out the tag on red cardstock and cut out a border around the tag. This is an optional step.
4. Lightly glue the printable to the red cardstock paper.
5. Punch a hole about a 1/2 inch from the top of the tag.
6. Tie the red and white ribbon around the top of the mason jar.
7. Wrap the black and white ribbon around the red ribbon and thread both ends from the back to the front of the tag. Then tie a bow.


1. You can mix all the ingredients together in a bowl and skip layers in the mason jar.
2. Leave out the step of cutting out and attaching the red cardstock to the back of the tag.
3. Just tie one ribbon around the jar and attach the tag to that.
4. Or add your own tag and just make the jar of hot chocolate.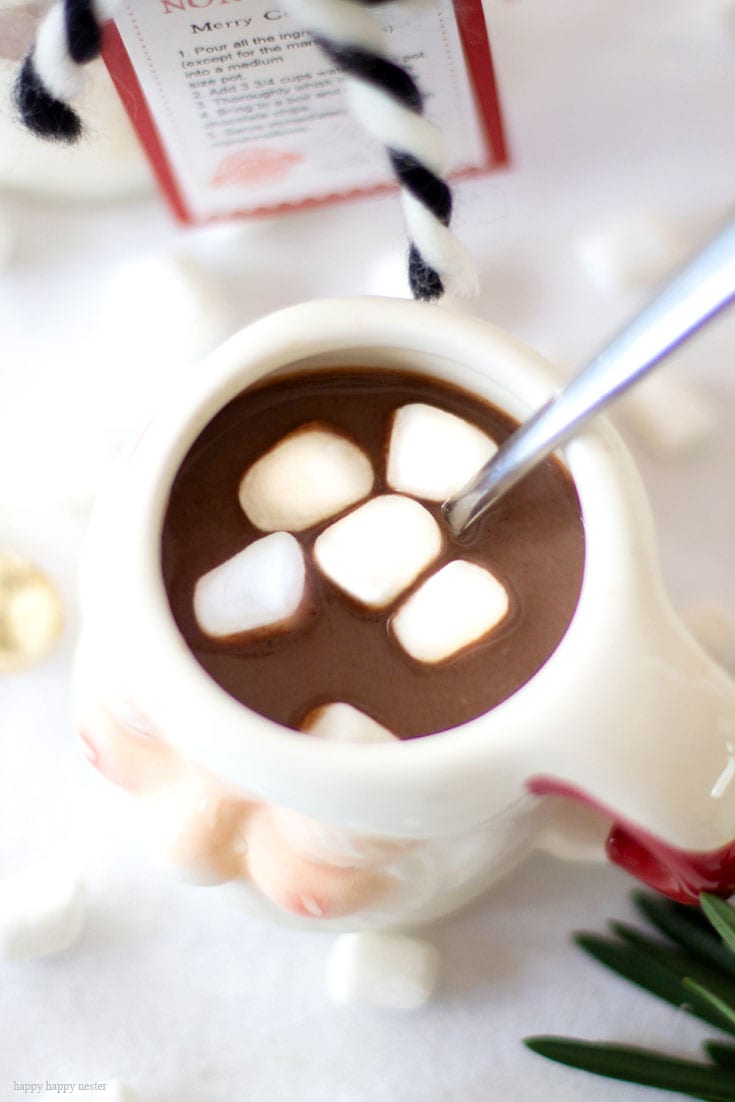 An Interesting Little Note!
So a little tidbit of information about the Ghirardelli cocoa is that when Epicurious conducted a blind hot chocolate taste test, the Ghirardelli hot chocolate mix won! Ok, I may be a little biased since Ghirardelli is a San Francisco company but it is seriously a great product. So make sure to use this brand when making this recipe.
I'm so happy to announce that this post is part of a big blog hop with all the amazing bloggers listed below. You will love all the great gift ideas that Krista from The Happy Housie rounded up this week. Thank you so much for your sweet visit and I sure hope you try my homemade hot chocolate mix with a gift tag this Christmas.
Cheers,

PS: If you are already a newsletter subscriber and want to download the other printables on my blog, please contact me: Janine
Today I'm thrilled to be part of a fantastic group of bloggers who are also sharing their DIY Gift Ideas for the holidays with you (many with free printable tags)!
DIY Simmering Potpourri at The Happy Housie
Scandi Style Printable Gift Tags at tatertots and jello
Wooden Calendar Holder at Lolly Jane
Peppermint Hot Chocolate at A Pretty Life
Makeup Gift Bag at Inspiration for Moms
Rudolph the Red Toes Reindeer Gift Tags at Tauni Everett
Hot Chocolate Gift Ornament at Clean and Scentsible
Chili and Garlic Olive Oil Holiday Gift at Satori Design for Living
Daiso Hot Chocolate Gift at Paint Me Pink
Gingerbread Slime Recipe with Printable Gift Tags at All Things With Purpose
Farmhouse Kitchen Wrap Free Printable at Hallstrom Home
Potted Paper Whites with Printable Gift Tags at Sincerely, Marie Designs
Printable Christmas Wine Gift Tags at The Heathered Nest
Homemade Hot Chocolate Mix with a Gift Tag
Candy Cane Dipped Hot Cocoa Spoons at Jenna Kate at Home
Etched Glass Water Bottles at TIDBITS
Homemade Cheese Straws at Life is a Party
Gift Idea for the Pink Loving Baker at Summer Adams Designs
Christmas Flower Gift Box at Craftberry Bush
Hand Lettered Christmas Gift Tag Printables at Modern Glam Home
Holiday Gift at Grace Gathered Home
DIY Metallic Candlesticks at Love Create Celebrate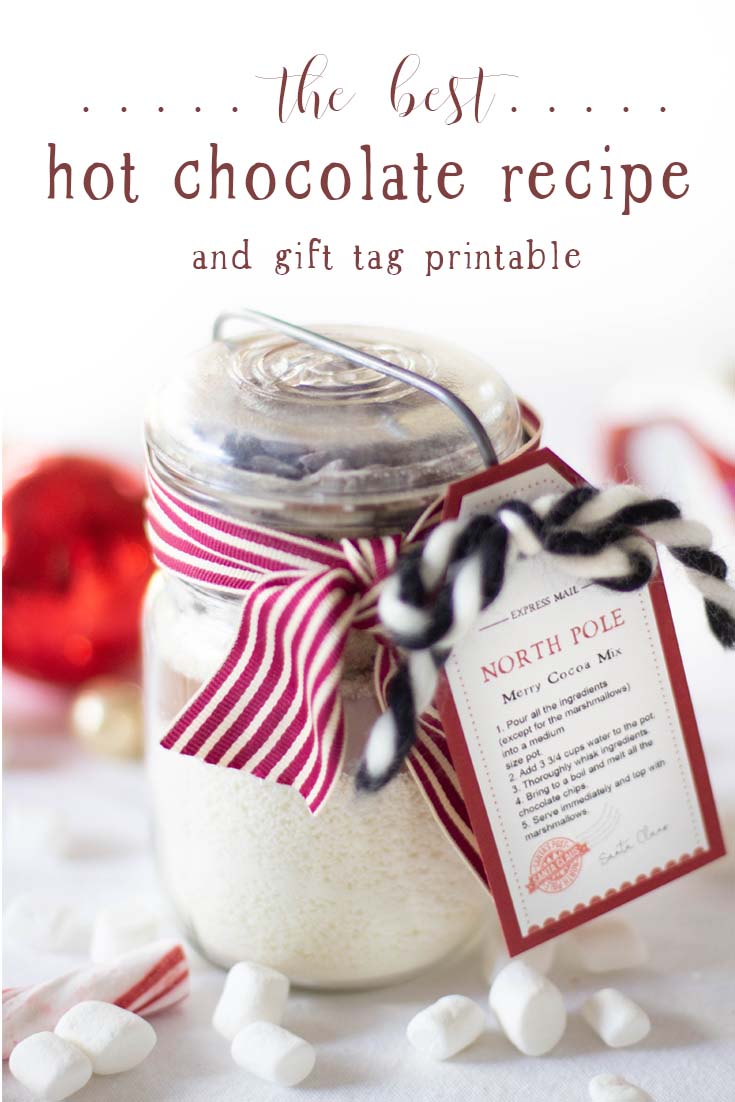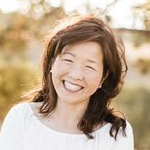 Latest posts by Janine Waite
(see all)