Ok peeps here is My Merry and Bright Holiday Decor. I'm happy that I pulled this list together for you despite our Thanksgiving shenanigans. The thing that inspired me to write this post was the request by a newsletter subscriber, Tessa who asked for more shopping posts. So, I got busy and found all my favorite things for the holiday, and I will publish a few different lists over the course of the next several weeks. Today's merry and bright holiday decor is the first installment.
As you know this post contains my affiliate links and I make just a few dollars and sometimes pennies on these items. So, I'm not getting massively wealthy by this post, but every dollar helps fund my blogging habit.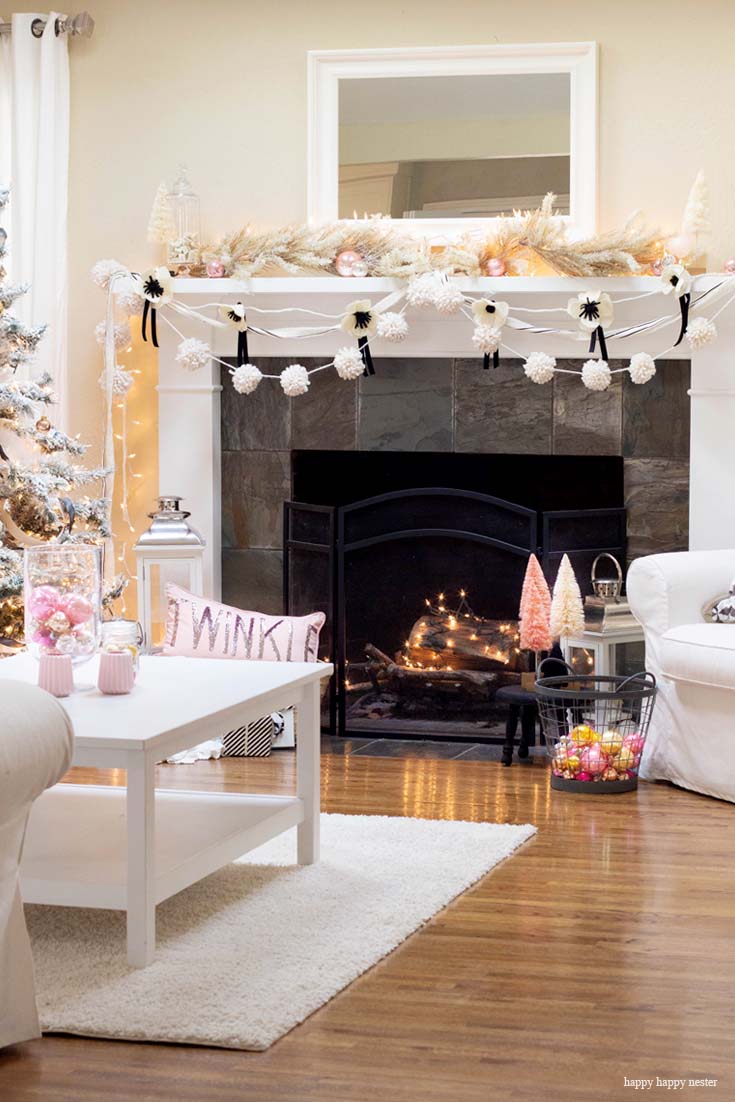 Don't you think that holiday decor is the best? There is such a variety of decor, and I tried to capture some happy decor, I had initially planned to go colorful this year, but unfortunately, I went to the dark side. As you can see from the above photo, my Christmas theme is black, white and pink.

Well, let's shop my merry and bright holiday decor.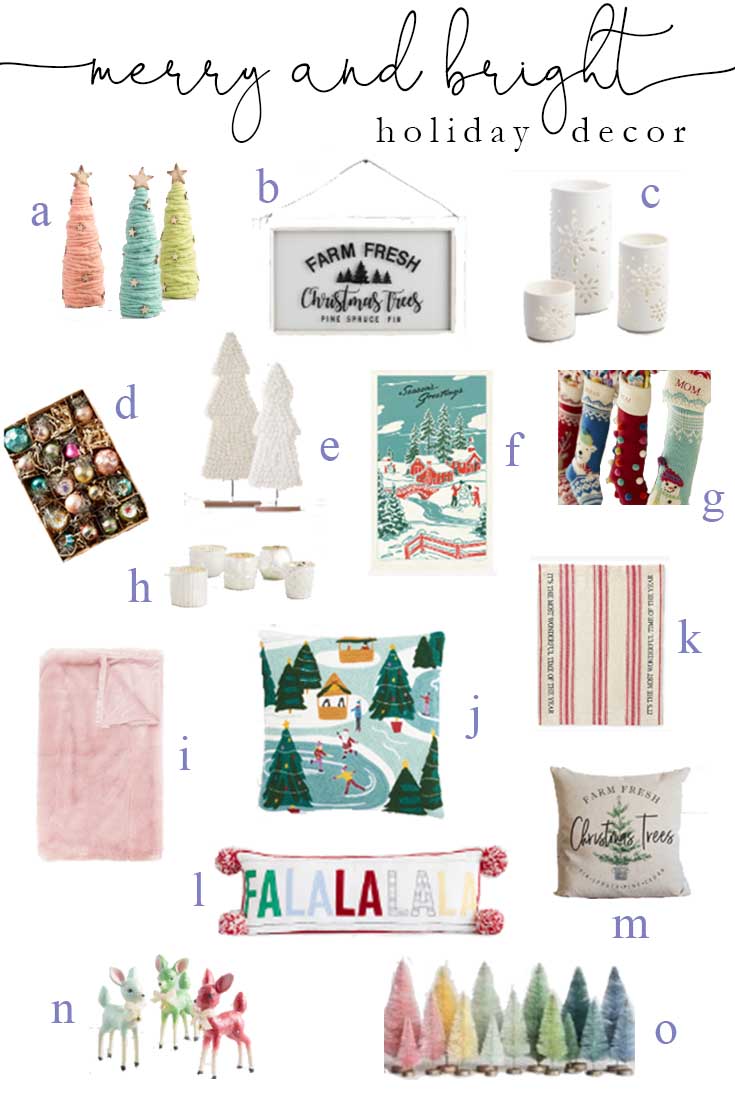 a. SET OF 3 WOOL TREES These super soft wool trees are adorable. And you are in luck since this trio with their cute wood stars come in pale dusty pink, green and blue colors.
b. CHRISTMAS TREE SIGN Give your home this rustic wooden charm with his farmhouse styled wooden window. Hang it on a wall, or a window for a rustic farmhouse look this holiday.
c. SNOWFLAKE CANDLE HOLDER   Add this to your white holiday decor. This snowflake candle holder comes in three sizes in a matte finish. The snowflake openings cast a beautiful soft candle glow in your room.
d. MINIATURE RETRO ORNAMENTS I love vintage ornaments, and these are the next best thing. Anthropologie always has the prettiest decor, and this is one of them. This is a set of 20 various colored ornaments.
e. WOOLY TREE DECOR These Pottery Barn trees are handmade and will never go out of style. I have a few of these, and I love how they add coziness to my decor.
f. WINTER WONDERLAND TEA TOWEL I love how retro these 100% cotton tea towels look. They remind me of the old New England artwork. What an excellent addition they would be to a holiday kitchen.
g. MERRY AND BRIGHT STOCKINGS  Pottery Barn never always has the cutest stockings. These knitted festive stockings will dress up any mantel and add such a fun merry and bright decor.
h. SET OF 5 WHITE MERCURY GLASS CANDLEHOLDERS  I have these, and I love them. They sparkle and add a bit of bling to a table. Add a votive, and now everything twinkles for the holidays!
i. FAUX FUR PINK THROW| This faux throw is plush and such a beautiful soft pink. It measures 60″ length and 50″ width. Cuddle up with it this holiday.
j. SKATING RINK EMBROIDERED PILLOW Look closely, and you'll see a skating Santa! This embroidered pillow is whimsical and beautifully made.
k. HOLIDAY PLACEMAT What can I say, I love Mud Pie who made these placemats. The adorable red and cream fabric has printed on the edges, " IT'S THE MOST WONDERFUL TIME OF THE YEAR."
l. Fa-la-la LUMBER PILLOW This Pottery Barn pillow has the cutest pom-poms in each corner. This pillow gives off such a merry and bright holiday decor.
m. CHRISTMAS PILLOW  If you have a more natural and farmhouse decor then maybe you should consider this pillow. This Etsy shop is in Seattle, Washington and so you are supporting a small business.
n. RETRO DEER DECOR |This takes me back to my childhood Christmases. These glittered deer have the cutest velvet bow and a little jingle bell. These deer will definitely add merry and bright holiday decor to your home this year.
o. SET OF 15 MIXED SIZED DYED SISAL TREES A 15 piece boxed set of colorful rainbow trees for crafts and Christmas decorating. This bottle brush tree set includes three 3inch trees, six 4inch trees, and six 6inch trees. These happy trees are hand dyed in an assortment of beautiful rainbow colors. The bases are made of wood in muted gold. Add them to wreaths, mantel displays.

Bonus Decor From My Friends
Here are a few extra items that are extra special to me. These three friends who I'm highlighting are dear friends of mine and I think so highly of their products.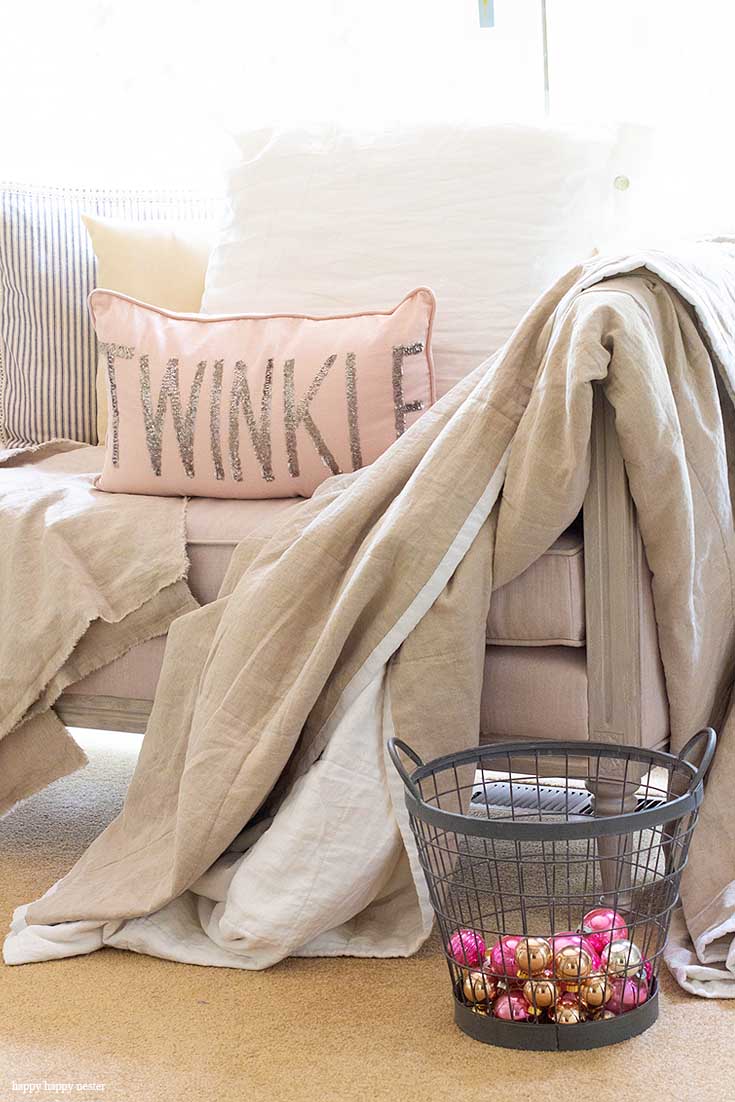 Hallstrom Home | Linens, Mirrors, and Home Decor
I love Rhonda from Hallstrom Home. Her shop on Etsy carries her mirrors and home decor. And her website carries her linens as well. She just launched a beautiful baby blanket line, so if you have a baby in the near future, you'll definitely want to shop her throws. And if you order anything from her shop, you can receive a 10% discount. Feel free to use my code, HHN10.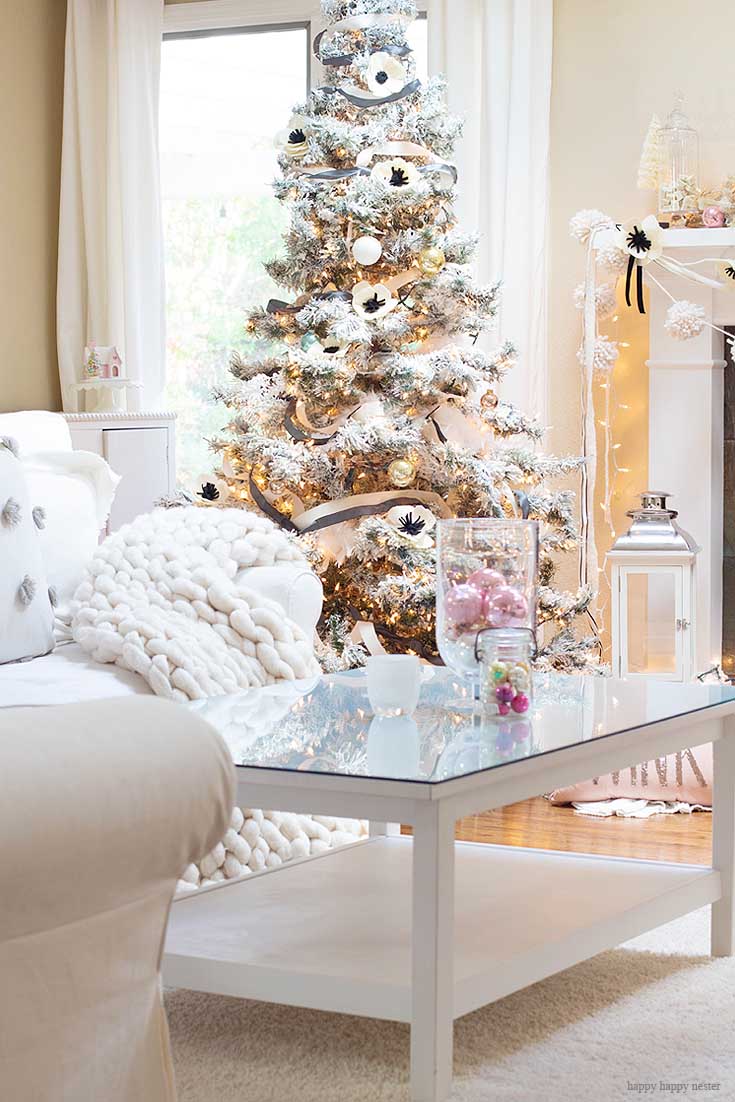 Becozi | Chunky Wool Blankets and Yarn
2. Becozi has the best chunky wool blankets. If you choose to make your own or just buy a ready-made blanket then Becozi is your shop. She has the best yarn, and I have an informative post on how to arm knit. And to sweeten your shopping experience you can receive a discount at this shop too. If you use my code JAN10, you can get a 10% as well on your order.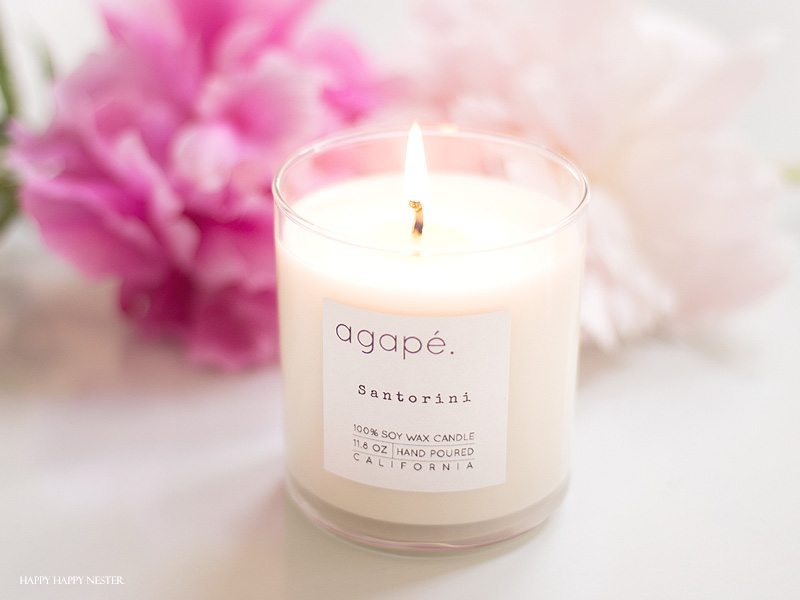 Agape Candles | Candles
Rachel from Agape Candles has the best fragrances and are perfect during the holidays. I must admit, I think that I must have every fragrance that she carries, and I love every one of them. So whatever the season or your mood, she has you covered. Plus her candles add a tiny bit of sparkle to our long winter nights.
I'm tickled that I have a bunch more shopping post lined up for you. And I hope you liked this post and found my merry and bright holiday decor inspiring and helpful with your decorating needs.
Cheers,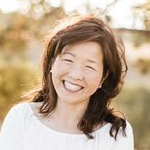 Latest posts by Janine Waite
(see all)