How to Make Bottle Brush Holiday Trees are the Happy Craft for today! Are you like me and you love these wonderful bottle brush trees? Do you own a collection? Or possibly you want to make a few and start your own collection of wonderful colored trees? Well, you have come to the right blog post.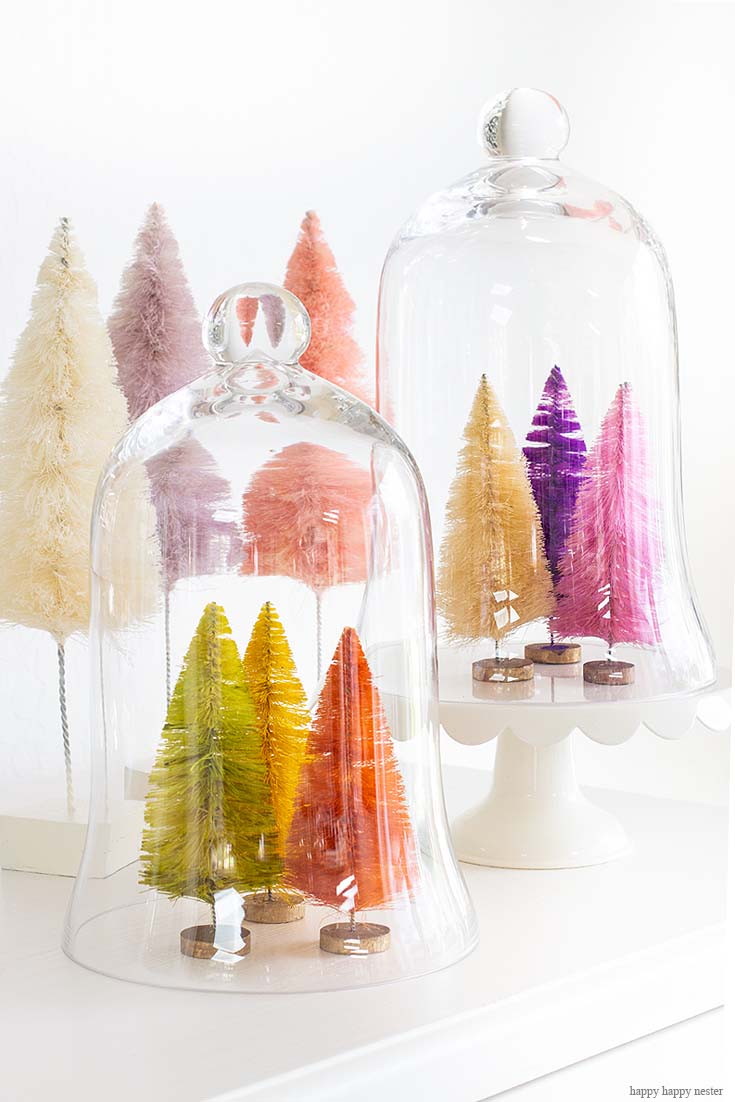 Bottle Brush Trees
These little trees have mesmerized me for years. I loved them when they only came in the dark green with flecks of white snow. It is so cool that now they come in a wide range of colors like the rainbow. But, I have noticed that the big stores only carry certain colors, so if you have a particular color you would like, you're totally out of luck.
So, I have the answer for you if you want to know how to make bottle brush trees in all kinds of colors. I have studied this topic for about two years and I think you'll appreciate my research.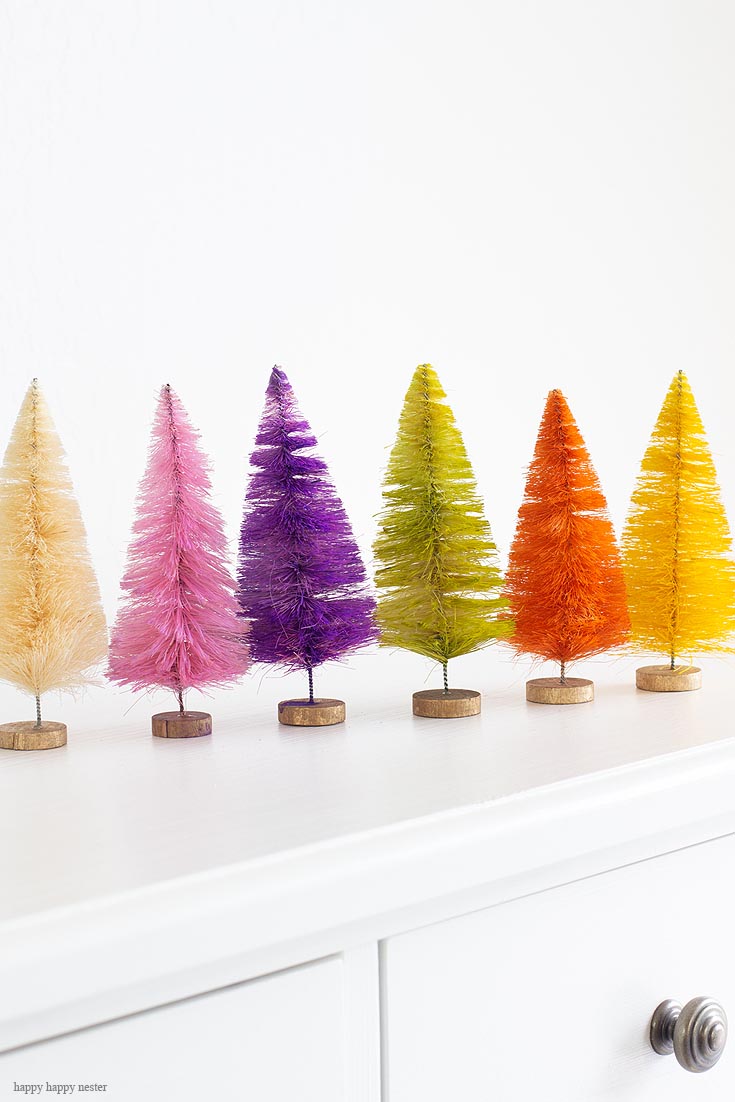 I first spied a gorgeous row of bottle brush trees at a wonderful scrapbooking shop in Berkeley. This store is no longer in business but when they were, they had every color imaginable. And the cool thing is they had every color imaginable in bottle brush trees.
Of course, the minute I saw them, I knew I would be making my own.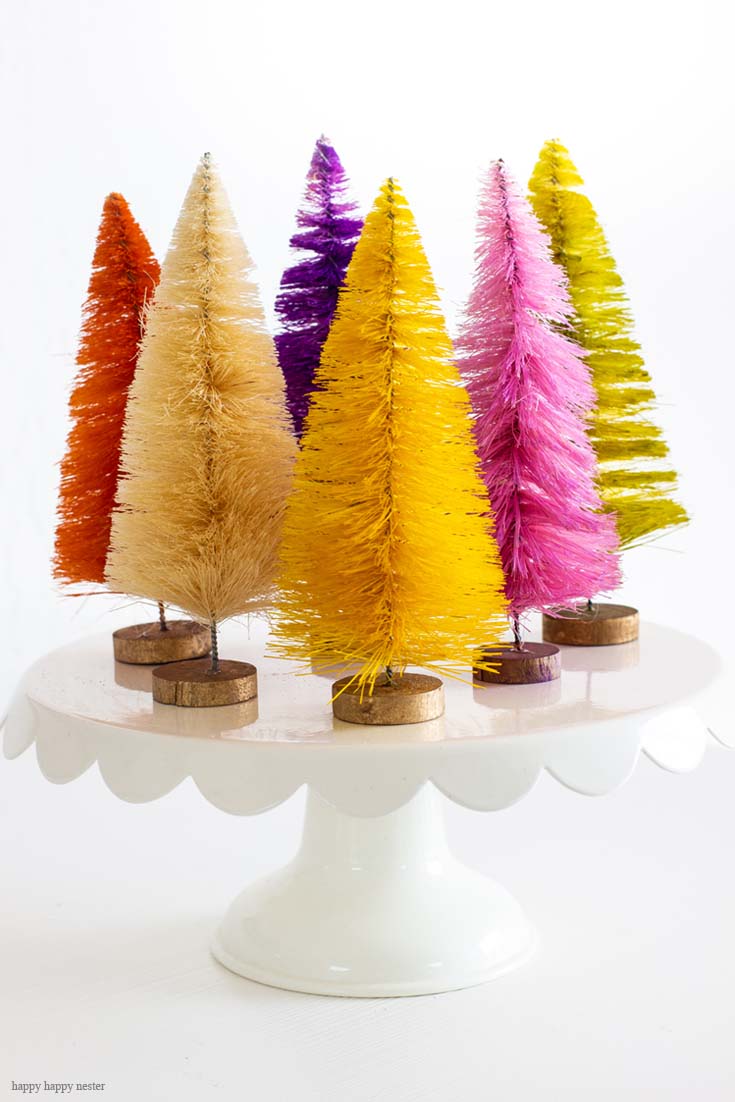 Are All Bottle Brush Trees Created Equal?
So, the traditional bottle brush trees are made out of sisal. This is a natural fiber from the leaves of an Agave plant. Well, last year, I bought a few bottle brush dark green trees and tried to bleach them, unbeknownst to me they were made of some synthetic material and the dye was set into the fibers. After a couple of bottles of bleach, I gave up and now I own a ton of green trees. Sisal trees, on the other hand, are dye a color that can be stripped out by bleach. And underneath the top layer of color is a gorgeous natural light tan color tree.
Can You Make Your Own Bottle Brush Trees?
Yes, you can make your own bottle brush trees and I hope to publish a post in the near future. I have the trees made and they came out a bit more earthy than the store bought ones. I made them from sisal rope and wire and I'm super surprised how easy of a project it is. So stay tuned for that post.
How Long Do You Bleach The Trees For?
I found that the time it takes to bleach a bottle brush tree varies from the different brands. So, plan on 20-40 minutes but you definitely want to watch over it. Don't be tempted to walk away since the bleach can eat away the tree bristles. I know this little tidbit since I found out the hard way.
What is the Best Way To Color the Trees?
So, I can be a bit obsessive when it comes to crafts and I have colored my bottle brush trees in many ways. So, I have spray painted them as well, as painted them with acrylic paint. I found the prettiest and most vibrant colors are derived from Tom Holtz Ink Dye. There is nothing comparable to his dyes.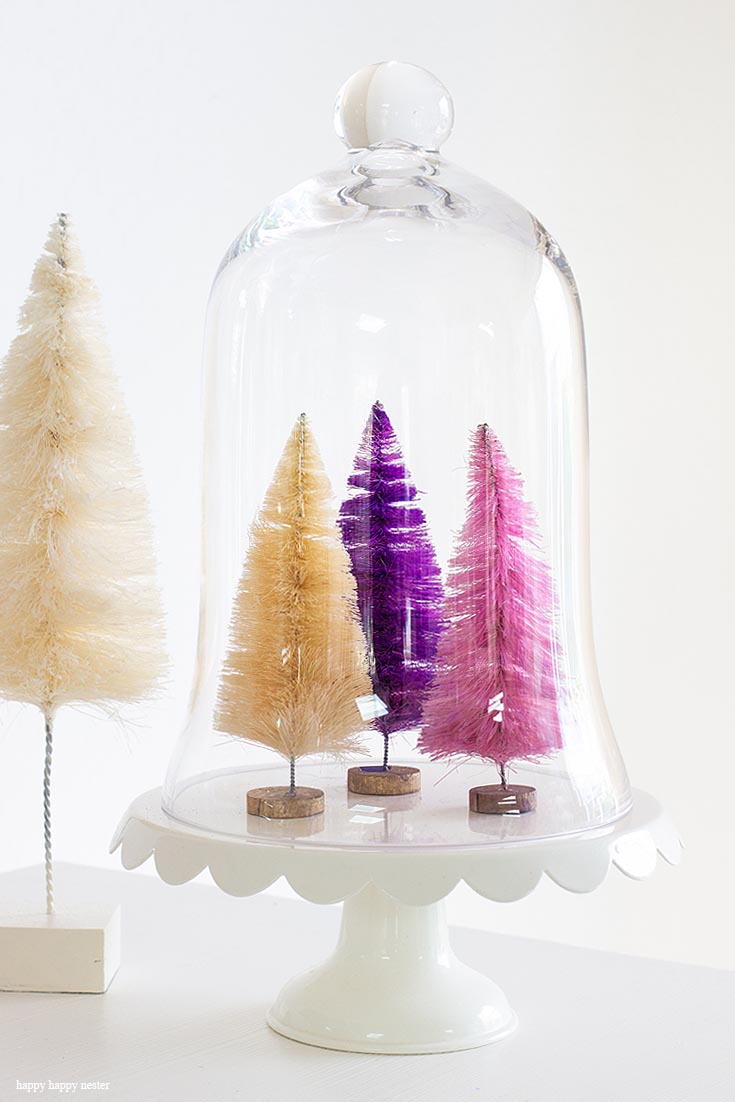 How to Make Bottle Brush Holiday Trees
Bottle Brush Holiday Trees Supplies:
Bleach
Bucket or big Mason Jar
Tongs
Bottle Brush Holiday Trees Directions:
So, let's get started. you'll want to buy the standard bottle brush trees. If you want to skip this stage, I believe you can buy them in their natural state. I bought these green trees from hobby lobby. But here is the link from Amazon: 
bottle brush trees
1. Next, you'll want 100% bleach, the kind that will take the color off your clothes.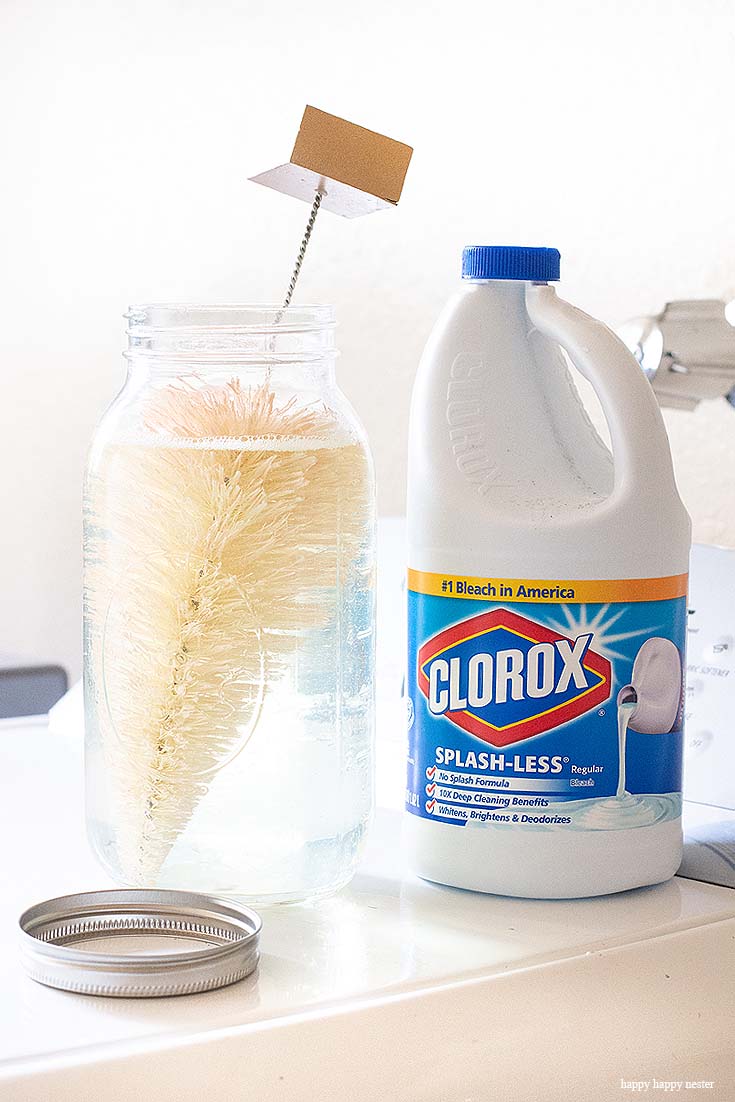 2. Then you'll want to pour it into a glass bowl, a combination of bleach and water. I used 1/2 bleach to 1/2  water. The more water you add the longer it takes to get rid of the color in the trees. Just a little note, watch the trees at this stage, if you leave them in too long in the bleach solution, the bristles will fall off. Believe me, I had this happen. 🙂
Once they are bleached, rinse well with water. Then allow them to dry thoroughly.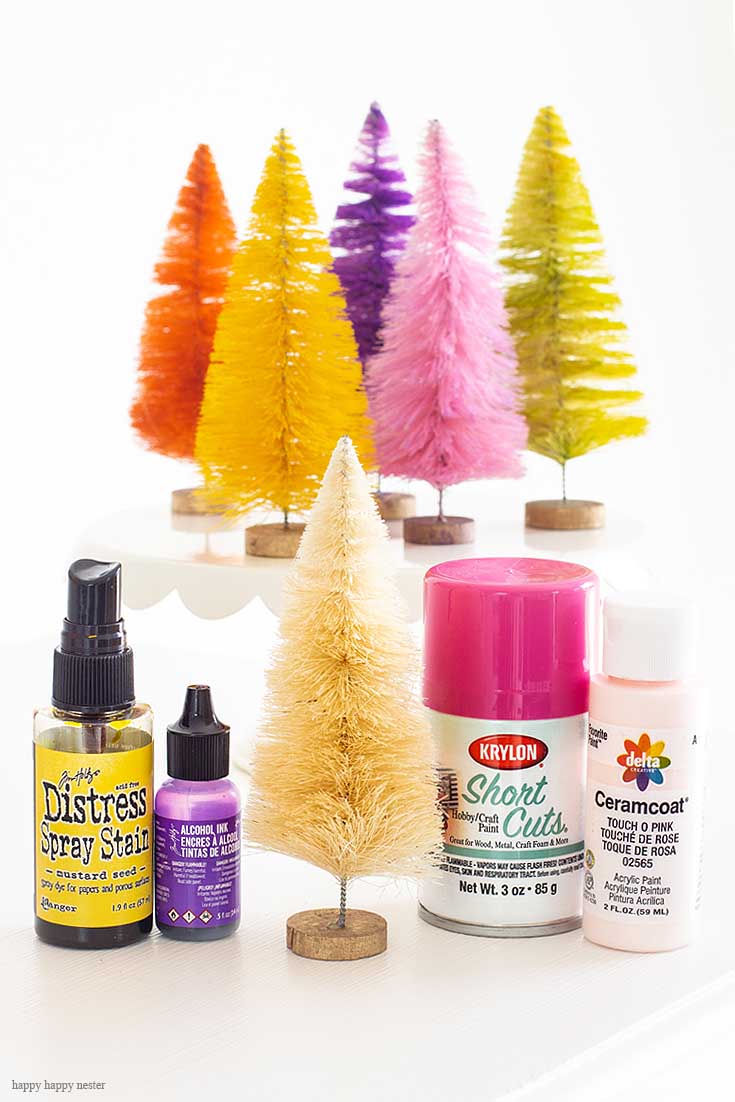 Next, you'll want Tim Holtz distress ink spray, here is the Amazon link: sprays. I bought 3 colors and only used 2 of them.
The colors can be pretty intense, and if you are looking for a lighter look, dunk your sprayed tree in a bowl of water until you achieve the shade you want.
Here is a Helpful Video Tutorial for Spraying Bottle Brush Trees
Next, you'll want Tim Holtz distress ink spray. Once they are bleached, rinse well with water. Then allow them to dry thoroughly.
Then you can paint a layer of Elmers or tacky glue on the outside. Sprinkle or roll it in the glitter of your choice. I had bought the colored glitter but ultimately I loved the white glitter
Other Techniques to Color Bottle Brush Trees
[one-third-first]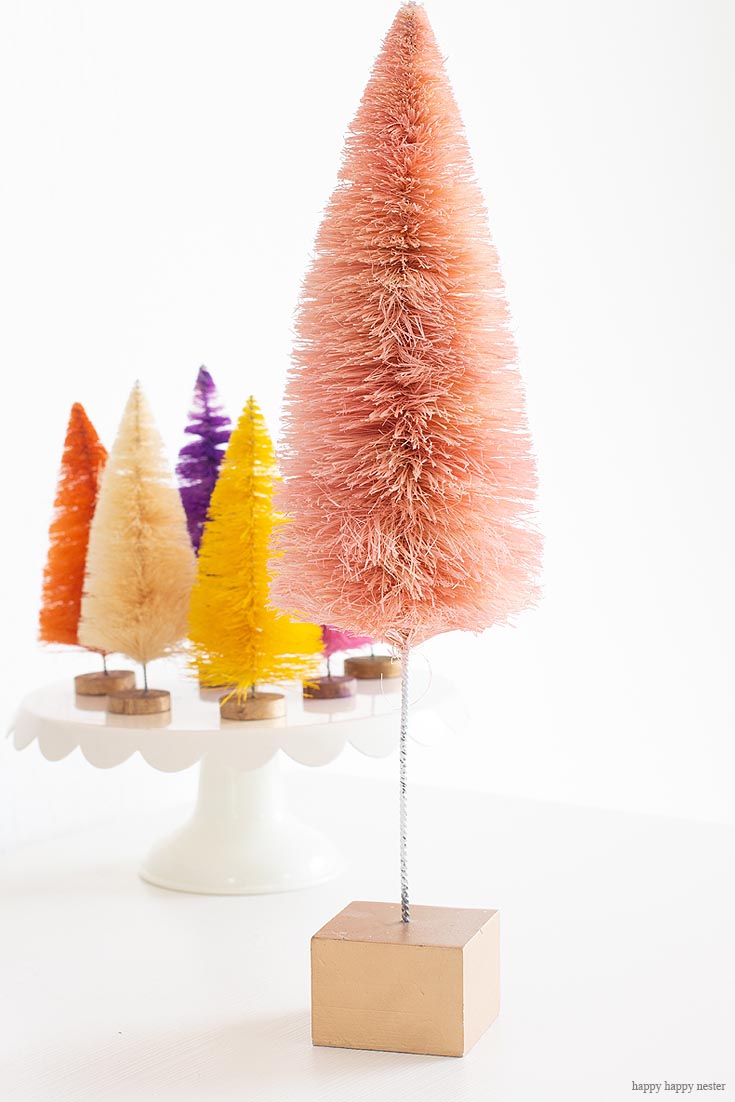 [/one-third-first]
[one-third]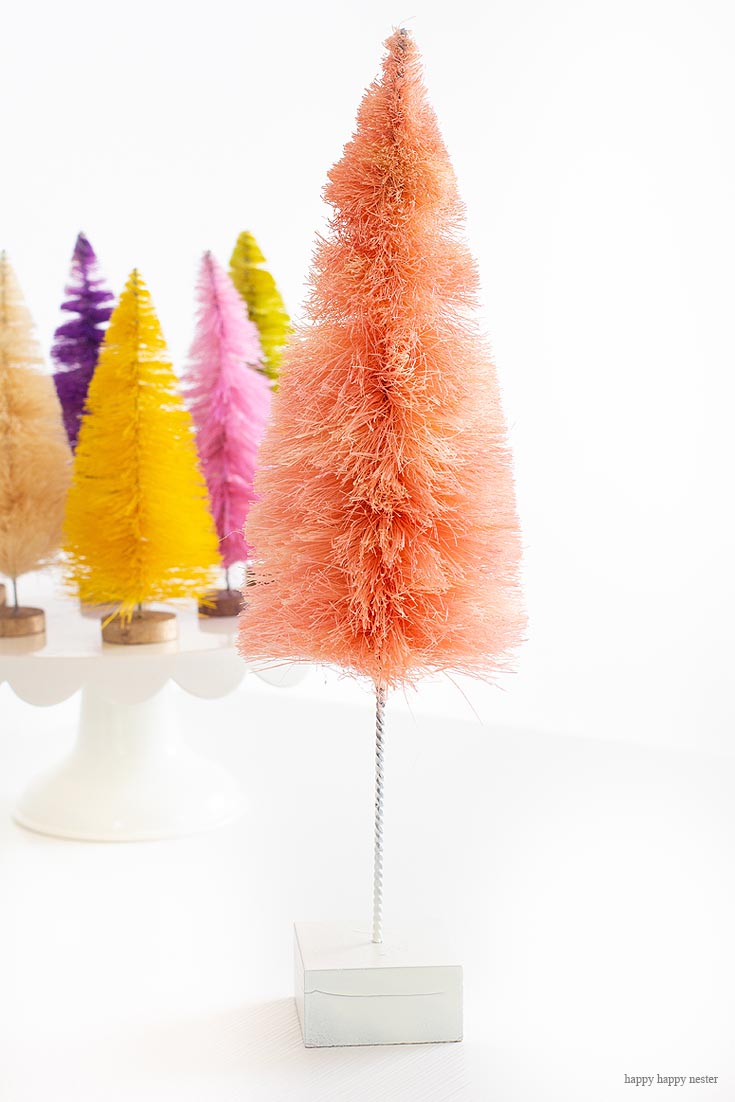 [/one-third]
[one-third]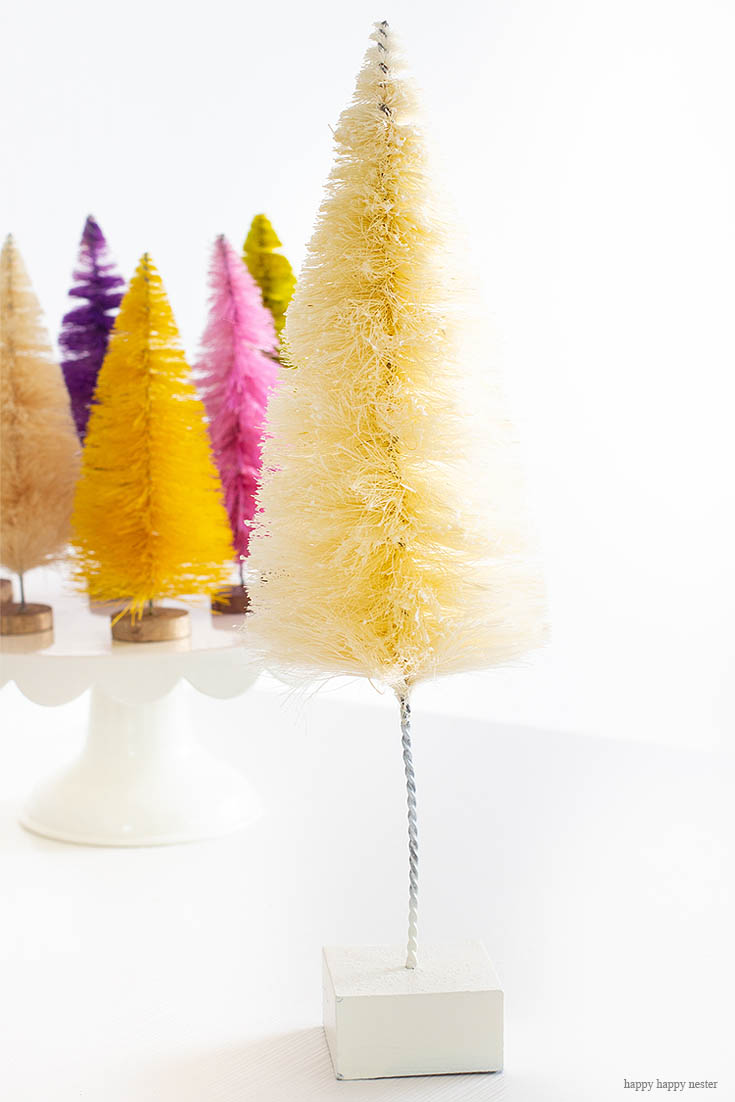 .[/one-third]
So, if you choose not to color your bottle brush trees with the Tim Holtz inks then the above trees are the results of the alternatives.
The first one is craft paint that is painted on with a watercolor brush. I found it is a more opaque look and not very vibrant in color. Also, it was a very labor intense job, but the colors available are pretty incredible.
The second tree is colored by a spray can. And this is somewhat vibrant and super easy to spray in just a couple minutes the job was done.
And finally, the last tree is a bleached natural tree. It is a very beautiful tree and I love the light color.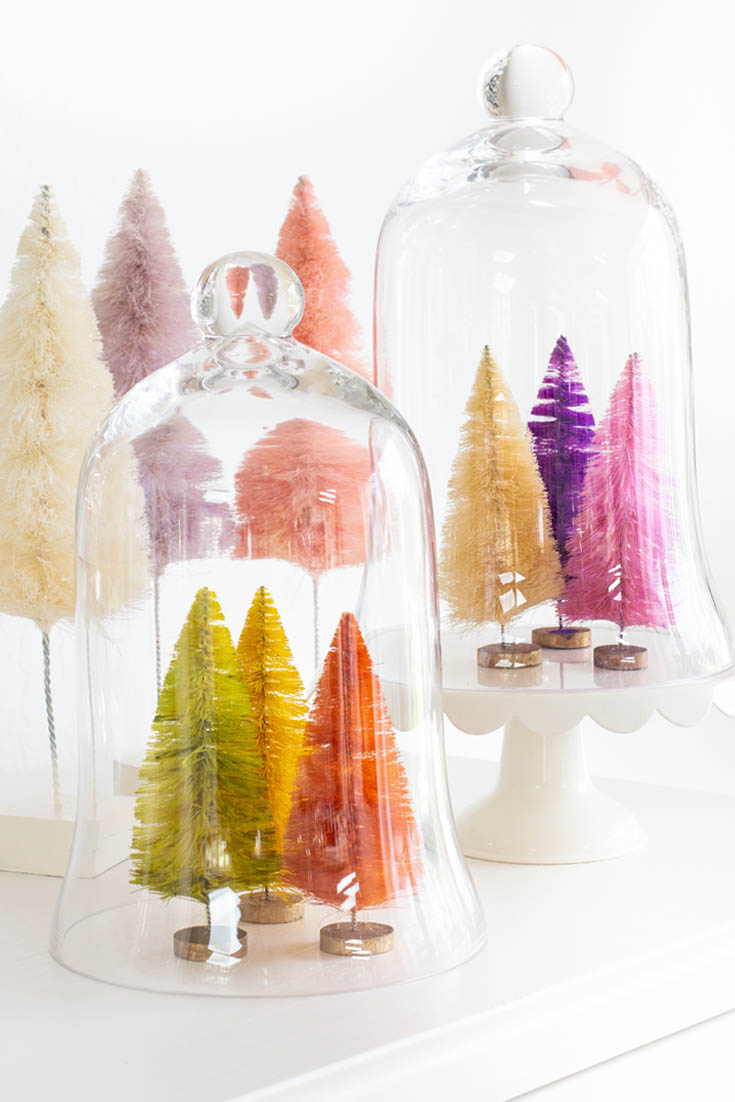 This is definitely a fun and cute project and will brighten up a room. I love the vibrant colors that the inks create, but maybe you like the other ways to color bottle brush trees. Either way, they are colors that you won't find at the stores. I would even say they are trees that you can decorate with throughout the whole year. Thanks so much for your visit!
Cheers,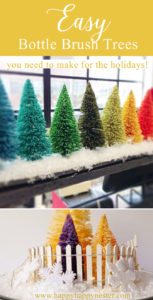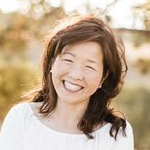 Latest posts by Janine Waite
(see all)