This is my first Christmas Home Night Tour, and I'm beyond thrilled to share our holiday house with a marvelous group of bloggers. You see, a night tour is on my blog bucket list, but I rarely photograph our home at night. So, I quickly did a little bit of research and I got to work. But, I won't bore you with that information since you are here to visit my evening Christmas home night tour.
Oh, and did I mention that you are in for a holiday treat!
*The following post contains affiliate links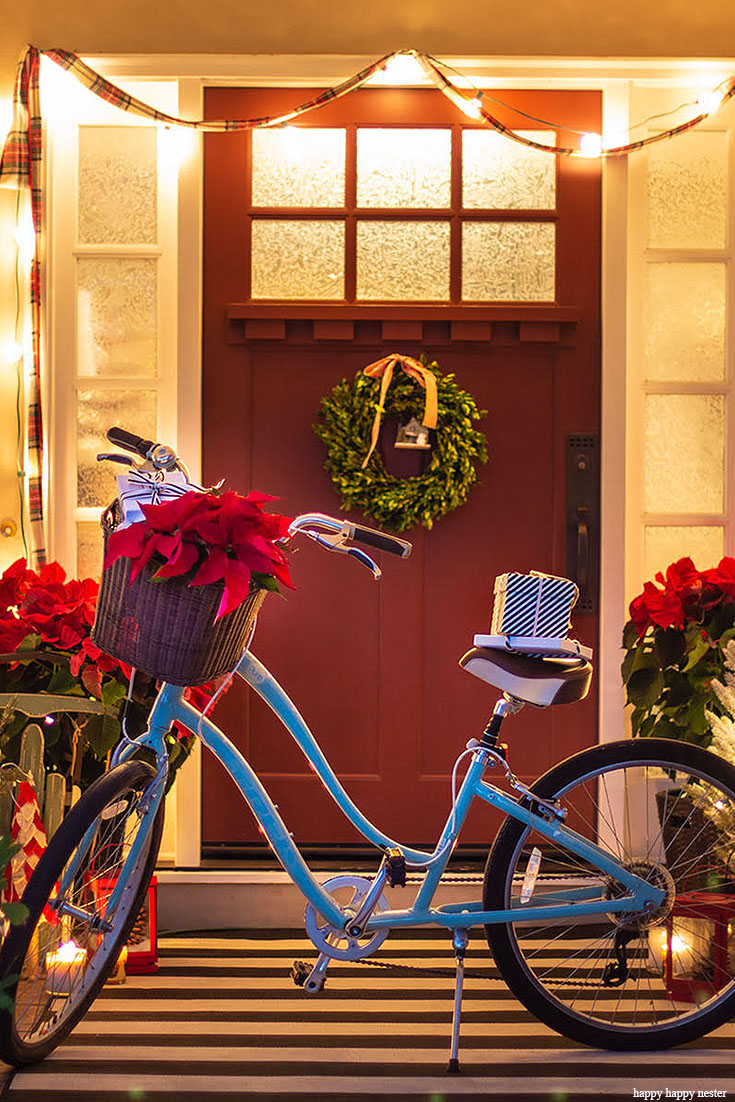 A cozy hello to those of you who are perhaps new to my blog and a big thank you to Kristen from Ella Claire for taking on the tremendous task of hosting this year's tour.
I also want to mention that there is a list of everyone's tours at the bottom of this post.
So, today I'm sharing my authentic Christmas home night tour. When I say authentic, I guess I mean that I will be sharing stories of our real home activities during this crazy time of year. Let's face it, my life with two kiddos and a husband who is working two jobs can get a bit overwhelming at times. Also, when I add to the mix the holidays I tend to wonder how I get through the weeks.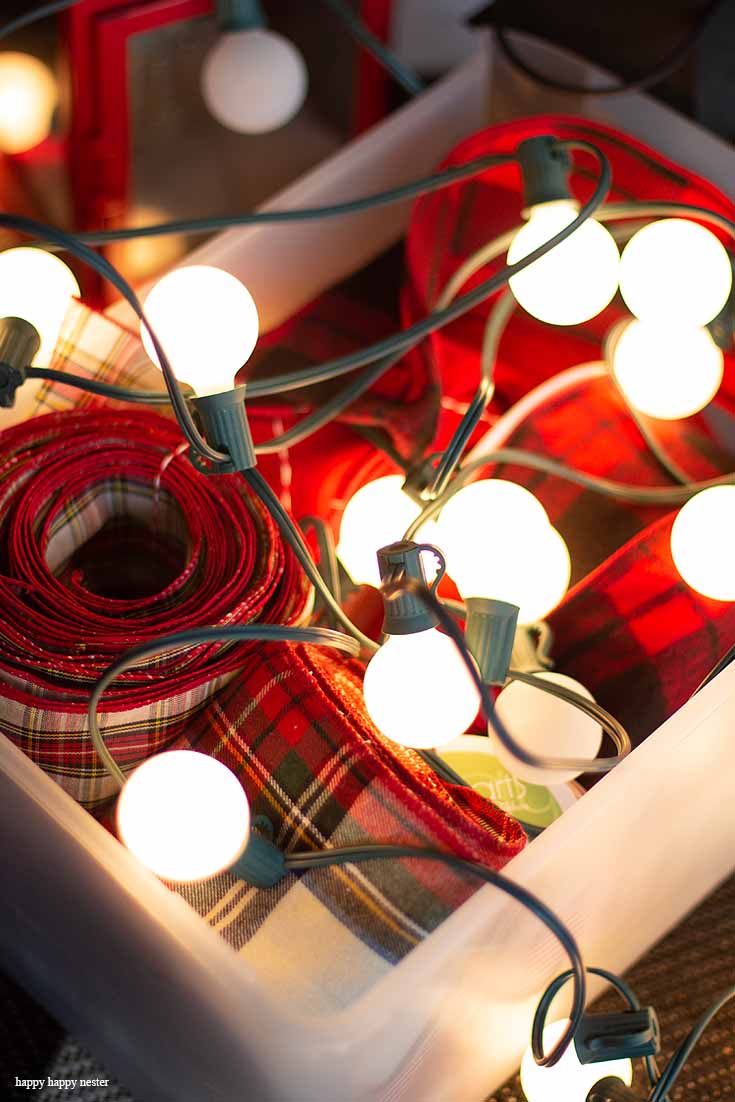 The Inner Workings of My Christmas Home Night Tour
Did you know that I plan all year for October, November, and December? It is like the most important time for bloggers. So, you can imagine that my holiday decorating started back in September with Halloween. I think that I shocked all our neighbors with my Halloween porch which was all decorated with pumpkins and witches hats. If I remember correctly, this happened in mid-September. Yup, I came out of the gate strong, and I got to work decorating for Halloween.
Then November hit, and I lost my momentum.
Welcome to Our Cozy Front Porch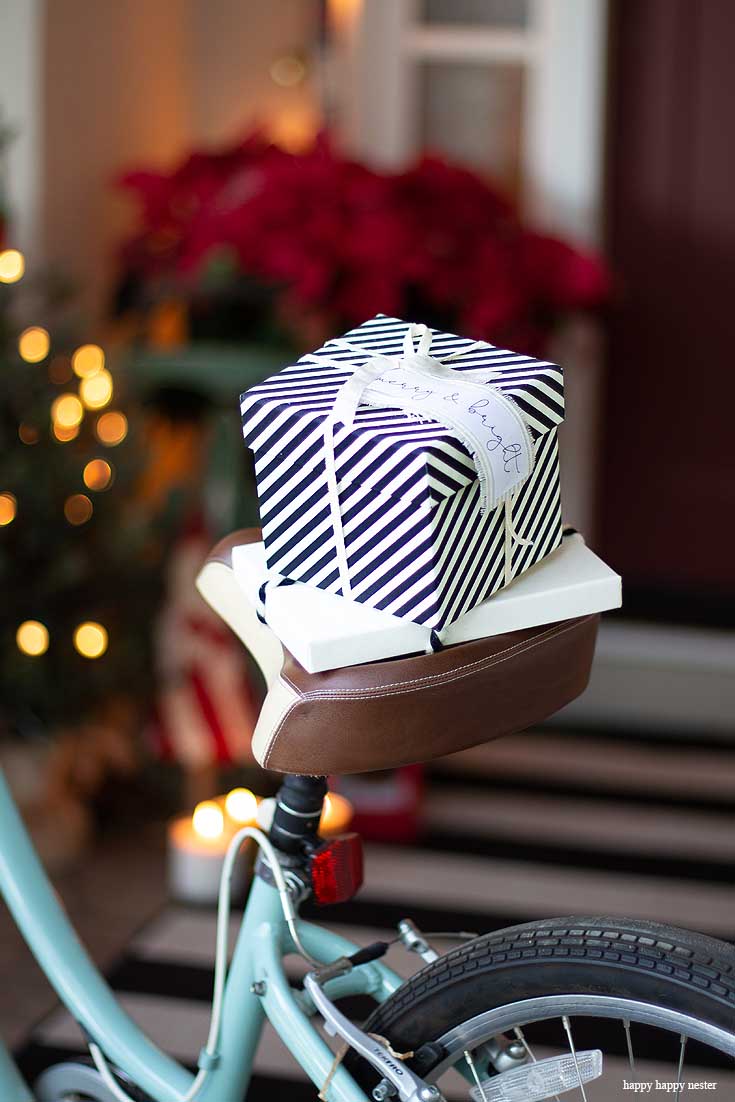 Our Halloween/fall porch slowly got taken down and stayed a bit empty for a few weeks as I pondered if I would decorate it. My sweet blogging friends, Ashley and Jodie encouraged me to tackle my porch. Despite their lovely support, I kept postponing this big project, and so my porch was empty and sparse. Meanwhile, my neighbors passed me up and finished decorating their yards and porches for Christmas.
Ok, I'm not sure what happened, but I fell behind big time. You see, I had a couple of attempts to get my mojo back, but alas, they failed.
Then, one day I took a trip to Costco, and I purchased two beautiful red poinsettia plants. I thought this is exactly what I needed to motivate myself.
But, then procrastination set in.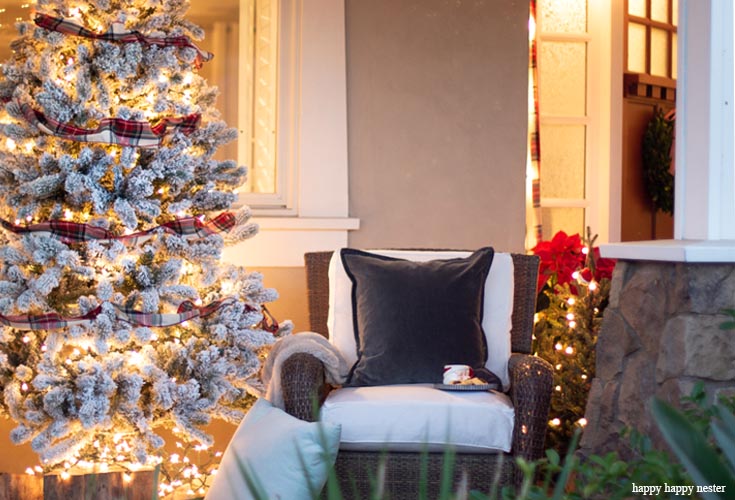 So, my gorgeous red poinsettias sat in the house with their plastic coverings for a couple of days.
Finally, as all my blog commitments got completed, I had a couple of free days on my hands. And this is what I needed to get me fired up about our porch.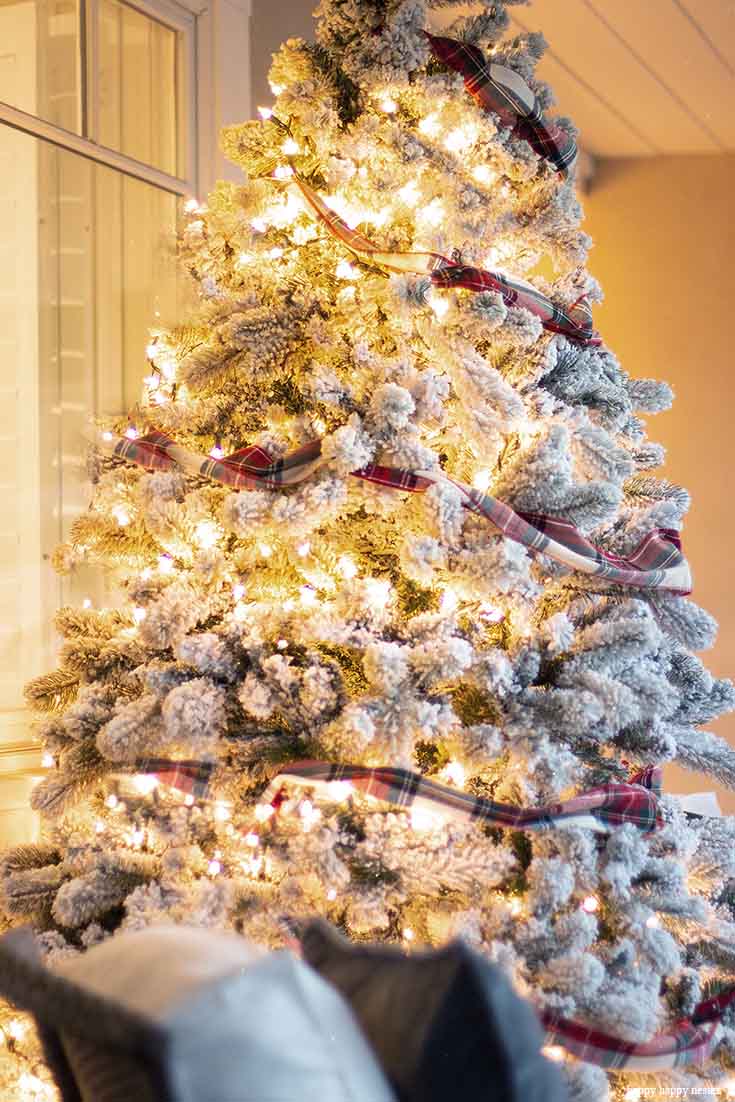 I'm happy to report that I finished just in time for this blog post and I'm delighted how it turned out. It is a simple porch but the important thing is that I got it done for this Christmas home night tour.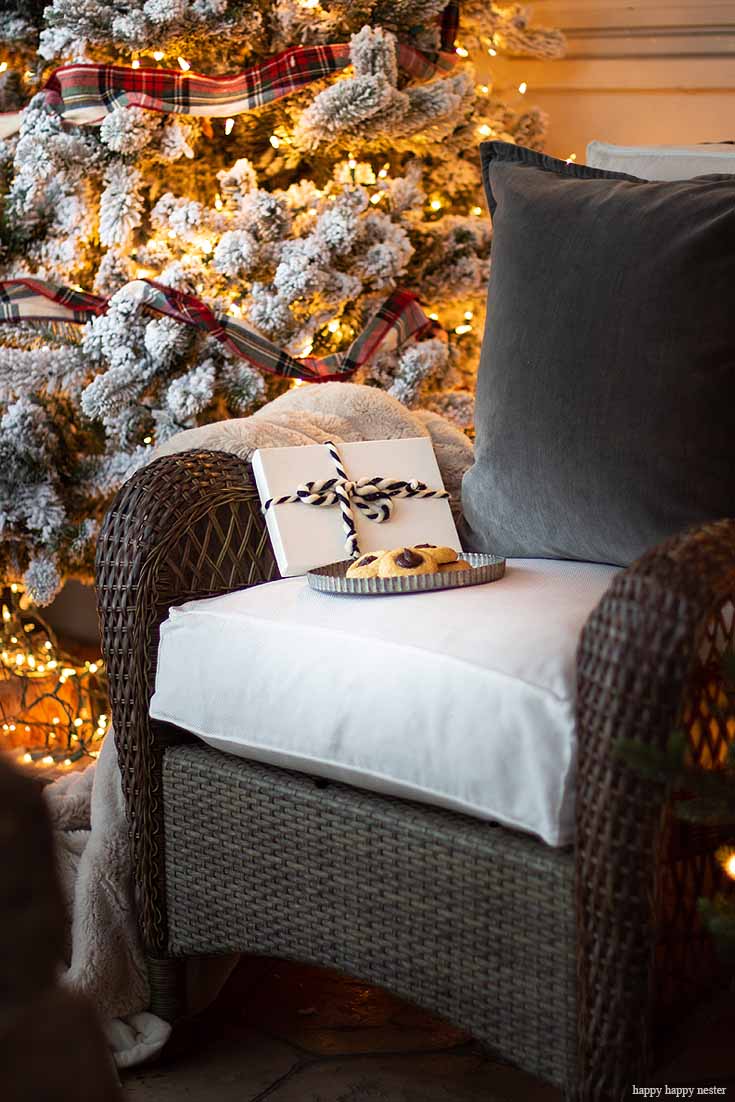 I know you are wondering how I found time to bake, but late one night, I whipped up some cookies. So, help yourself to some brown butter sugar cookies with chocolate ganache. You will find that these small cookies will melt in your mouth and are so delicious.
Let's Tour Our Living Room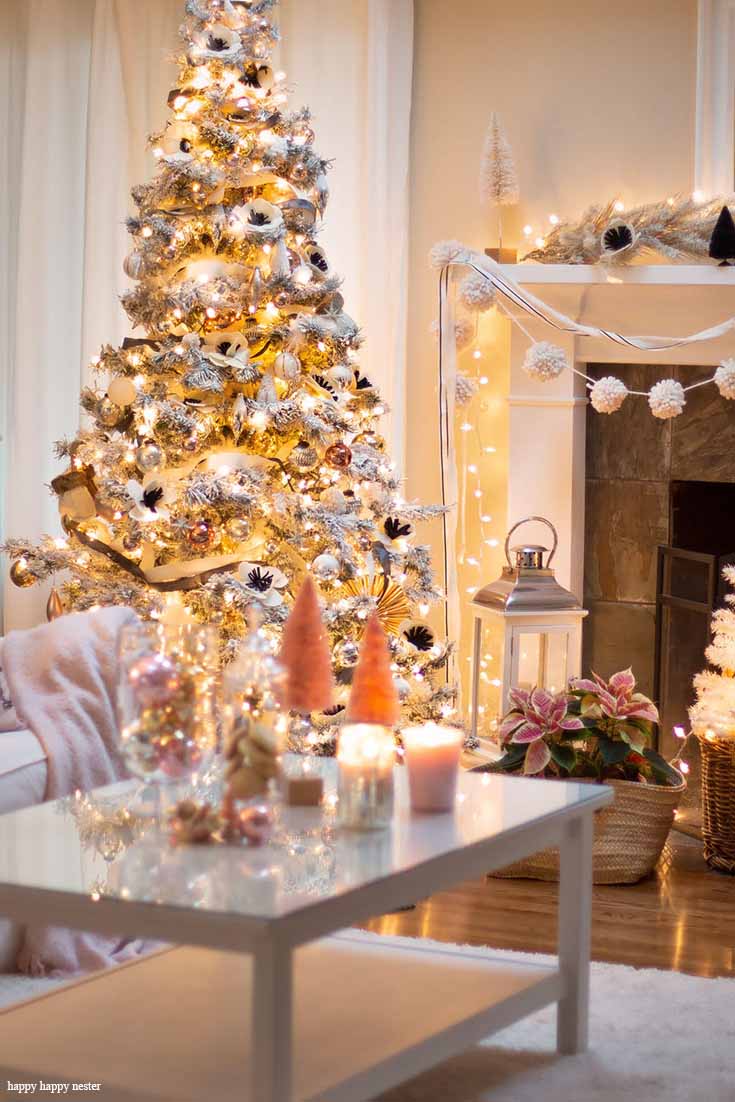 Our living room is probably the second most used room. So this means that usually, my husband and daughter are hanging around and watching their favorite tv shows or some cozy holiday movie on Netflix. They do rearrange the furniture and decor a bit, for instance, the sound system speakers keep popping forward as I move them out of sight for my photos. And my husband's Restoration Hardware faux fur oversized bean bag chair is moved out of the way for my photo sessions.
Isn't it funny what we bloggers do for our photos?!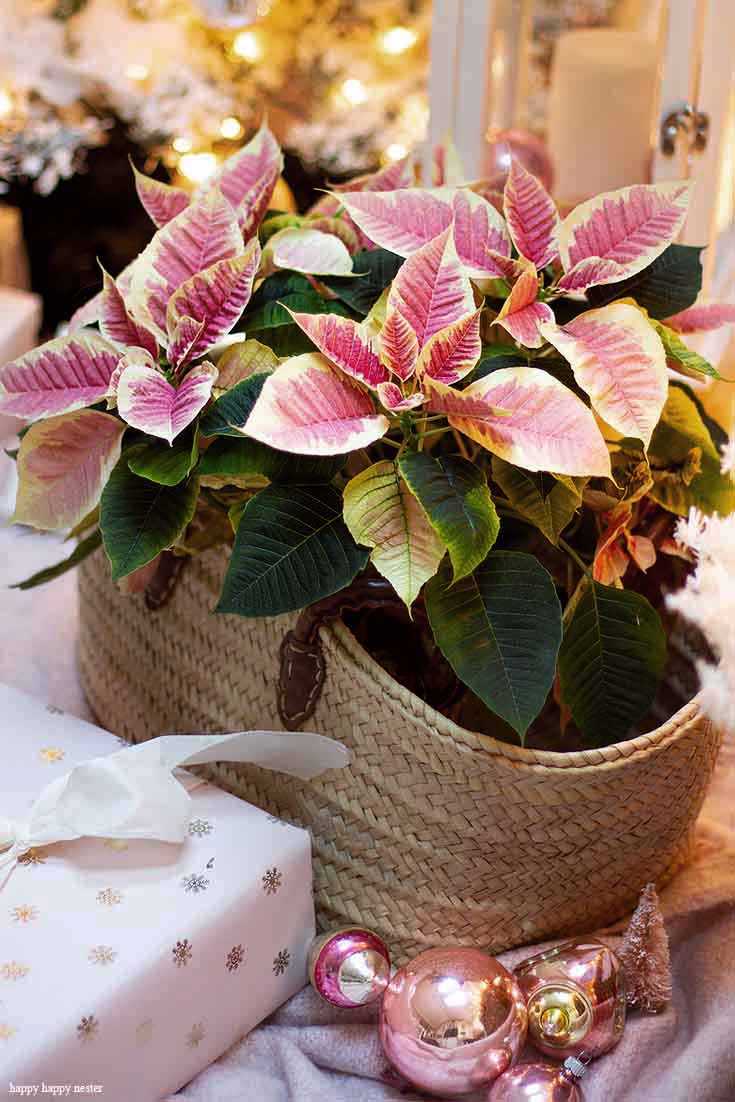 Ok, back to my living room. I knew that I wanted some poinsettias this year and since I was decorating in pink, I needed some of those gorgeous dusty pink ones. Well, we live in a teeny tiny town in Northern California, and we have very little here in the way of shops. But, our local Ace Hardware had the prettiest variegated pink poinsettias. I bought about five of them, and I'm so glad I did since my next trip back they were sold out.
Boy, I'm so lucky that I even have these gorgeous flowers.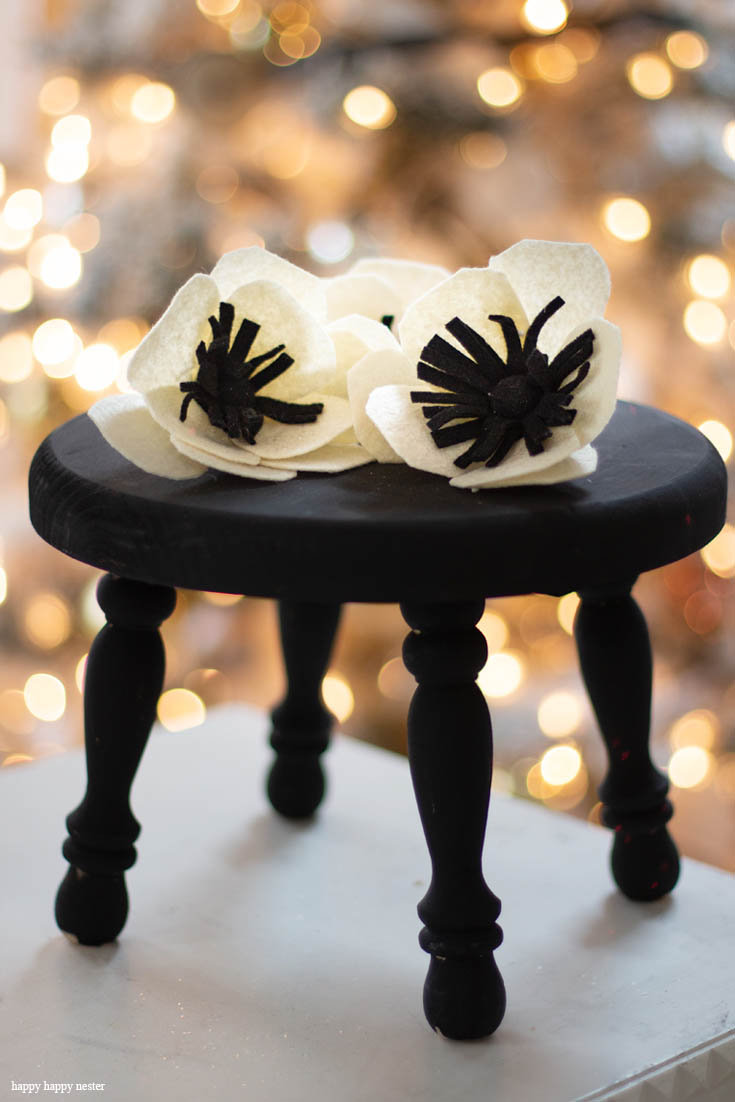 Speaking of flowers, some of you know that I love fresh and handcrafted flowers. I also adore crafting things, and I think that this is where I get in trouble in regards to my holiday schedule. You see I made about twenty-five felt anemone flowers for our tree this year. You can see them on my latest Christmas mantel post.
So, while all my friends happily finished decorating their whole houses for the holidays, I was meticulously creating these fun white and black flowers.
I always say that next year will be different, but I'm always crafting my holiday decor project, a couple years it was my book page paper garland. My husband insists on calling me Buddy the Elf.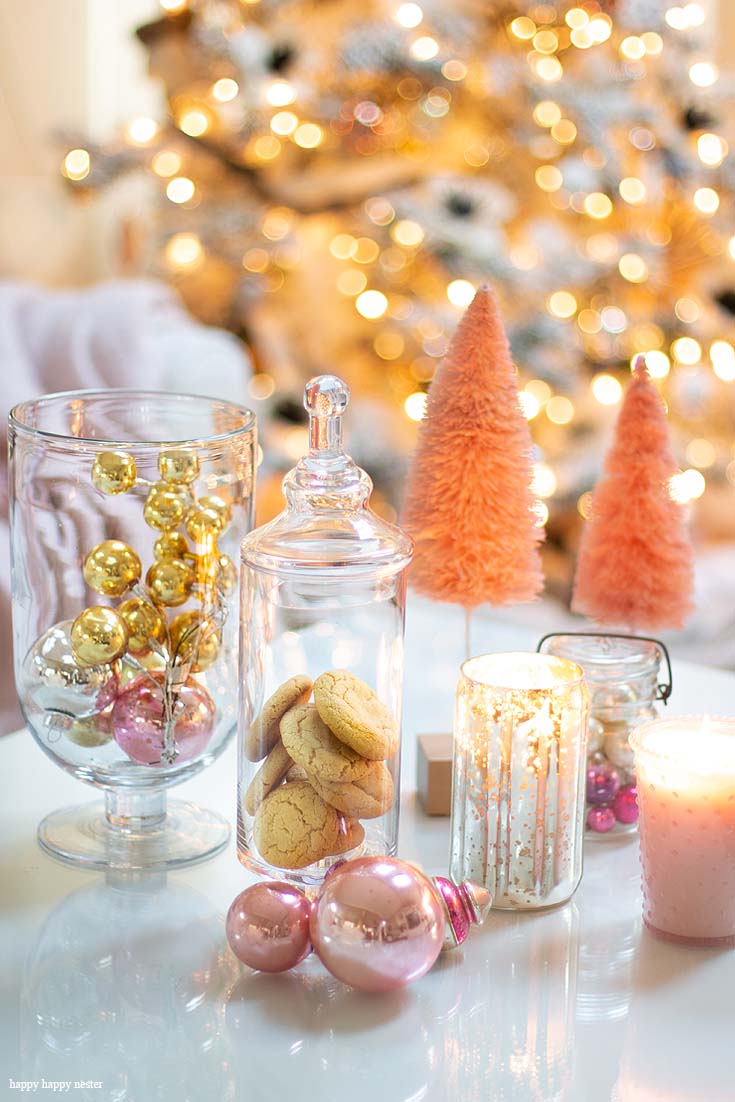 Oh yeah, here are more cookies for you. My mom's delicious almond cookies always come out perfect and they are seriously so easy to make.
Ok, onward and forward.
Take a Look at Our Dining Room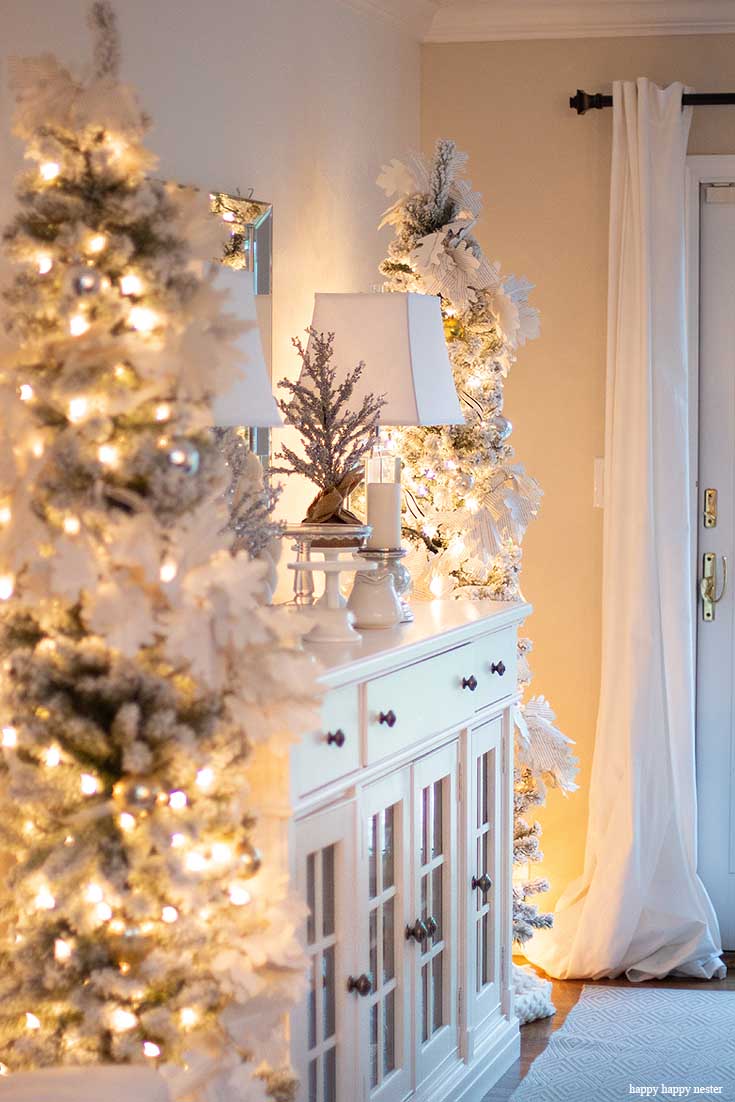 This year, I was so lucky to have a sponsored post with King of Christmas, and I purchased these two lovely Flocked Pencil Trees. (You can read my latest review of these trees.) Gosh, now that I think about it, I had these trees up in the first week of October. Yes, it was a bit strange that during Halloween and Thanksgiving we had all these holidays collide with each other.
Yes, that is the life of a blogger.
And somehow, I squeezed in some more time to make these brown butter sugar cookies with chocolate ganache. These light and delicate cookies melt in your mouth, and the rich chocolate is a nice compliment sandwiched in between.
My family keeps eating my baked goods, so I have to hide a few in my office for my future blog photos.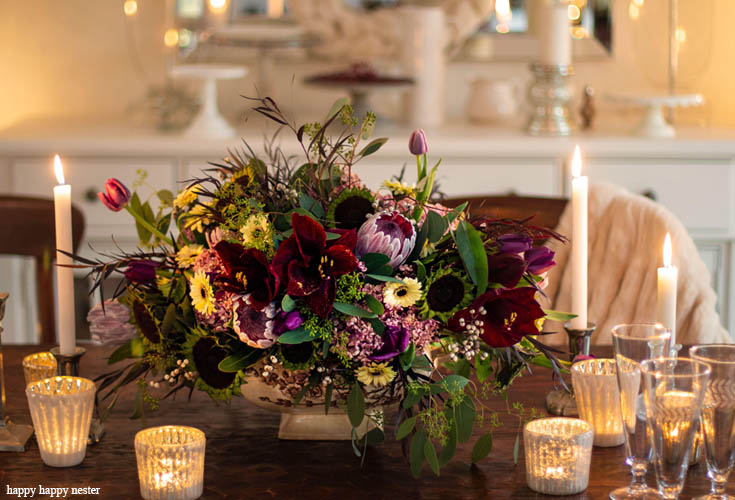 And finally, I couldn't let the holiday season pass without a visit to the San Francisco Flower Market. I usually make the trek into the city about every other month and so last Saturday, I went into the city. I wanted something special for this Christmas home night tour.
The burgundy amaryllis called out to me the whole time I was roaming around the market, so despite the hefty price I bought two flowers. Then the Proteaceae otherwise called, Sugarbush flowers were a must purchase too. This bouquet is not similar to my regular arrangement which is usually pink and bright. I do love this floral mixture that elicits a rich and pensive mood.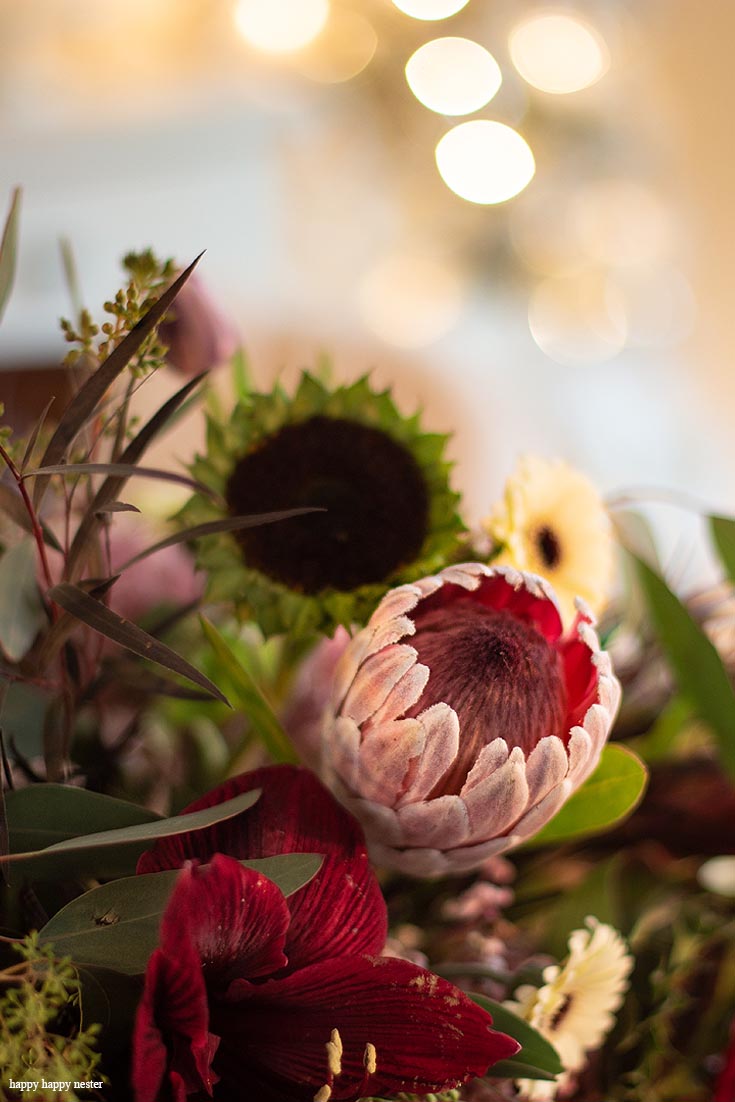 I must say that maybe I channeled my Pride and Prejudice obsession when designing this bouquet.
You see, I'm a closet anglophile and so I played the soundtrack music to the movie while snipping and styling these flowers.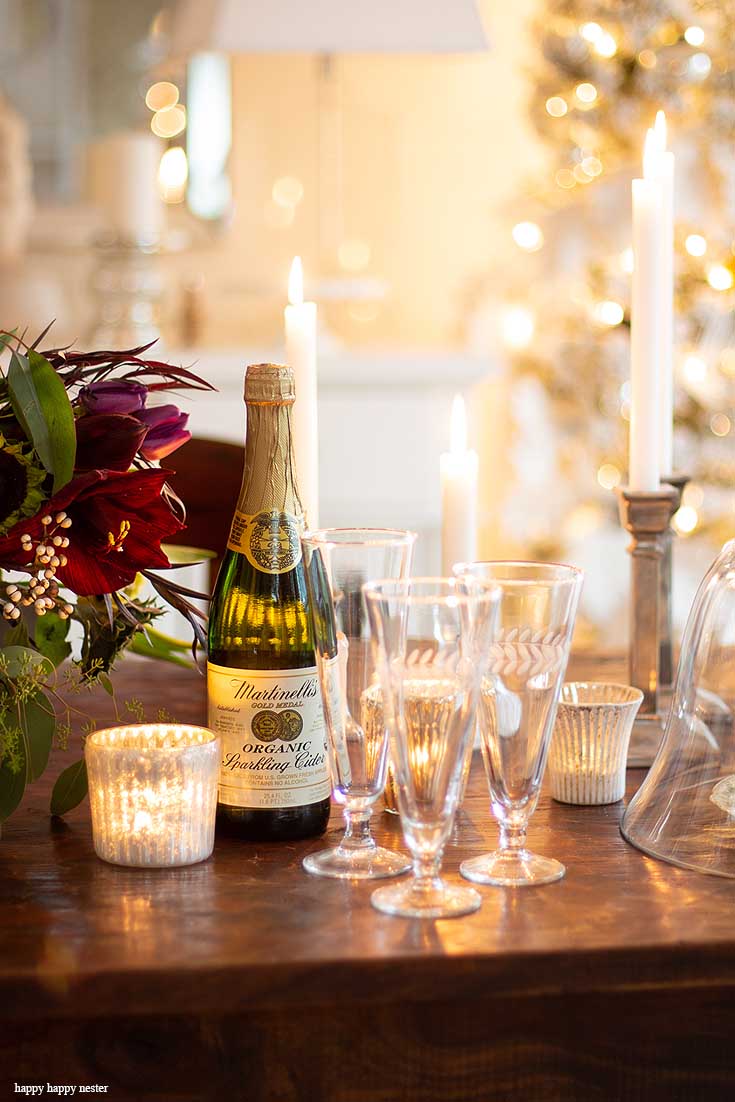 Well, by some miracle, our house is decorated with one week left before Christmas. I had every intention not to be so busy this December, but I realized that I couldn't stop creating. So, here is to decorating and crafting and my first ever Christmas home night tour.
Cheers to a fabulous Christmas with family and friends!

Ella Claire | French Country Cottage | Cherished Bliss | Julie Blanner | Happy Happy Nester
Kelly Elko | Rooms for Rent | Love Grows Wild | Boxwood Avenue | Decor Gold Designs
Maison de Cinq | Craftberry Bush | Zevy Joy | Making Home Base | Inspired by Charm
The Lilypad Cottage | Shabby Fufu | Finding Silver Pennies | Blesser House | Sunny Side Up
Sheila Irwin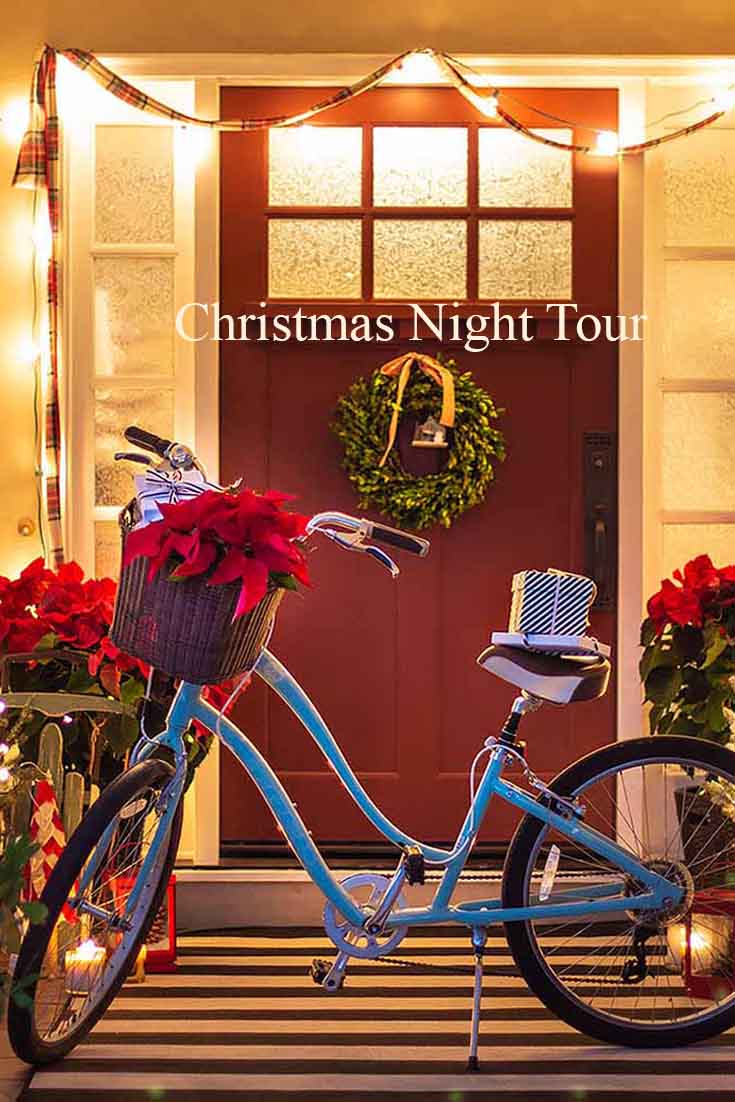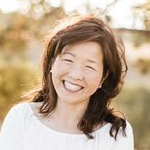 Latest posts by Janine Waite
(see all)