Brown Butter Sugar Cookies with Chocolate Ganache is an irresistible recipe. I'm a bit of a novice when it comes to baking, but about ten years ago I found this great recipe from Gourmet Magazine and it was all about brown butter. This cookie is delicate and the flavor is incredible. The original recipe calls for fruit preserves between the cookies and this is where I modified it with a chocolate center.
Who doesn't love a chocolate ganache in between two perfect sugar cookies?
Ok, this post is a long one and there is a list of great recipes at the end. This tour today is hosted by Krista of The Happy Housie and I owe a lot to her the amazing job she did day after day on these great blog tours.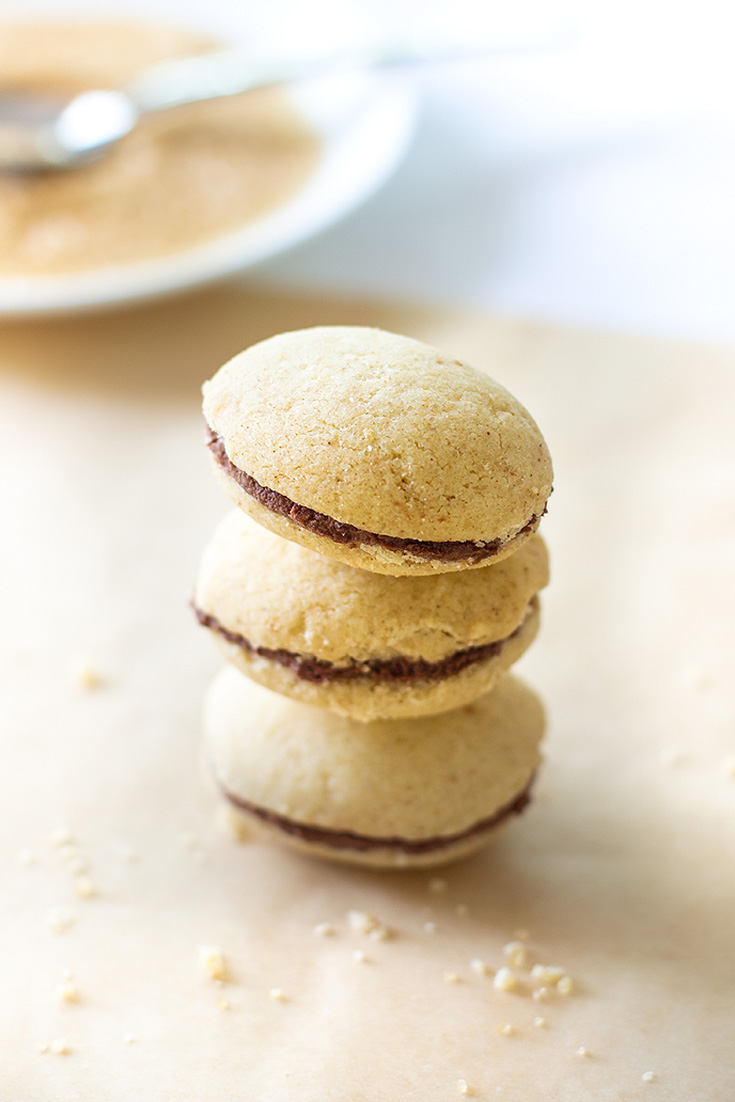 Throughout the year, I make a few cookies and these brown butter sugar cookies with chocolate ganache are one of them.
My family is rather fond of any sugar cookie. But these are one of my husband's favorite cookie. But come to think of it, I can always place a shortbread cookie under my husband's nose and he instantly wants to devour it with a cup of tea. This must be his English roots surfacing.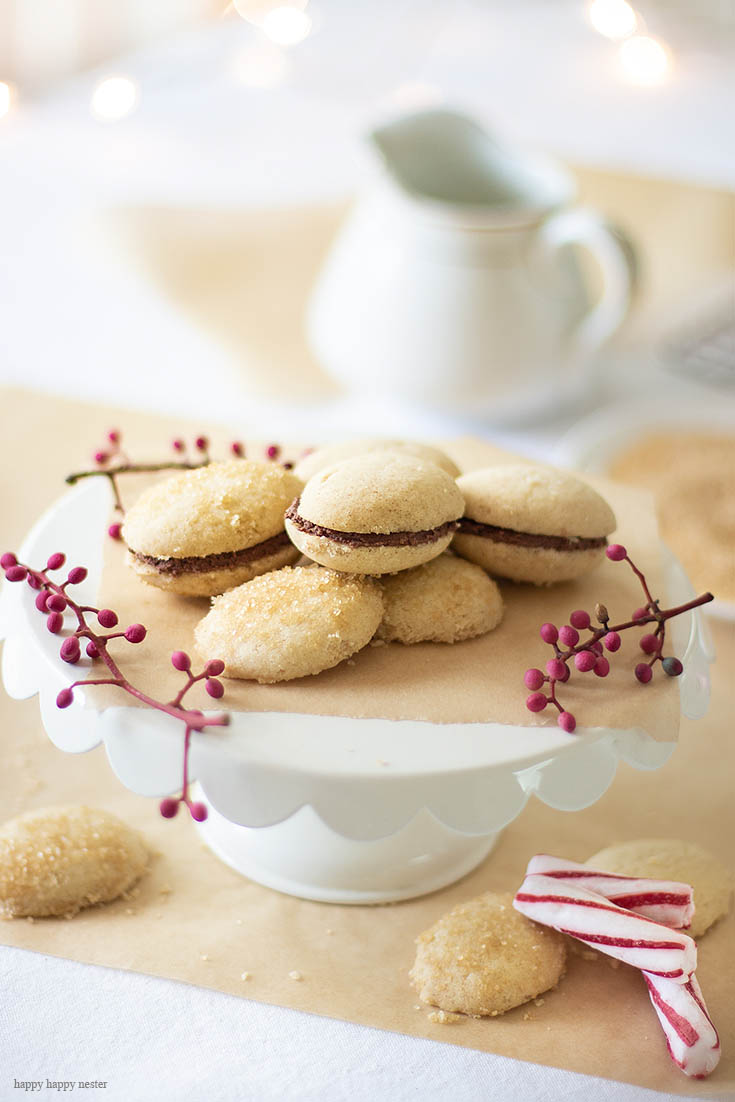 Brown Butter Sugar Cookies with Chocolate Ganache
But unlike most sugar cookie recipes, these brown butter sugar cookies with chocolate ganache adds a wonderful touch of brown butter which in my mind sets it apart from all the rest.
Maybe you are thinking, "I don't know the first thing about brown butter!" And you might be intimadated. No worries you can make this recipe. But, I'm here to help you out.
Well, if you are like me you may have some questions about brown butter. Also, make sure to check out the really helpful video that I inserted towards the bottom of this post. It shows how to brown butter.

What is Brown Butter?
So, when unsalted butter is cooked on a stove, the milk solids in the butter with brown. The butter fills the air with a nutty aroma and you have a wonderful brown sauce that makes everything bolder and better.
How Long Does It Take to Make Brown Butter?
Cooking brown butter takes about 10 to 12 minutes on the stove. Once it starts to brown, make sure to watch it since it can turn pretty quickly to burnt brown butter!
Is My Brown Butter Burnt?
If you have specks of black solids then you have burnt it. Also if you cook it longer than 12 minutes you most likely will burn it, since it can turn quickly if you aren't paying attention. Make sure to watch the video I have included in this post since they show to how to fix burnt butter.
Do You Use Salted or Unsalted Butter When Making Brown Butter?
Ok, Cook's Illustrated did a whole bunch of research on this exact question and about halfway through their answer, my brain seized up! So, you can check out their results for yourself: unsalted butter vs salted butter when browning butter.
The ultimate conclusion is to use unsalted butter when browning butter.
Can You Make Brown Butter Ahead of Time?
Yes, you can make brown butter ahead of time and it will last in the refrigerator for several weeks.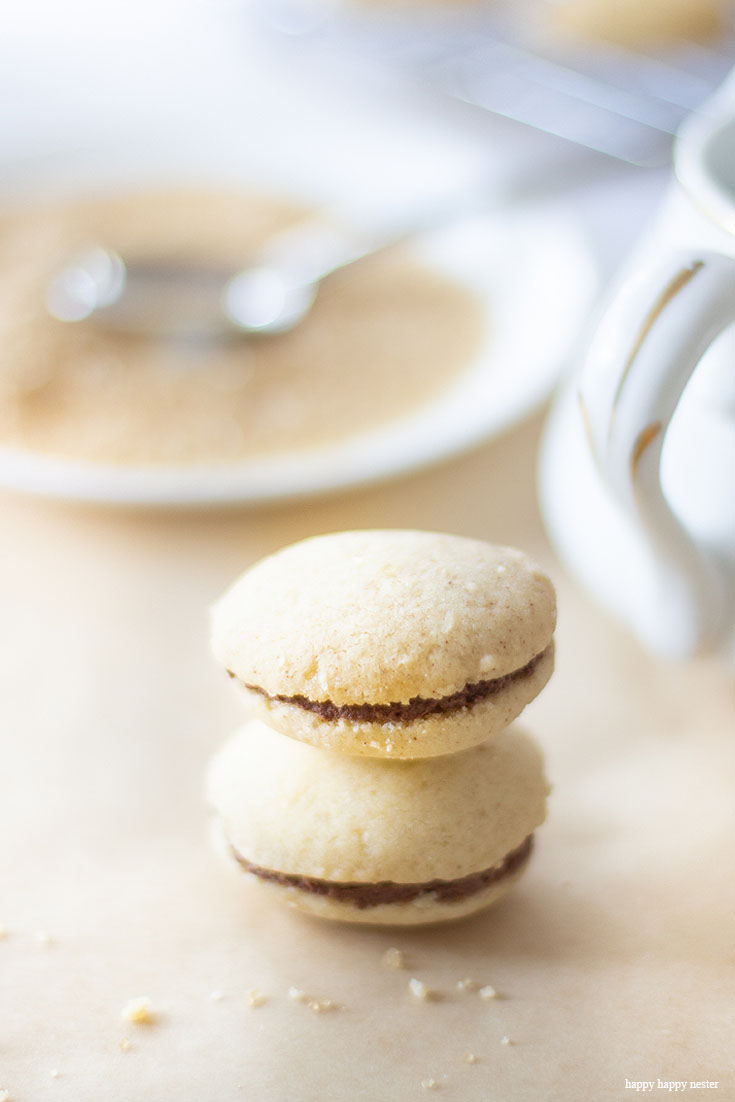 Let's get baking!
Brown Butter Sugar Cookies with Chocolate Ganache
This is a wonderful sugar cookie with the rich flavor of brown butter. Top it off with chocolate ganache, and you have a gourmet cookie that is so delicious and light.
Servings:
30
sandwich cookies
Ingredients
Cookie Ingredients
2

sticks

1 cup cold unsalted butter, cut into pieces

3/4

cup

sugar

2

teaspoons

vanilla

2

cups

all-purpose flour

1

teaspoon

baking soda

1/8

teaspoon

salt

slightly rounded
Ganache Ingredients
½

cup

chocolate chips

½

cup

heavy cream

2

tbs

cream cheese

¼

cup

powdered sugar

1

tsp

vanilla extract
Instructions
Cookie Instructions
Fill a large pot with cold water in sink.

Melt butter in a 2- to 3- quart heavy saucepan over moderate heat and cook.

To brown the butter, this will take 10 to 12 minutes. The butter will go through a few stages. Right before the butter browns it will develop a thick foam on the surface. Then it will become clear with big bubbles and the brown specks will form on the bottom of your pan. Stir frequently. Once the butter solids turn brown immediately remove pan from the stove and place in the pan with cold water.

Cool butter and stir frequently until the butter becomes slightly opaque. This will take about 4 minutes.

Remove pan from sink and add sugar and vanilla.

Whisk together flour, baking soda, and salt in a small bowl and stir into the butter mixture until dough forms.

Shape in a bowl and wrap with plastic and let rest at a cool room temperature for 1 to 2 hours.

Preheat oven to 325 degrees F.

Shaping the cookies is done with a spoon. Press the dough into a spoon and make sure to level off the top so that it is flat. Push lightly from the side of the spoon and move the dough out of the spoon and onto a cookie sheet. Place with the flat side down onto the sheet.

Bake 8-15 minutes until just pale golden. Leave cookie sheet on rack for 5 minutes to cool. Once cool, transfer cookies on cookie rack.

Once the cookies are cool, spread a thin layer of chocolate ganache on the flat side of a cookie.

Top the chocolate with another cookie so it appears like a sandwich. Press the two cookies and filling gently together.
Ganache Instructions
Place chocolate chips in a Pyrex measuring glass.

Pour heavy cream over the chips and do not mix the ingredients together.

Place in the microwave and heat on high for 1 minute.

Remove from microwave and let sit for 4-5 minutes.

While the chocolate is cooling, mix cream cheese with a mixer.

Add the vanilla extract and blend well.

Add the powdered sugar and blend well.

Once your chocolate is ready blend them together and add it to the sugar mixture and blend well.

Recipe notes:

Dough can be made 12 hours before baking and chilled. Bring to room temperature to soften slightly before forming cookies.

Store cookies in the refrigerator for a couple of days.
Notes
Store cookies in the refrigerator for a couple of days.
Nutrition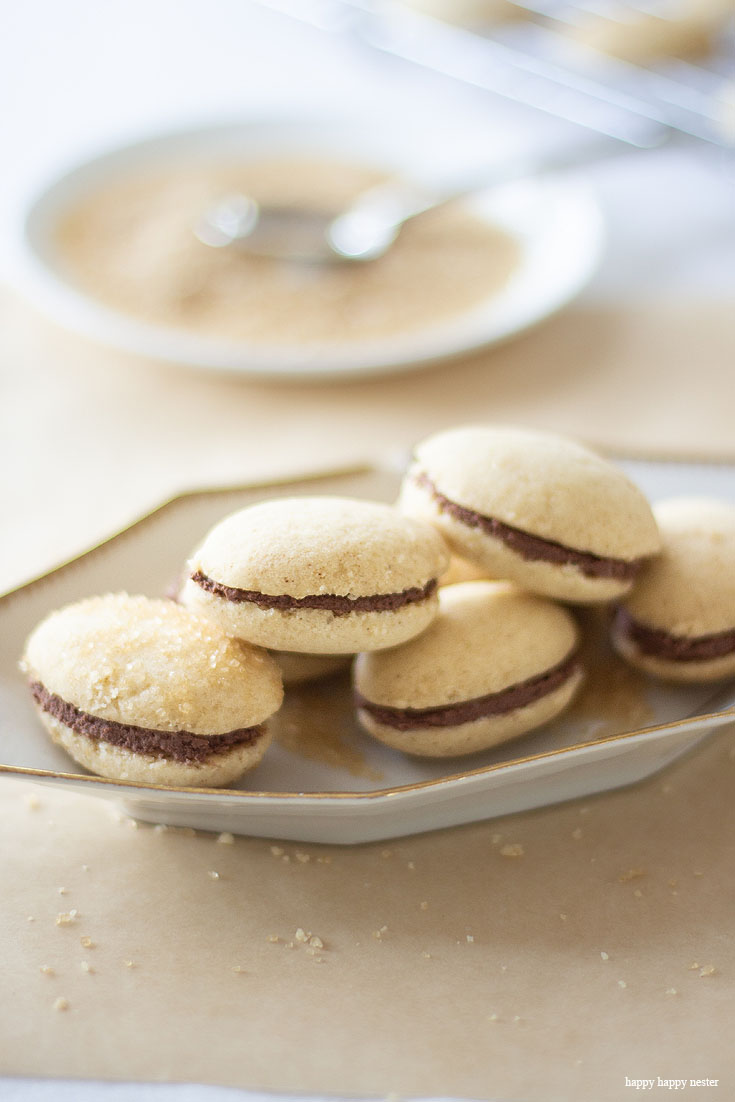 Make Sure to Watch This Video
This is a really helpful video that shows how to brown butter and how to fix burnt butter.
I've been a busy blogger and I have a ton more cookie recipes that are family favorites. I will be placing them in a cute arrangement next week so make sure to come back.
Here are few of my delicious cookie recipes:
Cranberry Almond Biscotti Cookies
Thanks for checking out my post on Brown Butter Sugar Cookies with Chocolate Ganache. I hope now you are ready to get baking and dig into making brown butter for this recipe. If you have a couple free moments to check out my friend's recipes below.
Cheers,

And today I'm joined by some friends who are also sharing their amazing holiday recipes with you!
How to Make Mulled Wine (Glühwein Recipe) at The Happy Housie
DIY Colonial Gingerbread House at Sincerely, Marie Designs
Christmas Wreath Veggie Pizza at Clean & Scentsible
Homemade Egg Nog at Town and Country Living
Easy Holiday Appetizer at Rooms FOR Rent
Secret Ingredient Gingerbread Cookies at Jenna Kate at Home
Snowball Cookies at Finding Silver Pennies
Easy Gluten Free Shortbread with White Chocolate and Toffee at Home Made Lovely
Brown Butter Sugar Cookies with Chocolate Ganache
The Best One Hour Orange Rolls at Summer Adams Designs
Cake Mix Quick Bread Recipe at On Sutton Place
Best Waffle Recipe Ever at The DIY Mommy
The Most Chocolatey Hot Chocolate Cookies at A Pretty Life
Eggnog Bread Recipe at Tauni Everett
Instant Pot Ham at TIDBITS Marci
Toblerone Shortbread with Browned Flour at Life is a Party
Spicy Chewy Ginger Molasses Cookies at Modern Glam
Christmas Tree Marshmallow Hot Cocoa Toppers at The Turquoise Home
Easy Creme Brule for the Holidays at Hallstrom Home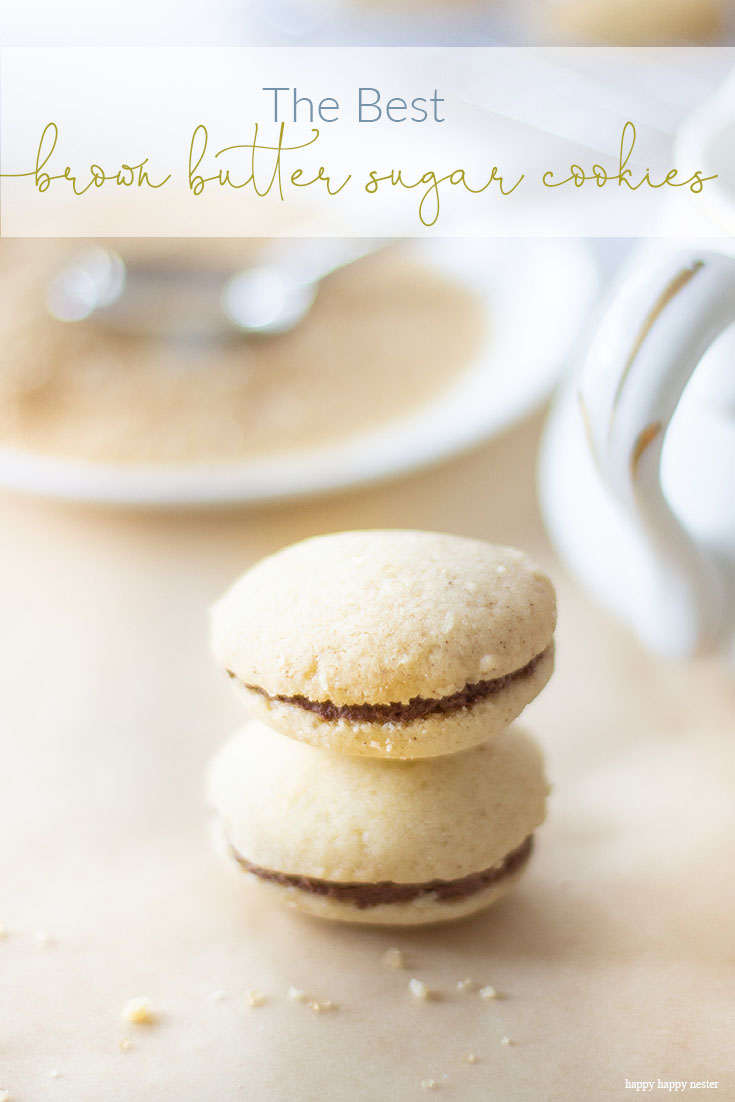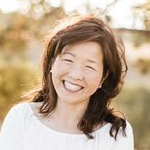 Latest posts by Janine Waite
(see all)