This winter Add Hygge To Your Home with Candles! It is an easy way to bring a cozy vibe to any room. I recently rounded up all my mercury glass votives and lit all the candles, and I love the results. So, with a few additions to any space, you can transform it into a lovely welcoming setting.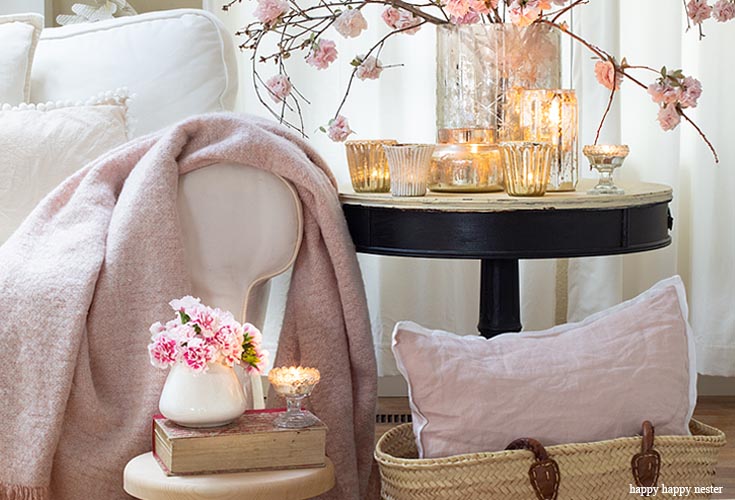 Add Hygge To Your Home With Candles
First off you may be asking What is Hygge? Well, I shared my thoughts and findings in the highlighted link. Adding hygge or coziness is so important all year round. In the winter I add candles to our home.
First off, our home has a natural coziness since our ceilings are lower and that lend themselves to an intimate space. So, because our house has a cottage ambiance, our furniture can't be heavy or grand in style, and it is more comfy and cozy. I always have many throws around the house and of course a ton of candles. I guess I naturally gravitate towards these types of home decor.
*This post contains affiliate links
A Couple of Helpful Tips
So, here are a few observations that I made that you'll want to note when you add hygge to your home with candles.
1. Use votives that have a similar style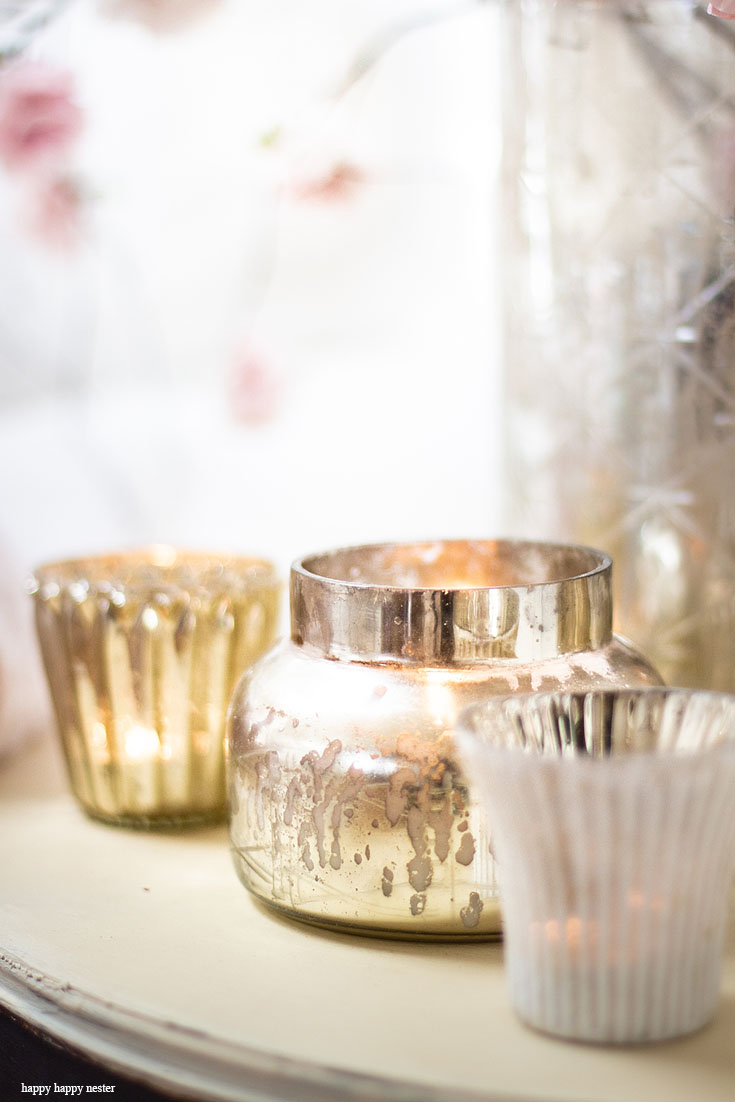 I rounded up all my mercury glass candle votives. I love how despite all their different textures and patterns they blend nicely together since they are all made out of mercury glass. If you happen to own a ton of milk glass, then use them. Whatever you enjoy and have a collection of place them all together on a table.
2. Choose candles or votives that are of different heights and sizes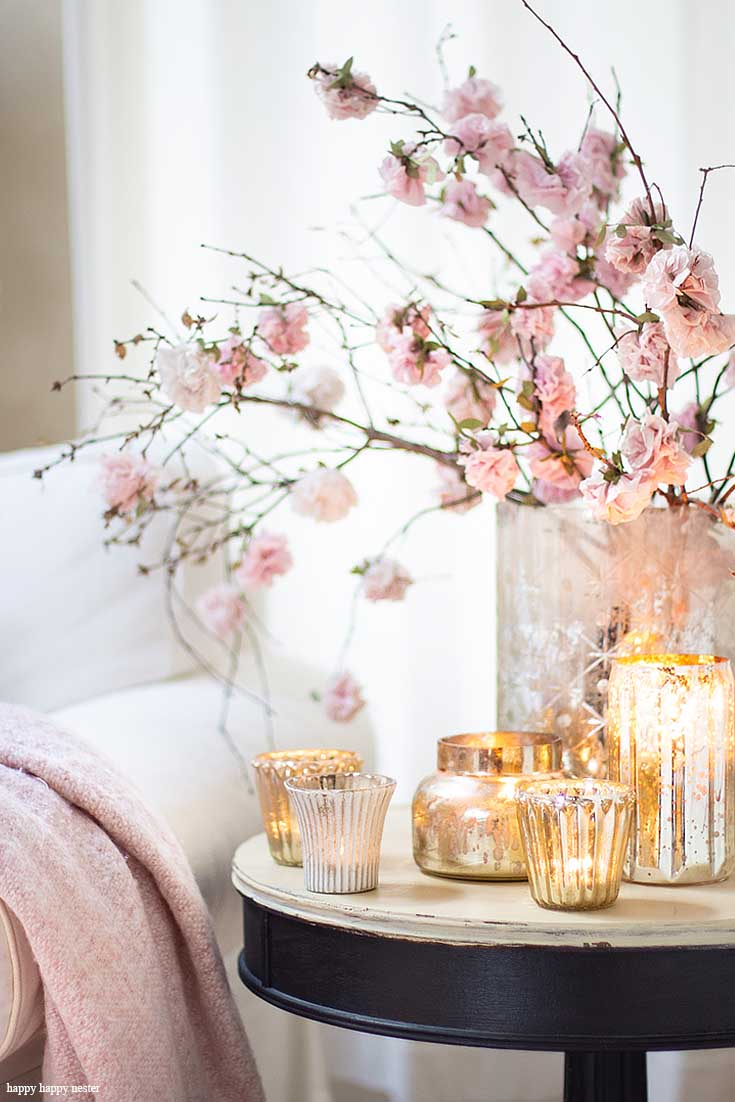 This is where your need for symmetry needs to take a back seat. So, don't be afraid to vary the heights of your candles which means there will be more interest, and drama. I must admit that I tend to lean towards the English country style of decorating and the more, the merrier in my book. I think it also conveys a cozy ambiance. I feel that my post on adding flowers to your home is more English than Danish hygge, but you can be the judge of that.
By the way, the pink cherry blossoms you see in this photo are from my paper flower DIY post.
3. If possible choose a surface that catches the light
I love this about mercury glass, and it has a double reflection quality which adds so much more light and drama. The extra sparkle is a bonus that I love. I have another post in which I share some cool and unusual candle holders.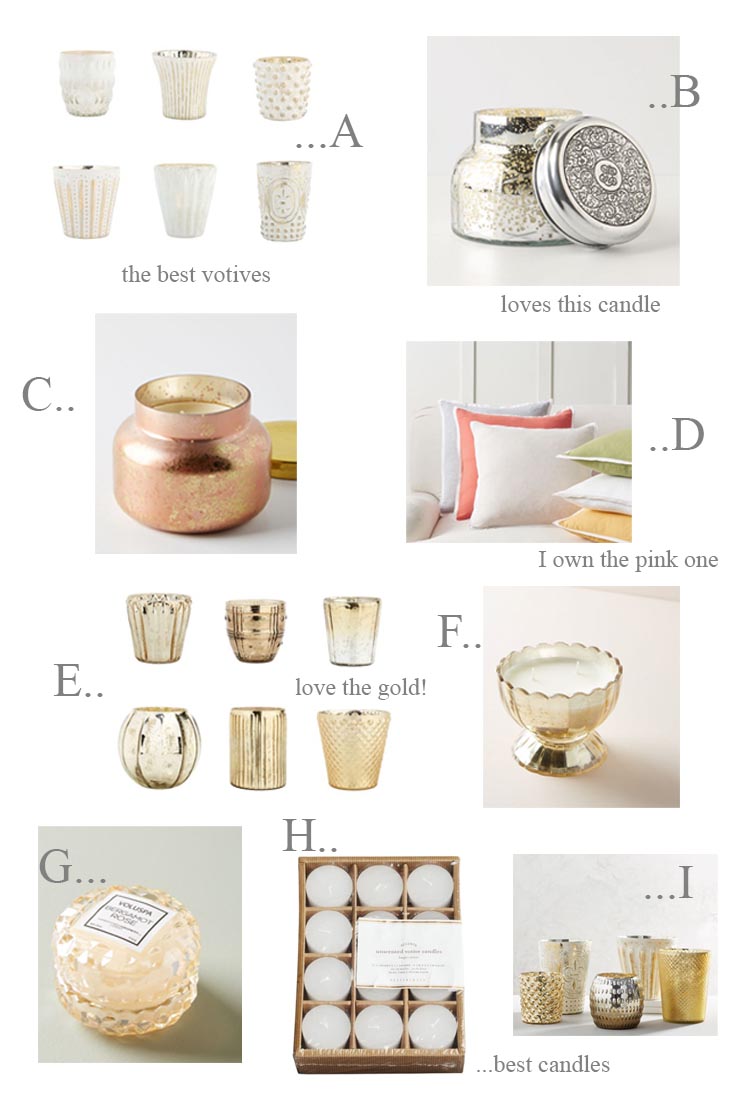 A. Set of 6 Mercury Holders | B. Capri Blue Volcano Irredescent Candle | C. Capri Blue Rose Gold Candle
D. Belgian Linen Pillow Cover | E. Set of 6 Mercury Holders | F. Petaled Glass Candle
G. Voluspa Rose Mini Candle | H. Set of 12 Unscented Candles | I. Eclectic Mercury Hurricanes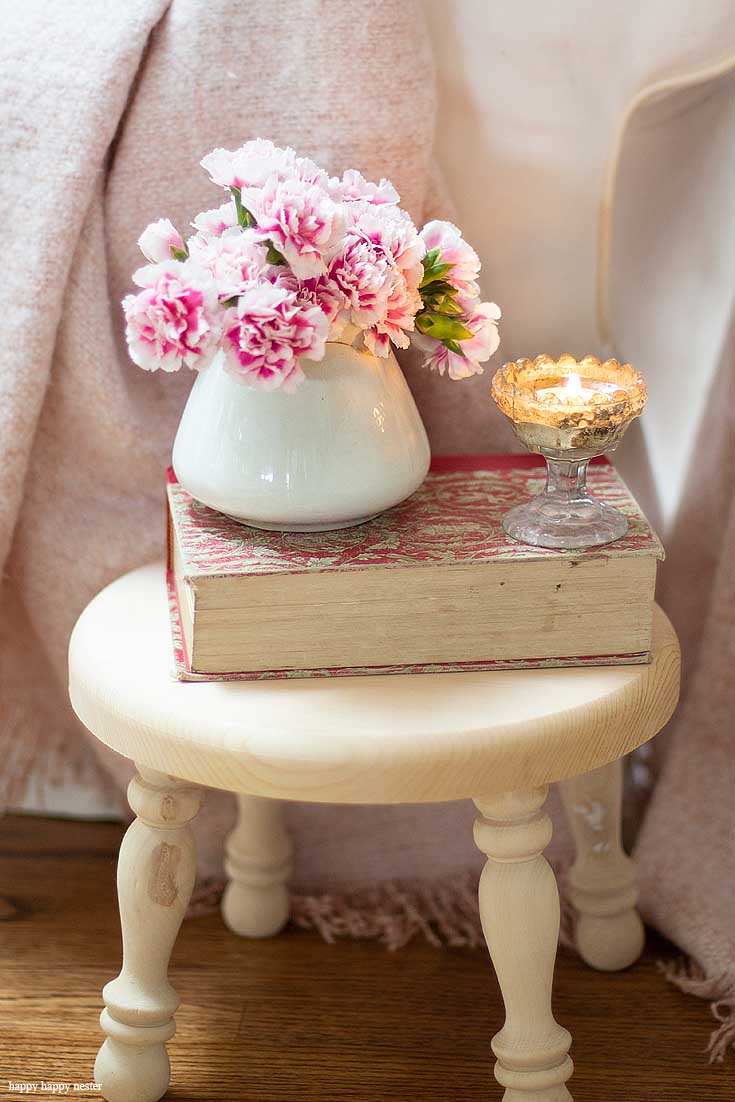 I love little wooden stools, and this small setting is way too cute.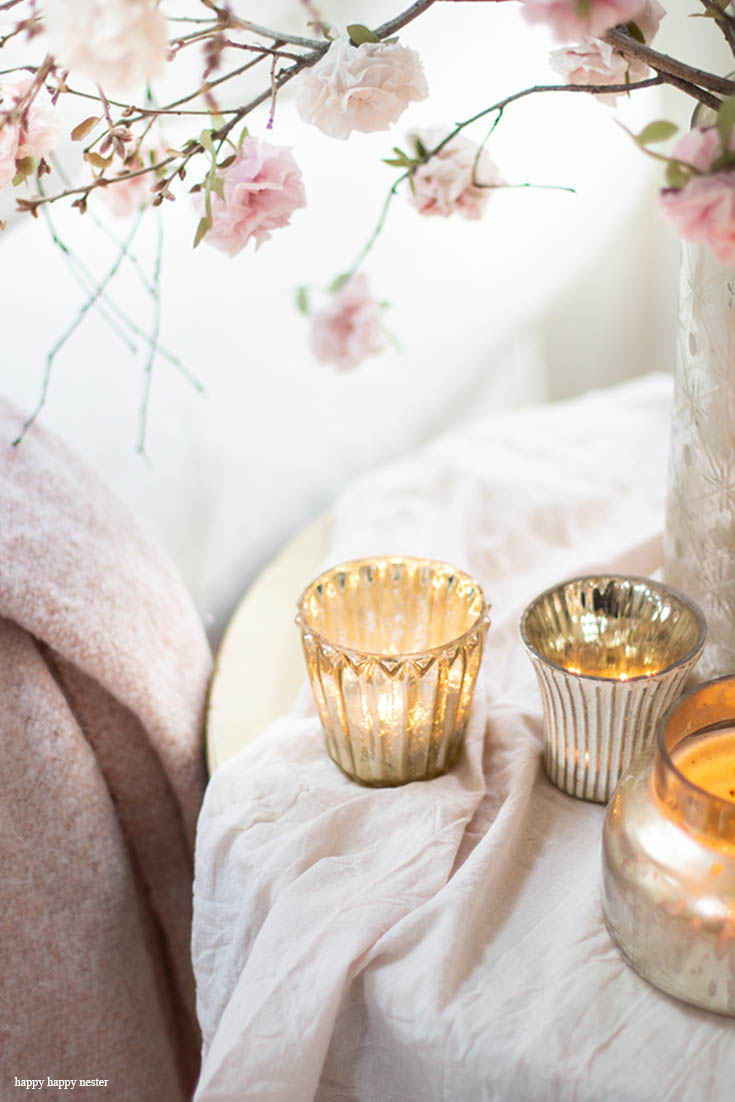 4. Decorate Your Rooms with Candles
I enjoy our cozy home, and it's inviting style. Don't be afraid to add hygge to your home with candles. I think you'll love the results and how it makes your home more intimate and comfy.
Make sure to add candles to other rooms as well.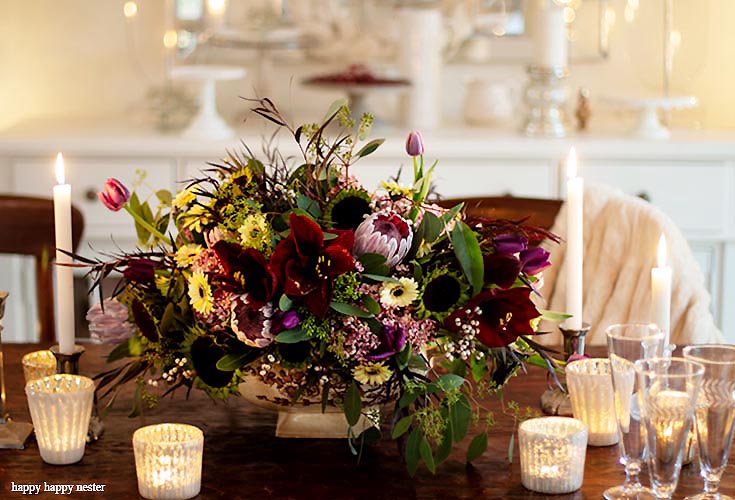 Here is a pretty way to add candle votives to your dining room table. You can view this table in my Christmas Home Night Tour post.
And if you want to place some beautiful candles above your dining table, check out this crazy cool post over on Home Depot's Blog. My dear friend Leslie from My 100 Year Old Home came up with this fabulous project.
So make sure to add hygge to your home using candles this month.
Happy Hygge to You!
Cheers,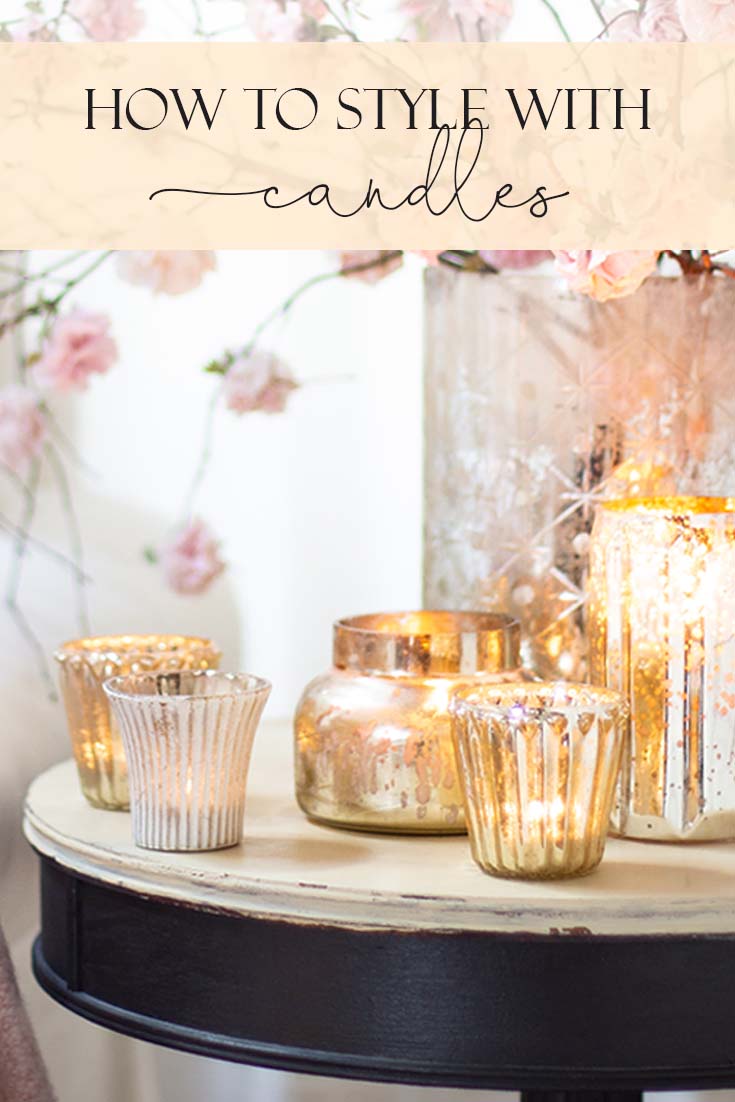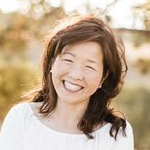 Latest posts by Janine Waite
(see all)