Check out this Great Collection of Paper Peonies For Sale on Etsy. Today to Mix & Match with an Assortment of Colors from Pink to White!
Summer is coming soon, and it's time to get the flowers out! We live in California, so the summers here are hot and sometimes unbearable. So, unfortunately, some of my flowers tend to wilt faster in the heat. If you have this same issue, you're in luck because I have different styles and types of Peonies made out of paper to cure the wilting!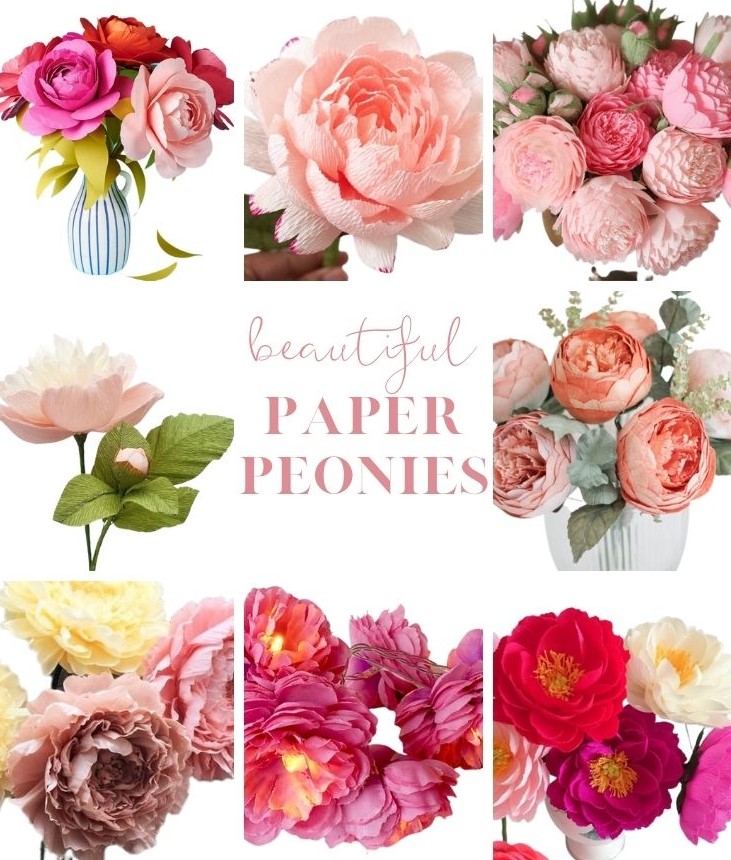 Instead of creating your own paper flowers, keep scrolling to reveal some of the best picks of handmade Peonies!
If you love this Boutique of the Week, then check out my other blog posts for boutique of the week! Enjoy!
Prettiest Paper and Silk Flowers
Etsy Spring Wreaths for Your Home
The Best Etsy Paper Flower Shop
Where to buy Crepe Paper Flowers on Etsy
Pretty Paper Peonies
*The following post contains affiliate links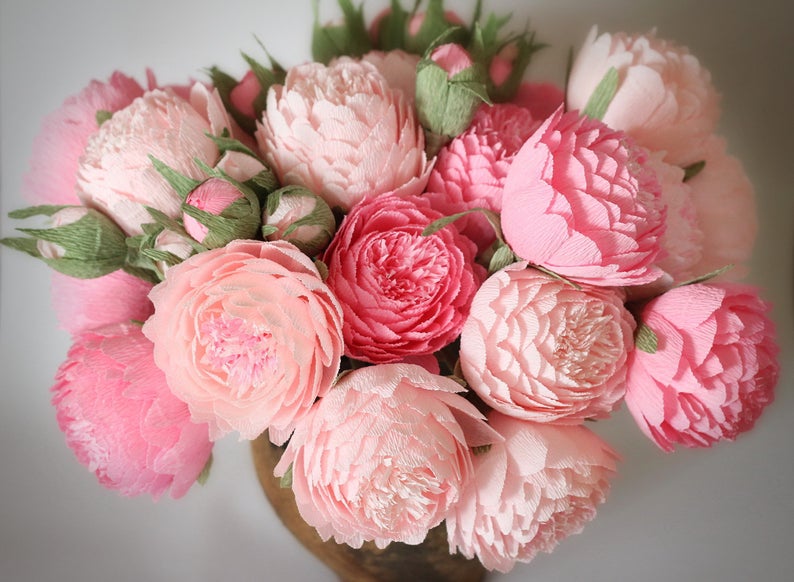 This is full bouquet of blush pink paper peonies which can be chosen from a collection of different colors! Not only are there different shades of flowers, but you can either gather these gorgeous blooms in a bunch or crowd them together in a vase!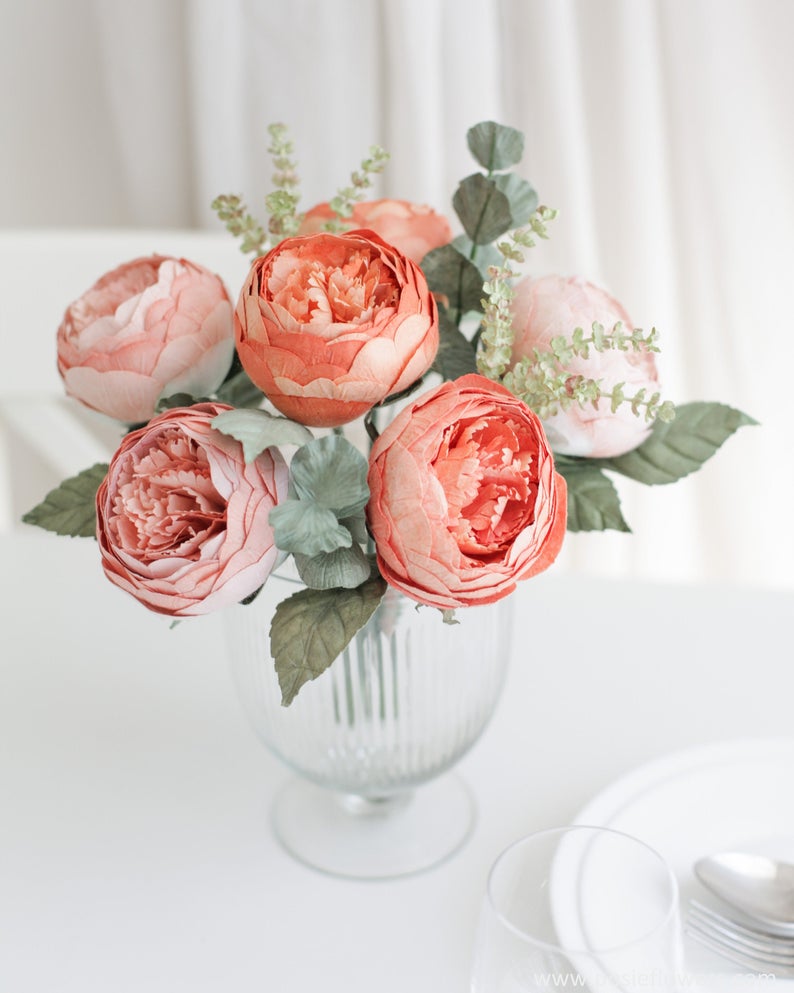 Each of these flowers are made up of high-quality paper which creates a realistic and natural look! These beautiful bouquets are perfect for any occasion whether it's a wedding or a simple floral arrangement used for home decor!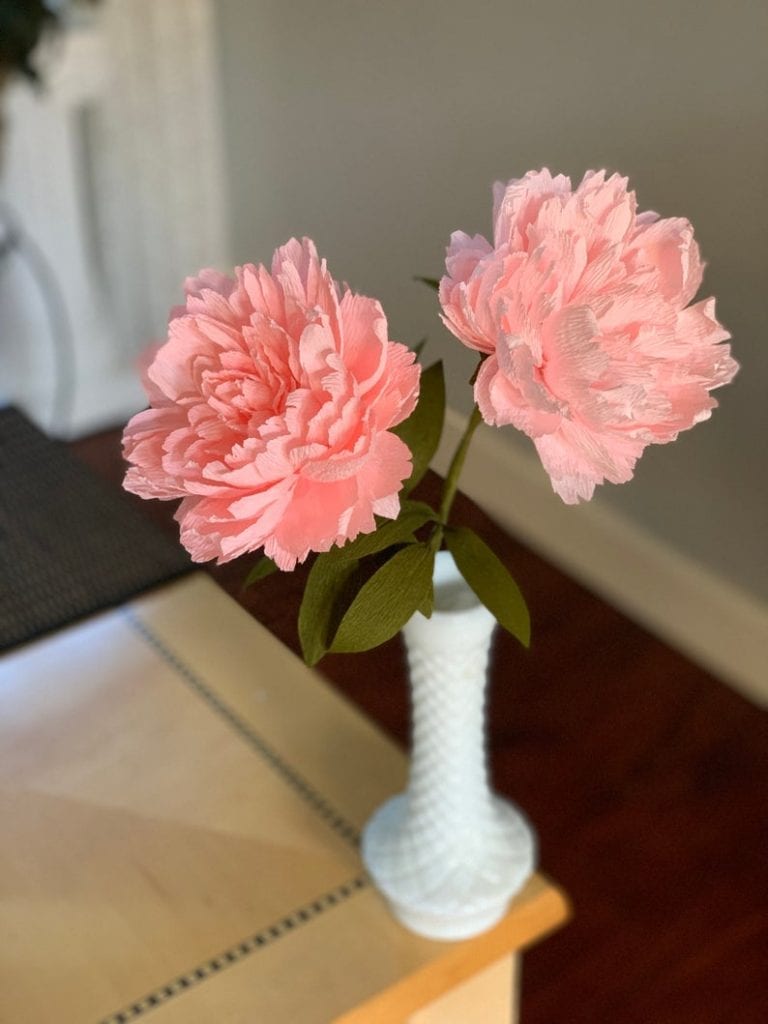 These blush pink Peonies are created from high quality Italian crepe paper and can be chosen from either a soft shade of sweet posie pink or pink shell!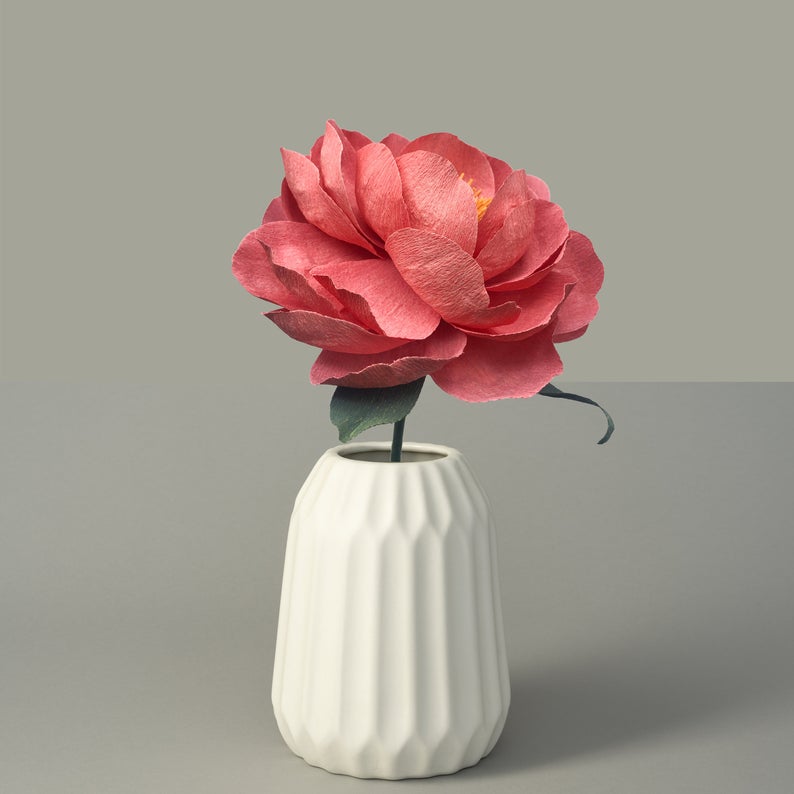 This single paper peony is simple yet will make a beautiful piece of decor for the house! This bloom is one of the best gifts for an anniversary present or an "out of the bloom" gift for a loved one to show appreciation!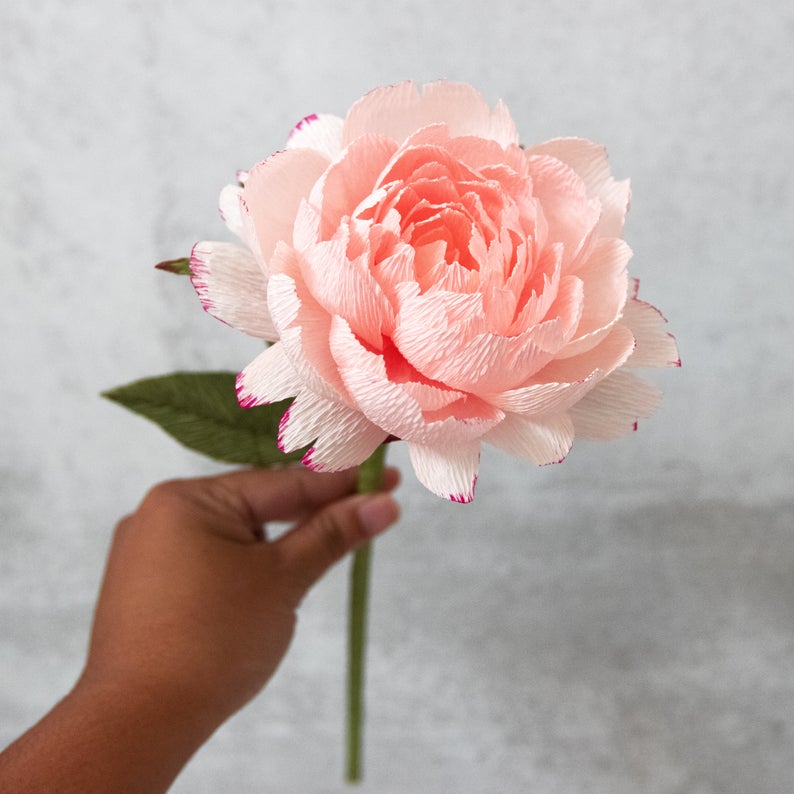 This pink, classic flower is perfect as a single bloom in a vase, floral arrangement or even part of a wedding bouquet! These are also handmade with premium crepe paper so every petal and leaf is hand-cut and made to order. This bloom is made of everlasting florals made with love.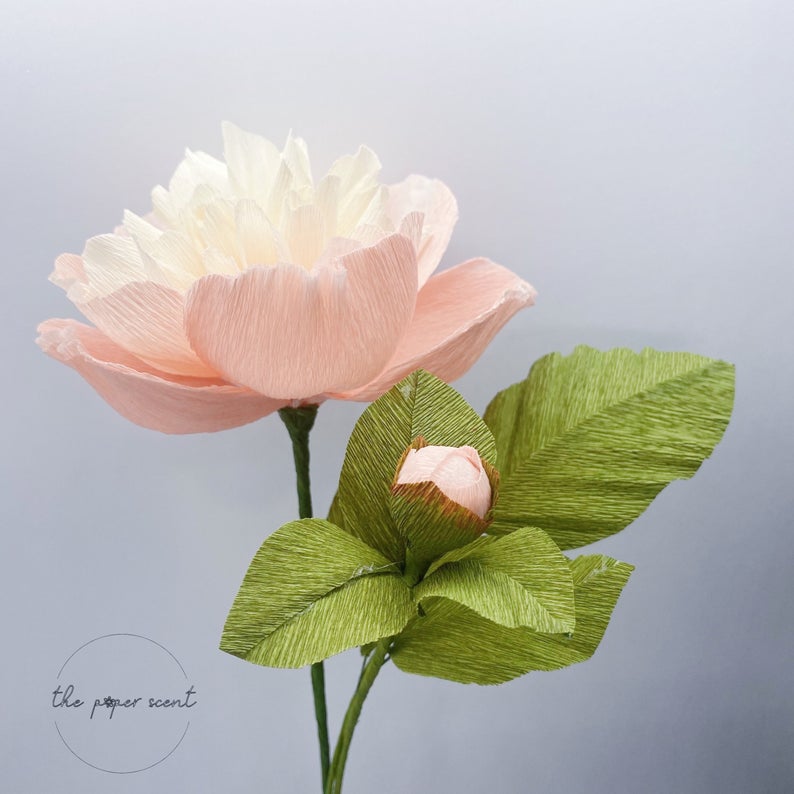 This flower made out of crepe paper is one of a kind with its soft pink tones with a cream color on the inside. This bloom is lovely and looks just as natural as if it were a real Peony!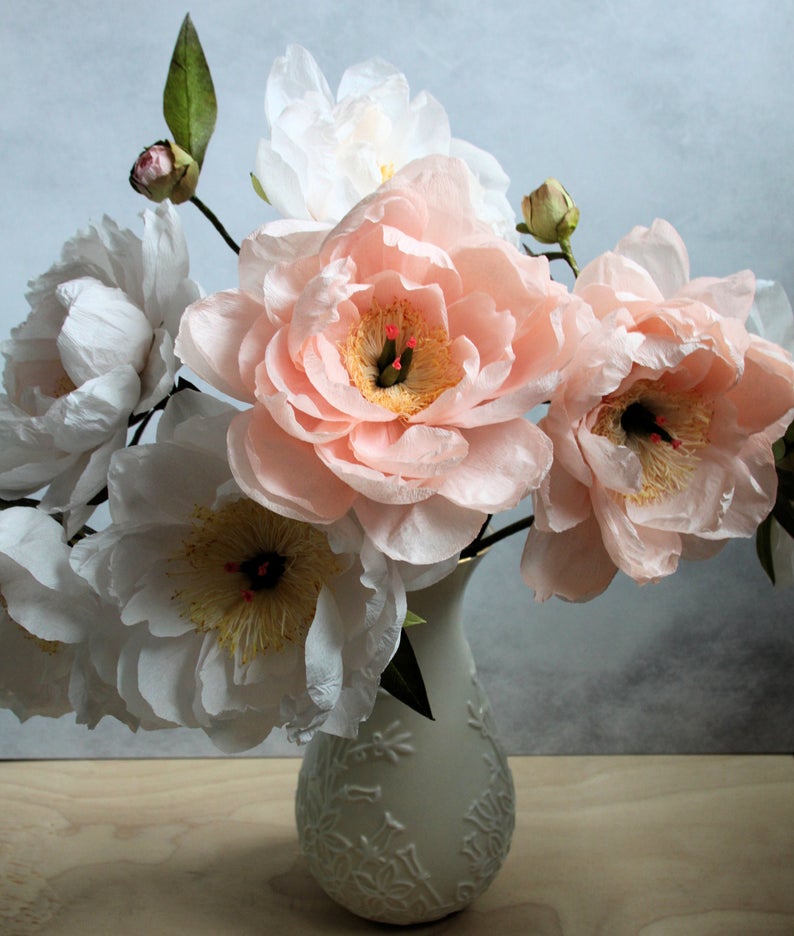 Each peony is hand crafted with attention to the smallest details, producing a hyper-realistic bloom that will never droop. Each bloom is made with the finest imported Italian crepe paper!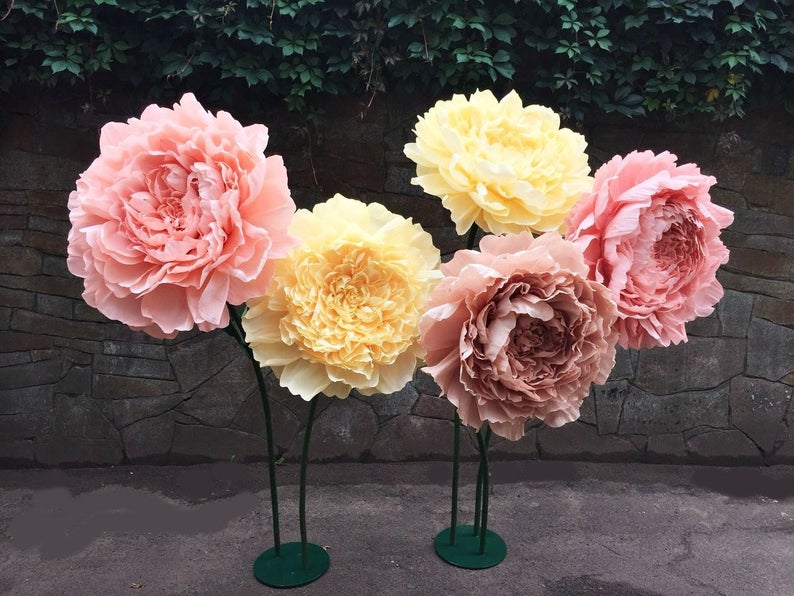 Standing Giant Paper Flowers are gorgeous idea for wedding! Oversized crepe paper peonies give chic to your event, can serve as a decor on your party , wedding , anniversary. Yes , you are right! It`s excellent decor for your home!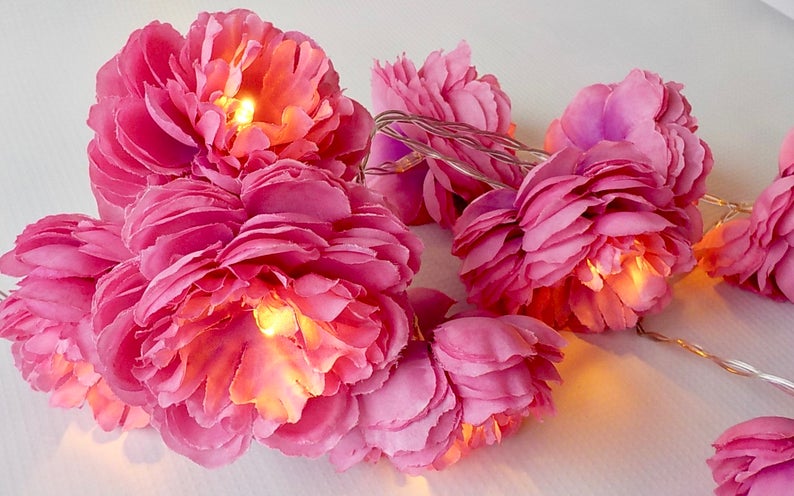 Such a versatile set of string lights! I have them hanging around the mirror in the hall, my son has them above his bed and uses them as night light. These fluffy peonies make a gorgeous display for tables. Use them in the garden, for weddings, in the bedroom around the headboard, make a reef with them … the list really is endless!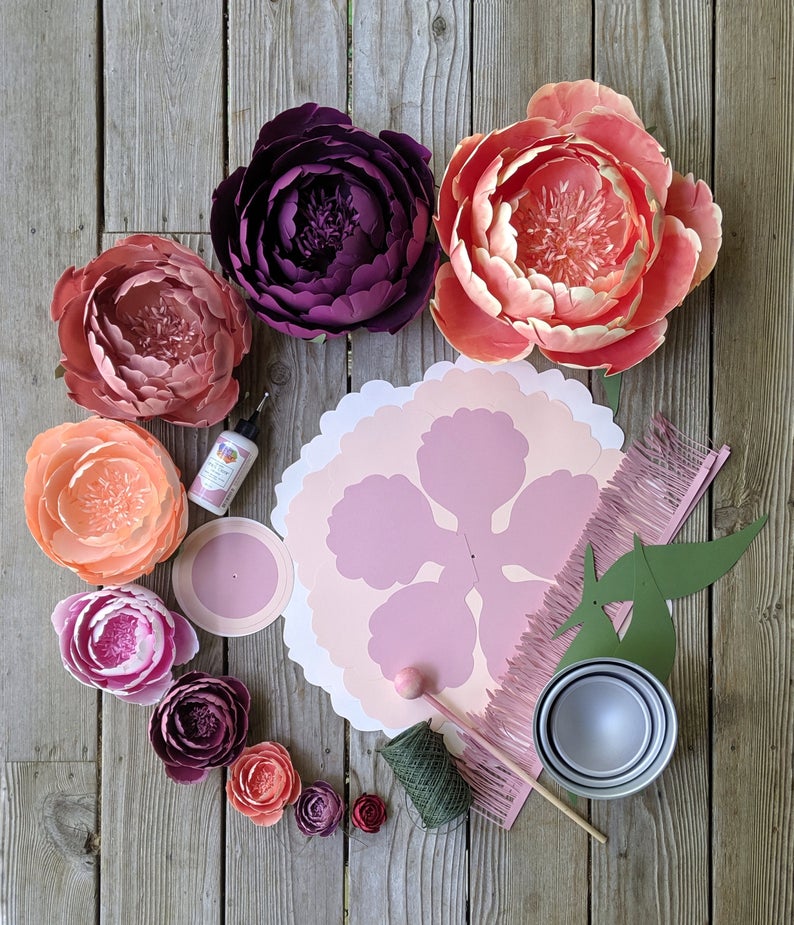 Beautiful paper flowers that you can make for weddings, parties, and home decor! The different colors and shapes make it easy to style and have fun with when it comes to creating what you want!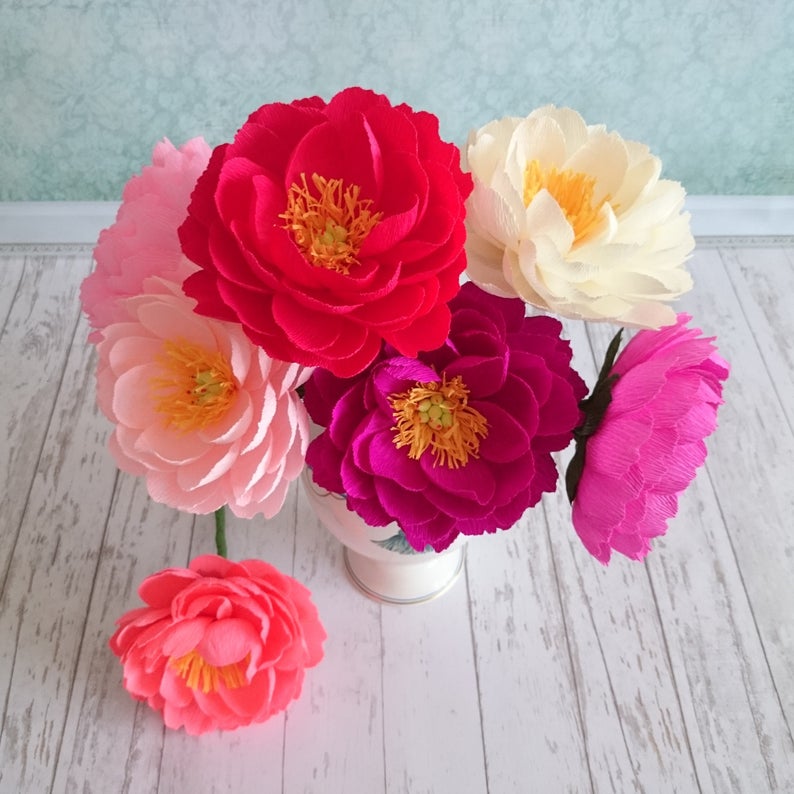 These paper Peonies are made out of crepe paper, which means these flowers are handmade! These paper flowers are made with love and care, and like in nature, no two flowers are the same!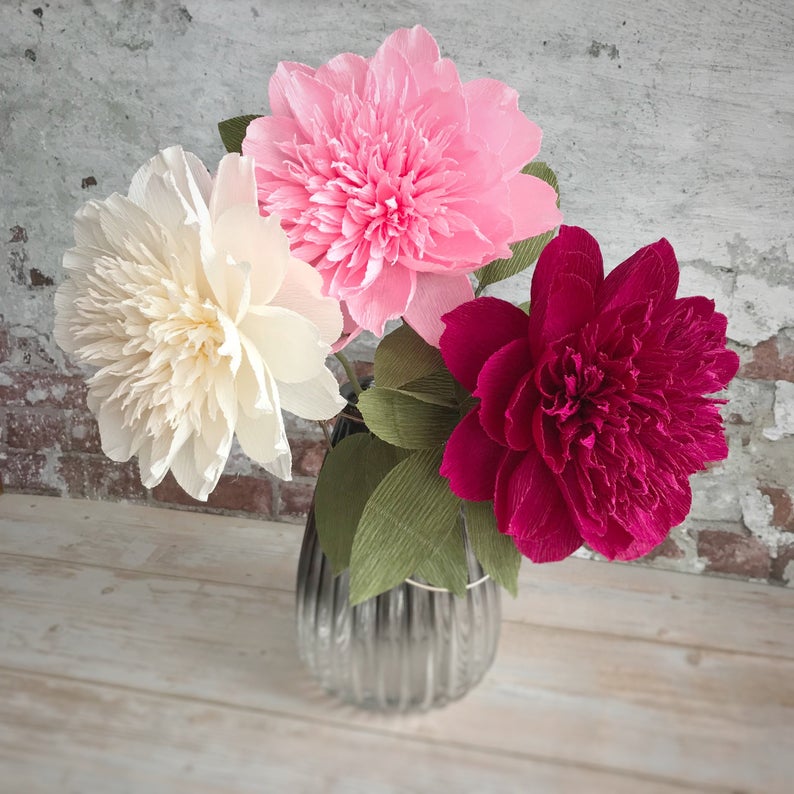 These are some beautiful handmade peonies that are made of high-quality Italian crepe paper! Peonies will be a great addition to your interior, a beautiful gift for any occasion, a cozy decoration for the nursery!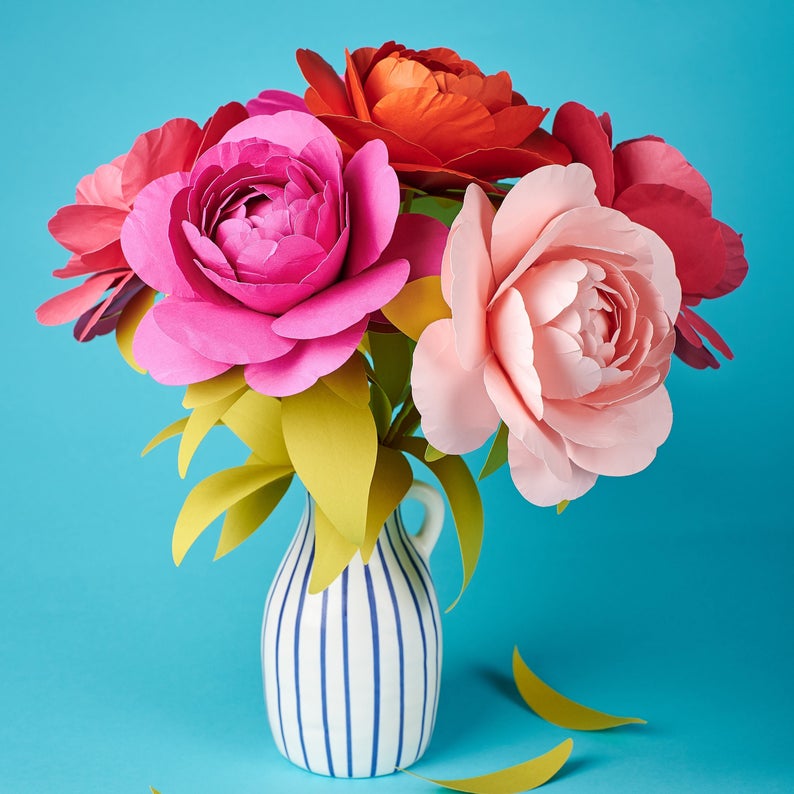 These peonies look so lifelike that it is hard to believe they are made of paper! They are perfect for wedding, party and home decoration, individually or assembled in a bouquet. And this is a great gift for your loved ones!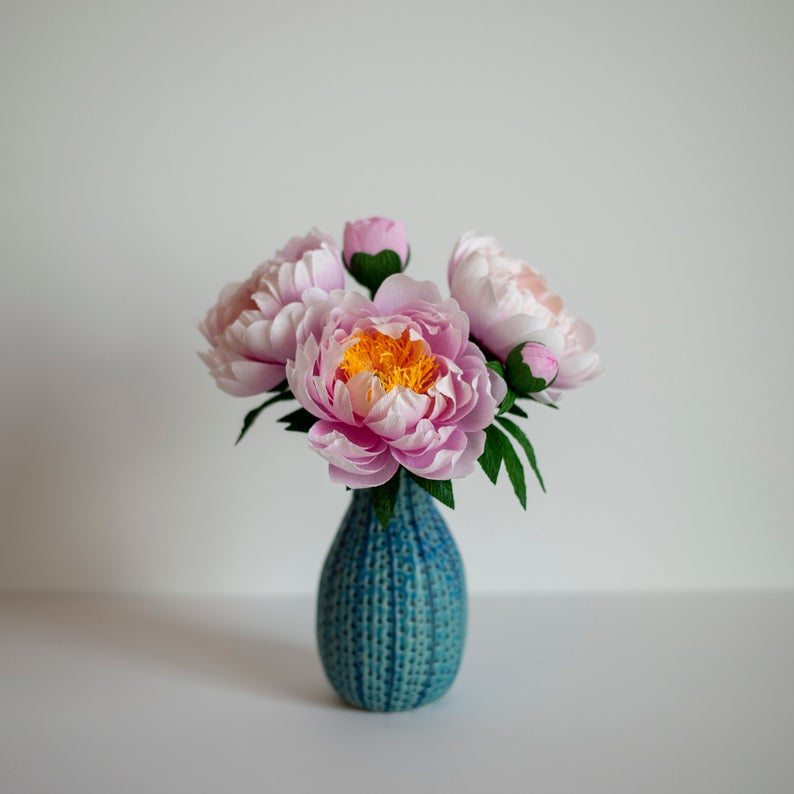 Fluffy peonies that are always in season made with premium Italian crepe paper! Whether purchased as a gift, as a home decor addition, or to be added to a fresh flower arrangement bouquet, these peonies will last forever1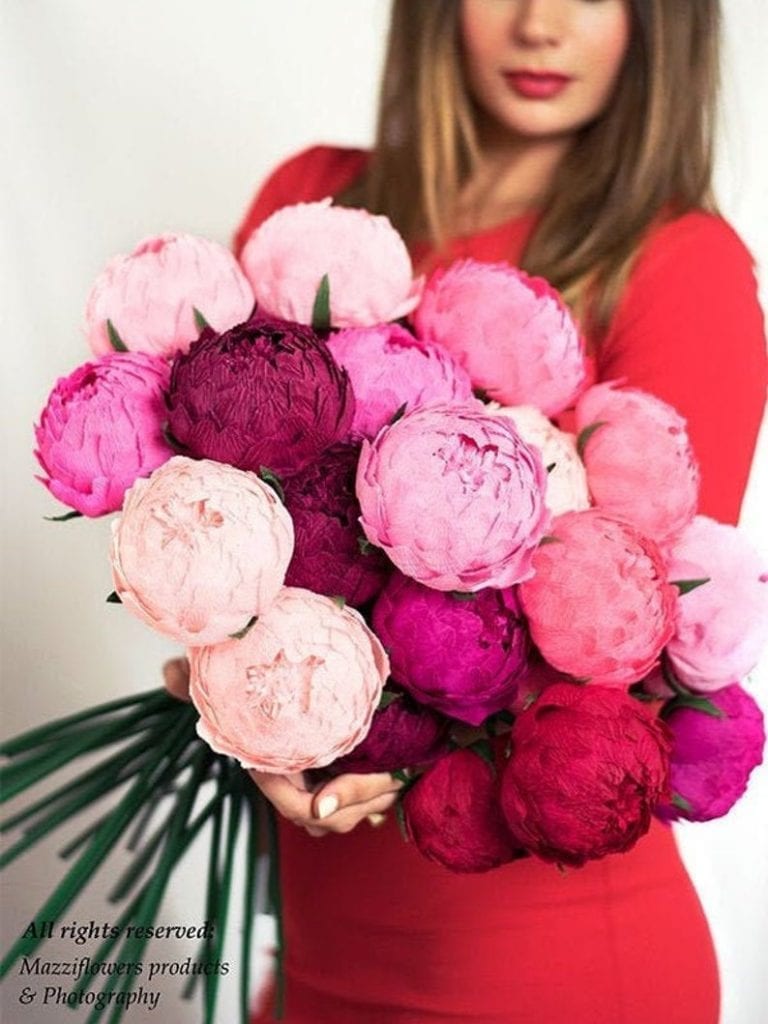 These are made of original and high-quality italian crepe, which creates a beautiful paper Peony, that will last forever and make you smile!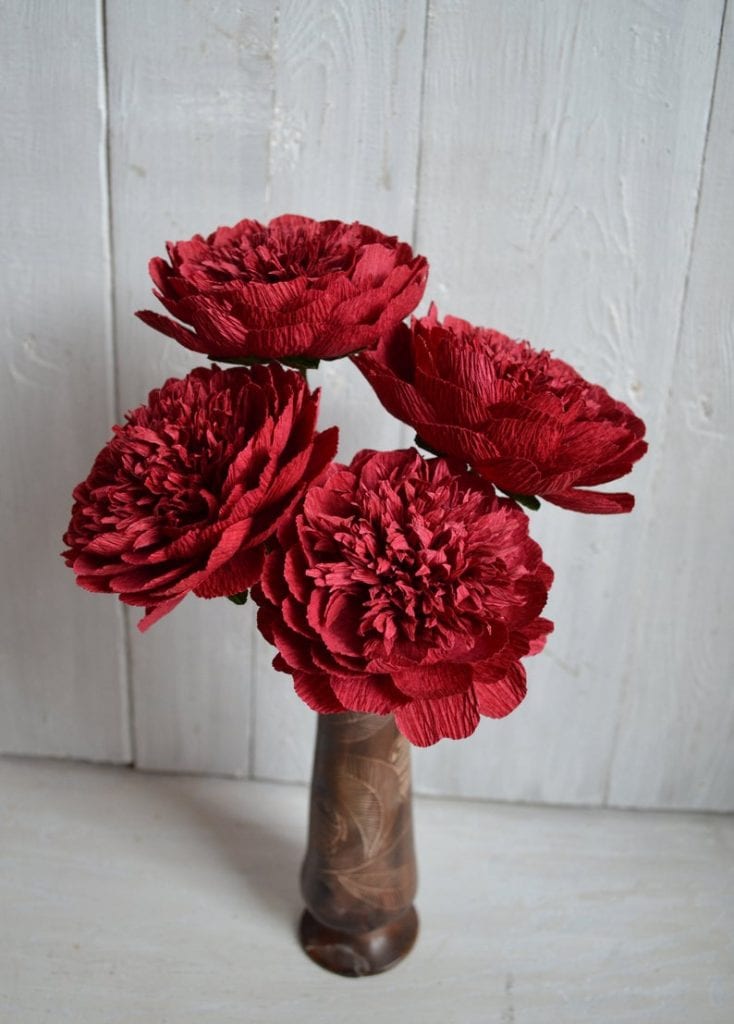 Each flower is collected on a metal wire, which allows you to give the flower any shape and bend! This bouquet will long stand in the most favorite place and delight you!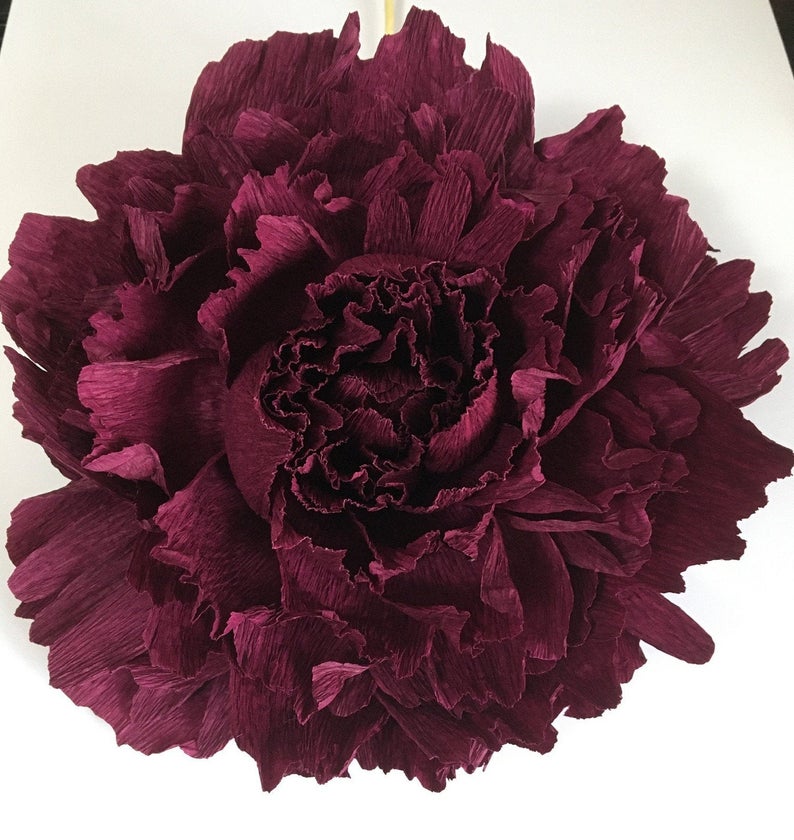 These crepe paper Peonies are so fun to make and the end product is so beautiful which makes for a lovely piece of decor in any room in the house!
If you love flowers, especially Peonies, then why not purchase these paper blooms? That way they will be able to last forever in the comfort of your home!
With this gorgeous collection of paper Peonies, you will be able to create beautiful bouquets and arrangements that will look amazing anywhere and for any occasion!
But if you like to make paper flowers, check out Lia Griffith flowers tutorials.
Cheers,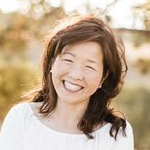 Latest posts by Janine Waite
(see all)