Inspired by Anthropologie's (Terrain) succulent decor, I designed this DIY Pumpkin Succulent Planter tutorial and arrangement for my fall table.
I love this fun combination of succulents and fall pumpkins. Plus, it's so lovely to decorate a pumpkin without having to do any carving. And this project is so easy to make, which is a good thing.
This fall, I'm venturing out to the shops a bit more. It's nice to see all the seasonal decor displays, and I guess I didn't realize how much shopping inspires my creativity.
Well, while visiting our local Terrain store (Anthropologie), I came across the coolest pumpkin succulent planter! The thing that I loved about it was that they placed the cutest little mouse figurine among the plants. And when I saw this pumpkin, I knew that I had to make one.
Another shopper was checking it out at the same time as me, and we both agreed that succulent pumpkins are super easy to make. So, I decided to save $300 and make it myself and share this DIY with you today.
DIY Pumpkin Succulent Planter
So for those of you wondering how this succulent pumpkin craze got started, here is a bit of information. It all began in San Diego, California, in 2010 when Laura Eubanks wanted to create something different with her pumpkin. And little did she know she invented a new fall trend!
Let's take a look at some questions you may have about this succulent project.
How long do succulent pumpkins last?
I made one last year, and it seems like it lasted a couple of months. So, mine was still going right up until Christmas. To be honest, the succulents looked fine, but some get stringy and tall. I did take them off and placed them in my garden.
How do I care for my pumpkin succulent?
Just spritz it with water once a week.
Do I need to cut my pumpkin?
According to Laura Eubanks, there is no need to cut the pumpkin on the top! In fact, carving the pumpkin introduces it to mold.
Where do I buy one already made?
I know some of you are super busy but would love this pumpkin succulent. Well, you're in luck, here is a link to some you can purchase.
Here's what you'll need for supplies:
1 large white pumpkin (Make sure you choose a pumpkin with a somewhat flat top)
1 white mini-pumpkin
succulents – I bought four medium-size succulents
1 bag of Spanish moss
1 bag (2 ounces) of white reindeer moss
dried flowers and branches – 1 bunch of plum phalaris, manzanita branches, spray millet
Instructions to make your pumpkin succulent:
Step 1 – Wash Pumpkin
The popular trend is to wash your pumpkins with bleach. So, use 1 tablespoon of bleach to one quart of water. I haven't done this, and maybe I should. I placed my pumpkin in the kitchen sink, and washed it with soap and water, and dried it thoroughly.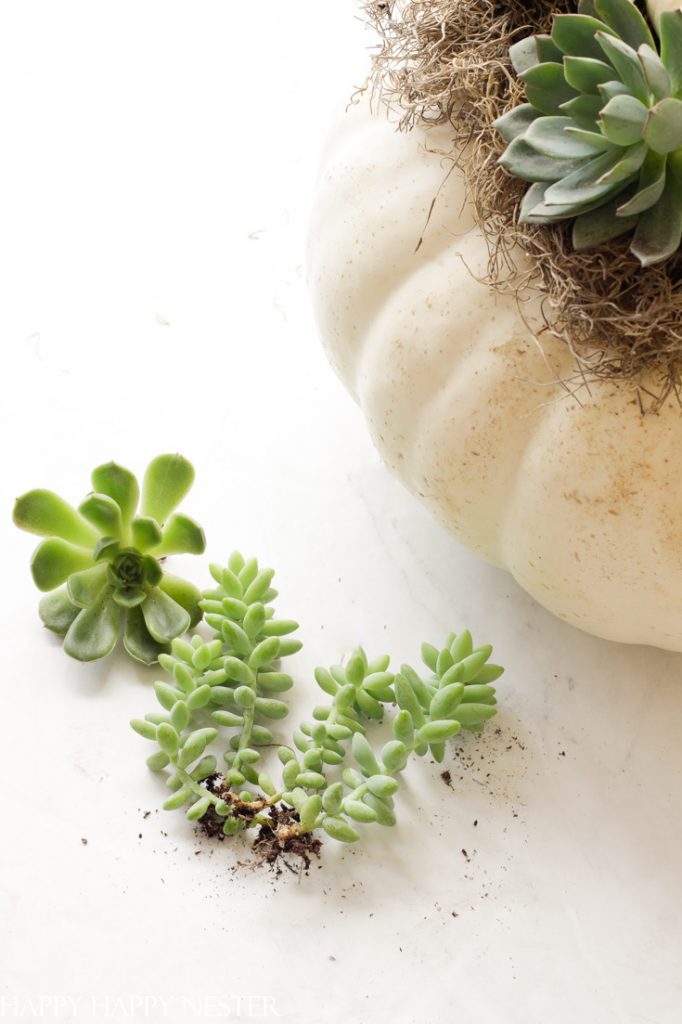 Step 2 – Prep Succulents
This part is hard for me since it requires you to take the plants out of their pots and trim their roots off. Yup, trim them as the above photo illustrates. Don't worry, and they'll be fine.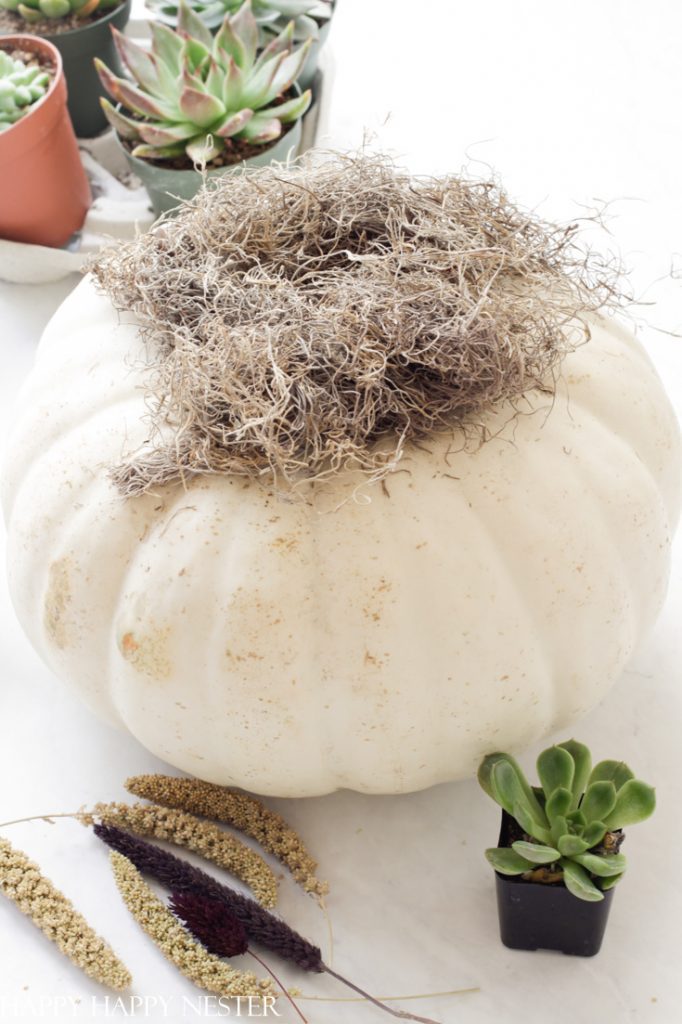 Step 3 – Attach the Moss
Cover the area you want to cover with moss and glue the whole area. Then quickly place your moss on top of the hot glue, and press the moss into place.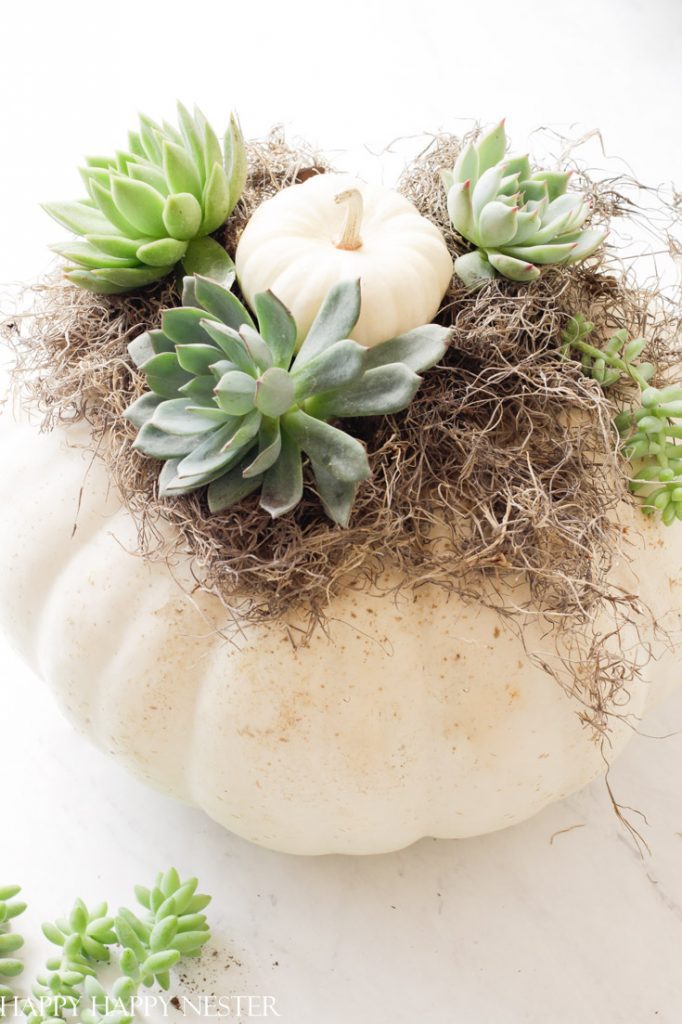 Step 4 – Place Succulents and Mini-Pumpkin
I forgot about my mini-pumpkin when filming my DIY video, so make sure to add it first. Then place your most oversized succulents around it. I just put my succulents in a circle since that was the most straightforward pattern. But you can be creative, and if you get a large succulent, maybe off-center it for drama.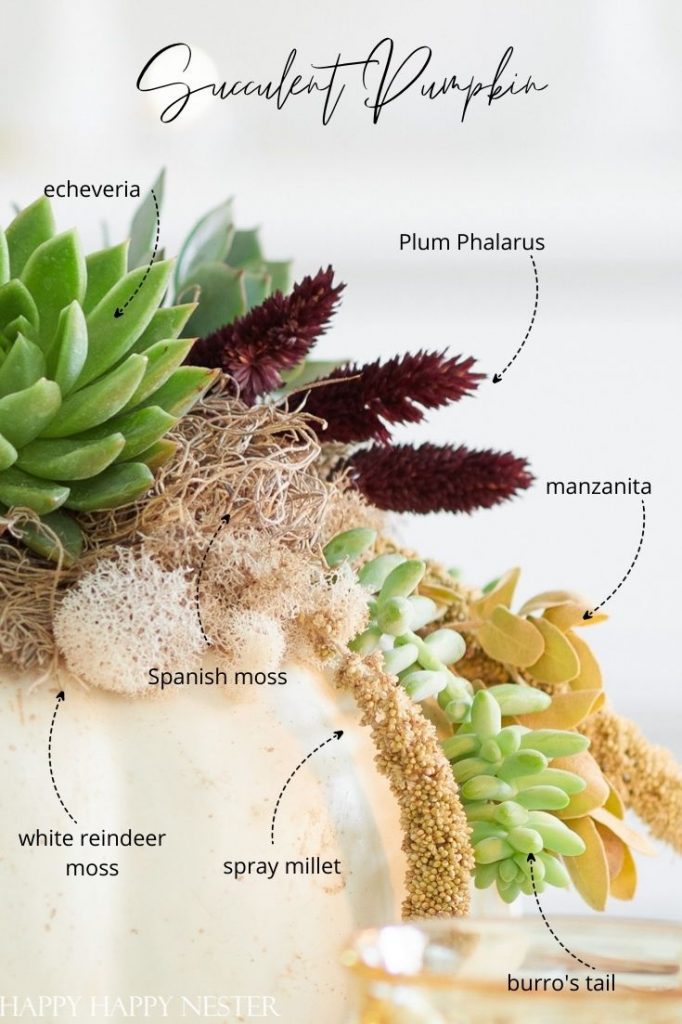 Step 5 – Add Accents
I picked a few manzanita branches from our neighborhood, and my Trader, Joe's flower bouquet, included some spray millet, and I bought the pretty reindeer moss and plum Phalaris from Terrain. But, seriously, add whatever dried flowers or greenery that you have on hand.
For a pretty look drape some greenery down the sides of the pumpkin.
Step 6 – Add a Cute Mouse
Terrain has these adorable witch mice, and I knew I had to buy one for this project. I always have to add something a bit whimsical to my projects. 🙂


More Pumpkin DIYs
10-minute Wood Pumpkin-Shaped Chalkboard Place Holders | Tater Tots and Jello
Get ready for fall entertaining by making these easy pumpkin-shaped wood chalkboard place markers! It's a 10-minute project that can be used all autumn long!
DIY Fall Pumpkin with Metal Leaf | My 100 Year Old Home
I love using metal leaf and this DIY Fall Pumpkin took less than thirty minutes to make. Join me to make some new fall pumpkin decor.
An Easy DIY Gift Idea: Pumpkin Spice Themed Gift Box | The DIY Mommy
For a quick and simple gift idea, make a beautiful pumpkin spice-themed gift box. It's a cute and creative DIY craft to make for a loved one this season, and you can customize it to make it extra special.
---
What a fun week! I thoroughly enjoy celebrating everything fall this time of year. It's so fun when the seasons' change and the decor and projects do too.
I hope you can hang out again for tomorrow's weekly Saturday Chitchat!
Cheers,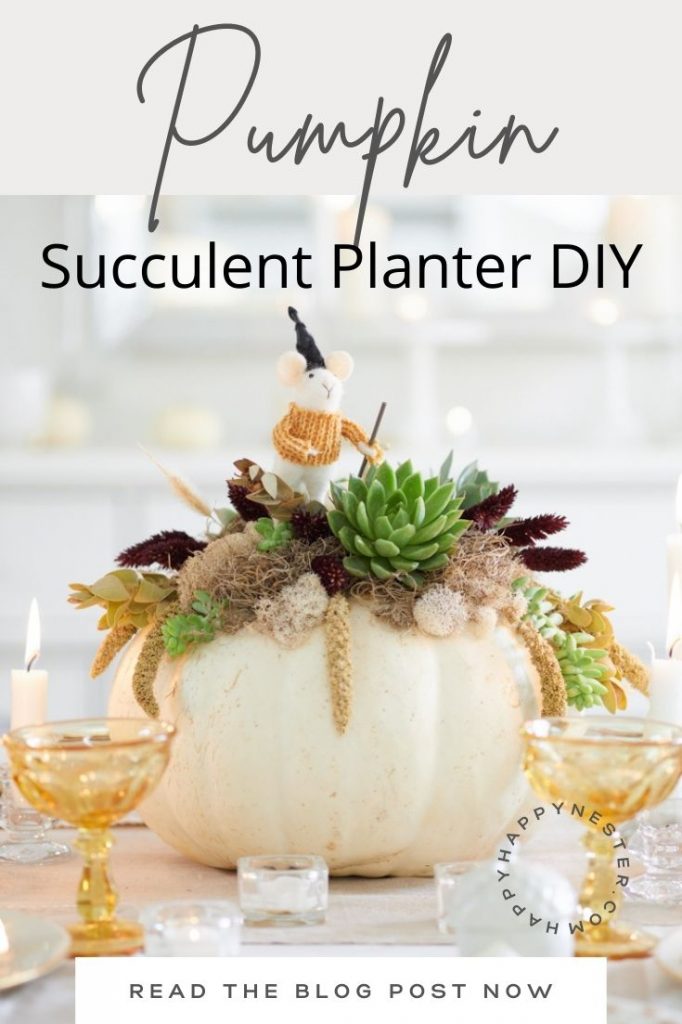 .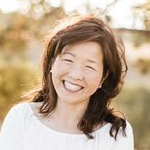 Latest posts by Janine Waite
(see all)