This Easy Apple Dumpling Dessert with Caramel Sauce is a sweet fall recipe that is crazy yummy. You all know that I'm a baking nut over here and my husband will admit that I'm getting better and better! Yes, he is eating all my desserts, and his shape is getting a bit bigger these days!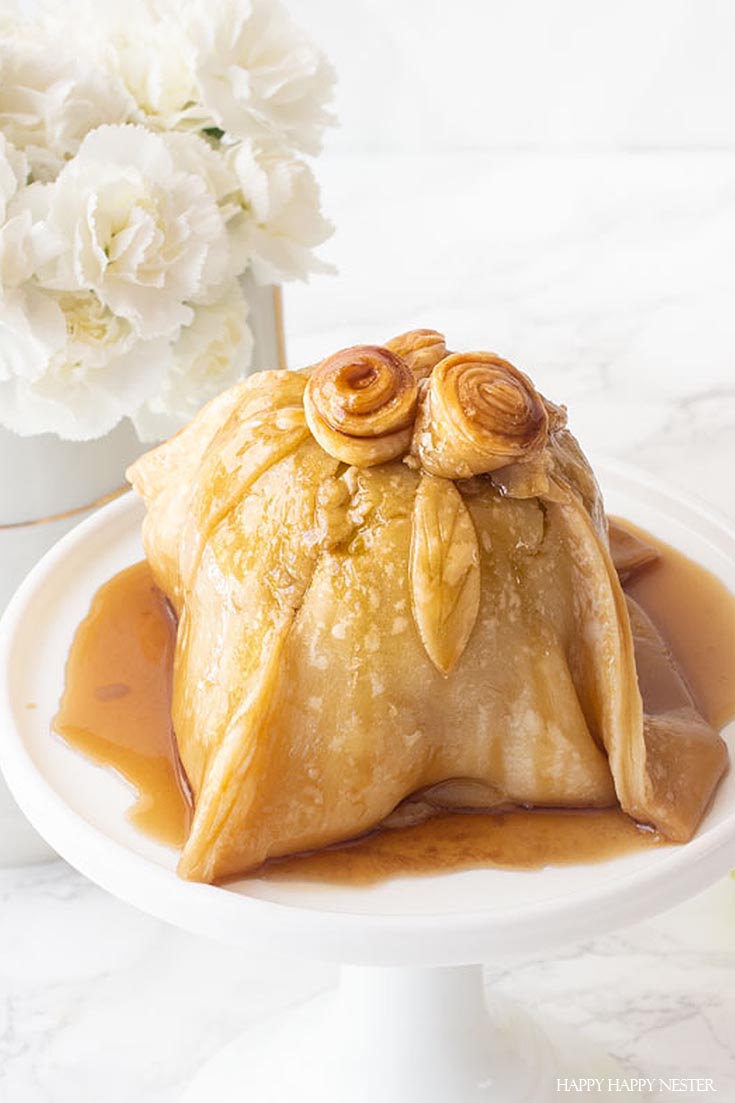 So, you are probably wondering what gave me the idea to make an apple dumpling. Are you familiar with an apple dumpling?
Well, before I dig into my apple quest, let me mention that I'm participating in an apple blog hop that Kristen from Ella Claire is hosting. You are in for a big treat with all these delicious favorite recipes of ours.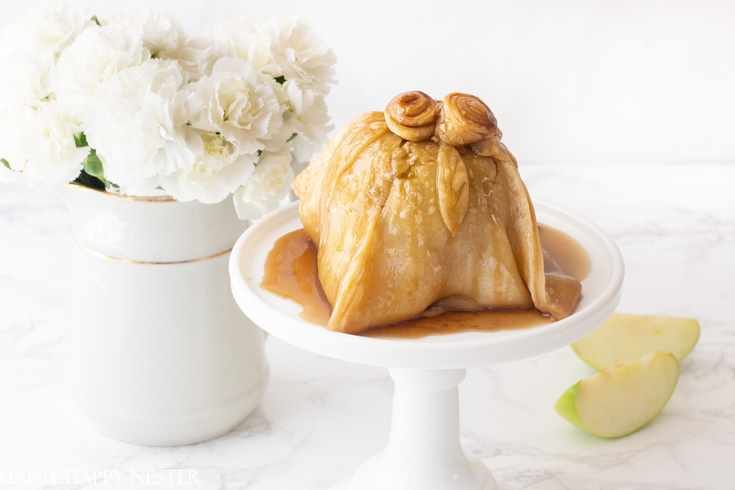 Well, as you know, I love apple recipes, like my Mini Apple Tart with Custard dessert, is so creamy and delicious. And lately, my apple dumpling obsession started back with my fun trip up north to Apple Hill. I took a trip up there one fall day with my friend Marci, and we were pleasantly surprised with this super quaint valley in Placerville California. It is this long winding road dotted with apple farms and Christmas tree farms. And like any fall festival, they have crafts stands, and apple stands with tons of delicious desserts.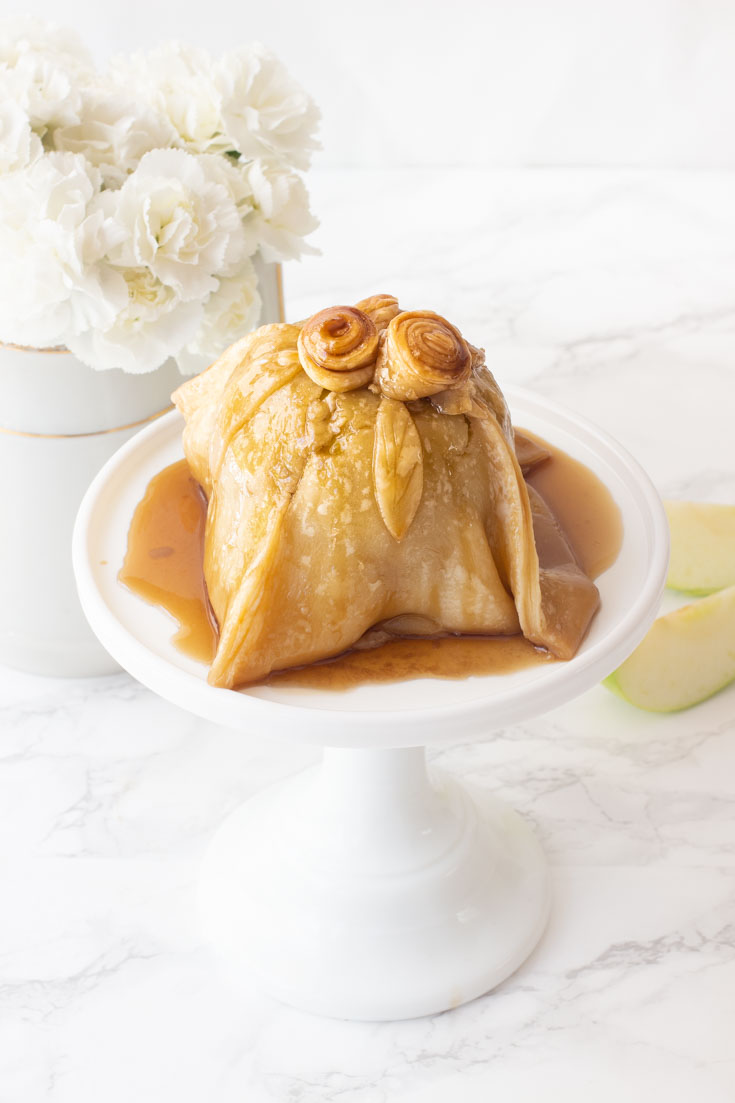 Well, after trying the apple fritters and apple doughnuts, we happened upon a place that sold apple dumplings. Well, the only exposure that I had to apple dumplings was in the old Disney movie with Tim Conway, so I was super curious what this dessert was all about.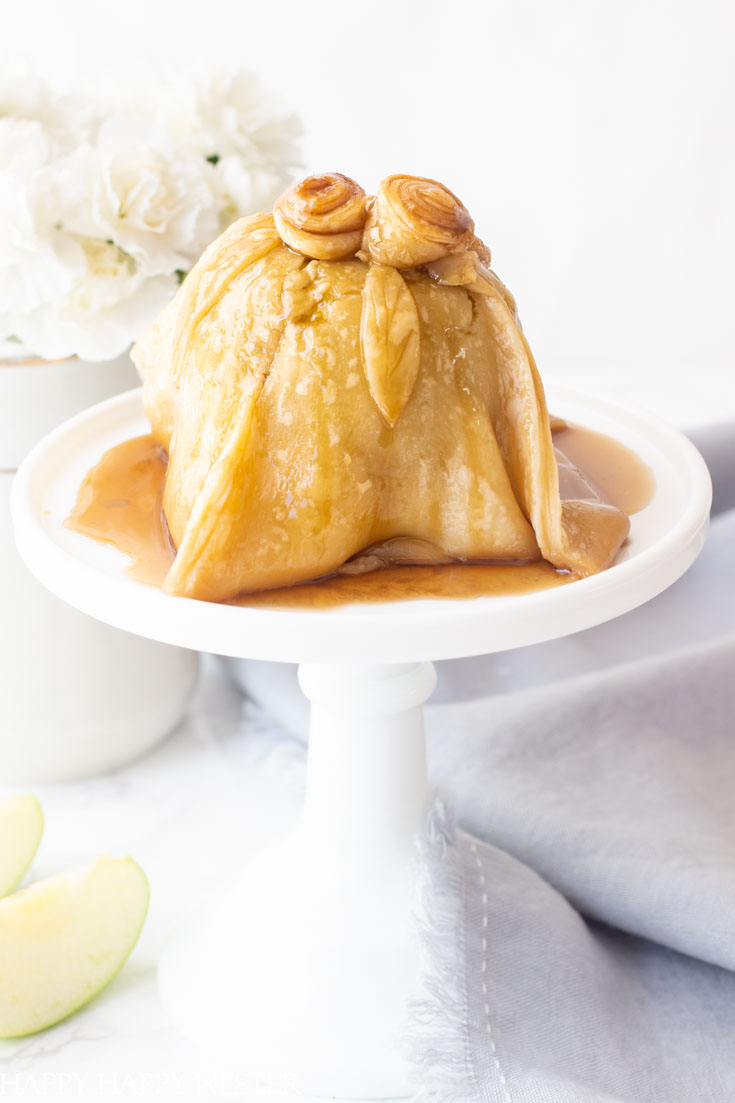 Once I got this golden treasure of an apple wrapped up in a flakey pie crust, it was love at first bite! I knew right then and there that I would try making it at home. So, this fall, I created this easy apple dumpling with caramel sauce recipe.
I just had to bake mine in a caramel sauce since I'm obsessed with sauces. It is the best topping, and it steams the apple when cooking.
Easy Apple Dumpling Dessert
This Easy Apple Dumpling Dessert with Caramel Sauce is so delicious. The apple has sugared nuts inside and is topped with a pastry dough and caramel sauce.
Ingredients
Syrup
1 1/2

cup

water

1 1/2

cup

brown sugar
Instructions
Preheat oven to 375 degrees
Apples
Place parchment on your countertop and sprinkle flour on top. Roll out one pie crust on the parchment paper. Make sure to roll it out to an 8" x 8" square. If you like you can cut your paper to an 8"x 8" square and use that as your template.

Cut an 8" x 8" square out with a knife and ruler.

Wash and core your apple.

Place cored apple in the middle of the square pastry dough.

Stuff the middle of the apple with the sugared walnuts.

Brush egg mixture along all the edges of the square.

Now take each corner and bring it up to the top of the apple. Make sure to pinch the seams of the dough, since this ensures there is no leaking while baking.

Place all four corners up to the top of the apple and top with a little pastry dough rosette and leaf. Please watch my video to view my demo of how to make them.
Syrup
Place brown sugar, and water in a medium-size saucepan and bring to a boil.

Once you boil the sugar, take off stove and pour in a glass baking pan.
Preparing the apples for baking
Place the covered apples in the glass baking pan.

Spoon sugar syrup onto the apples.

Place in the middle rack of the oven and bake for 45-50 minutes.

Watch the apples for the last ten minutes of baking. There is this point in which the apple bakes too much and it collapses into an apple sauce consistency. If you want it to be pretty, then pull them just before this happens. The collapse dumpling still tastes delicious but it isn't as pretty.
Nutrition
Serving:
4
servings
|
Calories:
414
kcal
|
Carbohydrates:
402
g
|
Protein:
7
g
|
Fat:
19
g
|
Saturated Fat:
2
g
A little history about Apple Dumplings
They are among the earliest of fruit puddings. A recipe of them first appeared in a cookbook back in 1747 by an English Cookbook writer, Hannah Glasse.
So, the first apple dumplings were boiled since many homes didn't have ovens. Once ovens started to appear in homes, they began to bake the apples in the oven. My husband was wondering why I didn't boil my dumpling, so now I know about the new version and how it came to be.
And little did I know that in 1870 they served an apple dumpling dinner in the Bethel A.M.E. Church in San Francisco! Also, did you know that apple dumplings were Thomas Edison's favorite food?
Here Are Some Amazing Apple Recipes From My Friends!
Apple Cinnamon Streusel Muffins by Ella Claire & Co. | Puff Pastry Apple Strudel by Inspired by Charm | Apple Crumb Pie Bars by Tidy Mom | Stovetop Applesauce by Tidbits | Apple Cheesecake Tart by Rooms for Rent
Gluten/Dairy Free Apple Crisp by Zevy Joy | Apple Pie Chocolate Chip Cookies by Anderson + Grant | Easy Apple Dumpling Dessert by Happy Happy Nester | Gluten Free Apple Fritters by Home Made Lovely | Sheet Pan Apple Crumble by My Sweet Savannah
Salted Caramel Apple Tart by Shabby Fu Fu | Cinnamon Apple Bread by Julie Blanner | Apple & Blackberry Topped Waffles by French Country Cottage | Sugar Free Apple Butter by Farmhouse on Boone | Puff Pastry Apple Pie by Jenna Kate at Home
Apple Walnut Bread by On Sutton Place | Apple Cake with Homemade Caramel Sauce by Town and Country Living | Mini Apple Pies by My 100 Year Old Home | Apple Scones by Boxwood Avenue
Well, I've been baking all summer, and you can check out my Blueberry Buckle or my Almond Custard Ice Cream recipe. My husband has given both these recipes a double thumbs-up, so make sure to take a look at these yummy recipes.
Thanks for visiting this magnificent tour and I'm so happy to share my easy apple dumpling dessert.
Cheers,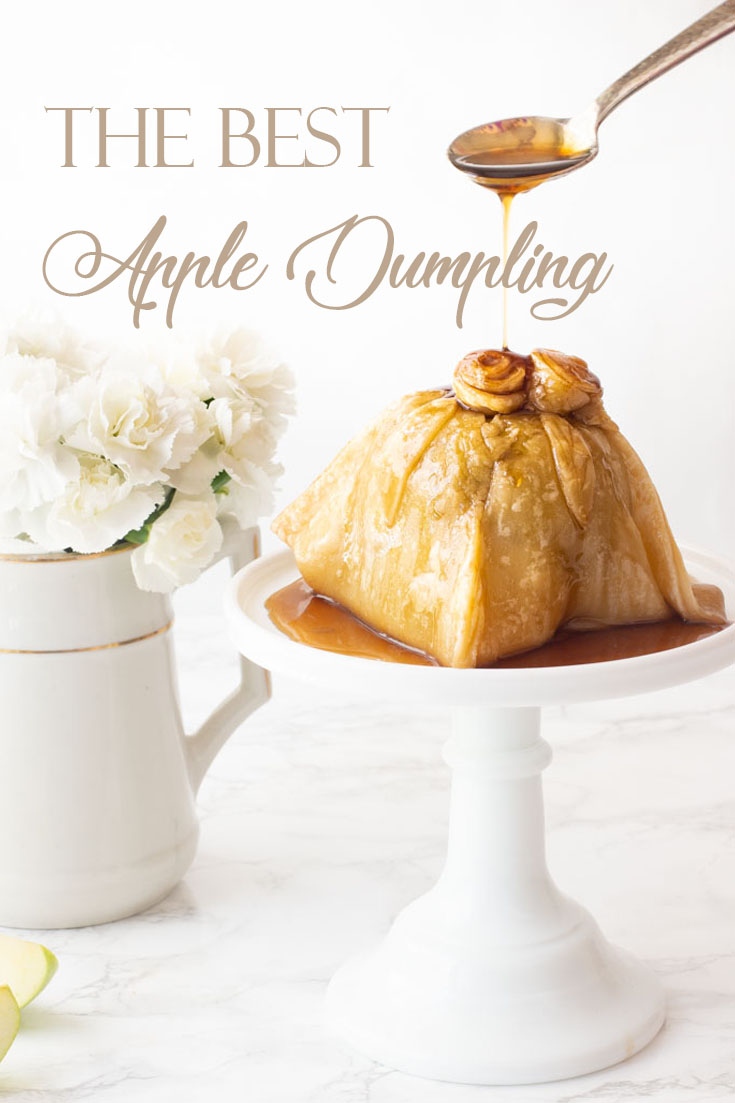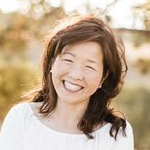 Latest posts by Janine Waite
(see all)