My New Style
Happy Introductions
I'm tickled pink right now and eager to share with you, my latest living room design for 2017.
But, first, if you are joining me from Amy, Crazy Chic Design, welcome. So, did Amy knock your socks off with her fabulous living room design ideas? She always surprises me with how easily she creates such a new look in her home.
A big "hello" to everyone else who is visiting me for the first time. As you all know, today is the 15th of January and I have collaborated with six of my talented friends. We are sharing our fresh and restyled living rooms designs. (If you missed last month's blog post, you might want to see my holiday tablescape.)
So make sure you are comfy, sit back and let's chat for a spell.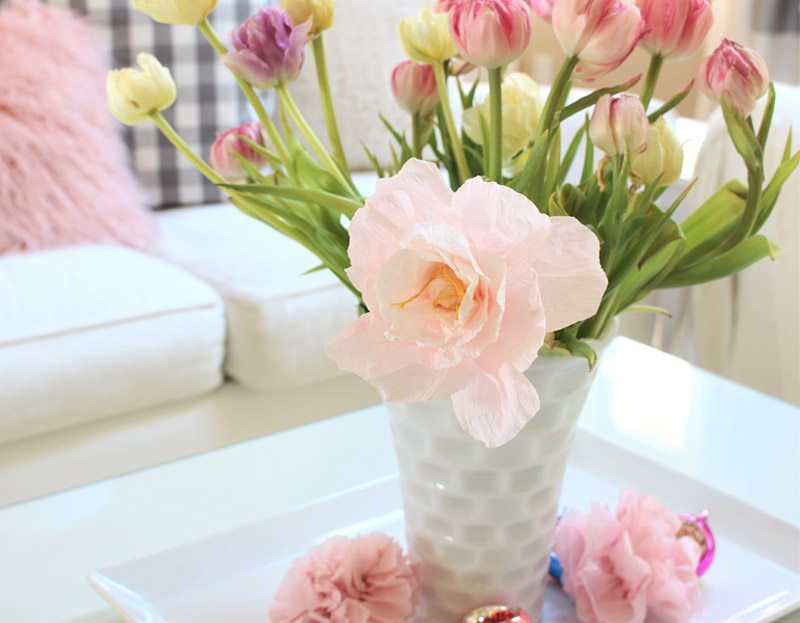 Note about the Nester
Since we are talking about the color pink today, I'd like to tell you this funny story. So, after I was born, I came home from the hospital swaddled in all blue baby clothes. My poor mom decided that she was destined to have another son. Well, my parents finally broke the odds on their fifth try, and I am the only girl with four older brothers!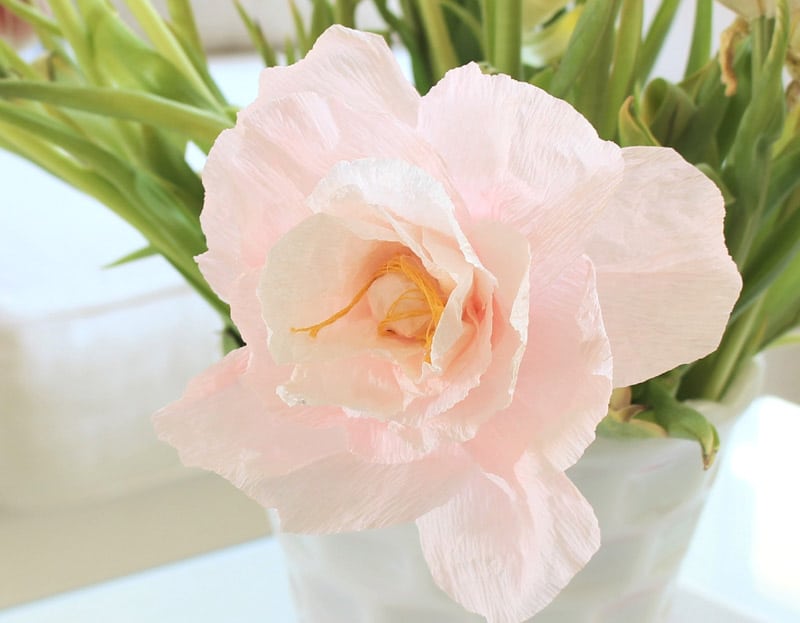 Starting last October through December, I was super busy with all my blogging shenanigans. So, after I packed up my holiday decor and stashed away our many boxes in our garage, I must admit I didn't have a clue or the energy to begin styling our living room.
Eventually, it dawned on me that Spring and Valentine's Day are peeking around the corner. So, I decided that the marriage of these two ideas would be the perfect theme for my January living room design style.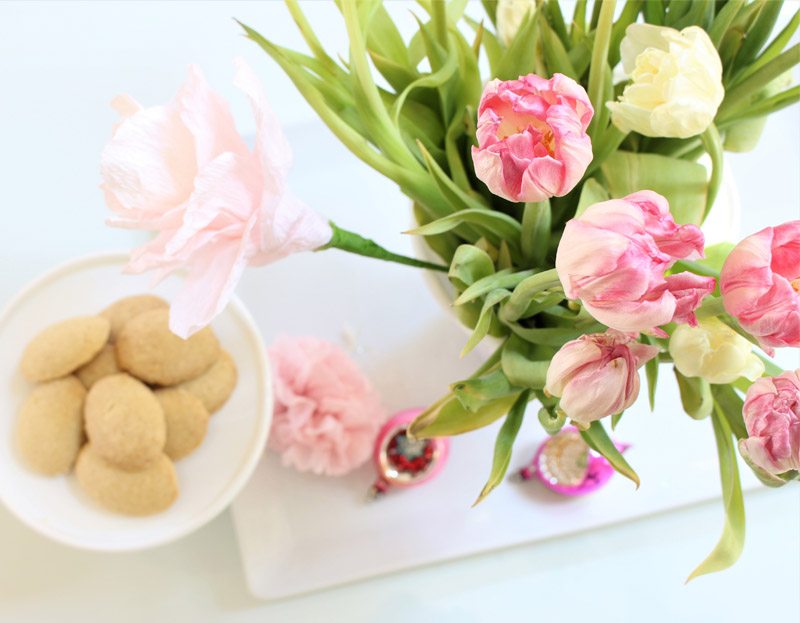 My Funny Valentine's Day Story
But, speaking of Valentine's Day, do you ever reminisce about past holidays?
Do you find they all blend together or does one possibly stand out in your memory?
There is one Valentine's Day that my husband and I vividly remember every year like it happened just yesterday!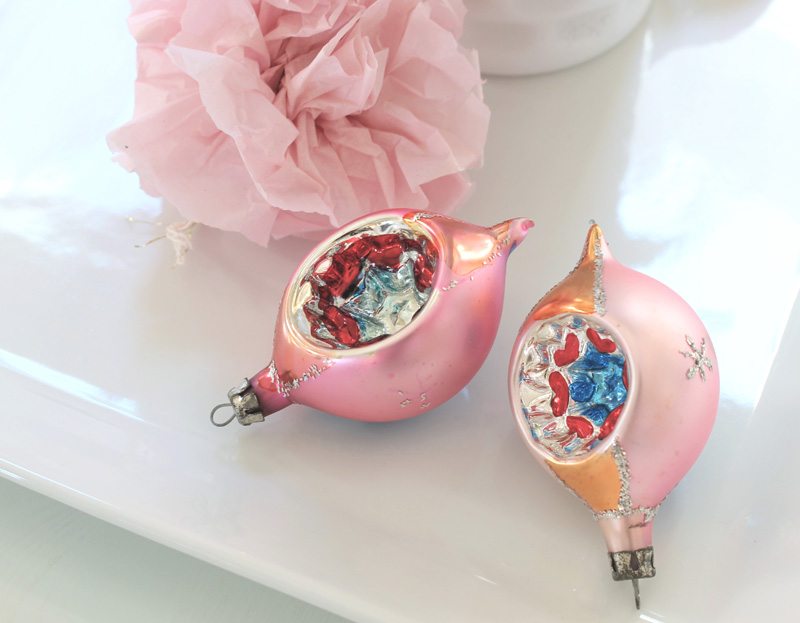 We were young, and I think we were engaged to be married. My husband was working in the film industry and working long hours.
Huh, things haven't changed much.
Anywho, let's just say he was a bit tired and scattered.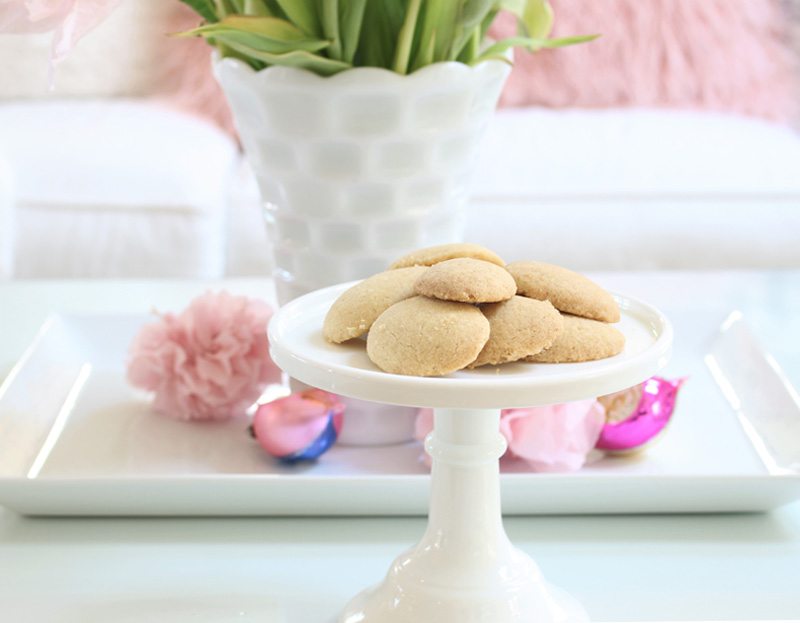 So, being the hopeless romantic, I planned a quintessential dinner with presents and the whole shebang. Ok, he showed up at my apartment, excited to enjoy my home cooked meal. I eventually noticed he was missing a gift and the standard flowers. Well, he blissfully enjoyed his dinner and he still had no idea that it was Valentine's Day!
Hmm… I finally handed him his present, and he was a bit surprised, and he asked quizzically, "What's this present for?"
Let's just say, I was patient up to this point.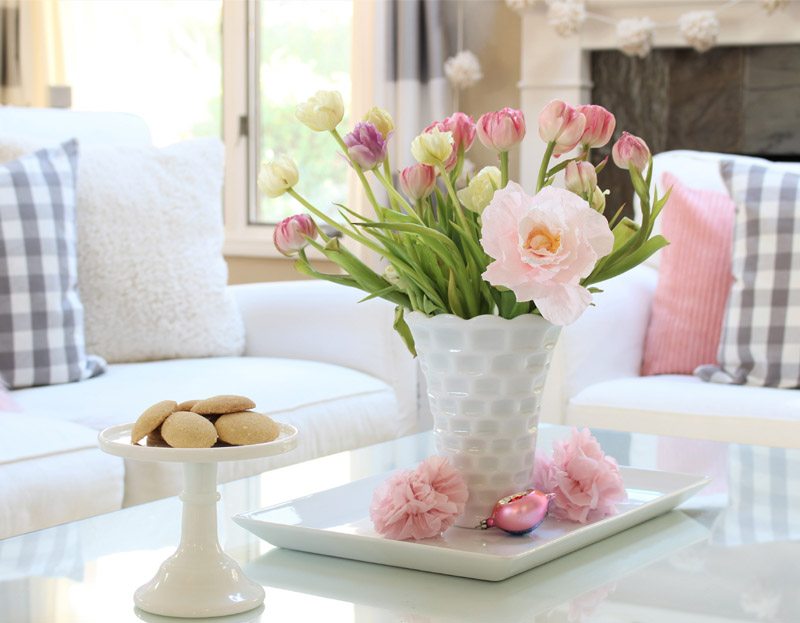 Long story short, I realized that he is a guy who I have to remind him about every holiday! Yes, I don't beat around the bush, I don't drop subtle hints, I prep him for the various celebrations.
Here's the deal. I start a month ahead of time and then as we get closer, I mention the date more frequently the days leading up to Valentine's Day.
My motto, "Why be subtle and eventually angry?"
Men can't read our minds. Not sure they are born with the holiday memory gene.
After many long years of marriage, my hubs still doesn't know my birthdate. When filling out our insurance forms, he is always asking me, "Wait, I know your birthday is in May, ok which day?"
Hello, I know his birthday, social security number, his parent's birthdays and much more.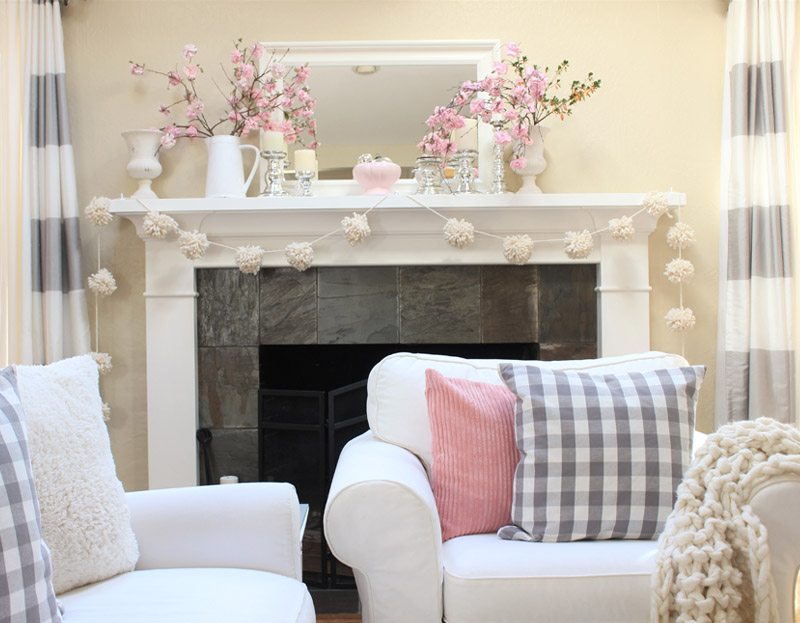 Well, our differences are what makes us a unique pair. And we always laugh about our first Valentine's Day's date.
My Valentine's Day and Spring Living Room Design
Shop This Post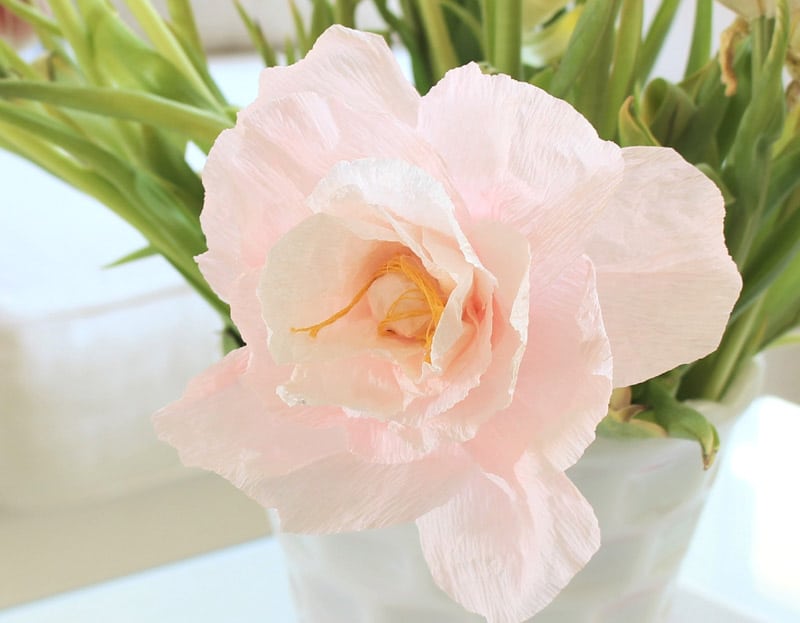 I made this pale pink peony flower from Italian Crepe paper. I promise to write a future blog post on this DIY craft. If you would like to see another of my paper projects, here is the link to my book pages Paper Garland post.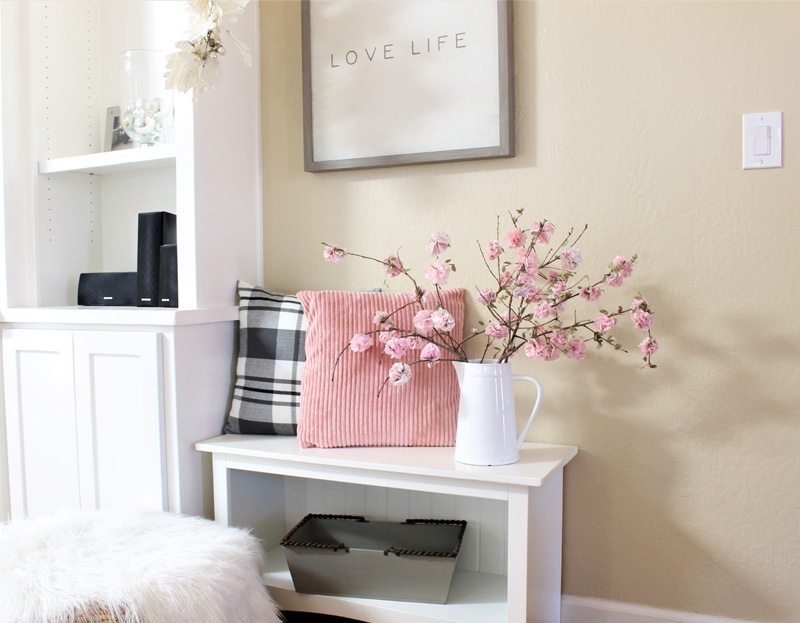 These cherry blossom branches are a fun tissue paper project. Did I fool you, with my faux paper flowers?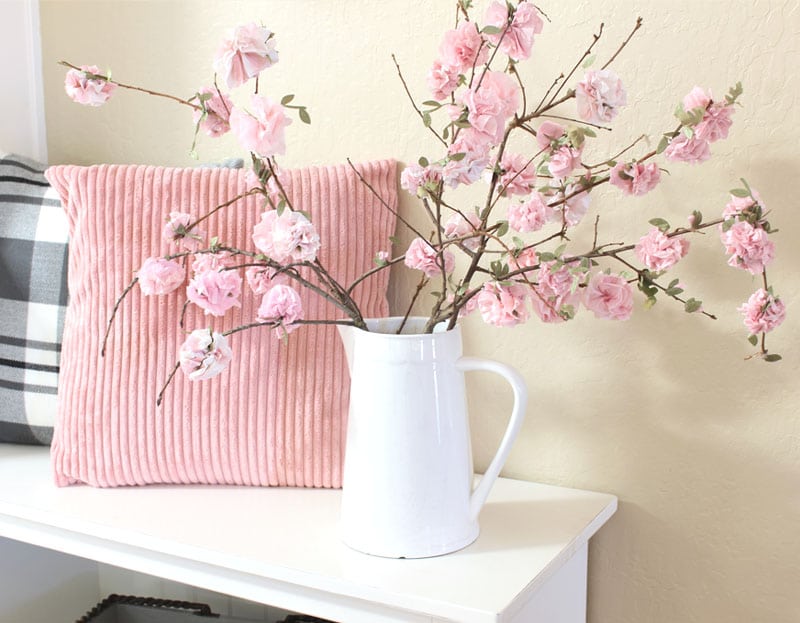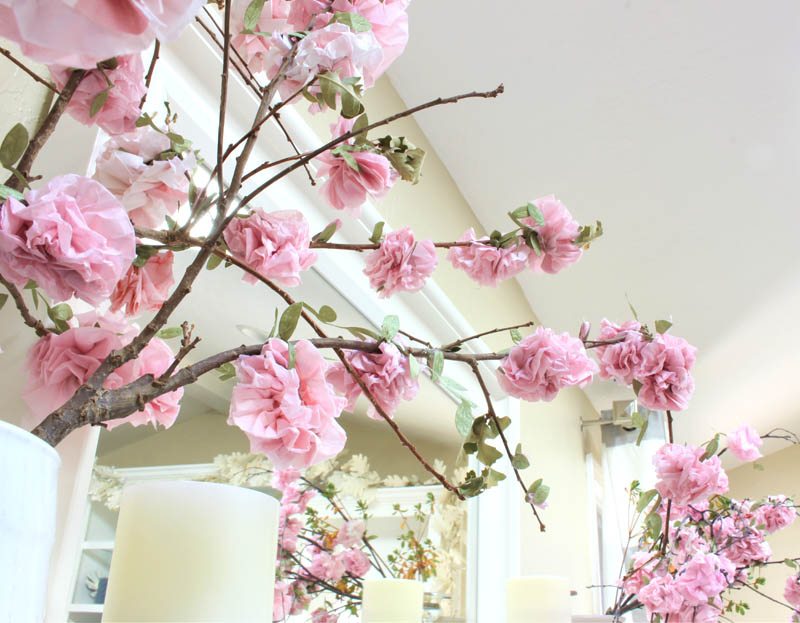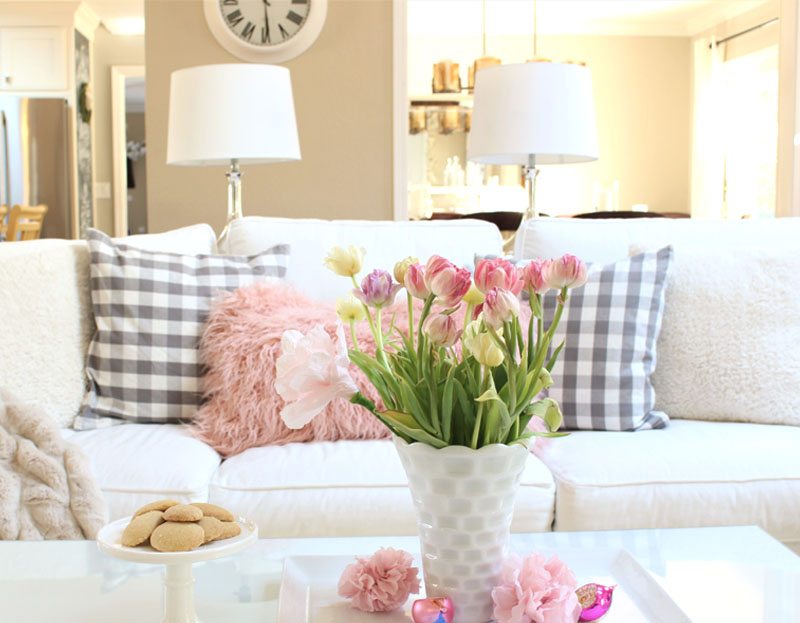 I recently dusted off my sewing machine and made this fun pink faux fur pillow. The playful fabric reminds me so much of our Old English Sheepdog. So, in memory of her, I named this pillow, Mollie.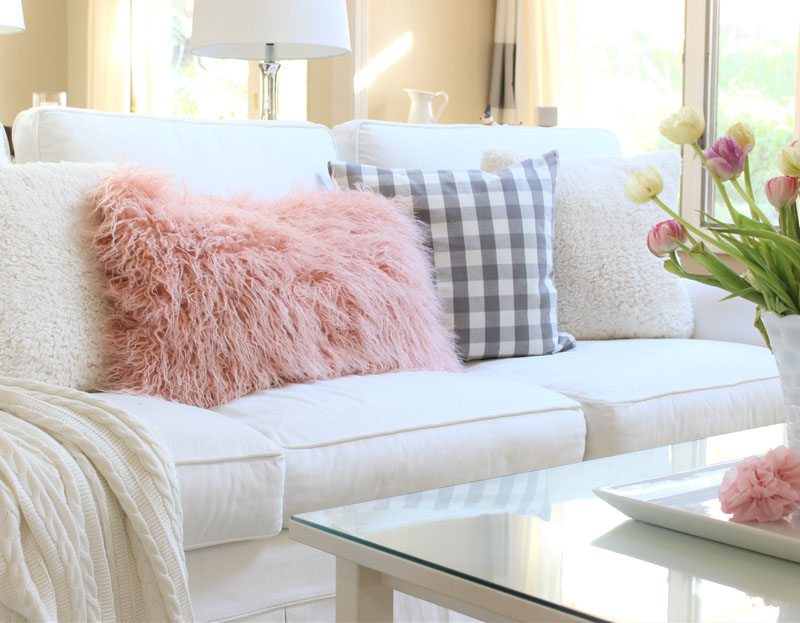 Well, my New Year's wish is that you enjoyed my living room design and hope that you have a lovely Valentine's Day. I'm certain I'll receive an artsy handmade card and some beautiful roses, and that makes me a happy camper!
So, the next home tour on the list comes from my dear friends, Jodie and Julie from The Design Twins. They are such a dynamo blogging team who create great posts with fresh ideas. And I'm quite certain you'll love these two darling friends of mine.
Cheers,

Please visit the other blogs
on the tour!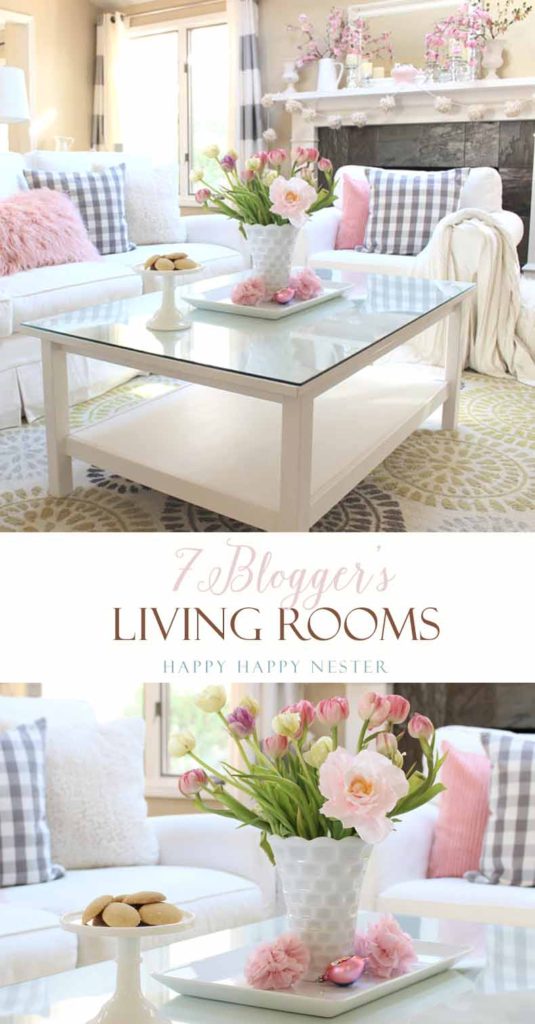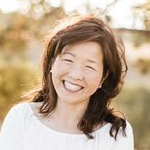 Latest posts by Janine Waite
(see all)