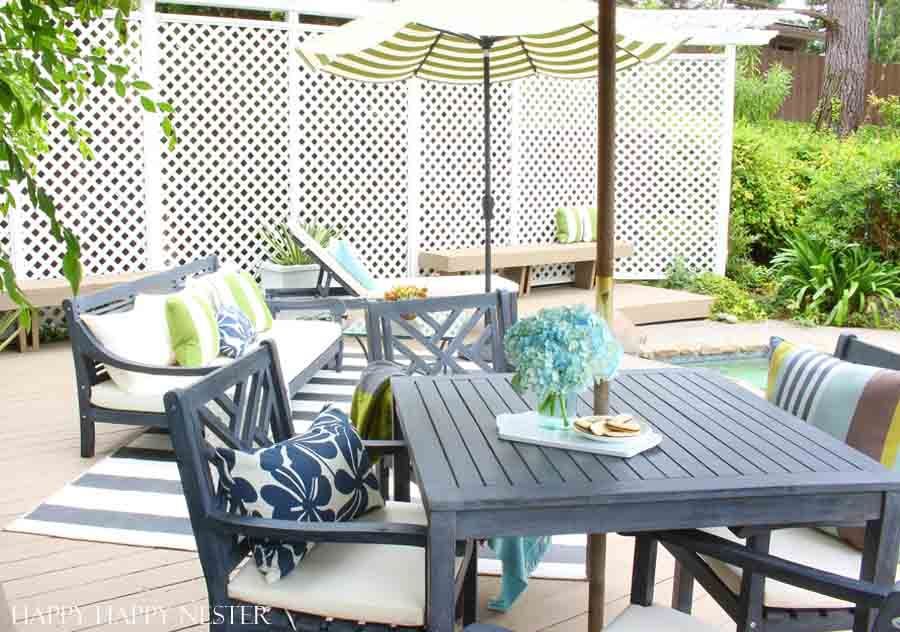 Our Summer Deck Remodel
Dreaming of a deck remodel? Last summer I decided that our deck needed a fresh coat of stain. It had been like seven years since it was it was last painted, and the harsh California sunshine were taking a toll on it. I had a painter give me an estimate, but as predicted the job was going to be somewhere in the ballpark of $4,000. So, I took matters into my own hands and began scheming how we could paint it ourselves, I'm sure my family wanted to run far, far away when I started planning my painting project. I do have a reputation of painting everything in our home.
A Note About the Nester
During the summer months, we mostly hang outside in our yard. On the weekends my husband will eat every meal out on our lanai and rarely can you find him in our home!

I found a wonderful opaque stain made by
Cabot
that looks like paint, and this meant that I could choose a solid color, and the choices were more like a paint option. Of course, this is like many of my painting projects, and I tested out three different colors before choosing the white. Originally, I wanted to paint it white, but since it is a big deck I was worried that it might be too bright. Now, here is the thing about any painting project, it is a process and the key to success is not to panic! It is a huge project, and you want to get it right you need to give yourself time to find the right look. I had a peanut gallery of three who critiqued every stain color I tried, and of course, I had to ignore their little comments!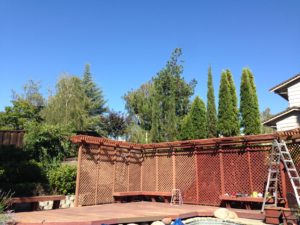 For this deck remodel, I wanted the deck to match our other white patio, and I always felt that the red stain (to the right) that the previous homeowners installed just didn't go with anything else in the yard.
I must let you in on a little secret, I had painted a good portion of the deck the color to the left, and then decided to change to white, I got a lot of grief from some family members. After much deliberation, I took the plunge and stained the upper section white, and I love it.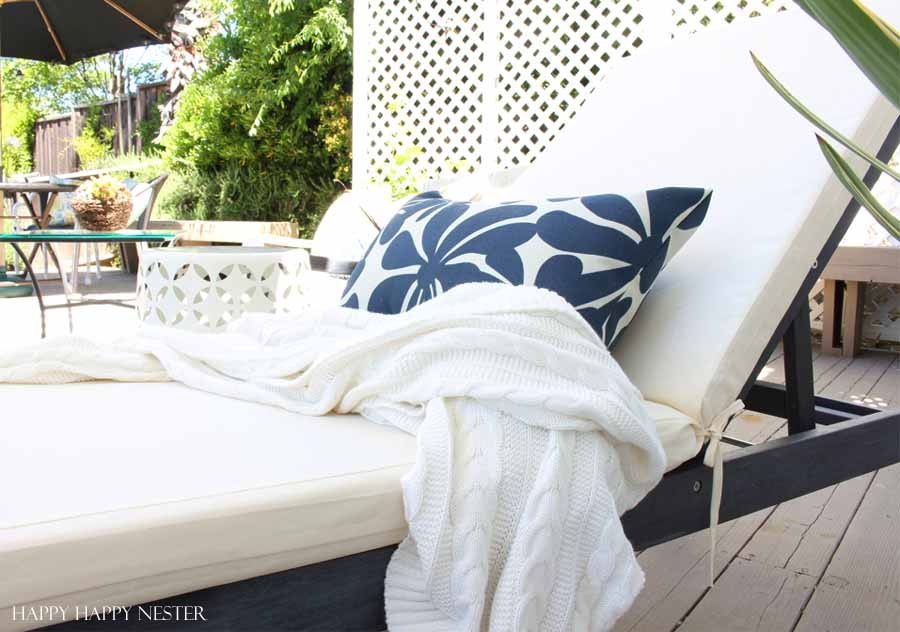 The white on the deck and patio now compliment each other and it also, ties in nicely with the house trim. The white was a tiny bit overwhelming, but once I placed the furniture and umbrellas on it,  it became a beautiful background for our outdoor furniture. Somehow I lost all the photos of the kiddos painting, and now I think they may have deleted them. It is funny how their personalities came out on this project, and my daughter was covered in white for most of the summer since this project did span over a couple of weeks of painting. My son barely got any paint on his hands or body, and I'm sure he now loathes painting projects.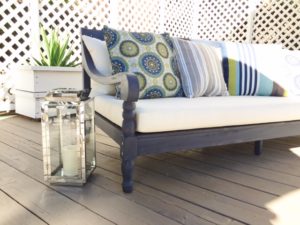 Our deck remodel was on my mind all winter and spring, so when this summer arrived, I was super excited to start decorating the deck. All our efforts paid off, and now the fun was about to begin. I'm enjoying our new outdoor sofa from Safavieh. The fabric is almost a washable texture, which is easy to clean, the only thing I read is not to put it in the dryer since it will shrink. I love that it is a deep outdoor sofa that doubles as a bed, which so far both my daughter and my husband enjoy lying on while reading a summer book. I love the style, lines, and color of this couch and it kind of set the stage and look of our deck.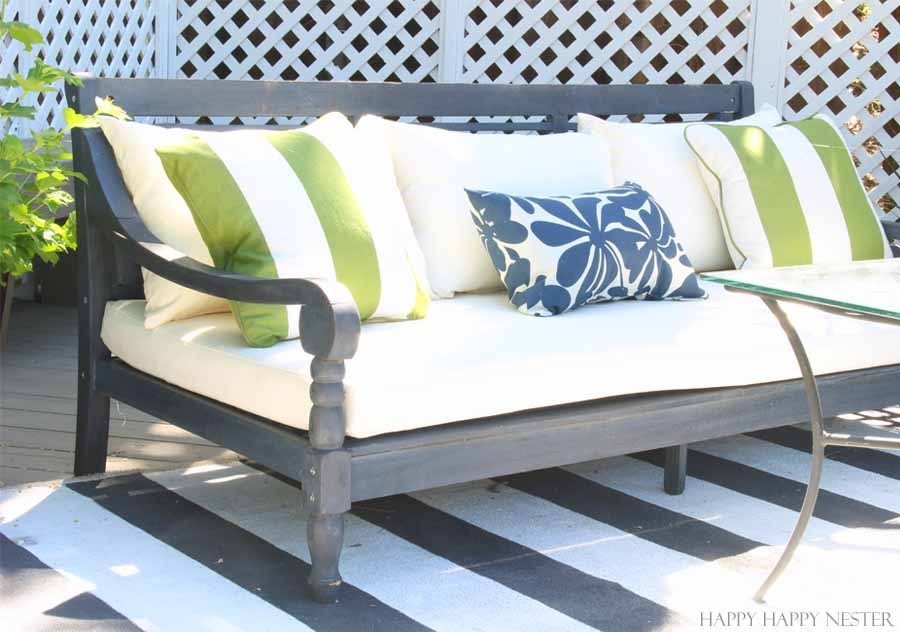 Our rug is an old outdoor rug from Target that lost all its fuzziness. A couple of months ago, I decided to try covering it with acrylic paint. It was a hard project since the rug is huge which means I had to use lots of paint and lots of time. I'm pretty happy with the results, and I still have one more rug to tackle. I hope to get a blog post out on that project, but if you are inspired choose a small rug instead of one that is gigantic like mine, not sure what I was thinking tackling such a big project.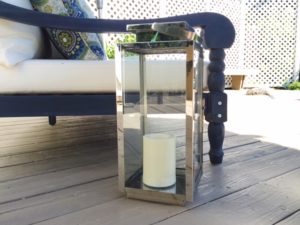 I added some fun twinkle lights and lanterns, and we sometimes like to turn them on when we relax in our Jacuzzi, it just makes the evening so lovely.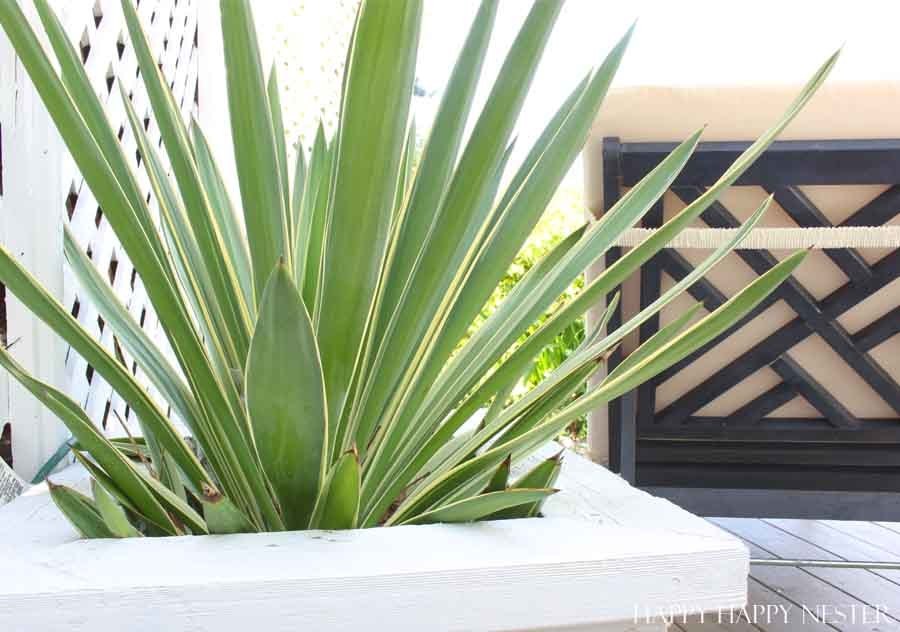 We also braved placing some drought-resistant plants in the wooden planters, this is our first time putting plants up on this super hot deck. I found that the cute Boxwood bushes need small amounts of water. The nursery guy said to only water it once a week, so we now have drip irrigation watering it a tiny bit. So far, we haven't killed the plants, and we have had them for about two months.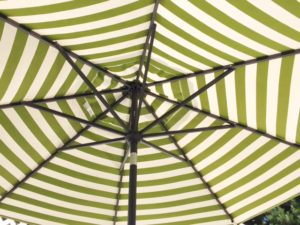 Here is the post about our Umbrellas: Sunbrella Umbrellas
I'm so happy how our deck remodel turned out. It is surprising how with some stain and a little bit of decorating can transform your area into a lovely outdoor room.
Cheers,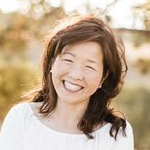 Latest posts by Janine Waite
(see all)