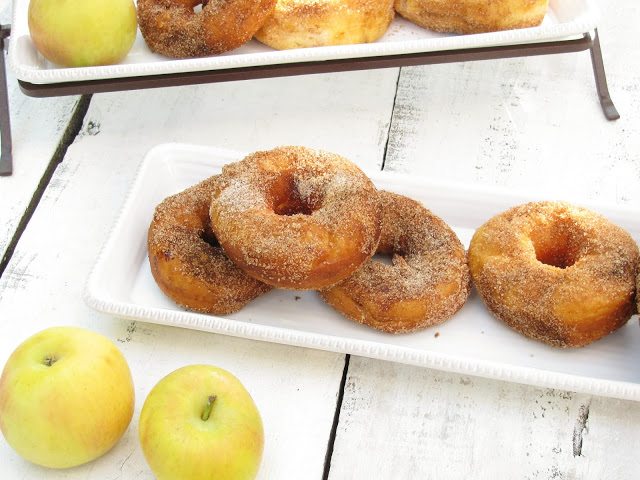 Easy Doughnuts
Who doesn't love a yummy sugary doughnut? I must let you in on a secret, I've never made doughnuts! So, when Marci told me about these seriously easy doughnuts that she made, I immediately thought we needed to share them with you! If you are like me, your days are pretty busy with family and kids, so finding a short cut that saves time and fun is always a good thing in my world.
~ A Note About the Nester ~
I'm always counting my daily caloric intake, so I must let you in on a secret!
I like the donut holes better than the whole donut. :o)
Although I have never made doughnuts, I have fond memories of them in my childhood. I grew up in Southern California and when we went to visit my aunt and uncle in Long Beach we would always pass this fun shop that had a huge doughnut on the roof. I thought that it was the ultimate giant dessert and of course wanted to climb up on the rough and eat away at this beautiful treat! Well, whenever we went to visit relatives on the weekends, my parents would always stop off at our local doughnut shop and buy about a dozen delicious assortment of these delectable desserts. Everything from sprinkled, eclairs, glazed and crunchy old fashioned. In the 60's doughnuts were a staple and having a big gorgeous box of them was usually acceptable to bring when visiting friends and relatives. I know Krispie Creams has brought back the doughnut and also, the petite doughnuts are big at our Farmer's Market. So, hooray for this wonderful round delectable treats.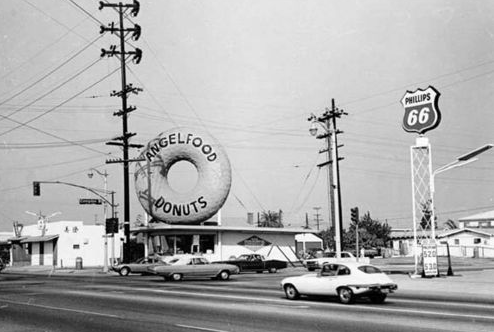 Here is the doughnut shop we used to see when traveling to our relatives house. Don't you just love google and the internet?
So, do you know the history of the doughnut? I guess there are few theories in regards to the origin. Some suggest that it was invented by Dutch settlers in North America. But, Hanson Gregory, and American claims he invented the ring shaped doughnut in 1847. He was aboard a ship and was not happy with the raw center. He claimed that he punched hole in the middle and the first doughnut with a hole was created.
Directions:
Let's get started making these easy donuts.
One package of Pillsbury Buttermilk Biscuit
Cooking oil
Bottle cap
Sugar and cinnamon or topping of choice. Mix in a medium size bowl.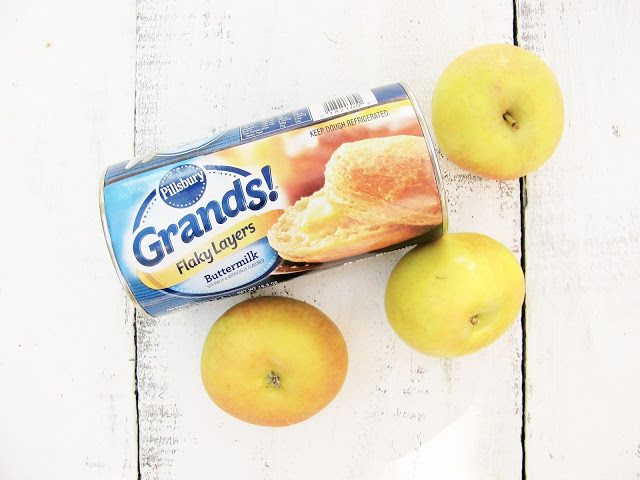 Marci, let me know that the Flaky Layers Buttermilk package is not the one that you want but rather the Buttermilk Biscuit ones. I'll replace this photo in a bit.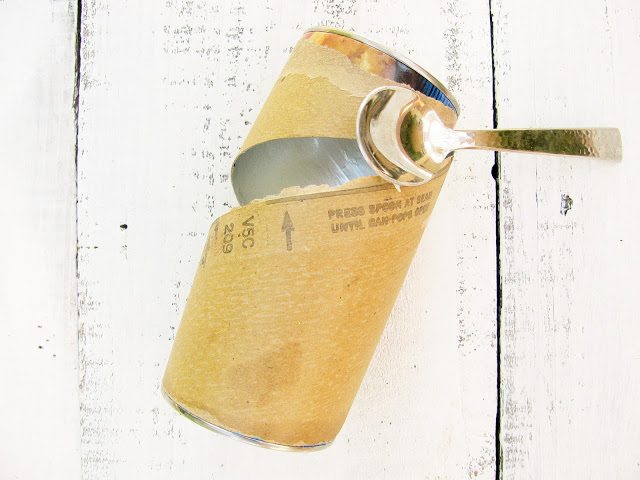 As funny as it is, this is seriously the hardest part of making the donuts. I ended up having my son pop the container of biscuits. So, you take off the outer label and then the seam is exposed. At the seam place, your spoon up against it and the cardboard will give, and the dent will cause the container to have a little explosion, and the biscuits will pop out. It is magical!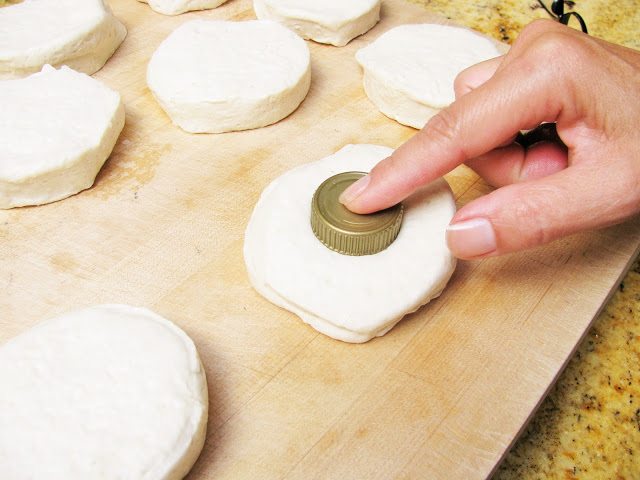 Next, you'll want just to lay them flat and place your bottle top in the middle of the dough and cut a hole in the middle. At this point place about 3 inches of oil in a small pan. Heat the oil on a medium to low flame.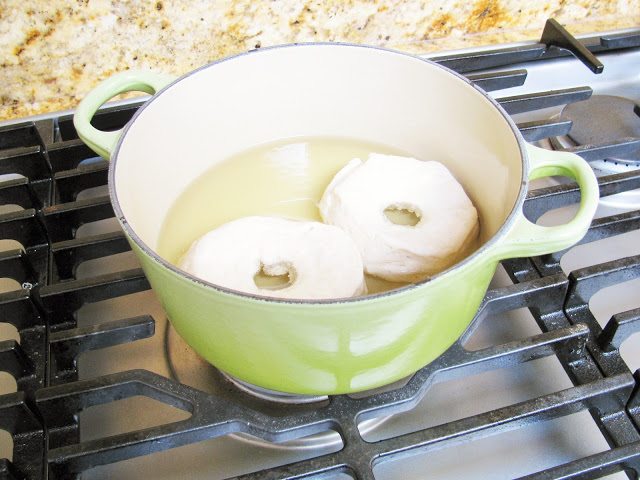 Obviously the smaller the pot you use the less oil you need to use. I just love my little green Le Creuset sauce pot or this link too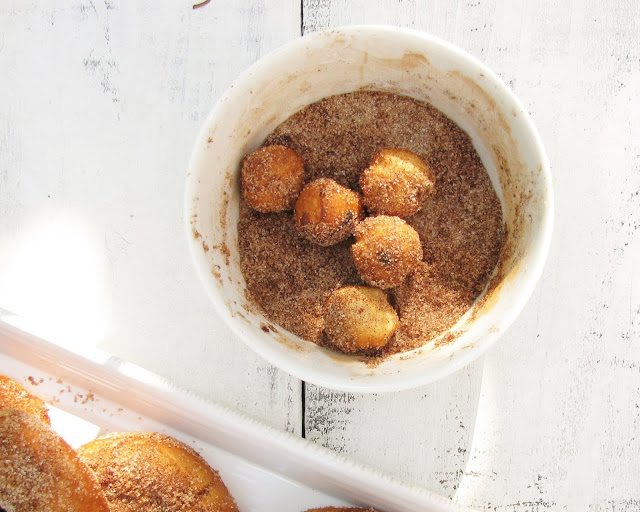 Ah, you can't forget the donut holes! I just rolled them in a ball and fried them up too. They are so delicious and small that you can eat a few and not feel too guilty!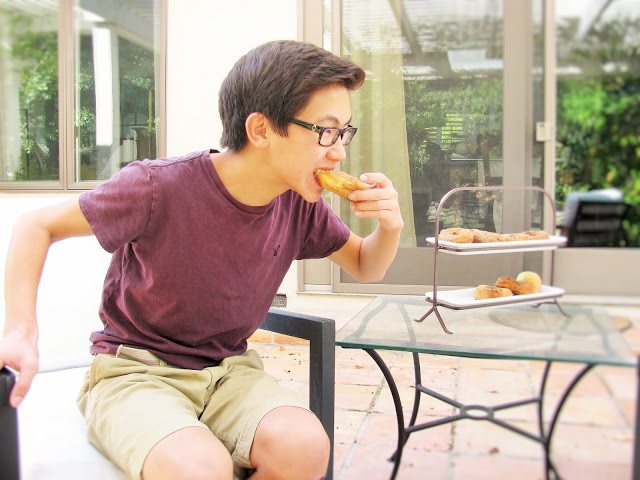 My son is pretty skinny and LOVES food! So, he was pretty excited about sampling the donuts. I think he had three or four of them today!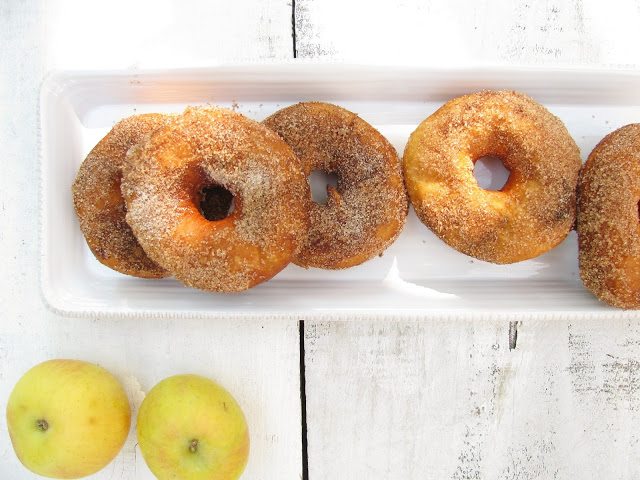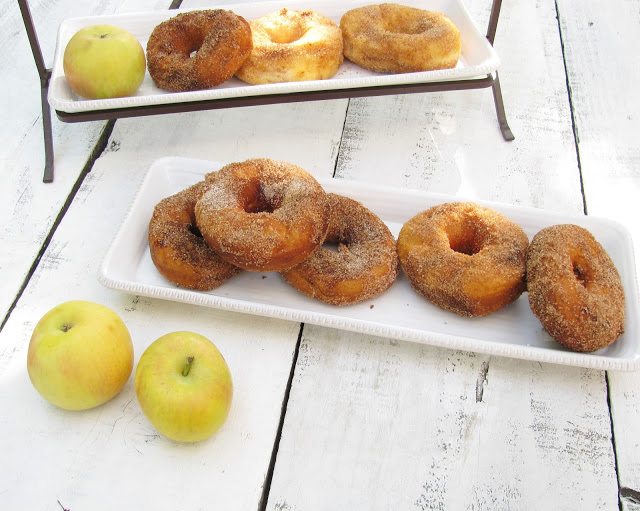 Did you know that the first Friday of June is national Donut Day?! Well, now you'll be ready to celebrate next year with this easy to make donut recipe! I hope you have enjoyed this post as much as I enjoyed making these donuts. They are seriously so easy and so delicious that I highly recommend making them especially if you haven't made donuts before! You must try this recipe and report back to me what you think. Make yourself some spiced apple cider and grab a donut to warm yourself up on these crisp autumn days. Do you have a favorite donut recipe you would like to share? Write us, we would love to hear from you.
Cheers,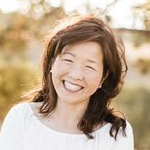 Latest posts by Janine Waite
(see all)