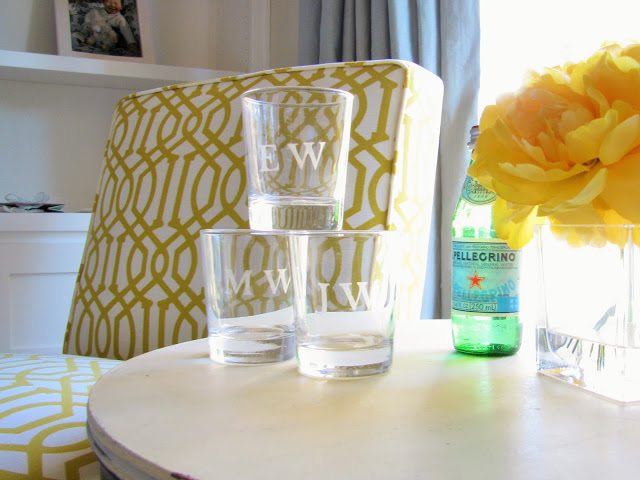 Etched Glass: Personalized Drinking Glasses
If you have followed my blog over the last couple of years, you know that I have tried to figure out our drinking glass dilemma. You see, on any given weekend, my family of four will use all our glasses in our cupboard. You can say, a few family members use a glass only once and then proceed to place it in the sink. Of course, this is the reason we have a pile-up of dirty dishes by the end of the day. As a result, I have become a mom on a mission who is determined to solve this problem.
~ A Note About the Nester ~
When my son was a toddler, he had some funny idiosyncrasies. When eating a meal, he would insist on a new fork for every different type of food on his plate. I went along with this for a bit and hoped that this stage of his life would be short lived. Like everything in life, he passed through it and is currently a relatively well-adjusted young teenager.
If you have been following this funny obsession of mine, you know that I started off buying four different colored drinking glasses. It worked for a bit, but then the color slowly came off the glasses. Hmm, I'm not sure how that happened, but I eventually came up with my second great idea. 🙂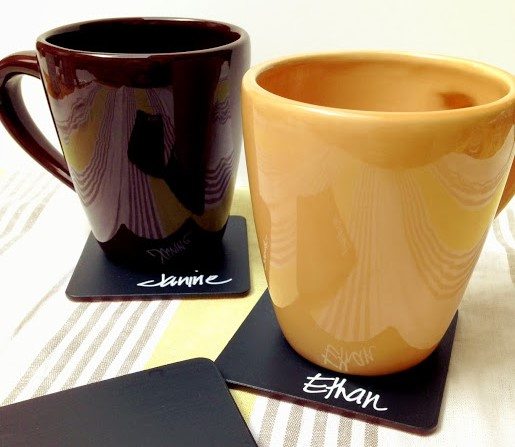 I made some chalk paint coasters that that we could initialize with our names. Here is the link to that post: Chalk Board Coasters It worked for a few of the family members, but not all participated. Their names will remain anonymous.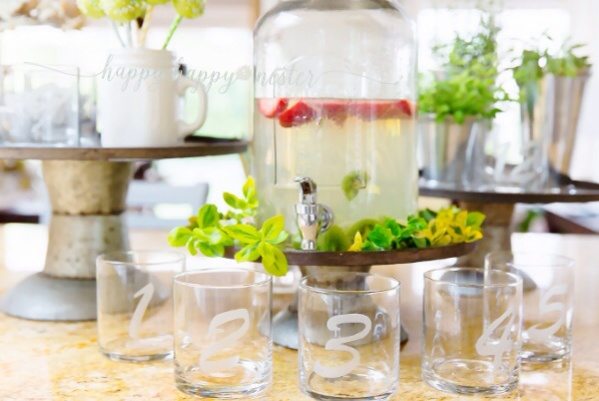 My third idea involved a set of Painted Fox number drinking glasses. These numbered 1-12 glasses are beautiful. This system would work, but it quintessential that we all remember our numbers for the day. I would be concerned about my aging memory, but my kiddos couldn't remember their numbers either. Here is the blog post link for the above photo: Summer Home Tour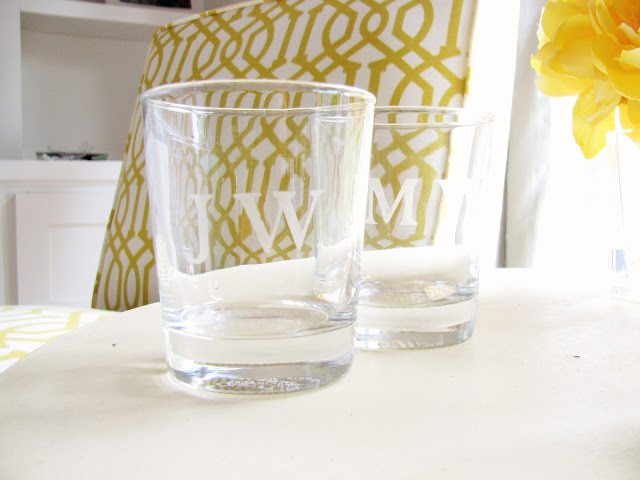 Enter my current solution, DIY etched glasses with our initials! Surely, we cannot forget our names (or initials), and if we do, please send for help! Well, this is a pretty easy DIY project that will inspire you to etch all your glassware and more. My brain quickly thought of many ways this could easily become wedding gifts, hostess gifts, and housewarming gifts.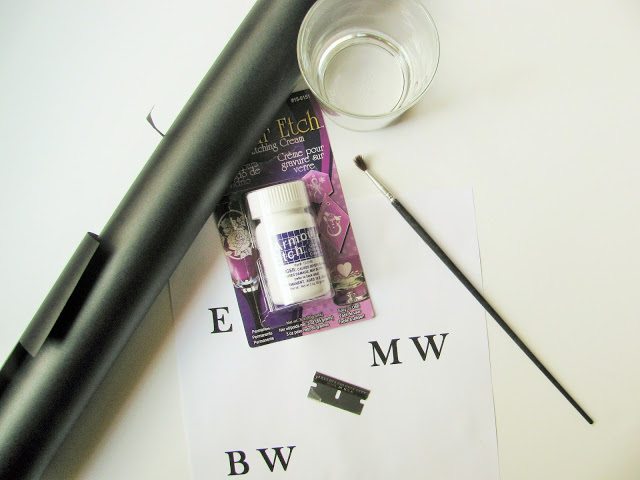 Here is what you'll need.
2. A design of your choice. Print out an image or type. My type is 72 point which is roughly 3/4 inches high.
3. Chalk Board Label Paper or Sticker Paper  (if you use this, you can skip steps 2 and 4)
3. Razor blade  or x-acto knife
4. Tape
5. Cutting board or glass surface (one that you don't mind scratching)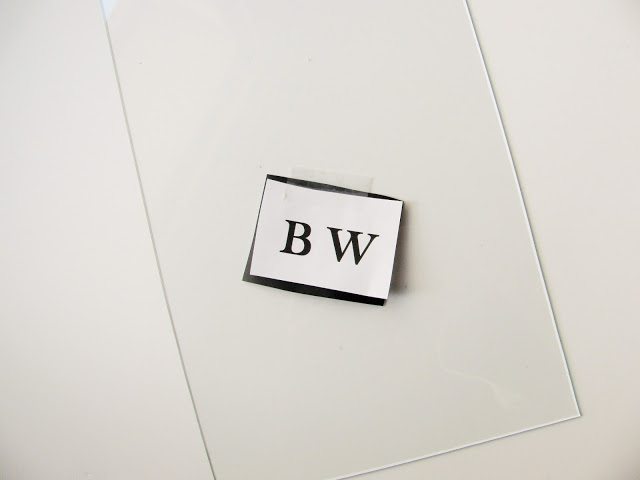 1. Print out your image from your computer. Place the image on top and adhesive paper (I used Chalk Board Labeling paper) on the bottom. Tape them together and place on a cutting surface.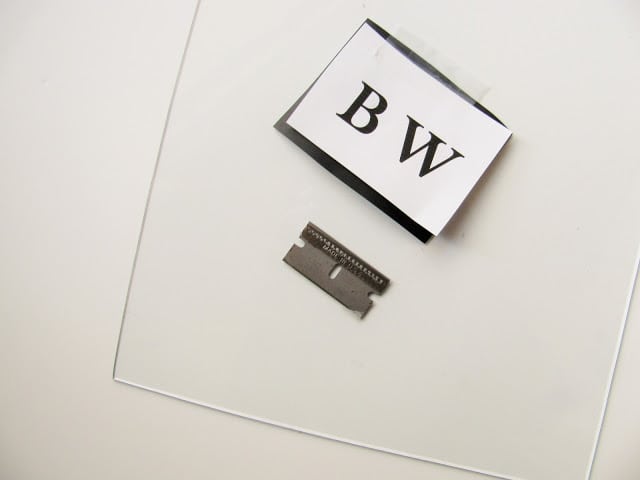 2. For cutting the image, I use a razor blade that I bought from Home Depot. The reason I prefer razor blades over the x-acto knives is that they are firm and less flimsy and less likely to cut you accidently. But, use whichever blade works for you. 🙂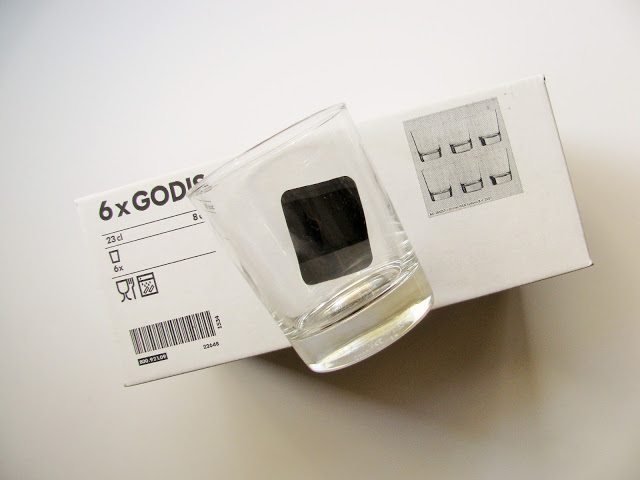 3. Clean your glasses before the next step. I bought these nice drinking glasses from Ikea. They were cheap and exactly what I wanted for this project.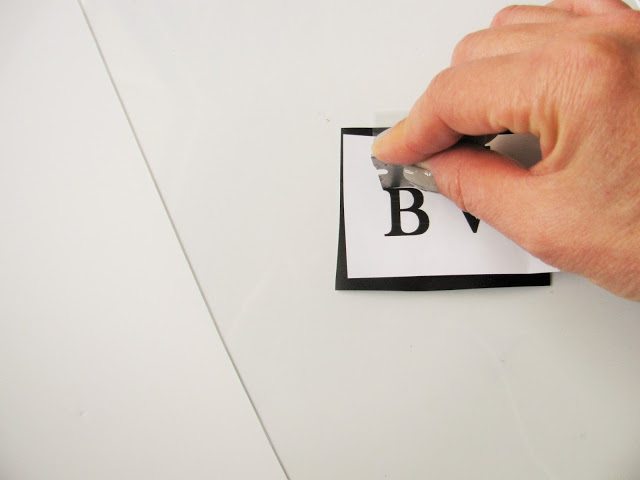 4. Cut out the image. For my project, I wanted to etch the letters into the glasses, so I cut out the letters. When you are all done, remove the adhesive paper backing.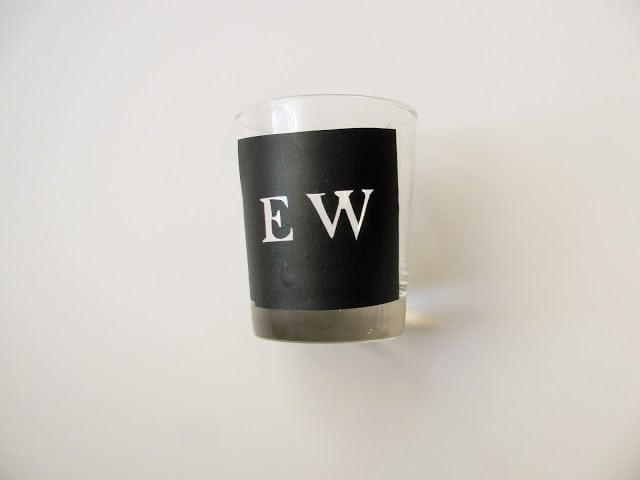 5. Place the adhesive tape on your glass surface. This step can be tricky if you don't get it positioned correctly. If you have to reposition your sticker, you'll find it can be difficult. Just be careful when pulling it up that you don't tear the stencil. When you have it exactly where you want the stencil to be, make sure to squeeze any air bubbles out that are near the area you are going to etch. Also, be sure to rub the stencil thoroughly to create a good seal. This will prevent etching areas that you didn't intend to etch.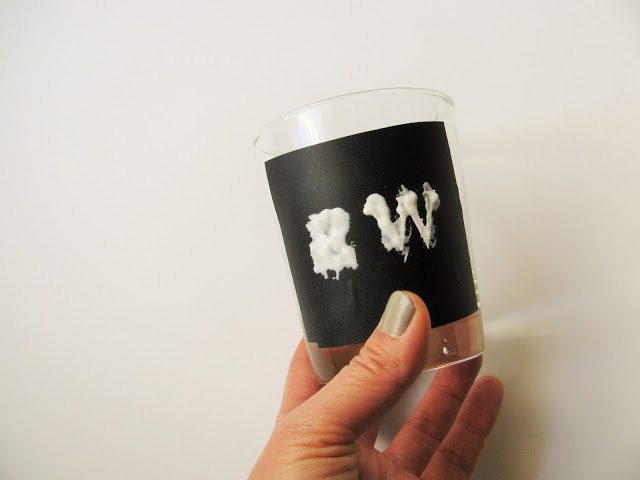 6. Apply the etching cream onto your image. Make sure you cover it with a thick layer of cream. You don't want to have any clear and unpainted areas.
The instructions on the etching cream container said to let it sit for 60 seconds. I did this on my first attempt, and it totally didn't work. I found letting the solution soak for 15 minutes does the job quite nicely. When the 15 minutes is complete, wipe the surface clean and make sure not to get any the cream on your hands since the solution is acid. Peel away the paper and rinse off the cream. Clean the glass with soap and water.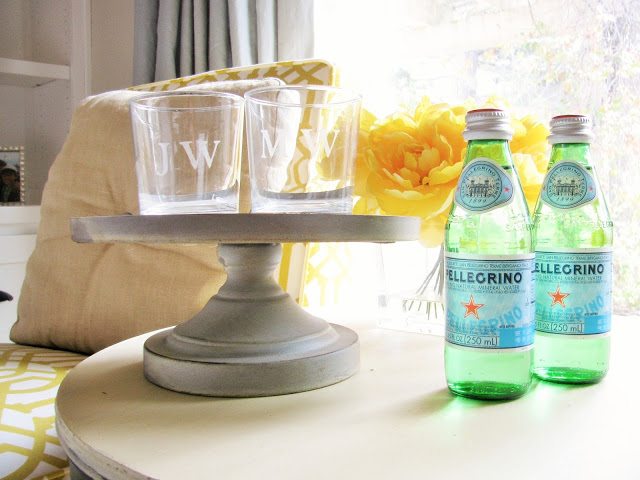 By the way, the etching solution has a reaction with the glass, and the results are permanent. So thankfully our new glasses can be put in the dishwasher.
Now, everyone in my family has their own personalized drinking glasses and I am a happy mommy. Glass etching is easy and fun and possible projects are limitless. For instance, homemade candles in an etch glass container with a word or a friend's name. It would make a lovely personalized gift. Have fun with the project and let me know if you enjoyed this post. Or just comment and say, "hello!"
Cheers,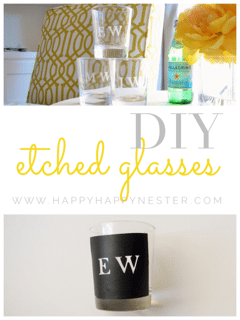 The above post was sponsored by an Amazon affiliate program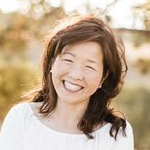 Latest posts by Janine Waite
(see all)