So you want to make these adorable lollipop ghosts for Halloween. And you need a quick project since you're a super busy mom. Well, you have come to the right place. I'll show you in just a few steps how easy these Halloween treats are to make. They add a bit of charm to your Halloween treat table.
*This post contains affiliate links.





This Halloween Craft is Great for Kids
So many people remember making these when they were kids. This project is the perfect a craft station for a school party. The children can easily create it and they will have fun making them.
Requires Very few Items
All you need is a lollipop, a dinner napkin, ribbon, and a sharpie pen. It doesn't get any easier than that. It is so easy that you can make quite a few for a school party.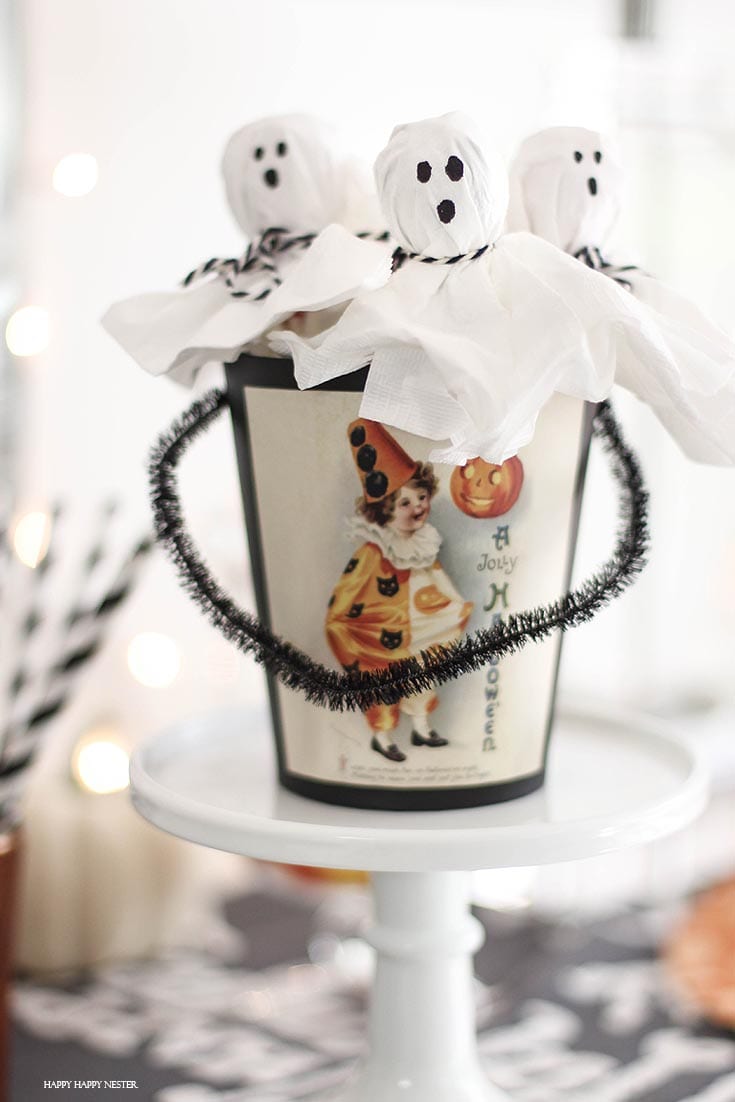 Lollipop Ghosts Instructions
These are the cutest Halloween treats.
Let's waste no time and get started making these lollipop ghosts.
Supplies
Paper dinner napkins
1 spool of black and white string
Directions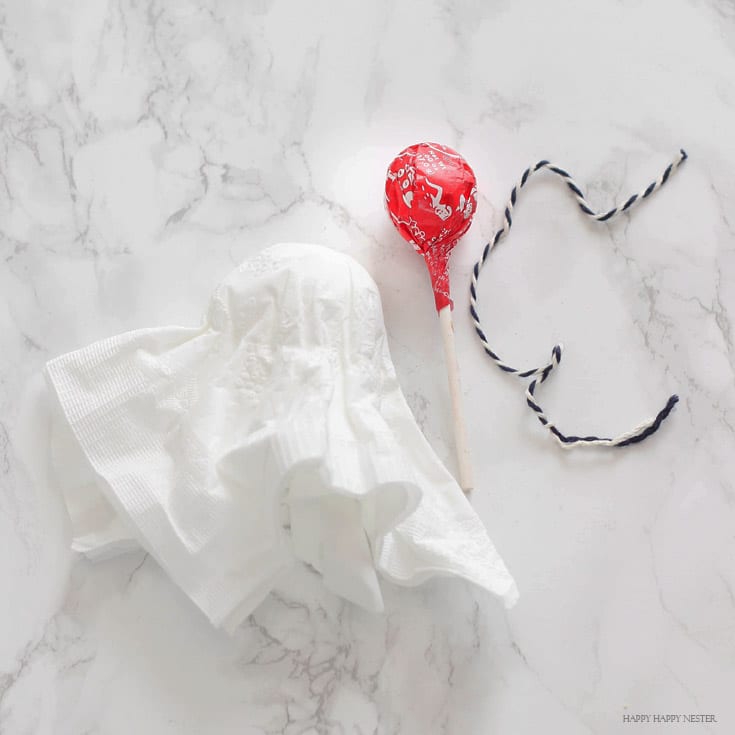 1. Place a paper napkin over a Tootsie pop
I used the thicker dinner napkins and cut them in half to fit over the lollipop. Since the thicker napkin covers the lollipop well and the color doesn't come through the paper no need to double the paper.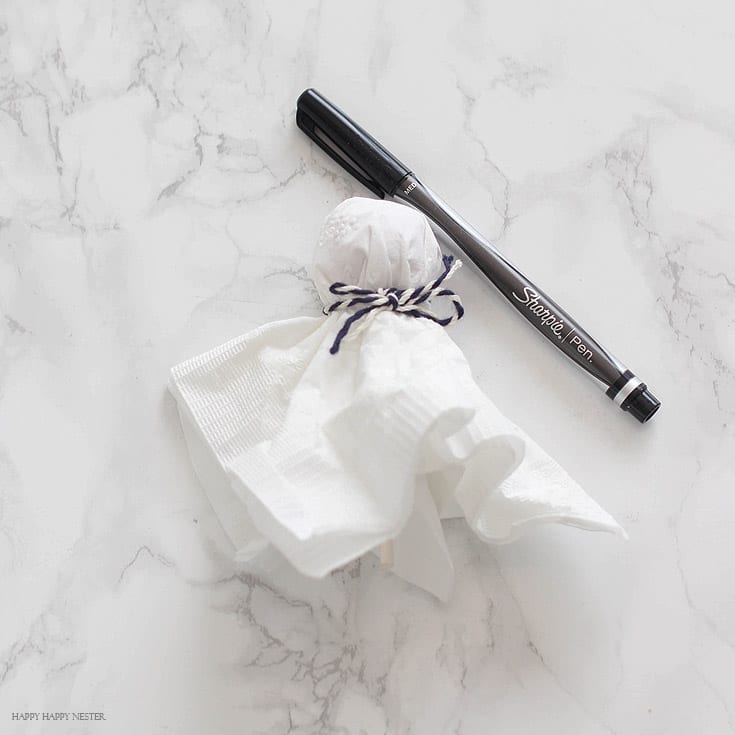 2. Color in the eyes and mouth.
I used a fine sharpie pen to draw in the face. To draw the dots, just place your pen tip at a 90-degree angle to the paper so that if it bleeds, it will be minimal.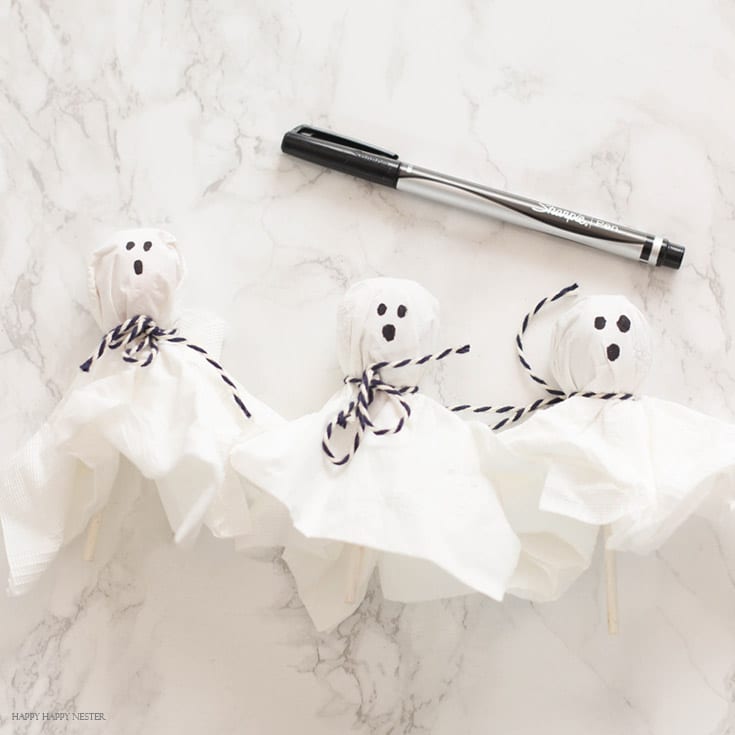 3. Add a ribbon
Then tie a cute ribbon around the base of the lollipop. Then place the Halloween lollipop ghosts in a cute container. You are now done and ready to enjoy your Halloween party!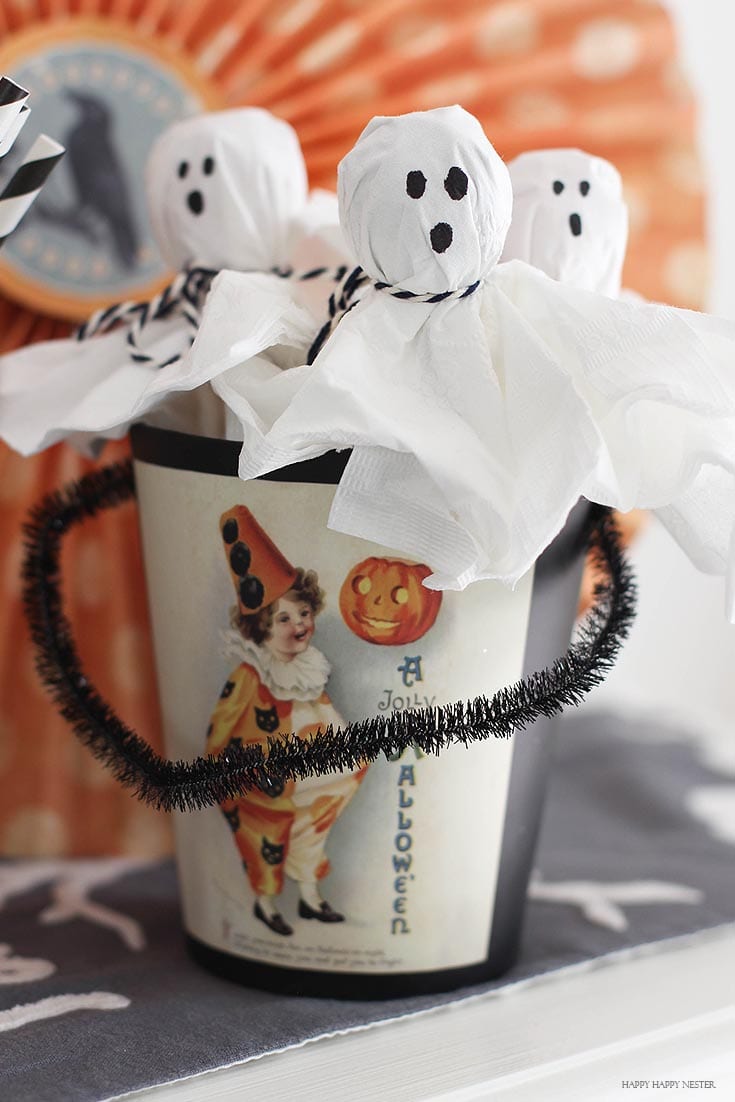 The History of the Tootsie Pop
"Tootsie Pops are hard candy lollipops filled with chocolate-flavored chewy Tootsie Roll. They were invented in 1931 by Lukas R. "Luke" Weisgram, an employee of The Sweets Company of America. The company changed its name to Tootsie Roll Industries in 1969. The candy debuted in 1931″ – Wikipedia
Also, did you know that in 2002, 20 million Tootsie Pops were made every day?! Oh my goodness, now that's a lot of lollipops.
Here are Some Halloween Posts
You Might Enjoy!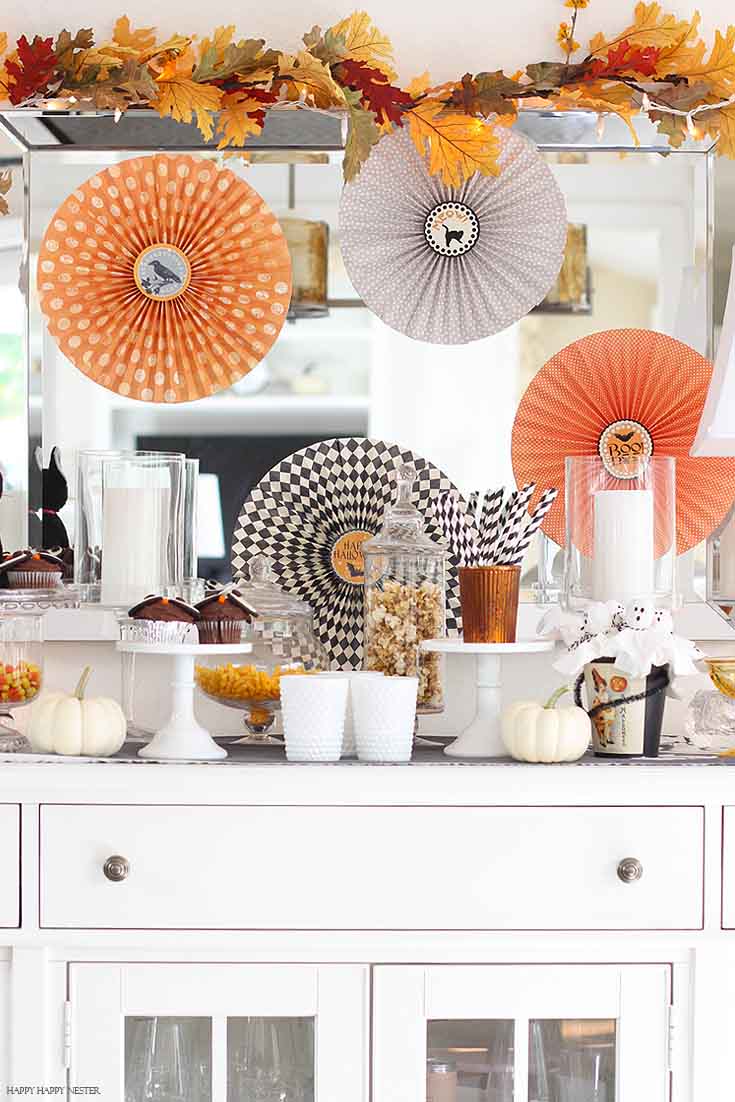 Our Halloween Buffet
These Halloween lollipop ghosts are simply the easiest treat to create for a little party for your kids. I added them to our dining room buffet with the seasons. I so love decorating for the seasons and entertaining our friends and family.
Did you know that I worked for an opera company and that I was in charge of decorating for their special events?
So, it only makes sense that I went to town decorating our buffet (which is from Birch Lane) for Halloween. By the way, I made some fun paper rosettes that I hung to the mirror.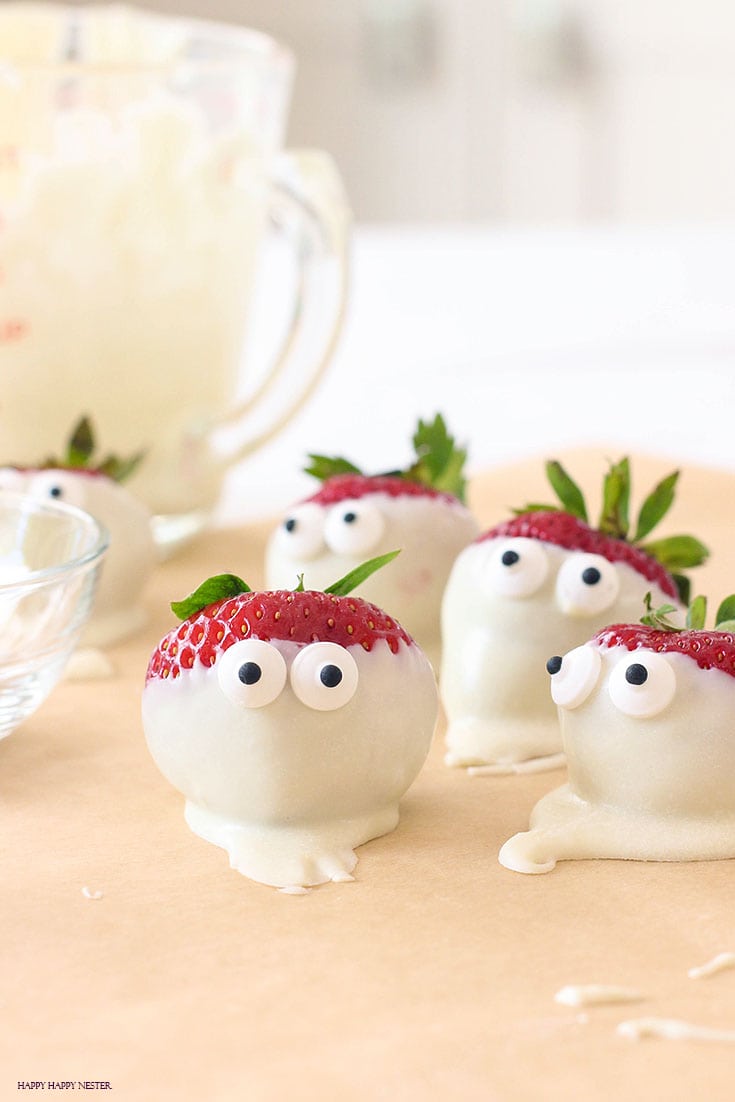 Strawberry Ghosts!
In the next week or two, I will also be publishing a blog post on how to make these adorable Strawberry chocolate covered ghosts. I can't keep up with all my projects, and I desperately need an assistant for this whole blogging thing.
Our Halloween Porch
Our home is ready and decorated for Halloween, and I can't wait for the little trick-or-treaters. Our porch is all decked out as well, and these witches hats are hanging from our ceiling. Hopefully, I'll get that post published soon too.
But for now, I hope you enjoyed this lollipop ghosts tutorial and that you have a wonderful Halloween this year.
Cheers,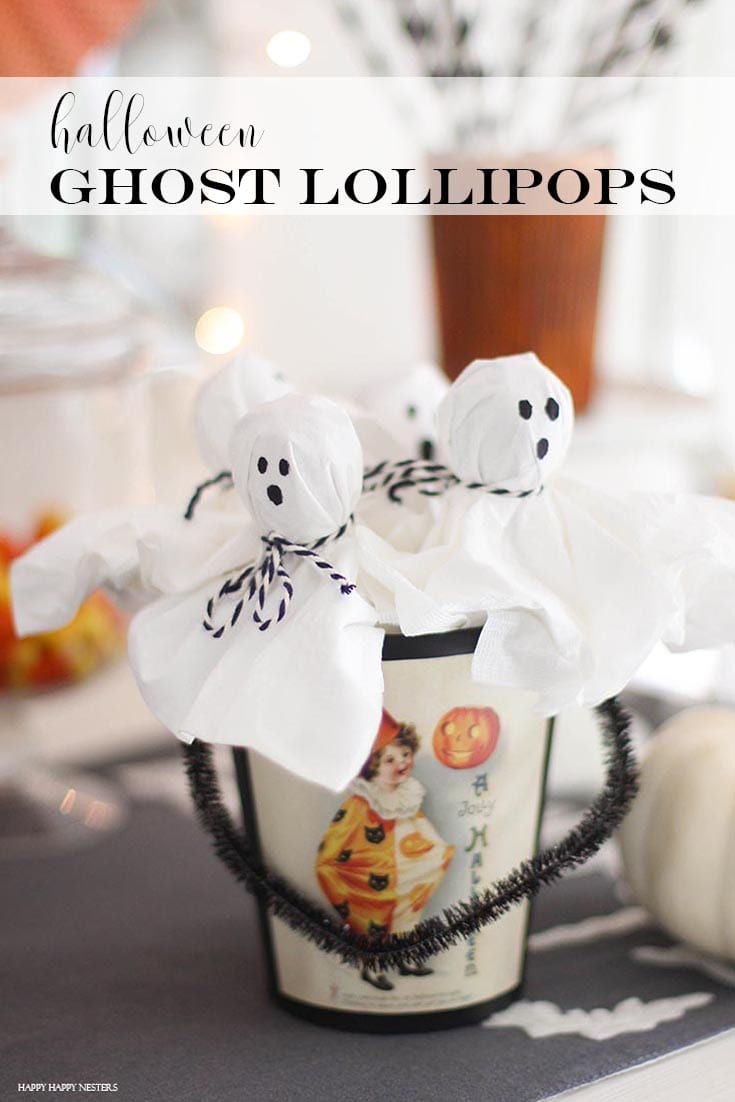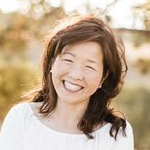 Latest posts by Janine Waite
(see all)